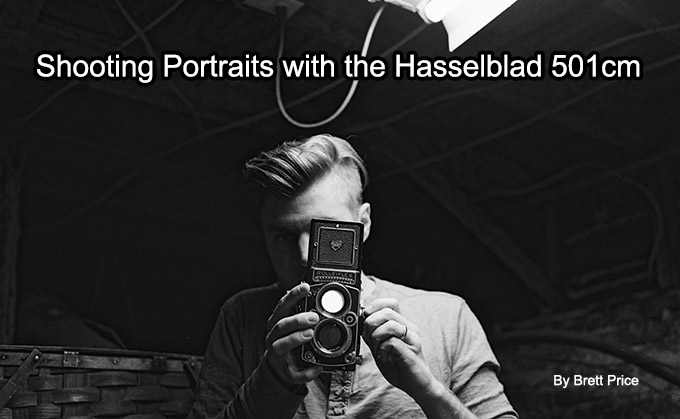 User Report: Shooting Portraits with the Hasselblad 501cm
By Brett Price
Hey Steve,
I thought I'd write up an article after somewhat rediscovering a camera that I've always had but not necessarily always shot with, the Hasselblad 501cm.
I started shooting medium format after purchasing a 500cm several years ago and the format has always been one of my favorites. I've owned almost every single medium format camera that exists minus a few but the Hasselblad has always stayed in my setup due to its versatility and the excellent images it can produce. It has always been the one camera I return to after experimenting with other formats and negative sizes. 6×6 has always been my favorite shooting ratio although I know it's not the best for every situation. I've always found 645 to be too close to 35mm to be worth it and 6×7 cameras are typically too large and heavy to carry around for on-the-go usage. (Minus the Mamiya 7, which is fabulous but a little clinical for portrait work).
I primarily shoot people. I love the reactions and images this camera can produce for portraits as the Zeiss lenses are fantastically sharp but also offer a 3D look and separation for OOF backgrounds that looks extremely pleasing. Its a relatively small camera in a basic setup and without a prism it is relatively lightweight meaning you can take it with you just about anywhere if you'd like. I think the only camera that comes close in category would be a Rolleiflex, which is much smaller and lighter but not nearly as versatile as it has a fixed lens and no film backs which means no switching lenses or films mid roll if you'd like to, which can come in handy if you like shooting a mixture of B&W films along with Color Negative (or even chromes).
I quite like the sound of it too. People usually crack up when I fire a shot off. It's a big shotgun cocking of a sound, which usually comes up in conversation. I think the reason I've settled on this camera and the Leica system I have is because out of all cameras out there, people react very differently when being shot with them. With a Leica its so small and unobtrusive that they rarely change their attitude to it or pay attention, with the Hasselblad its so loud they have to make mention of it somehow which starts a conversation and ultimately leads to some excellent fun and good shooting.
I used to own 7 or so systems but recently narrowed down and sold everything except my Leica M7, my Leica M typ 240, and my Hasselblad 501cm with a couple of lenses for both. I'm probably in the market soon for some sort of backup system for the Hasselblad, probably a Mamiya 7 or Rollei depending on what I ultimately decide. It can be frustrating because there really is no perfect system out there for this format. I think the Mamiya 7 would be it if the lenses were faster but alas, they are not. I think the experimentation with different systems and different formats, ultimately buying and selling them over the years and finally filtering them down to my dream setup really makes this camera special to me. Its how I first learned medium format, its what I'm most comfortable with, what I've found most reliable. It excellent for almost any situation and full mechanical, needs no batteries and rarely needs service due to the fantastic build quality. Hasselblad's have barely changed over the years so you can find them at extremely low costs nowadays. If you've ever wanted to shoot film and medium format I would highly recommend them to anyone.
I don't think ill ever part with this camera. It's easily my favorite. It's my desert island camera, the one I could use and grow bored with and then rediscover over and over again.
Anyways, I hope you like my photos!
Technical details for the gear heads:
All images shot with a Hasselblad 501cm w/ Zeiss planar 80mm f2.8CB and Zeiss 60mm f3.5CB
On Kodak Portra 400/800 & Kodak Tri-x 400 (developed in Rodinal 1+25)
Scanned on a Fuji Frontier Scanner.
I also post regularly to my website:
As well as my tumblr account:
And not to forget flickr:
www.flickr.com/photos/brettprice