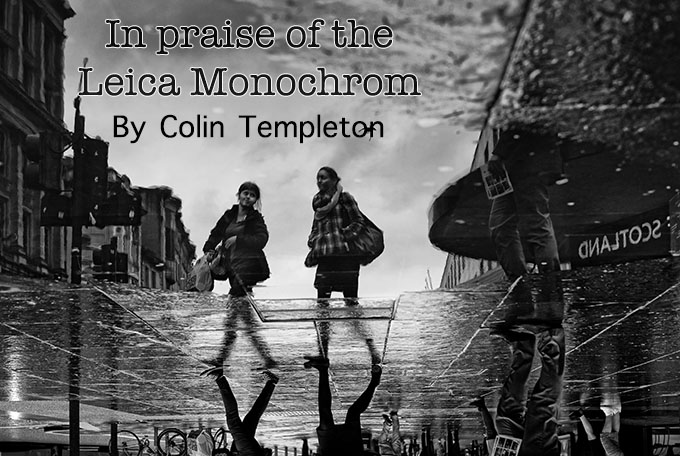 In praise of the Leica Monochrom
by Colin Templeton
Hi Steve,
I've been a regular visitor to your site over the years, and thought it was time I contributed something, rather than continue to sit on the sidelines.
I work for a national newspaper in Scotland. I love my job – I'm based in Glasgow, as is my newspaper, so much of my work is in and around the city, although I also get to see a fair bit of Scotland.
But the city is what fascinates me. And when I'm not working I get out and about with my Leica M Monochrom. I love to document everyday life on the streets. I've owned, and used, a Leica M6 since the mid-nineties, and always liked the images it produced. They seemed to have more life to them, dare I say it, more soul than the pictures I got from the Nikon F5 I used for work, and the rangefinder camera was simply much more fun to use.
When I started at the newspaper full-time, around five years ago, they supplied the camera gear needed for the job, so I was left with all the Nikon kit I had used as a freelance. I sold it all (thank you, eBay) and bought a Leica M9. That camera was a revelation – essentially the same as the M6, but with the advantages of being digital. And when it was announced that Leica were launching a black and white only M, I didn't hesitate – I traded in the M9, and found myself with an M Monochrom. I'd been converting the majority of my shots into black and white anyway.
Eighteen months later, I'm still smitten by this camera. Picking it up make me want to go out and shoot with it. And I do, pretty much every day (I post a daily photograph on Blipfoto: http://www.blipfoto.com/contraflow). A lot of praise has been heaped on the M Monochrom, and I find myself much in agreement. The camera is very small, light, unobtrusive, a joy to shoot with, and the files it produces are like nothing I've seen before. You can step on them hard and they just don't break up. Not that you need to be hard on them, because if exposed correctly, they need hardly any work. Everything is in the file – it just needs to be breathed on a little to coax the best from it.
One of the best things about the M Monochrom is that you get to use Leica lenses on it. I'm an ex-Nikon user, and now a full-time Canon user, so I know all about the image quality of those two systems. But the tiny Leica lenses have detail and character in spades, by comparison. It almost seems ludicrous how heavy and large a pro Canon DSLR is, when the diminutive Leica has the same size sensor, and much smaller, faster, sharper lenses. Any DSLR I've ever used feels like the computer it is. I can't bond with it. And when I see the results, they fulfil the brief, but it almost feels as though the camera made the picture, not me. That's a good thing, because it makes the job easier. But there's no fun involved. Using a Leica rangefinder is fun. You have to really slow down and think. Just take a single shot and make it count. When I get a picture from a Leica M that I'm happy with, I really feel as though I made the image, not the camera.
My two favourite lenses for the M Monochrom are the 50mm M Summilux ASPH, and the 28mm Summicron ASPH. Occasionally I'll use an old 1960's 90mm Tele Elmarit "fat" version 1, but generally it's just the two lenses for me. And mostly it's the 50mm. A lot has been made about the modern aspherical lenses being too sharp, too clinical in their rendering for the M Monochrom sensor, but I just don't see it. I think the modern 50mm and 28mm render beautifully, and with plenty of character. But maybe that's just me.
Anyway, I could go on and on. I adore the M Monochrom. It doesn't get in my way, it just allows me to take great pictures. It's like my M6, loaded with an endless supply of all my favourite black and white films.
My website is: http://colintempleton.com/
I'm also a member of the Elephant Gun photography collective: http://www.750grain.com/colintempleton/
And I'm on Twitter: https://twitter.com/colintempleton
Very best wishes, and thank you,
Colin