Sulawesi, Indonesia with the M9
by Andre
Hi Steve,
It seems almost obligatory to begin with a big thank you for all the work you put into your site and I too would like to this. I am convinced that your site is a source of inspiration to many of us and it sure is for me. In fact, you are to 'blame' for me buying a Leica M9 a few years back. A decision I have never regretted. I'm not sure my I'm worth such an expensive camera as I am merely an amateur photographer, but the one thing I am sure of is that I enjoy the hell out of it. I check your site daily –if not multiple times every day- and although we have never met (until today I have never submitted anything to your site), strangely it feels as though I know you well.
My setup is simple: M9 with a 35 cron and 50 cron. High ISO performance of the M9? Lousy. Are there faster lenses out there? For sure. Do I need them? Absolutely not. Would I like them? Nope. Does that mean I don't suffer from GAS? Eeeh, no.
Anyway, to the stuff that matters: photography.
This is a photo essay of our trip to Sulawesi, one of the larger islands of Indonesia. We cycled around the southern part of the island as well as through a part called Toraja land. A bicycle is a superb way of visiting places. Slow enough to see the sights and smell the smells yet fast enough to cover quite some ground. But then again, I am Dutch so I might be biased towards cycling.
We started of in the capital city Makassar. A bicycle tour through the city led us to the port of Makassar. A lot of transport through the archipelago is done by these wooden ships.
Ships in Makassar – M9 – 35 summicron – 2.0 – 1/250 – ISO 160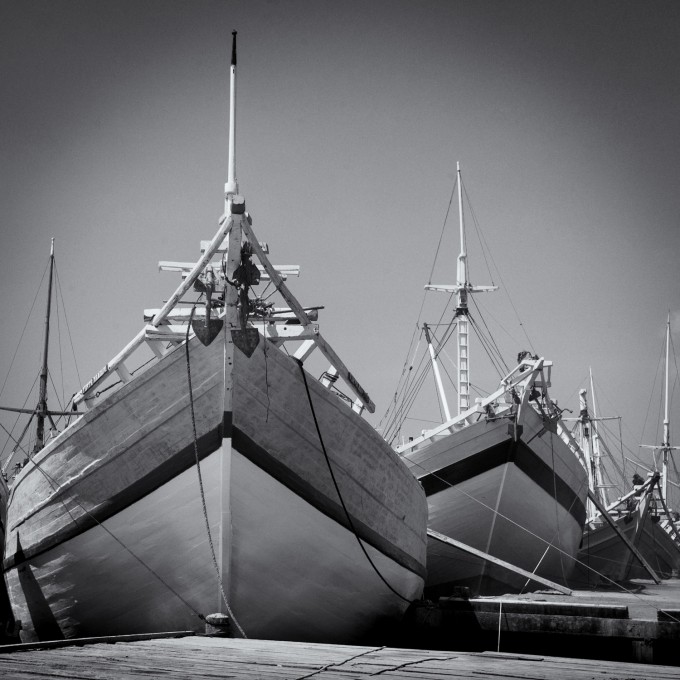 Along the way, we met many shopkeepers, children and what have you not. Many Indonesians love to have their picture taken so for all you portrait lovers out there, it is heaven!
Some examples.
The woman in this photo had a little shop along the side of the road. She was preparing some delicious samosa-like snacks.
Nice to meet you – M9 – 35 summicron – 2.0 – 1/25 – ISO 400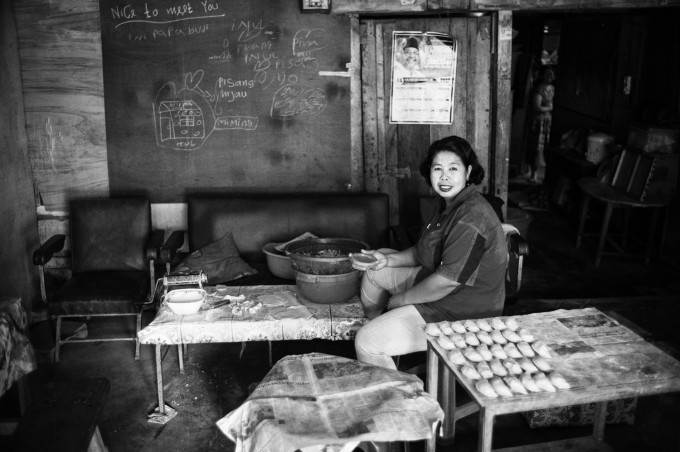 In Sengkang, inside a coffee place tucked away in what looks like a garage box, this local barista made a very nice cuppa, by default served with condensed milk.
Barista – M9 – 35 summicron – 2.0 – 1/60 – ISO 640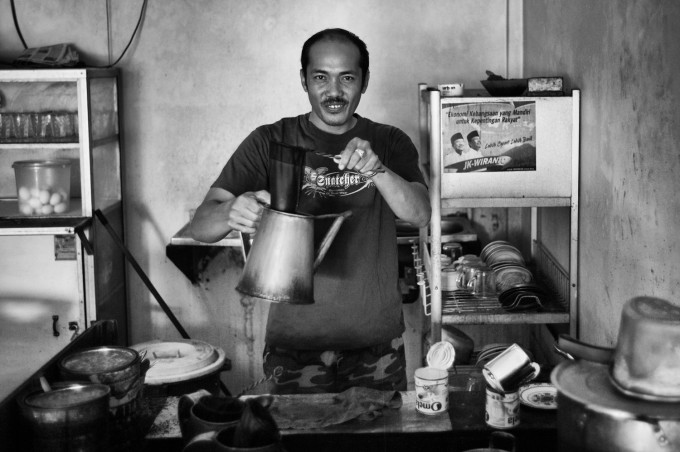 A guy at the market in Rantepao.
At the market – M9 – 35 summicron – 2.8 – 1/90 – ISO 160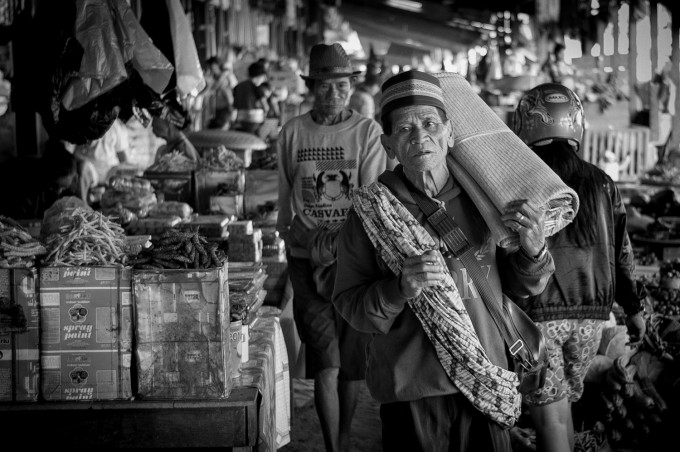 Our trip continued in Tana Toraja which warrants a little bit more text.
The area of Tana Toraja is like no place on earth. It is secluded from the rest of Sulawesi, tucked away in the mountains of South Sulawesi. The lush green rice paddies cascade down the mountain sides. The Toraja are an ethnic group with a fascinating culture. One of its most prominent rituals center around elaborate burial ceremonies. In the Toraja culture, a person is not 'dead' until he is buried. Before the ceremony, a person is simply 'ill' and lies in a coffin in the house of the family. The burial ceremony is a massive gathering of family and friends and lasts for three days. Because it is such an expensive event, it happens that people lie balmed in their coffin for several years!
At the funeral ceremony -which lasts for three days!- the guests are welcomed by a number of people wearing the traditional clothing of the Toraja. More often than not by the younger members of the family or by youngster from the neighbourhood
Toraja girl – M9 – 50 summicron – 4.0 – 1/45 – ISO 160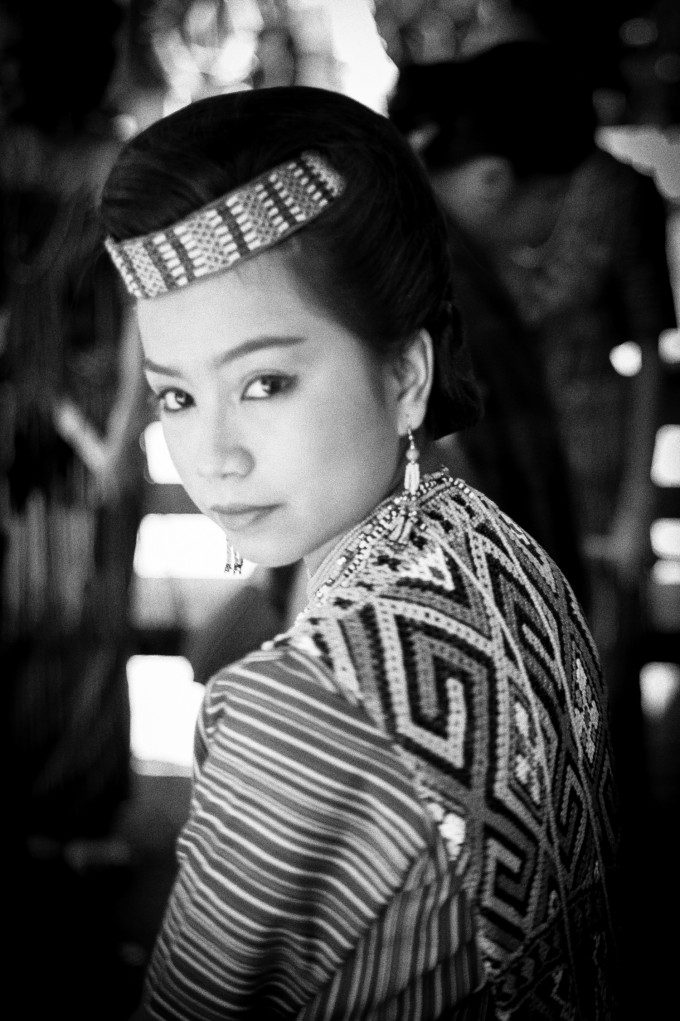 What this photo tells me that sharpness isn't all important. The focus on this picture is slightly off yet somehow it doesn't bother me and to me it even adds to the mood of the picture.
An important part of the ceremony is the giving of gifts. It is carefully noted what a person gives and when at some point a member of that family dies, one is obliged to return the gift. Gifts usually consist of pigs or waterbuffalos. The most coveted are albino buffalo that may cost as much as well over $10.000.
At the ceremony, many pigs and buffalo are slaughtered and prepared for the guests. Here's one piggy going to meet its maker…
This is the end – M9 – 50 summicron – 1/350 – ISO 160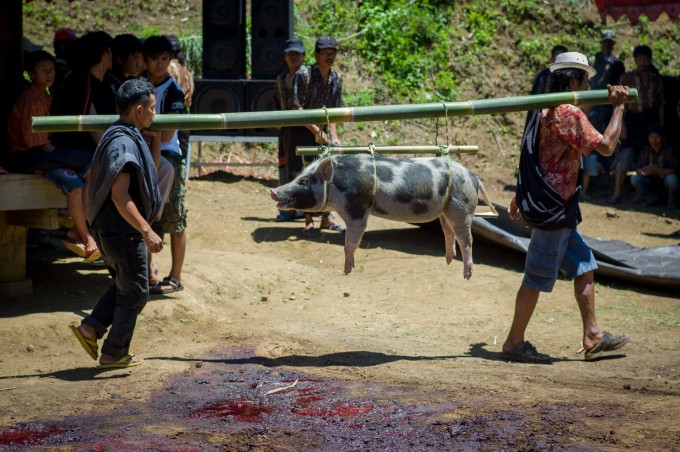 Once the ceremony is concluded, the deceased is then buried. Traditionally, this means that his or her body is placed in a grave high up in a cliff so that the belongings could not be robbed.
What you see in this picture is a device in which the deceased is carried to the cliff side. It is also the shape of the architecture of the houses in Torajaland. On the background some graves are visible. The puppets you see are called Tau Tau. They represent the person in the grave.
Tau Tau – M9 – 50 summicron – 2.0 – 1/350 – ISO 160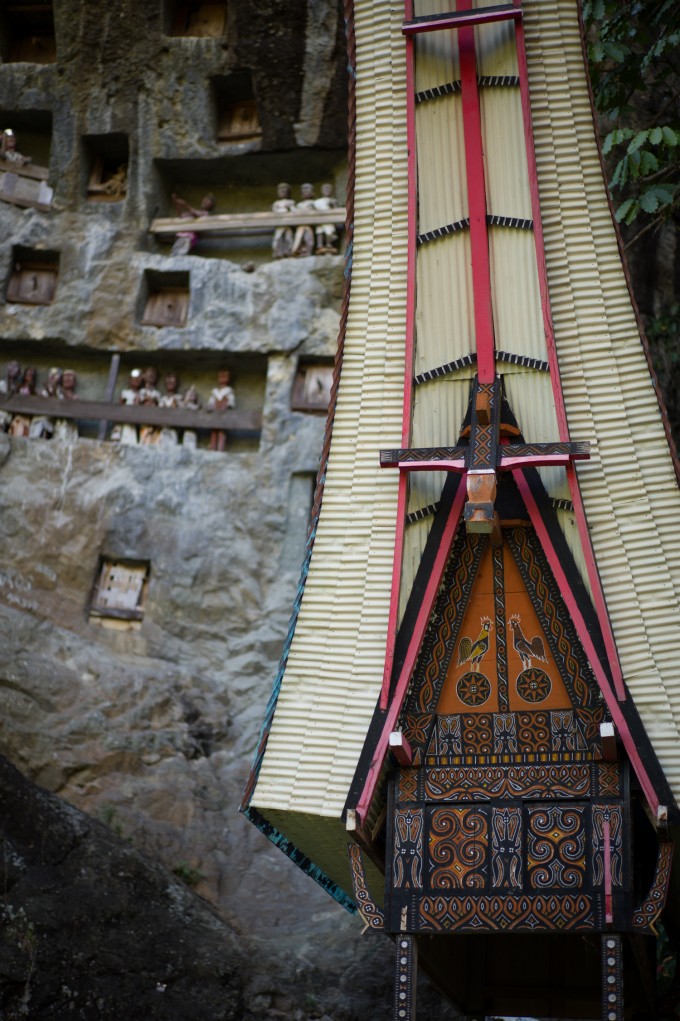 Our trip continued to the north of Sulawesi. Before sailing over to the island of Bunaken for some spectacular diving, we visited Tangkoko national park. Beautifull jungle and black beaches, something I had never seen before.
Beach at Tangkoko – M9 – 35 summicron – 2.0 – 1/3000 – ISO 160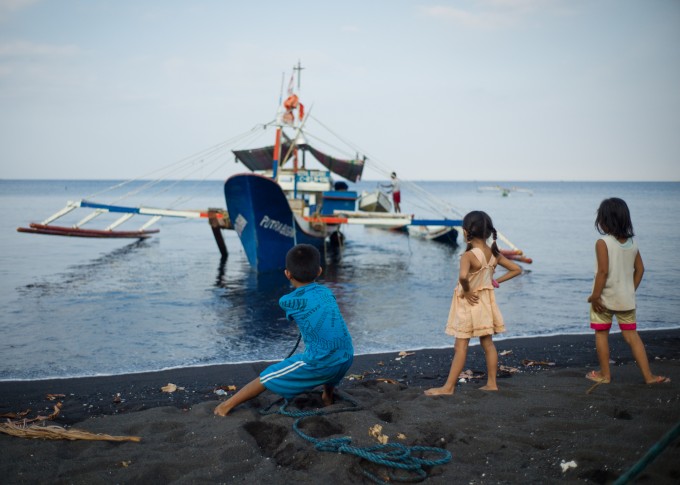 To top off our trip, we did some diving on the island of Bunaken. Ranked as one of the top places in the world but as I haven't found the possibility to take my M9 under water, I can't show you any pictures…
On the island we came across this boy. It was still a good two months before Christmas but by the looks of it, he was already in the proper spirit!
 Christmas spirit – M9 – 35 summicron – 1/15 – ISO 160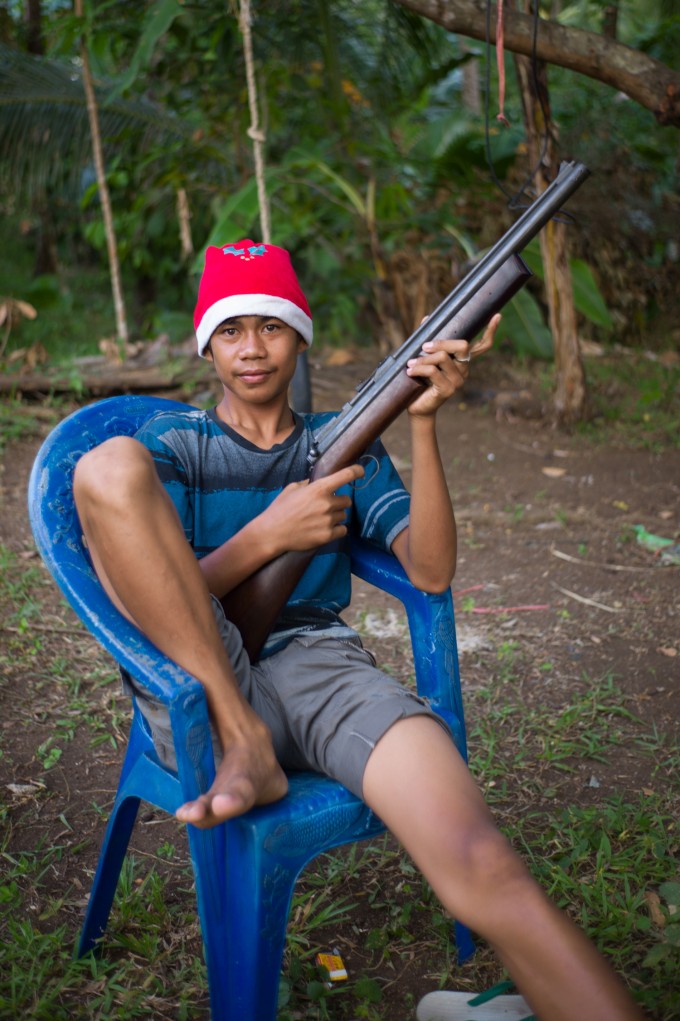 So, that was it. The moral of the story? Photography is fun and if you have the chance to visit Sulawesi, it is well worth it!
Thank you Steve for posting this photo essay and thank you readers for reading it. It is bloody difficult to choose some photo's to accompany this story but hey, that's part of the task.
If you would like to see some more, visit my flickr account at: http://www.flickr.com/photos/wahapx100/
Kind regards,
Andre