The I-SHOT-IT Competition heats up again!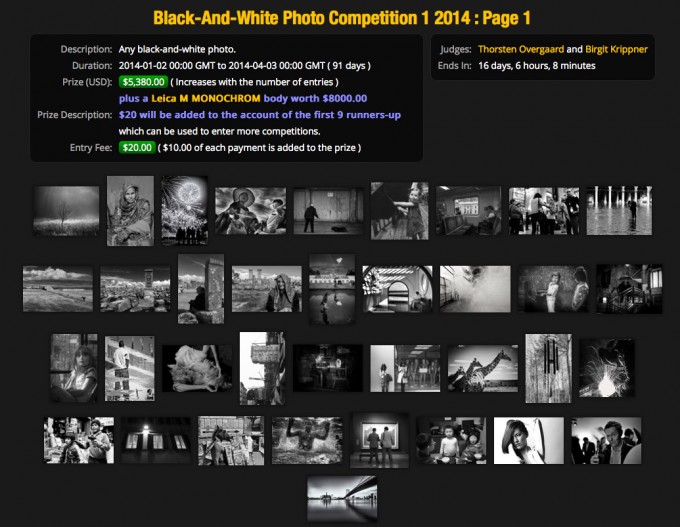 Over the past year or so I have been telling everyone here about these great photo competitions over at I-SHOT-IT.com . The last few premium contests have all produced winners who found out about it from this very website, which is amazingly cool. Prizes have been $25,000 cash and a Leica Monochrom as well as other huge cash prizes and Leica cameras. I-SHOT-IT.com offers competitions across a wide range of subjects and prize levels.
Imagine entering a B&W photo to the premium competition and winning a Leica Monochrom WITH a load of cash. I have gotten thank you letters from previous winners who found out about the competitions from me, so I want to make sure I pass along the next one which is ending in about 2 weeks in hopes that another winner from HERE can take home the cash and prize.
The Premium B&W competition has a prize including the Leica Monochrom camera and the cash amount. As of this writing it is just over $5600 but it always climbs during the last few days of the competition. The entry fee for the PREMIUM contest is $20 so I would make sure you have a superb photo before entering this one. If you win, the prize is quite special though. It only takes one to win.
They also offer free competitions with lesser prizes. 
So be sure to check out all of the ways you can enter over at I-SHOT-IT.com. I feel they are providing a great service to those who want to get out and shoot as THIS WILL motivate you to get out and get the best shots of your life. For me, that is what it is all about. If I could enter I would pay my $20 and go out to find the best B&W shot I could possibly take and then submit it. I can not enter as I-SHOT-IT.com is a site sponsor but I know many of you here do enter, so I can live vicariously through some of you, lol.
Whoever wins this next one, if you come from here again let me know as it would be amazing to help deliver another winner from this community!
Go to the I-SHOT-IT home page HERE.
Check out their Facebook HERE. 
Check out and enter the B&W Premium Competition HERE. 
The FREE competition is HERE.