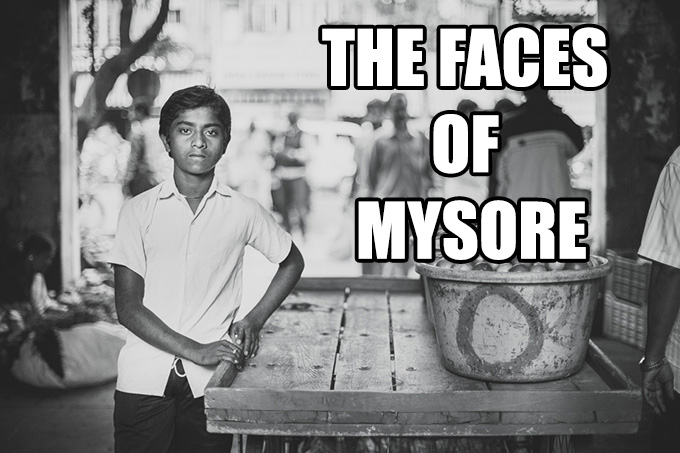 The faces of Mysore India
by Neil Gandhi
Hey Steve,
Often times, images do not do justice to true experiences.
With photography, one must diligently spend time and live within the realm of their subject to establish the reason that makes them "click". In that recognition, one discovers a sense of realization that is sometimes larger than life itself. Walking around a bustling Devaraja Market filled with beings just like me, I realized how different I was from them. Most of them had never left the city of Mysore in South India. Most of them probably never will. Initially, I felt a sense of sadness. Then I asked myself "Why would they?". There is so much beauty that encapsulates them.
These images were captured during my trip in December 2013, where I visited one of my favorite photographers named Christine Hewitt to immerse myself in photography and learn from her experience. Mysore, birthplace of Ashtanga Yoga, draws yogis from all over the world who come to this city to grow their practice. It is a city of royal heritage, with an existing royal family and king, and features a beautiful palace, art galleries and some truly exquisite temples surrounding the city. Most importantly, it is the people who define this city and bring it to life. The joy and love in their faces, especially the children is heart-warming to experience. Street photography comes to life here, as you witness some interesting and extremely willing subjects. They live life with a quiet sense of confidence and content. They breathe because they choose to. These are their stories.
Gear: All images taken with a 5D MIII and a 50mm f1.4 or a 24-70 f4.0L. Post-processing in Lightroom 5.
About me: I am Neil Gandhi, an amateur photographer who pays for his camera gear and travel with a job in software marketing. Based out of Austin, TX. Connect with me on Instagram at: http://instagram.com/neiljpgandhi