The new Panasonic 15mm 1.7 available for Pre-Order!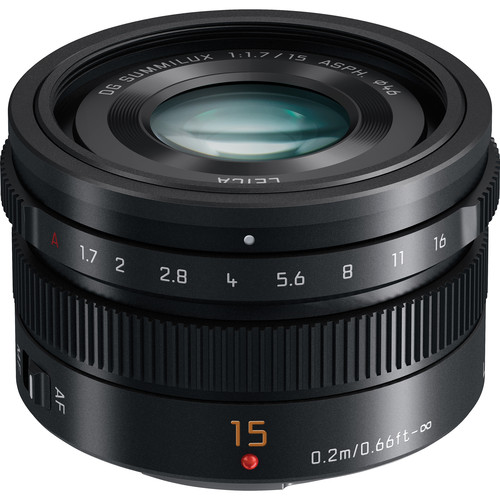 Panasonic is kicking some serious behind in lenses lately. I have been shooting with the new Panasonic/Leica 42.5 f/1.2 Nocticron and it is one of the best lenses I have ever shot with, on any format. Sharp wide open, creamy Bokeh and a sort of Noctilux style rendering, but on M 4/3. It also resembles the $11k Noctilux in design though not nearly as hefty as the Leica counterpart. The Nocticron is a special lens for Micro 4/3 users and even has a manual aperture ring (but this is not usable on Olympus bodies which control aperture with the dial).
In fact, the Nocticron is so good that I am 90% sure I am going to purchase one even though the price is sky-high.
Add to that the new Panasonic/Leica 15mm f1.7 which also has a manual aperture ring and uses a 46mm filter size. This is a duo that will give you a 30mm and 85mm focal length equivalent for your Micro 4/3 body while giving you pro quality color, contrast, detail and bokeh.
The new 15 1.7 comes in at $599 and is available for pre-order NOW in Black or Silver at B&H Photo. It is also available HERE at Amazon. 
The Nocticron is available NOW for $1598 – EXPENSIVE YES but $9500 cheaper than a Leica Noctilux and 85% as good 🙂  Amazon also sells the Nocticron and it is IN STOCK. 
I am reviewing and using the Nocticron now on an E-M1 and will post my review soon (but it is a light sucker and rocks at night just like the real Noctilux). The 15 will be shipped to me at release for review so will get on that one as soon as I get it! I am telling you..Micro 4/3 just keeps getting better and better for those who are in the system. Pretty exciting stuff IMO as it is the lenses that make the system and no one beats M 4/3 for lenses in the mirror less world.
With these new Leica partnered lenses…makes me wonder if the new and rumored "Leica T" will be a Micro 4/3 body. I HOPE SO. I would much prefer it to be M 4.3  than a new lens mount APS-C. Using a Nocticron and 15 1.7 on a new Leica mirrorless…could be interesting.