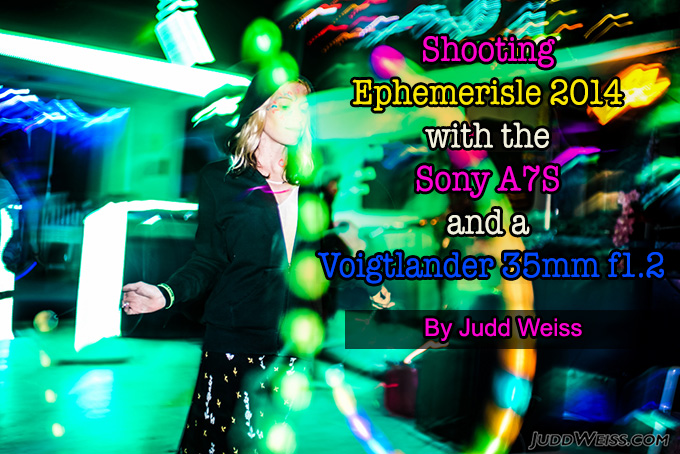 Shooting Ephemerisle 2014 with the Sony A7S and a Voigtlander 35mm f1.2
By Judd Weiss – Visit his site HERE
Most places I go lately, I am the best photographer around. But I come to Steve Huff's site and community specifically because here I am definitely not the best photographer. I'm learning fast, but I'm relatively new to photography, upgrading from a point and shoot to the original Sony NEX 3 only about 4 years ago. Discovering Steve's site almost 3 years ago was a major turning point in my photography. I started taking it more seriously when I saw what you guys were up to. I've been inspired. The daily inspirations that so many of you have contributed has made me rethink what I'm doing with the camera I'm holding. I've never taken any photography classes, but that doesn't mean I haven't received an education. This community around Steve Huff's blog is one of the greatest influences on my development as a photographer. So thank you to all who have contributed their vision and creations here. I am very grateful. (Thank you Judd!! Steve)
I'd like to also make a contribution, from my favorite work yet. I shot this entire set of photos with the new amazing Sony Alpha A7S full frame mirrorless camera, with a manual Voigtlander Nokton 35mm f/1.2 lens. That combo allowed me to achieve low light shots never before possible in the history of photography. Ephemerisle was the perfect event to test out what the Sony A7S can handle in extreme low light. And the Sony A7S was the perfect camera to capture the experience of the dark glowy night that made Ephemerisle shine.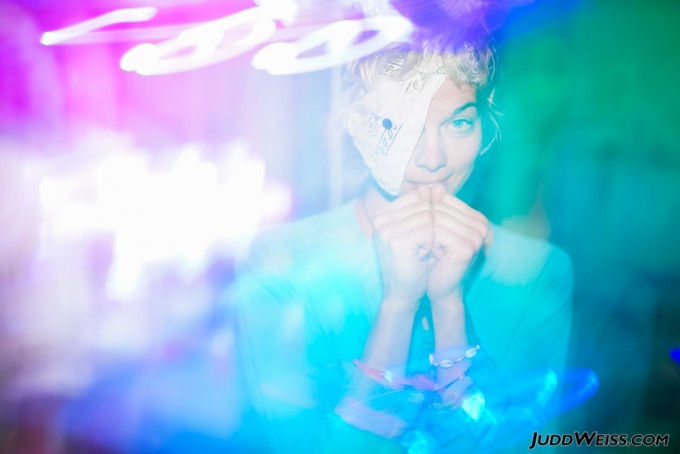 These shots are unapologetically processed, and I admit I went a bit intense with the colors, but I wanted to, to accurately reflect the surreal nature of Ephemerisle. Some of these photos are a little abstract, but believe me when I tell you those are very true to the experience. What a visual experience! Ephemerisle was incredible. I did the best I could to run around and convey what it was like to be there, over stimulated by this new beautiful foreign universe everywhere you looked.
It's fair to think of Ephemerisle like Burning Man on the water. Imagine a bunch of RVs at Burning Man connected together, but floating. With dance stage platforms between them.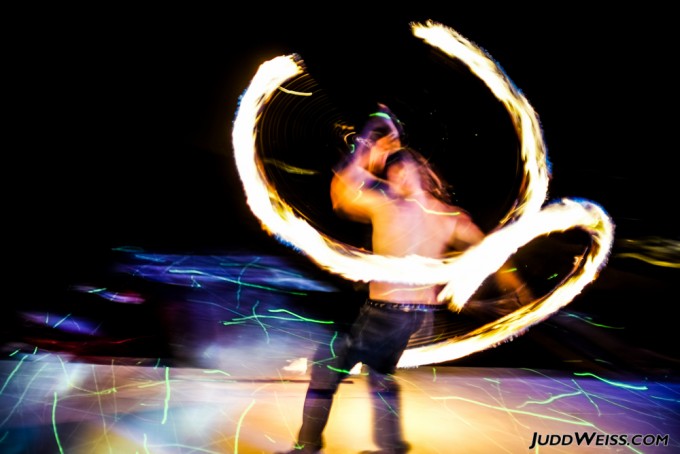 I think Ephemerisle was the most exciting and fun time I have had, that didn't involve a girl, since maybe my college days. I loved running around in that crazy dream world meeting the cast of characters you'll see in the photos below.
I'm not saying Ephemerisle is better than Burning Man. There's no way an event of a couple hundred people can in any way rival the scope and all the amazingness of the 50,000+ strong Burning Man festival. But I will say that I enjoyed Ephemerisle more. I loved Burning Man, but the desert is a harsh place. No doubt the sea can be unforgiving as well, but I was very happy to trade an over abundance of dust for an over abundance of water.
No way I would bring my beloved new Sony A7S and Voigtlander lens to get ruined by the intense barrage of fine dust on the Burning Man playa.
 Shot at 12,800 ISO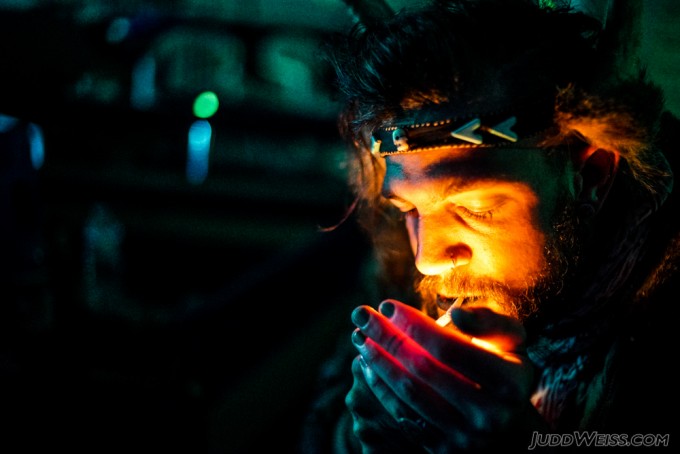 Burning Man is incredible as it lights up the middle of the desert nowhere into an epic glorious city; being out in the middle of the water nowhere, lit up only by the most amazing glowy party you've ever seen, Ephemerisle too is a bright beacon of a testament to our evolutionary progress, while floating over the type of early ocean microbes of life that began it all. How far we've come, to create such a stunning atmosphere. A cool blend of excitement and serenity. Like Burning Man, being at Ephemerisle confronts you to face both our fragility and our promise that can only be truly seen in an intentional community that has left many of the comfortable constraints of modern society.
Stylistically people often compare Ephemerisle with Water World, and you can see where that's coming from, only this wasn't dystopian. Whatever was rough around the edges wasn't post-apocalyptic, it was prototype. This is from the future, clearly. These are experiences our grandchildren will inherit when they are our age. But it's a beautiful future. When the sun goes down, we light up even brighter. Humans evolved from a state of continual starvation in a struggle to survive among brutal nature, and now we master the harshest environments to throw parties of abundance like this for recreation. Humans have no shortage of serious problems, but it's things like Ephemerisle that compel me to acknowledge our bright future of possibilities ahead.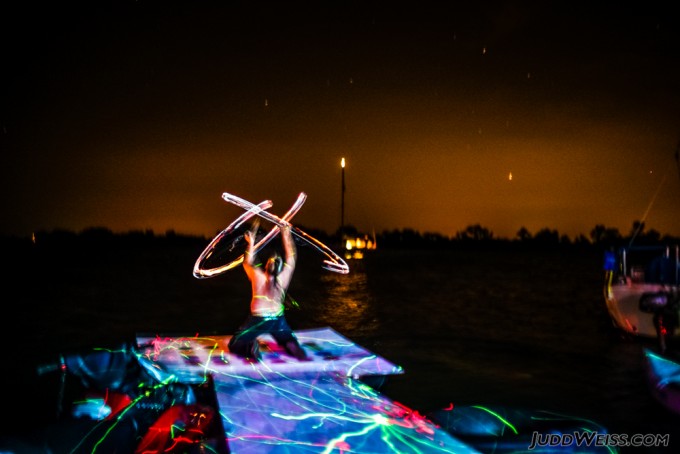 You might think I'm hyperbolizing a little much. And if I hadn't been there, that's totally what I would think while reading this. But there's a reason for these reflections of anthropological grandeur. Ephemerisle is comprised of exactly the group of intellectuals, business leaders, and artists who are focused daily on the topic of our evolutionary potential as a species. These ARE the people consciously working to design a more beautiful future for all of us. What a treat it is to see one of their early prototypes. And I have to say, I'm in love with this particular prototype they call Ephemerisle.
I've got to thank everyone involved for coming together to create Ephemerisle. They made these photos. I just captured what I saw as well as I could. Their vision created this reality. Congratulations to all of their beautiful minds. These photos are my humble tribute.
Ok guys, get ready to watch the colors move…………
The full album and original post can be found on my blog here: http://hustlebear.com/2014/09/04/photos-ephemerisle-july-2014/
You can follow me on Instagram at http://instagram.com/juddweiss
I'm on Facebook at https://www.facebook.com/juddweiss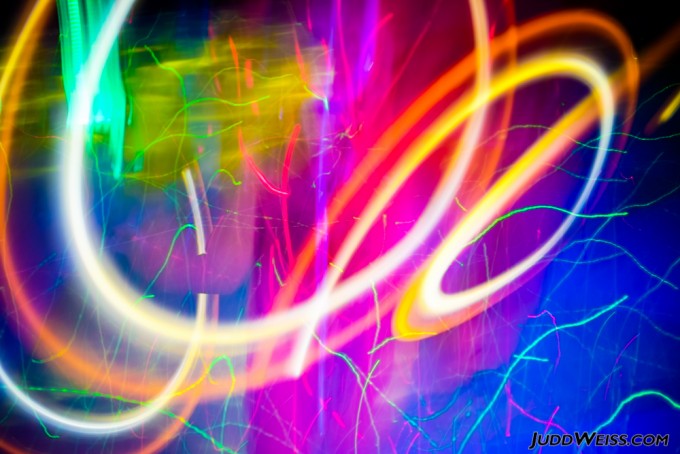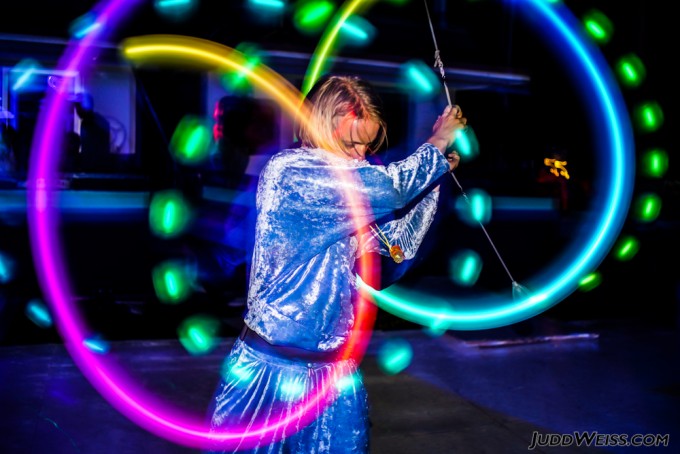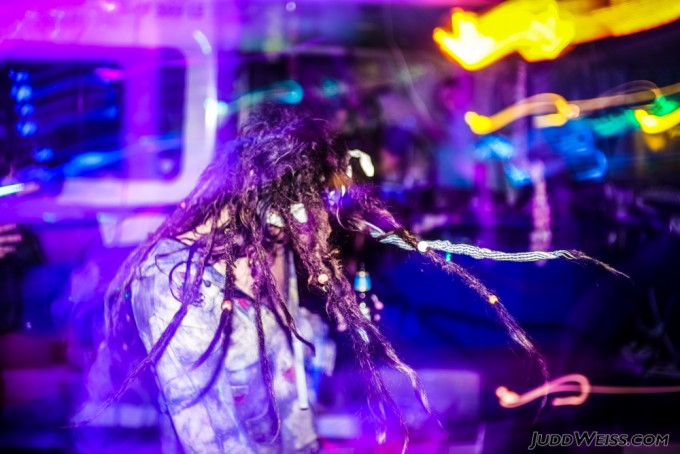 Note: The widely acclaimed Canon 5D MIII could not have achieved many of these shots. For example: The below shot, while not the cleanest photo in history, was shot at 51,200 ISO (!!) at 1/125 second, handheld from a bobbing moving boat in the dark. It was challenging to stand, and hard to see clearly, let alone to take a clean photo. Try to get anything remotely usable in those conditions with another camera setup.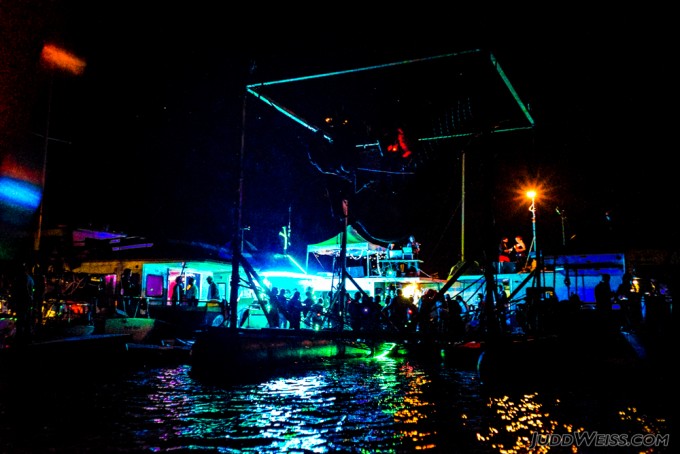 Again, the below shot is not perfectly clean and crisp, but it was shot at 32,000 ISO from a moving bobbing boat.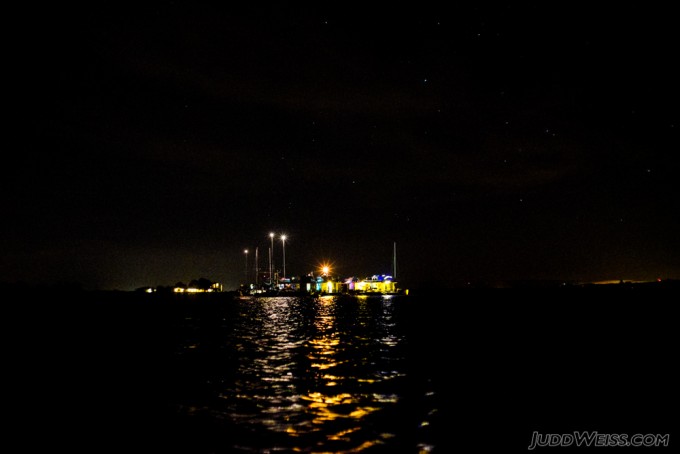 I love how the camera rendered the daytime shots as well.