CAMERA SIZE: Sony A7RII Size Compared!
Many have been e-mailing me saying things like:
"I hear the A7RII is the same size as the Nikon D810, so what is the advantage for me to go to Sony"?
"The A7RII is just as big as most DSLR's, FAIL"
"Why is it SO BIG!?!? The A7RII offers no size advantage over a 5DIII"
I just shake my head and chuckle. Not sure what planet some of these people are living on but the A7RII is MUCH smaller and MUCH thinner than any full frame and 95% of APS-C DSLRs, and with a better sensor than any of them IMO 😉 Take a look below at some size comparisons thanks to CAMERASIZE.COM
Starting with the Leica M. The M is longer but the A7RII is taller due to the EVF hump. The A7R II is also thicker, giving the Leica the "smallest full frame camera" award next to the Sony RX1 of course.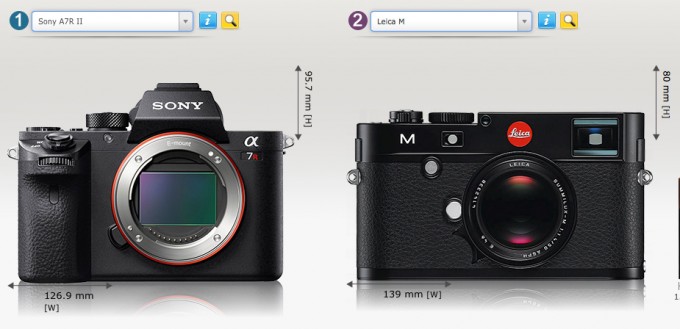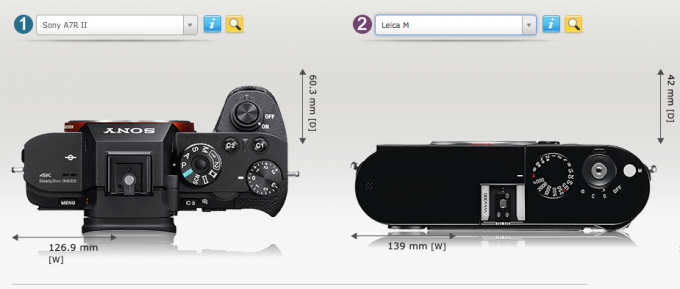 –
How about the "Small" full frame DSLR? The Nikon Df. The Df is taller, longer, and thicker. The A7RII gives better IQ and performance IMO.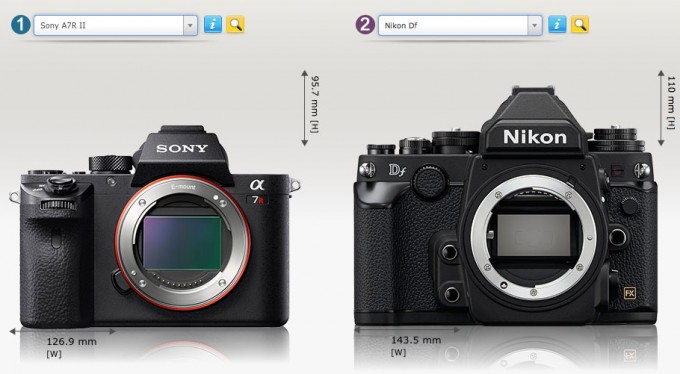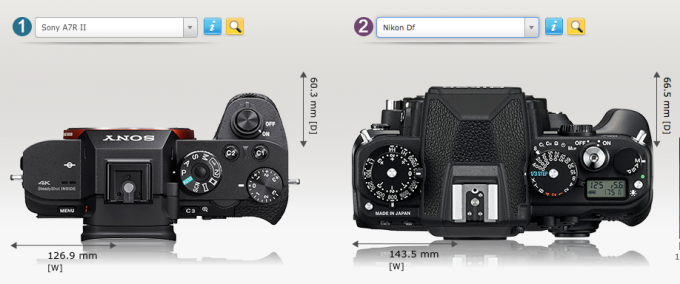 –
The trusty Nikon D810, which one person told me was the same size as the A7RII. The Nikon is MUCH taller, longer and MUCH thicker.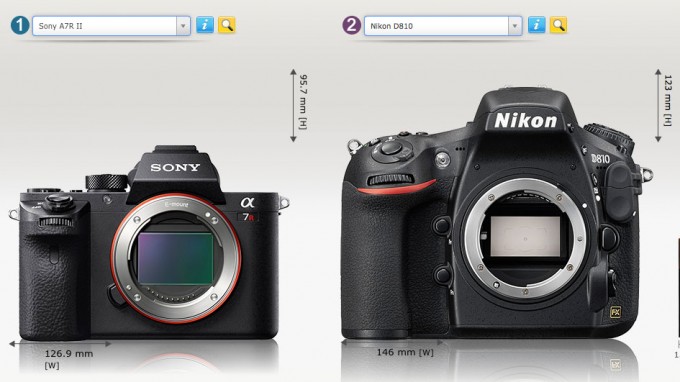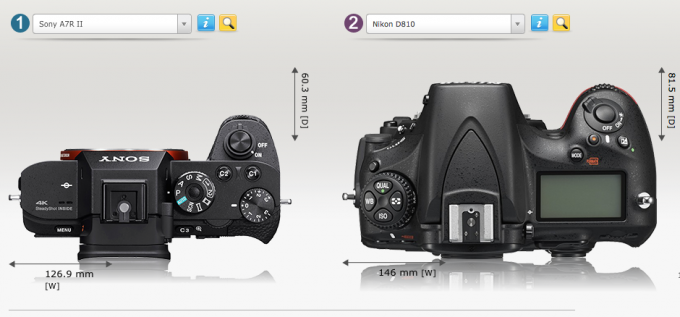 –
The D4..well, no need to comment on size here.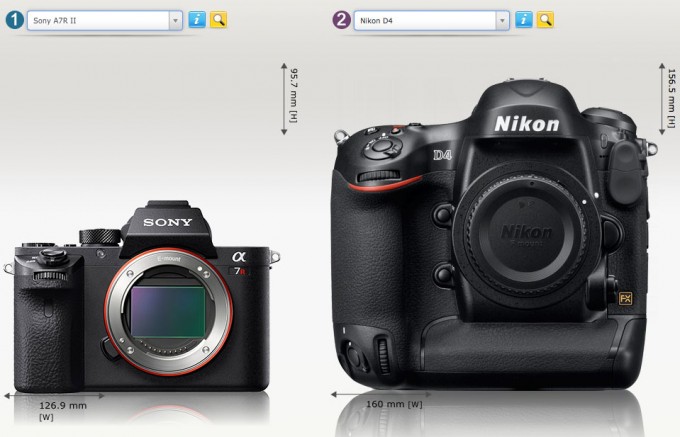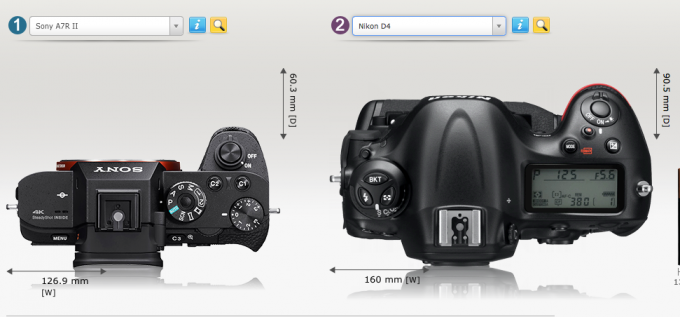 –
Now the 7D Mark II, which is smaller than the 5D III…AND an APS-C sensor, so this one is not even full frame!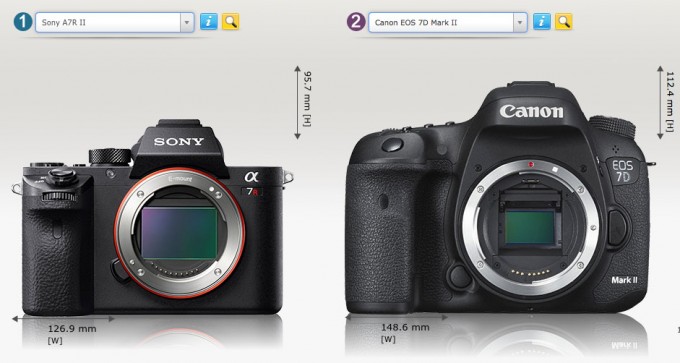 –
..and the 5DIII…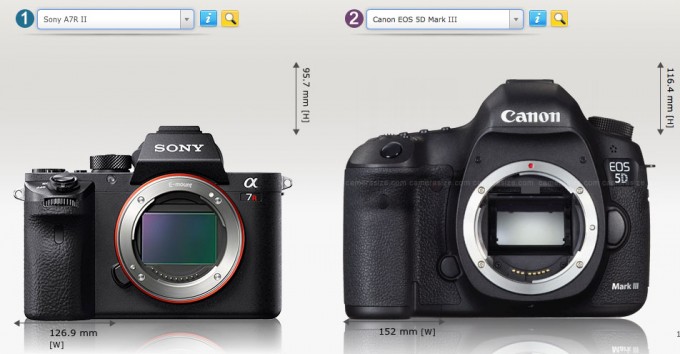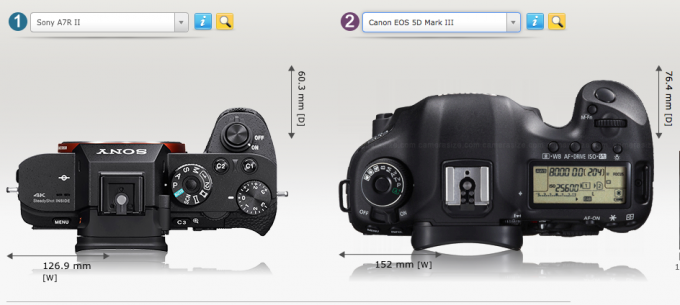 –
..and for giggles, the Canon 1Dx. WOW!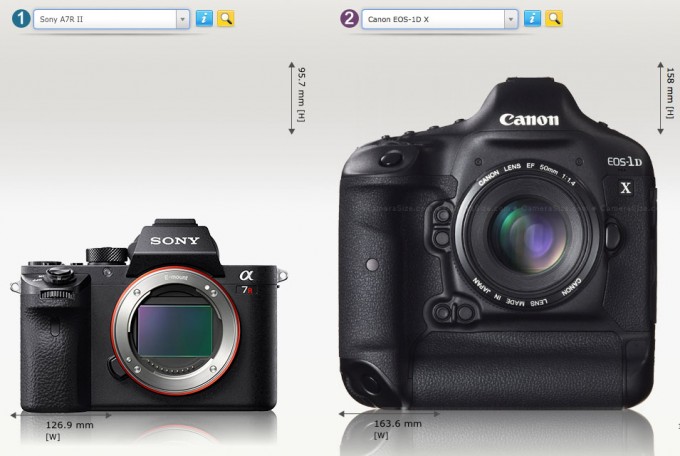 So this should verify that the A7RII is smaller than just about any DSLR, and all of full frame DSLR's by quite a bit, it also beats out all of these on most things such as IQ, usability, fun factor and low light abilities (again, IMO).
Amazing what Sony have done here and I hope Canon and Nikon have a plan! I have been shooting the A7RII all day and this is one hell of a camera. It is small compared to these beasts but feels amazingly solid and nice in the hand and never overbearing or too heavy. AF is speedy and with a Leica lens, mostly all Sony FE lenses or a Zeiss Loxia I feel like I can shoot ANYTHING I want, anytime, without worry or problem. This is the only camera I have used or tested that I would possibly call "and end game" camera for many years to come. Besides moving up to Medium Format, it's hard to fathom what could get better here for 35mm. This weekend look for  tests with the Leica 28 Summicron and 35 Summicron, up close and infinity tests. Then a review of the A7RII to follow!
Steve