The Importance of candid shooting
by Dirk De Paepe
Social Media (Loxia 2/50 Planar: f/13, 1/500, ISO400)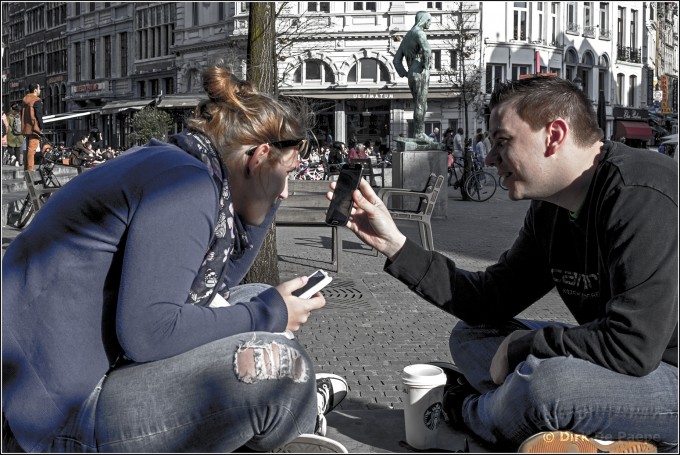 Street shooting is without any doubt one of our most compelling disciplines, because it represents the pinnacle of photography's greatest forte: catching and copying moment's out of real life and freezing them into lasting images. Only photography can perform this and it does it in a way that our first impression automatically is, that we're looking at a faithful scene out of reality (although we all know about so many possible tricks – which BTW are not performed in the pictures that go with this article). Every experienced street photographer knows that there are moments and viewpoints where so many things fall into place, that they become special and/or typical. That's why timing is a crucial factor in this creative process.
(Of course, as always, I express my personal vision in this article, but I believe that it's only in the exchange of different visions that we can further develop. So you are very welcome to comment from a different point of view.)
Sharing (Loxia 2/35 Biogon: f/13, 1/320s, ISO1600)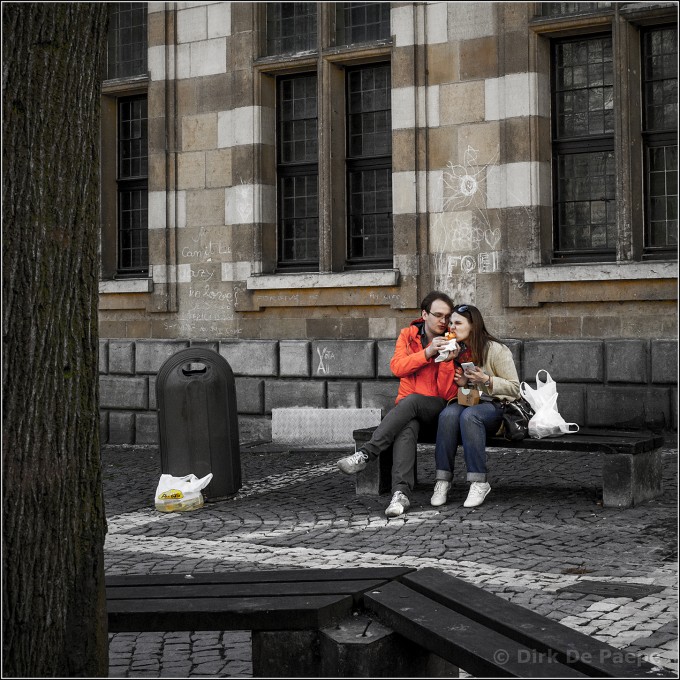 The most important subject in street shooting is people. And thus the comparison with portraiture, both posed and unposed, is obvious. I believe a posed portrait mainly must show a person in the way that he/she wants to be shown. The acting skills of the portrayed person play a big role herein, as well as the communicating skills of the photographer. The key idea is: "this is the image of myself that I want to show". Because such a picture is all about this one person's specific personality (or the personality that one wants to show), he/she should be in control of the impression he/she makes on the spectator, or the photographer needs to put him/her that much at easy that he/she acts natural. (Of course this domain is bigger, but this is the essence of it. Working with a professional model for instance won't necessarily have the model's personality as the subject of the picture.) I'd like to make a comparison with colors now. One could say that this kind of portraiture (posed portraiture, that is) represents one color of the spectrum, say green. Of course there's an infinite amount of nuances in green and green is a very interesting color indeed, but still, they are all green and there are still so many other colors! That's why I believe that unposed shooting of people can show so many more aspects of humanity, of typical human behavior, and therefore I believe it to be much more interesting than posed portraiture.
City traffic (Loxia 2/35 Biogon: f/13, 1/200sec, ISO 1600)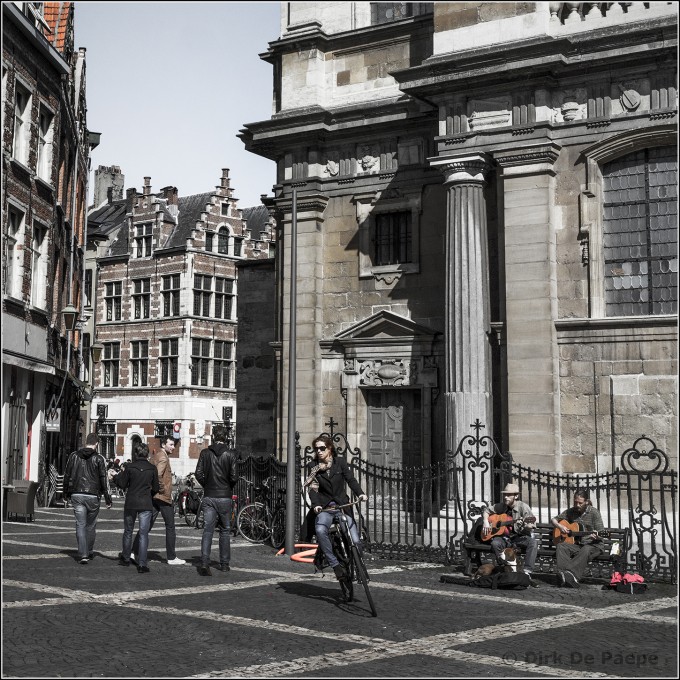 The importance of unposed shooting, which can only be done candid, doesn't lie in showing the true being and the true character of one specific person, as many still believe. Because the candid photographer (generally) doesn't know his target person, there's no question of portraying this specific person's identity. Instead he's rather holding up a mirror and makes us, as spectators, reflect about how we all, as people in general, can act/react in different circumstances. With his candid shots, he's creating a pallet, as diverse as possible, of the different aspects of humanity. The portrayed persons merely act as representatives of mankind, not as particular individuals. This is the more so, because we only picture one moment out of their whole life, without any added context. The weakness of photography is, that it's very difficult to tell the whole story in one picture. Therefore documentary photography requires a series of pictures to do the job. But in street shooting, registering those isolated moment also involves a great forte: it stimulates our imagination, having us create our own story around the picture, giving birth to so many interpretations of the same scene. It makes the picture to transcend from this one person and represent mankind.
Lonely (Loxia 2/35 Biogon: f/13 1/1600sec, ISO1600)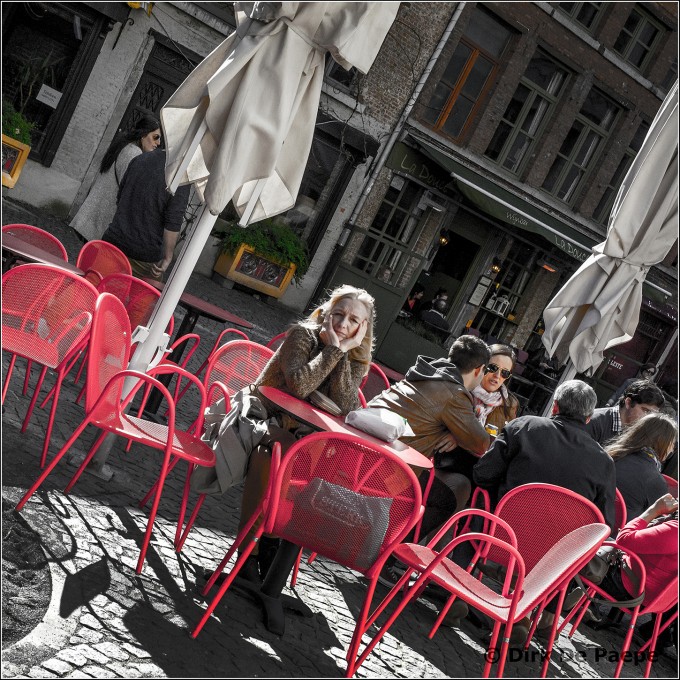 We start to realize (subconsciously) that everybody, ourselves included!, could show that same kind of behavior as the pictured person, in specific circumstances. The more we recognize this behavior within ourselves, the more we realize that all humans are pretty much alike. When we realize that everybody can pass through typical or strange or weak or even embarrassing moments, we will more easily accept our own weaknesses and failures and as such also accept other's imperfections. It can help in being less embarressed about certain defaults we think we have, realizing that everybody has his own defaults. As such this can work liberating, since we'll be more in peace with ourselves. Once we realize this true purpose of candid shooting – portraying mankind – we will be able to see that it's not at all about intruding into one specific person's identity. This is impossible anyway, because the photographer doesn't know the "model" and both the photographer and spectator don't know the circumstances that lead to this registered momentarily situation. So the picture can't possibly show this one person's true nature. A good street photographer realizes that. He doesn't want to intrude in one's soul. Instead his photography is all about revealing the true nature of humanity in general, as said, by exposing how we all can act, given the right circumstances. As such, street photography is a means to increase tolerance amongst people. Candid street shooting is not at all about violating once privacy. Think about it. We take those pictures in plain public, which means that every image has been fully exposed anyhow to all bystanders. No photographer is expected to think that anybody is showing behavior in plain public that he doesn't want to be shown. Also think about the thousands of safety camera's that film us and register our behavior on a constant basis – sometimes to be used for much less honorable purposes.
Because of all of this, I believe candid pictures to be the most interesting, when people don't look into the lens and are not aware that they are being photographed. Looking towards the camera/photographer almost always results in an image, in which the person seams to think: "I'm being photographed!". I believe that from that moment on, the picture looses his real candid character, almost always withdrawing the portrayed person from his natural behavior, resulting in cramped and uninteresting images. In exceptional cases, it càn deliver beautiful shots though. A minority of people immediately reacts to the camera in an open, welcoming way. Those pictures can really show something valuable of this person's true nature. They can result in very beautiful "personality portraits". One could call those shots "Unposed, yet aware portraits".
Beautiful people (Loxia 2/50 Planar: f/13, 1/800, ISO400)
But no matter how beautiful they can be, it's still like they all are different shades of blue. Blue is a very beautiful color, with many nuances, and I absolutely wanna use all those blues, but still I prefer to see the whole color spectrum! The situation, and therefore the expression of face and body, is (in average) much more interesting, much more representing the whole of mankind, when there's no photographer disturbing it. Candid shots show so much clearer all different aspects of human life and behavior. The majority of people only look natural, when the shot was taken fully candid. That's why the great street photographers often preferred a Leica M camera over a big SLR, so they could shoot in a more discrete way. Today we see a lot of Sony A7x bodies go along the Leica's, together with a range of Micro 4/3's and APSC's. I like to pair my A7r with the Zeiss Loxia lenses, that I find simply perfect for street shooting, regarding size, performance and IQ. From time to time, I will add the Canon FD 85mm f/1.2 or Jupiter 9 (85mm as well) to the lot. (I'm really looking forward to the Loxia 85 or 90mm to come, for that matter.)
Severe facades (Loxia 2/50 Planar: f/11, 1/250sec, ISO400)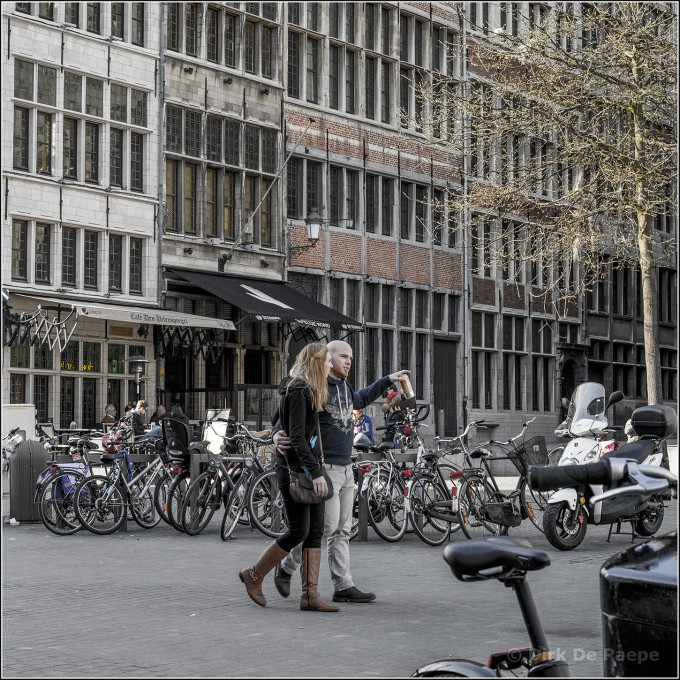 All pictures posted here, were shot in Antwerp, my favorite city, in a span of a few hours time. I chose to post only shots from that particular shoot, just show that there is a lot to notice in a short time. Although most street photographers shoot or publish in B&W, I decided to keep all shots in color. It's how I think at this moment. I agree, B&W emphasizes on the essence of the act, still I believe that the colors can really contribute to the street feeling and to the atmosphere of a country, a region, a city. Where I live, in Belgium, real life colors are more grey and murky than for instance in Spain, let alone in Africa. They are less brilliant and saturated. So in the color balance I pursued grays to be really gray and not to overdo the colors, although with the modern cameras and post production software, it's so very easy and tempting to do so. Still, I'm not proclaiming to produce perfectly faithful colors. Instead I tried to make them contribute to the general feeling that I got from the place, as such contributing to feeling that I got when observing the pictured people.
Pedestrian zone (Loxia 2/35 Biogon: f/13, 1/800sec, ISO1600)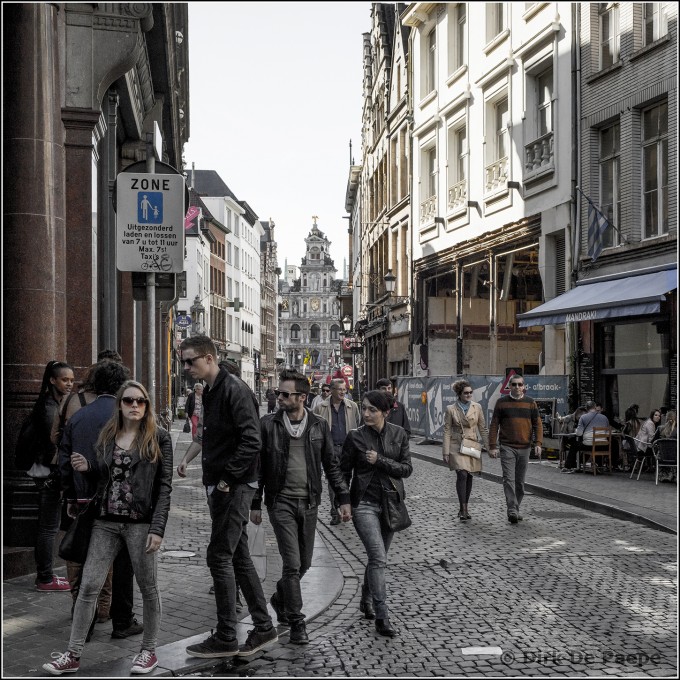 But more than the color treatment, it's the people themselves that play the central role in those pics. Some absolutely didn't know that I was shooting and act absolutely natural. Some noticed me but didn't change their expression a single bit. Some reacted enthusiastic and opened up. A single one showed a bit of an annoyance. But after all, I experienced no real reluctance with any of them. And in all of them I noticed enough typical human behavior to show those pictures to you.
Hasty (Loxia 2/35 Biogon: f/13, 1/800sec, ISO1600)
Finally, aside the catching of the moment, I also try to take care of the composition. That means that I try to integrate the surroundings in a meaningful way. I have my personal insights on arranging the subjects and objects in a picture, but this would take me too far to elaborate about this in this article. But I can say that, while shooting, this is done with a sense of balance and a "load of rules" that have become more or less natural to me. The fine tuning is done in post of course. Often I think in square images when shooting, which shows. Integrating the surroundings in the composition requires a larger depth of field, which I achieve by zone focusing. The Loxia's are fantastic lenses for that kind of work. Like I wrote in my reviews about them, published on this site, they can produce tremendous detail on all plans, even when hyperfocusing. And zone focusing is a fantastic technique for street shooting, since there is zero focusing time required, thus offering the fastest way to react to any situation, faster than any AF system. Finally, using a hi-res sensor together with those state-of-the-art lenses, gives you quite some cropping power, which sometimes can be interesting when you caught an interesting moment's event at some distance.
Wretched (Loxia 2/35 Biogon: f/13, 1/400sec, ISO1600)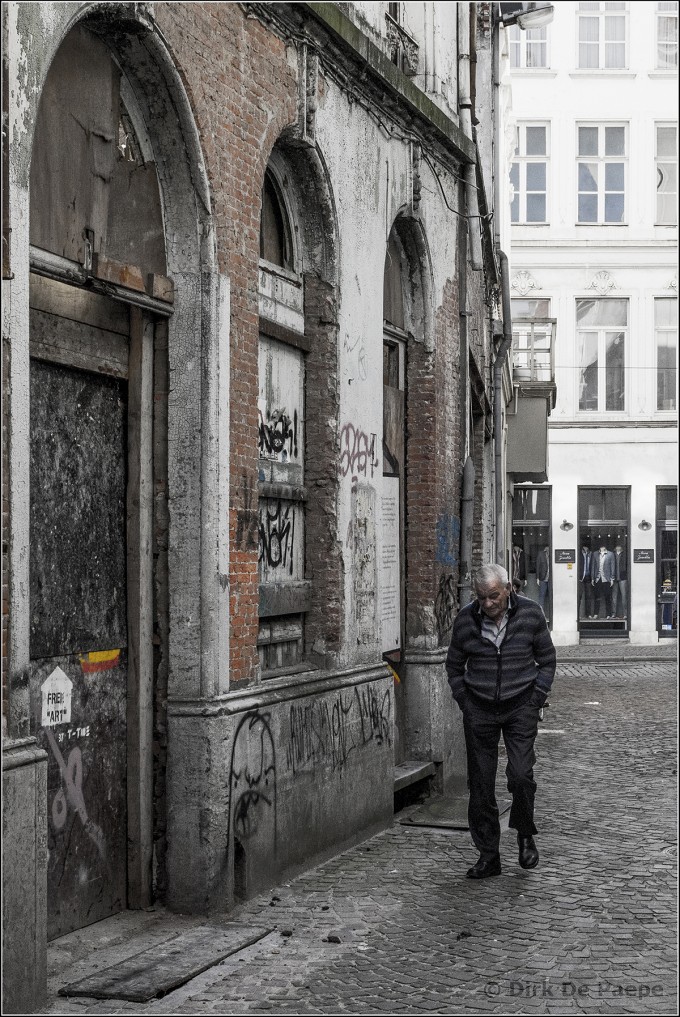 Please, as always, click on the pictures to see them in bigger format with better IQ, and go to my flickr page to see them in full size, with the Exif data included. You'll find them, and more, in a dedicated album, named "In the streets of Antwerp" .
I hope you enjoyed the images. Thanks for reading and watching and, as always, special thanks to Steve and Brandon for keeping on publishing this great site.