The New Olympus 300mm f/4 Pro Lens! Holy Telephoto!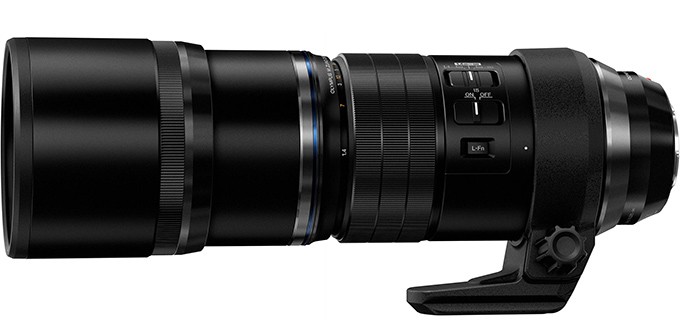 Olympus has announced a new lens for the Micro 4/3 system in the form of a 300mm PRO f/4 Prime lens, and believe me..this lens will be quite special. Think about it. This lens will deliver a 600mm equivalent on your micro 4/3 body giving massive reach. Between Olympus and Panasonic we have some of the best lenses in the digital photo world available to us. The new 300mm PRO lens is available NOW for $2499 in the USA and $3299 in Canada. I think this lens will make many Micro 4/3 shooters VERY happy as this will offer a level of performance at the top of the heap. Olympus knows how to make amazing glass.
YOU CAN ORDER THE NEW 300 F/4 PRO LENS AT B&H PHOTO – HERE. 
I look forward to reviewing this beautiful piece of glass. SOON 😉
PRESS RELEASE FROM OLYMPUS:
A NEW WORLD OF HANDHELD NATURE PHOTOGRAPHY:  THE OLYMPUS M.ZUIKO® DIGITAL™ ED 300MM F4.0 IS PRO ARRIVES
Super Telephoto Lens with Powerful 5-Axis Sync Image Stabilization and Olympus's Highest Resolution Ever in a Compact, Dustproof and Splashproof Body
CENTER VALLEY, Pa., January 5, 2016 — Olympus is pleased to announce the Olympus M.ZUIKO Digital ED 300mm f4.0 IS PRO, a compact super telephoto lens that expands the capability of the M.ZUIKO PRO series of professional, splashproof and dustproof lenses that deliver outstanding image quality under any circumstance. The M.ZUIKO Digital ED 300mm f4.0 IS PRO is the first Olympus interchangeable lens with a built-in image stabilization mechanism, and when paired with the Olympus OM-D E-M1 (firmware version 4.0) or E-M5 Mark II (firmware version 2.0), in-body and in-lens image stabilization work in perfect harmony, resulting in the new 5-Axis Sync IS technology to produce the world's most powerful image stabilization performance of up to six shutter speed steps of compensation*.* The lens can also be used effectively with other camera bodies, as the in-lens stabilization mechanism alone provides four shutter speed steps of compensation.
With a length of 8.9 inches (227mm) and weight of a mere 2.8 pounds (1,270g), at one-third of the size and weight of most DSLR 600mm equivalents, the M.ZUIKO Digital ED 300mm f4.0 IS PRO is designed to slip into an airplane carry-on bag or backpack and go anywhere to help users easily capture handheld images in once-challenging photo destinations. Despite its compact size, the lens is hermetically sealed in 17 places and features freezeproof performance down to 14⁰F (-10°C). Together with the same splashproof, dustproof and freezeproof performance as the OM-D E-M1 and E-M5 Mark II, this ensures you can capture high-quality images in the harshest environments.
The M.ZUIKO Digital ED 300mm f4.0 IS PRO debuts Olympus's highest-ever resolution by combining three Super ED lenses, one Extra-High Refractive index lens and three High Refractive index lenses to reduce the color bleeding and chromatic aberrations that tend to occur on typical super telephoto lenses. In addition to Olympus's renowned ZERO Coating (ZUIKO Extra-low Reflective Optical Coating), a brand-new lens coating technology called ZERO Coating Nano suppresses reflected light to minimize ghosts and flares for extremely sharp details of images, including car headlights. A layer of nanosized particles and a layer of air from the center to the surface of the lens achieves a refractive index similar to air and significantly reduces surface reflection.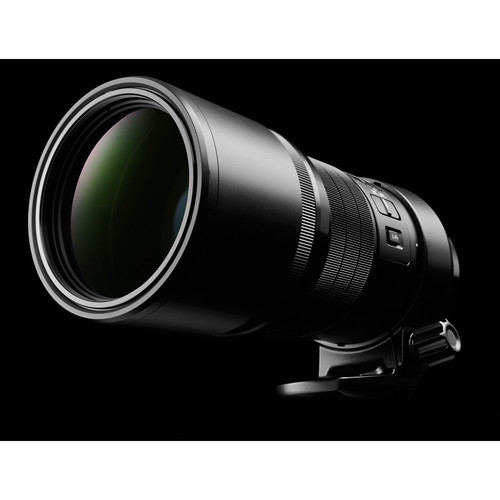 The M.ZUIKO Digital ED 300mm f4.0 IS PRO also gets up close to explore the beautiful, minute world of telemacro photography with maximum image magnification of 0.48x (35mm equivalent), with a minimum focusing distance of 46 inches (1.15m) from the end of the lens. When combined with the M.ZUIKO Digital 1.4x Teleconverter MC-14, the user can capture all of nature's beauty in high resolution at 840mm (35mm equivalent) and an increased image magnification of 0.67x (35mm equivalent) in a handheld compact body while maintaining the same minimum focus distance.
The OM-D's silent mode combines with the lens' Movie & Still Compatible mechanism for silent AF and shooting, giving the user the ability to blend into the background of any situation, whether that be the refinement of a symphony performance or the dusty plains of a lion's hunting grounds.
The lens also features a Manual Focus Clutch mechanism that makes switching to manual focus possible by pulling the focusing ring toward you. The side of the lens barrel features a Focus Limit switch (4m to infinity, all range, 1.4 to 4m), an IS switch (On/Off), and an L-Fn button, which can all be operated without ever taking your eye off the viewfinder. The built-in sliding lens hood can be locked into place when extended, and the tripod base plate with a quick shoe compatible rail is removable.
U.S. Pricing and Availability
The M.ZUIKO Digital ED 300mm f4.0 IS PRO lens is available now for an estimated street price of $2,499.99 (U.S.) and $3,299.99 (Canada).
*As of December 2015. CIPA guideline compliant, when correction is carried out on two axes (yaw and pitch) and when halfway release image stabilization is off.
ABOUT OLYMPUS AMERICA INC.
Olympus America Inc. is a leading provider of digital imaging and audio technology solutions, noted for its precision optics and groundbreaking technologies.
For more than 90 years, Olympus has innovated and developed best-in-class products that expand the boundaries of product design and functionality, empowering consumers and professionals alike to capture their stories. These include:
Digital Compact Cameras
Professional and Consumer Interchangeable Lens Cameras
Related Underwater Products and Accessories
Digital Audio Recorders
Binoculars
Accessories
For more information about Olympus and our award-winning products, please visit getolympus.com or connect with us and other fans like you through our social and photographic communities: @getolympus on Facebook, Twitter, Tumblr, YouTube, Pinterest, Instagram and Flickr.
Specifications and design are subject to change without any notice or obligation on the part of the manufacturer.
All trademarks and registered trademarks listed herein are the property of their respective holders, in the U.S. and/or other countries.
Copyright © 2016 Olympus America Inc.
# # #