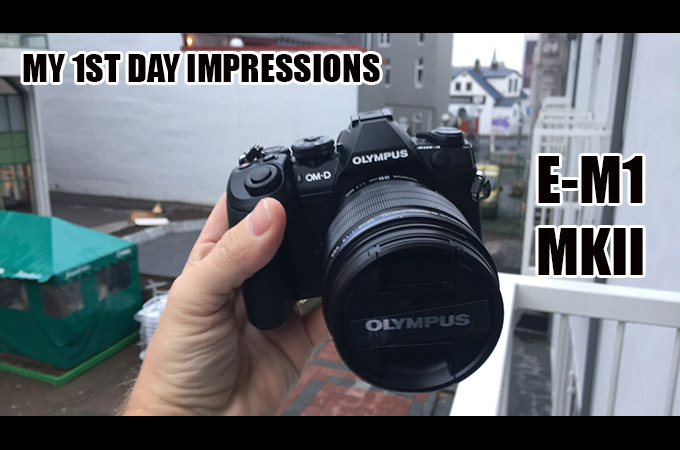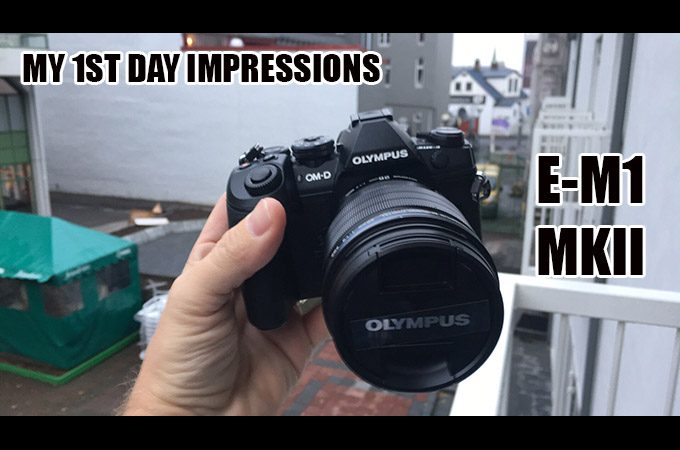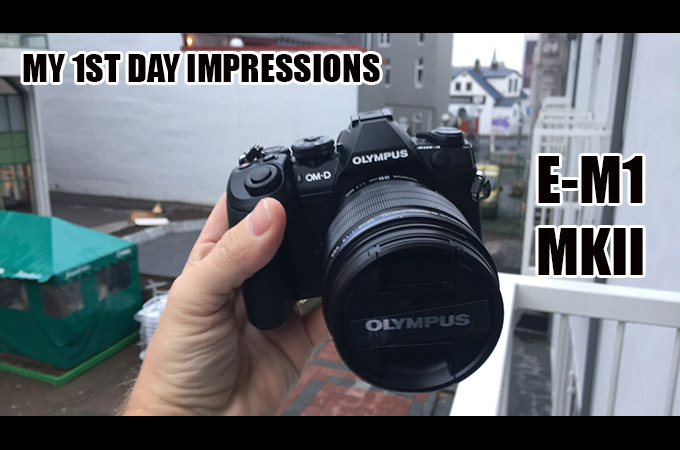 My First Day impressions with the Olympus E-M1 MKII and new Lenses!
WOOOOOOFREAKINGHOOO!
Hey all! I am in Iceland (which is a true Photographers paradise)  all week-long with the new Olympus E-M1 MKII, the new 12-100 Lens and the new 25 1.2 Lens. It's frigid cold, it's wet, and it's dreary but MAN OH MAN what a time and what a camera.
DISCLAIMER: THIS IS NOT HYPE my friends, it's 100% what it is. 
Me with the new EM1 MKII and 12-100 Lens. I am buying both, no question.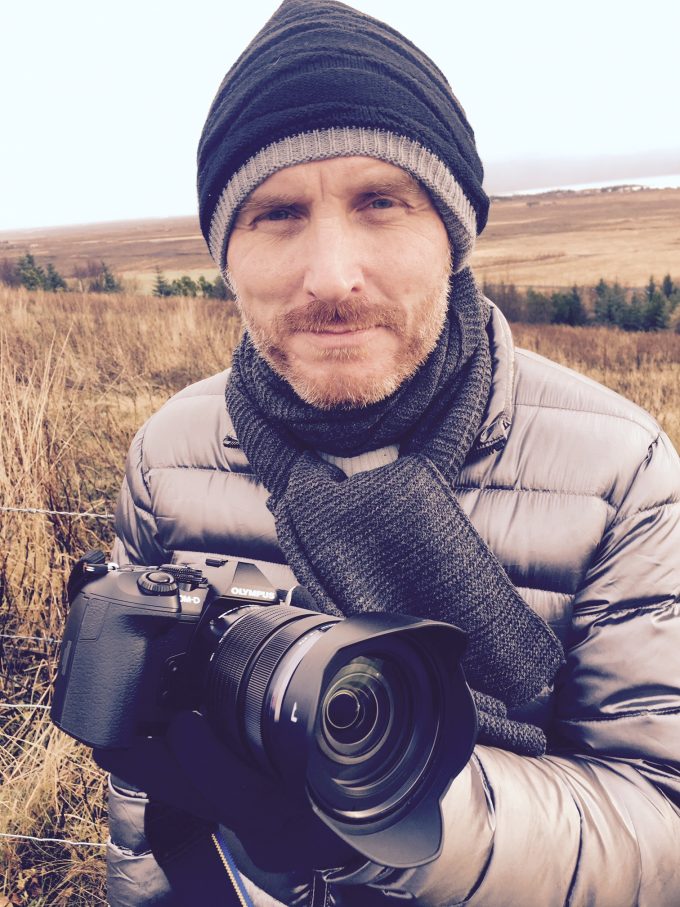 This morning I received the OMD-Em1 MKII kit and we have been out ALL morning and day and evening shooting with this kit and I have to say that Olympus pulled out ALL the stops here. I mean, I have never used a more advanced camera system when it comes to what a camera can do, how it can do it, and with the ease that it does it.
The E-M1 II is a huge leap forward for Micro 4/3, and is a true powerhouse camera. Believe that, it is true. 
This is NOT a review, not at all…my review will be up 1st week of November (I HOPE, that's the plan). Sadly, I can not share images from it just yet but will be soon, and my 1st day here in Iceland was very productive. Three things:
The new 12-100 lens is stunning.  A MUST own lens. This is the lens you may not think you want, but you really do. This lens, when attached to the new E-M1 II has 5 Axis that gives us a 6.5 stop advantage. The IQ of this lens is perfection from wide open to stopped down and from 12mm to 100. It's small for what it is, but a full PRO Olympus lens with weather sealing and all. It's weather SEALED not splash proof like most. Beautiful. 
The new 25 1.2 is also a STUNNER!!! Forget what you think you know as this lens is up there with ANY lens from Leica in regards to contrast, sharpness, rendering and Bokeh. And no, it is NOT too big. 

The new E-M1 II may be…may be…the best camera I have ever reviewed as a total package. But I will get into all of that in my full review as more testing is required and I am shooting all week with it. 
Today this camera and these two lenses withstood a true torture test from rain, cold, and massive waterfall splashes. My camera and lens was SOAKED over and over and over again and it kept on ticking just like an old Timex watch. It took a massive licking but kept on ticking. That was just ONE of the many wonderful things about this camera. After only one day it is safe to say that there is no better M 4/3 camera on the market, not even close.
Conditions were like this all day and this setup kept on going..I was soaked to the bone when I returned to my hotel but the camera had no issues.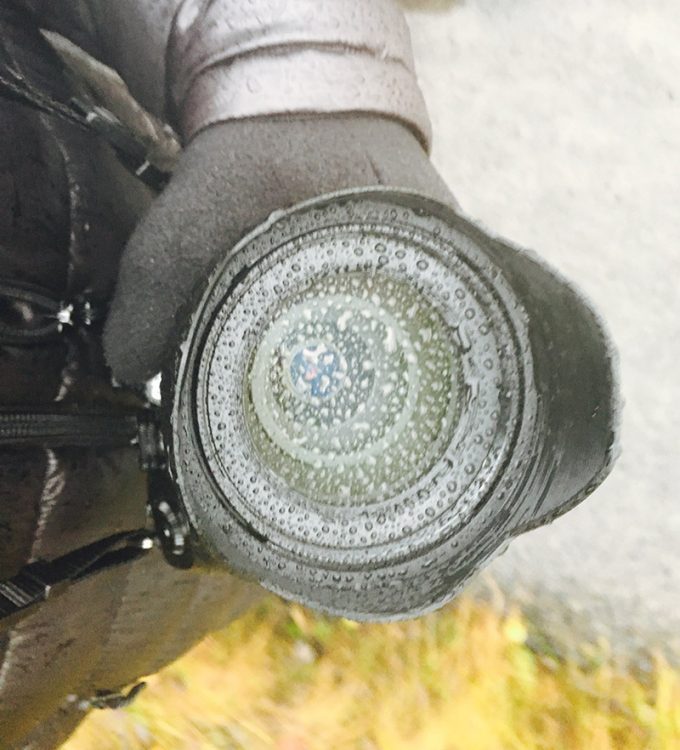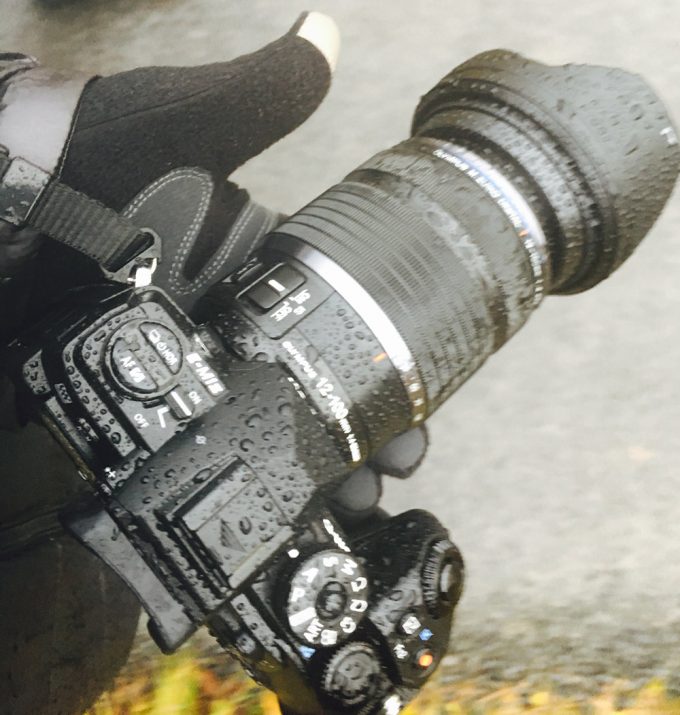 I do not want to make this post long as I do have a full review to write but let me just go over a few of the things that have already impressed me about the E-M1 MKII…
Dual SD slots that allow you to assign a slot to VIDEO or PHOTO or you can assign one as a mirror/backup. With the new Cinema 4K video this camera offers, you will need a fast large SD card and slot #1 is where you want to put it. You can put your normal SD in slot 2 for photo work. But it's a fantastic system.
New menus/redesign. Easy to read and set up!
NEW battery system! Looks like the Leica M 240 battery which will give longer life. Awesome.
The weather sealing of the lenses and body is fantastic.
The SPEED!!! With two quad core processors this guy is uber responsive in every way. Blazing AF, blazing image preview, no lag whatsoever. This thing is a speed demon and an ACCURATE one.
Feel and Design remains true to the original but it's better. A tad taller but it feels GREAT. This is a true pro built body.
The EVF is great and while not up to Leica SL standards, its just under it. Has a 6ms reaction time.
Everything is customizable.
18 FPS with S-AF mode
60 FPS full RAW with SF and AE lock
121 Point cross type AF
18 FS tracking mode
ISO auto to 6400
Better high ISO performance over E-M1 (1 stop) with a new color noise reduction process  that is quite good.
New improved HIGH RES SHOT
New improved 5 Axis
Rolling shutter issues? Oly found a way to minimize it to an almost non existent level.
4K movie mode, 4K cinema mode at 24P – 237MBPS
12-100 Lens will focus as close as 1cm and according to Olympus it is the best lens they can make, and I believe them after using it today.
Lag free EVF with smooth 120fps frame rate.
Pro Capture Moment mode – Buffers 14 frames BEFORE you fire your shot, and it is always buffering 14 shots. When you press the shutter half way it starts, when your moment is going to happen press it down all the way and the camera will shoot a boatload of frames to make sure you never miss a shot. This is basically compensating for human lag. It works amazingly well and allowed me to get a few images today I would have missed without question.
Twice the memory of the E-M1 for blazing processing. 30ms electronic shutter, 33 mechanical.
4X faster tethering using new USB C cable.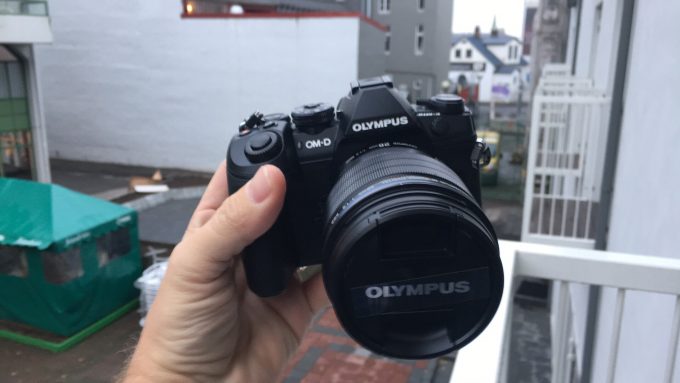 –
This pano is from my iPhone 6 but was just one of the areas we shot today. 

These are just the new improvements made, all the old features are still here as well. The IQ is improved, noise is improved, speed is improved, design and performance all the way around.
I will be ordering one with BOTH new lenses, it is that good. Watch for my full review in November! 
AVAILABILITY and PRICING?
Olympus has not told me yet when it will be available or how much it will cost. As soon as I know and can share, I will let you all know! My dream scenario would be $1599 but it may be more, and it would be worth it at up to $2k for me. I am also hoping for a late November ship date but we will see! This would make a killer Christmas present to myself, lol.
PS – I always wondered where Olympus could go with another Flagship, and they have created something special with the E-M1 II. Even they say it is the best camera they have EVER made, period. It truly is. Olympus is one of 2-3 companies changing the game and pushing new tech and features, and once again they have made the internet camera world pretty damn excited. 
SO MUCH to come in my full review. I am hoping for early November!
---
PLEASE! I NEED YOUR HELP TO KEEP THIS WEBSITE RUNNING, IT IS SO EASY AND FREEE for you to HELP OUT!
Hello to all! For the past 8 years I have been running this website and it has grown to beyond my wildest dreams. Some days this very website has over 200,000 visitors and because of this I need and use superfast dedicated web servers to host the site. Running this site costs quite a bit of cash every single month and on top of that, I work full-time 60+ hours a week on it each and every single day of the week (I receive 100-300 emails a DAY). Because of this, I could use YOUR help to cover my costs for this free information that is provided on a daily basis. 
To help out it is simple, and no, I am not asking you for a penny!!
If you ever decide to make a purchase from B&H Photo or Amazon
, for ANYTHING, even diapers..you can help me without spending a penny to do so. If you use my links to make your purchase (when you click a link here and it takes you to B&H or Amazon, that is using my links as once there you can buy anything and I will get a teeny small credit) you will in turn be helping this site to keep on going and keep on growing.
Not only do I spend money on fast hosting but I also spend it on cameras to buy to review, lenses to review, bags to review, gas and travel, and a slew of other things. You would be amazed at what it costs me just to maintain this website, in money and time (250 hours a month, and about $3000 per month).
So all I ask is that if you find the free info on this website useful AND you ever need to make a purchase at B&H Photo or Amazon, just use the links below. You can even bookmark the Amazon link (not the B&H) and use it anytime you buy something. It costs you nothing extra but will provide me and this site with a dollar or two to keep on trucking along.
AMAZON LINK (you can bookmark this one)
B&H PHOTO LINK – (not bookmark able) Can also use my search bar on the right side or links within reviews, anytime.
Outside of the USA? Use my worldwide Amazon links HERE!
You can also follow me on Facebook, Twitter, or YouTube. 😉
One other way to help is by donation. If you want to donate to this site, any amount you choose, even $5, you can do so using the paypal link HERE and enter in your donation amount. All donations help to keep this site going and growing!
 I do not charge any member fees nor do I (nor will I ever) charge for reviews, so your donations go a long way to keeping this site loaded with useful content. If you choose to help out, I thank you from the bottom of my heart.