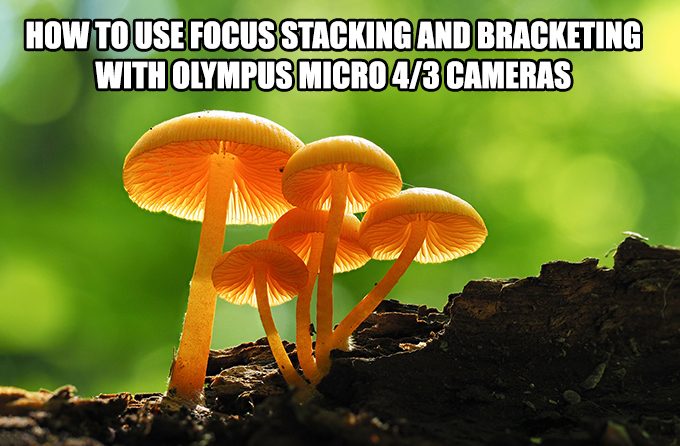 How to use Focus Stacking and Bracketing with Olympus Micro 4/3 Cameras

By Olympus Trailblazer Peter Baumgarten
Every autumn, in the forests near my home, a massive reproductive event takes place that I just can't ignore. It starts during the warm days of summer when long tendrils of mycelium digest their way through the rotting corpses of fallen forest detritus. When autumn arrives, an asexual explosion erupts from the earth, as the fruiting bodies strive to spread their genetically identical spores throughout the forest floor. We're talking mushrooms here, people! And I love to photograph them.
Mushrooms grow remarkably quickly and decay even quicker. But if you time it right they can be quite photogenic. Many species are so small that a macro lens is an absolute necessity. Anyone who has worked with a macro lens recognizes that it can be a real challenge to achieve a sharp subject from front to back and still maintain a nice, soft, defocused background. In fact, with most subjects it's an impossible task. Enter focus stacking or focus bracketing.
The concept is quite simple. Take a series of photos with each one being focused at a slightly different point on your subject. Then use software to stack and process them in order to capture a greater depth of field than is capable with just a single shot using a macro lens, all while maintaining nice bokeh in your final image.  Olympus developed built-in focus stacking in their OMD E-M1 with the release of the 4.0 firmware update. That feature has been included and improved in the E-M1 Mark II. Although focus bracketing will be addressed, the main focus of this post is the focus stacking feature. All of the images have been photographed using the new Mark II model.
Olympus OMD E-M1 Mark II, 60mm f/2.8 macro, ISO640, 1/200s, f/3.5, +0.3EV, focus differential 4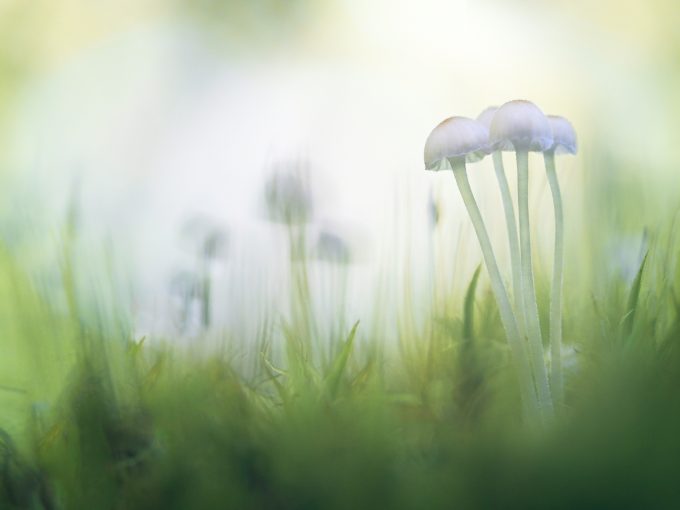 Equipment
The following Olympus cameras have built-in focus bracketing and focus stacking.
OMD E-M1 Mark II
OMD E-M1 (firmware version 4.0)
OMD E-M5 Mark II (firmware version 2.0)
OMD E-M10 Mark II 
PEN-F
Not every lens is compatible with the focus bracketing/stacking feature. The PRO line of lenses have both the bracketing and stacking feature. Other Olympus lenses allow for bracketing, but not the built-in focus stacking.
A tripod is definitely recommended. However, a few of the shots in this post were hand-held and for others I placed the camera on the ground.
The Process
The following steps will set up the camera for focus stacking.
• From within the Menu, select the Camera2 options.
• Select Bracketing. You can bracket a variety of settings (Auto Exposure, White Balance, Flash, ISO, Art Filters, and Focus Bracketing). Select Focus BKT.
• Turn Focus Stacking On.
• Select Set Focus Differential. Choose a focus differential from 1 to 10. This determines the difference in focus position between shots. 
• Press OK repeatedly to engage the settings. You should see the letters BKT at the top of the LCD indicating that Focus Bracketing is set. 
 The focus stacking feature will shoot 8 photos at the focus positions you set and then merge them into one jpeg file at full resolution. Achieving good results will take some experimenting since so many variables are at play – subject size, distance from subject, lens choice, aperture setting, and focus differential.  All eight photos are recorded plus the final stacked image.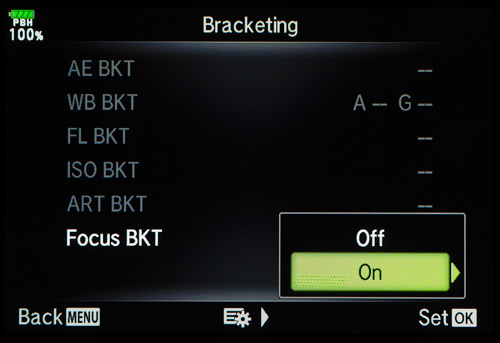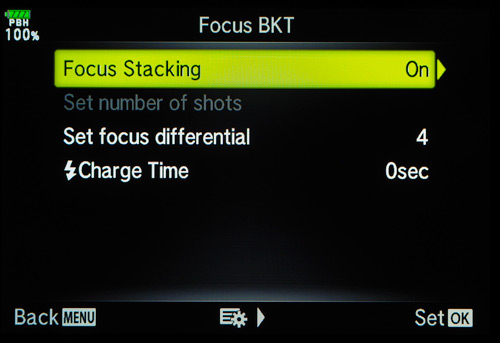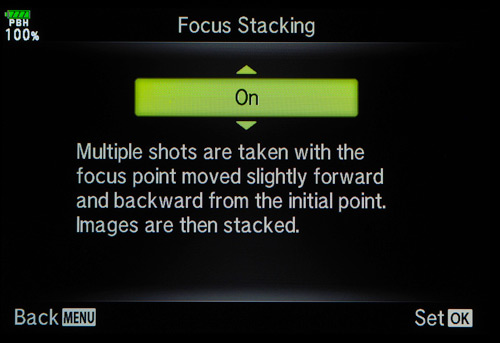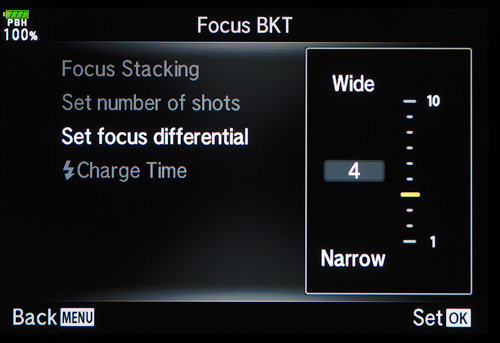 The focus stacking feature is accessed through the Bracketing menu. With stacking turned on, the "Set number of shots" is greyed out.
The focus differential will set a wide or narrow focus difference between shots.
Generally I have found that a wider aperture and a narrow focus differential yields excellent results with the fungal subjects in this post. In all of the photos below I have included the lens, basic camera settings and focus differential.
Although I have found the focus stacking feature to yield excellent results, it is not infallible. There are times where the camera cannot process the stacked image and a message pops up stating, "Focus stacking error. Image composite failed." This is usually due to camera or subject movement, however I have also had it occur when the lighting changes rapidly during the sequence.
60mm f/2.8 macro, ISO640, 1/125s, f/3.5, focus differential 4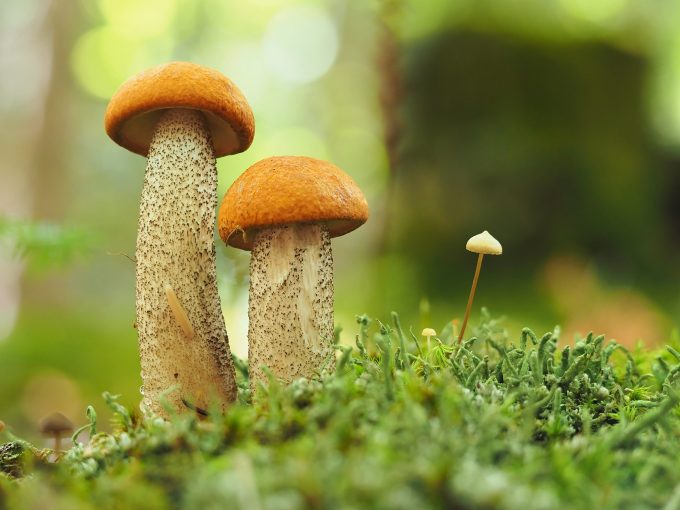 60mm f/2.8 macro, ISO 400, 1/250s, f/3.2, -1.3 EV, focus differential 3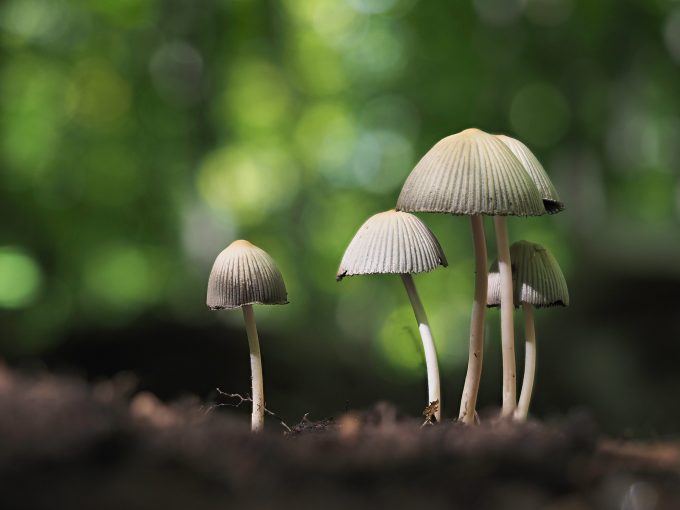 40-150mm f/2.8 PRO, ISO 1000, 1/80s, f/3.2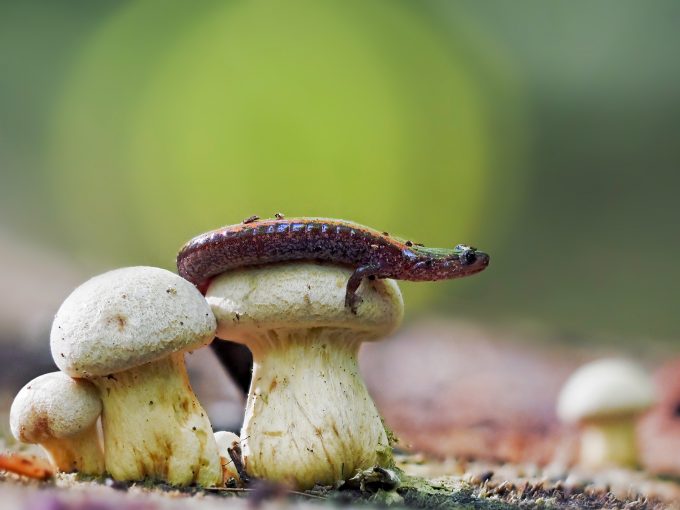 Lens: 12-40mm f/2.8 PRO, ISO 400, 1/125s, f/5.0, -0.3EV, focus differential 3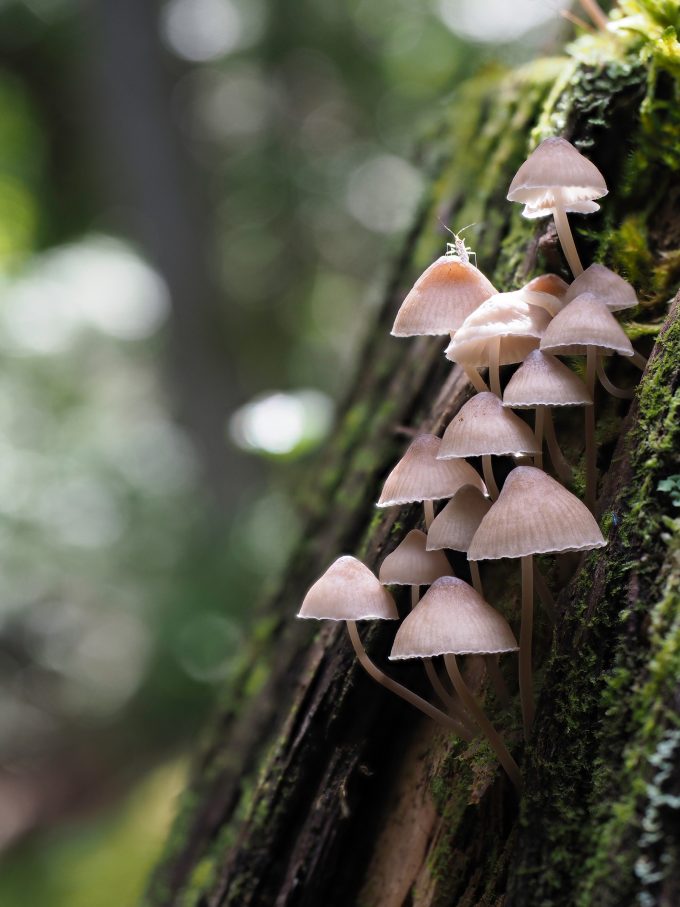 60mm f/2.8 macro, ISO 400, 0.5s, f/5.0, -0.7EV, focus differential 3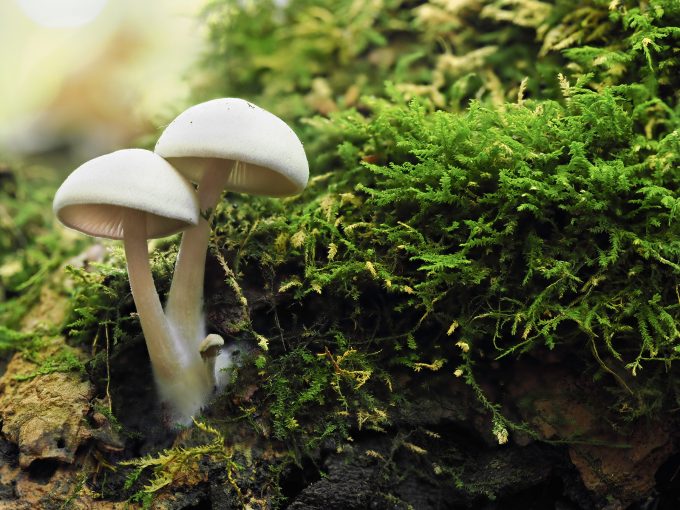 60mm f/2.8 macro, ISO 400, 1/20s, f/4.5, focus differential 3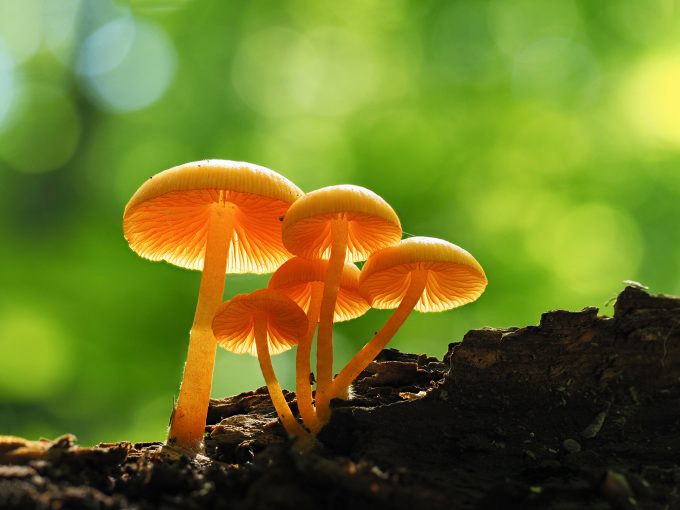 60mm f/2.8 macro, ISO400, 1/13s, f/5.0, focus differential 3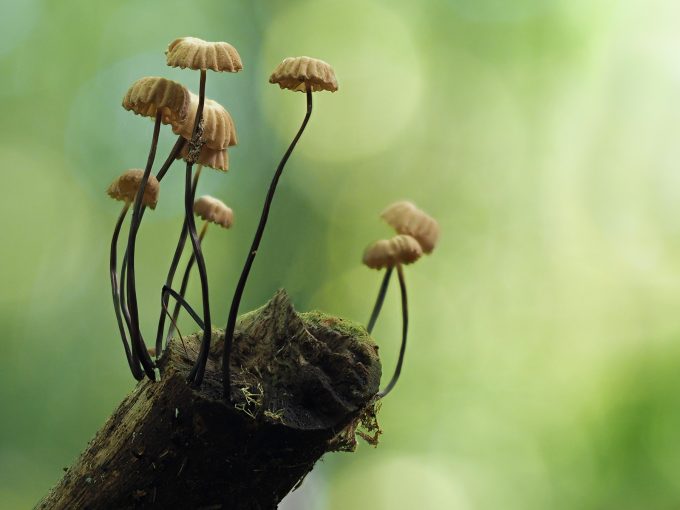 12-40mm f/2.8 PRO, ISO400, 1/20s, f/5.0, -0.3EV, focus differential 5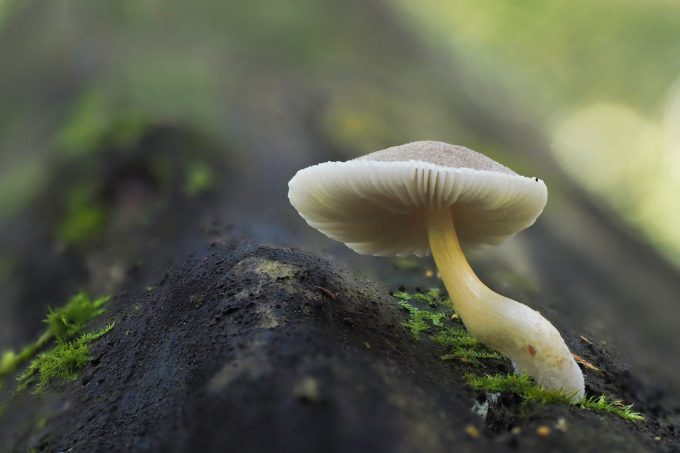 60mm f/2.8 macro, ISO 640, 1/60s, f/3.5, -1.0 EV, focus differential 2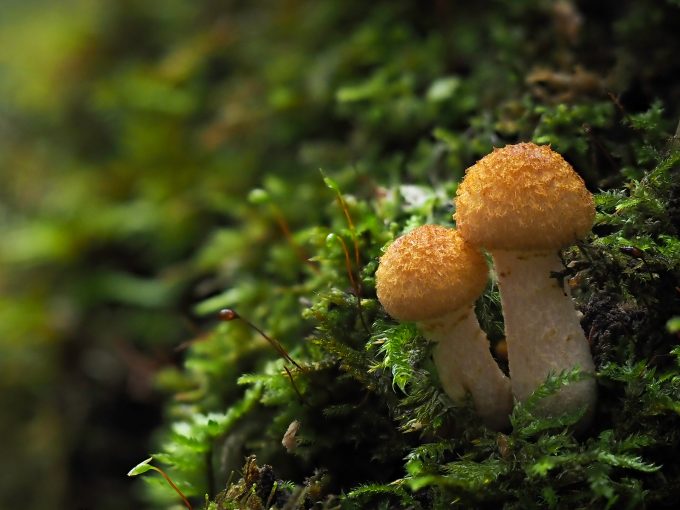 60mm f/2.8 macro, ISO400, 1/25s, f/5.0, focus differential 3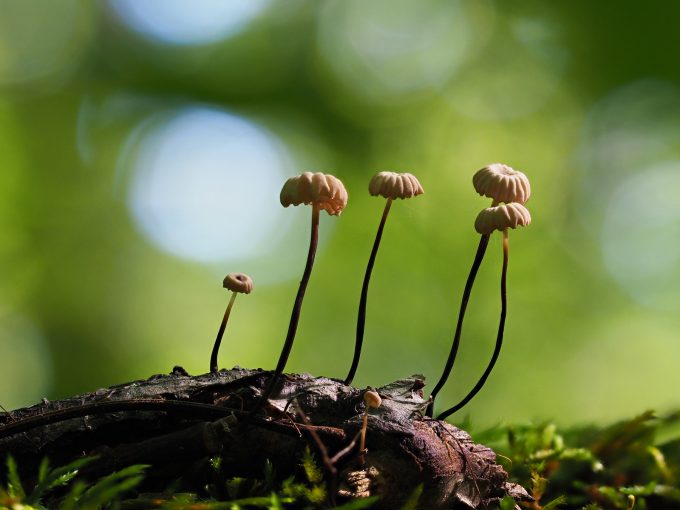 Using a wide angle lens can provide a bit more context to the shot.
7-14mm f/2.8 PRO, ISO200, 1/640s, f/2.8, -0.3EV, focus differential 2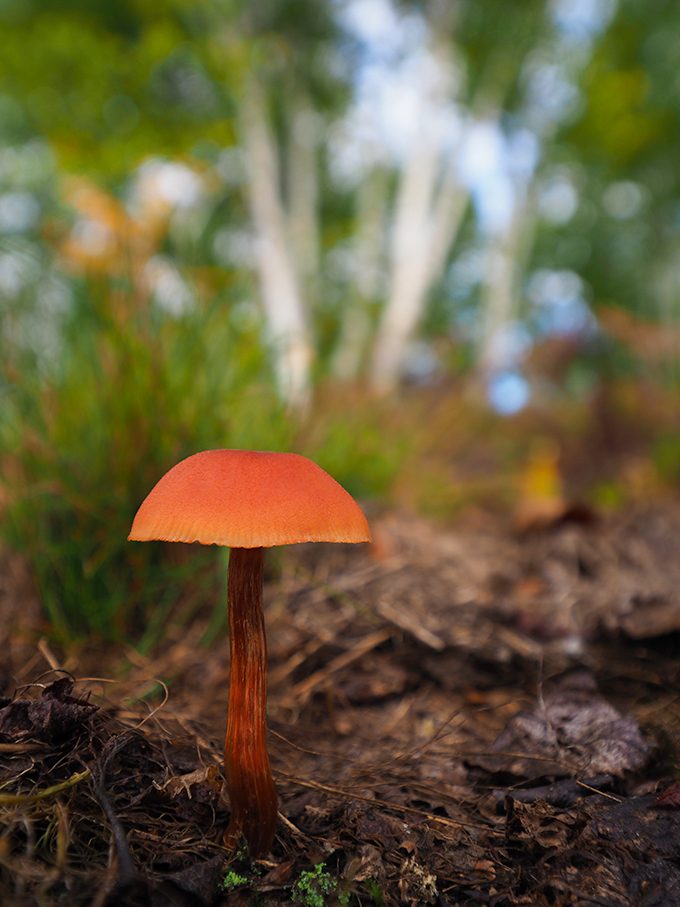 This animated gif illustrates the focus bracketing process. 8 images are taken based on the pre-set focus differential. In this case the differential was set at 3.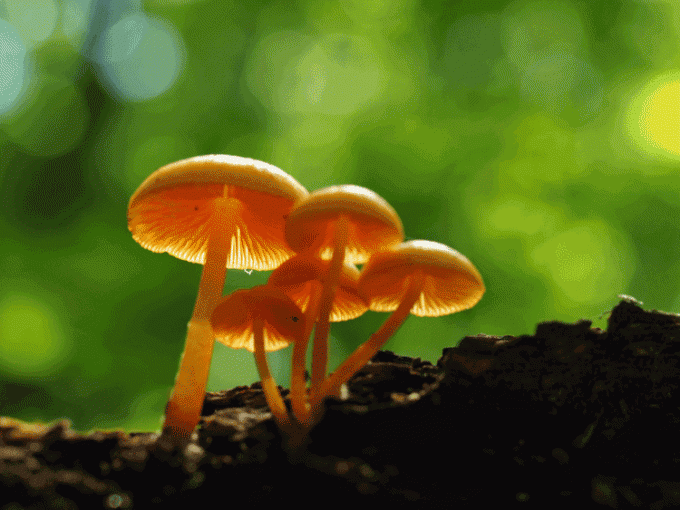 Bracketing vs. Stacking
I have found the built-in focus stacking to be remarkably accurate. So why would you opt for bracketing vs. stacking? Here are a couple of reasons;
• The stacked image is trimmed. Regardless of subject, which lens you use, or whether you use a tripod or not, the final stacked image is trimmed along all four edges. The final image remains the same size (5184 x 3888px for the E-M1 Mark II), which means some interpolation must be going on. This must be taken into account when composing the shot.
• Details vs distance. The fungus below had countless stalactite-like fingers and was about 15 cm from front to back, a fair distance for a macro shot. I attempted to use the stacking feature, which only brackets and stacks 8 photos. After some experimenting with the focus differential settings I had to compromise. I could capture the details of the front fingers but loose the details in the back, or I could capture the entire distance, but have too much interpolation that would blur out some of the fingers. Not willing to compromise I opted to use bracketing instead.
To access the bracketing options turn off focus stacking. This allows you to choose from 3 to 999 shots with a focus differential between 1 and 10. For the image above, I selected 20 shots with a focus differential of 2. After the sequence I had a look at each one using the LCD and determined that I had captured sufficient detail throughout the range.
Upon uploading the images I determined that I only needed 12 of those images to clearly capture the fungus from front to back. I then used Photoshop to stack them. This gave me greater control over the process (which I like), and there was no trimming of the final image. That being said, I really do like the convenience of the built-in focus stacking and how easy it is to use.
A Final Photo
It was my interest in the sheer number of mushrooms sprouting up in a local bush lot that inspired me to experiment a bit more with focus bracketing and to write this post. However, there are plenty of subjects out there where focus bracketing can be used. The photograph below is one example, but with full disclosure, it was a complete accident. Shortly after photographing a mushroom, I came across two toads on the trail. I bent down quickly, framed the shot, and pressed the shutter release only to realize I still had focus stacking enabled. Here's that shot.
12-40mm f/2.8 PRO, ISO 400, 1/160s, f/5.0, focus differential 5