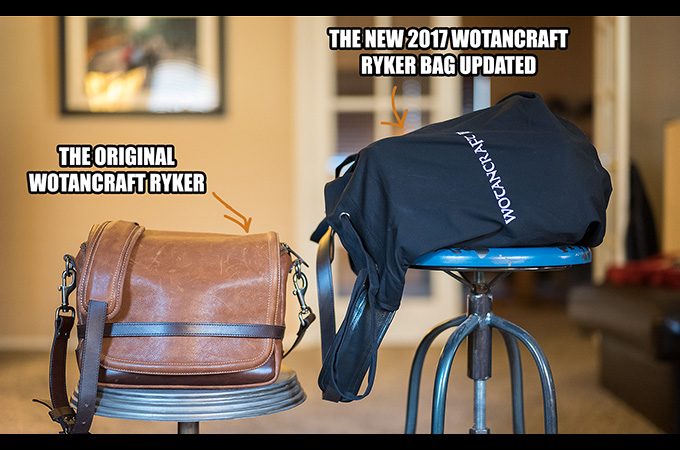 The Updated 2017 Ryker by Wotancraft. My Favorite Camera Bag of All Time gets Updated..by YOU and IT's HERE!!!
Many of you know my rave after rave of the Wotancraft Ryker bag. I had a black one, then acquired a tan/brown but it has been in use by me since my initial review (see it HERE, and then the one year update HERE). A while back, I posted an article HERE asking YOU to help design the next generation Ryker.
Well, Wotancraft asked me to ask my readers for help, and help you did. They read all of your responses and got to work creating the next gen version of the bag. Well, they sent me  the prototype and I will show it to you guys this week…BUT Wotancraft…they are not done with it just yet.
After I show it off to you next week, they want more feedback..well, read what they said about this new Generation Ryker below:
Yes, it is hidden in the bag for now. Will show it off this week via a video!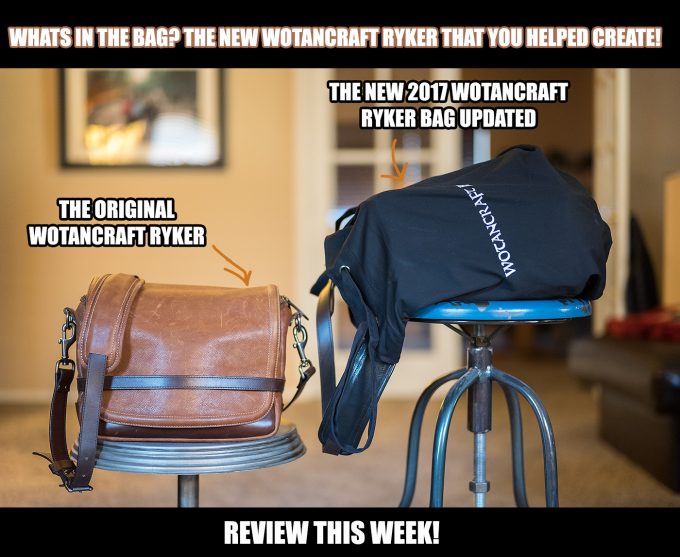 FROM WOTANCRAFT
We're excited to finally present this to you, it is our effort to incorporate the ideas from Steve Huff Photo community, and we present it to you and all members for evaluation and final fine-tuning. We truly hope to make this the best leather camera bag in the world. Here are the main features for reference:
– larger interior size: now capable of fitting up to Leica SL, will detachable pillow insert that narrows interior depth to better accommodate Leica M cameras. All this is done without increasing the overall weight of the bag.
– internal modularization: the whole interior lining is now velcro compatible, and we plan to develop optional accessories (pen slots, card slots…etc) for different individual's needs, rather than have them built-in. Even the thick padding can now be detached to allow more space, allowing room for large items like laptops or A4 folders. The fabric will be further upgraded (currently in development), to deliver an even softer hand feel, and have better resistance to velcro hook tearing.
– external modularization: although not built in yet to the prototype, we have prepared a simple and subtle mechanism  for modular add-ons, such as water bottle pouch or any sort of accessory… the possibilities are endless, and we are planning to launch these optional accessories (internal / external) based on number of customer requests. When not accessorizing, the mechanism looks natural and unobtrusive, exactly how high-end leather bags should be.
– color-coded elastic slots: front zippered pocket has multi-functional elastic slots, capable of fitting batteries of various sizes, color-coded with thread stitching to differentiated new/used. A corresponding memory card sleeve is also included & color-coded.
– multiple pockets: compartment with dual pockets are available for quick access. Zipper-less pocket can accommodate filters and avoid scuffing.
– shoulder strap: detachable metal buckle hardware is removed to prevent theft. Shoulder pad is now upgraded to "memory foam" material, maximizing comfort.
– Leica color motif: black leather, red lining, both in premium material to match the uncompromising quality of Leica cameras.
What we plan to do is gather final comments and feedbacks from you and the community after you give it a try with your gear, finalize any adjustments needed, and begin our pre-order process EXCLUSIVELY on Steve Huff Photo!
So be on the look out next week for my 1st look at this new bag, and be ready to comment on what YOU would like to see fine tuned. Wotancraft has proven themselves to LISTEN to YOU, the photographers who USE this kind of gear day in and out. This is going to be great!