QUICK SHOT: Fuji X-Pro 2
By Axel Friberg
Winter here in Uppsala, Sweden is pretty dull must days with gray skies and cold weather. However, the other day we had a beautiful sunny day with only a few clouds and it almost felt like spring. Naturally, I decided to take a walk and brought my camera with me. A Fuji X-Pro2. Not everything along the way makes for an interesting photo, but most times when I take a stroll there's at least one interesting scene somewhere along the way worth capturing. Whenever I don't bring my camera I often regret it afterward. Therefore I find that bringing my camera with me is worth it, even if it only results in one single "good" picture. Of course, having a mirrorless camera makes it a little bit easier to bring, compared to a DSLR.
The photo below was my favorite from the walk. I found the scene interesting thanks to the buildings and the tree branches working as leading lines toward the middle. I composed the shot, underexposed by 1 stop to retain color information in the sky, stopped down to f/5.6 focusing on the building, and waited for an interesting character to walk by and snapped a few frames in 8 fps burst mode. Then I selected my favorite and edited it.
Previously, I have only used Lightroom to edit my pictures. However, inspired by an F-stoppers video with Elia Locardi on Youtube, I tested out a new workflow to bring out more colors from the RAW file. Basically, the workflow looked like this:
Lightroom –> Photoshop –> Color Efex Pro 4 (Google Nik Collection)
(This next part might be a bit tech heavy)
In Lightroom I brought the exposure back up 1 stop and the highlights down -100. Also, I did some additional minor changes to the Shadows, Blacks, Vibrance & Vignette. Then I exported the edited RAW-file into Photoshop as a 16-bit file with ProPhoto RGB color space, to retain as much color information as possible.
The main reason to use Photoshop is because of the sharpening tool called 'High Pass…' filter, which does not exist in Lightroom. The best way I can explain the result of the sharpening tool is that it makes the image look sharp when zoomed out, without being oversharpened at a pixel level. But before I did the sharpening, I brought the file into Nik Software's Color Efex Pro 4. It's owned by Google nowadays, and it's free in a bundle together with Silver Efex Pro 2 which is excellent for B&W conversions.
Now, the main reason to use Color Efex Pro 4 according to Elia Locardi is because of the tool called 'Dynamic contrast' (found under Pro Contrast) and he's right. It's magical. What it does is increasing the contrast in the mid ranges only, leaving the contrast in the highlights or shadows un-altered. To me, it really brings the photo to life compared to anything I can do in LR or PS (It's possible one could get a similar result in PS, but I lack the knowledge). Additionally, there's a tool called 'Polarisation' which works like a digital polarizer. It gives the sky a deeper blue color. Once happy with the tweaking, I just pressed 'OK' and the edited photo was saved to Photoshop as a layer over the original file. Then, all I had to do was apply the sharpening, save, and export.
Below you will find the photo exported to 1500 pixels wide.
Fuji 16mm f/1.4 lens @ f/5.6, 1/1000s, ISO 400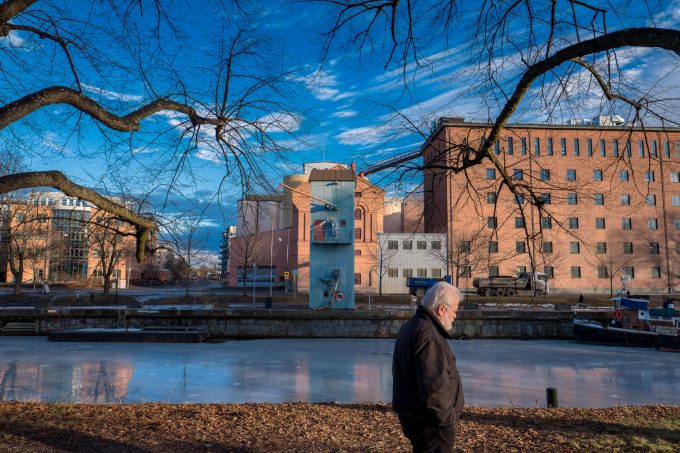 Why bother go through these steps? For some photos, it is worth it I think. The file looks much richer in color and the sharpening method really makes the image pop. I'm very happy with the result and will continue to edit my favorite color images this way.
Best regards!
Axel Friberg