Landscape photography in the Swiss Alps with a Leica M
By Julien Stalder – His website is HERE
Based in Switzerland, I'm using a Leica M only for a few months and despite the fact, this camera changed my vision of photography. I take it with me almost all the time. This camera was a good opportunity for me to try something different, so I started to shoot street photography and portraits, even thought, it is not the subject of this thread. In fact, I would like to share my experience in a specific area: Landscapes photography in the Swiss Alps. I will also share with you some of my favourite panoramas, which are built from a few pictures.
"Matterhorn" (4478m) & "Dent d'Hérens" (4171m) from the summit of "Tête Blanche" (3710m) That I reach with a friend by ski touring.

After a few years spent using a reflex camera and a few months with a Fuji X100T, I decided to go for a Leica M (December 2016). I like this camera a lot and I knew it was a tool for me as soon as a friend of mine put one in my hands. In fact, I wanted something lighter and smaller than a reflex, I was tired by the heavy zoom lenses and was not convinced by the Fuji X100T even if I enjoyed its pseudo-telemetric vision. For the switch to the Leica, I was not too worried because I am used to manual lens focus thanks to my time spent shooting with my analogic camera.
Like mentioned, weight and volume were important to me. Even though the Leica M is not the best choice regarding my main activities like running, hiking, mountaineering and ski touring, I still think it is the best for me. Because photography is more about passion rather than having the optimal camera for everything and the beauty is that with this Leica, I feel the chills of passion every time I shoot.
On the glacier of "Mont-Miné" with my friend Thomas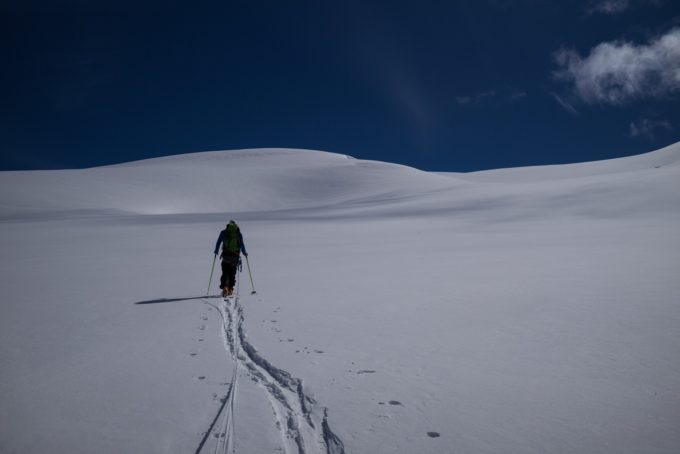 When it's time to pack for the week-end it is always a matter about what I need to carry and what amount it represents. My camera always has its own honour seat in my bag, and after that, I add what I need. For example: mountaineering/ski touring gear, bivouac stuff to sleep outside, clothes, food, water, and so on. Every gram (pound) counts !
Going up to the hunt called "Cabane des Vignettes" with 2 friends the second one is behind me. Weather isn't always good.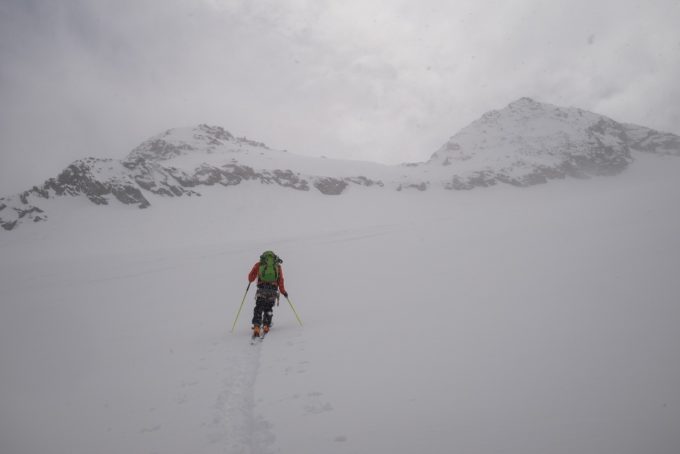 When the situation is optimal, my camera is out and ready to shoot. Before, with my reflex camera, it was too big and too cumbersome to stay ready for a picture. It was exasperating to stop walking, to put the backpack on the ground, to reach for the camera, to take pictures and to put it back to finally starting walking again.
Concerning my lenses, I mostly use a 28mm or a 35mm with an aperture around 5.6 – 11 and I always try to make my focus is at the hyper focal point. By working this way, I only need one hand, and that is convenient because sometimes, I cannot use both while hiking on a glacier or climbing ! Not to forget that I also like to use a 50mm or 90mm lens too.
The big One on the right is the "Weisshorn" (4506m). The day after this sunset, with 3 friends we summit the "Alphubel" (4206m).

"Aiguilles Dorées" behind the glacier of Trient.

View of "Mont-Blanc" (4810m), "Grandes Jorasses" (4208m) & "Mont Dolent" (3820m)