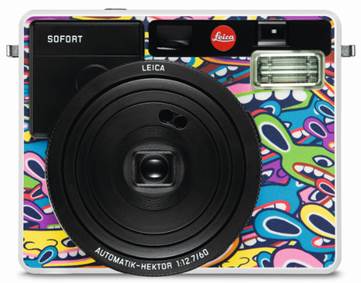 Leica Collaborates with Photographer and Art Collector Jean Pigozzi for Special Edition SOFORT Camera, "LimoLand by Jean Pigozzi"
Leica's popular instant camera has a vibrant new look in a new collaboration and Leica Gallery LA exhibition with Jean Pigozzi
October 19, 2017 – Renowned photographer, art collector and entrepreneur Jean Pigozzi has combined his passion for art and color in a new collaboration with Leica Camera that will debut a special edition Leica SOFORT instant camera and Leica Gallery exhibition. The Leica SOFORT "LimoLand by Jean Pigozzi" is named for and inspired by the fashion label Pigozzi created, serving as a new icon for the sheer joy and endless fun of instant photography with its bright and eye-catching interpretation of the original SOFORT. Launching at the end of October, the new SOFORT camera will be followed by a showing of his celebrated photographic exhibition, Johnny's Pool, at the Leica Gallery Los Angeles from November 9th to January 7th, 2018.
"Whether in color or black-and-white, my photographs are always about capturing happiness and joy. The Leica SOFORT 'LimoLand by Jean Pigozzi' edition is meant to make people feel instantly happy with a vibrant pattern that evokes a smile. Not only am I photographing fun moments, but I'm doing it with a camera that exudes that same feeling through its colorful design," said Jean Pigozzi .
SPECIAL EDITION LEICA SOFORT LIMOLAND BY JEAN PIGOZZI
Last year, Jean Pigozzi visited the Leitz Park, Leica's headquarters in Wetzlar, Germany to find out more about the cameras he had been working with throughout his career. It was during this visit that the idea for the Leica SOFORT "LimoLand by Jean Pigozzi" was born.
Though Pigozzi, a Leica photographer for many years, typically shoots exclusively in black and white, he is passionate about color. The logo for his fashion label, Mr. Limo, is a happy face chosen from the bright and colorful pictures by George Lilanga, a Tanzanian artist, and served as the inspiration for Pigozzi's SOFORT design.  The iconic Mr. Limo is replicated several times over in a broad range of colors all across the SOFORT's exterior to become the look of the new Leica SOFORT "LimoLand by Jean Pigozzi."
Consistent with the standard SOFORT, the Leica SOFORT "LimoLand by Jean Pigozzi" houses technical features such as preset modes for Automatic, Party & People, Sports & Action, Macro and Self-Portrait, as well as the creative possibilities of multiple exposures, time exposures and self-timer modes. The camera automatically adapts exposure time to the mode the user selects. The SOFORT even offers options for manual control overrides: focusing distance can be changed independently of the preset exposure modes, the flash can be turned off entirely and image brightness can be adjusted higher or lower. And, to make it easier for those fond of self-portraits, the SOFORT has a rectangular mirror on the front for easier framing – a feature of the camera that aligns with Pigozzi's new book "Me + Co – The Selfies', which celebrates the famed photographer as the inventor of the now-ubiquitous "selfie" image.
The special edition camera will be available for purchase at the end of October and comes complete with a red shoulder strap crafted from high-quality nylon and embellished with the Mr. Limo logo, made by Artisan&Artist. The set also includes a film pack of 20 color exposures.
For more information on the Leica SOFORT "LimoLand by Jean Pigozzi", please visit www.leicacamerausa.com.
JOHNNY'S POOL EXHIBIT AT LEICA GALLERY LOS ANGELES
Pigozzi will showcase renowned images from his celebrity-filled photo book, Pool Party, on November 9th at the Leica Gallery Los Angeles in an exhibition titled Johnny's Pool. Centered on the famous "blue pool" at the Pigozzi family's Villa Dorane at Cap d'Antibes, Johnny's Pool features photographs of the array of actors, models, musicians that have visited the pool since it was built in 1953.
Throughout the exhibit, both color and black and white photographs of celebrities including Bono, Mick and Bianca Jagger, Elizabeth Taylor, Naomi Campbell, David Geffen, Jack Nicholson, Robert De Niro, Sharon Stone, Elle Macpherson, Helmut Newton, and Julian Schnabel are brought to life with dramatic light and playful pool-toy props, celebrating the fun and eccentricity of the glamorous Hollywood elite.
The exhibition opens on November 9th and is followed by an exclusive Artist's Talk on November 12th at the Leica Gallery LA, hosted by Hollywood producer Brett Ratner.
Johnny's Pool at the Leica Gallery LA be on view November 9th through January 7th, 2017.
For more information on the exhibit, please visit www.leicagalleryla.com.
About The Leica Gallery Los Angeles
Opened in 2013, The Leica Gallery Los Angeles was created to celebrate Leica photography. The Gallery provides unparalleled access to a rotation of curated exhibits, with imagery captured by classic and contemporary Leica photographers. Beyond the exhibition space, the Gallery also boasts a 1,200 square foot outdoor patio lounge. This serves as an additional location for Leica Akademie workshops, where professional and amateur photographers learn new techniques and get unique perspectives from featured artists. The Leica Gallery Los Angeles is open seven days a week at 8783 Beverly Boulevard in West Hollywood, California. For additional information, including lists of current and upcoming exhibitions, please visit www.leicagalleryla.com.