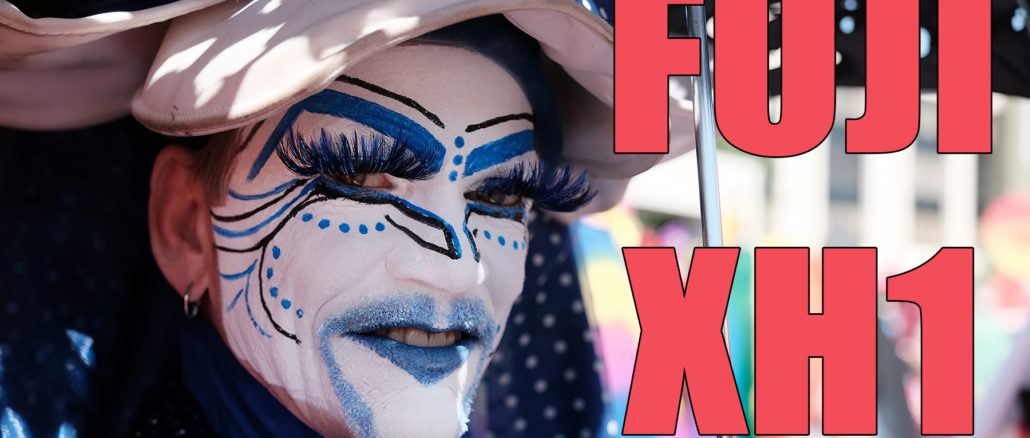 The Fuji XH1 Review. Fuji takes it to the next level.
By Steve Huff
All images here shot with the Fuji XH1 and 16-55 f/2.8 Lens. 
Hello guys! It's been a while since I had a new camera in hand to full review and evaluate but as I said in my last couple of posts, I'm back and refreshed and ready to take a look at this new Fuji XH1, which I almost passed checking out due to the larger size and heft for being APS-C. I am glad I did not pass as every day that I spend with this camera and the 16-55 f/2.8 Zoom is another day I am enjoying it more.
This is a different kind of Fuji, and not only has Fuji truly upgraded this camera in the build quality department, they also did so in MANY areas such as speed, video and EVF. The soft touch shutter may be the nicest shutter I have ever experienced.  Lately I have been shooting with Sony (A7RIII, A9, etc) and for mostly the last two years my personal every day rig was a Sony full frame of some variety. Yes I also have a Leica M10 and Hasselblad X1D with the M taking over my daily duties but I will admit, this Fuji is something. I will have a bit more on this camera in a follow up post (video use, and a video review) so stay tuned for that.
Only showing a size comparison here between the APS-C Fuji XH1 with 16-55 f/2.8 lens next to the full frame Sony A7RIII and 24-70 G Master f/2.8.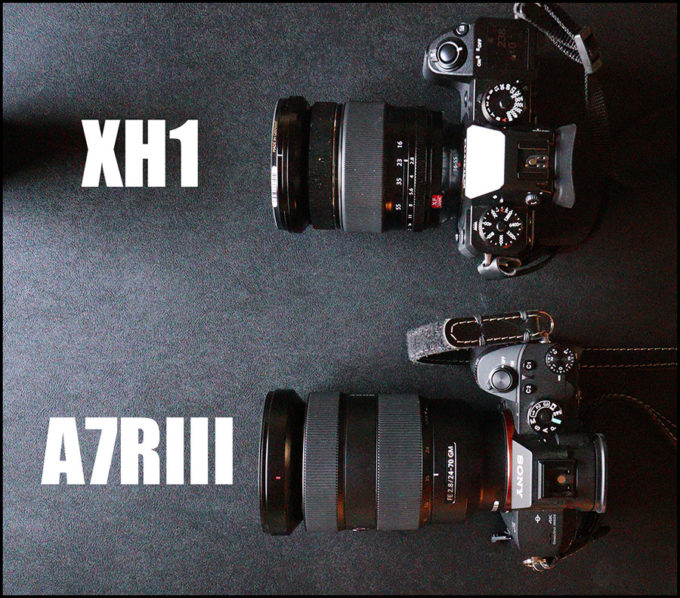 First things first…
I have seen a myth or two about me and Fuji in internet land more than once and to be clear, NO I DO NOT and never have "hated" Fuji. While I have not "loved" Fuji for a while, I feel that they have been making strong progress with their camera line. I enjoyed the Fuji XT1 and the XT2. I was lukewarm on the X-Pro 1 and 2 and did not mess around much with the smaller models. I have been waiting for a Fuji that could match a Sony for speed, ISO and Video. I also wanted a beefier feeling body and now here it is!
Does this XH1 compete with a Sony full frame model? Yes indeed it can and does, and it does so with nicer out of camera color. While not quite up there in speed as the Sony it is close. Also, Fuji ISO performance has improved and is now competing neck and neck with Sony, who for me, has been the king of low light sensors for quite a while now. So for Fuji to even get close is pretty amazing. But that out of camera color is what draws many to the Fuji line…
Out of Camera color and I was using the Classic Chrome preset. My fave preset for Fuji JPEGS. 16-55 f/2.8.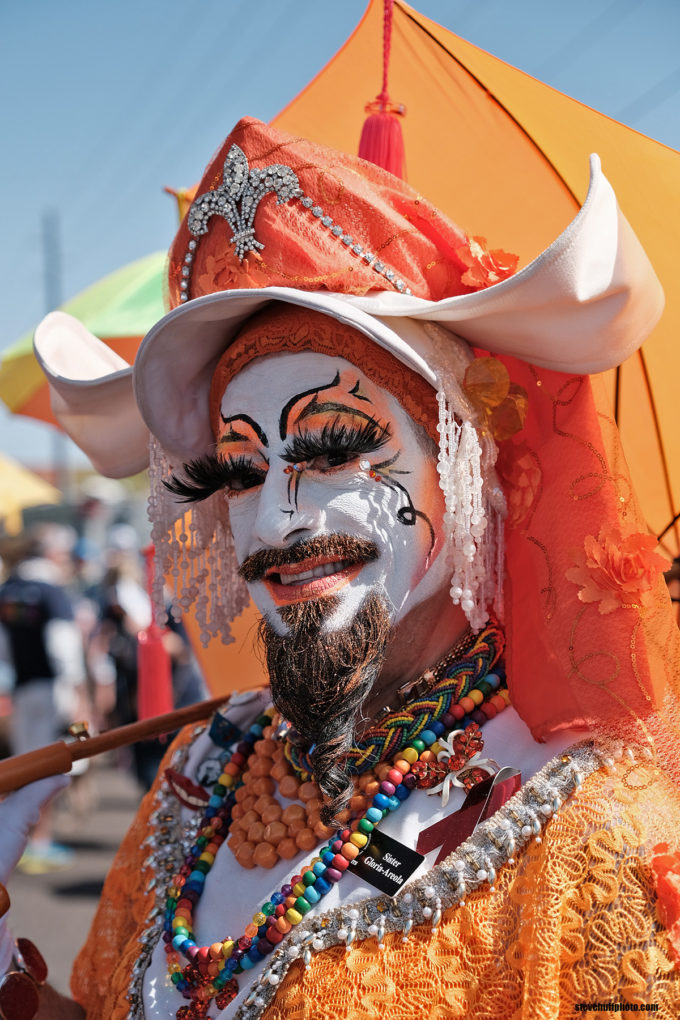 So no, I do not hate Fuji, I just wanted to see them make a camera like this, sort of, and they did it. This Fuji, no longer feels "Hollow" to me as some Fuji models do. This one no longer gets super mushy (IQ) in very low light. This model feels, looks and performs much like a DSLR, and it's almost as big as some, but it is mirrorless of course, has a 24MP APS-C Xtrans variety sensor and from what I see, it is the nicest Fuji sensor I have ever experienced.
So here is my look at the Fuji XH1, with some words, photos and comparisons.
OOC JPEG of my Son Brandon using the Chrome preset. LOVE this preset for OOC JPEGS. Used the 16-55 f/2.8 here. Click it for larger.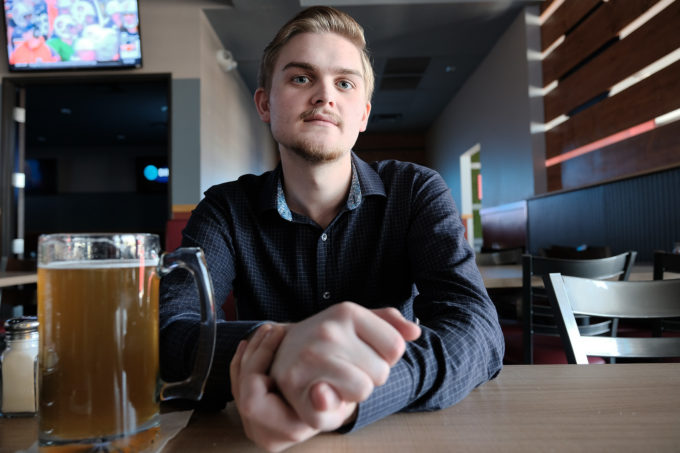 I received the Fuji XH1, 16-55 f/2.8 
You guys know I am a passionate kind of guy. I do not review cameras like most others do. In fact, these days I am even more chill and relaxed in my reviews and I try to tell you guys about the qualities of a camera that I feel should matter more than tech specs and lab shots alone. I always like to go by the usability, the feel, the design, the size, the weight, the build quality and the speed. I am not interested in doing scientific tests as for me, that has always been something I never got into. If a camera feels good, works good and makes you thrilled to use it while delivering results to your taste, that is all that matters. Life here is short my friends, let's enjoy it and also let's be honest with ourselves. All cameras today at this level are fantastic. They will continue to be fantastic. We are at the point where we no longer need to upgrade models every year as a camera like this will last MANY years. If it is good now, it will be good in 5, 6 or even 10 years.
Next to the Sony A7RIII and 24-70 GM, the XH1 and 16-55 (24-70 Equivalent) is smaller but the bodies are about the same size. 
While I feel this camera is not perfect (none are), for me, it is as close to it as it gets to it for Fuji, for me. This 16-55 f/2.8 lens is large but smaller than the Sony 24-70 GM and IMO, there is nothing to complain about with the Fuji lens. It is world-class.  This is a FANTASTIC 24-70 Equivalent lens in build, and IQ/Color. I am a full frame kind of guy but the XH1 with this lens is looking pretty good. While not to G Master levels, it is smaller, lighter and cheaper by about $1000. That is not chump change my friends. I have a comparison later on down with a Sony and this Fuji along with the 16-55 and 24-70 GM. So you can see the difference for yourself.
The Body
The Fuji XH1 take s a different approach than Fuji has in the past. In fact it reminds me of a "Mini GFX" in the way it is designed and styled through it is closer in size to an X1D than GFX, which is quite larger. With the Fuji being APS-C, having a smaller sensor than the Sony's full frame models the body is about the same size as the Sony offerings. You guys know I love my Sony cameras, and use them all the time but I will give credit where it is due here.
The XH1 body has a more "photographers" feel to it. The controls, mostly external, are a joy. With its ISO dial, shutter speed dial and all of the external controls it feels more like an old school camera than a modern-day camera. For me, this is a positive 100%. I love not only having these controls at hand, but also the style and design. When you pick up the XH1 the 1st thing you will notice is the solid feeling body. I mean, I have never felt a Fuji like this which is why I used to say other models, like the X-Pro bodies felt hollow to me. Which led to a cheap feel. Fuji used to use cheap buttons that did not inspire confidence but with the XH1 you can tell they were paying much more attention to the details.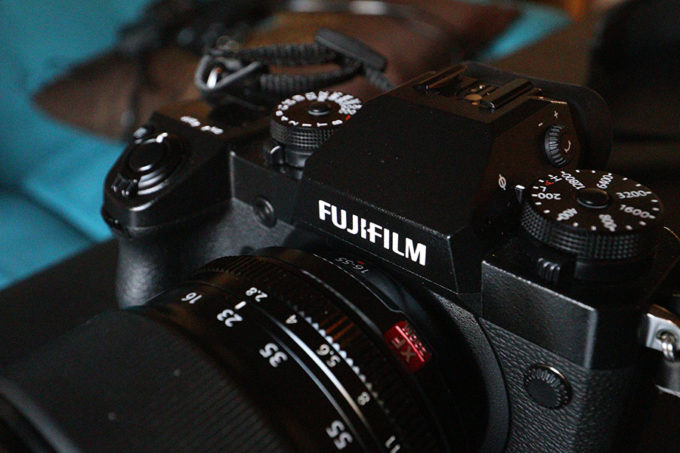 The EVF when tested side by side with the Sony A7RIII, is about equal with the Fuji having a better color rendering, and color has always been Fujis strong point IMO. You can go BOLD with a Velvia preset, you can subdue it with the Chrome preset, you can go B&W with the beautiful ACROS simulation and so on. But one thing I have noticed is that skin tone with the Fuji XH1 is fantastic. Not magenta,  not yellow, not dull..but "right". Fuji knows color and with this model and sensor, it is the best I have seen yet from Fuji. Sure, maybe other models were similar and it is just the illusion of the better build, EVF, speed, shutter and lens used but I swear this camera is putting out some of the nicest color I have seen from any camera. But the EVF is large, clear and on par with Sony's best EVF.
The only complaints I have with the body in my first few days of use is that it feels more like a DSLR in size, and it is sort of blocky (I nicknamed it BLOCKHEAD) but at the same time it offers a nicer grip than my Sony as it allows room for my 3rd finger without using an external grip. So blocky? Yes. Functional? YES.
One thing I am impressed with is the Dynamic Range of this sensor. This was shot in full blazing AZ sun ye the whites stay white and shadows look great.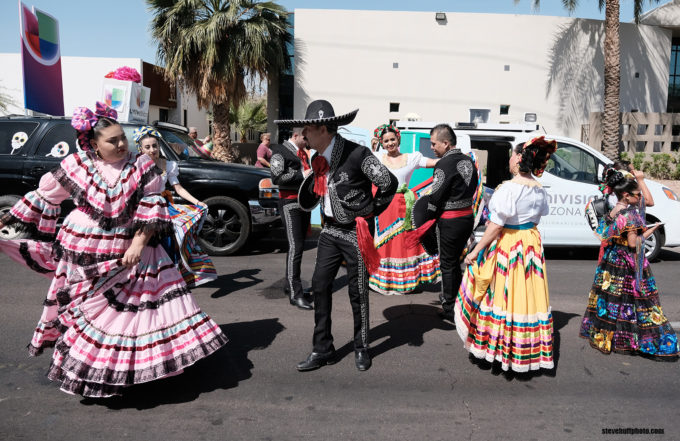 The Feather Shutter
"Wow" – that was my word when I shot the 1st image with the XH1 as the shutter was soooo nice. So quiet and with such a pleasant sound. In fact it sounds so good, it is almost addicting to fire away! A gentle, soft little snick. Best shutter sound and feel I have experienced, period. Makes my Sony sound loud and clunky in comparison. I will admit though, it almost seems to soft of a shutter as I have accidentally fired it off a few times with a feather touch ; ) By accident. Even so, it feels amazing and sounds even better. When you start using the camera and shooting it for a coupe of days and then go back to any other camera you wonder why other shutters are not as quiet. It feels "luxurious" and "expensive" when you press that shutter. Something you would expect from Leica. In my video review I will post soon I will show the sound from this XH1, my Leica M10 and. Sony A7RIII. The XH1 shutter is SUBLIME.
Some of the Tech Specs of this XH1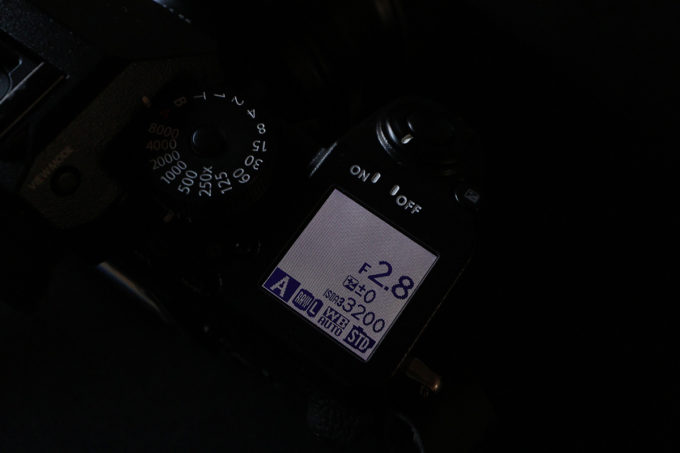 This camera offers a 23.4 MP sensor of the now much-loved by many a photographer "X-Trans" type. V III in fact. I used to dislike the X Trans sensors in their earlier version but this one is solid, and I see no issues with it at all. This camera is also speedy, much speedier than I expected and to be honest I was a tad surprised at just how fast and responsive this camera is. We also get the 5-Axis IS in the Fuji, which is good to see (though no one does it better than Olympus). 4K video with F-log gamma, 3.69 M Dot EVF, 3″ LCD, 325 Point AF system, and the awesome top LCD display to show your most important settings. Oh, and yes this is a Weather sealed body, has two SD card slots and is compatible with UHS-II cards. In both slots not just one!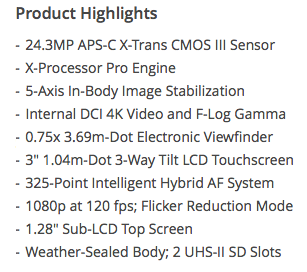 This Fuji comes I at $1899 for the Body only, and in this price range there is some competition, and some very stiff competition.
At $1999 we can go for the full frame technological powerhouse, the Sony A7III. We would gain that full frame sensor, better low light in the extremes of ISO 12800 and up (Fuji JUST ABOUT hangs in with the Sony's until that point when no NR is used), and the Sony will be faster all the way around. Yes, it beats the Fuji in continuous AF, video AF, and overall speed. But it's not night and day my friends. With the Sony we also gain longer battery life, a smaller feeling body (slightly).
With the Fuji we gain a body that IMO is geared more towards photographers with the external controls, lenses will be smaller due to it being APS-C, neck and neck ISO until we hit the extremes and a better EVF. I found the A7III AF to be faster, as it should be. It gains its AF from the flagship Sony, the A9.
Debby and checked out the recent Pride Parade in Phx AZ as I knew there would be some great colors there to test the Fuji ; )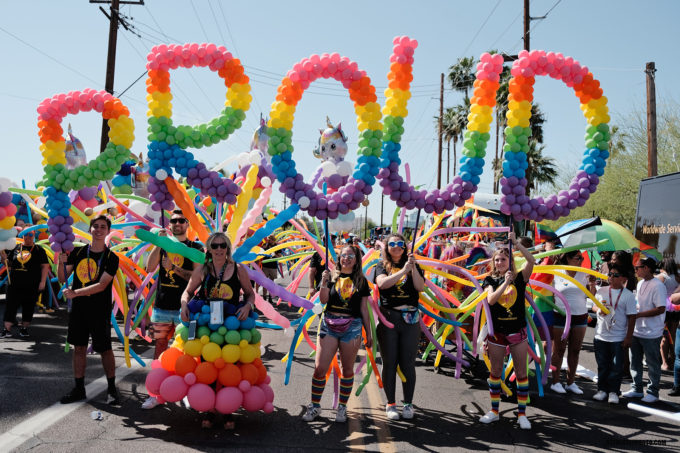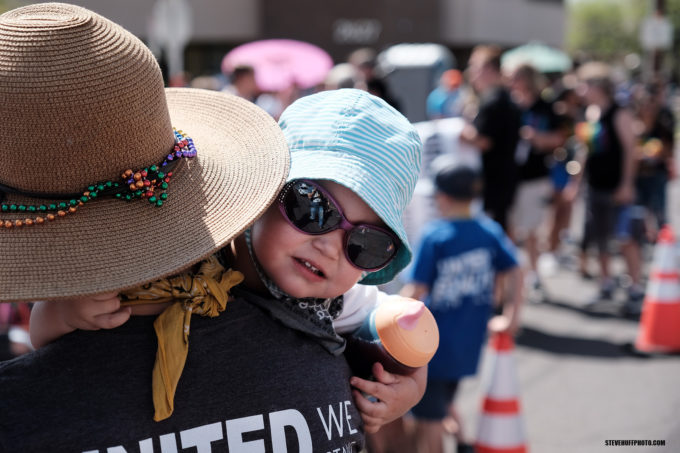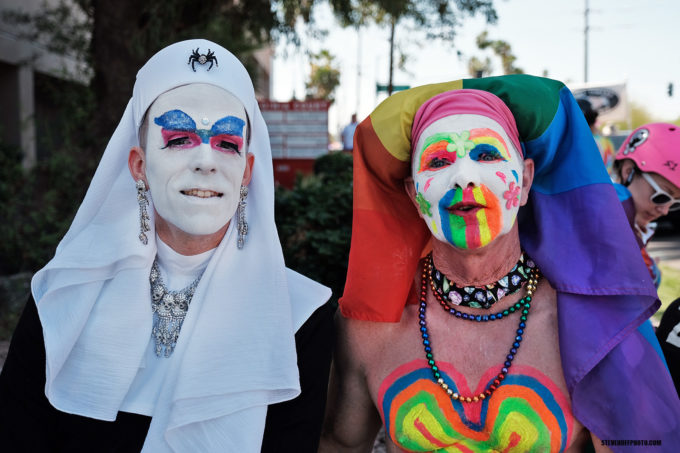 BUT the Fuji is no slouch, deepening on lens used. The 23 1.4 I tested has slower AF, and in low light would not AF lock for a few seconds. The 16-55 2.8 is a beast with AF, even in low light. For one shot quick AF it matched the Sony when using this 16-55 lens. For continuous AF, not so much but I do not want to say the Fuji is slow in any way, as it is not. Basically it comes down to this:
Do you want a body with a full frame sensor to exploit the benefits of using almost any lens made, and using all of said lens? With the Sony I can shoot with Leica M glass, Nikon Glass, Canon glass, etc. I also get the full character of these lenses as the sensor allows all of the lens to be used. With the Fuji I can adapt these lenses but we lose the full character of the lens. For some, the control, color and features of the XH1 will beat out the Sony, and for others the Sony will win for what it offers. For video, I did appreciate the new color profile for video by Fuji but still prefer my Sony for video work that I do. I currently use a Sony A7rIII with a Zeiss Batis 18mm and love it for a run and gun super fast AF video setup. I tried the Fuji with the 16-55 but it lagged with AF in video mode, quite a bit, compared with the Sony.
Do we need AF with video? Most will say NO as when you are making a film, you will use manual focus anyway. But for my use, I need AF with video as I do more doc kind of work, run and gun. The Sony is amazing for this though again, I prefer the color from this Fuji in photo and video.
The new XTrans Sensor in the XH1
From Fuji: The FUJIFILM X-H1 features the 24.3MP APS-C sensor "X-Trans CMOS III", which delivers images with enriched depth. The use of aperiodic color filter array minimizes moiré and false colors even without an optical low-pass filter. When combined with XF lenses, specifically designed for this series of cameras, the sensor achieves outstanding descriptive performance.
From Steve: I agree here. This sensor rocks and is Fuji's best ever for their APS-C line.
X-Processor Pro
From Fuji: The "X-Processor Pro" is a processing engine that draws out the maximum capability of the "X-Trans CMOS III" high-performance sensor. Its use of large built-in memory and advanced processing power boost the camera's speed and precision performance in interval shooting, shutter release time lag, AF, continuous shooting, live view display, etc. The processor also supports the Boost Mode for the vertical power booster grip, VPB-XH1, enhancing the camera's performance to another level.
From Steve: Well, all I know is this Fuji is lag free, fast and gave me no issues in these areas. MUCH better than Fuji's of the past. 
Fuji XH1, 16-55 in full AZ sun, OOC JPEG using the Classic Chrome preset.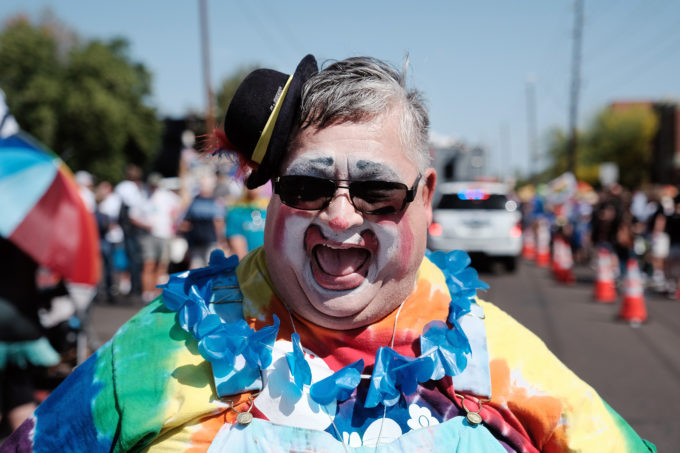 Autofocus
From Fuji: The FUJIFILM X-H1 boasts autofocus performance with enhanced capability to track a moving subject. With 91 focus points (up to 325 points), the camera has a phase detection AF area that covers 50% (side to side) and 75% (top to bottom) of the frame to achieve fast and accurate autofocus. The phase detection's AF range has been expanded by 1.5 stops from the previous 0.5EV to -1EV, while the minimum aperture requirement is also improved from F8 to F11. Enhanced AF-C performance during zooming means the camera can handle sports with erratic subject movements, and capture a subject with fine textures such as a distant animal, with an advanced level of precision.
From Steve: I am not normally shooting things with continuous AF, but normally I am a one shot AF kind of guy. Mostly all cameras excel in this but I will say this is the speediest Fuji I have ever used when it comes to AF. Fuji has, at least since I took a serious look at what they offer, upped their game in the AF dept. It is as fast as I need for photo work. Video, not so much.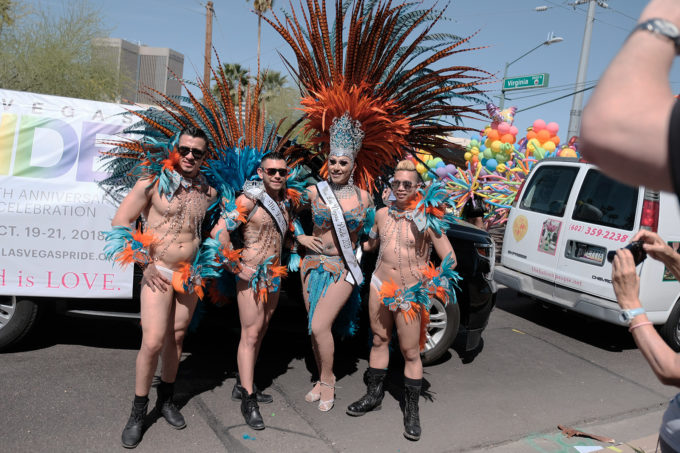 AF-C Custom Setting
From Fuji: The FUJIFILM X-H1 offers three user-adjustable parameters for determining focusing characteristics to make it easier to accurately track a moving subject in the AF-C Mode. There are presets to suit different types of scenes, or you can determine your own custom setting.
SET 1 – Basic
SET 2 – Ignoring obstacles
SET 3 – Accelerating / decelerating subjects
SET 4 – Subjects that suddenly come into the frame
SET 5 – Erratically moving subjects
SET 6 – Custom
From Steve: I have not yet tested these settings but to see them in the camera is very nice. I noticed these settings when menu browsing the other day and I said to myself "This is awesome"! Being able to customize your C-Af like this is genius. Does it work? Not sure yet. More to come.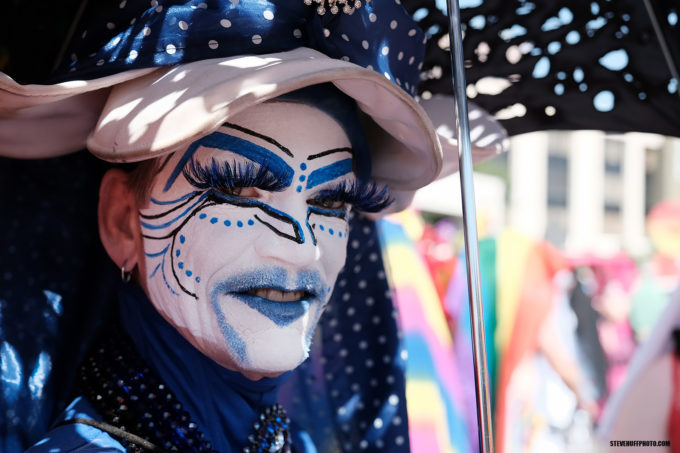 Tough and Durable Camera Body
From Fuji: The FUJIFILM X-H1's body is made of magnesium alloy, 25% thicker than previous models. The lens mount's structure has been revised to achieve a compact and lightweight design that is also of high precision and more resistant to shock or damage than other models in the X Series. It is also resistant to dust and moisture, capable of working at temperatures as low as -10°C. The grain size of the exterior coating has been improved to achieve scratch resistance equivalent to 8H surface hardness.
From Steve: This explains it all. I knew from the moment I picked this up at the event WPPI event that it was different from the Xt1 models in build quality. This is the best Fuji build quality yet IME.
Looks pretty bad ass as a skeleton!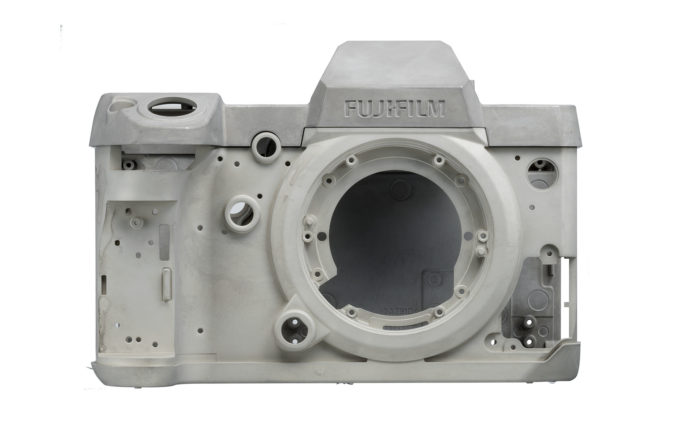 New Feather-Touch Shutter Button
From Fuji: The FUJIFILM X-H1 is equipped with the new feather-touch shutter button that can respond to delicate shutter release actions to capture all photographic opportunities. When combined with the firm-hold design of the grip, the shutter button controls camera shake for fast-response operability.
From Steve: I LOVE THIS SHUTTER. It is now my favorite shutter, ever.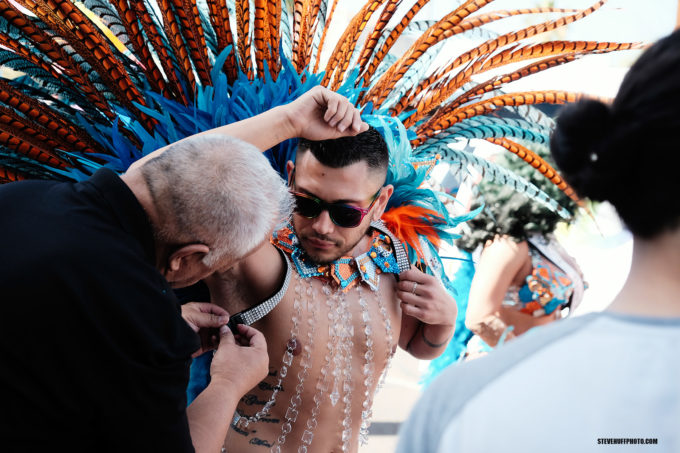 Film Simulation
From Fuji: With Film Simulations, you can apply colors and tones that match your artistic intentions to your pictures, as if choosing different special effect photographic films. The FUJIFILM X-H1 comes with sixteen Film Simulation modes, which Fujifilm has uniquely created based on the color-presentation philosophy and know-how the company has developed through more than 80 years of photo film production.
From Steve: I have always loved this about Fuji cameras ever since the 1st X100 model. Being able to dial in Fuji film simulations and shoot JPEG and get AMAZING Jpeg color is fantastic. I love the Chrome mode, and others but this gives us options. I really think this is part of what sets Fuji digital apart from other digital cameras.
DCI 4K(4096×2160)
From Fuji: The X-H1 supports the digital cinema aspect ratio (17:9), and records high-quality video at a high bit rate of 200 Mbps. You can use the highest ISO 25600, a low shutter speed of 1/4 sec, and even Film Simulation modes in video, enabling diverse video expressions. A premium sound microphone (24bit / 48KHz) is built in, which means you don't need extra equipment to record sound in high-resolution quality.
High dynamic range "F-Log" log-gamma option
The dynamic range "F-Log" log-gamma option* is available for recording and uncompressed output to external equipment. It supports "color grading," which refers to post-shooting processing of colors and tones for artistic videography. The long-awaited addition of the Film Simulation lookup table (for ETERNA) has increased freedom in post-processing.
From Steve: I want to delve into this more. So far I have done a quick side by side for my own tests, and the Sony A7RIII delivered better results in video and AF but it was a quick test. While I know the Sony will AF faster for video, the Fuji is looking nice and the fact that you can shoot at 200MBPS and use the new ETERNA color mode, for cinema, is quite nice. Bravo to Fuji for this as I have never seen video as good in any other Fuji. Seems they went all out for the XH1.
Classic Chrome preset..my fave. Some of this is blown but it is an OOC JPEG, and this is how the camera metered for this very tough scene. All white in full sun.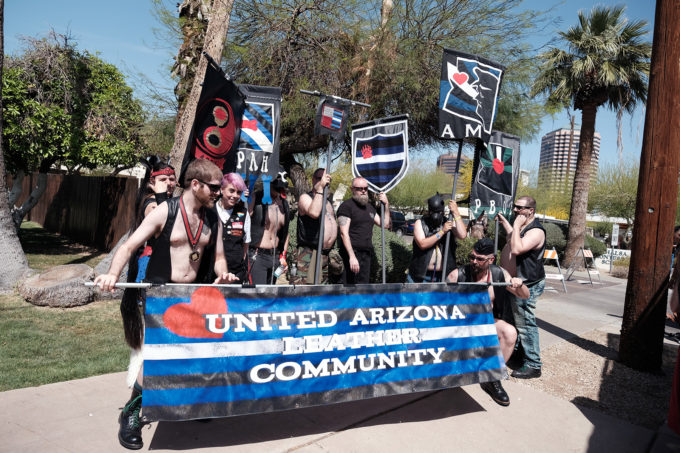 High-speed video recording
From Fuji: The FUJIFILM X-H1 supports 120p / 100p high-speed video recording (Full HD, 2x / 4x / 5x slow motion), creating slow-motion video with an artistic impact, broadening your scope of videographic expressions. Silent video operation. The Silent Video Operation function allows you to control settings such as aperture, shutter speed, ISO sensitivity and white balance with silent touch-panel operations on the rear monitor, preventing the camera from picking up operation noise from buttons and dials during video recording.\
From Steve: I rarely use SLO MO effects but the Sony models (VIII) make it simple with their dedicated Q&S dial position and presets. I have yet to delve into this with the Fuji but the it's like adding gravy to my mashed potatoes. All good ; )
HIGH ISO comparison with Sony and Canon
I have a Sony A7RIII here as well as a little Canon M5. One full frame, one APS-C. How do these two compare with the Fuji in low light high ISO? I did a quick test here ONLY to test the ISO noise with all NT turned off. I thought the Sony would slaughter the Fuji but take a look below and see what you think. Again, only looking at noise performance here in the same light, which was in my office and no lights on. Blinds were 90%  closed yet there was some light coming through, so not uber low light here yet not very light at the same time. Consider this an "Inside your House" ISO test.
The image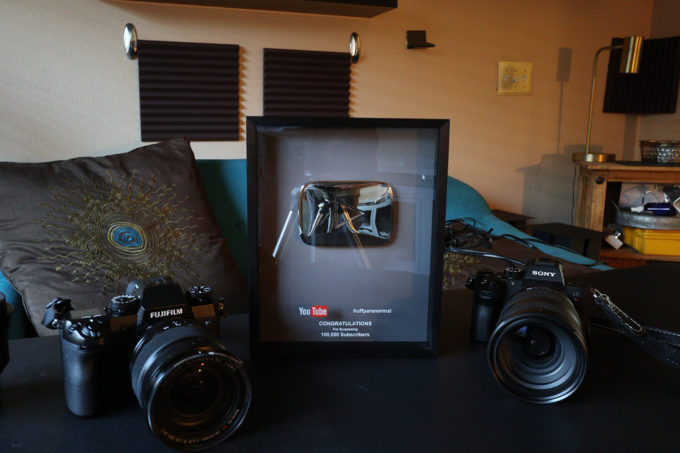 –
ISO CROPS (MUST click them to see full crops/size/noise)
–
ISO 3200, click them for larger. 

–
Now  6400 ISO

–
Now 12800

–
ISO 25k

While the Sony wins in uber low light (something like very low light music clubs) for noise and AF speed, the Fuji holds its own against the full frame sensor. The Canon, even being APS-C lags behind the other two as expected. When you click on the crops, you can see the full 100% crops and noise, and you can see the Fuji has more color noise at higher ISO but it does have a smaller sensor. Let me do one more example that is more real world.
ONE MORE COMPARISON, JUST FOR FUN
I think this speaks more to the lenses used, and as good as the Fuji 16-55 f/2.8 is, the Sony G Master 24-70 is better. It is also larger, and more expensive so this is to be expected. Now comparing the high res A7RIII to the Fuji is not even valid, as the Sony is a high res model. But I took the same shot, side by side, same color mode (standard on both) and resized the Sony shot to 24 MP to be fair. The Sony image is sharper, and IMO, looks better than the Fuji. If I had the A7III here now I would have used that camera but I do not have the A7III at this time.
Click the images to see the full 24 MP Fuji file and the resized to 24 MP Sony file. The Sony shows more details.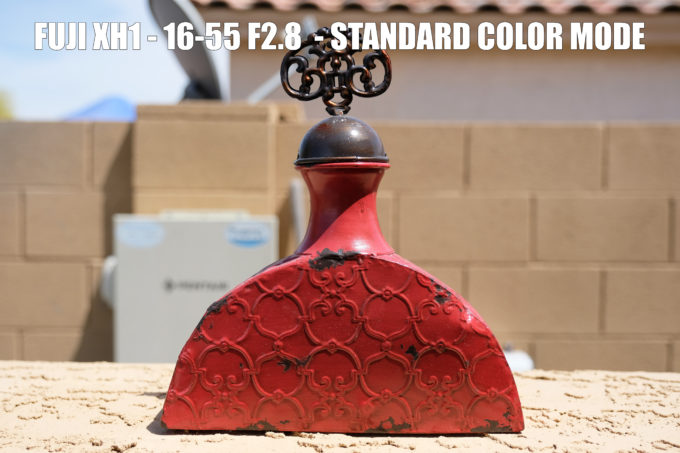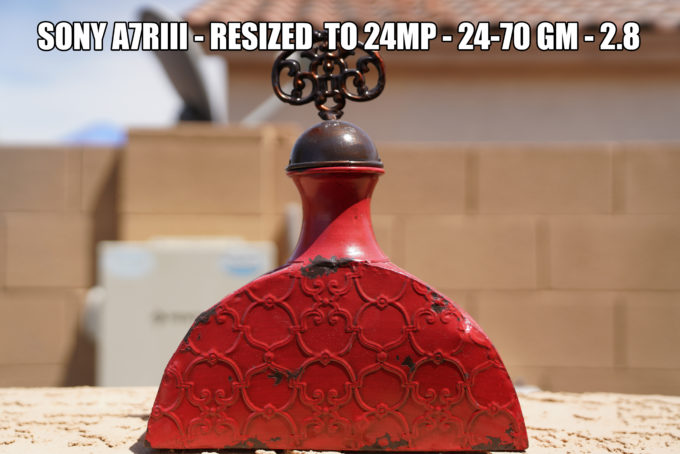 SO while the Fuji is SUPERB for APS-C, I feel Full frame will eek out more performance at the end of the day. With that said, the Fuji is close and offers things other cameras do not. It has charm for sure, much more than Canon, Nikon and Sony and it for me, is probably the best APS-C model I have used. Some prefer APS-C as. you get a wider depth of field. Easier to focus on eyes, etc without blurring out when compared to full frame. Some prefer full frame so they can blow out the backgrounds as much as possible. Either way, others formats today are superb and offer strengths of their own.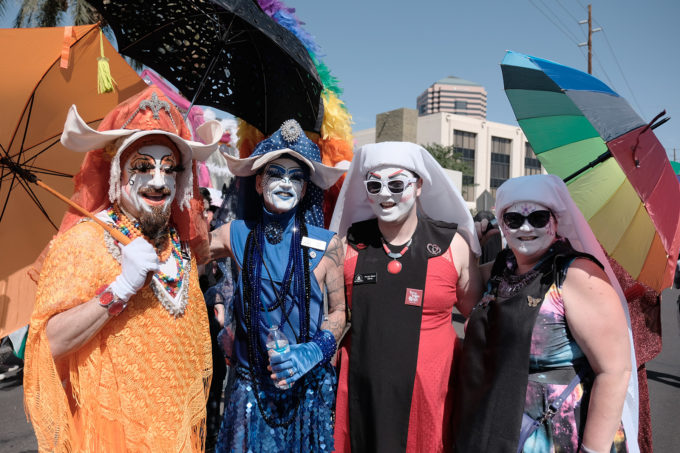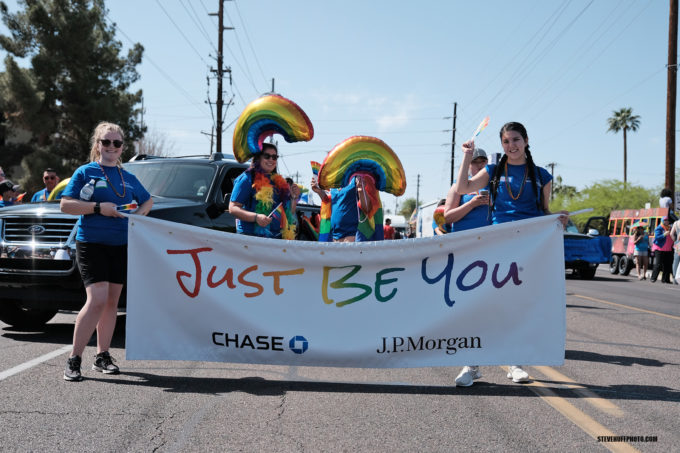 My overall thoughts on the XH1
I was pleasantly surprised with this camera. Larger and bulkier than I had hoped for, but at the same time Fuji has delivered on what I felt was missing in prior bodies. BUILD quality. SPEED. LOW LIGHT. EVF, and now with 5 Axis IS inside and 4K video capabilities along with the color profiles created by Fuji to emulate some of the coolest film ever made, this is Fuji's best body to date. The IQ seems improved over past Fuji bodies I have tested as well.  This body is suitable for pro work so no worries there. While it is about the size of a smaller DSLR, the lenses will be smaller over full frame. I currently own too many cameras but if I was starting from scratch, I would strongly consider the Fuji XH1. 
I see this as a superb enthusiast camera as well. Best of the Fuji APS-C lineup and gives us all we need, or could need without over stepping in the gimmicky department.
If you enjoy external controls, easy to navigate and understand menu, color profiles that actually look fantastic and wonderful OOC JPEGS, then you should take a look at this camera. Using only the 16-55 f/2.8 I was wowed by its performance and while it is a different experience to my Sony and Leica and Hasselblad, the shutter and response make it very enjoyable to use and shoot with. It's the colors that do it for me. Skin tones are wonderful. AWB is also very good.
This is one Fuji that can do it all and IME, prior Fuji's were not "DO IT ALL" bodies. This one leaves little to be desired.
In part 2 I will go over the video performance and show more photos as well as have some shots with the 23 1.4 lens I also have on hand. Will also have my video review of the camera! Soon!
WHERE TO BUY
I would buy this camera from any of the recommended dealers below. ALL are A1 Dealers!
---
PLEASE! I NEED YOUR HELP TO KEEP THIS WEBSITE RUNNING, IT IS SO EASY AND FREEE for you to HELP OUT!
Hello to all! For the past 8 years I have been running this website and it has grown to beyond my wildest dreams. Some days this very website has over 200,000 visitors and because of this I need and use superfast dedicated web servers to host the site. Running this site costs quite a bit of cash every single month and on top of that, I work full-time 60+ hours a week on it each and every single day of the week (I receive 100-300 emails a DAY). Because of this, I could use YOUR help to cover my costs for this free information that is provided on a daily basis. 
To help out it is simple, and no, I am not asking you for a penny!!
If you ever decide to make a purchase from B&H Photo or Amazon
, for ANYTHING, even diapers..you can help me without spending a penny to do so. If you use my links to make your purchase (when you click a link here and it takes you to B&H or Amazon, that is using my links as once there you can buy anything and I will get a teeny small credit) you will in turn be helping this site to keep on going and keep on growing.
Not only do I spend money on fast hosting but I also spend it on cameras to buy to review, lenses to review, bags to review, gas and travel, and a slew of other things. You would be amazed at what it costs me just to maintain this website, in money and time (250 hours a month, and about $3000 per month).
So all I ask is that if you find the free info on this website useful AND you ever need to make a purchase at B&H Photo or Amazon, just use the links below. You can even bookmark the Amazon link (not the B&H) and use it anytime you buy something. It costs you nothing extra but will provide me and this site with a dollar or two to keep on trucking along.
AMAZON LINK (you can bookmark this one)
B&H PHOTO LINK – (not bookmark able) Can also use my search bar on the right side or links within reviews, anytime.
Outside of the USA? Use my worldwide Amazon links HERE!
You can also follow me on Facebook, Twitter, or YouTube. 😉
One other way to help is by donation. If you want to donate to this site, any amount you choose, even $5, you can do so using the paypal link HERE and enter in your donation amount. All donations help to keep this site going and growing!
 I do not charge any member fees nor do I (nor will I ever) charge for reviews, so your donations go a long way to keeping this site loaded with useful content. If you choose to help out, I thank you from the bottom of my heart.