The Fuji GF670 Medium Format Film Camera Review
By Steve Huff
Wow, I am on a roll! Three reviews THIS WEEK alone! Holy cow. I am waiting for that moment where I get writers block and I sit in front of my screen for hours while writing one sentence. It has not happened yet and that is probably because I am so nutty passionate about photography and I LOVE trying out new gear just to see what is out there and available. I may not be able to buy it all, but at least I can find out what is cool and worthwhile. One camera that caught my eye a few months ago was the Voigtlander Bessa III folding medium format rangefinder camera. I saw it online and found out it took 120 film (medium format/larger negatives/better quality) and it allowed you to shoot in either 6X6 square format or 6X7 for even more negative real estate.
Yes, this is film and yes it is medium format. But that doesn't mean it is a big, clunky and heavy camera. Nope, this one is actually pretty sleek and designed  to be easy to carry around with you wherever you go. The Voigtlander model comes in black but for those who like silver you can also buy a Fuji version, which does indeed come in silver! That model is the Fuji GF670.
The big BAD ASS Fuji GF670 – 6X6 or 6X7 with a flick of the switch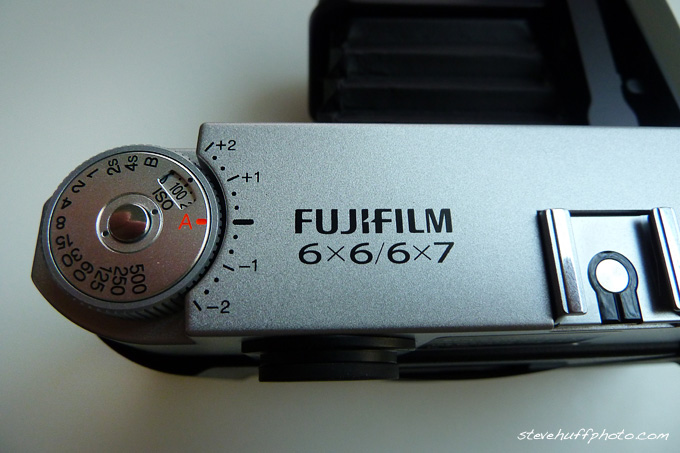 *This review will be on the Fuji version of the camera.
The Fuji GF670 comes with a built in 80mm lens that folds out of the camera, just like the old Voigtlander Bessa II. When I first saw an image of the camera I thought it looked like a normal 35mm rangefinder on steroids!
After reading about it and thinking how cool it would be to shoot one, I ended up forgetting about it for a few months. Then one day I spoke with my contact at B&H Photo and realized they had the Fuji and Voigtlander version of this camera. As already stated, the Fuji version is actually the same camera but is silver and marked with a lens that says "Fujinon" instead of "Heliar". From what I understand and after doing some digging I found out that these cameras are the same, made in the same factory and of the same quality. They are made by Cosina in Japan. What is interesting is the Voigtlander version is $2299 and the Fuji is $1899. A savings of $400 if you pick up the Fuji. $1899 is quite a bit for a new (non Leica) film camera but again, this is Medium Format and it's a somewhat portable, take anywhere camera. PLUS, it is MEDIUM FORMAT!
For those that do not know, Medium Format film gives you a much larger negative than 35mm. Because of this, you get less grain, better tonality, and better details. The files are richer, much like they are with medium format digital. But this is film and with digital MF kits running between $20 and $40k, it almost makes this GF670 look like a bargain. So I wanted to try one out once and for all and see what it was all about.
TOP – Medium Format  Ektachrome slide film – BOTTOM – Standard 35mm film negatives – You can see  the size difference between the two formats with Medium Format providing a much larger negative.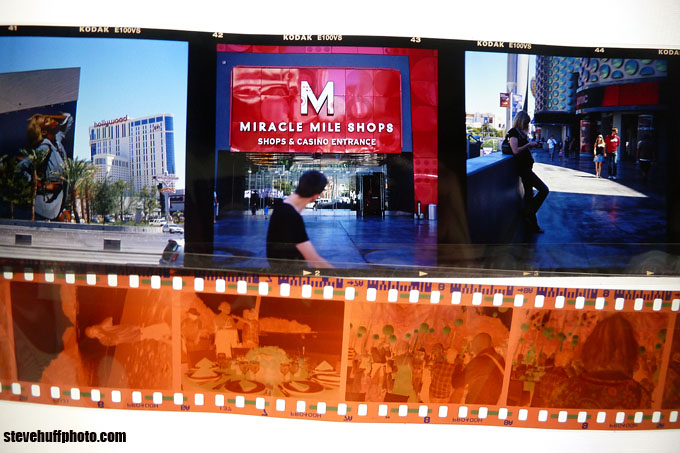 I asked B&H Photo to send me one to check out and when it arrived I was actually quite surprised with the build quality which seemed to be pretty good. No, this was no Leica MP but it was semi-solid and felt like a Leica RF, just taller and wider. The cool thing I noticed right off the bat was that when the lens was folded in to the body the camera was VERY portable. Here is the video I made when it arrived.
The Fuji GF670 Un-boxing
After the video was shot I loaded the camera up with some film and decided to test it out in my backyard with a portrait test and then on the street AT NIGHT! Usually medium format cameras are used in studio or for posed portraits in good light, and I will admit that to get the most out of the negative you should use it in good light. But I am a goof and I wanted to see if this could double as a 35mm rangefinder, so my wife and I went to a first friday event in Phoenix. I was loaded with Ilford Delta 400 and had a spare roll of Delta 3200 in my pocket. But before I get into the results, let me show you another video on how to load this camera with film. It's easy and takes only a minute or so. One of my fears when it arrived was that I would not know how to load it, but after reading the loading section of the manual, I knew it would be simple.
Loading film in the Fuji GF670 – Video shot with Leica V-Lux 20
The Build and Feel
First things first. I have to say that the viewfinder of the GF670 is FABULOUS. Its huge, bright and clear, and the frame lines are really easy to use. It makes framing a breeze and due  to the size of the VF, it is a joy to look through. The rewind knob is a roller wheel and not a crank. I was not so sure I liked it but it worked well. It was smooth and easy to advance the film. The film counter on top makes it easy to know what frame you are on. Overall, the camera was well built and felt substantial in the hand. Again, it is not up to Leica standards in this dept but I have no complaints. The only concern I had is that the bellows seems fragile and if it were ever punctured or damaged then you would have an instant light leak. I am not familiar with folding cameras, and this is the first one I have EVER used so I am not sure how easy it is to damage the bellows. It just seems like it would be easy to rip or tear so I was very careful with it.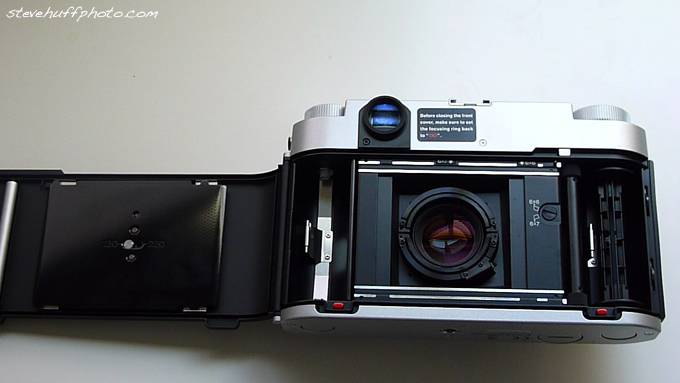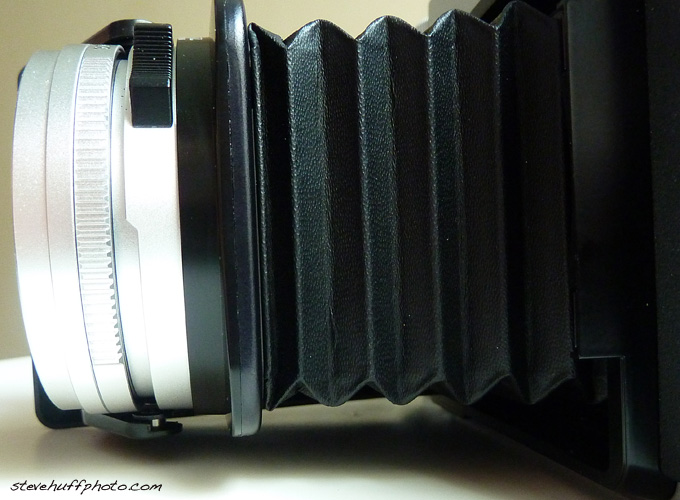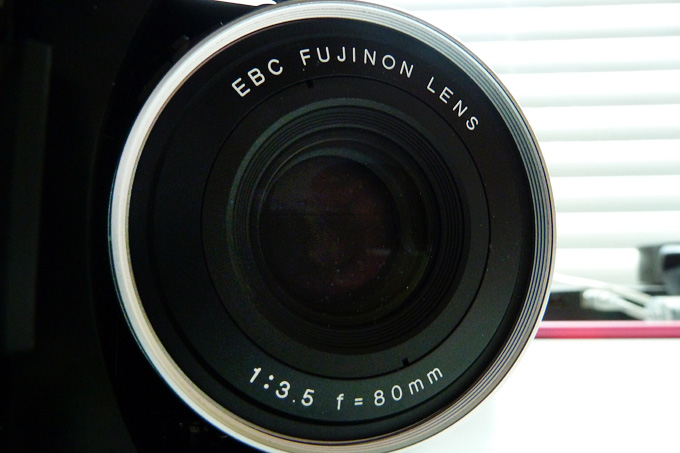 My First Experience With the GF670 – Quick portrait test
After loading the camera with film I told my wife I had to take some test shots of her outside. I had some Ilford FP4 (ISO 125) loaded and snapped off a few frames just to make sure the focus was good and also to see how the lens would do wide open at F3.5.
Two shots wide open with Ilford FP4 – I found the lens to be wondeful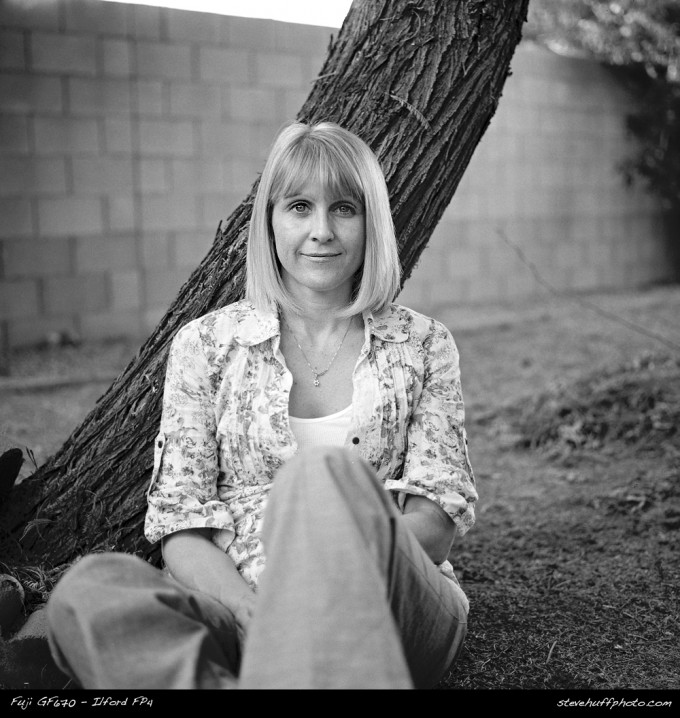 and of course, the obligatory "test my camera cat shot"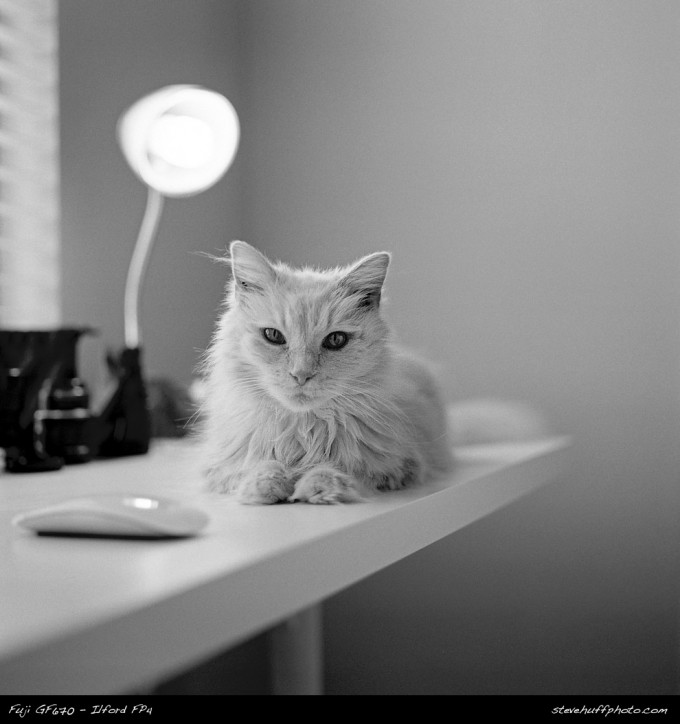 So the 1st test shots came out great. Focus was spot on and wide open, the lens drew in a very pleasing way with smooth Bokeh and plenty of detail. After I shot through the 12 frames of FP4 I loaded up some Ilford Delta 400 and we headed out for some evening street shooting. I was not sure if this would work out at all, I mean, who takes a medium format film camera for night time street shooting?
My Second Experience with the GF670 – Night time street
Here I am shooting the GF670 at night using it just as I would a Leica MP or M7. This image was shot by my wife with the E-Pl1 and 7-14 lens in grainy B&W mode.
My wife and I drove downtown to a first Friday even where there are lots of street vendors, artists and just plain ol' crazy people roaming around. It was VERY cool and we plan on making this a regular event to go to and shoot, eat and have fun with friends. We saw a VERY talented girl who wrote her own songs and she was performing them with just her and her keyboard. She sounded amazing and we stood and listened for a while. If she would have been selling CD's I would have bought one on the spot.
There was still some light left for this shot – Ilford Delta 400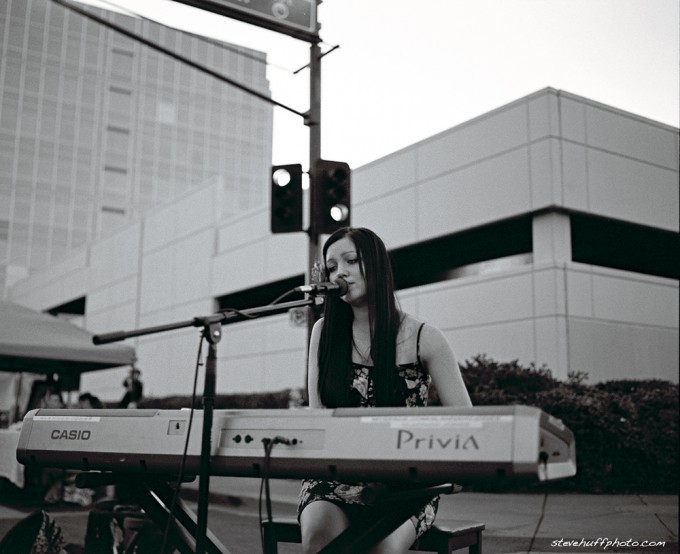 When we arrived there was still some light left and I knew the 400 speed film would be fine until it started getting dark. But I was really digging using this camera. It was not too big, nor too heavy and when I wanted a bite to eat or something, I just folded it up and let it hang at my side using a strap. After 20 minutes I felt like I was shooting a 35mm RF, just one that was a little larger.
So as I walked the street with the camera I realized that this was VERY doable. I left the lens folded OUT while walking and I had a few people walk up and ask me if this was an old antique camera. With its fold out lens it resembles the old cameras as there were many made like this back in the day. Everyone seems to think it was really cool but when they asked how much it cost they freaked out! Here is one conversation I had with a guy who walked up to ask about the camera:
Guy: Hey man, is that an antique?!?
Me: Nope, its a new camera.
Guy: How many megapixels, that looks wicked.
Me: It's film.
Guy: Film?? (he looked confused)
Me: Yep, it's a Fuji medium format film camera.
Guy: Oh, it's those kind that take the big film..ahhh.
Me: Yep!
Guy: How much does it cost?
Me: $1899
Guy: Whoa!!!!!! (then he walked away)
I thought it was cool that there was so much interest in it. A woman also walked up and asked me where she could buy one after she looked it over so there seems to still be some interest in film, especially if it's to be used with a sweet looking camera like this one. But all of the looks and portability in the world wouldnt mean squat if the camera did not perform well. I was curious about the lens because some say it is a Voigtlander lens and others say It is a Fuji. I believe it is a Fuji designed lens but even if it is not, it performs very well and gives you that "medium format look" that you just do not see with 35mm.
Shot with Delta 400 at 3.5 as I walked behind them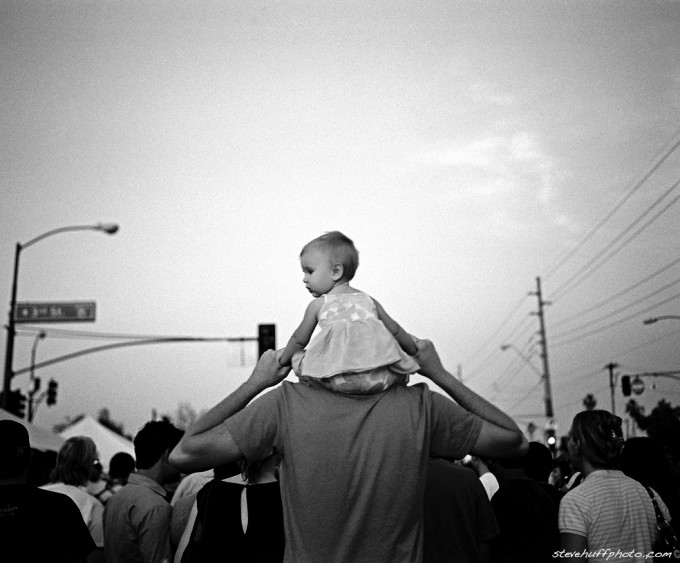 This guy played three chords over and over and over while he swung his head around. I snapped this using Delta 400 and two hours later when we walked back towards the exit he was still playing and swinging.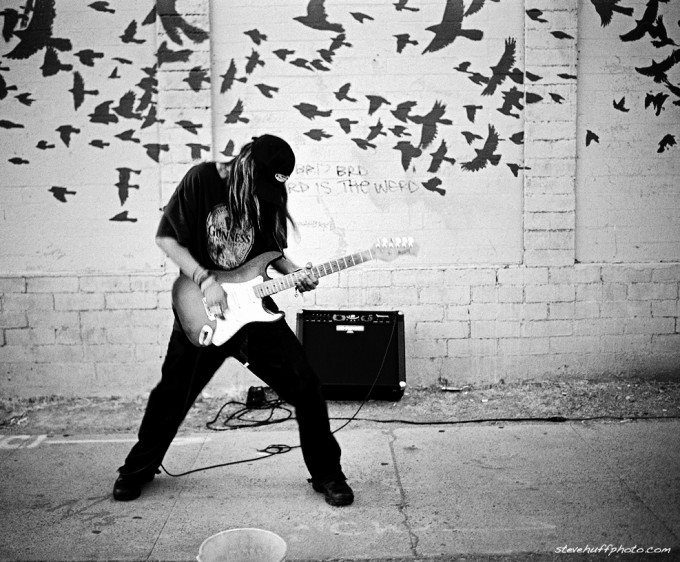 After eating and walking around for an hour it started getting dark. I finished u p my 400 and loaded up the Delta 3200. It was no problem loading it in the middle of the street. It took me a minute or two but I had no difficulties at all. The cameras meter also had no trouble metering in the low light, so that was a plus. The following images were all shot with 3200 film. You can click on any image in this review for a larger version.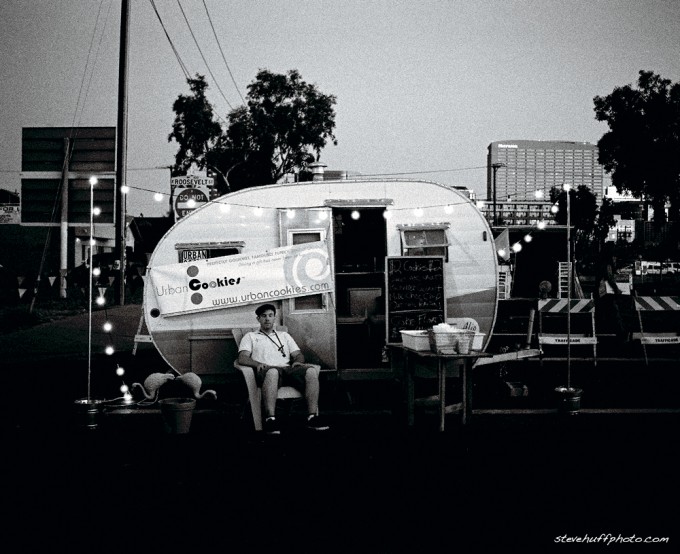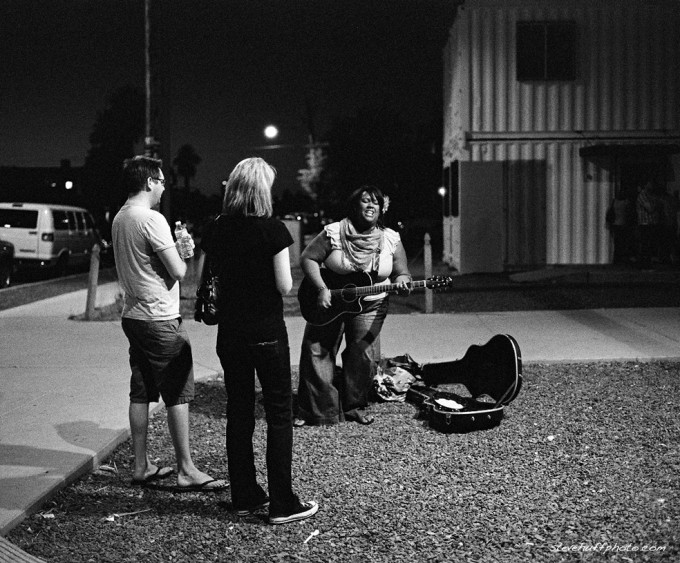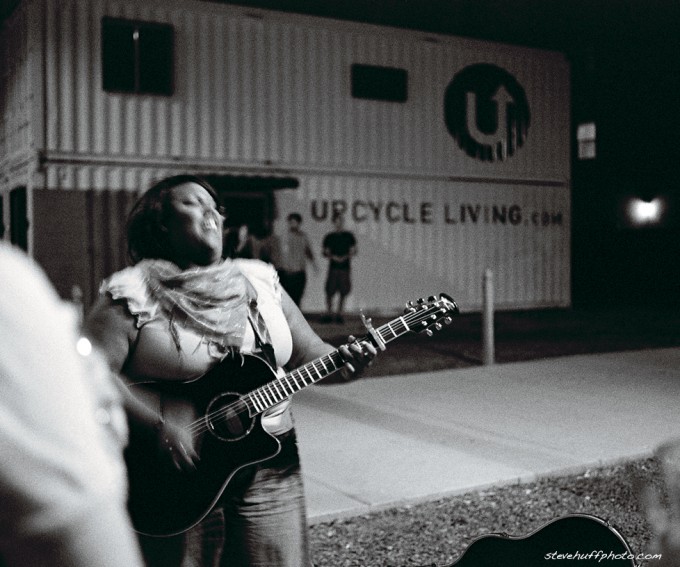 I admit, these kind of shots may be better to shoot with a 35mm camera but the GF670 did an admirable job here. By the time of the last photo above it was REALLY dark and we were headed out to go home. This lady was singing a horrible out of tune song about missing her dog. She had some guts though and was even making a few $$'s in tips. Maybe I should go out there and sing for some cash!?! All in all it was great fun heading out there and shooting with the Fuji. It was a positive experience and at this point I was really liking the camera quite a bit. My wife was giving me that look "Don't even think about it, it's going back to B&H!".
My third experience with the Fuji GF670 – Vegas baby!
I delayed this review by one week mainly because I wanted to shoot more film with it before I wrote about it. I felt like shooting 3 rolls was not enough to really get to know it, plus I wanted to take a short  travel with it to see if it still held up well, especially the folding mechanism and the bellows. We took a drive to Las Vegas and while I mainly shot with the Leica M9 and new 35 Summilux ASPH, the Fuji GF670 came out from time to time. This time I brought along some Tri-X 400 and Kodak Ektachrome 100VS.
First up, Kodak Ektachrome 100VS
This Ektachrome really POPS. This is a straight scan from my local lab though I did crop it a little. These reds are a bit over the top but it's sort of interesting, and I can see how it could be really gorgeous in the right circumstance and light. You can buy this film at B&H here.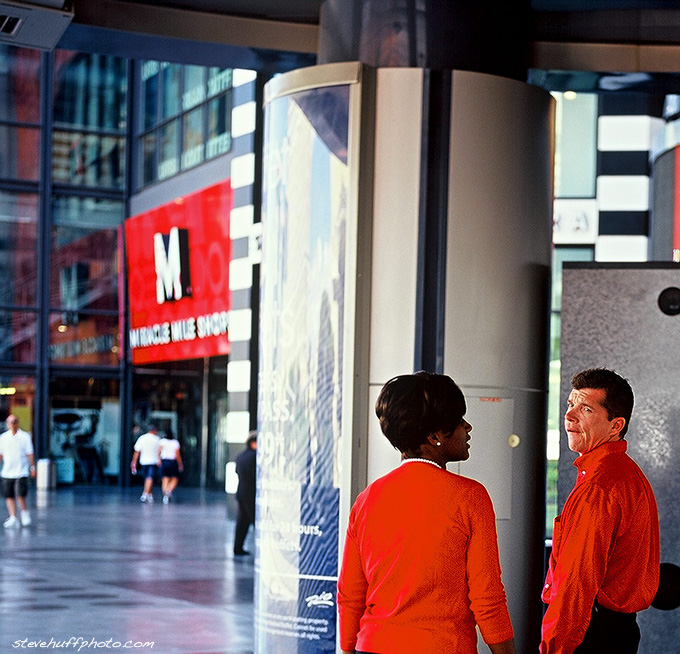 I was coming back over to meet my wife and she did not see me coming. I snuck this shot of her while she was texting me to ask me where I was at 🙂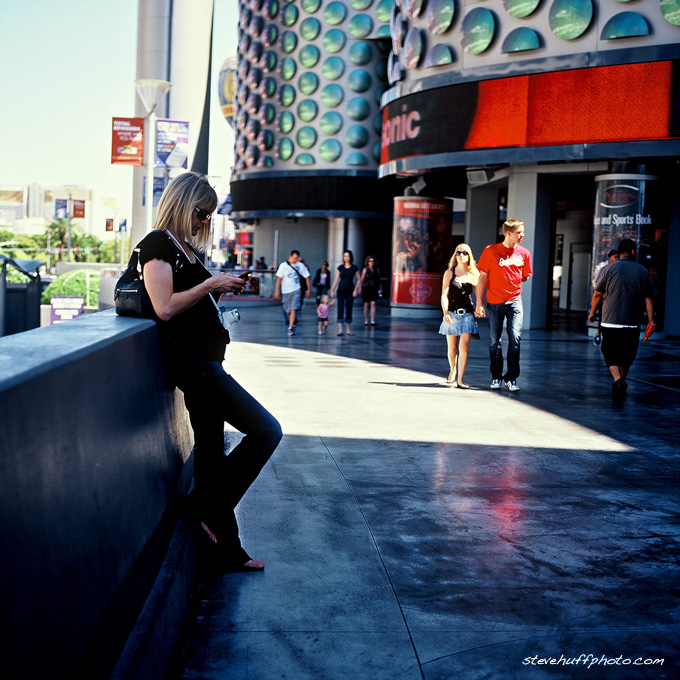 Here is a shot that I snapped with the Fuji AND the M9 35/Lux. You can see the 35 Lux version in my 35 Lux review but I feel this Ektachrome version is more pleasing if not a little over saturated for skin tones. The color is bold but wow, the look of film wins me over every time.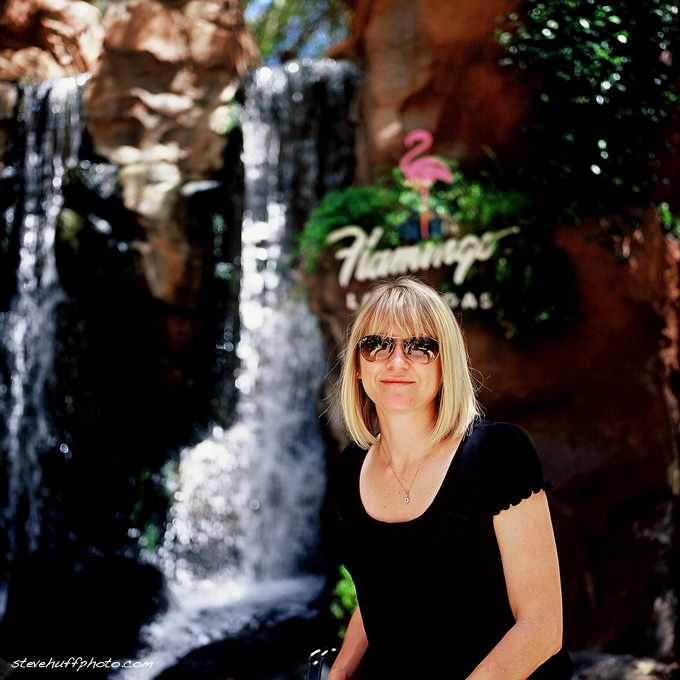 Reds is where the Ektachrome really pumps it up…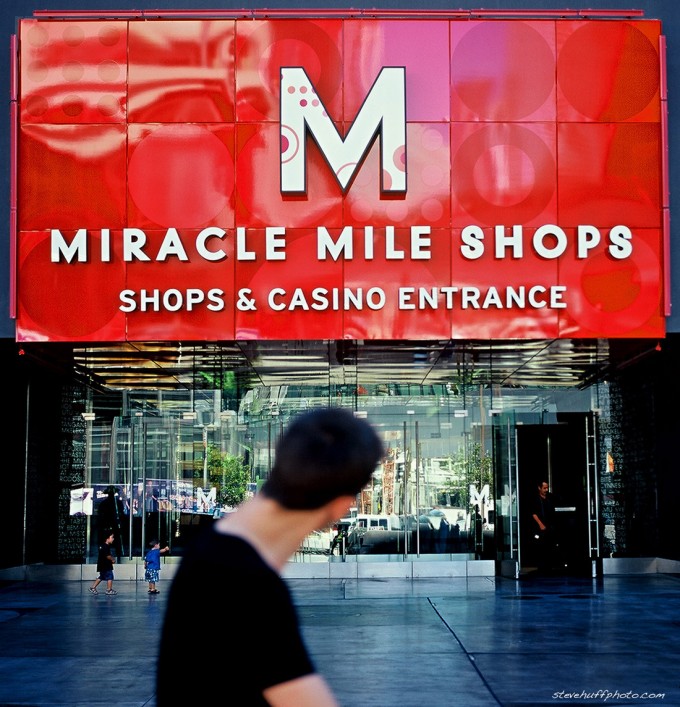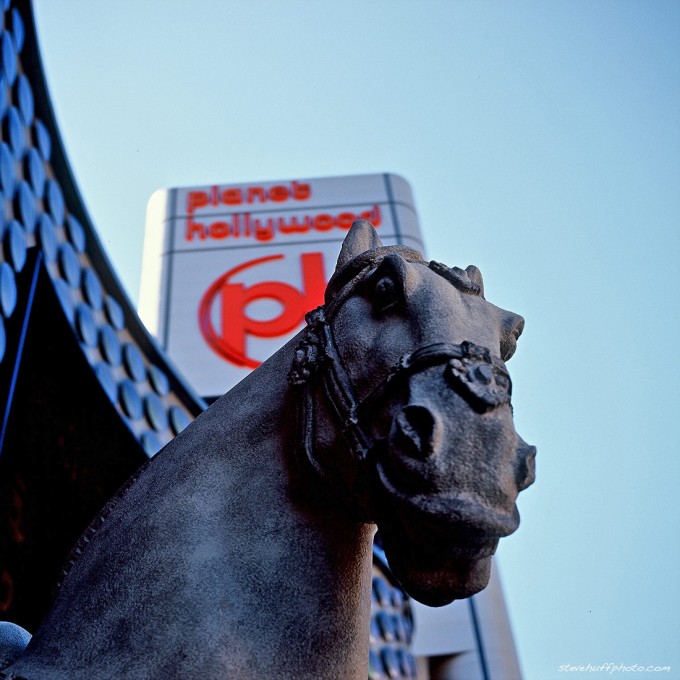 I shot 12 frames with the Ektachrome and these were my faves. This film is pretty nice and VERY low grain. If  you like your color to be bold and beautiful, this is a great film. I now want to try it in 35mm.
Good ol' Tri-X 400
I love Tri-X. I used to shoot with it all the time and it was my #1 film of choice when I would process my own in my laundry room. It's classic and it has a look like no other B&W film. I had one roll and one roll only so I loaded it up for day 2 in vegas and hoped  to catch some cool scenes. B&H sells Tri-X in 120 HERE.
This is the guy who was breathing fire in my 35 Summilux lens review. Here he was looking at some girls in the escort books they hand out on the strip.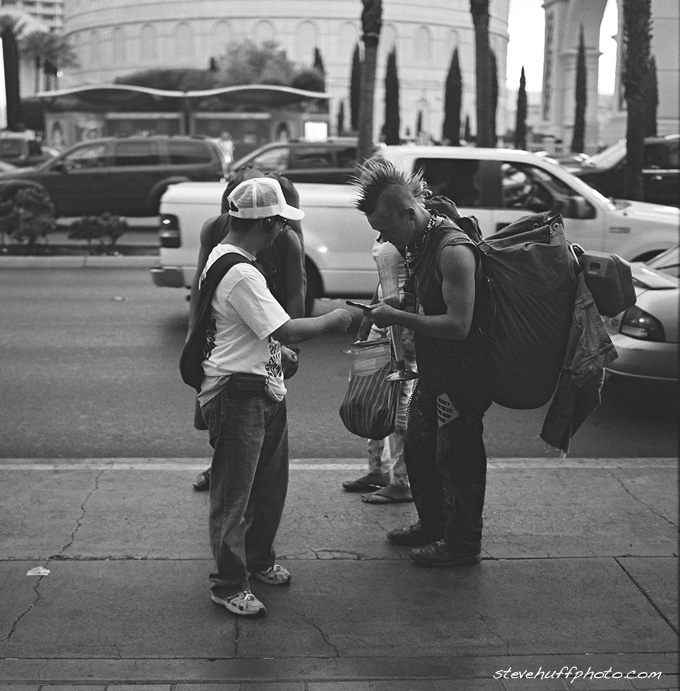 "Larry" – I saw him playing with sticks on his legs trying to earn a few bucks. This guy lives on the strip and survives day to day from money he gets from the tourists.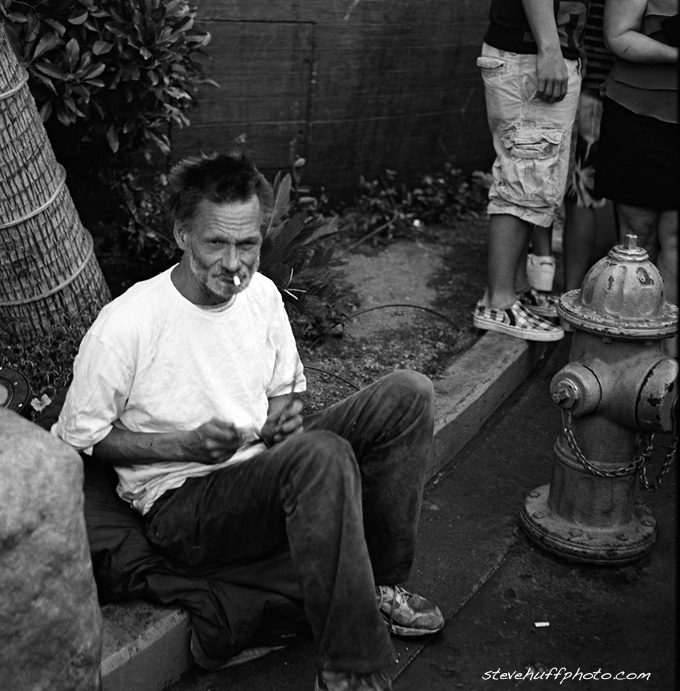 A Michael Jackson impersonator was on every block. This one charged $ for a photo which explains why he turned his back on me when I went to snap.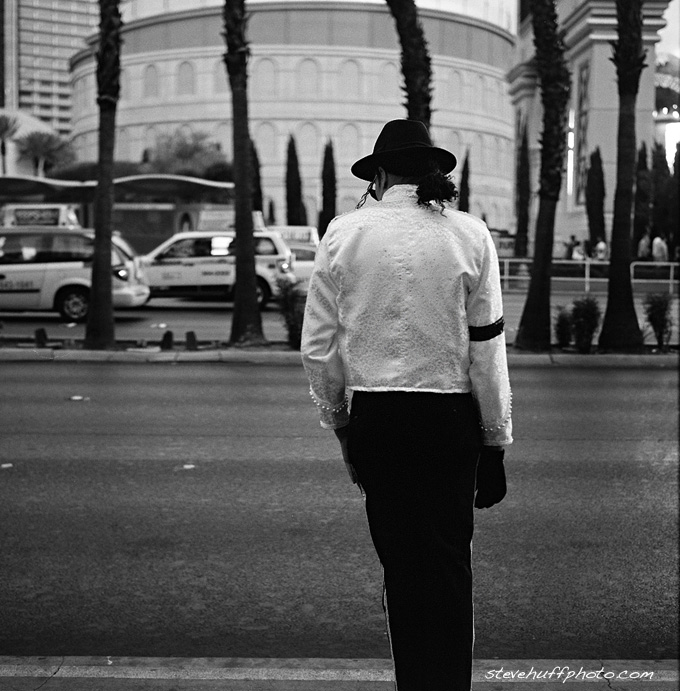 Hanging out at the Venetian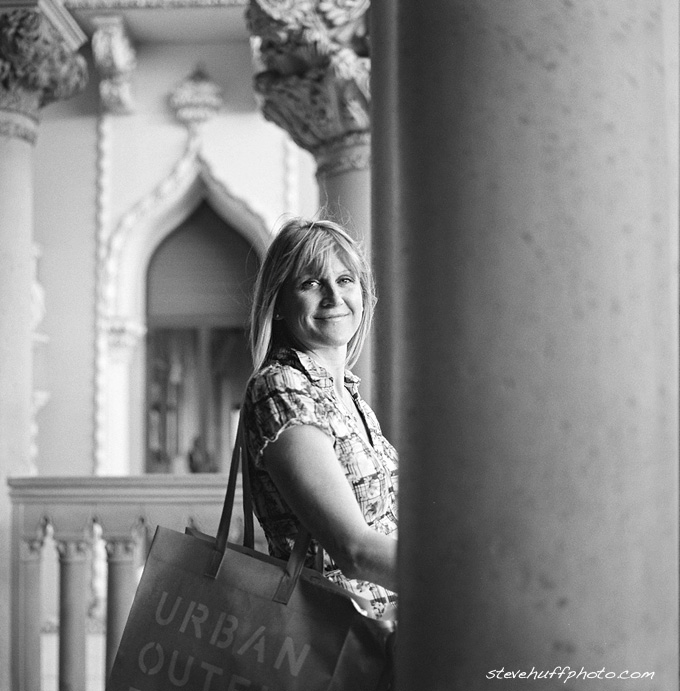 My wife wanted to take a shot with the Fuji so she snapped one of me in the parking garage..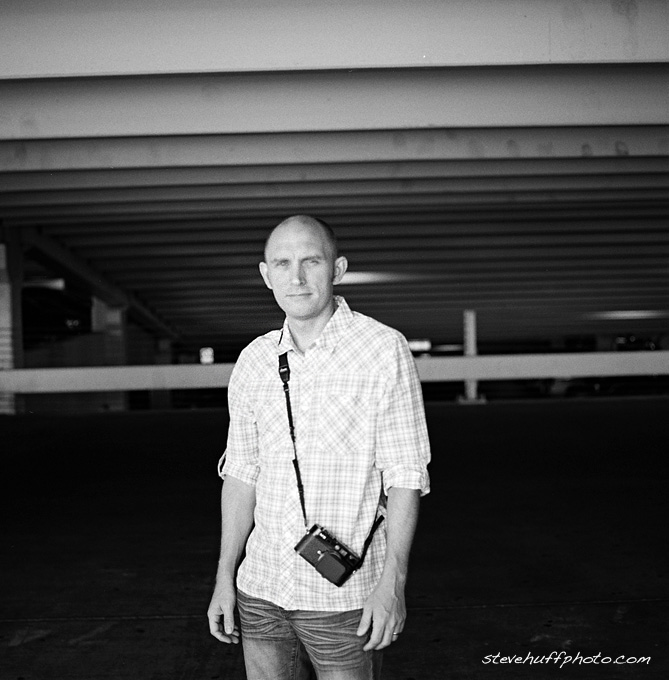 On my roll of Tri-X I actually had 12 keepers 🙂 I really liked this film the most and found it to be the best mix of speed, tone and texture. It's also just about the cheapest film you can buy in 120.
Getting 120 Film Processed
I already have been asked the question on WHERE To get medium format processed. Local drug stores can not develop this film, well, they can but they will mail it out for you. I happen to have a pro lab not far from my house and they do the processing for $3 and scans for $10 so it cost me $13 a roll to have it developed and scanned to a CD. There are plenty of labs to mail the film to and most turn it around pretty quickly. But, you will not find a one hour processing drug store for 120 film, at least in the USA.
PROS/CONS
PROS:
Looks like a rangefinder, works like a rangefinder
Medium format = less grain, smoother tones and better negatives
Built in meter works great with Aperture priority mode. Just focus and shoot.
Can be used for beautiful portraits, street work or just about anything due to its portability.
The viewfinder is big and bright and actually nicer than my Leica MP finder!
The shutter is SILENT. You may not even hear it click.
Easy to load and unload.
Build is decent and seems solid.
$400 less than the Voigtlander version, and it is the same camera.
Can shoot in 6X6 or 6X7 using 120 or 220 film. 12 or 24 exposures.
Cost is on the high side but its build, results and quality make it worth it IMO.
CONS:
Not sure how the folding mechanism or bellows will hold up over a period of a few years. The bellows seems fragile so be sure and take care with it (as in do not poke it with anything).
Sometimes the lens does not fold out 100% completely and you have to pull it out to make sure it is out.
Lens must be set to infinity to fold it back in. I have forgotten to do this several times and wondered why it wouldn't fold.
Shooting film can get expensive with film costs, processing, scanning.
How many more years will film be available? Your guess is as good as mine.
My final thoughts on the Fuji GF670
I like this camera. I like it quite a bit. I really enjoyed the quality and look of the medium format negatives but I disliked the costs involved. At about $18-$20 a roll for buying the film and getting it processed, it is not a cheap way to shoot! Then again, neither is 35mm film. You can also process B&W film yourself to save a few bucks and if I were to buy this camera I would limit its use to those special times when I wanted the MF quality or the look of film.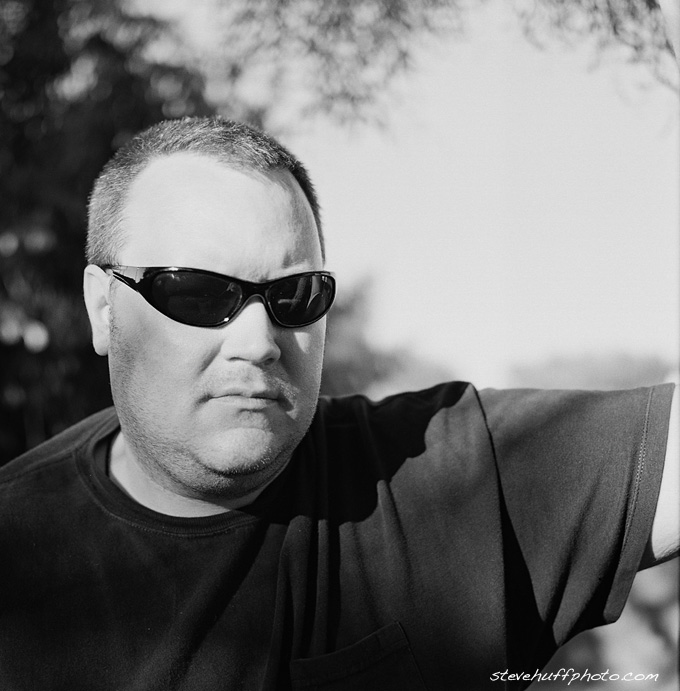 The GF670 is sort of like shooting a Leica M7, It has an Aperture Priority mode with a really good meter in the camera, it has a rangefinder and focuses the same way as a Leica M (or Voigtlander Bessa) and has the same feel as a rangefinder camera, just a bit taller and wider. It's really well made and the shutter is SILENT. I mean, REALLY silent. There were times when I did not even know if the shutter fired! It makes a Leica MP sound like a freight train. Yea, it really is that quiet.
The lens is an 80mm lens which is like the equivalent of a 50 in 35mm land. Its bokeh is smooth and I had no complaints with the sharpness or detail at all. The camera is a cinch to load and unload and easy to fold in and out. My early concerns with the bellows almost came true. While in Vegas the belllows was bent in and it would not pop back out. I was afraid that over time it would rip but two days later when I went to do the loading video I noticed it was back to normal and look A-OK.
The camera seems sturdy, well made and I encountered no issues in my two weeks with it. Overall, if you are looking to get into medium format film photography and want something portable and easy to carry, this is a great option. These days you can find loads of medium format gear used at great prices but the key with this one is that it is portable, easy to carry and has a meter built in. You can buy this one NEW and you can buy either the silver Fuji at $1899 or the Voigtlander in all black at $2299. I'd go with the Fuji because it is $400 less and I like Fuji 🙂 PLUS, it is the SAME camera, and this is not digital where you have to worry about firmware differences or packaged software. B&H Photo has it IN STOCK as of this writing.
So there you have it! I know many of you were waiting for this review and I was thrilled to test out this camera. It's a beauty but up to you to decide if the cost is worth it for YOU. I would buy one today if I could swing it. There are so many great cameras today it is so tough to find that right one. I do know that this Fuji sparked my interest in Medium Format so I am currently testing out another camera thanks  to a buddy of mine who sent it over for me to test. It's a Bronica 645 and also a rangefinder. I'll have a write up on that one soon, but probably not until after July 4th.
Thanks for reading my review of the Fuji GF670! Hope you found it useful! Until next time,
Steve
HELP SUPPORT THIS SITE TO KEEP IT GOING AND GROWING!
Remember, anytime you follow my links here and buy from B&H or AMAZON,
this helps to keep my site going. If it was not for these links, there would be no way to fund this site, so I thank you in advance if you visit these links. I thank you more if you make a purchase! I have nifty search bars at the upper right of each page so you easily search for something at either store! I currently spend 10-14 hours a day working on this site and the only way that I can pay for it is with your help, so thank you! Currently my traffic has been increasing but my funds to pay for the site has been decreasing, so any help would be GREATLY appreciated!
If you enjoyed this article/review, feel free to leave a comment at the bottom of this page and also be sure to join me on twitter or facebook! Also, you can subscribe to my feed at my subscribe page HERE and read these posts in your browser or news reader!  Thanks so much for visiting my site!
[ad#Adsense Blog Sq Embed Image]