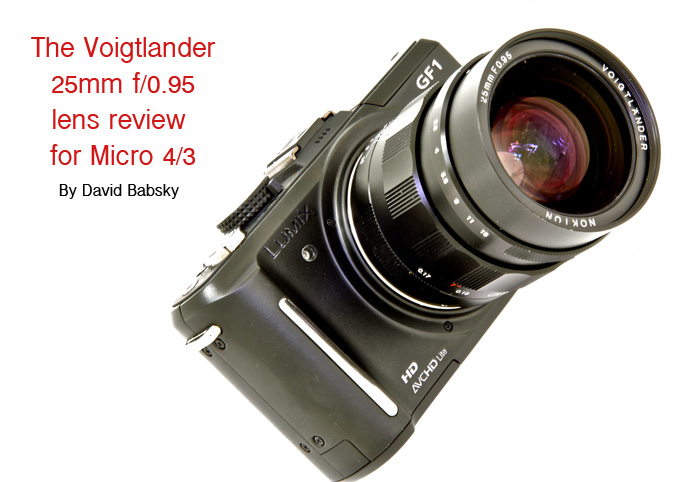 The Voigtlander 25mm f/0.95 Lens review for Micro 4/3 by David Babsky
The 25mm Voigtländer f0.95 lens for micro-four-thirds cameras: is this the perfect low-light, beautiful bokeh, 'dream' lens for Olympus and Panasonic owners?
Erm, sort of.
1 – It's a manual focus lens. Leica owners will be used to that. Everyone else uses auto
2 – It's excruciatingly sharp at f2.8 ..but not at all at f0.95 (which is the aperture you'd buy it for)
3 – It's long and hefty – three times the size, price, and weight of Panasonic's wide-aperture 20mm f1.7
4 – It's €900 / £830 / $900 for a soft *close-focus* 'portrait' lens
That *close-focus* aspect is, perhaps, the main reason for recommending it. Focus goes down to 0.17 of a metre ..that's six-and-a-bit inches. This is like having a bellows – or extension rings – fitted to a Panasonic 20mm lens. This let's you get really close, and – when it's stopped down to f2.8 – really *sharp* too!
_ _ _ _ _ _ _
[Hand Panny 20mm] – This is what the Panasonic 'pancake' 20mm lens sees at its closest, and widest aperture f1.7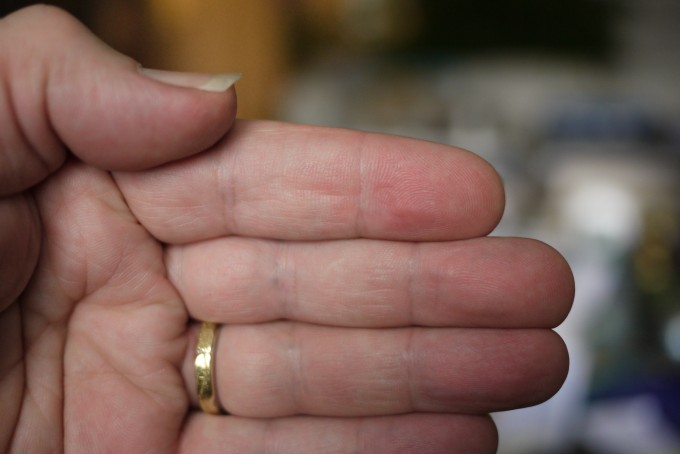 [Hand Voigt 25mm] – This is what the Voigtländer 25mm sees at its closest, and widest aperture f0.95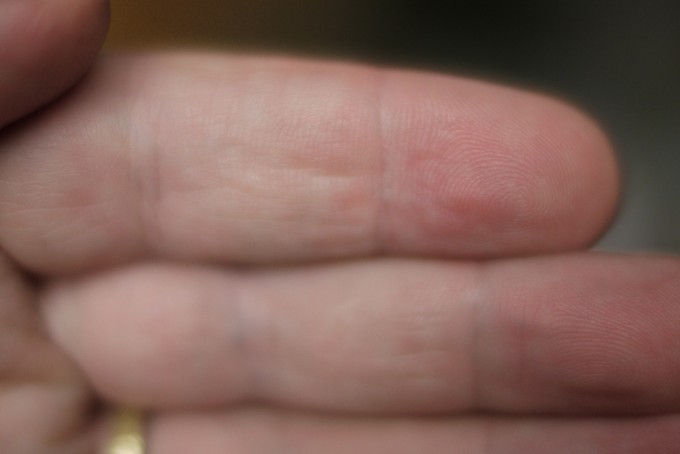 _
But for general-purpose, night-time, low-light photography (or daylight photography with maybe a neutral-density filter on it)? Well, a couple of adaptors (Olympus to Four/Thirds and Four/Thirds to micro4/3) let you use an old Olympus 50mm f1.2 at almost the same aperture, and that focuses down to 17″, and – shooting at twice the distance (because it's a 50mm lens) you get pretty much the same picture as the Voigt – while being sharper and clearer than this Voigtländer is when wide open. (Konica's old 'Hexar' f1.2 Leica-fit 50mm, and other Leica interchangeable lenses, will focus only as close as a metre, so they're not in the same league. Voigtländer's own 50mm f1.1 costs $1000 but also focuses to only 1 metre.)
_
[Taxi 0.95] – 'Grab' shot at night at f0.95 from a passing taxi: nothing's sharp (except perhaps that Carphone Warehouse shopfront in the gloom at lower right) because the Voigt's depth-of-field at f0.95 is so shallow that only ONE distance can be sharp, and the rest will be indistinct. GF1, ISO 800, 1/800th of a second, f0.95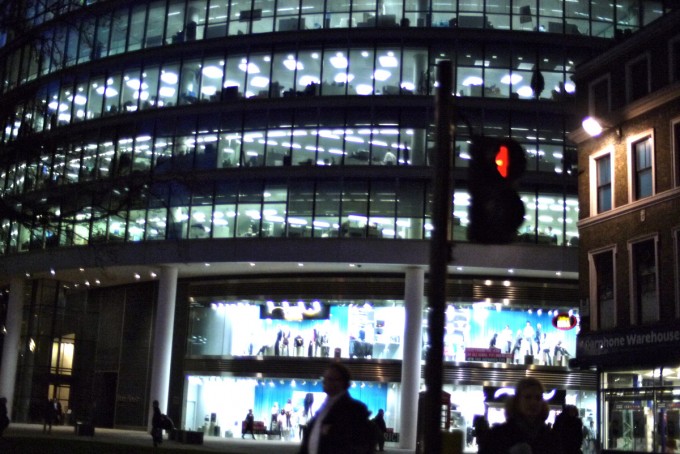 _
The Olympus 50mm lens turns through 180º from infinity to closest focus (0.45m/17″). With a similar 180º turn the Voigt focuses from infinity down to 8½", but then keeps on going for another 90º to get another 2 inches closer. That means it's slower – but more accurate – to focus all the way. Panasonic's 'kit-lens' 20mm f1.7 takes about 220º to turn from infinity to closest focus (8 inches) manually (but why would anyone do that?) ..but only a fraction of a second to do that automatically.
So what's the point of the Voigt? Marketing, primarily. f/0.95 is the "triumphant" achievement of the Leica lens designer(s) at Solms for the current 'Noctilux' ..the low-light 50mm lens for the Leica M9 (and other M models). Everyone – it seems – wants one; Leica dealers are all sold out, and the waiting list is about a year long. (There are usually old Canon full-frame 50mm 0.95 lenses knocking around on eBay ..and, of course, equivalent old TV and 16mm-film lenses of 25mm f0.95 like Angenieux, Meyer, Soligor, Navitar, Berthiot, Schneider, etc, which can all be engineered to fit micro4/3 cameras.)
But why does anyone want that 0.95 Noctilux performance though? Its depth-of-field is wafer thin ..and the closer you focus, the less depth there is, so the more difficult it is to get the focus right. Perhaps it's like buying a Titanium M9, or a Plutonium M6, or a Tantalum MP. Some people have just gotta have it "because it's there", as George Mallory supposedly said of Mount Everest.
So 0.95 has a bit of marketing value. "If I can't have a 0.95 50mm Noctilux, at least I can have a 0.95 25mm (same thing as a 50mm when used on an m4/3 camera) Nokton!" ..but the question is still "why?"
Panasonic's own 20mm 'pancake' gives the same slightly wide view on m4/3 as a 40mm lens gives on a full-frame 35mm camera. (A bit wider view than a 'standard' lens, a bit more depth-of-field, a good wide aperture without such large, heavy glass as f1.7 would be on a 50mm lens.)
But.. that Panasonic 20mm isn't so much *fun* as Voigtländer's 'Nokton'. The 20mm "just does it" ..it just takes photographs: squeeze the button, the lens focuses, you've got the shot. With the 'Nokton', you have to work at it: you've got to hold and twist the lens, try to get the focus right ..go up to the focus, a bit beyond, then wind back to make sure that it's REALLY sharp, then squeeze the button. There's more *involvement* ..but, of course, that doesn't mean the photos will be any "better" ..though with all that effort, they may be more memorable for the photographer.
So the 25mm Nokton is a $900 way to have *fun* with photography. But it means you can't just point and shoot and get quick, sharp results. It's like a "stick shift" (manual gear change) car, compared with an automatic. It's like hauling in the sails with a "grind it yourself" winch, instead of just pressing a switch. It's like climbing the stairs instead of taking the lift (elevator). There's a bit of exertion and effort involved, instead of just pointing and squeezing. Maybe that – and a suggestion of "exclusivity" with that f0.95 hole in the front – is what seems to make the f0.95 Nokton appealing.
But is it really any good?
_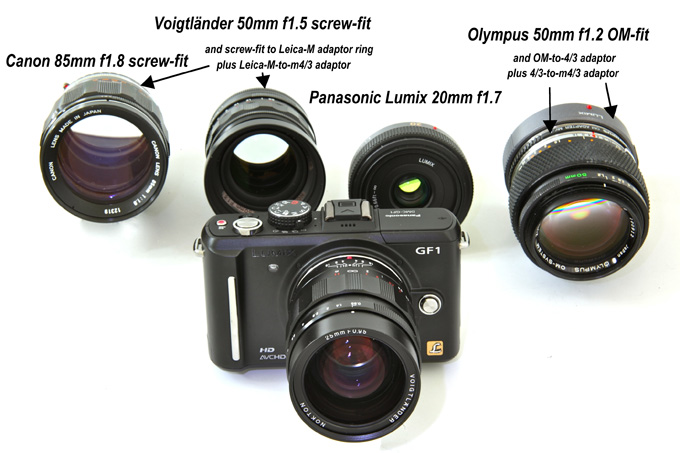 [A V25 0.95] – Angie in the bathroom. Voigtländer 25mm at f0.95. With this wide aperture the surroundings are smeared away, and you concentrate on her face.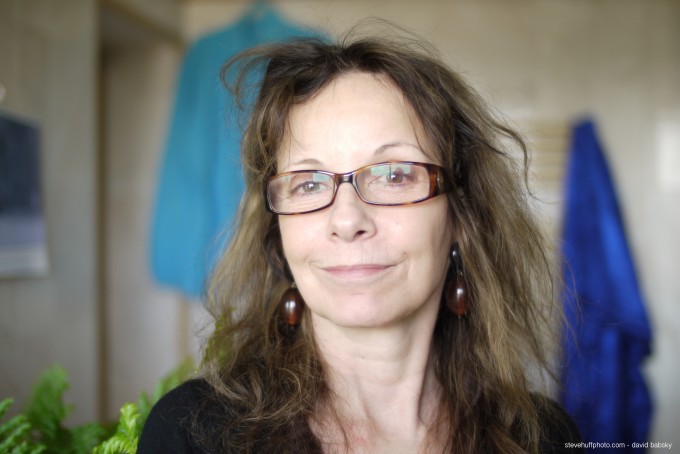 –
[A P20 1.7] – Similar shot, from the same distance, with the Panasonic 20mm pancake at f1.7. Angie's very sharp, but that background has become a distraction. Your eyes don't know where to look.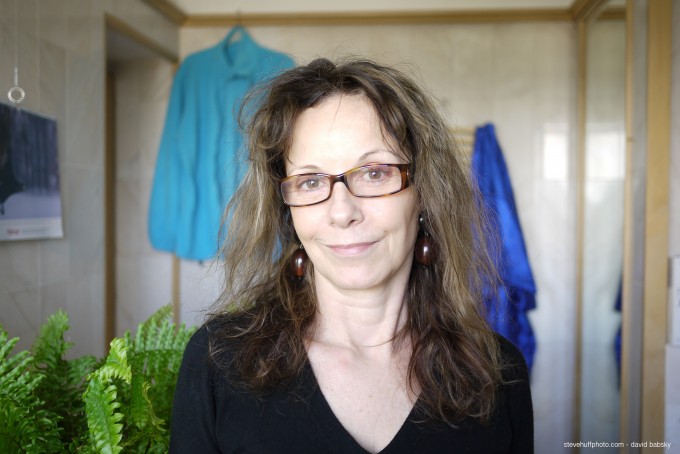 –
[A Oly50 1.2] – Same shot, same distance, but with an old Olympus 50mm f1.2 from an Olympus OM2 35mm film camera, with a couple of simple off-the-shelf adaptors to fit it to micro4/3. Pow! That's impact. You don't look anywhere except her eyes. (The 50mm behaves like a 100mm f1.2 telephoto on the small m4/3 sensor.)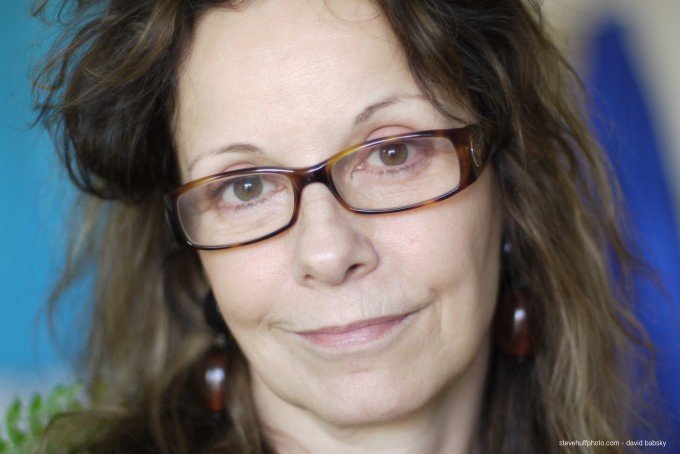 –
[A Can85 1.8] – Same shot, same distance, with an old 'traditional' Canon rangefinder f1.8 Leica-fit 'portrait' lens and an off-the-shelf m4/3 adaptor. Really TOO big ..no escape, overwhelming! (The 85mm becomes a 170mm on the m4/3 sensor!)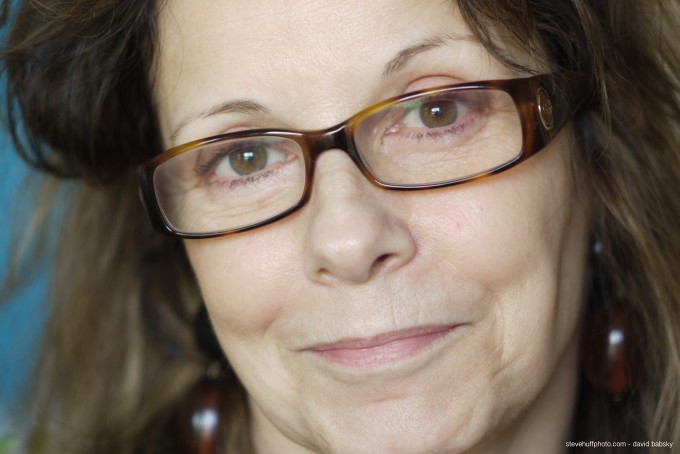 (All ISO 200, Panasonic GF1, straight out of the camera jpegs, with no adjustment. The Canon lens gives a slightly yellower look than the others.)
_ _ _ _ _ _
At its widest aperture of f0.95 anything slightly out of focus is "smeared" out, giving a very soft and un-distracting 'bokeh' (out-of-focus highlights), and a 'dreamy' appearance to anything which isn't sharply focused. And, of course, that produces great differentiation between what you've focused on, and what you haven't ..a kind of '3-D' effect, in which the sharpest zone ought to 'pop out' like a cardboard cut-out in front of a blurred background ..that's what happens with the genuine Noctilux.
But the closer you get to whatever you're shooting, and the wider the aperture you use, the shallower that sharp zone becomes, and – with this Nokton – all of what should be sharp starts to look soft, because out-of-focus areas bleed into the sharp zone. Leica's Noctilux is optimised to give the sharpest possible focus at its widest possible aperture by using 'floating elements' in the lens structure and highly refractive glass. This Nokton is NOT optimised for sharpest focus at widest apertures AND at closest shooting, but tries to provide absolutely everything: very wide aperture and very close focus ..but that gives more general blur and softness the wider and closer you go. The results can be charming, but you could almost use a $25 plastic lens. All the 11 pieces of glass in the Voigt move together as one chunk; it's not optimised – unlike the Noctilux – to give the same sharpness at all apertures when focused *at different distances*. (In Leica's Noctilux, the rearmost two pieces of glass move separately from the others when you focus at different distances to maintain absolute sharpness, always. The Voigt isn't that sophisticated. But of course nor is it that price.)
Like Leica's previous Noctiluxes (Noctiluces..?) and some other, older Leica 35mm lenses, this 0.95 Nokton has a bit of "focus creep" as you change the aperture. (The focus shifts back and forth a bit.) This is pretty unimportant if you're hand-holding; you only have to cope with it ..by re-focusing.. if the lens is on, say, a tripod – so I'll dismiss the drift as immaterial.
Essentially, at its widest aperture – f0.95 – the Nokton puts an out-of-focus halo of blur around the region of sharpest focus, and that halo is comprised of the colours of the surrounding out-of-focus areas. The wider the aperture you use, the more this halo bleeds into the region of what should be sharpest focus, softening it. As the aperture is stopped down, though, this smear and bleed is quickly chopped away, leaving a region of really sharp focus 'shining through' and undiminished. But not at f0.95.
At maximum aperture this lens – like most others – also 'vignettes' the edges of the picture (the edges and corners appear darker; the centre appears brighter) so it emphasises, and draws your attention to, what's in the middle. It almost looks as if it's "pulling" light into the centre of the frame. But at its widest aperture the middle of the picture loses much of its detail and fine shading because the unfocused regions bleed into the detail that ought to be there. So at its max aperture (0.95) the results pull your eye into the centre of the picture, but there isn't a lot of detail there to see.
Stopping it down from f0.95 to f2.8 de-emphasises the centre – and makes the middle more detailed, without that central "glow". This gives sharp, but unremarkable pictures. In fact it looks no different than a similar shot taken with, say, any wide-aperture 50mm lens from twice the distance, for example the Voigtländer Leica-fit 50mm f1.7 (shorter and lighter than the m4/3 25mm f0.95, and only 2/3 the price).
A similar shot taken with Panasonic's Lumix 20mm f1.7 lens is much sharper everywhere ..without the smearing of the 25mm at f0.95.. but without the remarkable 'way-out-of-focus' backgrounds which the 25mm Nokton can deliver on a small-sensor m4/3 camera.
_ _ _ _ _ _ _
[pub 25 0.95] – Shot with the 25mm Nokton at 0.95; soft face in the centre, but the centre's nice and bright, where the lens has "pulled the light in". And the 'smearing' at 0.95 reduces any appearance of grain. GF1, ISO 800, 1/100th sec.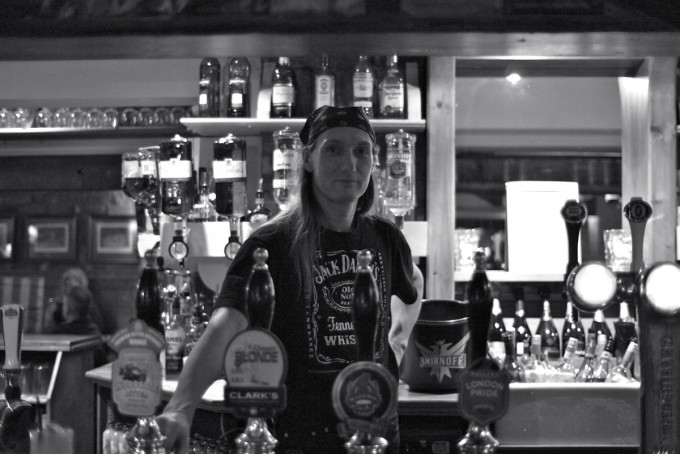 –
[pub 25 2.8] – Same shot at f2.8. Sharper, but with the centre now darkened and 'flattened' and underexposed, and hence 'grainy', so the face looks blotchy with noise which wasn't visible in the smoother 0.95 shot. Coarse, like 'Tri-X' film. GF1, ISO 800, 1/50th sec.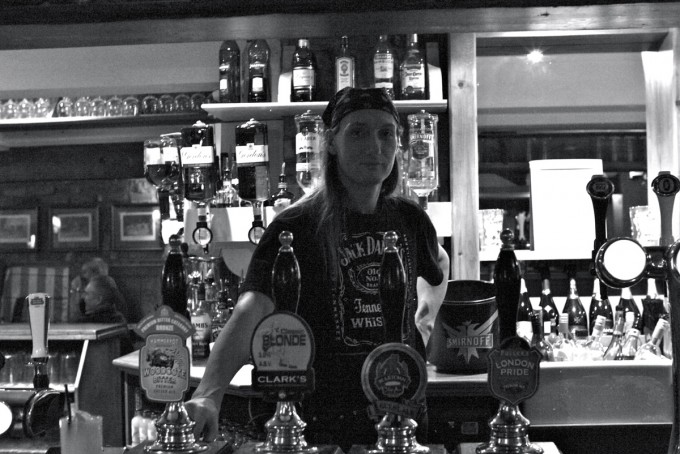 [pub 50 1.7] – From the same distance, but with the Voigtländer *50mm* f1.5 Nokton (a 50mm low-light lens for Leicas) at f1.5. Similar 'smoothness' and out-of-focus blur or 'bokeh' as the Voigt 25mm 0.95 Nokton wide open. (Identical to cropping and enlarging the 25mm 0.95 shot, but without the ensuing resolution loss or pixellation.) GF1, ISO 800, 1/80th sec.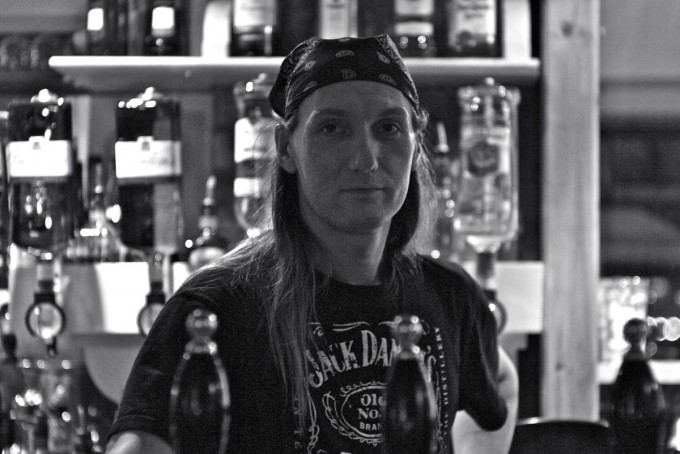 _
So it's swings and roundabouts: in the 25mm Nokton's favour..
(1) – Backgrounds disappear way out of focus at f0.95 ..no other native (unconverted) m4/3 lens does this
(2) – Its "character" at f0.95 directs viewers' eyes to the centre of the frame
(3) – It's a cheap way to approximate the effect of an f0.95 Leica 'Noctilux'
(4) – It focuses far closer (6.6 inches) than any other current lens for micro4/3
(5) – It has the greatest focusing range (∞ to 6.6 inches) of current m4/3 lenses
(6) – It gives a soft, smooth and unfussy 'bokeh' at f0.95
(7) – It's a great 'portrait' lens, smoothly blurring the background, and not too sharp wide open
(8) – At its widest, but not its very closest, it gives pleasant "glowing" softness and can be stopped down for sharpness
(9) – Very appealing "glowing" pictures wide open, but not at its closest focus
..and against:
[a] – It's sharp stopped down, but not at its very widest and simultaneously its closest – for $900
[b] – The genuine f0.95 'Noctilux' is -w-a-y- sharper than this at 0.95 (..but costs $10,000)
[c] – At closest focus you're lucky to get anything really sharp unless stopped down to f2.8, so why pay for f0.95?
[d] – It's a long turn through 270º to adjust from infinity to 6.6 inches
[e] – Any 2nd-hand full-frame 50mm wide aperture lens + adaptor can give similar results for less cash
–
[Hy Pan 20mm] – Here's what you get from the Panasonic 20mm 'pancake' kit lens at its closest and widest aperture;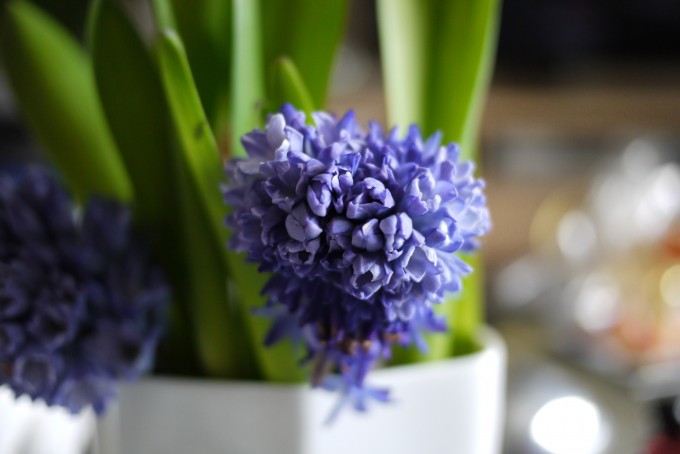 –
[Hy Oly 50mm] – Same shot with an Olympus OM2 50mm lens on an m4/3 adaptor at its closest and widest aperture;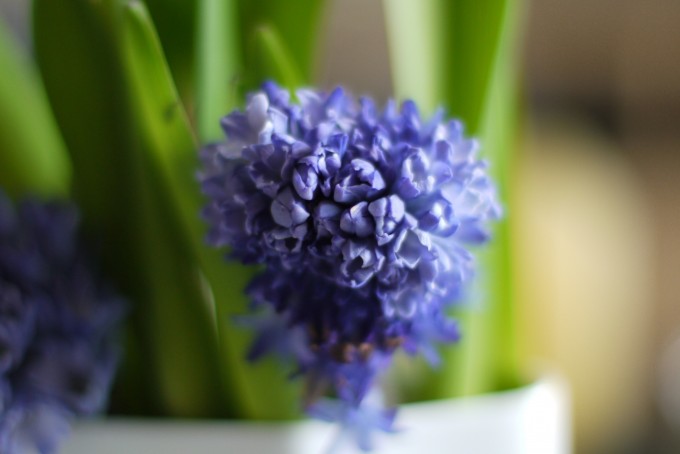 –
[Hy Voigt 25mm] – Same shot with the Voigtländer 25mm at its closest and its widest aperture.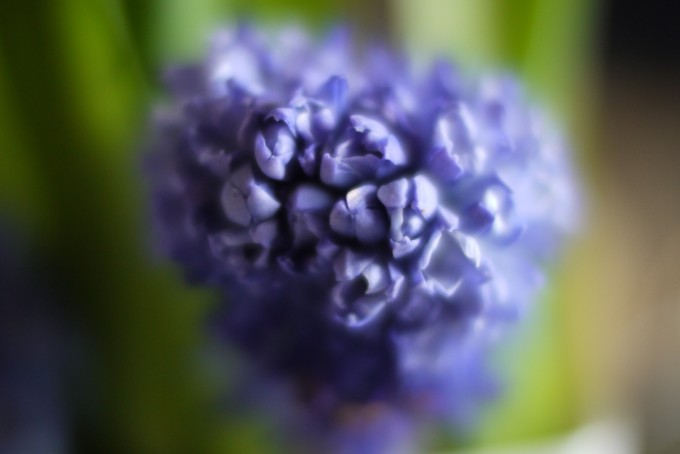 (All at ISO 400, indoors, by window-light, all out-of-camera jpegs without any tweaking.)
Which one works best for you..?
_
It's useful for "pulling focus" (manually adjusting the focus) when shooting VIDEO on an m4/3 camera, and for shooting m4/3 video in (almost) darkness and up very close.
For stills? The extra-wide f0.95 aperture gives soft results, extremely 'smeared' at its closest 6.6″ focus. For general photography you may be better off with a Leica-fit Voigtländer 50mm f1.5 Nokton – or something similar – with an m4/3 adaptor, unless you need exceptionally *CLOSE* shots with an m4/3 camera. A good 2nd-hand close-ish-focus 50mm (equivalent to 100mm on an m4/3) lets you crop afterwards to get a similar image to this 25mm at its closest. But this Voigt's "..soft, smeared results.." may be what you want in a portrait lens (..unless you go for harsh, gritty realism).
'Portrait' lenses have traditionally been 'soft' – making wrinkles disappear – but they've been longer (had a longer focal length) than this '25mm-behaves-as-a-50mm-on-m4/3′ in order to keep the perspective flattering (and not make noses look too big by being close to the camera), and to avoid the photographer's intrusion into the other person's space. Although it blurs the background, and gives soft results, this 25mm doesn't let you step back away from your subject. To get a headshot that really fills the frame you've gotta stay pretty close. On the other hand, it puts a person 'in context' by showing some of their (blurred away) surroundings, too.
It MAY be just what you need, but it depends on what you like to shoot. Soft, contextualised portraits? Great! Harsh nitty gritty? No. Close-up sharp details? Yes, but only at f2.8 or smaller. The world in sharp focus? ..No: no point in paying extra for that 0.95 aperture.
If you've ever used a Pentax Spotmatic, well, that sums it up exactly; same feel, same old slow focus as an old Pentax SLR lens. It's Nostalgia incarnate, but now 'retro-fitted' for use on any modern 4/3 camera!
_
More! Five shots, all almost the same, but with subtle differences (and I did move slightly between shots):
1 – [Cap Oly 50 1.2] Closest focus achievable with Olympus 50mm at f1.2, on an m4/3 adaptor. This behaves more like a telephoto lens, because when used on the small m4/3 sensor it's equivalent to a 100mm f1.2. So its *perspective* is that of a slight telephoto lens.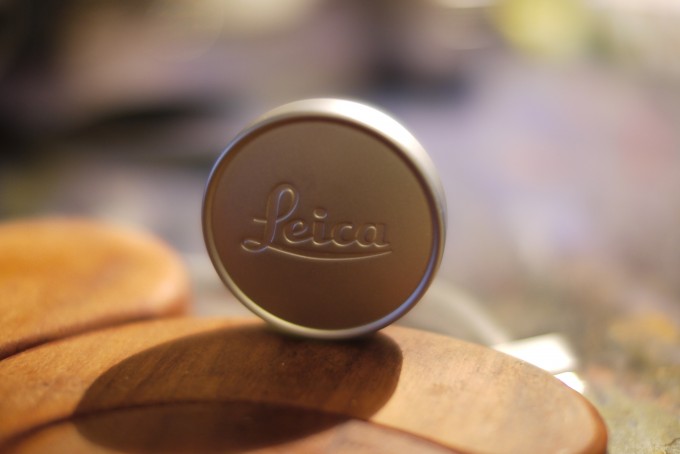 –
2 – [Cap Voigt 25 0.95] Same photo, but shot from closer with the Voigt 25mm at f0.95 to show the Leica lens cap the same size, so the perspective is slightly different: the black smudges to the left of the lens cap (actually the strap of an M9) and the silver Konica lens behind the cap, and the black smudge to the right of the Leica cap (an iPad on the table) all come into the picture, or look a bit sharper. That's because the Voigt 25mm has a *shorter focal length* than the 50mm of the previous shot.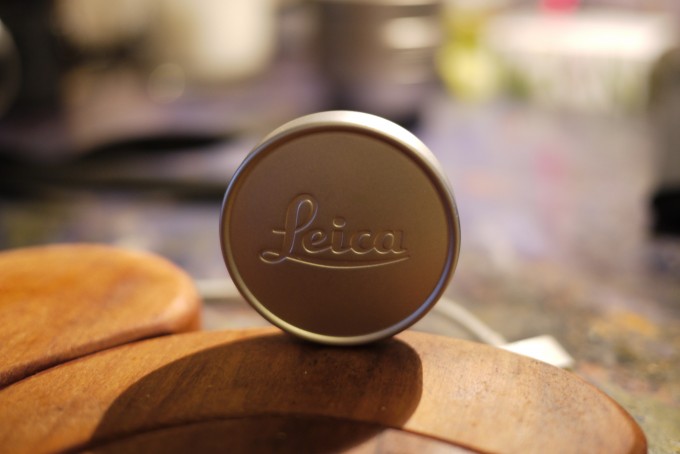 –
3 – [Cap Pan 20 f1.7 man] Same photo, shot a bit closer still – to keep the lens cap the same size – with the Panasonic 20mm f1.7, focused manually, as autofocus won't work this close. The background black smudges look sharper still because this is a even *shorter focal length*, and it's a smaller aperture.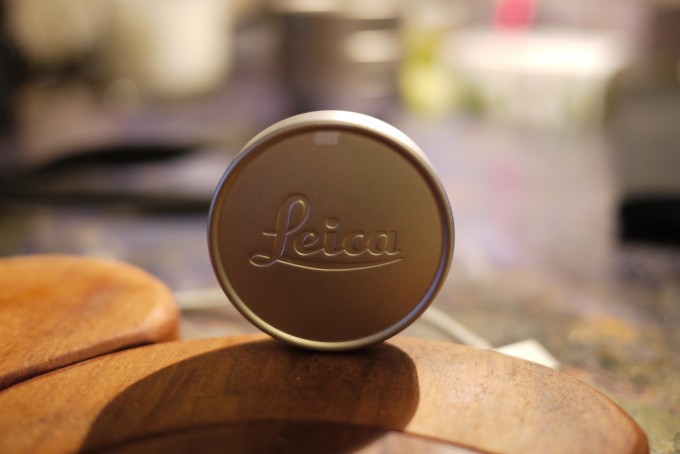 –
4 – [Cap Voigt 25 0.95 cu] Closest possible focus with the Voigt 25mm at f0.95. It fills the frame, and the background is all obscured, but it lacks contrast, 'punch' and sharpness. The black smudges at the left of the lens cap have pretty much dissolved away into ambient softness.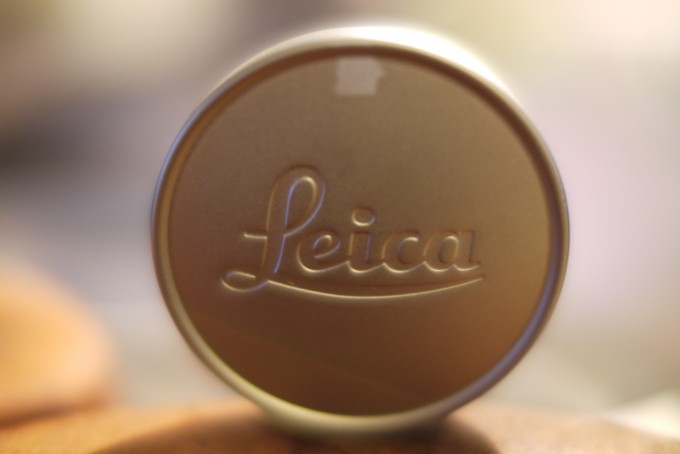 BELOW: Is that really worth $900, when the Olympus 50mm pic below, cropped to a quarter of its original size, is pretty much indistinguishable?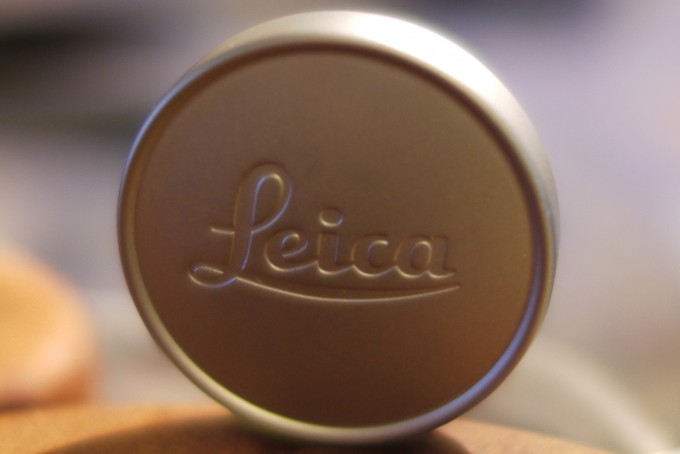 [ad#Adsense Blog Sq Embed Image]
HELP ME TO KEEP THIS SITE GOING AND GROWING!! IT"S EASY TO HELP OUT!
Remember, anytime you follow my links here and buy from B&H or AMAZON,
this helps to keep my site going. If it was not for these links, there would be no way to fund this site, so I thank you in advance if you visit these links. I thank you more if you make a purchase! I have nifty search bars at the upper right of each page so you easily search for something at either store! I currently spend 10-14 hours a day working on this site and the only way that I can pay for it is with your help, so thank you! Currently my traffic has been increasing but my funds to pay for the site has been decreasing, so any help would be GREATLY appreciated!
Even if  you buy baby food, napkins or toothpicks at amazon it helps this site, and you do not pay anything extra by using the links here. Again, you pay nothing extra by using my links, it is just a way to help support this site, so again, I thank you in advance 

If you enjoyed this article/review, feel free to leave a comment at the bottom of this page and also be sure to join me on twitter or my new facebook fan page! Also, you can subscribe to my feed at my subscribe page HERE and read these posts in your browser or news reader! Also, the new forums are NOW OPEN on this site so get involved if you like! Thanks so much for visiting my site!