Dear Steve,
First off, just wanted to say thanks for your website!
I visit nearly everyday, and love your enthusiasm! It rubs off on me for sure! 🙂
Please find attached my submissions for your "Daily Inspiration" section.
My home town is Brighton in England – a classic English seaside resort!
So these pictures, unsurprisingly, are all about the beach and the sea.
I wanted to create fairly moody atmospheres – and hope this comes across in the images.
These are my favourite photos of the sea that I've taken.
The first photo is "Two's Company". This was a photo I was fortunate to get. I hadn't had much luck or inspiration that day and was just setting off home. I turned around for one last look at the sea, and saw this couple making their way down to the shore. Sometimes it's those moments where you don't have too much time to think about that give you that keeper! I used a Canon 40d with a Sigma 30mm f1.4 lens.
The second photo is "Sky, sea, seagulls". As you can see the clouds were very moody! I liked the scene already but waited for some seagulls to fly by. I should point out that this is not an HDR shot. I wanted a "hyper-real" look so pushed the contrast quite a bit. The light was really nice that day and I think that helped a lot! With my Canon 40d I used a Sigma 17-70mm zoom.
My last photo is called "The Swimmer". The structure in the background is the old "West Pier". It hasn't had much luck recently, and was going to be restored to it's former glory, but a large fire put an end to that idea. I suppose some people might think it's an eye sore but for me it still has a sad decayed beauty. A relic of yesteryear. Again, the clouds were nice that day and luckily a brave soul decided to take a dip! I think without the swimmer the image would not be too interesting. Thanks Mr. Swimmer, whoever you are! Taken with the 40d and Sigma 30mm.
You can see more of my photos here:
Thanks once again Steve!
Cheers
Steve Barnes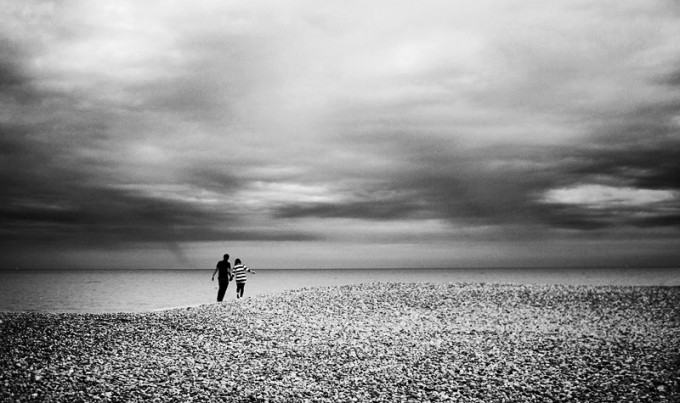 –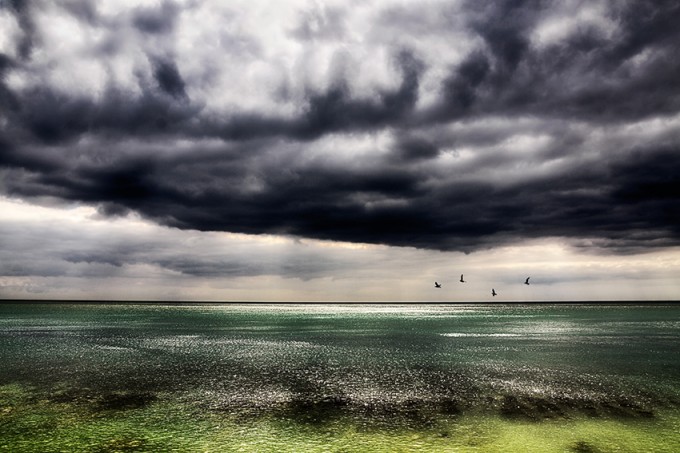 –