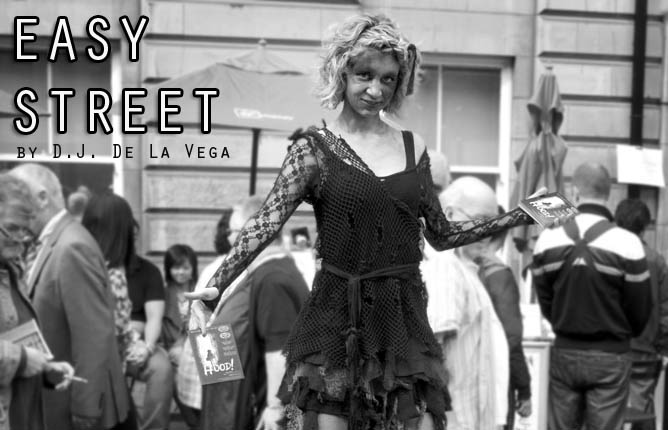 Easy Street – Photography
By D.J. De La Vega
I have just returned from my travels around Scotland and after a rewarding spell shooting the Edinburgh Fringe Festival I thought I would share a few thoughts on easy street photography. That is street photography for the bashful or for beginners.
I've seen helpful tips mentioned quite a few times in different articles here on Steve's site; hints on how to build up your confidence in shooting the street so I apologise if I am stepping on anyone's toes. I have also seen lots of people with legitimate concerns about shooting the street in their home towns as they may not be quite as accommodating and nonchalant as bigger or more affluent cities. So I thought I would gather a couple of my humble thoughts together to help anyone out there who is tentatively dipping their toes into the Street Photography pond. These thoughts are hardly revolutionary and are probably old news to a lot of experienced photographers (I do not want to teach Granny how to suck eggs), but for the people who are just starting out, it may just be that little push they need to send them over edge and delve into this wonderful genre.
It is unquestionably a daunting genre to try and get in to, but it is most definitely a worthwhile and fruitful one. I also surmised that as many of the readers of this site probably shoot with Leica or Micro 4/3rds etc., inevitably I believe if they have not already, they will at some point get the urge to try their hand at street shooting and utilise these wonderful little tools in this field in which they excel.
So here is my first thought that pretty much encompasses the theory of easy street photography: shoot a local festival or carnival or any other event in which people are out on the street and having a good time. Easy! Suddenly your local community (which from day to day may not be the most friendly place to walk around and get in strangers faces, especially with a Leica hanging around your neck) becomes a hot bed of joviality and opportunity. In some ways it is kind of a cheat, and sometimes like shooting fish in a barrel but it is amazing practice for building up confidence of taking photos of people.
These example shots were all taken at the Edinburgh Fringe Festival. It is an organised event which runs through the whole of August. The city streets becomes swamped with thousands of performers, comedians, artists, musicians, dancers and pretty much anyone out there who literally want to put themselves on a pedestal.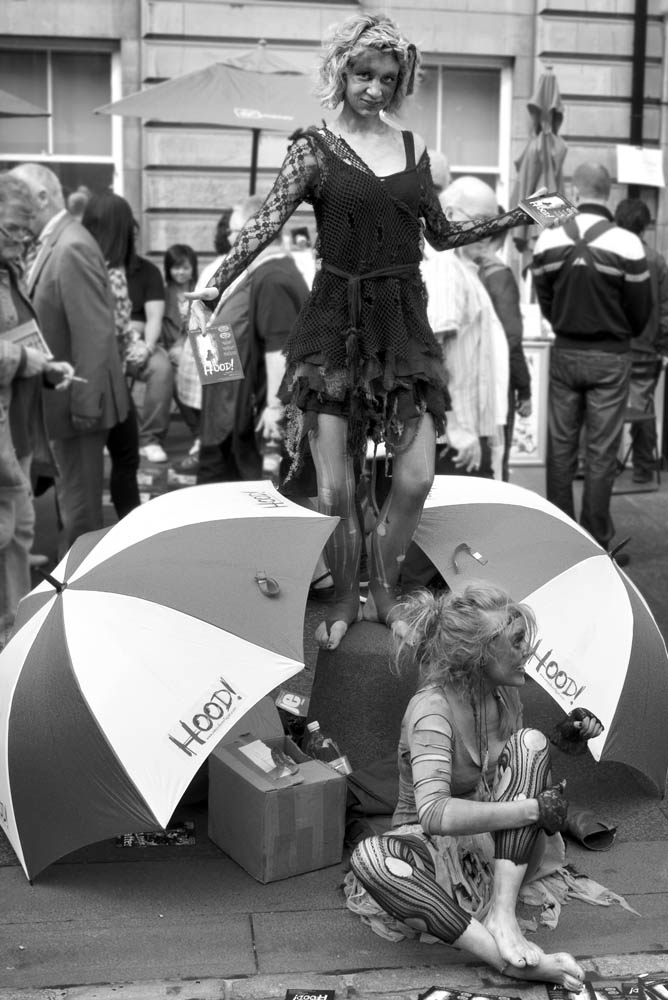 The streets are packed, flowing with vibrant energy, music is blaring and there are tourists everywhere shooting snaps left right and centre. You are therefore an invisible face in the crowd and have licence to photograph anyone and everything to your heart's content without ever been approached, questioned or frowned upon. For people without brazen confidence this scenario is an ideal training ground.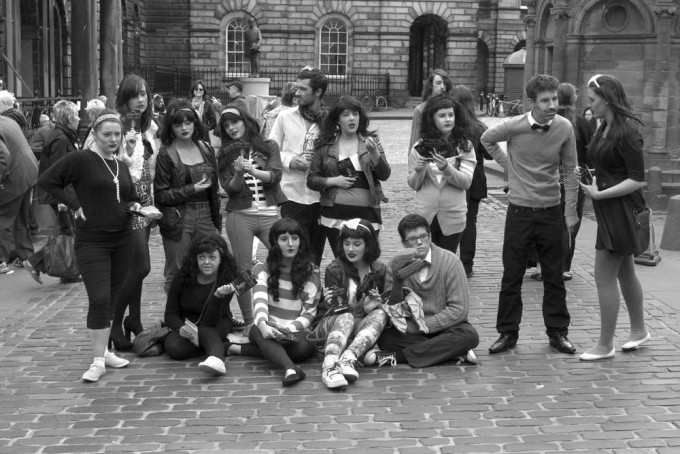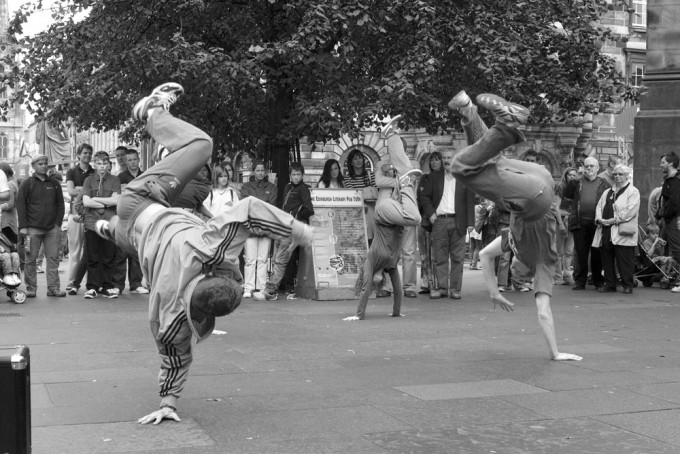 The advantage to shooting an event like this is twofold. Firstly the artists do not mind having their photo taken as they are there to perform, show off and get exposure and secondly the crowds of people are distracted and blind to all of the cameras around and would never suspect that you are taking of them and not the vibrant juggling jester next to them.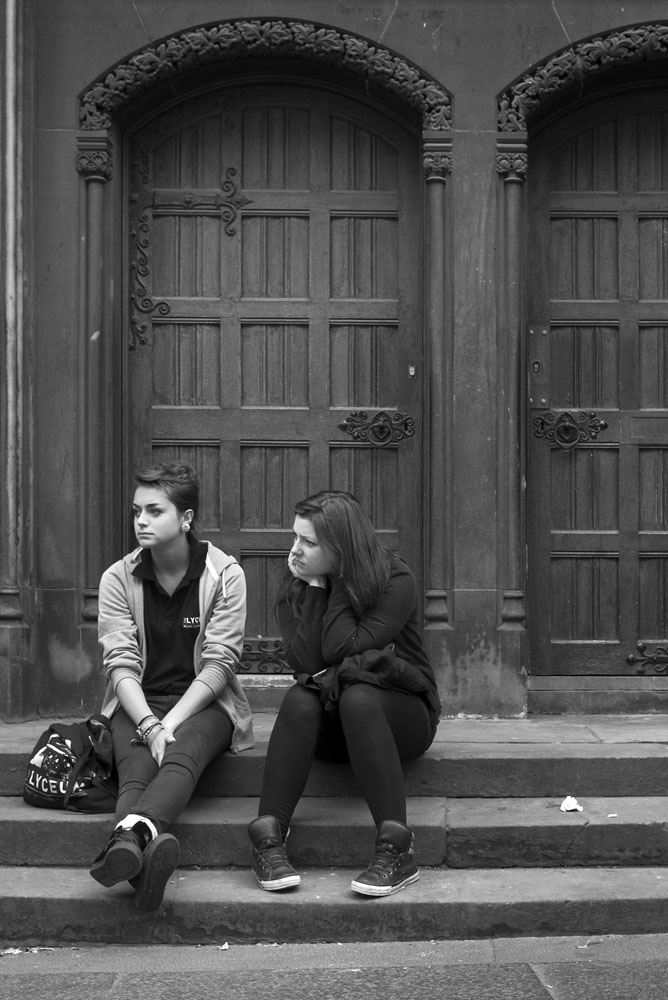 There are however challenges of shooting such a busy street environment. It can be hard to get unique or interesting results and you may find yourself simply ending up with straight forward touristy snaps. There is no right or wrong way to take street photos, but always experiment with interesting angles and compositions to transform what could be a throw away snap into a keeper.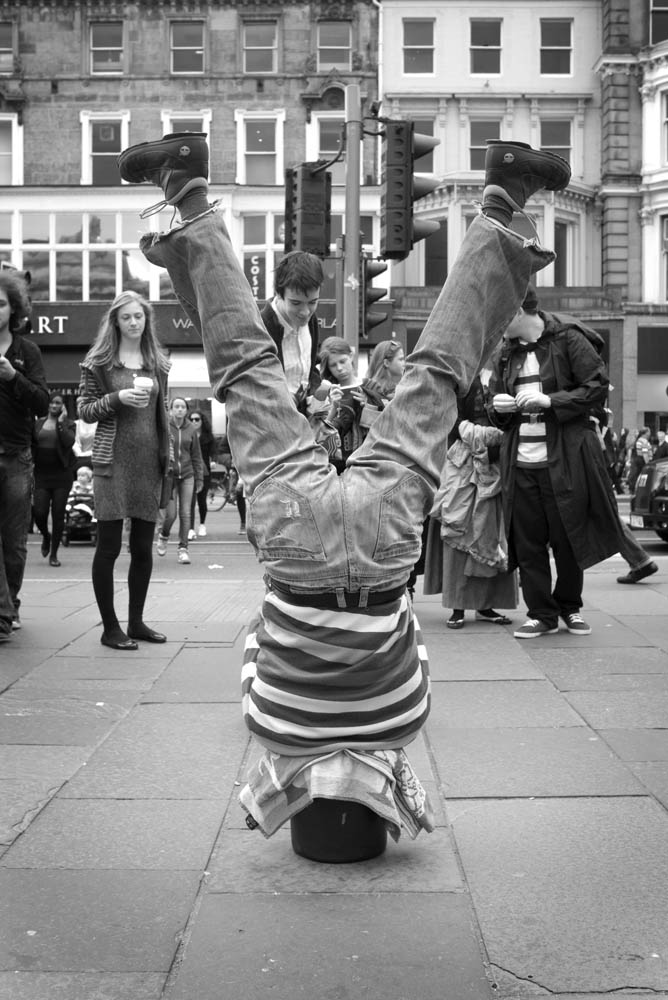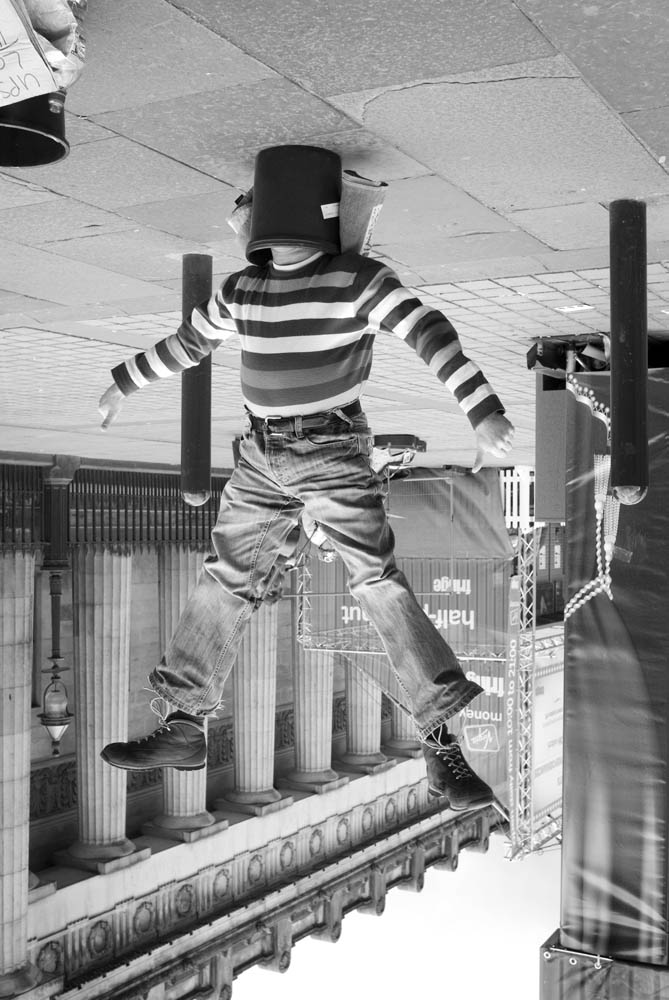 Another challenge shooting on such crowded streets is being able to frame a subject without getting the backs of heads or people walking into your frame to spoil a composition or character you have spotted. Timing becomes essential and you need to constantly make and remake decisions on when to shoot, instantaneously on spotting a possible scene or wait a while, shutter half depressed, to see if a scene to develops. For example: although these next two images compositionally look similar in their results they were taken in two very different ways. The first one was a decisive reaction, I spotted the character and brought the camera up to my eye and shot without thinking. The second one took me a good three minutes to chase and trail this fascinating Highlander through the busy crowds and finally manage to capture this image through a gap that eventually opened up for me. Persistence can pay off but if you miss an opportunity its gone forever.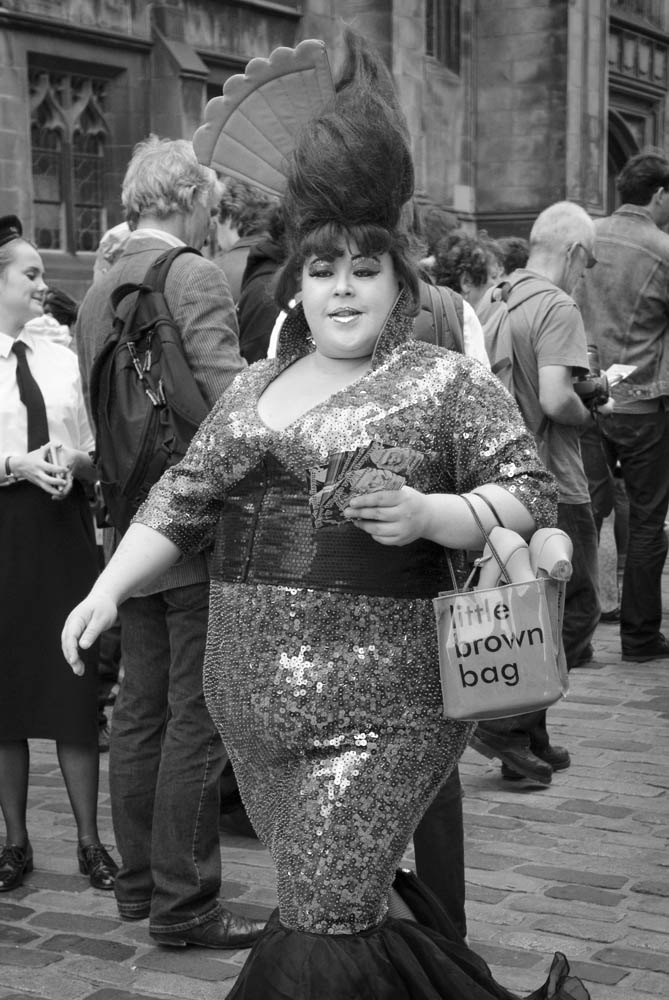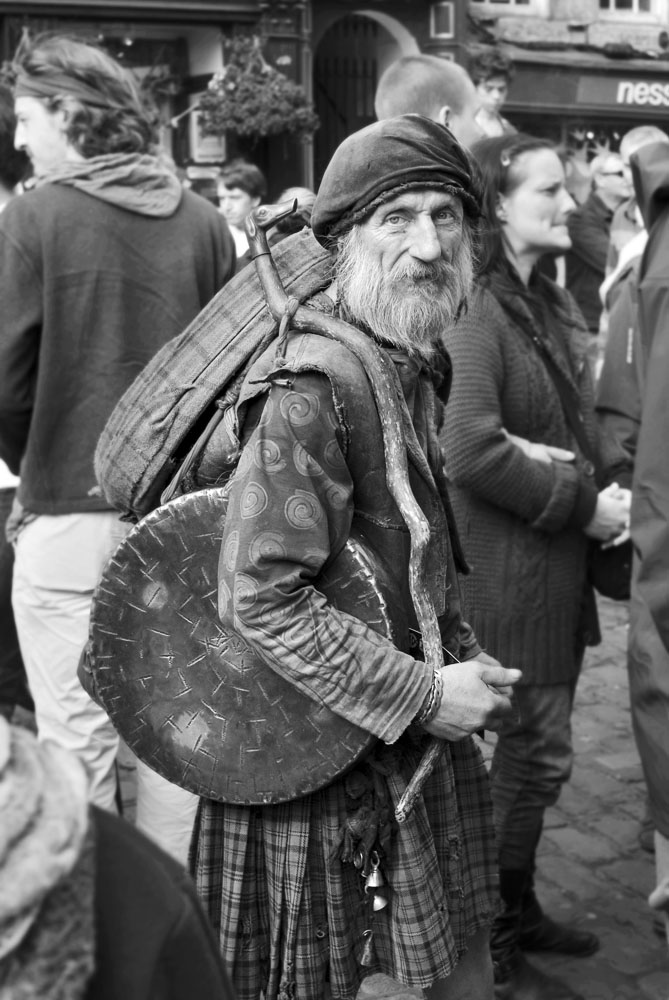 At a carnival or festival like this, the revellers can become part of the event and by dressing up or doing something to put themselves out there in front of a crowd, they will never mind a photographer getting up close to take a shot. For example: even a simple thing like sitting down for a portrait this guy has took himself out of the crowd and placed himself in front of it, so you have all the time in the world to compose, get as close as you want and take as many shots as you like. No one will raise an eyebrow.
Think outside the box and document not just the people at the event, but the event itself. How does a particular carnival or festival affect your town? What are the decorations, alterations or results of a specific occasion on the street that will not be there in a week? It may not be an amazingly spectacular scene, but it is ephemeral history that is begging to be immortalised by an observant eye.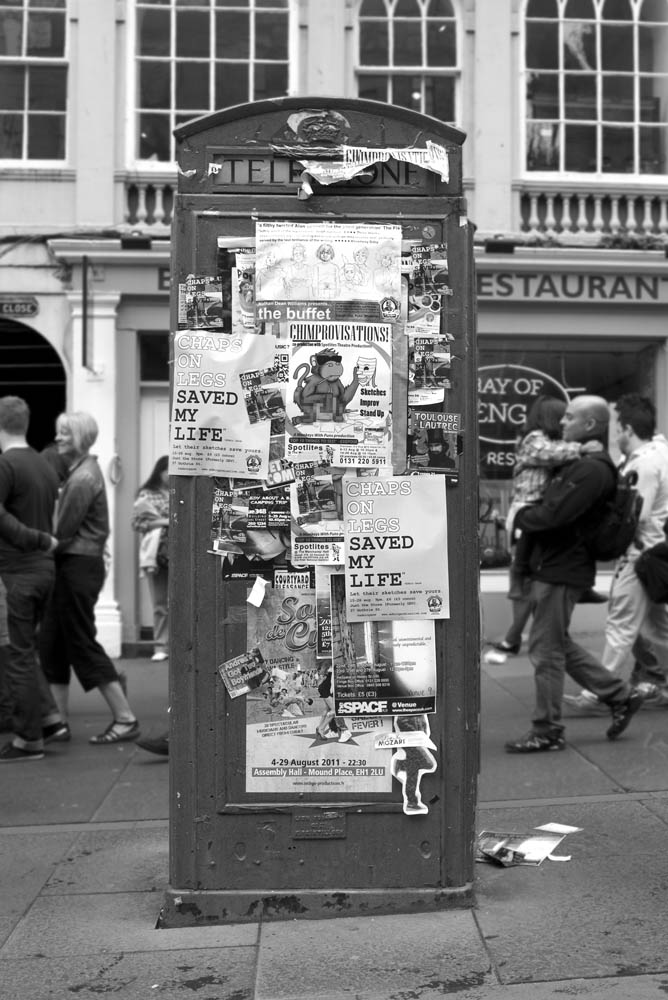 So if you have stuck with me this far I would like to thank you for reading my probably incoherent ramblings. I will wrap this up with this final image which is my personal favourite. It is not particularly interestingly composed, attention grabbing or extraordinary but what it is, (and what you can achieve if you head out for the day with your camera with the sole objective of taking photos), is a decisive moment. An interaction for a fleeting instant between two people. A connection that took place by chance when the moving statue accidentally dropped her mask and a helpful but cheeky little girl teased for a second before handing it back. Priceless.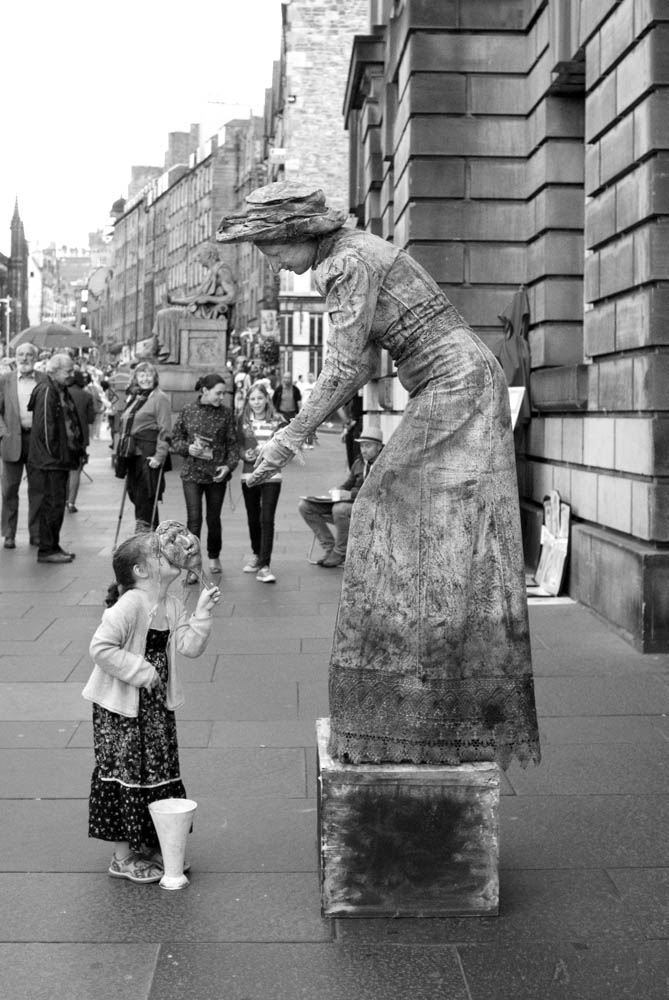 I would like to thank Steve for letting me share my thoughts on this great site, to an excellent community of photographers. As his site is all about inspiration, I hope I have inspired even just a couple of people to go out and try something different and most of all build up a little bit of confidence to try to photograph something may not otherwise have.
You can check out some of my other Leica X1 experimentation and photography here:
http://www.stevehuffphoto.com/2011/06/22/user-report-a-photographic-road-trip-with-the-leica-x1-by-d-j-de-la-vega/
http://www.stevehuffphoto.com/2010/09/03/daily-inspiration-142-by-d-j-de-la-vega/
http://www.stevehuffphoto.com/2011/01/06/daily-inspiration-183-by-d-j-de-la-vega/
http://www.flickr.com/photos/djdelavega
(Sorry I've been away from Flickr recently and I do aim to get back into the swing very shortly)
All the best
D.J. De La Vega
[ad#Adsense Blog Sq Embed Image]