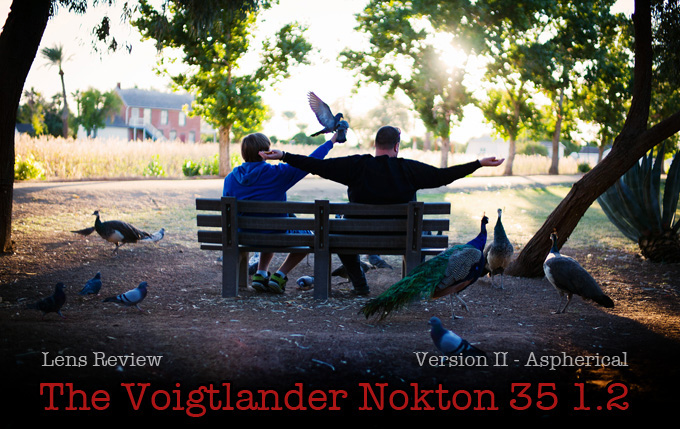 Voigtlander Nokton 35 1.2 Aspherical II Lens review on the Leica M9
By Steve Huff
With the rising costs and seemingly impossible chance of seeing the "IN STOCK" notice on current Leica lenses, those of us who shoot with a Leica M camera are constantly on the lookout for used deals, bargains, and some of us with fatter wallets are even finding  "UN-Bargains" with jacked up pricing on hard to find lenses. Many of us who are forever attached to our Leicas sometimes forget that we have options in the world of lenses that will mount onto our cameras. While Leica glass IS the best glass to shoot on your Leica M, there are lenses from Zeiss and Voigtlander (see all of my Leica reviews here) that cost much less than their Leica counterpart and can give really great results with our beloved M's. For most of us mere mortals it can be hard to buy a $7-$8000 camera body followed by a $5000 lens.
Let me get this clear up front: I LOVE LEICA GLASS. Period. They set the standard for quality and that is indeed a fact. If you deny this fact you are simply in denial or obviously never used lenses like the 28 Summicron, 35 Summicron, 50 Summilux ASPH or even the 50 Noctilux ASPH. Leica M glass is expensive but it is the best in the world of 35mm photography and the size is just right as well. Small and solid. The best thing about Leica is their glass as that has always stood the test of time. The big problem these days is the lack of available lenses as well as the cost. That leaves many of us M shooters without lenses but as I already stated, we have options!
While I have not been a huge fan of some of the Voigtlander lenses I do applaud them for releasing some of their superb lenses like the 50 Nokton f 1.1, the classical rendering 35 1.4, and even the 15mm wide angle. Voigtlander has been releasing some very fine lenses lately and today I am going to write about and share my experience with one of the best lenses, if not THE best "M" mount lens that they make, the new 35mm Nokton f/1.2 ASPH Version II. Yes, 1.2!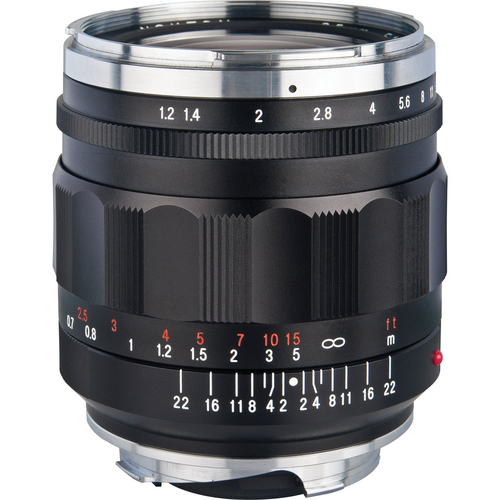 The 1st version of this lens was loved and adored by many who owned it for it's unique qualites and low light abilities. Images from the Nokton always had a sort of interesting creamy artistic feel and I shot with one for 2 weeks over two years ago with the intent on reviewing it. At the time I had only a Leica M8 and the copy of the Nokton I had was not focusing right so I never did review it. It was also very large and fat and seeing that I already had a Leica 35 Lux that I was in love with I was not really into the Nokton so much. The super fast 1.2 aperture did intrigue me, and I was seeing some great results form others who was using the lens but like I said, it was not focusing correctly so I never could get into it.
When I did get an in focus shot the rendering I saw was almost like a 50 Noctilux f/1 because of the crop factor of the M8, (but not quite) and at under $1000 it was a nice lens if you could not afford the Leica Summilux, and you got one that focused correctly.
So here we are in 2011, almost 2012, and Voigtlander reworked this lens as a version II because they said the old version was too hard to make. Hmmm. Does this mean version I is the more desirable lens? I was not so sure but I was attracted to Version II because it is a little smaller and thinner (though not by much really) and from what I have heard even sharper when shot wide open, which to me is important.
One of the key reasons Leica glass seems so magical is because it is so damn sharp at its maximum widest aperture. When you have your subject in such sharp focus with the background blurred out so smoothly it translates into a somewhat unique and, as some say, "magical" image.
With the previous Version I of this lens I could never get that look because it just did not have the ultimate sharpness wide open like a Leica 35 Summilux did at 1.4. So how is version II? Read on and I will share my real world experience with this lens from Voigtlander in words and photos, but this one will be kept short as there is only so much I can say in a real world lens review.
The Nokton wide open at f/1.2 – click image for larger. Focus was on his eye.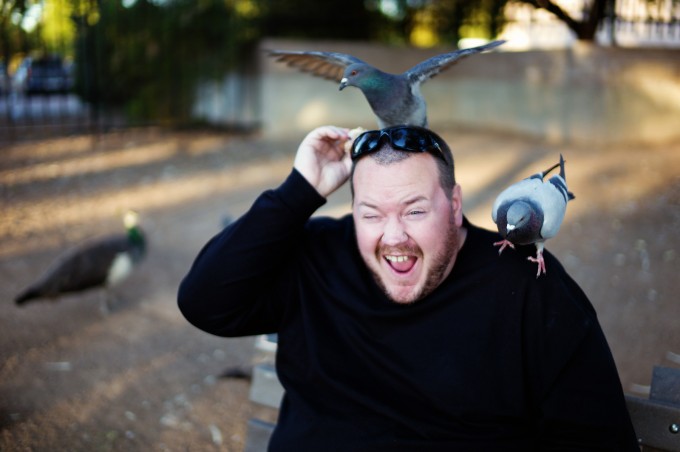 –
The 35mm Focal Length – A Classic
A Leica M9 kit does not seem complete without a 35mm lens. There are so many great choices available in the 35mm world and my personal favorite has always been the Leica 35 Summilux. The newest FLE version of the lens is spectacular with a modern draw and amazing 3D separation and depth. It's just about as perfect of a 35mm lens as you can get in my opinion and when I say "perfect", I mean the qualities of the images from the lens are just about perfect. Sharp, great micro contrast, fantastic color, etc.  The only problem with that lens is that it will cost you $5000 and it is almost impossible to find. You may have a 6-12 months wait on the dealers waiting list to be able to have the privilege of laying down your $5000 for the Leica. Kind of insane really when you think about it. But it is not necessary to spend $5,000 on a Leica 35mm as there are a couple of other choices being made today new from Leica.
My other faces in the lineup are the Leica 35 Summicron and the Leica 35 Summarit lenses. All are GREAT choices really and the little Summarit has an amazing mix of modern and classic looks all at the same time but it is a slower lens with a f/2.5 aperture. It is nice and small though and this makes it a great travel lens for the M9.
I keep going back and forth as to what is my favorite focal length for shooting on the M9 and it alternates between 35 and 50. Sometimes I go for months shooting only a 35, then again a few months with a 50. Right now I am in a 35mm sort of mood. This focal length seems just about perfect to capture life. To add just that little bit more in the frame that would be left out with a 50mm. The 35mm focal length is a classic Leica M choice. Simple and effective. Pure and sometimes just what you need.
The Nokton at 1.2 or 1.4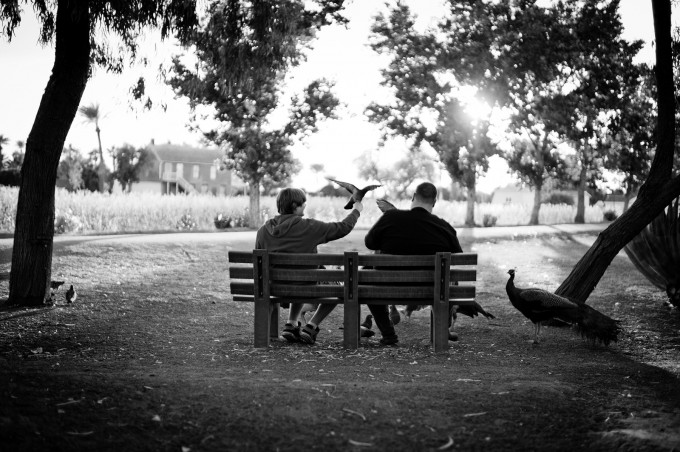 –
The Version II Nokton 35 1.2
When Version II of this lens was announced and I heard it was smaller and slimmer than the previous version while being sharper I knew I had to try it. As time went on I kind of forgot about it because I was not reading  too much about it and I was so busy testing other cameras and lenses. Then one day while browsing B&H Photo for in stock M mount lenses I saw the Nokton listed as IN STOCK at $1399, about 1/3 the cost of the Leica 35 Summilux ASPH.  I added the lens to my cart and hit the purchase button. A few days later the lens arrived and just as I had imagined it was still pretty large. Heavy and large but built VERY well and the focus ring was extremely silky smooth. The aperture ring was nice and smooth with solid clicks, but never rough feeling like some cheaper lenses sometimes can be. In the build area, this lens scored an A from me.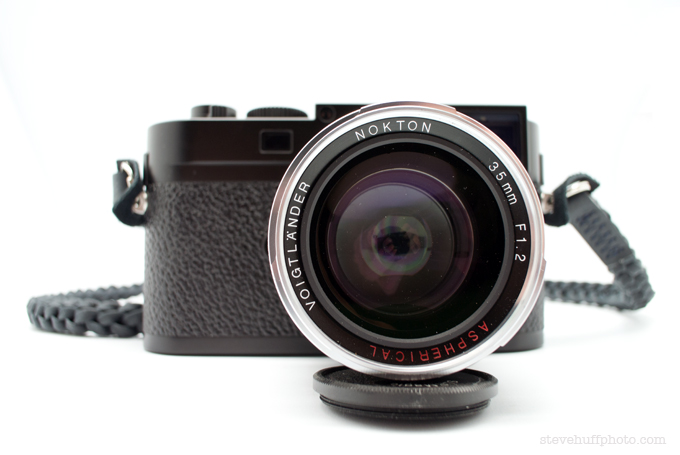 When the lens arrived I mounted it to the M9-P and took it out with my son and best friend and then headed for the park. It was 4:30PM and a beautiful sunny day. I knew the sun would be going down soon so I set the aperture to 1.2 and shot with it wide open for many shots, and then stopped it down to f/1.4 and f/2 for a few others. I had no idea if the shots were sharp or not due to the lackluster M9 LCD but what I was seeing in the previews looked promising. The depth of field is very shallow at 1.2 on the M9 but of course I LIKED IT 🙂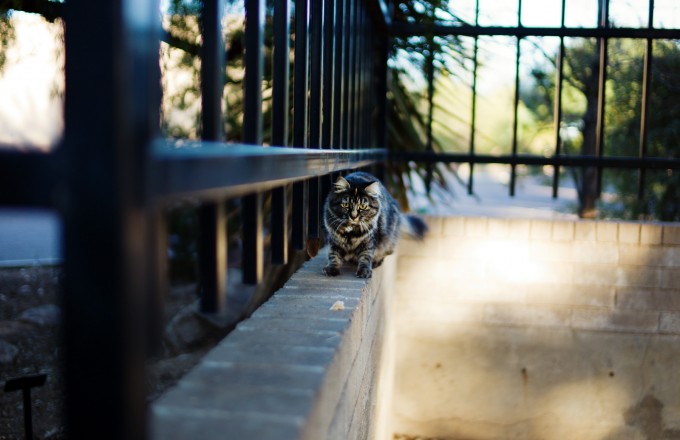 –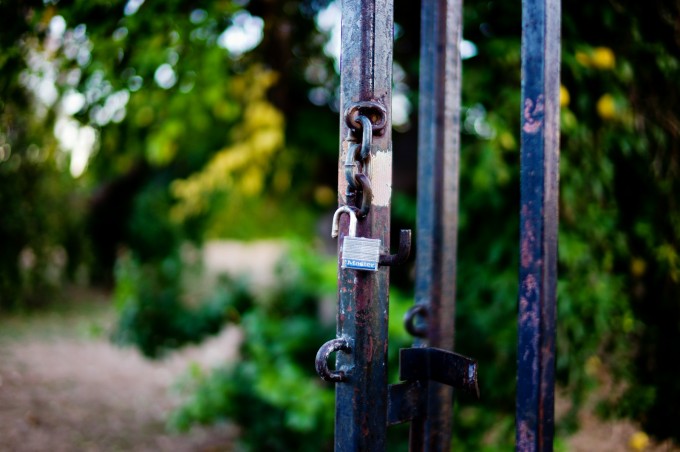 –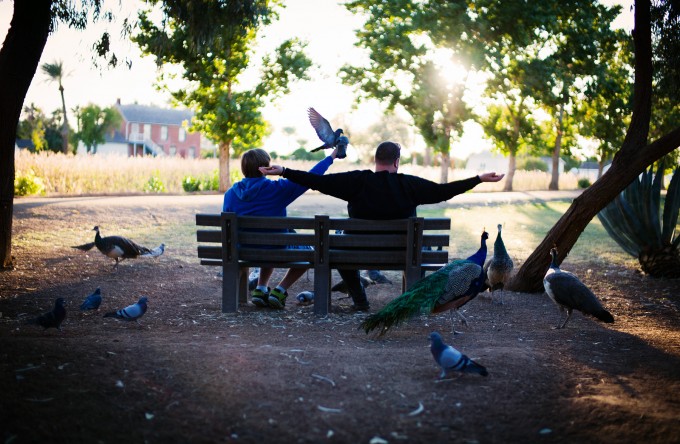 –
I found the lens to be a little weighty but not offensive. I had no issue carrying it around though I must admit, any of the Leicas would be smaller and lighter. Then again, they do not open up to f/1.2. The difference between 1.2 and 1.4 is so tiny though that I am not sure there is even a real noticeable difference. Still, it is nice to know it is there for when the light gets low or for shooting indoors, which was something I wanted to test out. It kind of gives you confidence in low light…"Hey, I can open up to f/1.2″!
[ad#Adsense Blog Sq Embed Image]
From what I saw at the park, the lens performed really good. The bokeh is not bad at all in my opinion and actually I find it quite pleasing. When shooting this lens at wide apertures it gives a unique rendering with sharpness just about on par with the Leica 35 Lux ASPH (version I) along with the classic look of some of the older Leica 35's.
At f/1.2 the lens is pretty sharp (for being f/1.2). This is a straight out of camera file from RAW. Click it for larger.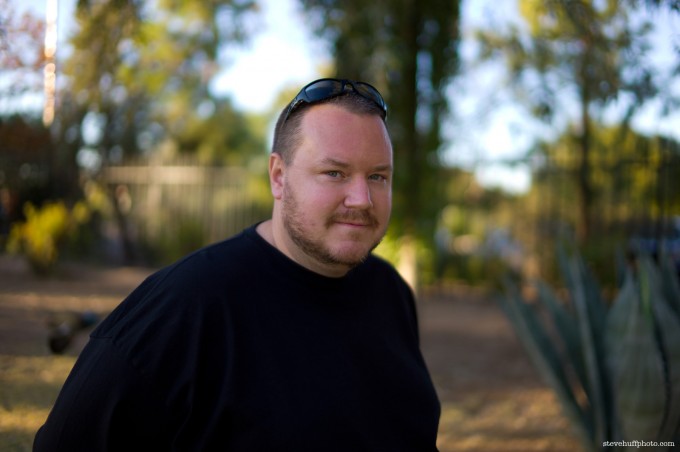 –
Speaking of Sharpness
So how share is this lens? Can it come close to the performance of the Leica 35 Summilux ASPH? I have shot the Leica ASPH Version I extensively and can say that at f/1.4 and f/2 this lens is pretty damn close to the Summilux, possibly even a little sharper! The rendering is not quite the same though with the Nokton seemingly giving even shallower depth of field effects for some reason. The Nokton almost reminds me of the 1st Leica Noctilux f/1 in the way it renders the image when shot at wide apertures. It has an artistic way of drawing that makes people say "WOW, how did you do that"? In fact, I have gotten that many times from every day people who know nothing about photography. When I show them an image shot with a Noctilux or a fast lens they are amazed at the look of the photograph because they are so used to seeing flat and dull point and shoot images.
So this lens is very "Artistic" in the way it renders but at the same time sharpness seems to have improved from the older version. See the shots below to see the 100% crops and see for yourself.
You must click on the images to see the larger versions and true 100% crops
This 1st shot is from inside a mall at 1.2 The 100% crop shows that even at f/1.2 this lens can be sharp. F/1.2!!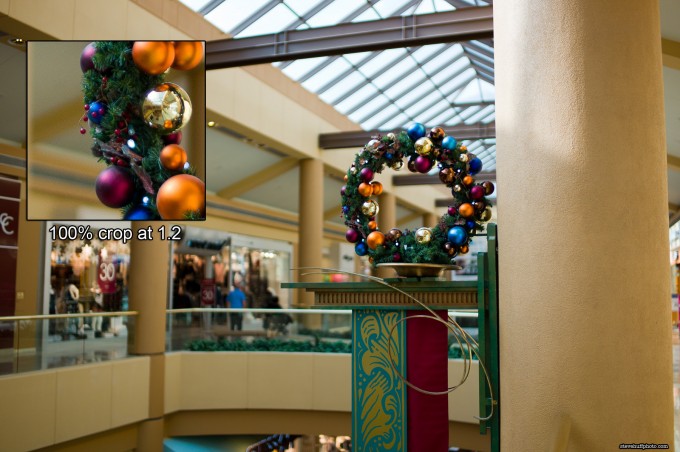 –
Again, I snapped this one in the mall but this time stopped the lens down to f/2. Just by looking at this I can tell that this lens has a really nice smooth rendering. I like it.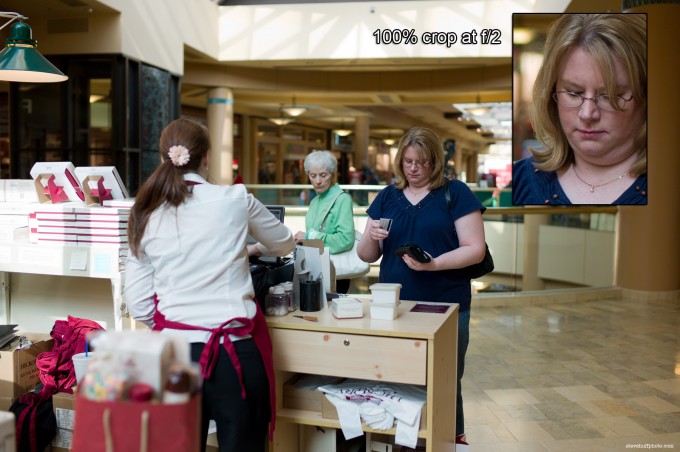 –
Even at 1.4 it is plenty sharp. No complaints.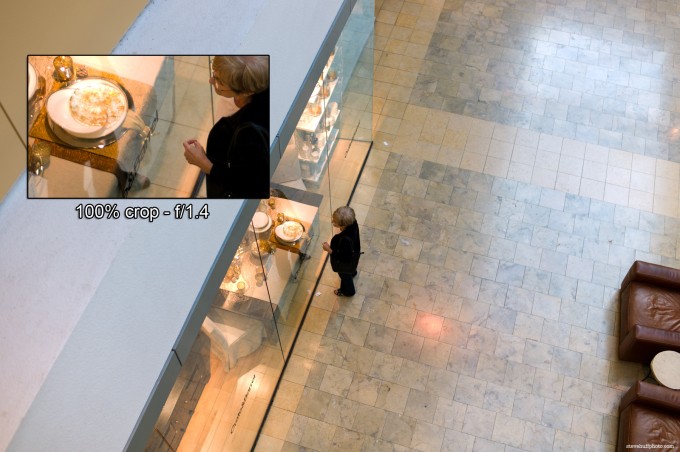 –
I happened to focus on a fly at 1.4 and the focus was so dead on it captured the fly in motion. No focus issues with this lens that I found. Wide open or Stopped down.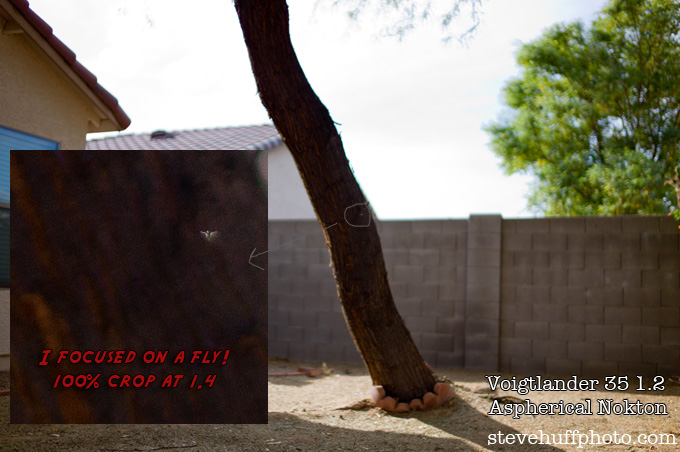 –
How Does the Nokton do in Low Light? It's BOKEHLICIOUS!
This lens has the Nokton name for a reason. Much like the other Nocts in the lens world, this lens just seems to BEG to be shot in lower light. I still find the Leica M9 to be a superb low light camera when you have a good fast lens attached. Seeing that we all can't afford a $10,500 Noctilux ASPH and seeing that this 35mm 1.2 reminds me in many ways of the original Leica Noctilux, I assumed this lens would do great when the lights got lower. It did not disappoint, and after seeing shots I snapped in this Christmas themed bar (The Coach House in Scottsdale, AZ) I knew right then and there that I wanted to keep this lens. I LOVE the way this lens renders out of focus areas and it reminds me even more of the f/1 Nocti after seeing these on my iMac 27″ screen. It's a bit dreamy and surreal at times.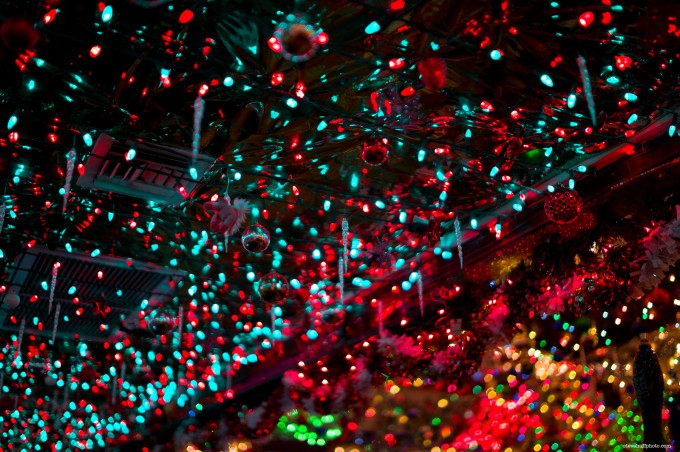 –
–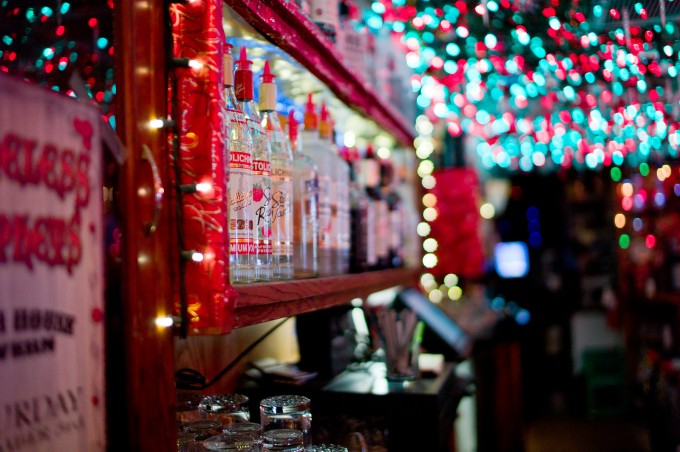 –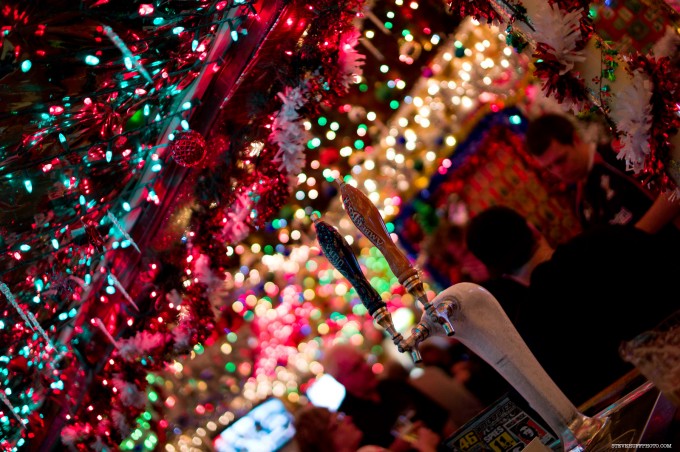 –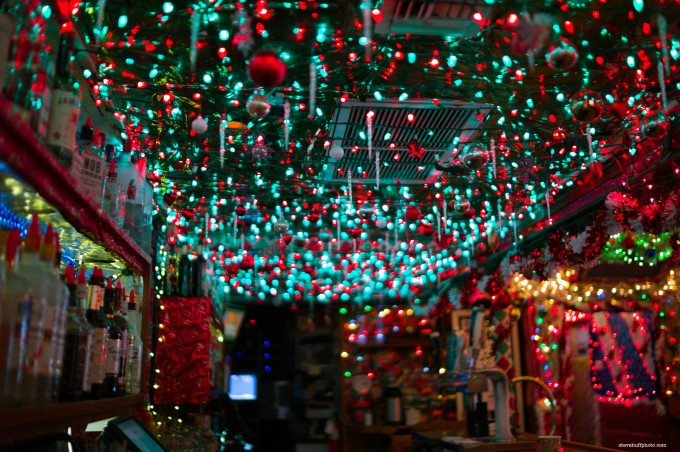 –
Vigentting?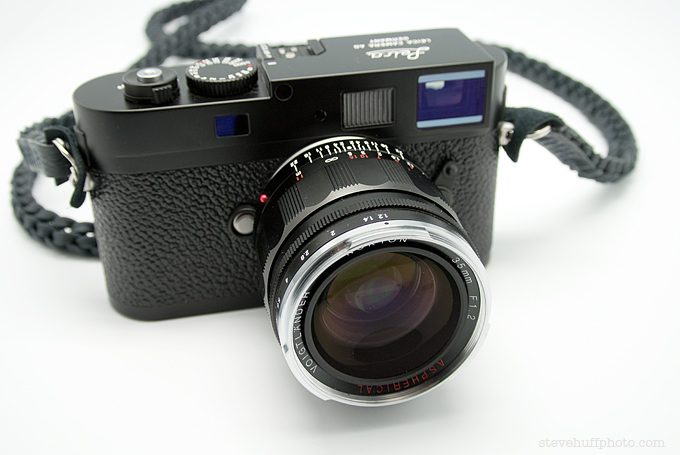 I took a test snap in my living room at f/1.4 and  then f/4 to see if there was any noticeable vignetting in real world images. Instead of shooting a white wall to see it, I just took a snapshot of my room and you can see some slight vignetting at 1.2 but none at f/4. The lens also sharpens up considerably at f/4 as you can see in the crops.
Click images for larger versions – the 1st one was taken at f/1.2, straight from camera (RAW) – Notice the CA on the light but even the $10,500 Noctilux does this.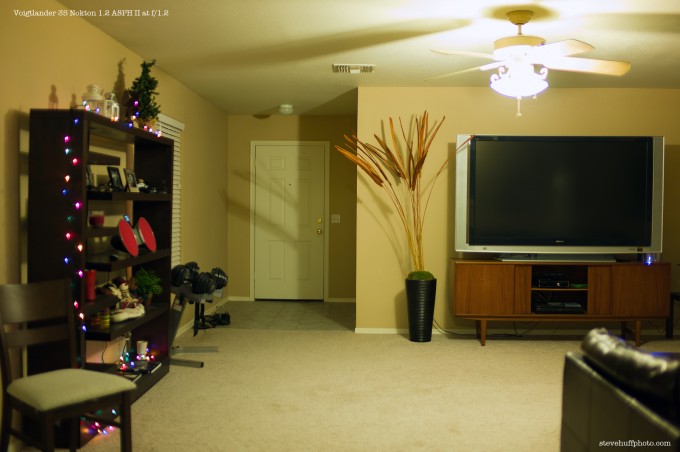 –
Now at f/4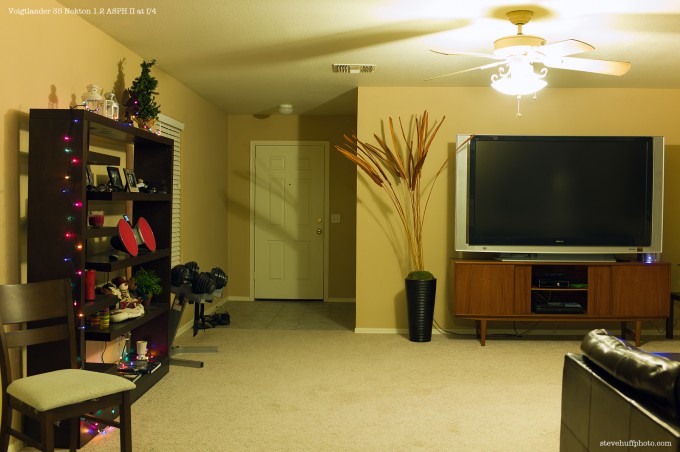 –
and the crops to see the sharpness – camera was tripod mounted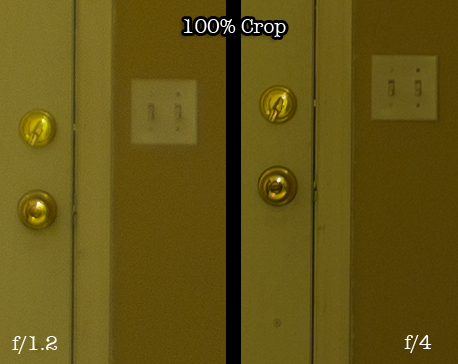 –
The Bottom Line Conclusion
This review is shorter than usual but I have no need to rant on and on about it because it is what it is. A super fast 35mm f/1.2 lens with an almost Leica like build, a Leica feel, and super results even at f/1.2 that only get better by f/2. The contrast is good at f1.2 and superb once you hit f/2, the color rendering is nice and the focusing is spot on at all apertures. This lens is really a creature of the night but also works well for everyday shooting and I would not hesitate to use it for just about anything my M9 can handle. I bet this would take amazing shots at a live concert 🙂 I really like the way this lens renders light and color.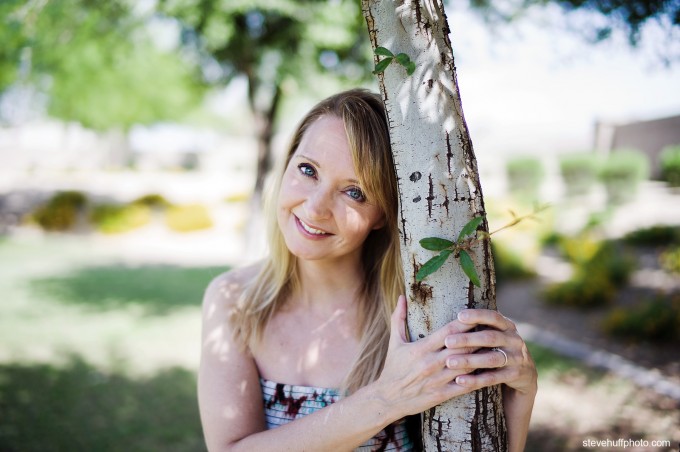 Ok, here it goes...The Voigtlander Nokton 35mm f/1.2 is the bargain of the century in the world of super fast 35mm lenses for Leica. At $1399 it is thousands less than Leicas own 35 Summilux ASPH FLE and while it may not have the crispness and overall perfection of that lens it does bring something unique to the table and that is its unique rendering and the 1.2 slightly larger aperture. The lens is indeed large and slightly heavy but nothing in comparison to a Leica 50 Noctilux ASPH. I do wish it came with a hood but Voigtlander is now charging an extra $109 for it. Boo. That is really my only negative on this otherwise outstanding lens. It's a mix of modern and classic and would be wonderful for environmental portraits, kids, low light, or just about anything. The lens has a look of its own and I really really am enjoying the hell out of it and can't wait to take it with me on my next  trip. This is an easy recommend for any Leica M9 shooter. I do not own an M8 anymore so I could not try it out on that camera but I am sure it would perform equally as well but be aware of the 1.33 crop which would make this somewhat close to a 50mm equivilant.
Compared to the prevoious older version Leica 35 Summilux ASPH, this lens is right up there with it in my opinion. Compared to the new FLE 35 Summilux, it is not as crisp, nor modern looking…it is not as "perfect". The 35 Summilux ASPH FLE is the king of 35's and it has insane micro contrast that just makes your subjects pop. My review for that lens is HERE. Still, that lens is $5000 and VERY hard to get and some may prefer a more modern/classic mix anyway, which is where this Voigtlander excels. Is the Leica worth $3700 more? No, not really but that depends on your tastes and your wallet, not mine.
Me, I have grown less picky as I get older so I am actually pretty thrilled with this 35 Nokton. It really does have it's own brand of "mojo" that can create some very cool photos when in the right hands. HIGHLY recommended.
B&H Photo is where I bought mine and you can go get it HERE.
This lens is gorgeous on the Monochrom as well.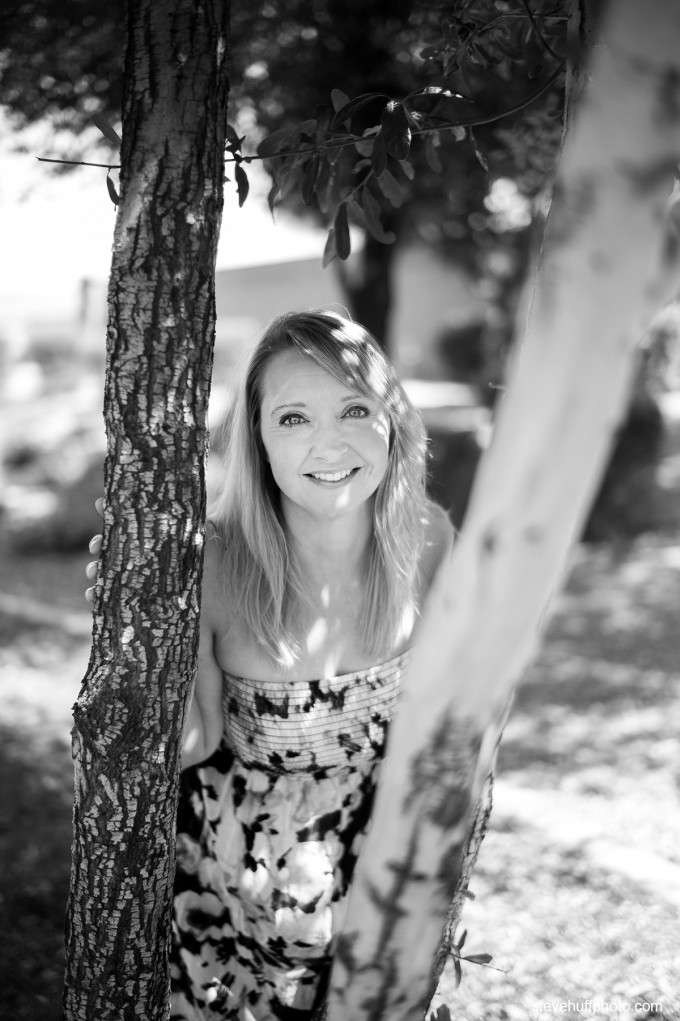 PROS AND CONS
PROS: Great build and feel, focus ring is smooth as silk, aperture ring is silky smooth with solid clicks, no focus shift, sharp even wide open, medium contrast, great color rendering and out of focus areas render very nicely with no real headache inducing swirl or nastiness and by f/2 it is just about as good as any Leica 35, a bold statement I know. No noticeable distortion in real world images that I noticed.
CONS: Slightly heavy, no hood included, no case included.
I will leave you with a few more images from this lens on the Leica M9. Click on them to see the larger versions. Enjoy and feel free to discuss this lens below in the comments. What do you think? Would you buy it or would you stick with Leica?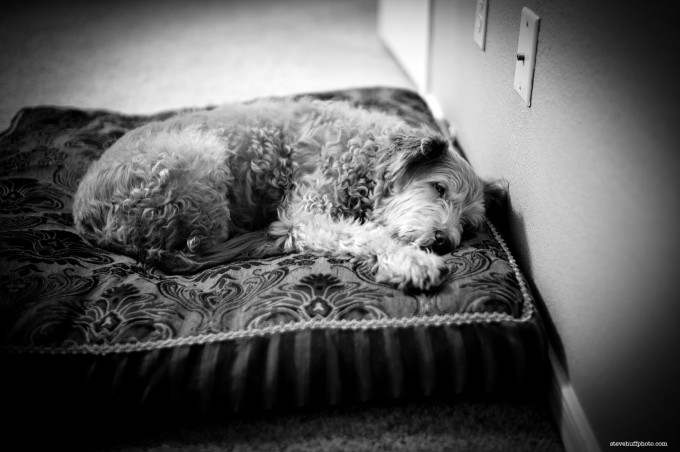 –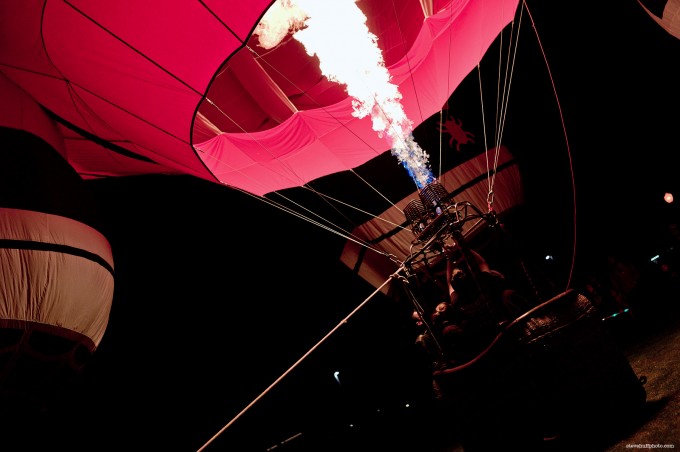 –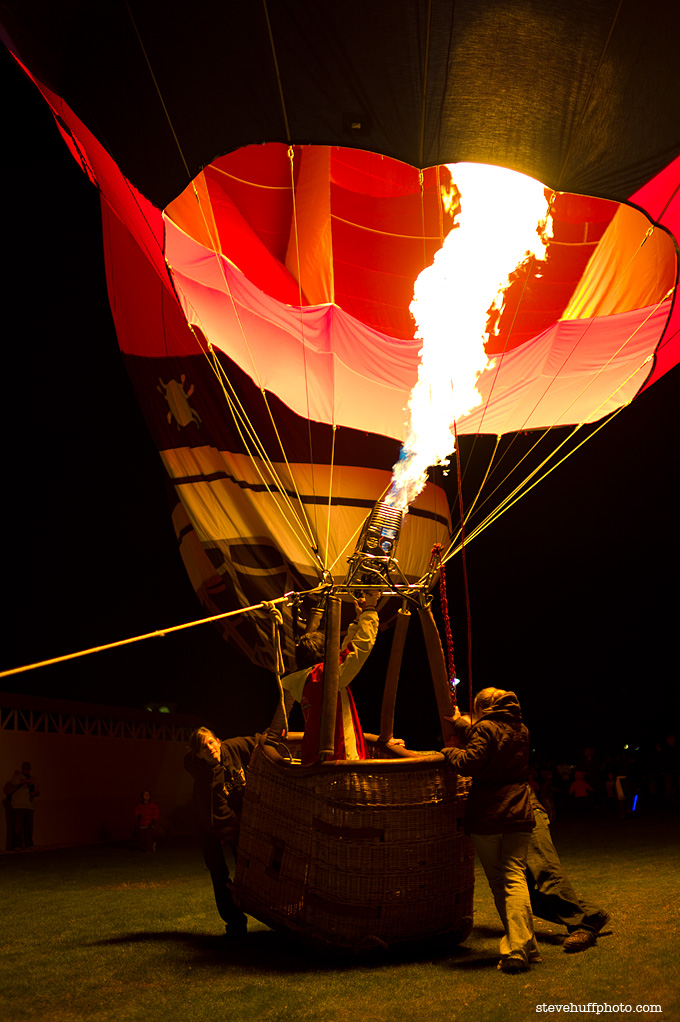 –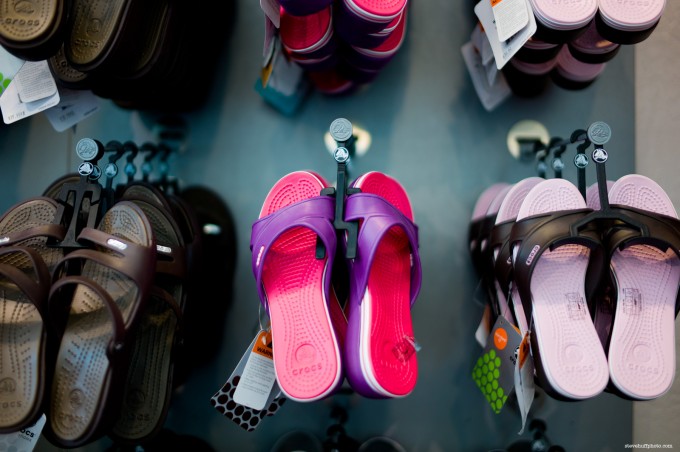 –
–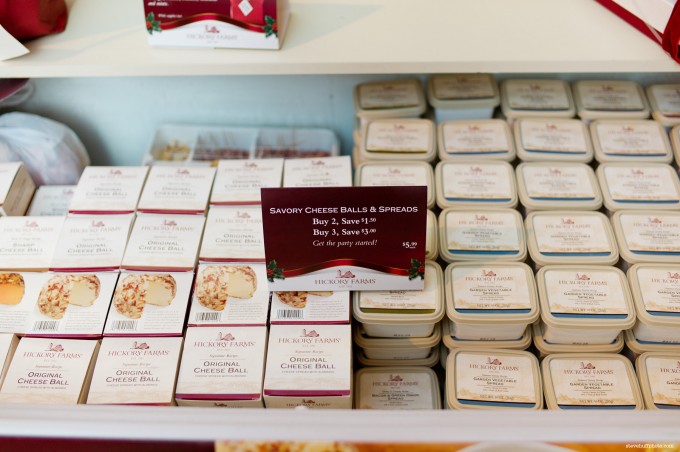 –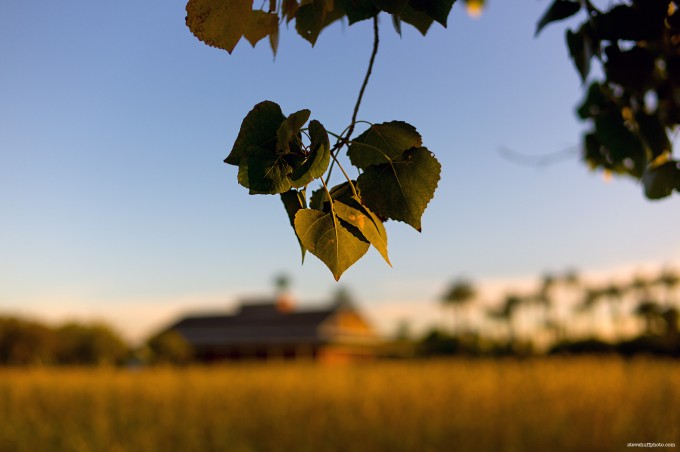 ALL I ASK! HELP ME TO KEEP THIS SITE GOING AND GROWING!! IT'S EASY TO HELP OUT & I CAN USE ALL THE HELP I CAN GET!
Remember, anytime you follow my links here and buy from B&H or AMAZON,
 this helps to keep my site going. If it was not for these links, there would be no way to fund this site, so I thank you in advance if you visit these links. I thank you more if you make a purchase! I have nifty search bars at the upper right of each page so you easily search for something at either store! I currently spend 10-14 hours a day working on this site and the only way that I can pay for it is with your help, so thank you! Currently my traffic has been increasing but my funds to pay for the site has been decreasing, so any help would be GREATLY appreciated!
Even if  you buy baby food, napkins or toothpicks at amazon it helps this site, and you do not pay anything extra by using the links here. Again, you pay nothing extra by using my links, it is just a way to help support this site, so again, I thank you in advance 

If you enjoyed this article/review, feel free to leave a comment at the bottom of this page and also be sure to join me on twitter or my new facebook fan page and Google +  page! Also, you can subscribe to my feed at my subscribe page HERE and read these posts in your browser or news reader!