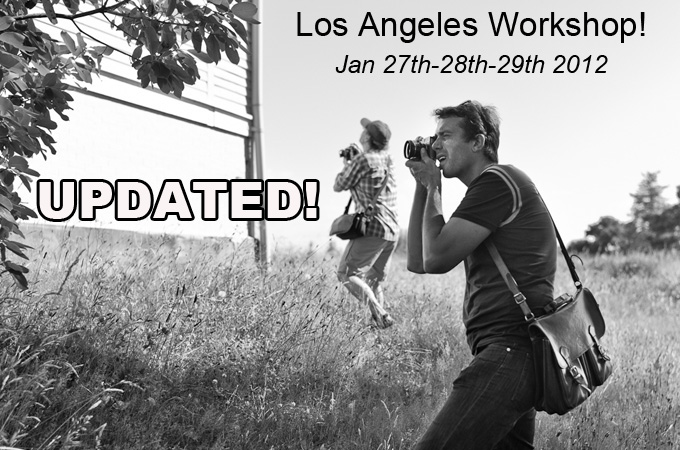 UPDATED! MEGA WORKSHOP: Los Angeles – January 27th, 28th and 29th 2012 –
FIVE Great presentations, Street shooting, Lighting, models, and a VERY special World Premiere Lens debut!
UPDATE – Just added a new guest, Jeff Garlin from the TV show "Curb Your Enthusiasm" will be in attendance Sunday and give a brief talk as well just before mine. Jeff is a Leica shooter and will be joining in for the street shooting.
New Schedule is posted below!
THREE SEATS NOW AVAILABLE due to CANCELATIONS  – E-MAIL ME IF YOU WANT IN!
---
---
Lots of surprises, lots of shooting, and lots of PASSION!
After many requests I am bringing a MEGA meet up/workshop to Los Angeles and I have been setting it all up behind the scenes for the past few weeks. I found the perfect location with the help of Todd Hatakeyama who has allowed me to have base headquarters at his new studio right in the heart of Los Angeles.
Base camp for the weekend will be at Hatakeyama Studio in Los Angeles – Plenty of space! Check out Todds Leica site HERE – We will have tables set up for the workshop!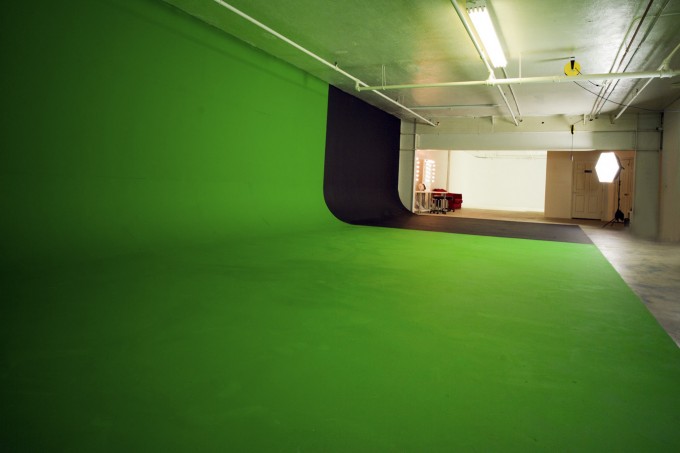 Hatakeyama Studio will be where we will converge, talk, have presentations, share our passion, shoot on the street, shoot models, learn about lighting, learn about basic technique and even witness a new world premiere of a special lens as well as learn how to create an online presence with your photography! 
You can read about past workshops like the one in Seattle, Chicago and New York. They were all super cool and everyone had a great time, made new friends and even learned a thing or two. This one in Los Angeles will be the biggest and best yet as I have so much planned we had to stretch it to a 2 1/2 day event!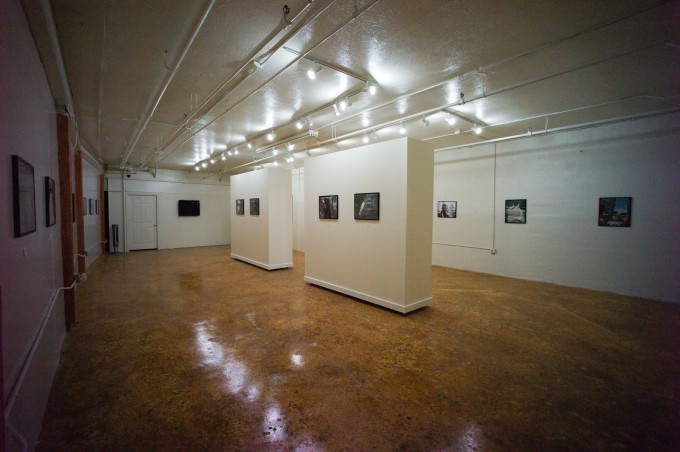 There will now be FIVE presentations over two and a half days and FIVE special guest speakers. The biggest yet. Some of what is in store…
1. Photographer Jay Bartlett will speak about lighting, and even shooting portraits with the Leica M9 using studio lighting. Jay knows his stuff and his website can be seen here.
2. BE THE FIRST IN THE WORLD TO SEE AND SHOOT WITH A NEW M MOUNT 0.95 LENS! The WORLD PREMIERE of the new SLR Magic 50 0.95 M mount lens, which is a built from the ground up lens that SLR Magic has been paintstakingly creating and improving. I have been following their progress and have seen all of the prototypes and sample images over the past months but at the workshop Andrew from SLR Magic will be bringing 2-3 lenses with so those of us with Leica M cameras can actually shoot with them and even compare them with your favorite Leica 50's. How about a Noctilux vs SLR Magic test? Let's do it in Los Angeles! This is a quality lens with amazing build, feel and quality. YOU get to be the first in the world to try this lens!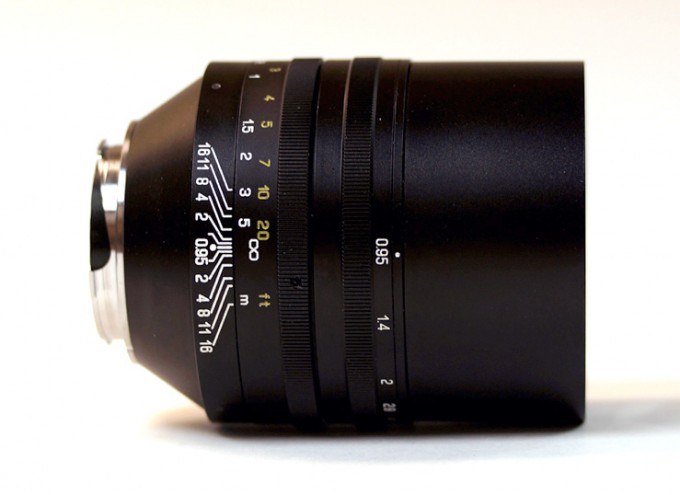 3. There will be a great presentation/lecture from Elizabeth Wang-Lee on Street Photography. She will go over the masters as well as talk about what makes for a great street photo. Elizabeth recently had a Daily Inspiration posted on the site HERE.
4. We will also have Sean Armenta, fashion photographer  who will be giving a presentation.
5. Ashwin Rao will be in attendance as well and he will give a talk on how to build your online presence in the photo community as well as share some of his best photos with us all.
6.. Jade Corrin,  a  pro model will be on hand so we can each shoot studio portraits with lighting. Check outs her blog HERE.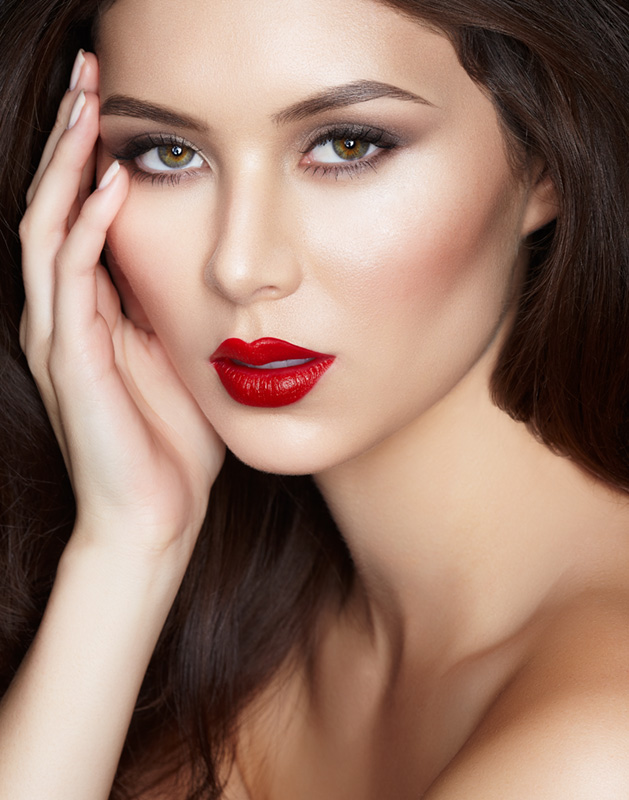 7. Actor/Comedian Jeff Garlin will be with us Sunday and will even give a quick talk on street shooting 🙂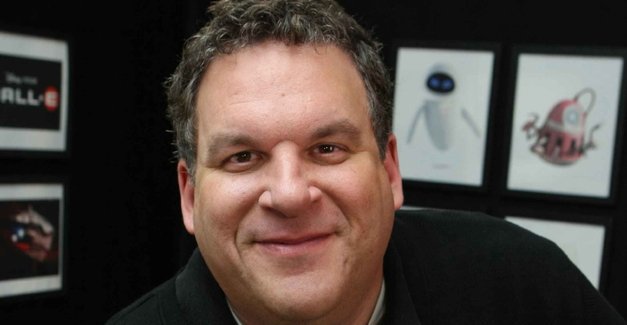 8. A full amazing lunch will be included on Sat and Sun. Saturday we will be at the "LA Market by Kerry Simon" and yes, this is included! Sunday we will be at another location that will be announced soon.
The Seattle workshop hosted by Ashwin Rao was a huge success – Photo by Ashwin Rao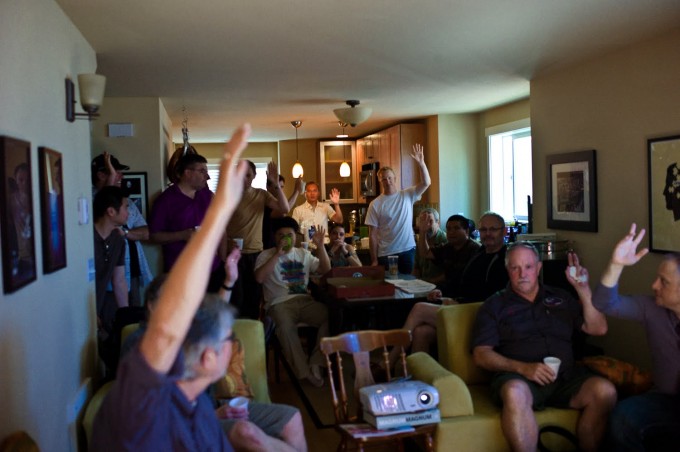 We will hit the pavement as well! Street shooting in LA as well as trying our hand at studio/model portraits!
1st of all, everyone is welcome! Not just Leica shooters! At my last workshop in Chicago we had a wide variety from Micro 4/3, Leica, Olympus 4/3 and DSLR's. We had a little bit of everything and we ALL came away with some great shots.
The Los Anegeles workshop will start on Friday evening Jan 27th where we will do our introductions, go over what our goals are with photography and then we will settle in and discuss what we will be doing over the weekend. On Saturday Day 2 we will have some presentations on lighting and fashion and will each have time with the model to get some shots. On Day 3 we will have some street shooting presentations and we will head out to shoot people on the street, we will shoot life as it happens. We will go outside of our normal boundaries and be inspired to get the shots we want. On Sat and Sun lunch will be paid for by me and we will have a GREAT lunch. Just because its free doesn't mean it will be skimpy! I will be posting the full detailed itinerary SOON but do know it will be jammed packed.
There will also be processing and critiques on a big screen as we go over everyones shots. As with my last two workshops I will be giving away a prize to one lucky winner. After day two ends we will have a goodbye dinner and drinks (the cost of this is not included, every man for himself)!
Seattle 2011 – Ashwin Rao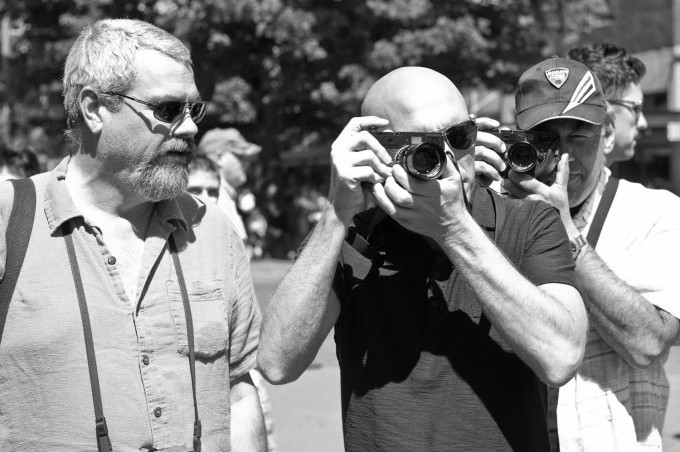 Schedule of Events – (Subject to change/be revised)
Friday Jan 27th – The short day.
5PM  – we will all meet at the Studio. Here we will do the introductions and talk about our own goals with photography. What we currently shoot, and what we want to get better at. Basically we will all get to know each other.
6PM – A guest presentation from Andrew at SLR Magic who will talk about their all new premium 50 f/0.95 for Leica M AND he will have 2-3 of the lenses on hand for all of the Leica shooters to try and even compare against their Leica 50′s. Maybe even a Noctilux comparison? This will be fun and Andrew will talk about the design of the lens. You can be the first in the world to take photos with the lens and yes, you will be able to post them online!
Between 6:30-6:45 –  We will all head out to shoot some on the street just to get some exercise and to see how we all shoot. We will split up into groups of 3-4 and shoot for an hour and then head back  to the studio to see what we got.
7:30-8PM – Back at the studio we will go over the images we shot and share some with the group. We will also find out what your concerns are when shooting on the street. Find out what, if anything, holds you back. After  this we will be done for the day. We will also see the SLR Magic images from those who were shooting with the new lens!
–
Saturday Jan 28th – This will be a mostly indoor studio day with presentations and talks as well as some shooting/sharing.
10AM – We will all meet at the Studio at 10AM. We will have coffee and snacks to cure that morning crave 

10:30 AM – Our 1st guest speaker, Jay Bartlett will go over studio shooting. We will be in a studio with lighting setup so Jay will go over basics and show us the best ways to light up our portraits using simple studio lighting.
11-11:30 AM – We will have a model on hand so we can each try our hand at shooting portraits with studio lighting. Not sure how long this will take but I am guessing around an hour.
UPDATED – 12:30PM  – we will walk one mile to have Lunch at Oiwake Restaurant Buffet – The cost of this lunch (soft drinks, but no alcohol) is 100% included!
3PM – We will settle back at the studio and go over some of images we shot of the model session and see how different they are from one another.
4PM – Back at the studio, Fashion photographer Sean Armenta will give a presentation on Fashion Photography as well as show some of his amazing images.
5PM – Ashwin Rao will give a talk on how to build an online presence to have your photos seen by more and more people
6PM – We will have a brief talk about Sunday's busy schedule and what to expect. 
**For those who want to grab dinner or drinks we can gather and head out, cameras in hand of course!
–
Sunday Jan 28th – This will mostly be an outside shooting day. We will be shooting on the streets after a street photography presentation from Elizabeth Wang Lee
10 AM– We will all meet at the studio and settle in.
10:30 AM – Elizabeth Wang Lee will give her presentation on Street Photography. She will show some of her images as well as go over the classic shots from the street masters. This will help you get more comfortable when shooting out on the street and help you step outside of your box.
NEW! 11:30 – 12:00 – Special Guest Jeff Garlin from the TV show "Curb Your Enthusiasm" will be our guest for the day and he will be giving his own street shooting talk 

*Right after Jeff I will give a short "Street Shooting 101″ presentation about my experience shooting street and the basic rules I follow when heading out to shoot people on the streets.
1PM – Lunch at El Cholo Mexican Restaurant – 100% included!
3PM – We will all head out for 2 hours (or more if needed) of street shooting!!
5PM – Back at the studio we will all edit our photos and pick our three favorites from the day. Those will be shown to the group and we will talk about them/critique  them.
6PM – Prize Giveaway! Everyone in attendance will put their name on a slip of paper and these names will be put into a box. One name will be pulled to win the main prize of the night!
6:30PM – Optional "GoodBye" dinner and drinks for anyone who wants to attend. (cost of this is NOT included) – This can last as long as we want it to!
–
How to GET IN and ATTEND this Special Weekend! 
Mark your calendars for Jan 27th, 28th and 29th. This is a Friday/Saturday/Sunday. There will be two and a half days of hanging out in Los Angeles, five presentations, four guest speakers, street shooting, studio shooting, processing and critiques, a world premiere of an amazing new product and two days of lunch provided by me at no cost and dinner and drinks on day three for anyone who wants to hang out after (this dinner is NOT paid for by me).
The days will typically start between 9am and 10am and last until we are done for the day, which usually is around 6-7pm. We usually all head out for dinner and drinks afterwards.
—
RESERVE YOUR SPOT NOW! I HAVE THREE SEATS AS I HAD SOME CANCELATIONS – So these seats are now available!
The cost of this weekend event is $545 and this includes lunch on both days (will announce where we will be eating soon). 
I can accept credit cards through google checkout so if you want to attend this special weekend, e-mail me HERE and I will get you all set up.
Again, Lunch on BOTH days is included. Will also have coffee and snacks each morning provided. Many hotels are nearby including this Sheraton 5 blocks from base camp which is where I will be staying. If you are traveling in and interested in sharing a room e-mail me and I can possibly set you up with someone else who is coming in for  this event.
Hope to see you there! We should have about 30 people total including all of the special guests.
Seattle 2011 Group as we all gathered on Ed's "Beast"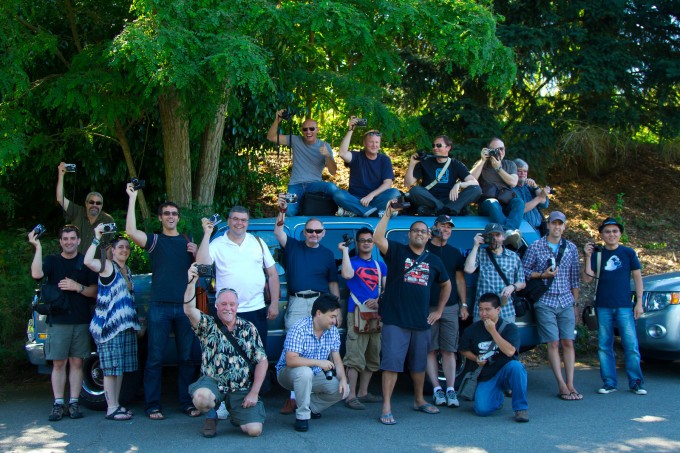 –
Chicago 2011 Group at Chicago's oldest camera shop Central Camera