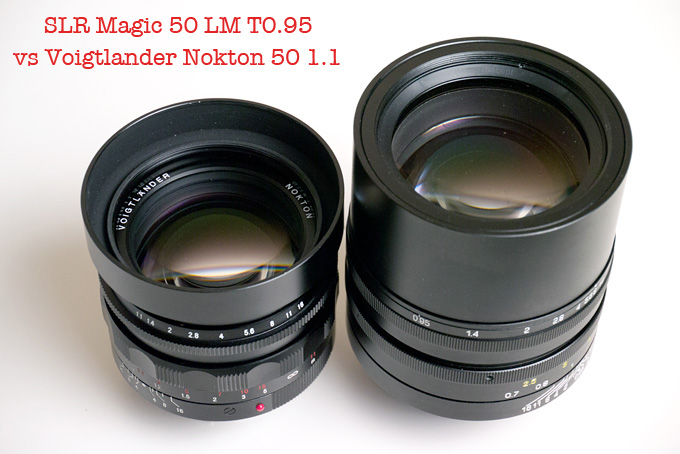 Quick Comparison: SLR Magic 50 T0.95 vs Voigtlander 50 f/1.1 on the Leica M9
So today I received in the mail, courtesy of
LensRentals.com
 (they rent almost ALL Leica glass and cameras), a
Voigtlander 50 f/1.1 Nokton
. My main goal was to test it out and compare it to the premo offering from SLR Magic, their king of the hill 50 LM T0.95 Lens. Many of you have e-mailed me asking me why this new SLR Magic lens is so expensive and "why wouldn't someone just buy the Voigtlander 1.1 which comes in at $1100"? So I was curious to see myself how the lenses would stack up. In the coming weeks I will be doing a side by side comparison with the
Leica Noctilux ASPH
as well. Should be fun 🙂
I knew even before I received the Voigtlander that the build quality would easily go to the SLR MAGIC because I reviewed the Voigtlander a while ago HERE and it was a very lightweight somewhat hollow feeling lens compared to the Leica Noctilux F/1 I compared it against at the time.
The SLR Magic 50 T0.95 LM Hyperprime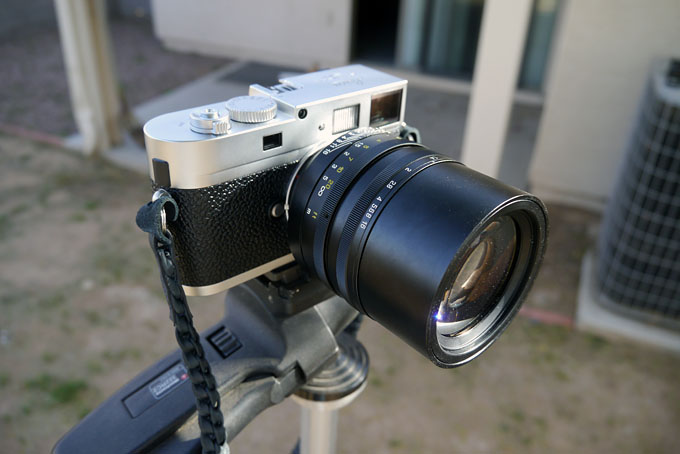 Voigtlander 50 f/1.1 Nokton on M9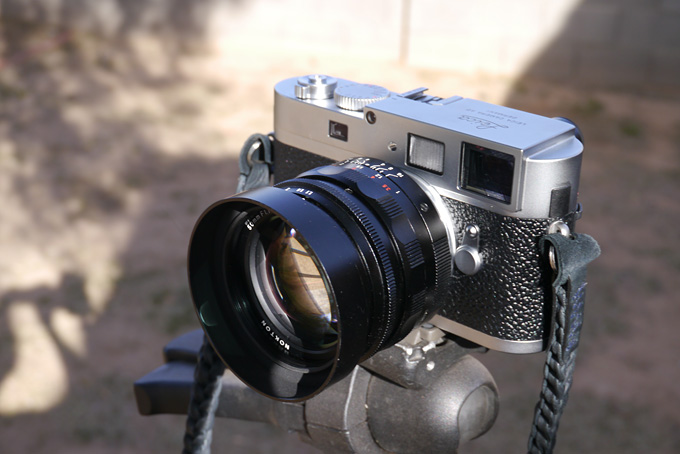 [ad#Adsense Blog Sq Embed Image]
IN THE HAND
The SLR Magic…
In the hand the SLR Magic feels every bit as solid as the Leica $11,000 50 Noctilux ASPH. Period. I've been using this lens for weeks now and have not had one issue. The build is solid, the slide out hood is nice and overall the lens has a feeling of quality. BUT this is a $4300 lens and the Voigtlander is $1100. BIG difference so I would expect the build quality to be superior, and it certainly is. It is also now the fastest 35mm lens made today, taking that title from Leica (SLR Magic is an f/0.92) so with its Leica like build AND performance AND three-year warranty, the cost seems to be about right if not a tad high (though I wish it could have been $3500). BTW, this has a click less aperture ring which I did not care for at 1st but have since found it to be pretty nice. It's smooth and solid at the same time and have had no issues with it going out of the desired spot. For video, this is a blessing as you can change aperture without clicks. Focusing is super smooth on my copy of the lens.
The Voigtlander Nokton
The Nokton is also nice, and you have to remember that the price is a tad over $3000 LESS than the SLR Magic lens so the build seems cheaper as the lens is much lighter. I also think the SLR Magic uses higher quality glass. When shooting with the Nokton though, it is easier to focus due to the knurled focusing ring though the feeling of the focus is rougher than the SLR Magic. I mentioned to SLR Magic I would have preferred a knurled ring but maybe they wanted their lens to look more like the Leica. Who knows. The Nokton is lighter so is easier to carry on the camera and the lens also has a more vintage look/design. So which you prefer is up to you.
My winner for build and feel – SLR Magic Hyperprime LM T0.95 (but Voigtlander is lighter)
–
BOKEH
The SLR Magic…
The SLR Magic 50 T0.95 LM lens has BEAUTIFUL bokeh. I mean, it meets or exceeds the Leica 50 Noctilux ASPH in this department, at least that is my opinion after extensively shooting both. The out of focus renderings are buttery smooth with no business or headache inducing harshness. You can see many examples of this in my rolling review but below is a sample shot today in my yard to test this and below that will be a sample from the Voigtlander. The sample below was shot at t/1.1-ish – click it to make it bigger.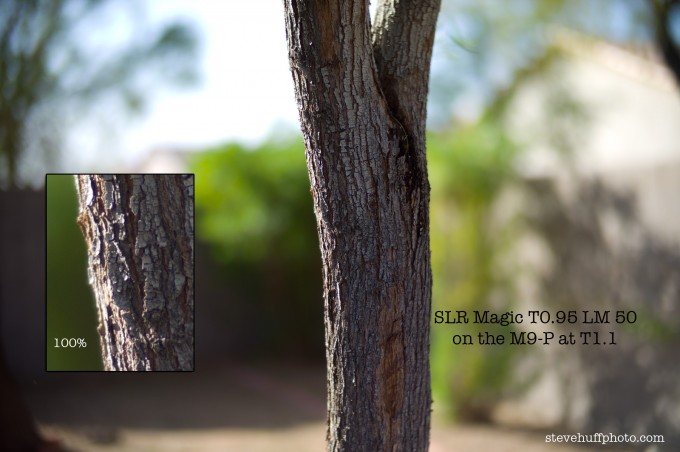 The Voigtlander Nokton…
The Nokton 1.1 is a fast and much less expensive alternative to Leica lenses but it's string point is NOT the bokeh quality. The Bokeh from this lens is a bit harsh when compared to premium Leica lenses and to many, this is a reason to NOT go for this lens. Then again, others are perfectly happy with it. As mentioned, it is much less expensive than a Leica counterpart. 🙂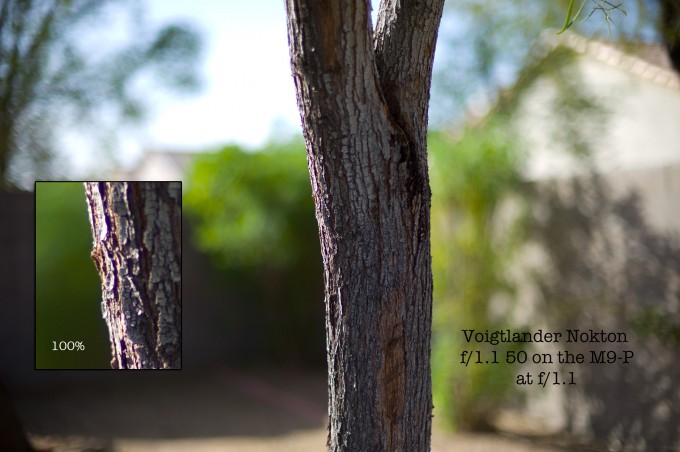 My winner in the bokeh dept – SLR Magic Hyperprime 50 LM T0.95
–
SHARPNESS WIDE OPEN or CLOSE TO IT
The SLR Magic…
The SLR Magic lens is SHARP, even wide open at T0.95 it is as sharp if not sharper than the Leica $11k beast. Due to the sharpness, super micro contrast and smooth Bokeh, this lens has the capability to pump out a nice 3D effect as well. Below is a shot at T0.95, wide open for this lens.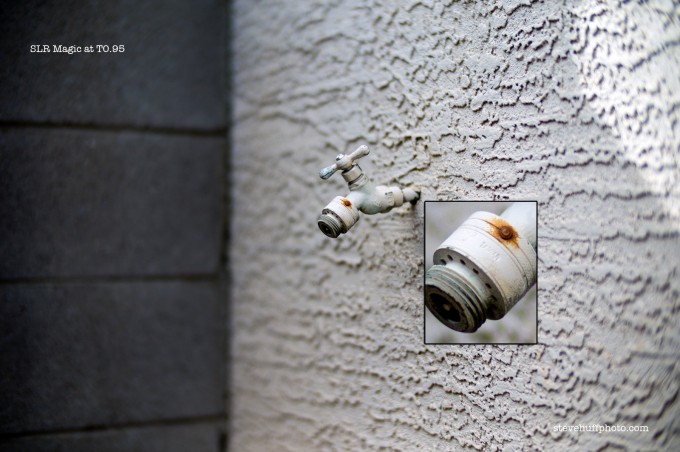 The Voigtlander Nokton…
The Nokton is a bit softer wide open at its widest aperture of f/1.1 but the rendering is also a bit flatter than the SLR Magic lens and with its busier bokeh it doesn't have that same "wow" effect that the SLR Magic lens has. Still, it seems to perform great for the price of the lens. These days $1100 is cheap for a Leica mount lens 🙂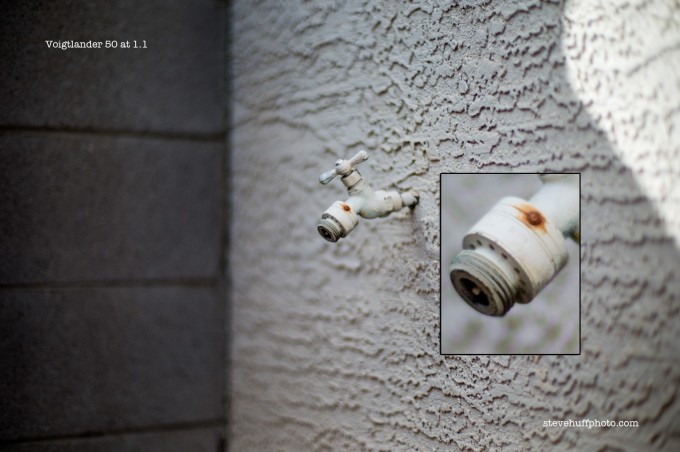 My winner for sharpness wide open – SLR Magic Hyperprime 50 LM T0.95
–
SHARPNESS STOPPED DOWN
The SLR Magic…
I will let the pictures do the talking but it is obvious who is sharper. Not sure if the Voigtlander was suffering from focus shift or if it is just not pin sharp. All shots were tripod mounted.
You must click each image to see a larger version and true 100% crop!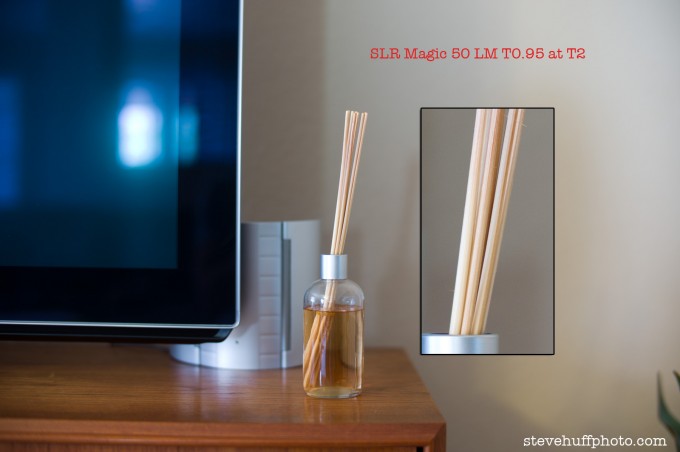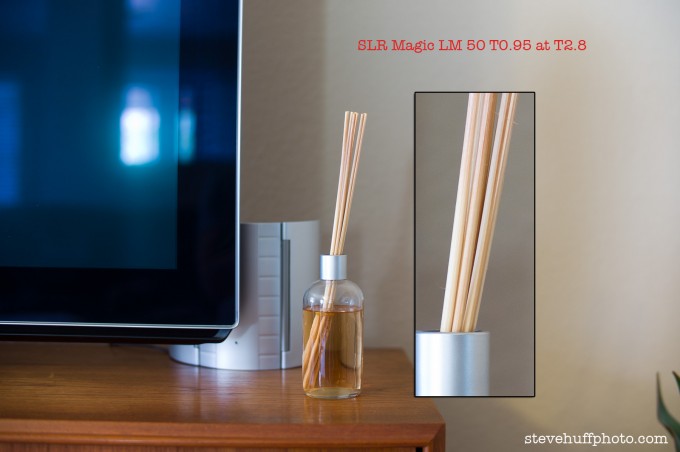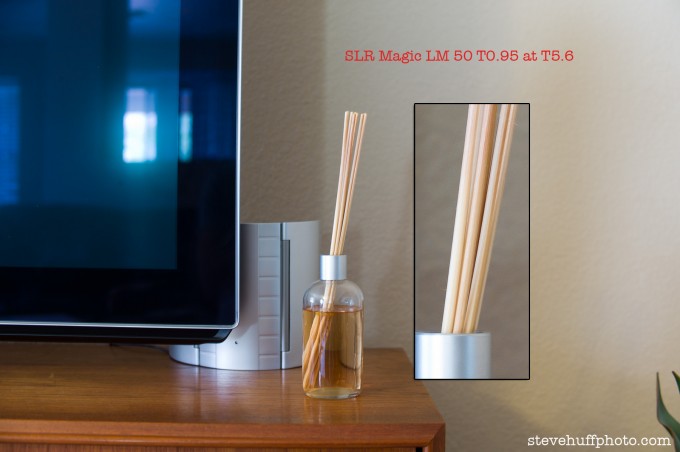 The Voigtlander Nokton…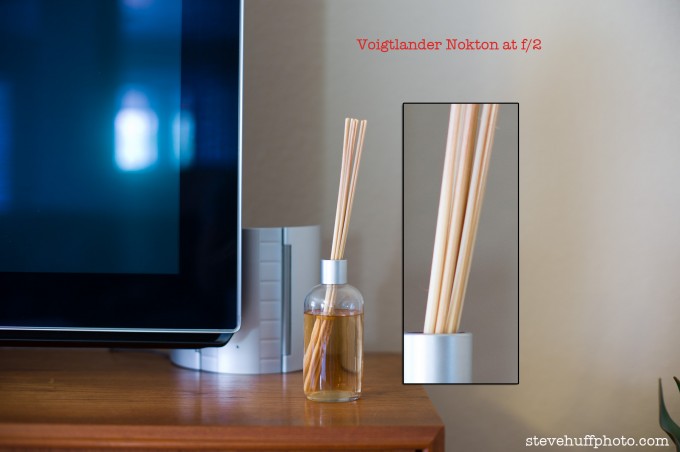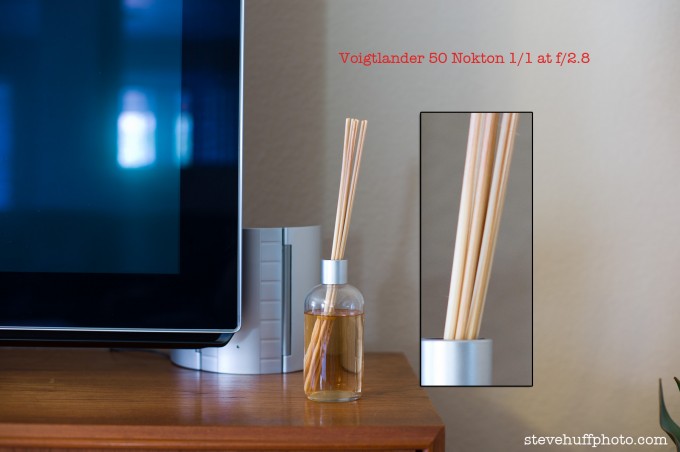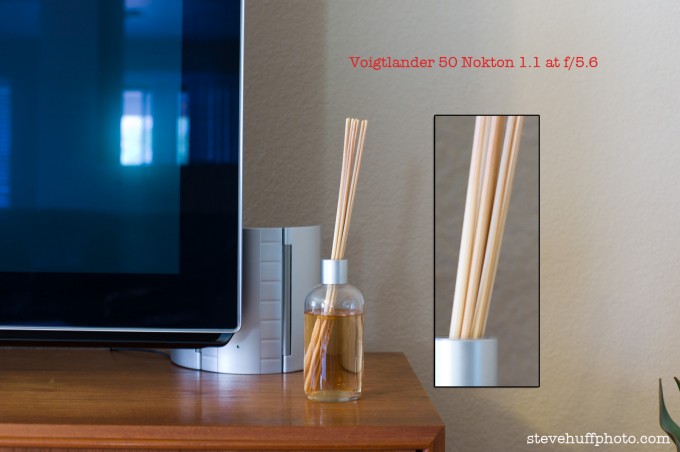 My winner for sharpness stopped down – SLR Magic Hyperprime 50 LM T0.95
–
BARREL DISTORTION
I know from using it that the SLR Magic has some barrel distortion so I was curious to see how the Voigtlander stacked up here. It appears the Voigtlander has less from this sample. You can see this distortion when you shoot straight lines. This was shot on a tripod with both lenses and both lenses were set to 1.1. Distance was about 1m. Click images for larger views and true 100% crops.
The SLR Magic…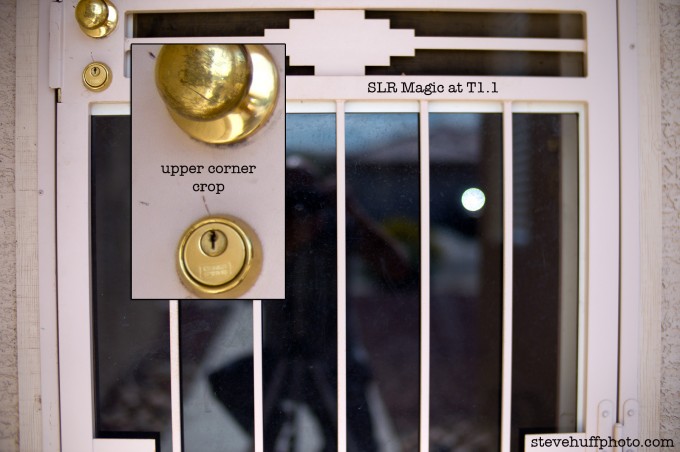 The Voigtlander Nokton…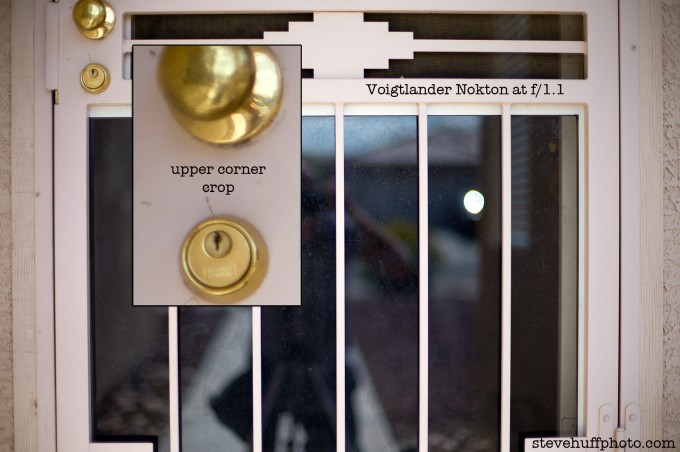 My winner for distortion – Voigtlander Nokton 50 f/1.1 – It has less than the SLR Magic.
–
COST
SLR Magic…$4388
Voigtlander Nokton f/1.1 – $1049
Winner – Voigtlander Nokton 50 1.1
–
CLOSE FOCUS 
The SLR Magic focuses down to .7 meters, the same as a Leica 50 Summilux ASPH. The Voigtlander only focuses to 1m, like the Leica Noctilux so the advantage is clearly with the SLR Magic. Below is an example image shot at the closest focus distance of each lens.
SLR Magic…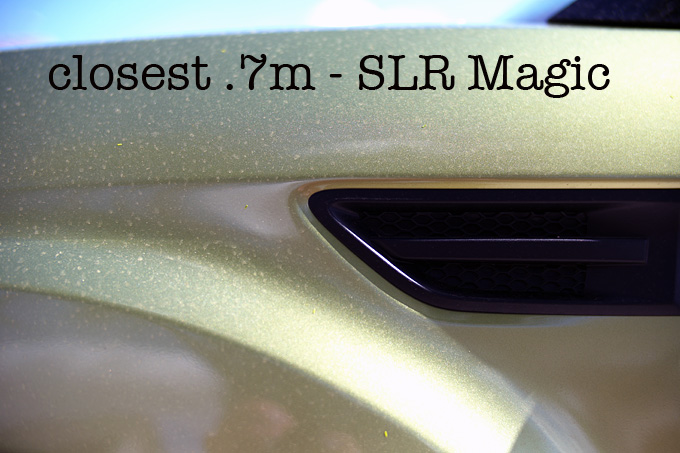 Voigtlander Nokton…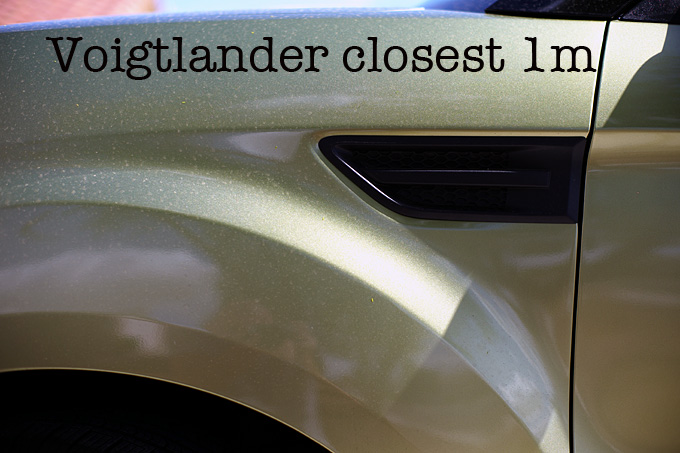 My winner for close focus – SLR Magic because it focuses closer.
–
Botton Line Conclusion and the winner – The SLR Magic 50 LM T0.95
Well I have no doubts, the SLR Magic lens is indeed the better lens here, and I prefer it by quite a bit. From it's 3D rendering, buttery smooth bokeh, tank like build, .7 meter close focus, and smooth easy to focus operation it is easily the better lens when compared to the Voigtalnder Nokton. It is also sharper than the Voigtlander Nokton wide open AND stopped down and distortion wise, the Nokton edges out the pricier Hyperprime but even so,  SLR Magic does a bit better in the corners when it comes to sharpness. So the big question comes down to money. Do you want to spend $3000 more for the SLR Magic? That is in no way cheap but the lens is one that should last a lifetime and it is in fact comparable to the Leica Noctilux ASPH in its rendering, detail and even color. It is now the world's fastest lens for 35mm in production and speed always costs big bucks, especially when it is associated with quality.
The Voigtlander Nokton is a good lens if you don't mind somewhat busy bokeh at times, less sharpness wide open (which hinders the 3D effect a bit), lighter construction (which can be a blessing) and farther minimum focus distance. After using both it would be hard for me to go back to the Nokton after using the SLR magic simply due to it just doesn't have that same MOJO, and I am a fan of super MOJO 🙂
The Voigtlander lens is available now from B&H Photo
The SLR Magic lens will be available September 2012
When I do the Leica Noctilux ASPH head to head it will have many more samples and tests including tests for CA, a portrait test, and more extensive sharpness and distortion tests. Cant wait!
–
ALL I ASK! HELP ME TO KEEP THIS SITE GOING AND GROWING!! IT'S EASY TO HELP OUT & I CAN USE ALL THE HELP I CAN GET!
Remember, anytime you follow my links here and buy from B&H or AMAZON,
 this helps to keep my site going. If it was not for these links, there would be no way to fund this site, so I thank you in advance if you visit these links. I thank you more if you make a purchase! I have nifty search bars at the upper right of each page so you easily search for something at either store! I currently spend 10-14 hours a day working on this site and the only way that I can pay for it is with your help, so thank you! Currently my traffic has been increasing but my funds to pay for the site has been decreasing, so any help would be GREATLY appreciated!
Even if  you buy baby food, napkins or toothpicks at amazon it helps this site, and you do not pay anything extra by using the links here. Again, you pay nothing extra by using my links, it is just a way to help support this site, so again, I thank you in advance 

If you enjoyed this article/review, feel free to leave a comment at the bottom of this page and also be sure to join me on twitter or my new facebook fan page and Google +  page! Also, you can subscribe to my feed at my subscribe page HERE and read these posts in your browser or news reader!