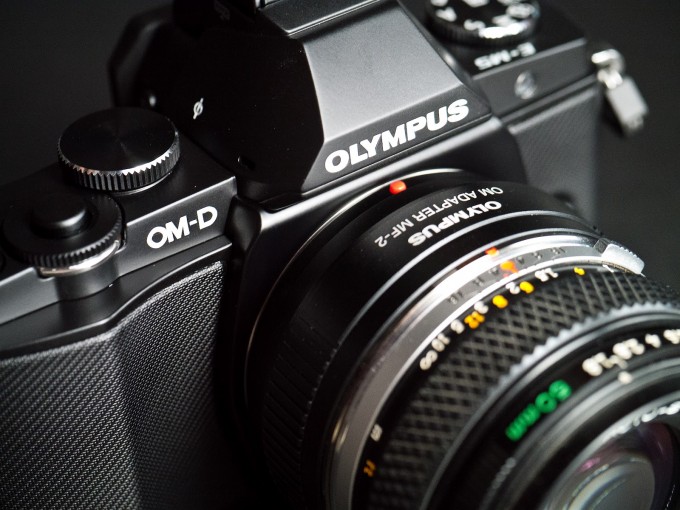 Olympus OM-D  – First day in Singapore by Colin Steel
I got a very big surprise yesterday when the guys at Artworkfoto in Singapore contacted me to say they had OMD's in stock !!! I jumped at the chance and bought the two lens kit (they didn't have the new 12-50 one) as I wanted a longer zoom for the trip to China and the 40-150 would fit the bill nicely. I have slightly mixed feelings about this as I will never use the 14-42 and to be perfectly frank found the build quality to be way, way bellow the Lumix lenses that I have. Oh well, too late now. I will use the 40-150 for the upcoming China trip but can't see it standing up to the rigors of prolonged travel use. Having said that, the OMD in black is to my eyes absolutely gorgeous. It has a real quality feel to it and appears to be very well put together and I am so glad to see Olympus paying homage to the stunning designs of the 70's OM's.
I didn't have a choice and I know many people are favoring the silver one but to me the black one has the killer looks. My instant reaction on getting it home was to stick on the Zuiko 50mm F1.8 and try it out and I think this combo not only looks great but delivers lovely dreamy results, definitely one for a future portrait session 🙂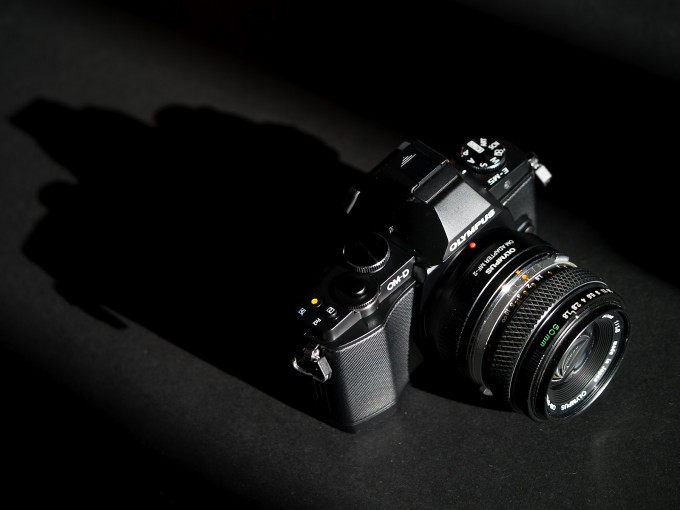 Back to my thoughts on the camera. I am not a camera reviewer per se and will leave that to guys like Steve Huff and Kirk Tuck who are better at that than me. All I wanted to do here was show some early shots and share my thoughts on it as a travel camera. This post will focus on my views of the handling and usability of the camera and I will leave the technical and image quality tests to other better qualified testers. Please also bear in mind here that I couldn't open RAW files in Lightroom so I just edited the jpg's in Snapseed which I find great for simple stuff anyway. I have been looking a lot recently at the work of fashion photographers and had an opportunity to try the OMD with a model so I jumped at the chance. I immediately took a liking to the handling and the EVF which is nice to use. I personally use exposure compensation continually and I was delighted to find it on the front dial near the shutter so that I could find and use it with the camera to my eye. I have never overly concerned myself with camera metering accuracy preferring instead to use my eye and compensate or, as I have been doing more and more recently, bracketing the exposures by one stop over a set of three. I do think this is very important with smaller cameras as you don't want to be too far underexposed if it can be avoided.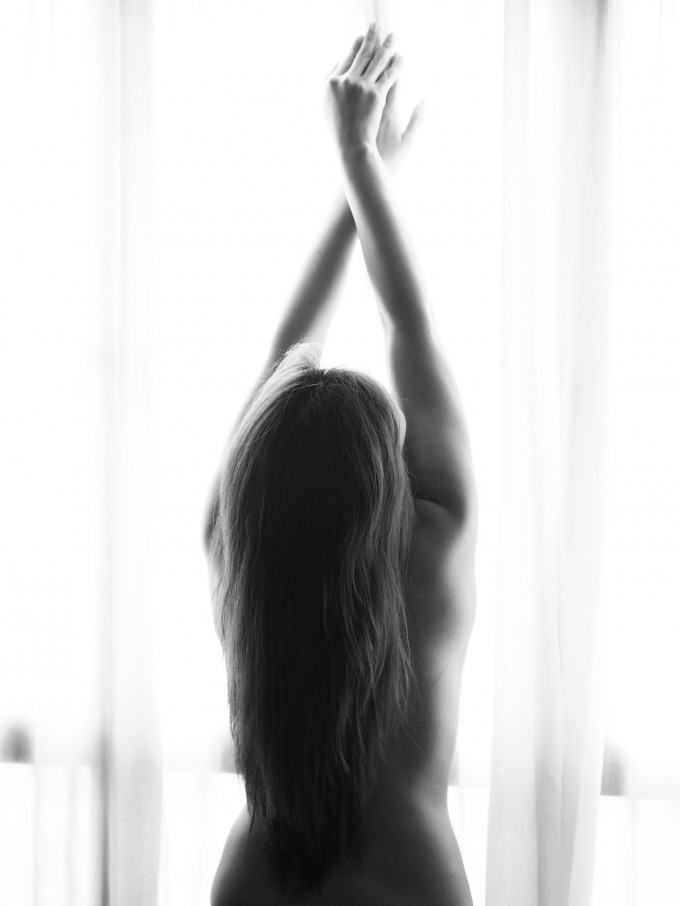 It was pouring rain in Singapore so I decided to try some still life shots using the 45 mm f2.8 Lumix macro. I was delighted with the OMD rear screen and touch focus, this for me is a major boon for this type of shooting. I simply set up the OMD and 45 on a tripod and configured a 2 second timer delay, touched the screen on the focus point and a few seconds later I had the shot. I know this is dreadfully clichéd but I couldn't help but pay homage to the film OM's and a couple of very nice books that I have been reading lately.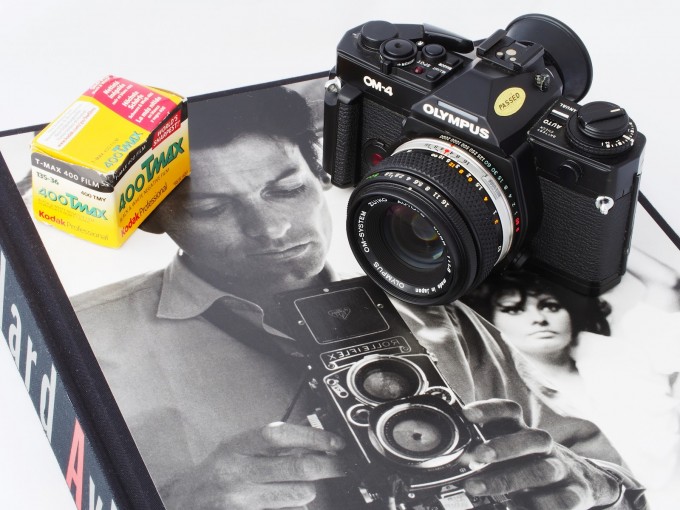 Please remember my comment at the start, this review is not about the image quality, I am simply sharing my early thoughts on the use of the camera. Having said that, with some simple Snapseed editing I got some pleasing results.
Again, I apologize for the cliché, I am sure we will all get sick of these soon but it did look rather lovely and that tasty little 50 mm Zuiko will be working its butt off shortly on the OMD.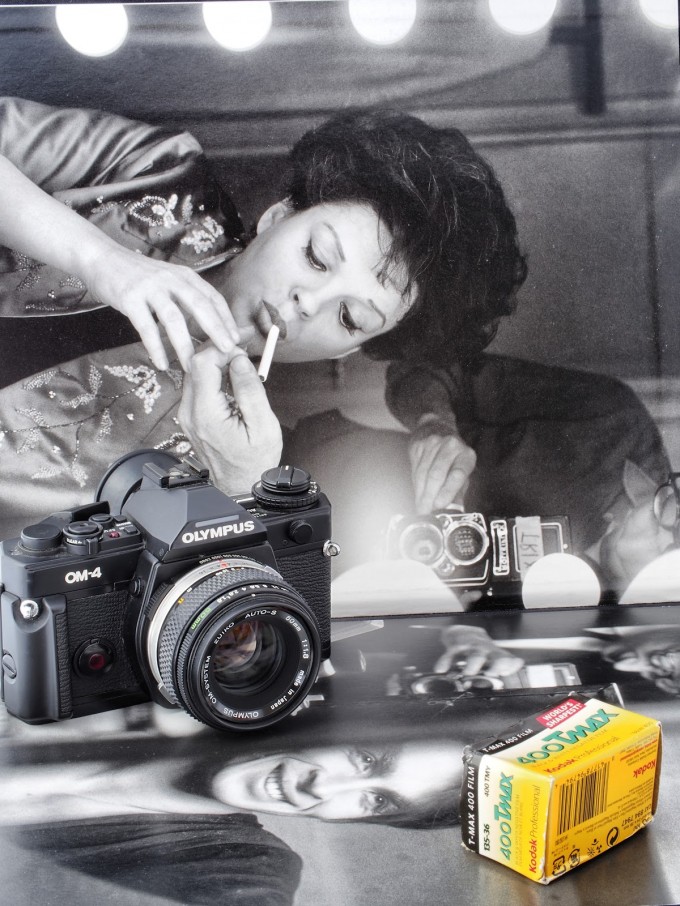 The good news is that I was finding this very simple and after a few shots the camera was out-of-the-way and I got more focused on the composition and look of the shot. I have mentioned this previously when I re-visited the GF1 but I can't stress strongly enough how important it is to know how you shoot and know your camera intimately for the control you need for your style. this was a major objective for me today, I know how I like to shoot and I had to get to grips quickly with the focusing (manual for the Zuiko's), bracketing for exposure and fast exposure compensation. Once I get these things nailed I can get on with the look and composition and forget the camera settings.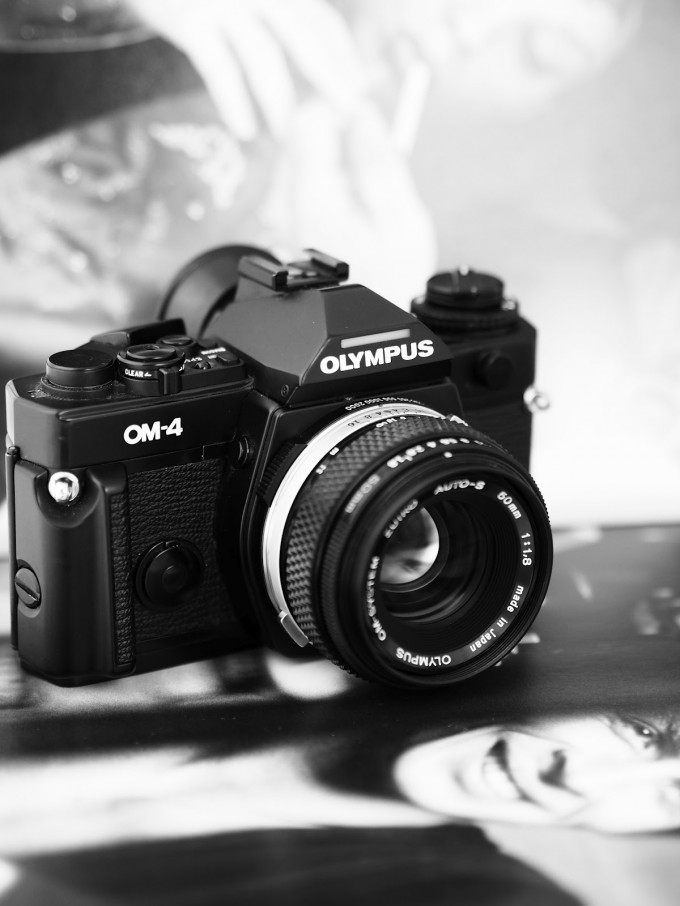 I tried a few different presets in Snapseed and really liked the B&W one above. I am not usually a fan of the Snapseed B&W but this seems to have come out fine. Finally, here's a color shot using my other favorite read of the moment.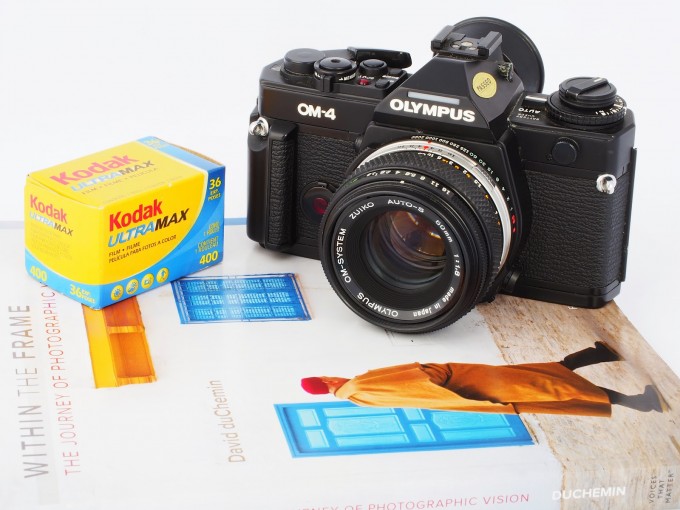 At last the weather picked up and I headed off to my favorite shooting location in Singapore – Marina Bay. I just love the afternoon light there and I stuck the Lumix 14 and 20 lenses into the bag and off I went.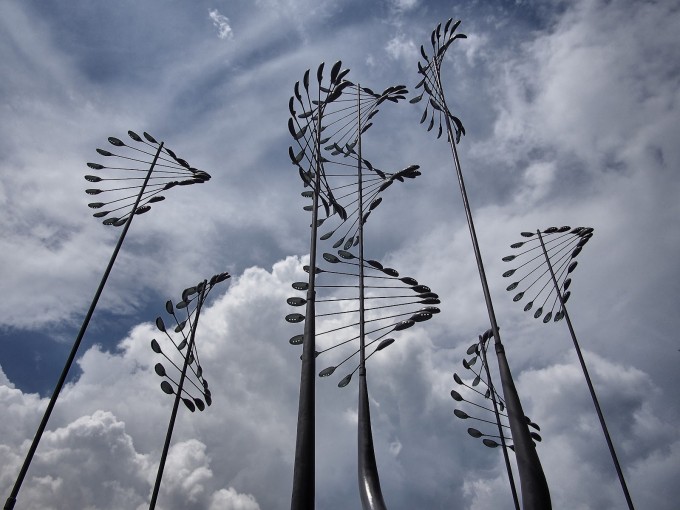 Here are the first two shots which both benefited from the 46 mm polarizer which, as I have mentioned previously, fits both the 14 & 20 Lumix lenses, this is a huge benefit and one that is often overlooked. Like many of the shots I took at Marina Bay these have had a tweak in Snapseed 'dramatone' filter. Somehow I felt it worked really nicely for the contrasty shots at the Bay.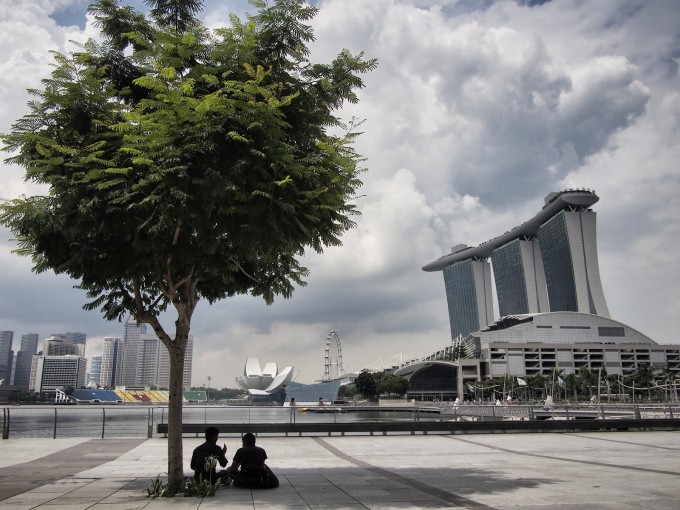 The one above was taken low and again the benefit of being able to fold out the screen and focus by touch point was significant in making the shot. This is a great feature of mirrorless cameras like the Sony Nex's and some of the Lumix models and I have to say that I pretty much consider this essential in a modern camera, it really does make a difference as we shall see with my late afternoon shots.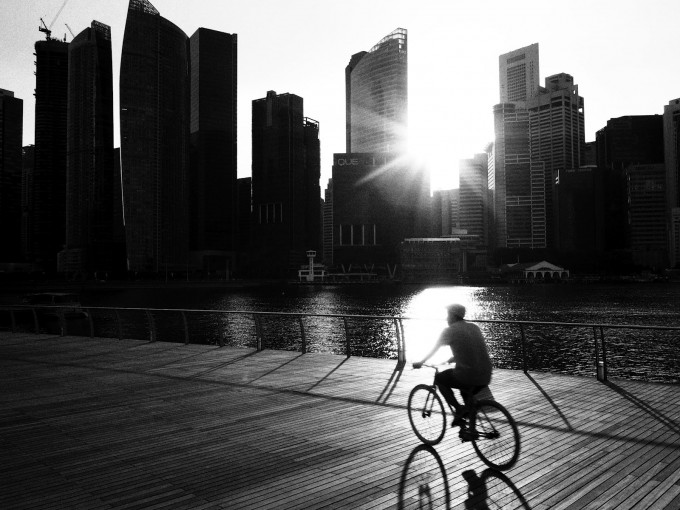 I am no fan at all of many of the options in the OMD menus but couldn't level this criticism at Olympus alone. They simply clutter though and all of the pointless art filters and so on are better managed in simple apps like Snapseed which offer more flexibility. I am a bit of a fan of the Snapseed drama tone for example and found it more subtle and flexible than the OMD efforts, Similarly with the above grainy B&W shot. Here are another two using the same effects and I really liked the EVF in the OMD, I read that it's not as good as the Sony NEX 7 one but it is very usable and I found that it was preferable to disable the eye sensor trigger and leave it on either the EVF or the screen and manually switching depending on what I was doing.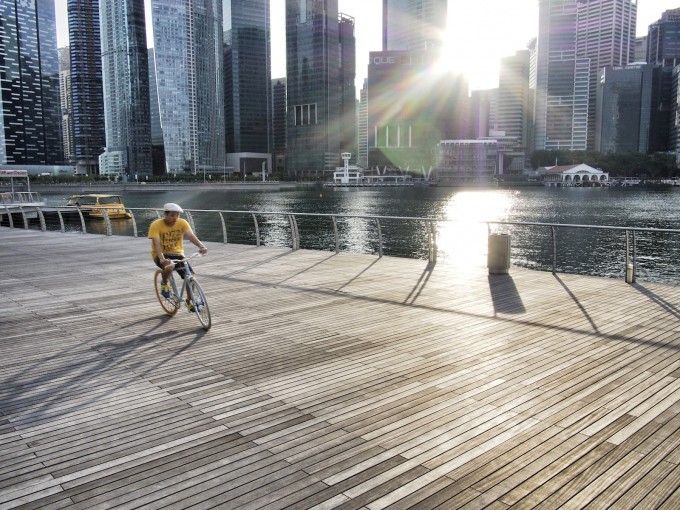 I was trying so hard to close the lens down to maximize the sunburst that I got surprised by this cyclist and the shutter speed is a shade too slow but I liked the shot anyway and I found the focusing and speed of the OMD to be spot on for this kind of street work, the motion blur on the subject was all my fault.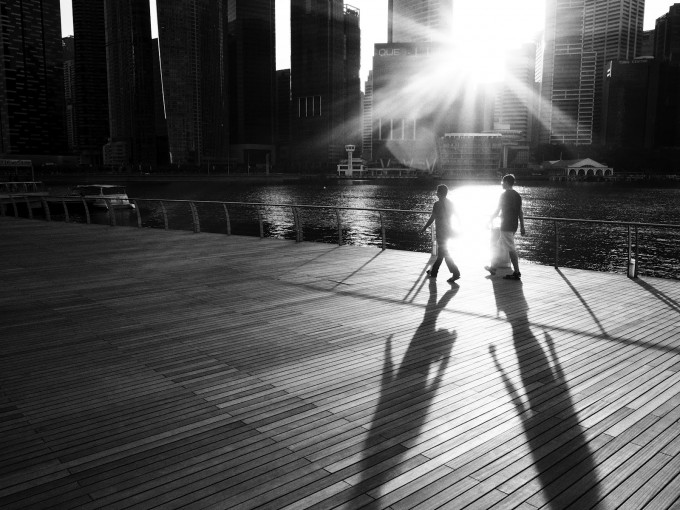 As the sun started to go down I found myself relying more and more on the screen and touch focusing. This allowed me to get some interesting low angle shots of the late afternoon walkers.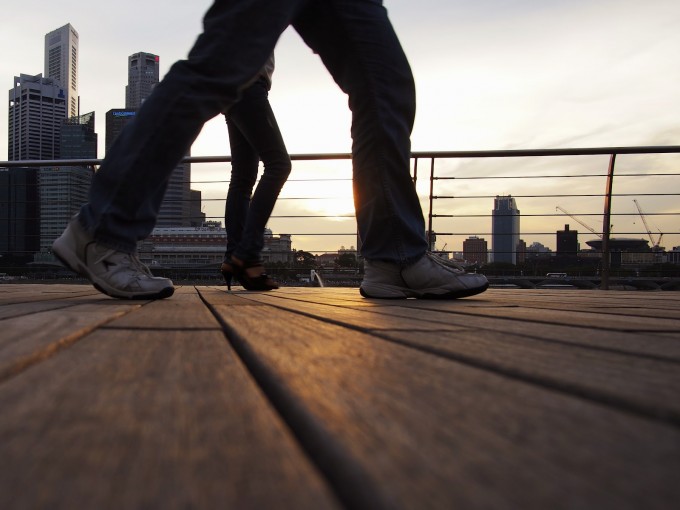 This sequence of shots were taken with the OMD on the ground and pre-focused on where I thought the feet were going to be. Much as I liked the subtlety of color above, I found drawn to the drama tone in Snapseed when I was looking at these as it really brought out the boardwalk nicely.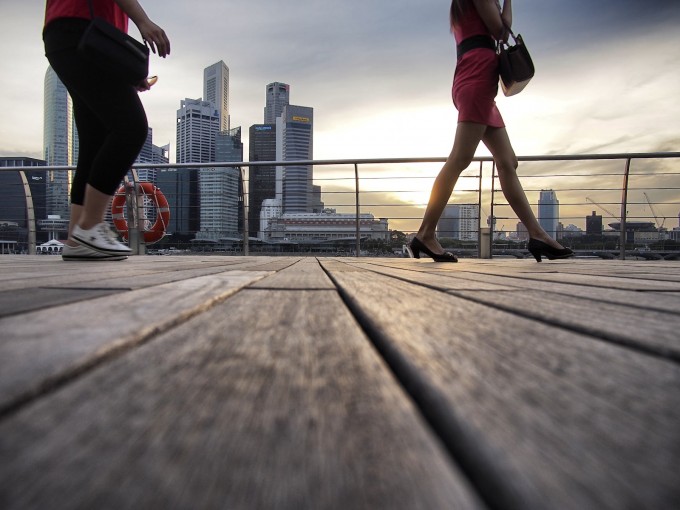 I quickly found that people don't really take so much notice of little cams like this and was able to sit for ages capturing a wide variety of contrasting shots.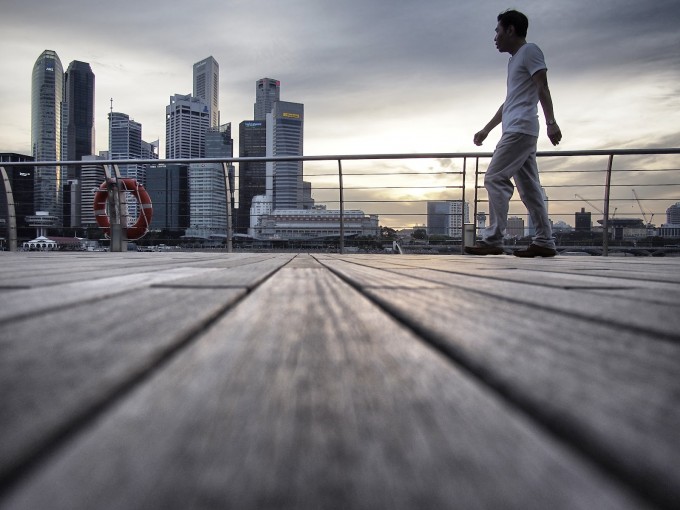 I know that effects like 'drama tone' become tiresome very quickly but as this was a fun shoot and more about me learning to use the OMD than anything else I shot away until the sun went down.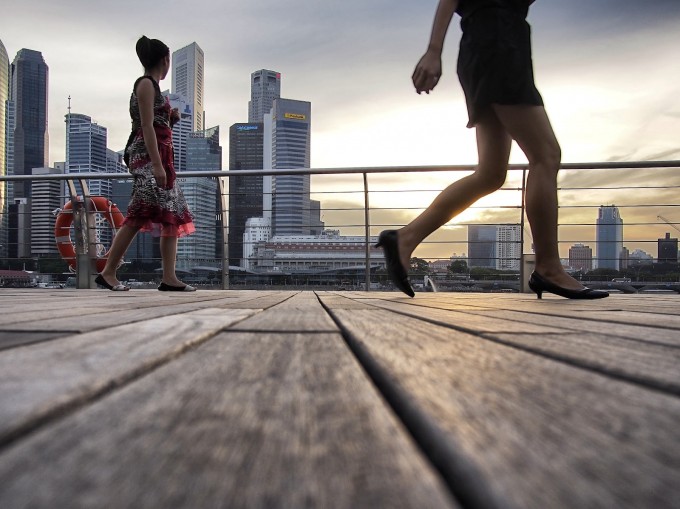 Just in case anyone is thinking that I have gone all voyeuristic, I also found that it was extraordinary the variety of different subjects that I shot and everything from cycles and scooters whizzed into the sunset view. I also get a sense from using the jpg files that they were easy to work with and I have high expectations of the RAW files when I get the Lightroom update.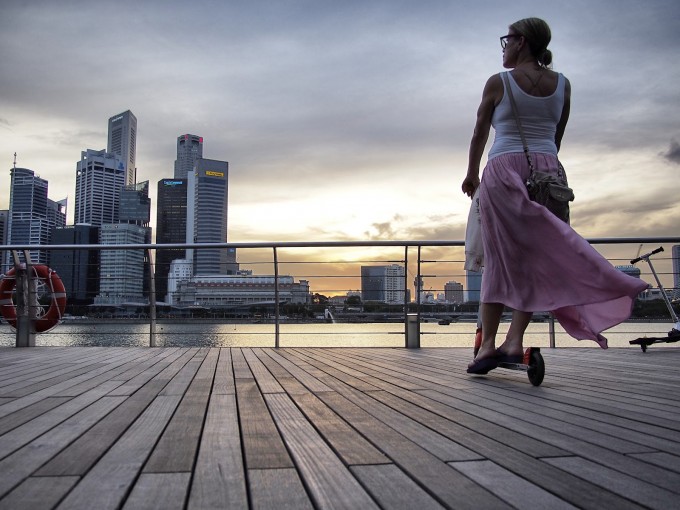 I suspect we will all have 'drama tone' overdose by now so here is a nice simple shot taken as the sun descended behind the Fullarton Hotel and the new LV store. This was hand-held and it looks like Olympus's grand claims for the in camera stabilization look justified and this will be awesome for using with the old Zuiko lenses.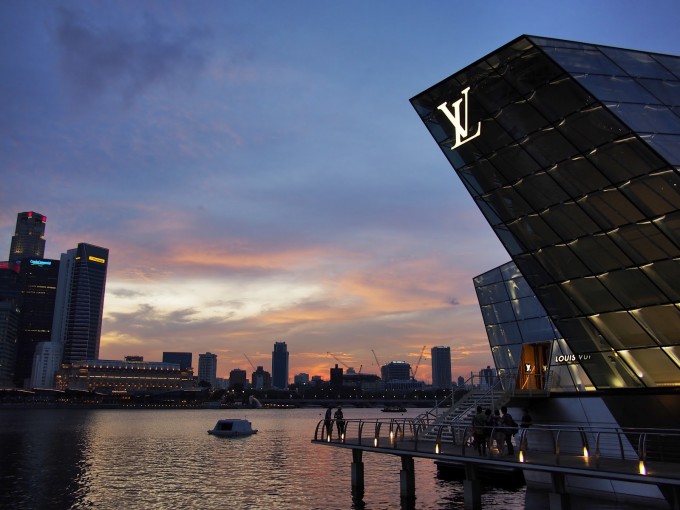 Time to wrap up then with some early thoughts on the camera.
Despite some early irritations with the menu system I have gotten to grips with it quite quickly. I still feel that Lumix spoiled us with the GF1 and its usability, but the OMD comes reasonably close and in some respects the dual dials work better giving really fast control over vital exposure compensation and aperture variation. The flip out screen is superb and the touch screen focusing brilliant, this is a real step forward for varied angle shooting and works really well. I didn't find the limited articulation of the screen limiting at all but I think it might disturb some users who want vertical movement as well. The stabilization works well and I am a big fan of in-camera type as opposed to the lens version. This allows for more effective use of legacy lenses for example and once I got to grips with the magnification manual focus assist, I found that my Zuiko 50 mm f1.8 had a new lease of life. I also have a nice 135 that became unusually long on the GF1 and I look forward to trying it out. My real disappointment with the kit so far is with the lenses which I am sure will be adequate optical performers but they simply don't look strong enough for prolonged travel use.
It will be interesting to see how the image quality reviews but I have to say that for my purposes as a travel cam this thing looks perfect and its rugged build and out-and-out usability have me itching to get it on the road for a more thorough workout.
I hope you enjoyed this somewhat lightweight first look at a very interesting camera and I know the clichéd OM shots are a bit stiff and the 'drama tome' overused but please look on it as what it was – a learning experience for me in using the camera the way I want and a bit of fun into the bargain.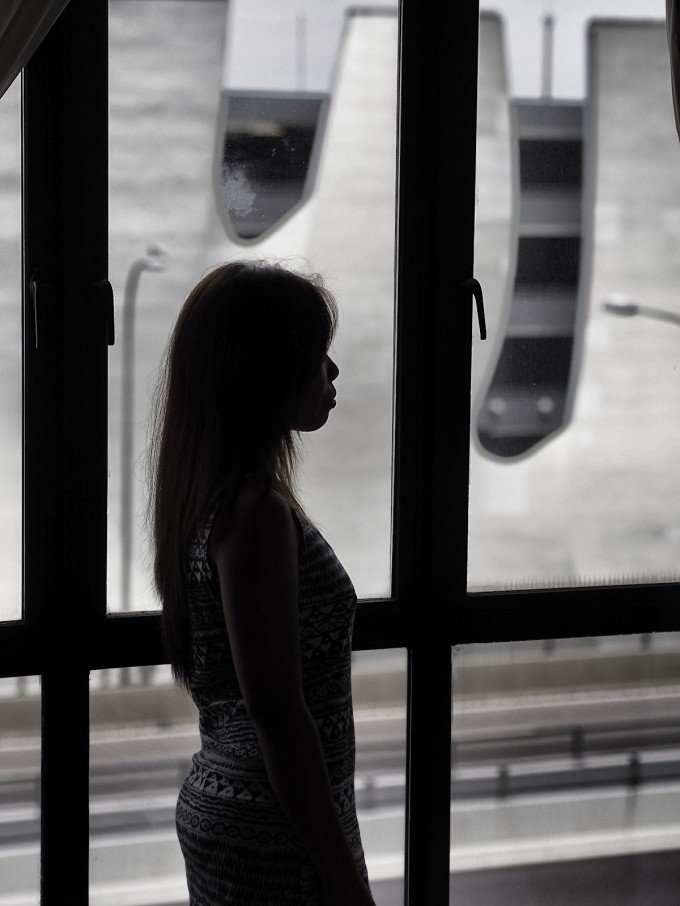 Here's a nice moody street shot to finish and I think this was with the lovely 50mm Zuiko. Until next time, safe traveling and if you are looking for a new travel cam don't hesitate on the OMD its a cracking camera, just don't buy the two lens kit 🙂
Cheers,
Colin Steel
My Blog: Photo Travel Asia