A Film Legacy by Jason Howe
Hi Steve
I'd really like to share a recent discovery with you, I am posting the full version on my blog HERE but I know this will reach far more people if you show it so thanks so much for helping me achieve this.
I've featured my own work on your site several times before but on this occasion I'd like to present the work of a deceased doctor and amateur photographer from New Zealand called Roland G Phillips-Turner who in the 1950's and 60's travelled around remote regions of New Zealand's North Island doing medical research and documenting his travels with his Leica M5 and Hasselblad 500c.
A Film Legacy
I clicked on the email attachment, whilst the image of assorted camera equipment wasn't the best the list was clear enough….. Leica M5, 35mm Summicron f/2, 90mm Elmarit f/2.8 all caught my eye, words that meant nothing to me only a couple of years ago were now very much etched in to my photographic brain. Other lenses in both M & R mount were listed amongst a myriad of Leica equipment. The email arrived via the father of a friend, word of mouth regarding my fondness for all things Leica had ensured it found its way to me, good fortune indeed. I phoned the contact number and made arrangements to view the items at the earliest opportunity and in doing so acquired not only a wonderful collection of vintage Leica equipment but also the opportunity to show the world the photography of Roland G Phillips-Turner, his film legacy so to speak.
As I carefully packed away the equipment, the daughter and I began to chat about her late father and his photographic exploits, as I listened intently my connection to this newly inherited equipment grew stronger with each spoken word. All vintage equipment comes to you with a history, more often than not it's imagined on the part of the new owner, to actually know the story behind it makes it very special indeed. With this history comes what I would almost describe as a sense of duty, one I would come take very seriously, lenses have since been serviced and as I write this the M5 is at DAG in the US receiving the attention it deserves. Indeed, upon its return from CLA the 35mm Summicron f/2 (Pre Asph) v.1 made its debut for me HERE.
I'd describe myself as a rational person, I don't believe in such things as fate and destiny, but I have to admit it has crossed my mind when it comes to this equipment. From opposite sides of the world, separated by two generations and via a huge slice of good fortune this equipment has landed in my possession, the survival and continued use of this Leica equipment is now ensured.
In addition to the equipment I was also entrusted with his slides, these have only been seen by the family prior to this post.
Image 1 – Hasselblad 500c – KODAK EKTACHROME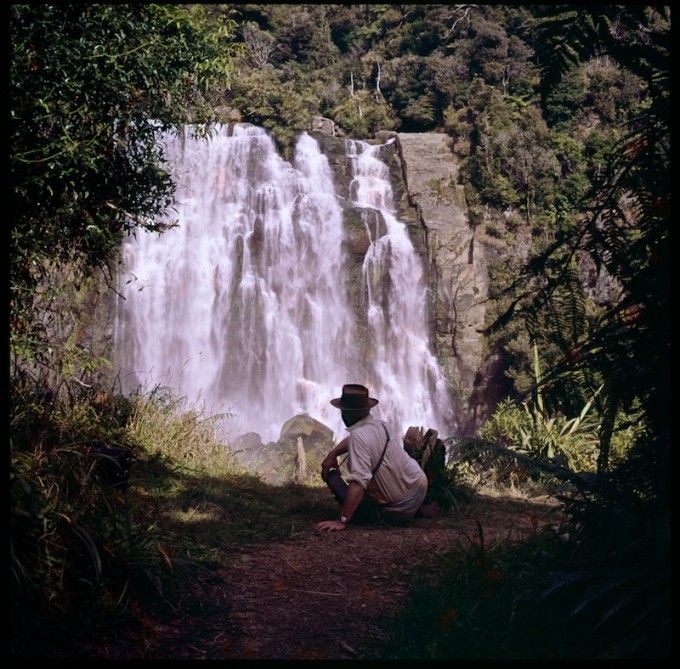 I was so pleased to find this amongst the negatives, after some research I've been able to establish that it was taken at Marokopa Falls in the Waikato, New Zealand. It was also fascinating to discover that the photographer used the Hasselblad 500c for the medium format work. I had also purchased a 500c from the USA a month or so before coming across the slides, just another wonderful coincidence.
–
Image 2 – Hasselblad 500c – AGFACOLOR DIA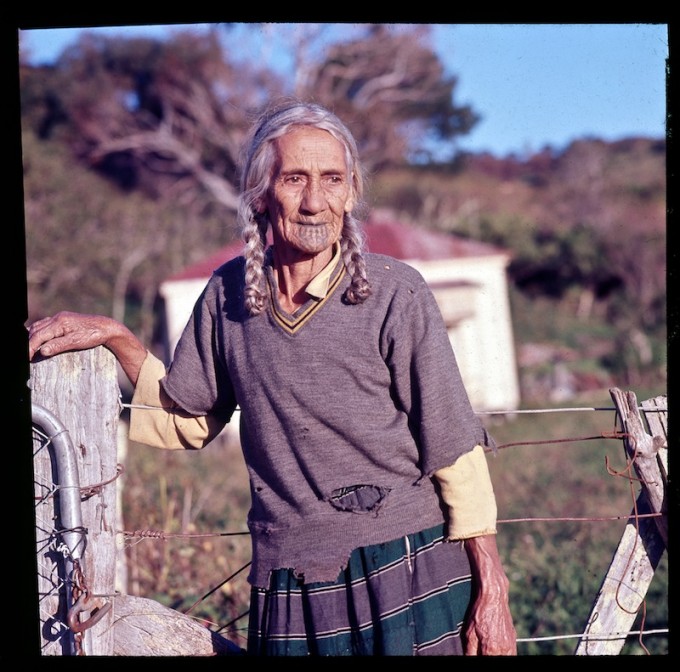 Kuia with a moko – "Kuia" being an elderly woman, grandmother or female elder and the "Moko" is the Maori facial tattoo.
 –
Image 3 – Leica M5 – KODAK KODACHROME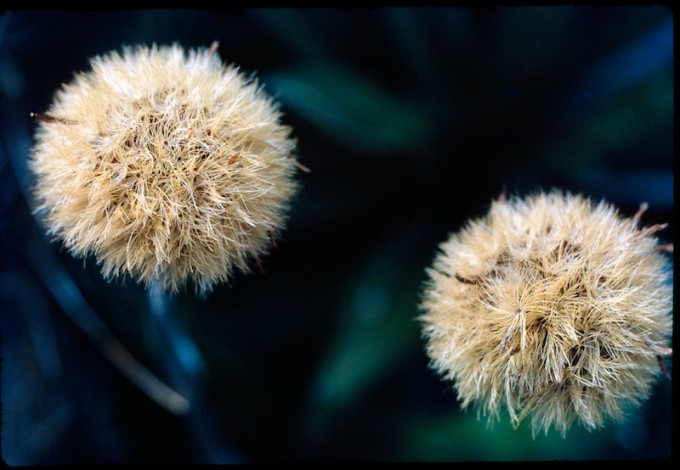 Image taken with the Leica M5 and most likely with the VISOFLEX that was also included within the set of equipment.
 –
Image 4 – Hasselblad 500c – KODAK EKTACHROME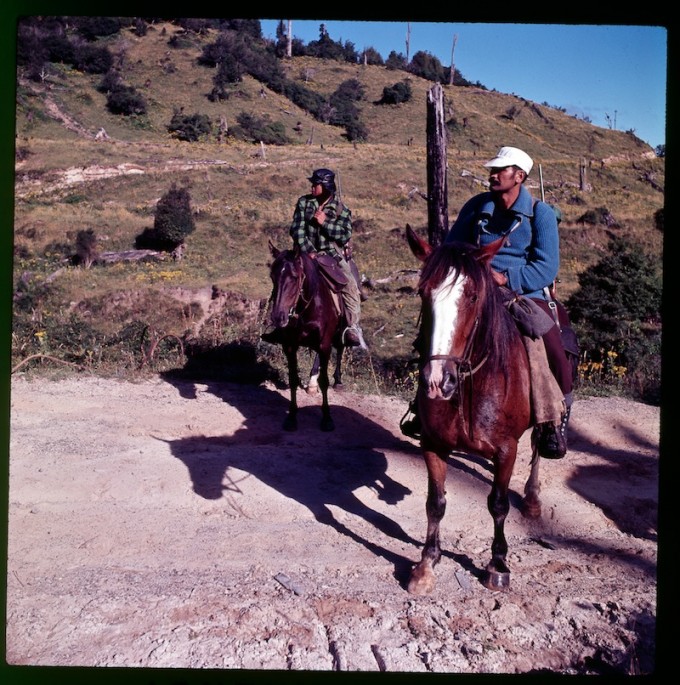 Deer Hunters in the Urawera's, a rural scene that is no doubt still repeated in the present day.
–
Image 5 – Hasselblad 500c – AGFACOLOR DIA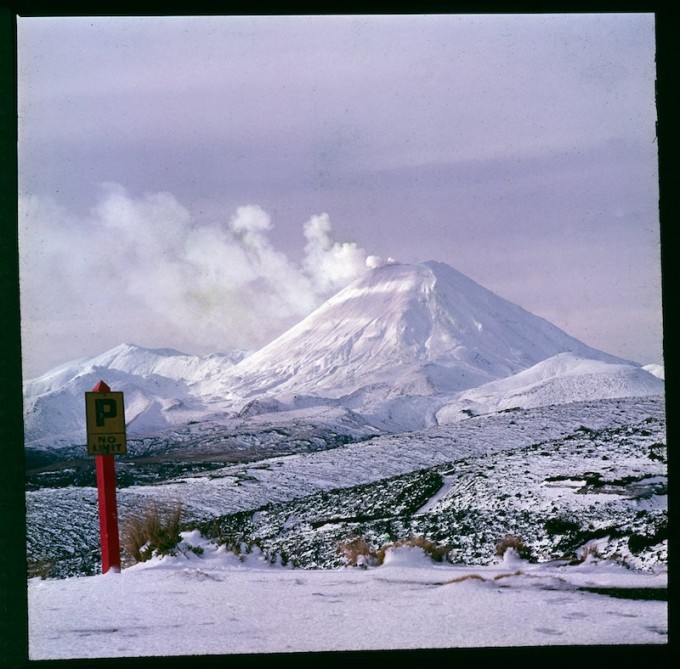 In this image Mount Ngauruhoe appears to be active. You may recognise this volcano as Mt Doom from the Lord of the Rings Trilogy.
 –
Image 6 – Hasselblad 500c – AGFACOLOR DIA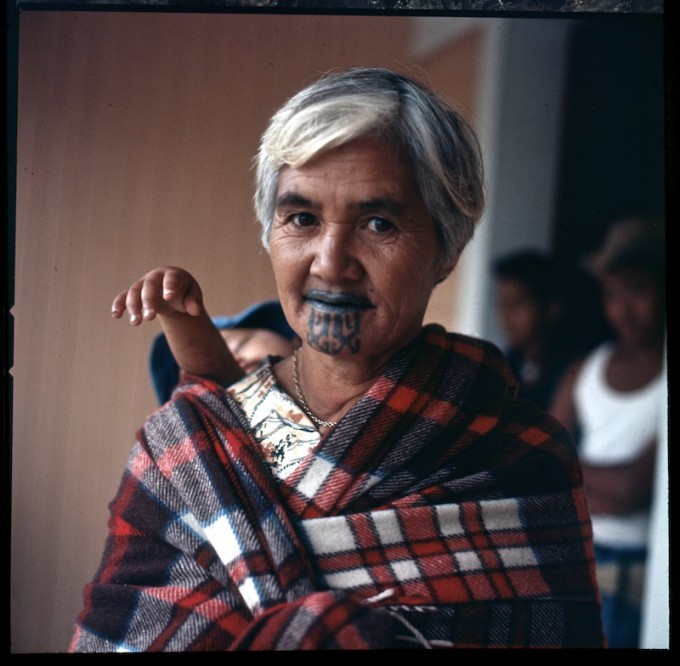 Traveling amongst the indigenous people in these rural areas whilst doing his research must have been the most incredibly rewarding experience. Add to that the opportunity and ability to photograph them and it really must have been a joy on many levels.
Final Thoughts
In years to come will people have similar experiences to the one I have just shared with you? What is the likelihood of my photographs being rediscovered 40 or 50 years from now? You would have to say, highly unlikely! Film has made this discovery possible, it has preserved these images beautifully and ensured their survival to date.
Boxes of slides, stored in an attic, a garage, who knows where, you open it, hold it to the light and instantly you can see the magic, will people recover digital images from old hard drives in this way? I can't see it myself……..only film can make this possible. I already had an affinity with film, this experience has strengthened that bond still further, I never say shoot film over digital, I always say shoot both. There is true value in both media.
The images posted here are indicative of the collection I have been entrusted with and I will continue to share them over the coming weeks and months, I hope you'll join me and follow these posts with interest.
Cheers
Jason.