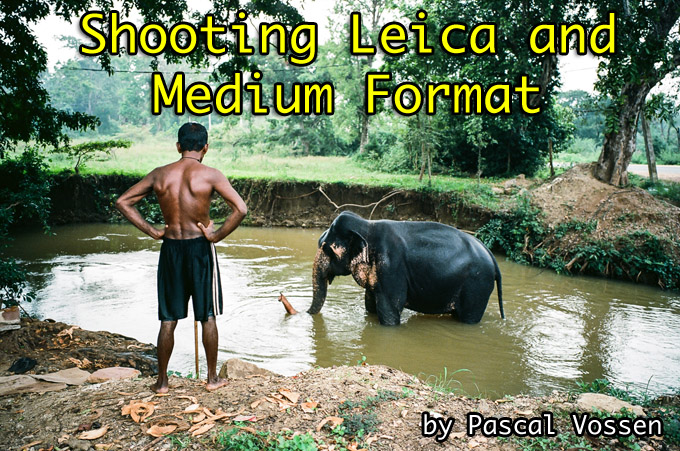 Shooting Medium Format alongside Leica M for Travel and Documentary Photography
by Pascal Vossen
Hi Steve, thank you for your contribution to the photographic community and giving me the chance to ventilate my thoughts to other photographers!
Shooting medium format alongside 35mm format is what I did during my latest trip to Sri Lanka and it turned out really well for me. I enjoyed it a lot and it made sense to me before I left, during shooting and afterwards when I looked at the results. The only 'regret' I got is that I didn't go bigger in film size. Still though, the Leica M was and will remain to be my main travel and documentary camera. Let me first tell you why, before I move on to the medium format part;
[ad#Adsense Blog Sq Embed Image]
Photographing with a Leica M is special. I don't have to explain that to someone who handled a Leica M before, but to the photographer who didn't. It's a camera with a magic feel, handling and character to it. It gives you the best of 35mm in a small and intuitive package. You don't feel like you are getting blocked off to what is happening around you as soon as you bring the camera to your eye. The design of the Leica M, being a rangefinder camera (i.e. with a separate optical viewfinder), will allow you to stay in contact with what is happening around you. You never loose focus on your subject. You see everything. Notice the light, meter, frame, focus, reframe, anticipate and shoot your image. Its a fast process that always allows you to stay in control. Rangefinder focusing is imo also the most accurate way of focusing, since you don't have to rely on an auto focus system that might fail. You are in control, you decide where you put the focus. This means that you know exactly where your focus point is. Is this off, then you failed and not the camera.
Leica M7 | 28mm | Portra 400 | Polonaruwa.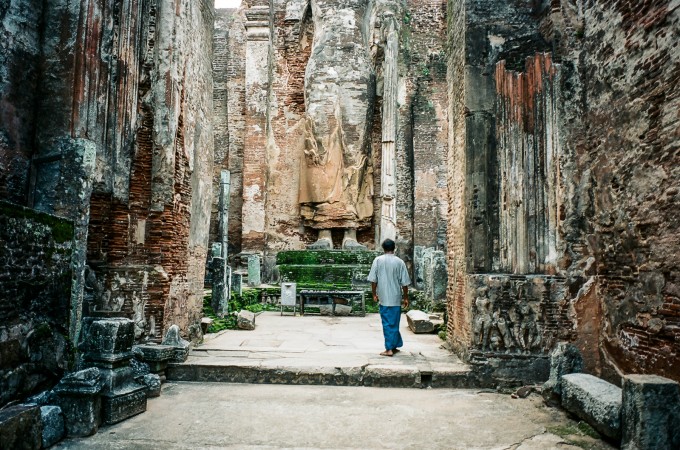 Leica M7 | 50mm | Portra 400@800 | Red Mosque, Colombo.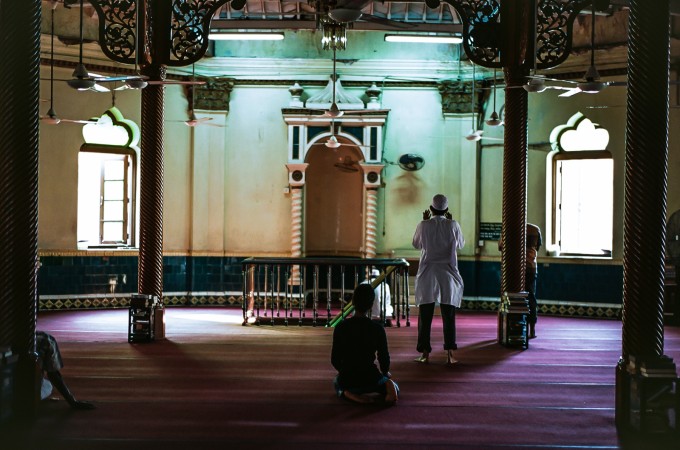 Because of its construction, the fact that it is a rangefinder and thus not has a mirror like a DSLR, the Leica M is compact and elegant. It is without a doubt the most beautiful camera I will ever own. The first time I tried one myself I noticed by its reassuring weight that this thing is build to last. Furthermore, it does not scream for attention and gives most people the impression that you are carrying an 'old-timer' around. Yes, sometimes that's true, but its a very competent 'old-timer'. But then again even the 2013 Leica M (type 240) still looks like the camera Leica build 30,40 years ago. That is partly the beauty of it and gives its user the freedom to walk around without drawing too much attention to themselves. Even the small time street criminal would more often go for a larger looking plastic DSLR from e.g. one of the Japanese brands, because they think you are holding a worthless old camera that is not worth stealing. If I however go on a trip where I suspect to end up in more dodgy areas I would maybe tape off the 'Leica' sign and put some more tape on it to make it look broken, just to make sure. I don't care what it looks like when I am photographing (I do when its on the shelf ;)). The purpose of having this camera is to be able to get the shots I wouldn't get with another camera. It is inconspicuous and enables the photographer to get really close without getting noticed. Even the shutter won't give away your presence when you are photographing with an analog M, since it a cloth shutter and therefore near silent. I have found the digital Leica M (e.g. M8.2 that I also shoot with) in 'discreet' mode also very silent until you take your finger of the shutter button and the shutter re-cocks. Prepare yourself to be notices or walk away first.
Leica M7 | 50mm | Portra 400@800 | Temple of the Holy Tooth, Kandy.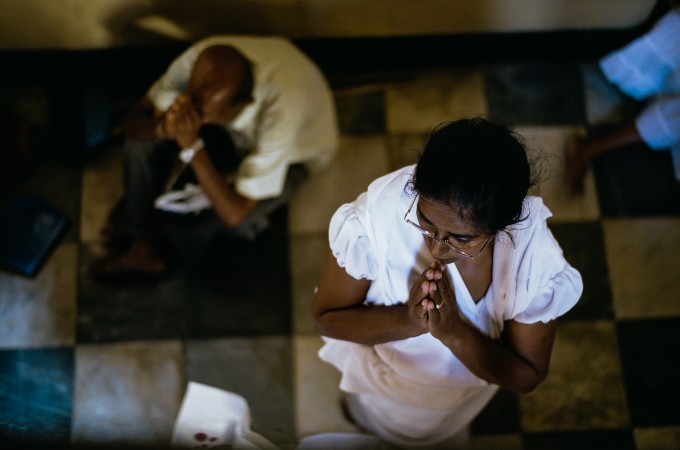 Leica M7 | 50mm | Portra 400@800 | Temple of the Holy Tooth, Kandy.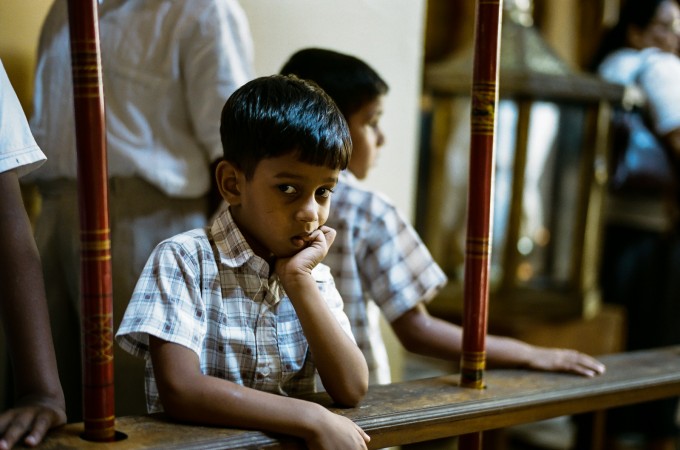 It is my opinion that photographing with a Leica M stimulates you as a photographer to take pictures in a more intelligent way. This has partly to do with the way you frame your images through the viewfinder. The frame lines give you the possibility to anticipate and be in control of the moment. Furthermore, the typical rangefinder character and lenses (prime lenses, mostly 'wide angle' to 'normal' focal length) force you to come close or be more creative. These are all reasons why the leica M is my main choice for shooting travel and documentary photography.
Leica M7 | 50mm | Portra 400 | Kandy.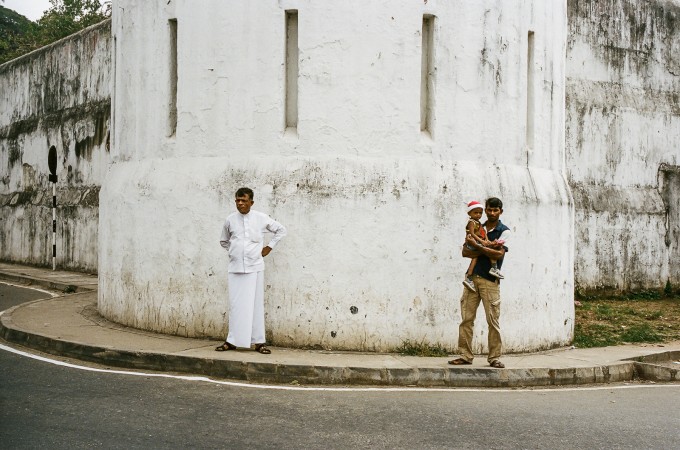 Leica M7 | 28mm | Portra 400 | Colombo.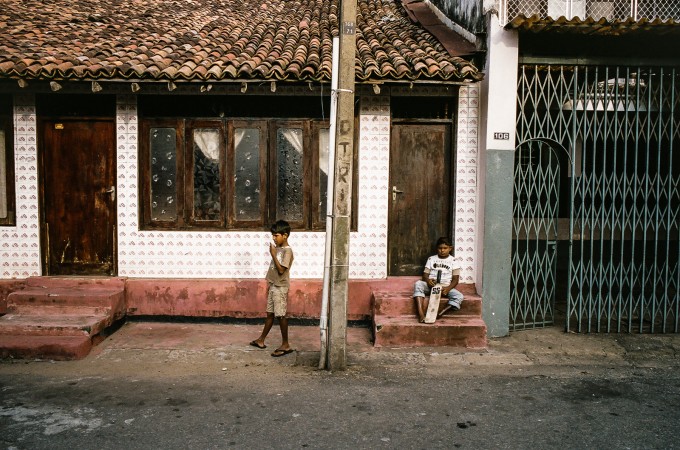 So what made me bring along a medium format camera and why did I think it was a great combination? Let me say this first; Before I left for Sri Lanka I figured out that too many options is no good! I planned on limiting myself to two lenses for the Leica M, the Summicron 28mm F2 for wide angle landscape and environmental portraits and the Summilux 50mm F1.4 ASPH for shots/subjects that are better suited with a normal focal length or less depth of field. But then I threw in a Voigtländer 15mm heliar! I forgive myself since I got some good shots with it.
Then I had the choice of leaving it the way it was, which is a really light travel setup, or fill the bag (i.e. a Billingham Hadley Pro) up with a medium format camera + one standard lens for portrait and landscape. Reasoning behind this was my intention to take close-up portraits and high resolution landscapes. A larger negative means you can capture more information, details and you gain quite a bit of dynamic range (that's even more true when its digital imo). This and the larger control in depth of field all add to the look of medium format. Nevertheless, the obvious image quality gain was not the surprising part. It was mostly the ease and the way of handling both cameras alongside which I found to be great.
A standard part of my day would be that I would ask my driver to drop me at the beginning of a town/village/city on the way and pick me up a few hours later on the other side. I walked, explored, observed and talked a lot to people. When I saw something interesting I would normally have my Leica M7 in my hand, approach my subject and photograph my subject from the intended angle in the most natural way. This often required me to get pretty close without disturbing them with what they were doing at that particular moment. Would they have noticed me and stopped what they were doing then the image would have been lost. This is definitely important in countries like Sri Lanka where people don't mind to be photographed and gladly pose with a smile when they notice you. I don't want that. At least not when its not intended as a portrait. You could consider this 'phase one' in the approach to my subject.
Leica M7 | 28mm | Portra 400 | Dambulla.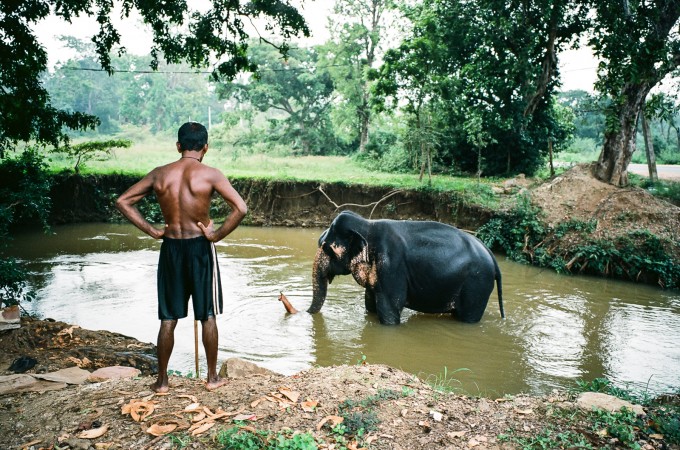 'Phase two' would be approaching my subject for a short chat, making him or her feel comfortable and then ask them if I can take their portrait. If you photograph people in this way you set yourself apart from the average tourist that just snaps away at them and then walks away without saying anything. It really is more or a social and respectable thing to do and you will notice that you will gain a bit of their trust. Just enough to get close enough for an intimate and well-composed portrait.
Contax 645 | Zeiss T* 80mm F2 | Portra 400 | Dambulla.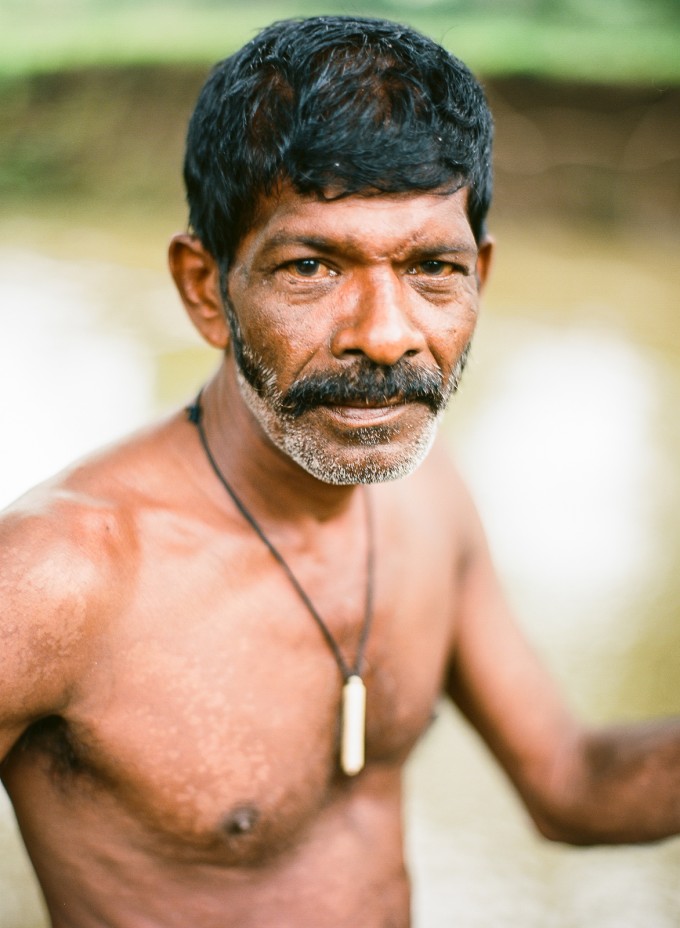 If you use digital you show the image to them, which could lead to fun reactions and even more photos, or you give them a chance to hand over an email address (if they have that) so you can send them the picture you took of them upon arrival at home. For exactly these kinds of shots I would grab for the medium format camera. I have introduced myself and my intentions to them and I can now take the tool that gives me the largest IQ. Handling the cameras together was great since I could easily tuck away my Leica M and take out the medium format SLR (I used a Contax 645 + 80mm F2). They fitted comfortably in my Billingham Hadley Pro bag, which is not a gigantic bag. It has great padding and with its flat shape it fits perfectly to your body. Another great advantage was that I didn't have to fumble around and switch lenses on my Leica M the whole time. Switching lenses is a process I find annoying and a little tricky when traveling to dusty and humid places.
So, to sum up what I found great about this setup is;
-Inconspicuousness and intuitive handling with the Leica M
-Advantage of higher IQ from a larger negative (6×4,5> or sensor a-like) when needed.
-It is still a fairly compact setup (Leica M, two lenses and a MF camera) and packs well in a medium sized camera bag (most Medium Format cameras are actually not that big if you think about it).
-It avoids that you have to change lenses when you want to take a portrait or landscape (if you are comfortable using one lens on the medium format camera)
Some more medium format examples:
Contax 645 | Zeiss T* 80mm F2 | Portra 400 | View from Lipton Seat, Haputale.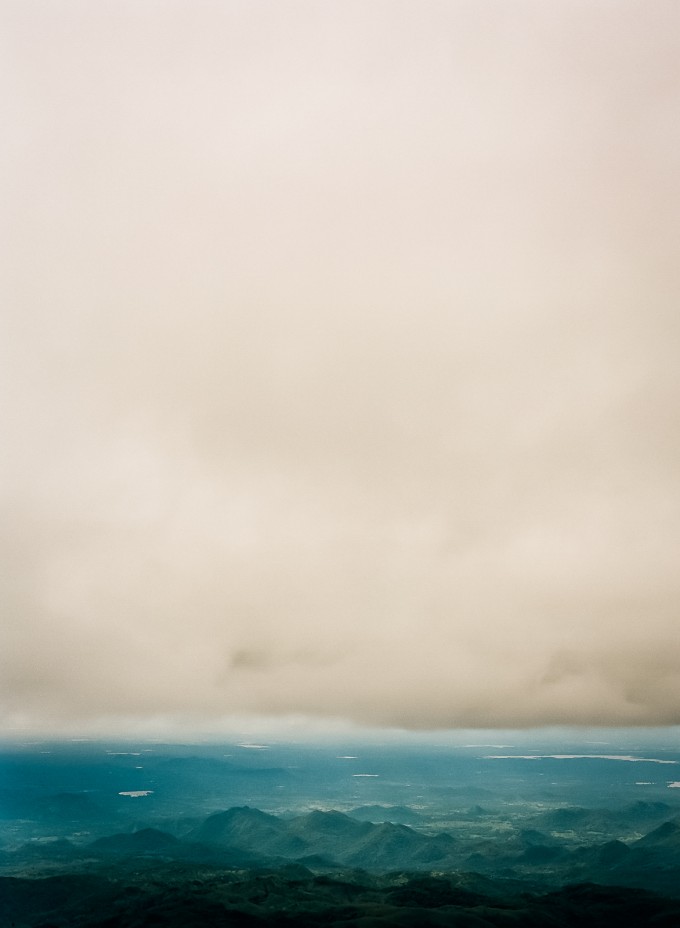 Contax 645 | Zeiss T* 80mm F2 | Portra 400 | Kandy Bride, Kandy.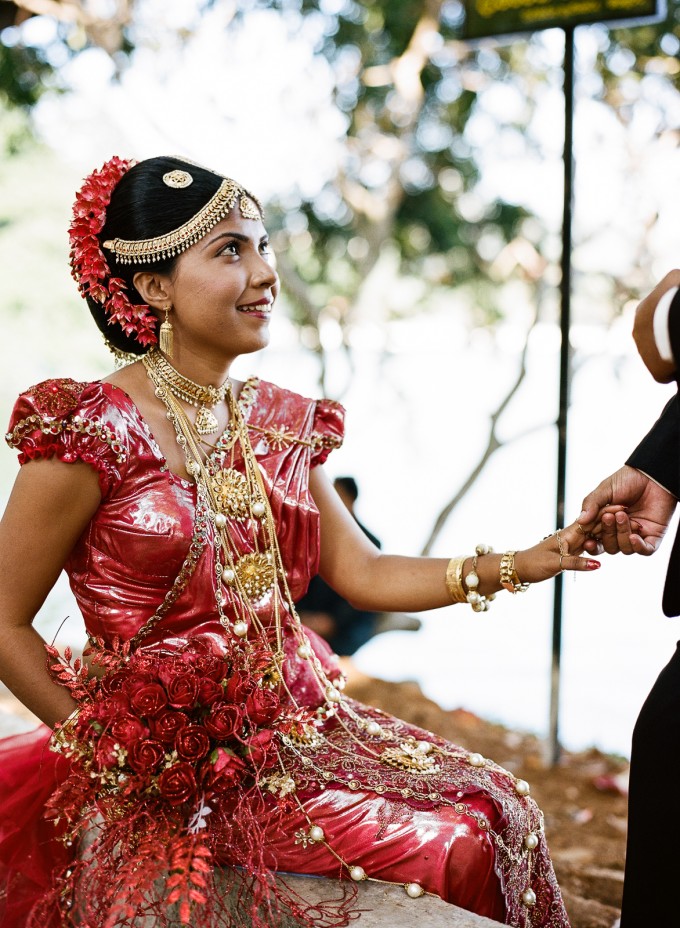 Contax 645 | Zeiss T* 80mm F2 | Provia 400X | Near Adams Peak.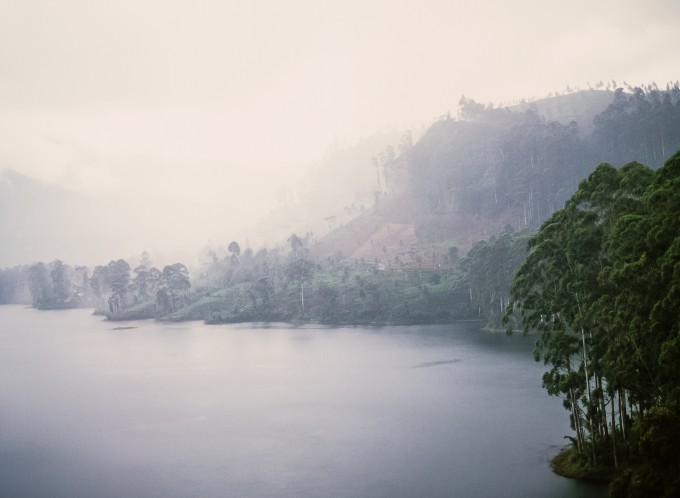 Contax 645 | Zeiss T* 80mm F2 | Portra 400 | Mihintale.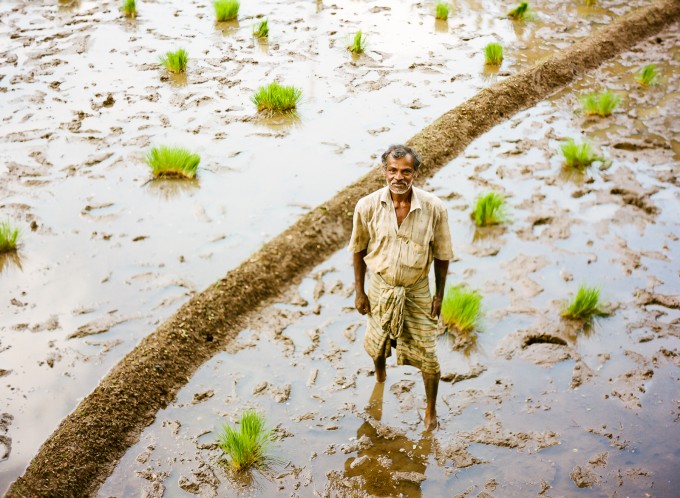 Contax 645 | Zeiss T* 80mm F2 | Acros 100 | Galle.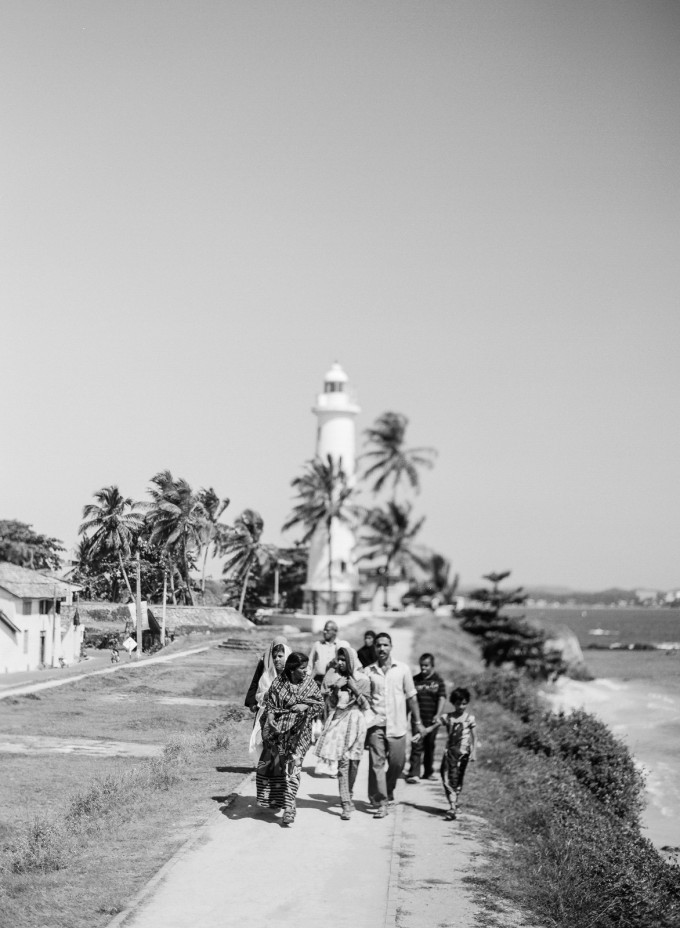 I have found there to only be one possible downside and one 'regret' to this all. Downside was that you would have to bring two different formats of film and load two different cameras (if not one or both are digital). The regret was in a way that I didn't bring a MF camera with a larger negative. That would have been even better. Thus, in the future the MF camera alongside my Leica M will be either a Mamiya 7 or a MF DSLR (Phase One or Hasselblad) depending on the destination, subject/project or way of shooting.
All images are taken in Sri Lanka and the whole series can be viewed on my portfolio (www.pascalvossen.com):
Thank you for reading!
Pascal Vossen