The Artisan & Artist Easy Slider Strap (Video)
Hello to everyone! Happy Thursday! It's now day 11 of my Flu but I am 75% back to being "me" – no more fever, no more chills and no more just lying around. If any of you have NOT yet had the flu and did NOT go get a Flu shot, I HIGHLY recommend getting that shot! This flu will kick your behind BAD! In my entire life I have never been as sick as I have been for the past 11 days and it just lingers around..reminding you it is there when you think you are all better. It really sucks.
Yesterday I decided to get up and make a video for this really cool strap that came in a few days ago because it is a really functional strap and it works as advertised. You can see the basic idea of it in the video below and how easy it adjusts just by "sliding" it up or down.
I have always loved Artisan and Artisan products. I have two of their bags that I use quote often and what I love about them is they are just black on the outside and have simple storage on the inside. They also look cool with the red soft interiors. 🙂 As for straps, A&A have some very popular straps including the very pricey silk strap cords that some shooters LOVE. They make quality accessories that are also fashionable so if that is your thing then you can't go wrong with one of these slider straps.
The Easy Slider strap is well made, looks nice, feels comfortable on (I am using it with a Sony RX1) and is a cinch to slide up or down/adjust for your own body. This strap would be great for just about any mirrorless, any Leica or even any DSLR. They come in red or black and are $119, sold at PopFlash.com. You can see all of the details in the video above including a demo of how the easy slider function works.
PopFlash has stock NOW and they have the RED one HERE and the black one is HERE.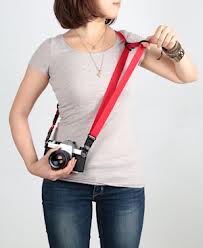 From the manufacturer:
This is a completely new type of camera strap that you can adjust and fix to the exact length you want with one finger. It is named "Easy Slider" (registered as a utility model). Put your finger through the D shaped hook, and simply pull up to shorten the strap and pull down to extend the strap. It is a superior camera strap that if you release your finger from the hook, the strap will stay fixed at the adjusted length. The ring type is newly introduced this time in addition to the tape type which is already very popular since its introduction.
Material: Leather, Nylon
Dimensions (L×WxT): 820~1,390mm(L) × 24mm(W) x 1.2mm(T) (inches = LxWxT = 32.3~54.72 x 0.95 x 0.05)
Made in Japan