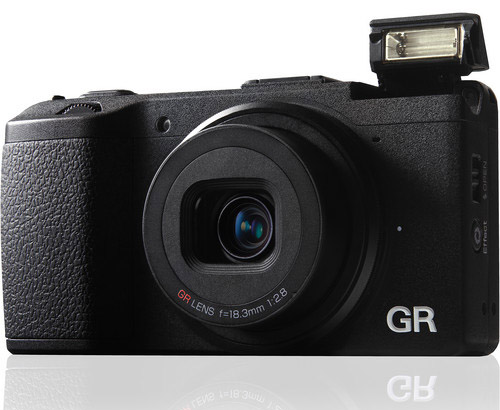 The new Ricoh GR Camera is ready for pre-order and ready to stomp on the Nikon Coolpix A!
A new GR digital and it looks FANTASTIC and mark my words: THIS IS A NIKON COOLPIX A KILLER! It may say Pentax but it looks, feels, smells and shoots like a Ricoh GR on steroids.
I have been asked by 20-30 to review the Nikon coolpix A so I tried it out in a shop and was not impressed. Why? The AF speed is just too slow for my tastes in this price bracket of $1100. The IQ is good it just seems to me like Nikon rushed it together to have something to compete with in the APS-C segment. If a camera does not have snappy AF these days I do not want to own it as it doesn't excite me one bit. At $1100 the coolpix A is not the best buy IMO. At $700, yes. $1100, no. I'd go with the incredible Fuji X100s for $1299 before I would buy a Coolpix A for $1100. Don't get me wrong, the Coolpix A has great imaging potential but so does the Sigma DP Merrill series, even more so actually. 
The new GR WILL be reviewed by me as it is a camera that excites me and makes me think of the possibilities. A pocket camera with an APS-C sensor, decent AF and a killer lens, all with the GR heritage. Amazing. The lens is a 28mm equivalent and has two aspheric elements and 7 elements total. The GR series has always been fantastic and I am thrilled that it has now stepped up to APS-C. The all black smooth design of the GR brings me back to the old film GR cameras. Sweet.
Take a look at the official video below on the new camera:
B&H Photo has the GR up for pre-order at $796.95, and that is a great price for a camera like this. My pre-order is in because I feel not only will this beat the Nikon Coolpix A but it probably will dethrone my fave pocket rocket, the Sony RX100! My crystal ball is showing me a price redux on the coolpix A soon… 🙂
Key Features of the new GR
16.2MP APS-C Format CMOS Sensor – I feel 16-18 Mp is perfect.
GR ENGINE V Image Processor
No Optical Low-pass Filter – YES!
18.3mm f/2.8 Lens (28mm Equivalent) – Nice wide FOV
3.0″ 1,230k-dot White Magic LCD Screen
Full HD 1080p Video Capture
ISO Range of 100-25600 – A GR digital with ISO up to 25,600 means 3200 will be great.
High Speed AF and 4 fps Burst Shooting
Image Effects and Macro Mode
Compact Magnesium Alloy Body – These bodies always feel great.
You can PRE-ORDER the GR at B&H Photo HERE!
You can Pre-Order the GR at PopFlash.com HERE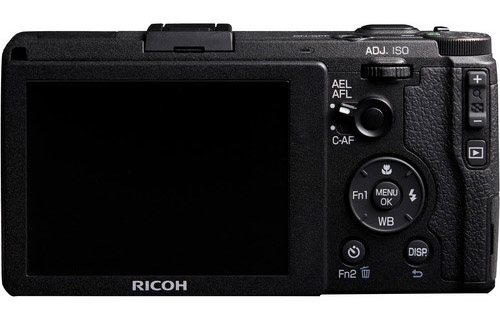 You can PRE-ORDER the GR at B&H Photo HERE!
You can Pre-Order the GR at PopFlash.com HERE
To me, that is what it is all about. Excitement. If a camera can excite me just from looking at specs and a video, then I am in. More soon and you can see my old GRIII review HERE.
Steve