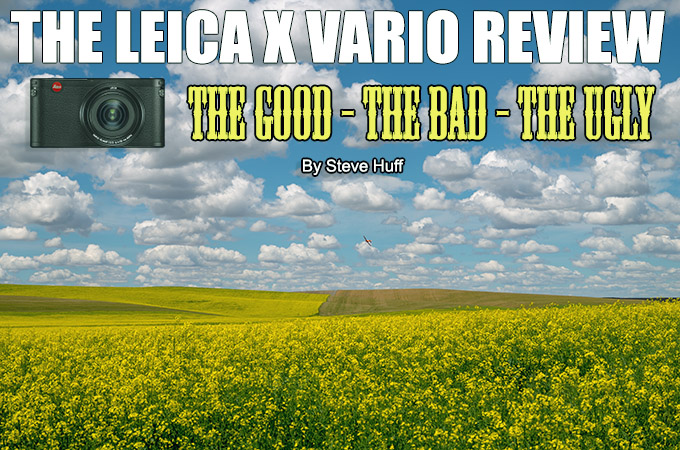 The Leica X Vario Real World Use Review: The Good, The Bad & The Ugly
By Steve Huff
Buy or check out the X Vario at B&H Photo HERE  – You can also pick it up at Ken Hansen, PopFlash.com, or the Pro Shop
—
Hello to all and as always, I hope every single one of you is having a HAPPY and amazing day, I know I am! Right now I am on a plane from Seattle heading back home to Phoenix, AZ after the hugely successful Palouse Road Trip. I had a blast and took some great shots with a few cameras, including the Leica X Vario.
[ad#Adsense Blog Sq Embed Image]
With quite a few images under my belt as well as opinions of others who also tried out the camera during the Palouse event, I have 100% come to my conclusion about this camera.  Is it a winner or a loser? Whatever I think may not matter though as this camera was judged out of the gate due to the specs, which on paper, look awful. In other words, there is a lot of hate, bitterness and negativity surrounding this release and not just from Leica users but also from users of other types of cameras. It's as if they let the attack dogs loose.
I know why this is though, and understand why that there are so many X Vario haters. It is the fault of Leica for promoting it as a Mini M. End of story. The X Vario is far far far from a Mini M. But with all of that out of the way, just how good of a camera is the X Vario? I hope to shed some light on that question in this review that is filled with images from the camera, with many full size images from RAW, as well as my honest and truthful thoughts.
Click the image for full size – X Vario at 28mm and f/8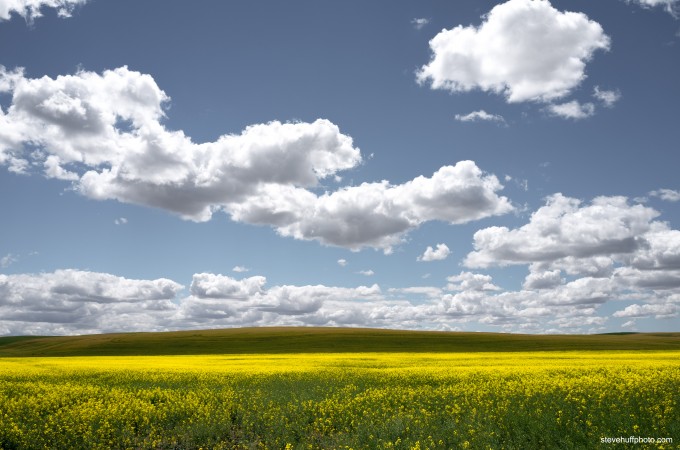 The Leica X Vario is the APS-C sensor size camera from Leica that promises big IQ, super build and a great simplistic user experience. It has the style of the M 240 shrunk down but with a long and large and heavy slow aperture zoom lens mounted. All for a big whopping $2850.
I managed to get a review unit sent to me by B&H Photo and have been using it and putting it to the test in many situations. Below are my thoughts…
BUT! Before anyone comments on this review with attacks and hate, know these facts:
I use ALL cameras that are on the market. I try them all. I have no favoritism to any brand and I keep and use what I truly love. The cameras I own are from Leica, Sony and Olympus. All fantastic for me and what I use a camera for. I say it like it is and do not go out to please or offend anyone. I am just honest.
What I write here is from my own experience when shooting the camera and I will post the good with the bad, like it or not.
Disclaimer: COMMENTING
Basically, I am not interested in comments from those who just want to comment for negativity. It seems that the Leica X Vario is a camera that has polarized quite a few people and for some reason, this has brought out hate and anger, which is always nasty and no good in life. So keep comments civil and relevant. If you do not , they will be removed. Simple. If you start posting hateful comments that attack me or anyone else here you will be deleted, plain and simple. I have a low tolerance for hate, bitterness, jealousy or idiotic comments from people who have no clue what the facts are. So keep the commenting civil and on topic please. Again, no personal attacks or slurs, no anger and hatred towards anyone and keep it on topic. Oh, and NO spam. Thank you 🙂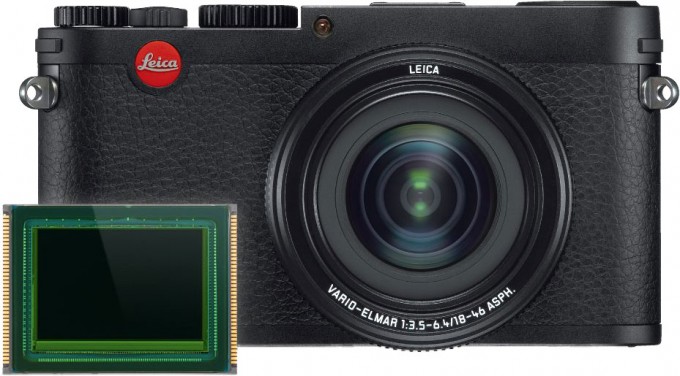 With that said, let us get started on the Leica X Vario Review!
Many of you know the massive negative press that has surrounded the Leica X Vario release and this is all mainly due to two reasons: 
1. The fact that Leica promoted and teased us with a "Mini M" when in fact they delivered a "Monster X"!
2. The fact that the Leica Vario is stuck with a slow aperture 28-70 Zoom starting at f/3.5 for the wide end and f/6.4 by the time you hit 70mm. At 50mm you are already at f/5.1! 
Add to this list that the camera is $2,850, more expensive that the ASTOUNDING Sony RX1 or new RX1R that not only has a full frame sensor, solid metal build and a 35 f/2 Zeiss lens without an AA filter! The Sony is a master of available light photography. That is its claim to fame in my opinion. Day or Night, Pub or Landscape..it is ready to roll. I can shoot the RX1 in B&W at  ISO 25,600 in a dim pub and get great moody results that I would use and print and I feel that Leica should be able to accomplish the same, but with the Vario that is a no go. The X Vario does not have this capability. Not even close. But it does have a talent that some of you may enjoy.
Since I titled this review: "The Good, The Bad, and the Ugly" I will go over each area starting with "THE GOOD" of the X Vario: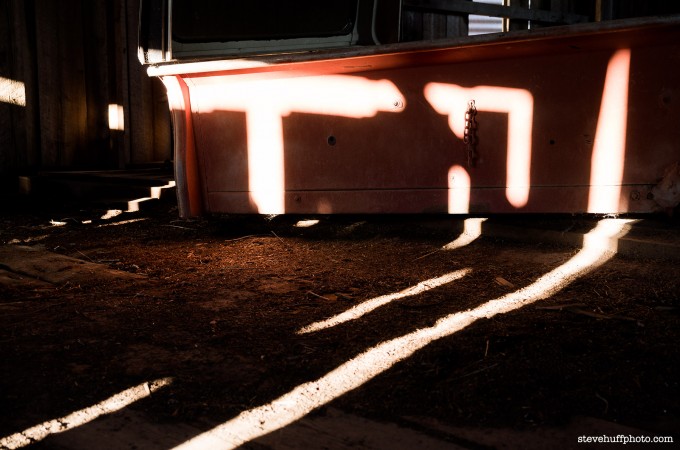 –
A video overview of the Leica X Vario
Before I get to the Good let me answer this question: "So what is the X Vario"?  Basically, the camera is an X2 sensor camera (PS-C 16 Megapixels, older sensor) with a slow zoom for $2,850. In any case, B&H Photo asked if I wanted to review it and of course I had to. I could not really judge it without using it and even when I trash talked it, I had a disclaimer saying that these were just my thoughts on the release and they are subject to change with use.
So what do I think after shooting it extensively in The Palouse and in other situations?
 Ashwin Rao and his Finacee Jen – ISO 1600 with the X Vario inside a restaurant (dim lighting)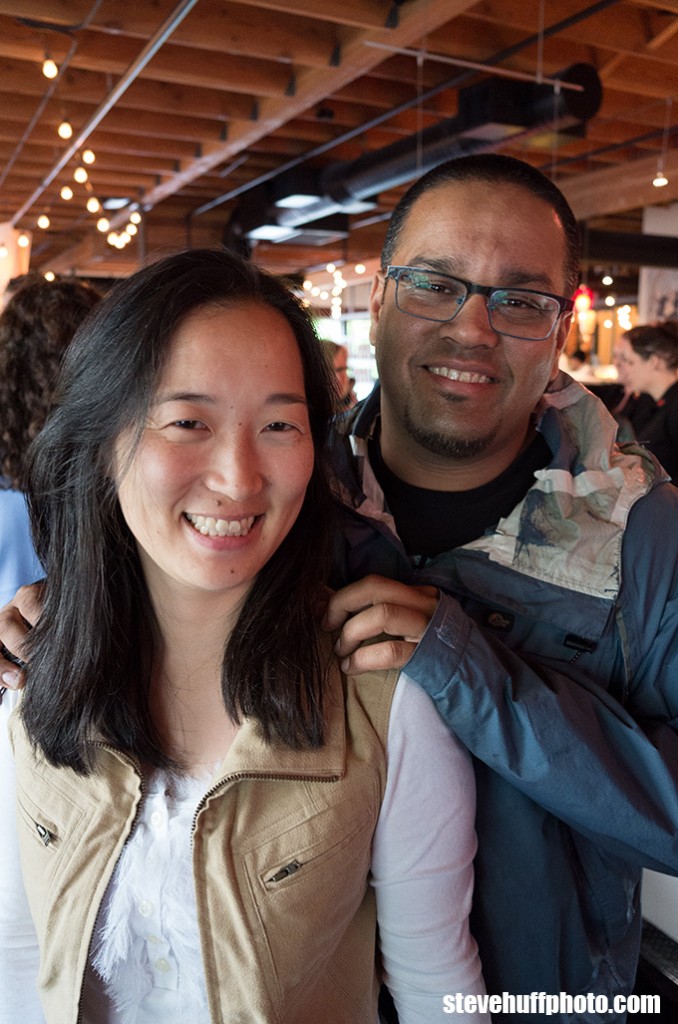 It's Built like a Leica – Made in Germany – It is NOT a Panasonic!
As I took the X Vario out to shoot during the Palouse road trip I was very happy with the build of the camera. It felt like it was built with a quality that is sorely lacking in todays mirrorless cameras. Most cameras like the Fuji X100, X-E1 and to some extent the Sony NEX series all feel more on the cheap side when you really look closely at the build quality. They work, and they take great photos and yes, they feel just fine but the build is on the cheaper end. If you have never held a real Leica then you would not understand and possibly would be in denial saying I am lying (it happens)!, but it is no lie. Leica cameras are built well and the X Vario is no exception. I love the feel of the Fuji X100 though, one of my fave camera designs in recent years.
BUILD QUALITY: This is not a rebadged Panasonic, this is a real German made Leica with a real German made Leica lens. When you hold it you know you are not holding a cheap camera. This is good but also causes an issue or two (which I will get to soon)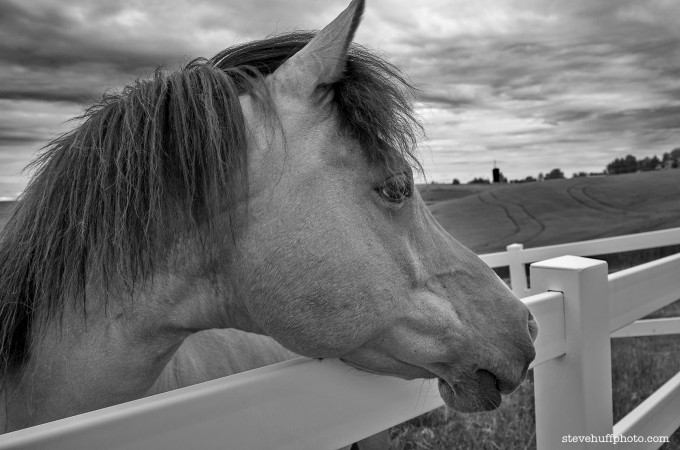 So when you first open the X Vario you will appreciate what it is, what it feels like and the beautiful design. But what about using it? After charging the small battery you can clip it in at the bottom and start shooting. When I turned on the Vario I lifted it to my eye and then remembered..there is no EVF built in at all! This kind of camera should indeed have an EVF or VF of some sort built in but I had the external so attached it and started to shoot. I feel the same way with the RX1..it should have had an EVF built in. But somehow these companies would rather sell us an accessory for $500 than to include it in the design.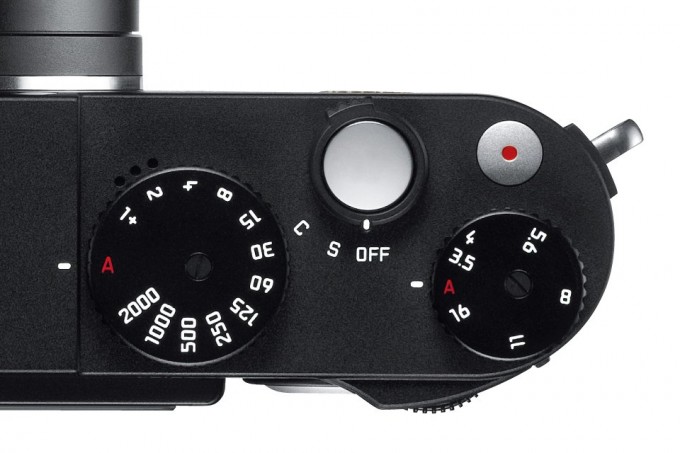 Remember, this section is all about the GOOD of the Vario. I will get into cons down below.
The Auto Focus is Good, but not GREAT!
In real use the AF is "medium fast" in good light. What I mean by that is that if you take the X Vario out in the sunshine you will have decent to superb AF performance. If you shoot in good light you will also be rewarded with beautiful files out of your camera. The color, the detail and the sharpness is just about as good as it gets from APS-C. Second to none, and no the Fuji's can not beat it or match it. The IQ has a crispness and acuity to it that is hard to describe in words, but it is there.
But, if you shoot indoors or in dim light, be prepared for frustration (more on that below).
FULL SIZE FILES FROM RAW FOR YOU TO LOOK AT with an X-E1/Zeiss vs Leica X Vario file!
Click on the images below to see the full size 16MP output. These are all from RAW with some slight enhancements to contrast. saturation and sharpness. I basically made them ready for print so they are sharper than normal. Feel free to print them if you like.
BUT YOU MUST CLICK THEM TO SEE THEM FULL SIZE. This is what the X Vario can do image quality wise.
Palouse Falls..gorgeous rendering. I also shot this with the M 240 and a 15 as well as the Fuji X-E1 and Zeiss 12mm Touit, which is beautiful as well and a $2000 combo. I will show both the X Vario and Fuji full size shots but the Vario was shot at 5.6 and Fuji at f/8. I thought they were both f/8 so take this as not a sicenticic comnparison but as a comparison showing what each combo would do with the scene and color, etc. The Zeiss is a 24mm equiv and the Leica a 28mm equiv.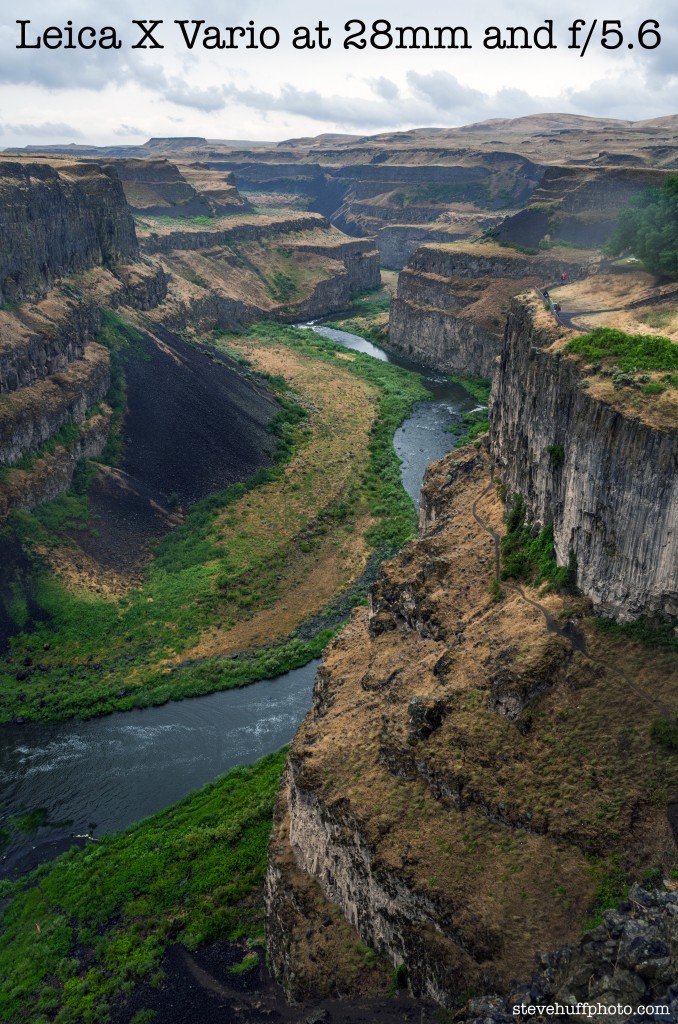 –
Now, the Fuji X-E1 with Zeiss 12mm Touit (which is a superb lens)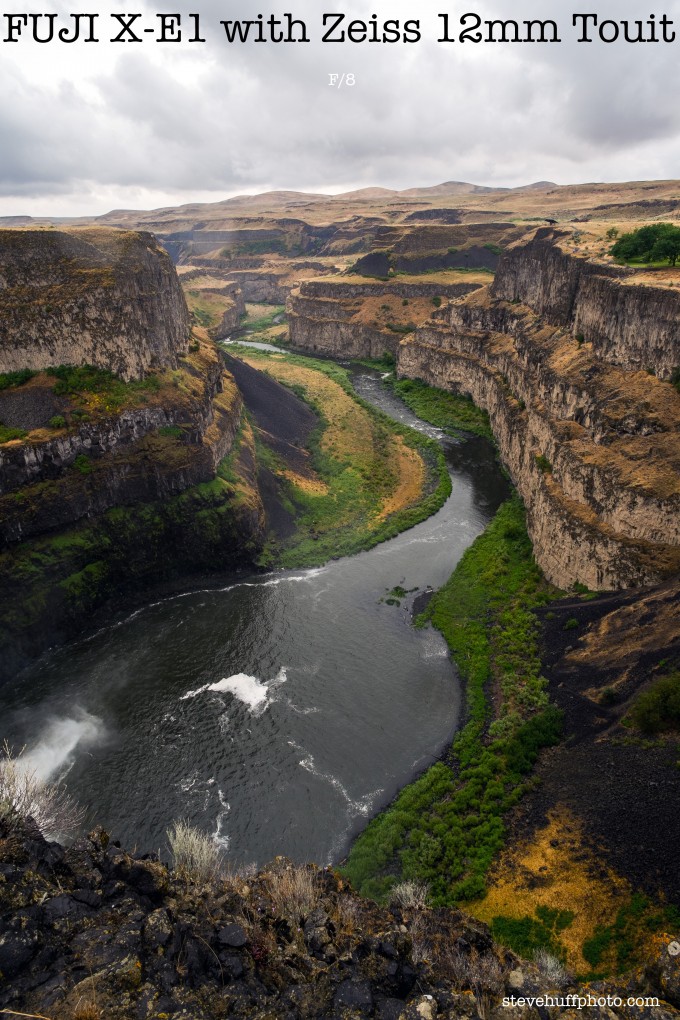 If you download both of the files above you will see that the Leica looks great at 100%. The Fuji also looks great but it does still have that issue with Adobe conversions. Look closely at 100%. In any case, both are great and would print wonderfully. The Fuji combo comes in at about $2000 as the Zeiss is a $1250 lens. You could take that extra $800 you save over the Leica and buy the Fuji 18-55 Zoom and still have a couple of hundred left over. But if given those options, I would take the Leica. FACT: The Fuji is not made as well as the Leica and is not as simplistic nor is it as nice in the design, but it is a capable camera. It feels different though. While shooting it with the 12mm, which is a high quality wide angle I started to see what it could do, but again, for scenes like this, most cameras will do fantastic 🙂
In any case the Leica feels like a Leica. The Fuji, well..I will leave it at that.
Behind the Scenes: Here is an image of me taking the shot below this photo. Photo of me by Bob Towery  – (NOT with the X Vario)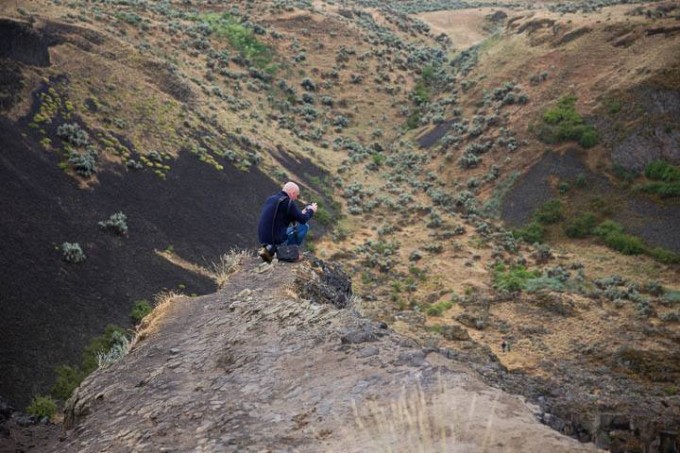 and the photo I was taking? This is it, click it for full size!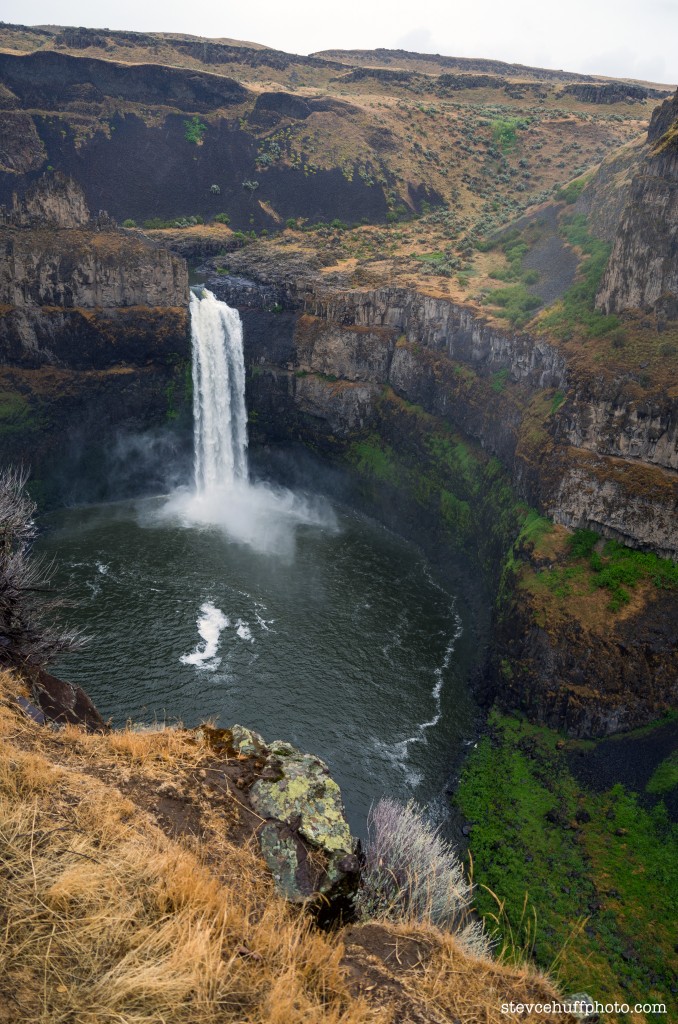 –
Another full size image of Sarf from the X Vario who attended our Palouse Road Trip. Look at the detail in his face, which is where I focused. Amazing color here as well. DR looks good. No mush.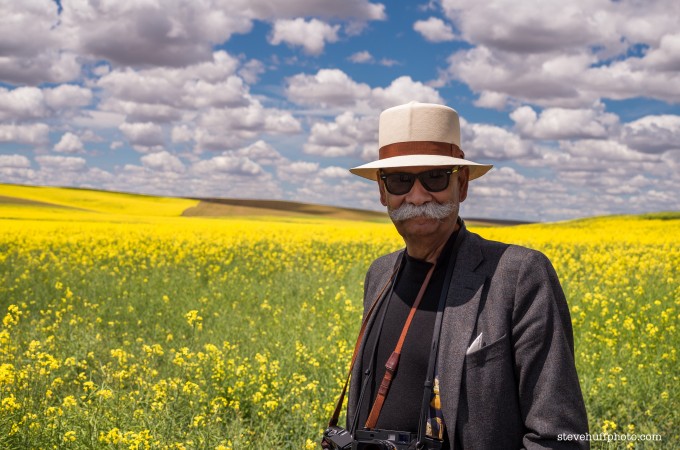 So the camera delivers the goods when shooting in good light but so do many other cameras that cost much less!  I shot this trip with a variety of cameras including my M 240 (you can see those shots HERE), a Fuji X-E1 with Zeiss Touit lenses and even a few with Ashwin Rao's Pentax 645D. ALL of the cameras, even my iPhone, did good in this light and scenery. Of course the phone did not match the others but when viewing on the phone, it looks really good 🙂 The Vario sort of blew me away because the lens is A+ excellent. Those who have never seen it, held it, or tried it but trash it or call it a crap lens are delusional and have no clue about the reality of the lens. It's solid, but slow but damn good.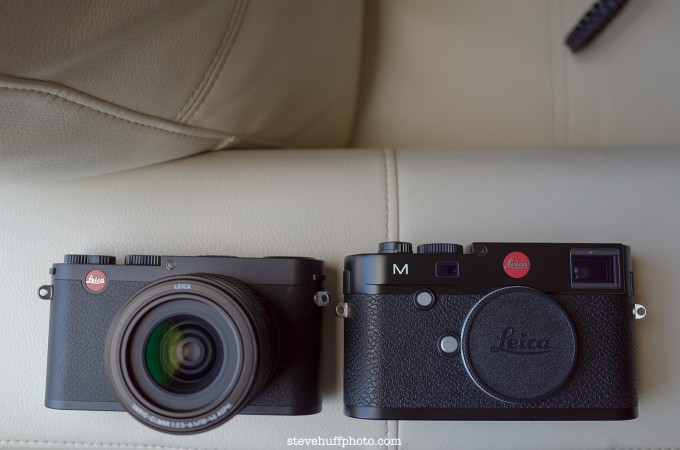 IQ is Top Notch in Good Light, Not bad in low light
The X Vario, for me, beat the Fuji X-E1 slightly for color and IQ. Again, I have no axe to grind nor am I showing favoritism. It is what it is and my own opinion. BUT…that is not the end of the story. The Fuji held its own and I would not be unhappy with the IQ coming from it, and I was not, not at all. In fact. the Fuji files looked quite nice. The question is this: Is the Leica worth $1000-$1500 more than the Fuji X-E1 and 18-55 Zoom Lens? Hmmmm. It is if you want a real Leica. If you could care less about that, then it probably is not. Not technically anyway.
Also, if you feel that corner to corner sharpness is worth that cost, the X Vario may be up your alley as the lens on this guy, while painfully slow, is very sharp and very Leica like. In fact, it does not get any sharper in APS-C. The Sony NEX-7 with a great lens is sort of there but with a different color flavor. The X Vario lens is Superb when it comes to sharpness, distortion, CA and color. Period.
High ISO
ISO performance was very good. Not Fuji Good, not Sony RX1 good, and not quite as good as most modern cameras, but it gets very close. At ISO 1600 it was usable and acceptable. ISO 1000 looked great. See below for proof:
ISO 1000 – this was taken indoors and there was some light coming in on his face, this is how I was able to nail the focus with AF. Without that light, the AF would have failed or taken 1-2 minutes to get a lock from having to constantly retry. The color I see from this camera is exactly like the color I had coming from the X1 and X2.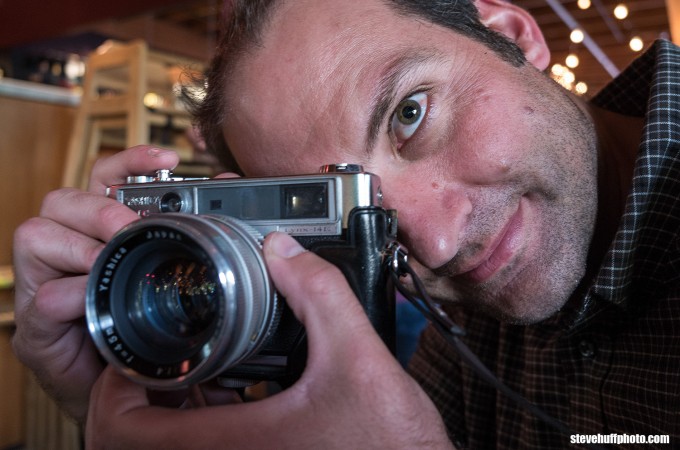 –
This shot was taken at ISO 1600, 28mm, f/3.5. The IQ is there no question.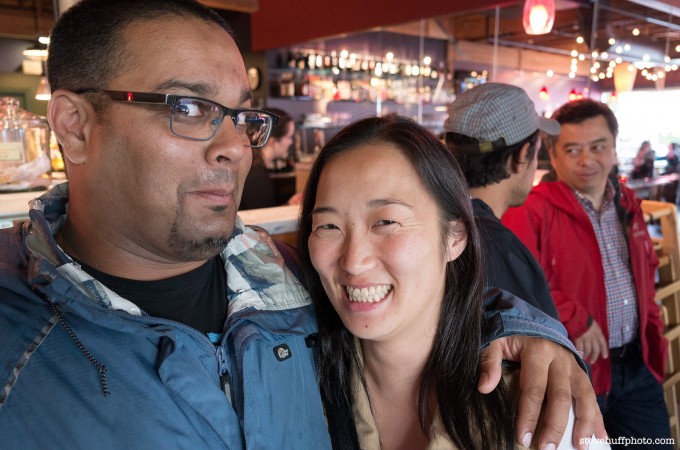 So with ISO performance like this, the slow zoom on the X can almost sort of be understood. While you will never get shallow DOF like you can get from an M with a fast lens, you can take pictures in lower light situations, sometimes..as long as the light is not too low because then the camera will not focus very well. This is where manual focus can work for you though, and the MF of the Vario is VERY good and nice to use. It will just be a slow process.
The greens look great from the X Vario – This is a resized JPEG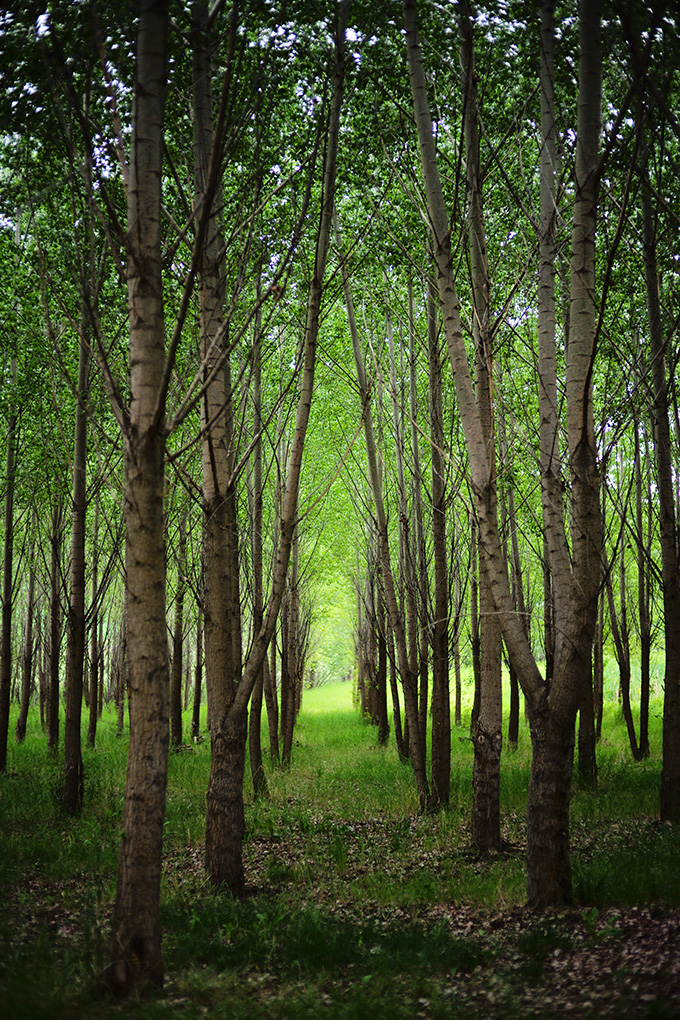 So the Leica is a superb image quality camera. But is that all it has going for it? Build and IQ with superb sharpness? Is that not everything we need in a camera? Well, not exactly! What about other things such as lower light, depth of field control, shooting in less than perfect daylight, grip, battery life, etc? Well, that all falls under the "Bad and the Ugly" categories 🙂
The X Vario while having superb Leica build and design as well as delivering gorgeous photo results in good light is not perfect, nor close to it. In fact, it is far from it. I have always said that no camera is perfect but the X Vario has a few things wrong with it. I will list them off below in this "BAD" section but keep in mind, I still have to get to the UGLY! Either way, the IQ rocks in good light. If you like the "look" of these files no other camera will give it to you besides the X1 or X2 but the X Vario is the fastest to AF of the three as well as being larger and with a better menu/software setup. But let us see what is wrong with the camera, at least in my use. Details after the pic!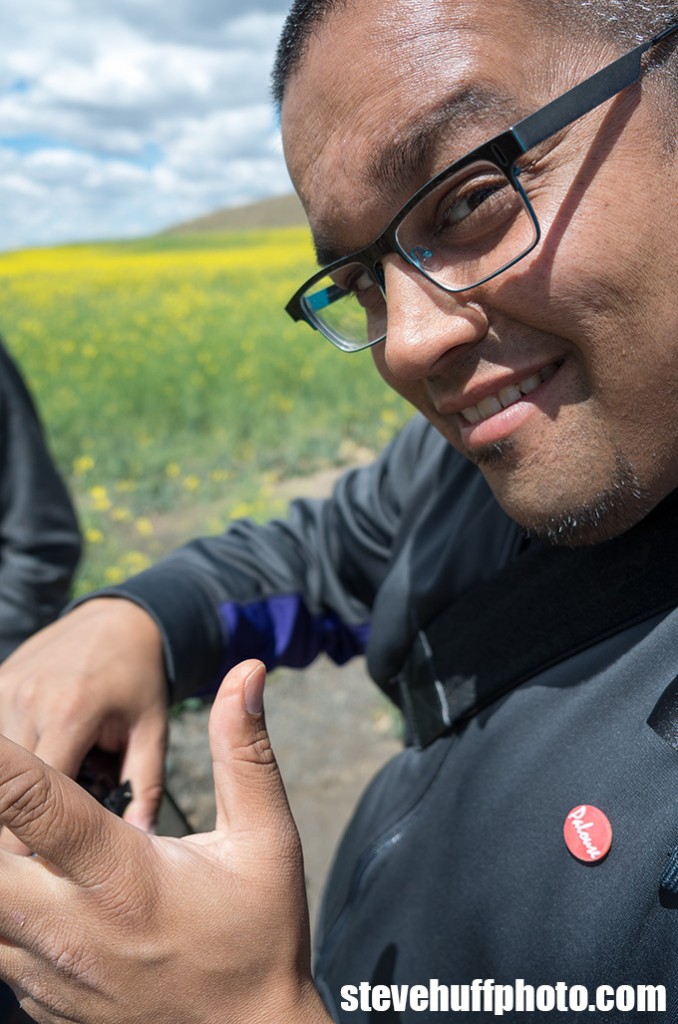 It's Awkward to hold
The Leica X Vario while having that nice design and build looks awkward. It is large, almost M sized but thinner and slightly smaller. The lens is so heavy it makes the camera front heavy and because of this, it feels awkward in the hand when shooting. There is no grip and it needs one badly. For me, it feels odd shooting it as it does not have a built in VF and is front heavy. If a camera does not feel good in my hand then I will not use it, I will not bond with it and I will not be inspired by it. One reason I never bonded with X-Trans Fuji's is due to the dodgy AF they had early on as well as the (what I feel are) flat files that come from them in some lighting. 
So the feel of the X Vario fails in my book. The lens is too large. You will need the Grip accessory which will set you back another $200+. 
It's Awkward to Shoot
When shooting there is no EVF to look through unless you shell out $500 for the Leica EVF or $250 for the Olympus EVF-2. Even then, with the EVF attached the camera looks quite odd..and LARGE. When you start getting to this size you have to ask yourself..why don't  I just go buy a Fuji X-E1 or X-Pro 1 and a 18-55 Zoom? Maybe a Sony NEX-7 with zoom or better yet, a Ricoh GR with the APS-C Zoom that will come in at less than $800 and deliver results just about on par with the Leica. Hmmm. Because there is no grip, it is uncomfortable holding the  camera out to frame. IMO, the EVF is mandatory so expect to add that extra cost if buying the camera.
So add another $250-$500 for the EVF depending on which one you get.
Battery Life
Battery life is short. I was able to manage a couple hundred shots but my M goes for 3 days. To be fair, the Sony RX1 batteries are puny in life as well so expect to buy 2 extra batteries with the Vario as battery life is below average. You may be able to get 300-320 if you do not chimp.
Buy two extra batteries, another $200 or so
It's not for Moving Subjects
The camera is not meant for action. I tried shooting some kids walking or moving and it just was not having it. This was out in daylight. Missed the shots and the camera just can not focus on anything moving. This is a camera where you will need control over your subject. Same as the X1 and X2 really. You can capture those shots though of you use manual zone focusing and set your aperture to f/8 or so. Then the camera becomes an easy street shooter. But you can not do this with AF.
AF in low light is SLOW
Shooting in low light? If so, forget the X Vario. At a dinner I passed around the X and asked everyone to take some shots and let me know what they thought. Keep in mind, 90% of these guys are Leica shooters who love Leica. By the time the camera came back around the comments sounded something like this:
"If I owned this camera I would be throwing it against the wall"
"Is this for real or a joke"
"It wont focus"!
"That laser light is bliding me"! (Speaking of the light that helps to aid AF)
No one liked it. Not one said they would buy one. Most of these guys were shooting M's and were Leica's core customer. They said NO GO just due to the fact that in dim light the AF was failing badly. This would not be so bad if we were speaking of a $500 NEX system but this is a $2850 camera and we also had a NEX-5R at the Table that focused super fast (though it did misfocus twice). The Vario was frustrating unlike shooting it at The Palouse in the daylight. In good light it was speedy, snappy and delivered consistent results with gorgeous colors, AWB, detail right out of the box. In low light it was frustrating to use.
When the camera DID focus, it did an OK job at these higher ISO's though. Below is an ISO 12,500 shot direct from camera – JPEG B&W.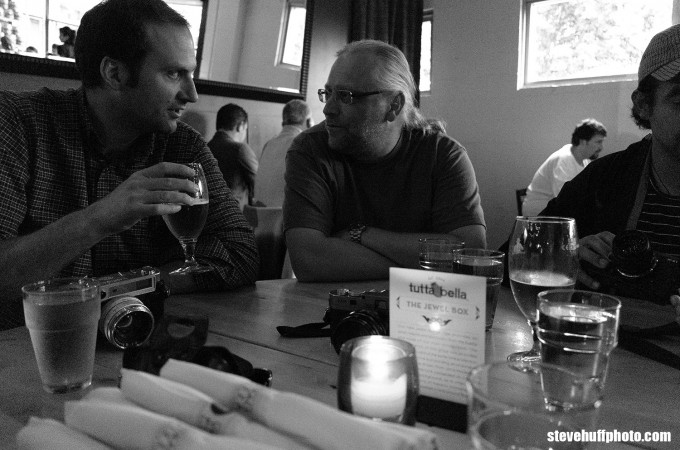 So the bottom line for low light? It's not a good REALLY low light camera unless you want to use Manual Focus, which works good actually, but it will slow you down. Also, usually in low ambient light I like to shoot images that portray fun, have some character to them, some glow. The X Vario files were fantastic as long as I got some light in the subject. So sometimes it will NAIL IT and look amazingly good. The lens is excellent on this guy as long as you have enough light to focus and give a nice lower ISO.
An X Vario shot of Bo Lorentzen (taken by Ashwin Rao) while having lunch. Love the light here and in this situation the X Vario rocked it. Click it for larger. EXIF embedded.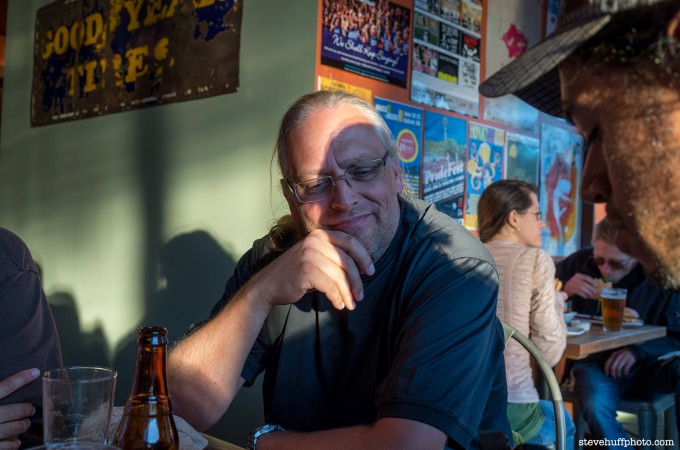 As you can see above it worked well in a cafe with ambient light. So it is only when the light gets low or dark that you will need to put away the X. But landscape guys, this one is a lovely piece of kit.
For Example, our Guide in the Palouse, Ryan McGinty said he would buy one if he could as he was in love with what it could do. He shoots in The Palouse almost every day as he lives there. He got to see the output from the Leica Vario, the Fuji and other cameras and he said that no other camera files that he saw did it like the X. He has no bias either as he shoots with a Nikon and an old Film camera.
So if you are strictly a daylight shooter, it can and will work for you. If you shoot in ambient medium indoor light like the image above, it can work for you as long as you stay at 28mm and f/3.5. If you shoot street, action, or at night, go for an RX1 or Leica M or Fuji X100s because the Vario can not do those things well unless you only shoot in Manual Focus. If that is OK with you, the X Vario does indeed deliver the goods in most situations.
SO what about the "UGLY". Are there things about the Vario that are so bad that I would deem them to be "UGLY"? Well, yes there are.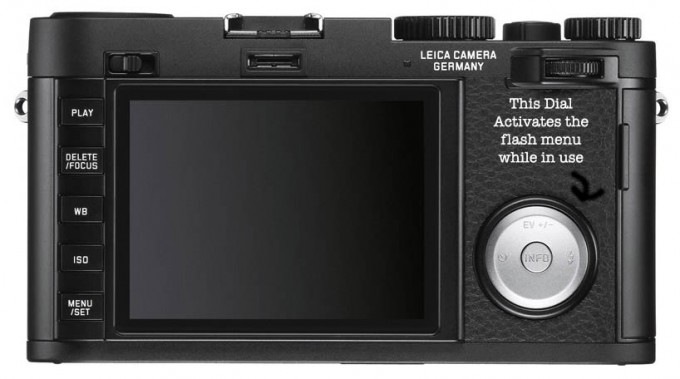 That damn control dial on the back!
Everytime I went to shoot this camera and hold it in my right hand as I always do my palm would activate the flash menu on the control dial on the back, which is placed right where you hand goes. I thought it was only me but it happened to several others. You go to frame a shot, you look through the EVF and BAM! Your image is gone and replaced by the flash menu because the lack of a grip on this front heavy camera. I searched and searched and found no way to disable that dial, so that frustrated the hell out of me, big time. Made me not want to use it as it happened EVERY TIME. If I was on a pro shoot with it I would have put it back in my bag and used something else.
Nice detail, color and light here – click it for larger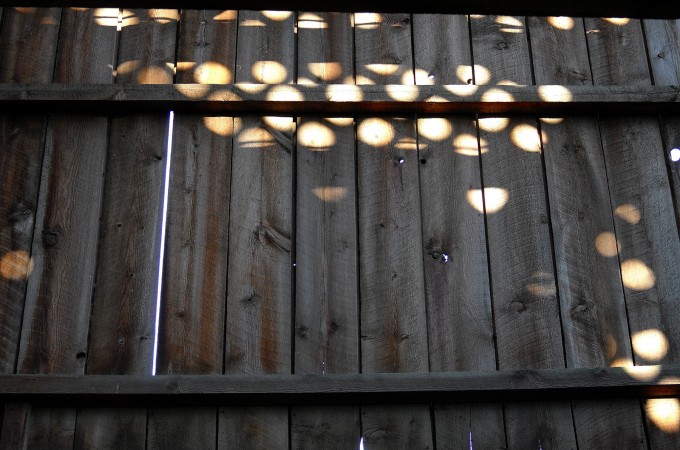 The Aperture of the Lens
This has been talked about to death on the forums and is one reason why there is so much hate for this camera. The big slow lens. When I say slow, I am not talking about slow to AF but slow Aperture. While the camera is no speed demon for Auto Focus, in good light it can get the job done easily as long as you are not trying to shoot anything moving. In other words STATIC is the name of the game with the Vario.
With such a slow aperture you may find yourself outside shooting at 70mm on a cloudy or gloomy day and having to bump up to ISO 800 because you have to be at f/6.4, which is wide open at 70mm. OUCH!
Even at 28mm you will get 3.5 which is OK, but far from fast. The only way you CAN really shoot indoors is at 28mm because once you zoom into 50 or 70mm you will NOT have enough light for a fast enough shutter speed and you will get a blurred image. There is a built in flash and some will be happy to use it.
But this lens is slow and therefore a one trick pony type of thing. It does that one trick extremely well though.
At 28mm you will be at f/3.5. By 50mm you will be at f/5.1 and by 70mm you will be at f/6.4. You will need light.
The lens is very sharp! I found myself always shooting at 28mm, well, 95% of the time. This way I could at least be at f/3.5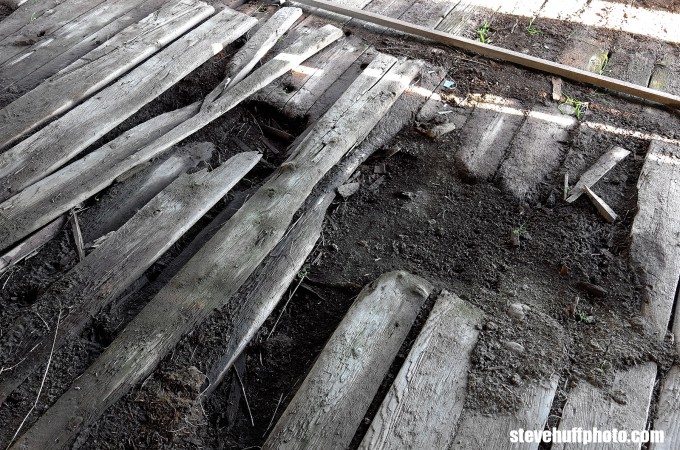 Leica said they had to keep the lens aperture slow to keep the size down so they can make the camera compact. The only problem is, the camera is very large as it is and NOT compact. I feel if they did a faster f/2.8 28-50 it would have been a better choice. 28-35-50. Add a VF and bingo. Some people love to stop down though so if you are one of those shooters, the X Vario could be your cup of tea 🙂
No Real Image Stabilization
This camera is advertised as having Image Stabilization which would help with the slow lens. The problem is that it is the same I.S. that is in the Leica X2 and it just does not work well. It is software based. I did in fact test it and there is in fact a slight improvement but it is nothing like real I.S. But damn, sometimes you have to say SCREW IT. Once you look at the output and the colors coming out of this camera it makes you want to just forgive it for its little quirks. In some ways, the IQ beats the M – much more crisper, and better OOC colors and WB.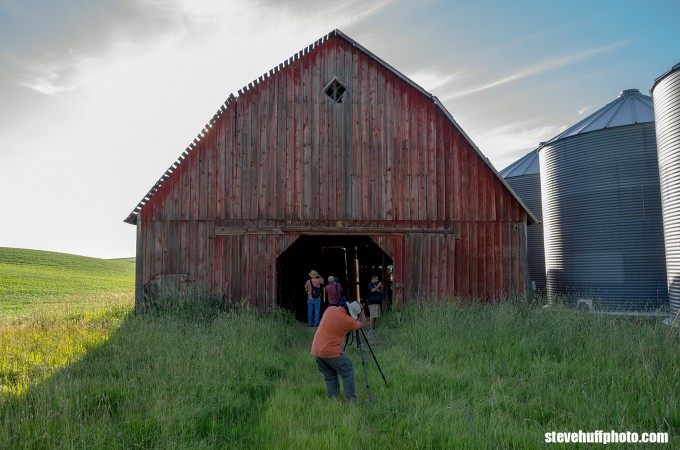 Depth of Field
This camera will never give you the kind of images that many associate with a Leica M. Nope, this Mini M just cannot do it due to the lens being so slow in Aperture. To get those nice blurred background effects to isolate your subject you need a fast lens. Something like a 50 1.4. At 50mm, the Vario is at f/5.1 and does not really give you any isolation of anything. Again, some prefer this and in some situations it is the way to go.
In many cases, you WANT large DOF.
But even then…I was shooting a scene in The Palouse with some cattle. I had my M 240 and Voigtlander 15, the Fuji X-E1 and Zeiss 12mm and the Vario. I was shooting the M without any issue, getting some cool wide angle shots. I then slapped a 50 on it and took a portrait of a little girl at f/1.5. Gorgeous results with both (see those here). Then the Fuji and 12mm, which is a SUPERB lens, gave me wonderful results as well. The Fuji focused very fast with the 12mm and it is a combo I started to fall for  in the wide angle realm. The combo of the X-E1 and 12mm is a nice one, and very fast and sharp. I may not always prefer Fuji output but it gave me some beautiful images using that Zeiss 12mm Touit.
The Vario on the other hand was a pain. It would not focus fast enough so I missed three shots with it right from the get go. In the bag it went. I was able to get a couple of static shots though.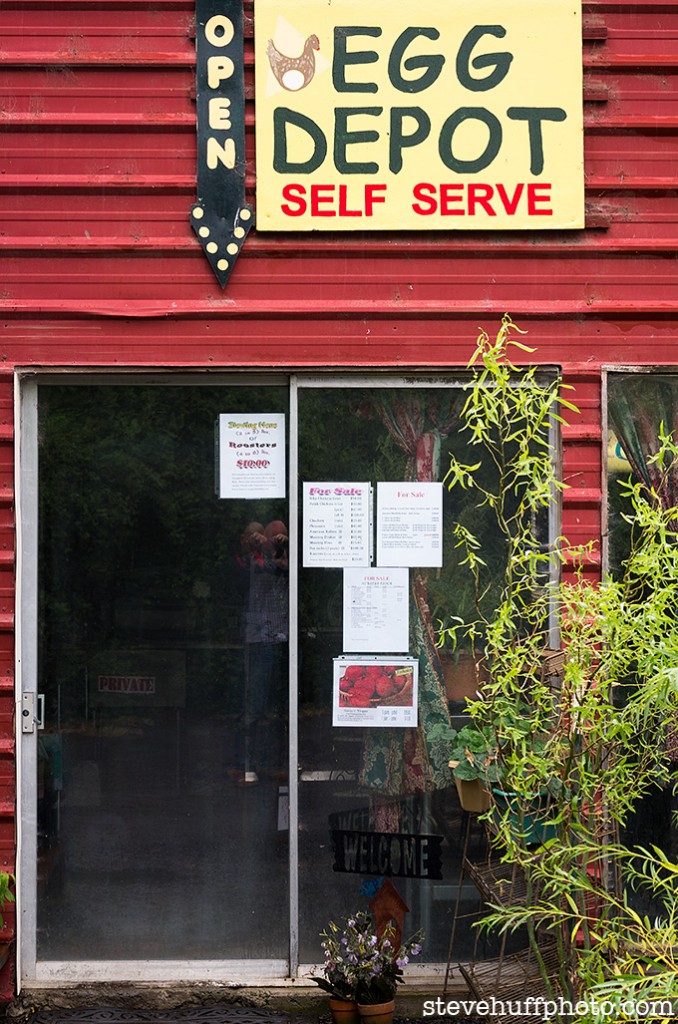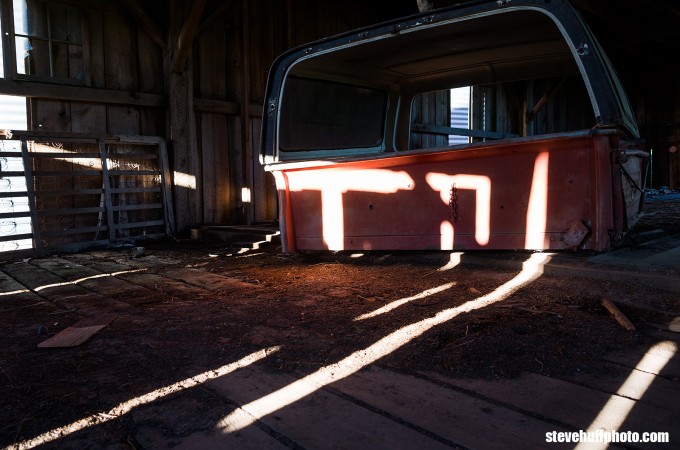 The Price
Finally, the cost. At $2,850 there are other choices that I feel are better. Namely, the Sony RX1 or new RX1R without AA Filter. The Sony cameras are SUPERB in build, feel and have one of the best 35mm lenses attached. It is an f/2 35mm Zeiss lens that gives amazing detail, character and can be a low light monster. The Sony is one hell of a camera and would be my choice over the Vario if you want to spend $2850. BUT if you prefer the style, design and the images from the Leica and do not mind a slow zoom, this could be something you adore. It does give you pride of ownership due to the beauty and build of the camera. The IQ is in a league of its own and is much different than any other APS-C or Full Frame camera. Vibrant, Alive and Beautiful.
I buy cameras for my own use that perform. For me to buy a camera I have to love shooting it, feel confident in what it can do, it has to be versatile and it has to be made well and offer IQ that is at the top of the game. This is why I own and shoot a Leica M and a Sony RX1. For me, I could care less about name. In fact, my M is now all covered by clack dots to hide the red dot and M logo. I could care less about all of that as I am not a guy with loads of cash who buys Leica for that dot. In fact, I do not know of any people that do. Everyone I know who shoots Leica loves them for what they give back to their photography wether that is emotional, physical or in the quality of the images.
Everyone I have met from uber rich to well off to low end of the income pole all love their Leica M's because it is a camera that has something about it that no other does. The ones who do not shoot with one hate it when I give props to it but I am tellilng it like it is. A camera is much more than output of the final print. It also has a ton to do with feel, emotion, bonding and getting to really know and enjoy your camera. The M and RX1 offer me this. The more I use the Vario, the more I start to feel that it could also do the same..but it is taking some time to bond with.
Truth be told, for $2,850 I would have expected a faster lens, an included hood or a camera that is much more versatile. If I were spending $2850 today it would be on the new Sony RX1 without the AA filter or it would go towards my Desert Island camera, the M 240 (which I already own, and is already wearing in well).
I can not fault it on the QUALITY of images or the QUALITY of the lens.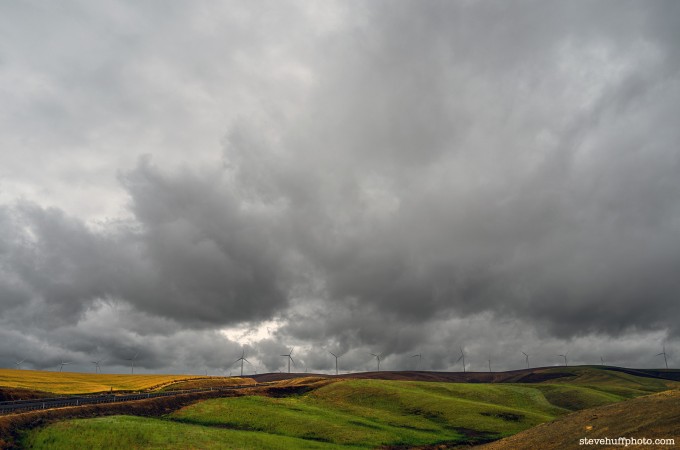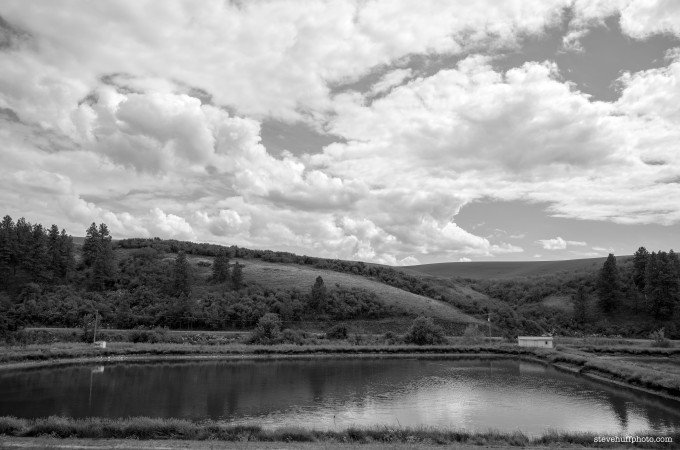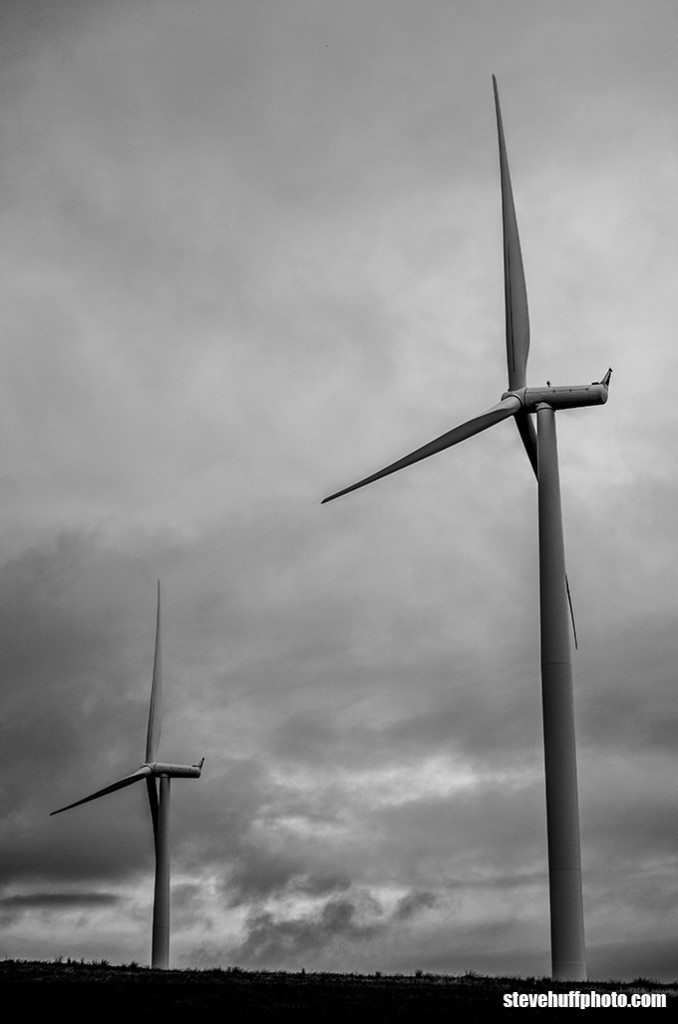 Pros and Cons of the X Vario
Pros
The IQ is stunning

APS-C Sensor from the X2 But modified for better performace
Thinner AA filter than X2
The build and lens build is 100% Leica
This is NOT a rebadged Panasonic
Simplicity is nice
Dials on top are sturdy
ISO performance is much better than the X1 and X2
Packaging is very nice
HD Video included if you want to take a short movie
Comes with a nice charger and nice leather strap
Cons
Camera is too expensive at $2850 for most users 

Camera needs a grip as it is front heavy
Lens aperture is just too slow for anything but daylight use
AF is good in nice light but slow in low light
Control pad on back is in the worst place and disrupts shooting
No EVF built in but an optional $500 accessory
IS NOT a Mini M in any way, shape or form
Images lack character in some situations (not much different than other cameras)
Battery life is on the short side so you will need another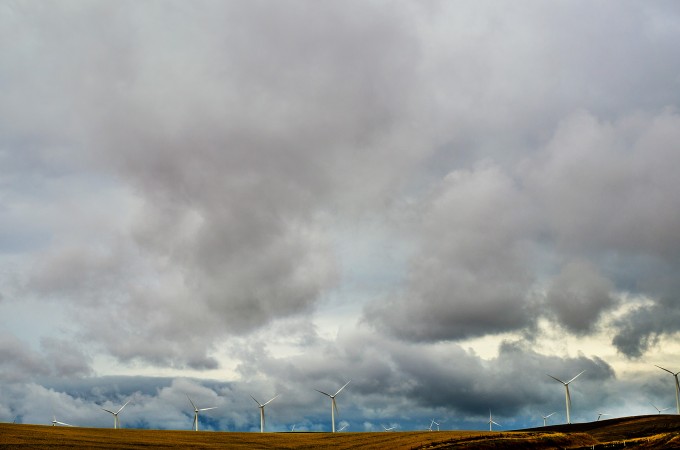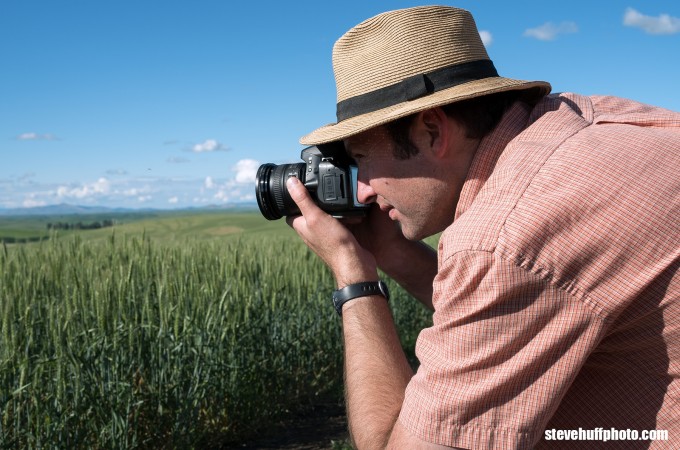 My Final words on the Leica X Vario
This was a tough one. While using the camera I had days where I loved it and wanted to buy one due to the output in that perfect lighting at the Palouse yet on other days I was ready to pack it up and ship it back to B&H Photo. It is a camera that can please you one moment with its amazing colors and output and simplicity yet at the same time it can frustrate the hell out of you with its "kind of "limited capabilities.
At $2,850 this is on the high end of APS-C cameras. The X Vario is basically a high end large sensor point and shoot that does offer a different look than the Sony, Fuji and Olympus cameras but is that look worth that extra cash to you? It is a beautiful look indeed.
To those who shoot perfect lighting landscapes, this camera is quite amazing and astounding. Rich detail, nice dynamic range and great color delivers time after time in those situations. But in my use with the camera, as well as others who were with me, the camera failed on function. Holding it is a pain, the back control pad is placed in an awful spot where your palm will activate the flash menu as you try to shoot and the camera feels awkward to hold. Low light performance CAN be good if you can focus the thing but expect to shoot at high ISO. You will need to spend more on it to make it just right – The grip, extra batteries and the EVF. About $1000 extra which brings it to $3850.
High ISO is decent as the ISO 1600 shots I took showed me the detail sticks, just like a Leica should. I can not stress enough that the IQ from this thing is AMAZINGLY good.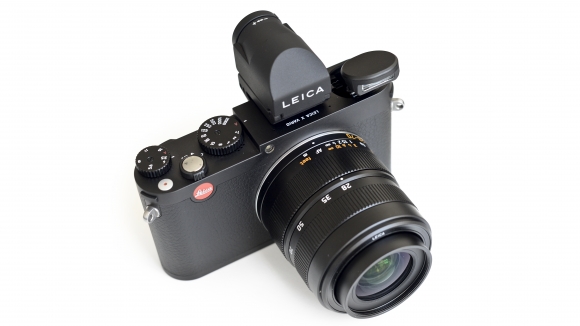 I have never seen a camera release gather so much hatred and anger though and to me this is concerning. Are we all really that miserable in life that we have to come to a website and personally attack others who like camera A or B and not C? Do we have to come here to fight and argue when in reality, there is nothing to argue about. We have an amazing life to live yet this thing is just a tangible object. A camera. There are many cameras and almost all of them can be used for whatever you like to shoot. Differences are there to be seen but in most cases they are small and really do not matter.
The X Vario is one of the best APS-C cameras I have used for daylight shooting but that does not mean others can not as good of a job or take the same shots. This Leica release is for those that want a well made, well built German camera that has a reputation for quality and those who want this camera could care less about shallow DOF or superfast focus or price. Those who want a Leica will buy a Leica.
As I look back at this review and the files I shot with the camera I am VERY pleased with what I see. But for me, the X Vario would not be a contender due to the fact that I can not get shallow DOF when needed, and I could not use it for anything moving quickly or even in dim light. I love cameras that have a light sucking ability 🙂 Cameras like the M with a 50 1.4 or a Sony RX1 or a Fuji with a Leica lens attached. The Vario is just to limited for my daily use. For you it may be a dream.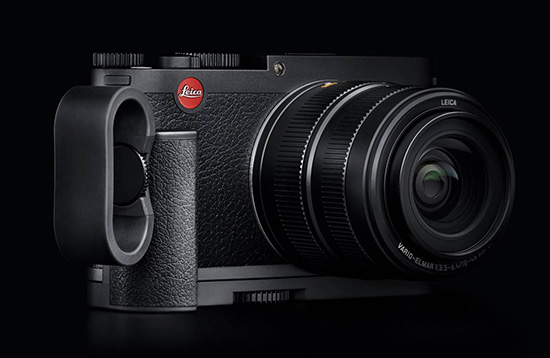 Yes, the X Vario is beautiful to look at and appreciate, and it will fill a need for some and I applaud anyone who buys a camera that THEY will personally enjoy and love to shoot. That is what it is all about. I get attacked because I do not use Fuji, because I could not bond with the X Bodies. Someone who buys an X Vario should not be attacked because they bought it for a reason and wether that reason is for  the build, IQ or even the Red Dot it does not and should not matter as they bought it for THEM with their own money.
I feel we should enjoy the images coming from all cameras, including this one. Let us worry about what to shoot, where to travel to get shots and what new and exciting things are around the corner. If something is not for you, then ignore it. If it is, go for it as we only live once.
With that said, I am afraid that the Vario may be a sales flop due to  the negativity surrounding it at launch. Sony is releasing amazing things and Fuji is hot on the heels of Leica. C'Mon Leica, step it up and deliver what we really want. A MINI M. This camera with an M mount or a new lens mount that can mount M lenses with an adapter while offering new lenses for a new X "system". If this camera offered that it would have been a huge hit and it would have sold loads of lenses for Leica. They feel it would have eaten into M sales but that is not true as some will not settle for less than a full frame traditional M.
Overall a solid release with some flaws and a larger price tag, but hey, it's a Leica!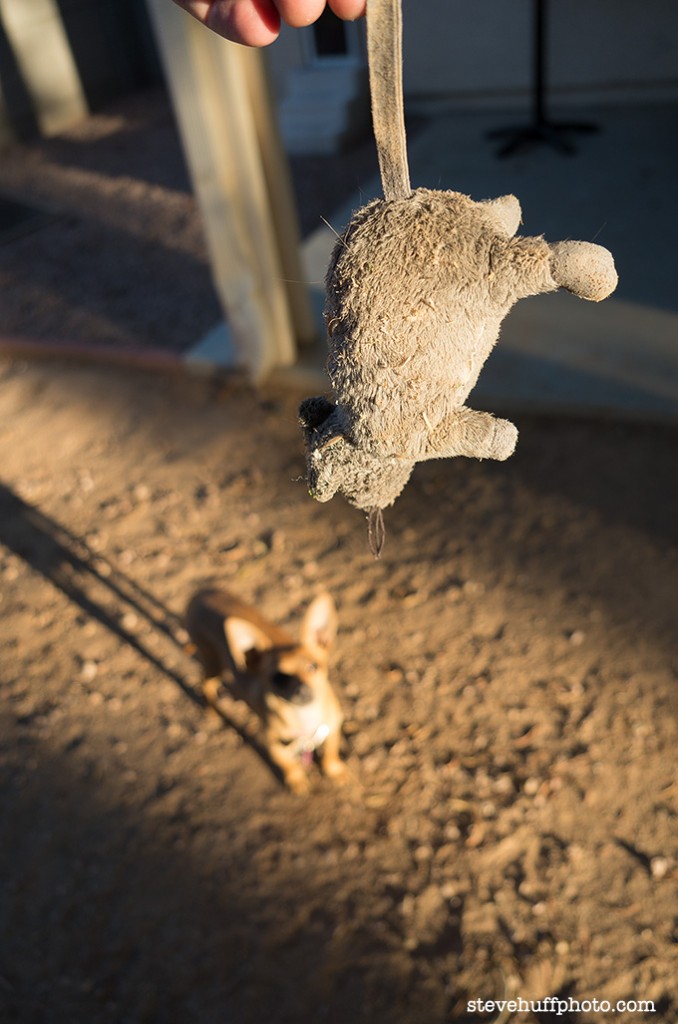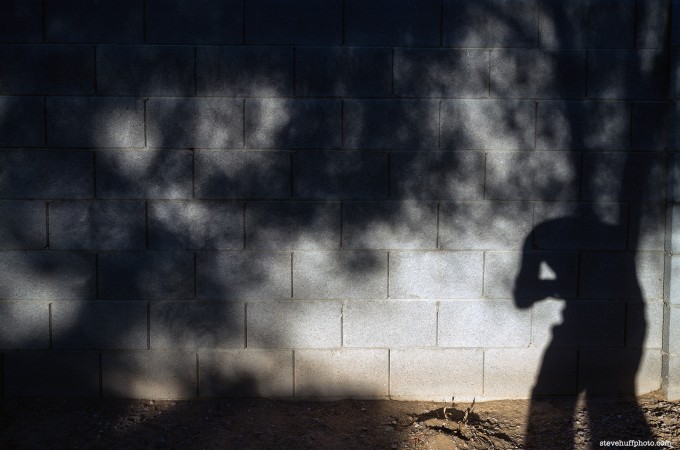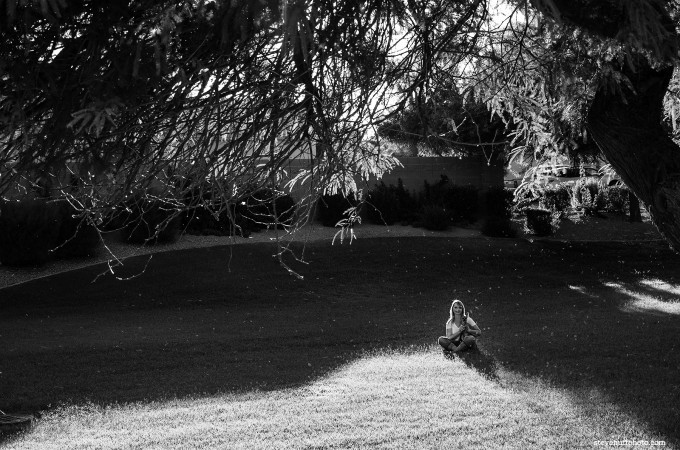 Where To Buy The X Vario!
Most of my site sponsors sell the Leica X Vario but B&H Photo was the only one who offered to send me one for review. They have the X Vario in stock at the link below:
Buy or check out the X Vario at B&H Photo HERE
You can also pick it up at Ken Hansen, PopFlash.com, or the Pro Shop
1st shot is ISO 1600, 28mm, f/3.5 – shot by Ryan McGinty at dinner while being passed around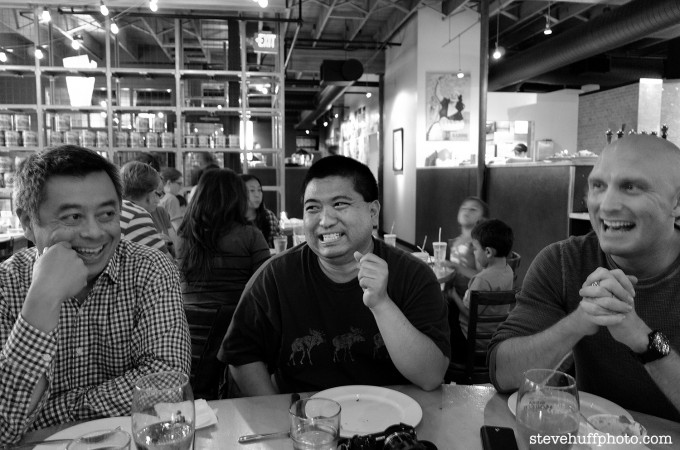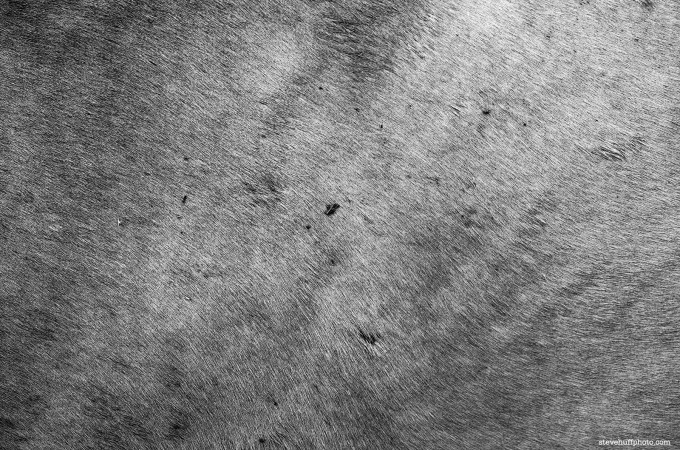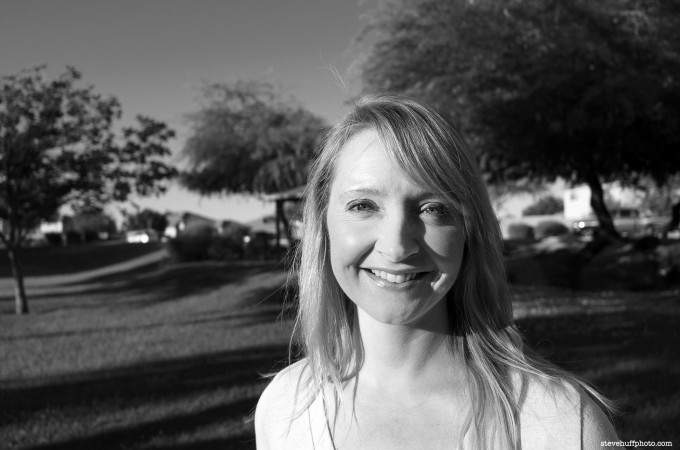 HELP ME TO KEEP THIS SITE GOING AND GROWING!! IT'S EASY TO HELP OUT & I CAN USE ALL THE HELP I CAN GET!
PLEASE Remember, anytime you follow my links here and buy from B&H or AMAZON,
 this helps to keep my site going. If it was not for these links, there would be no way to fund this site (and the cost these days to keep it going is pretty damn high), so I thank you in advance if you visit these links. I thank you more if you make a purchase! I have nifty search bars at the upper right of each page so you easily search for something at either store! I currently spend 10-14 hours a day working on this site and the only way that I can pay for it is with your help, so thank you! Currently my traffic has been increasing but my funds to pay for the site has been decreasing, so any help would be GREATLY appreciated!
Even if  you buy baby food, napkins or toothpicks at Amazon it helps this site, and you do not pay anything extra by using the links here. Again, you pay nothing extra by using my links, it is just a way to help support this site, so again, I thank you in advance 

 More info is here on how you can help! If you enjoyed this article/review, feel free to leave a comment at the bottom of this page and also be sure to join me on twitter, my facebook fan page and now GOOGLE +