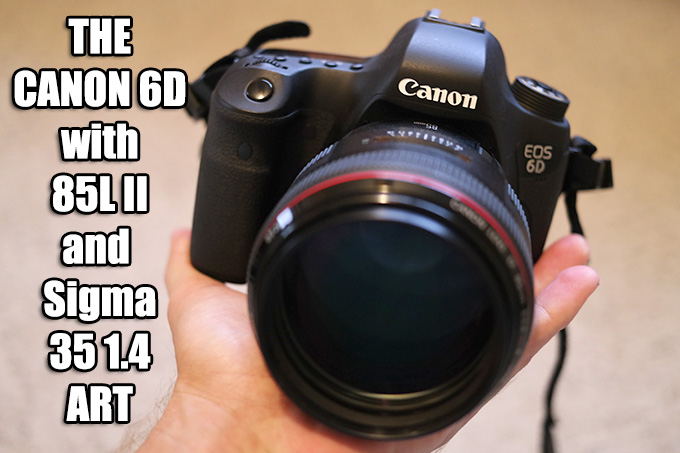 REVIEW: The Canon 6D with Sigma 35 1.4 and Canon 85 1.2L
A Canon DSLR with POW, WHAM, BANG and two lenses with a little bit of Magic Dust Included.
Yes I know this Canon 6D camera and  the mentioned lenses have been reviewed by many others and is old news, but I had an opportunity to try these out for a week and decided to give it a whirl. So what you will read here is my experience using and shooting a DSLR after not really seriously shooting with one for a long time. The Canon 6D has intrigued me and I am happy that I was able to test it out with these two stellar lenses. Below is my experience.
[ad#Adsense Blog Sq Embed Image]
DSLR's are STILL hot
It has been said by more than one photographer in this ever growing mirror less world that "DSLR's are still hot". Yep, even with the rise in smaller and powerful mirrorless camera creation and sales, the DSLR still outsells the little mighty ones by a good margin. I saw it first hand while visiting New York City for a 2 day trip to a special Olympus event. I would say that 85% of those I saw on the street were using a DSLR of some sort, mainly Canon Rebels. Why is that? Well, there are many reasons, one being is that many newbies to Photography and those upgrading from little P&S cameras want to look "pro" and to do so requires they get a new Canon Rebel or starter Nikon DSLR..or so they think. 
The Canon 6D and incredible Sigma 35 1.4 ART series lens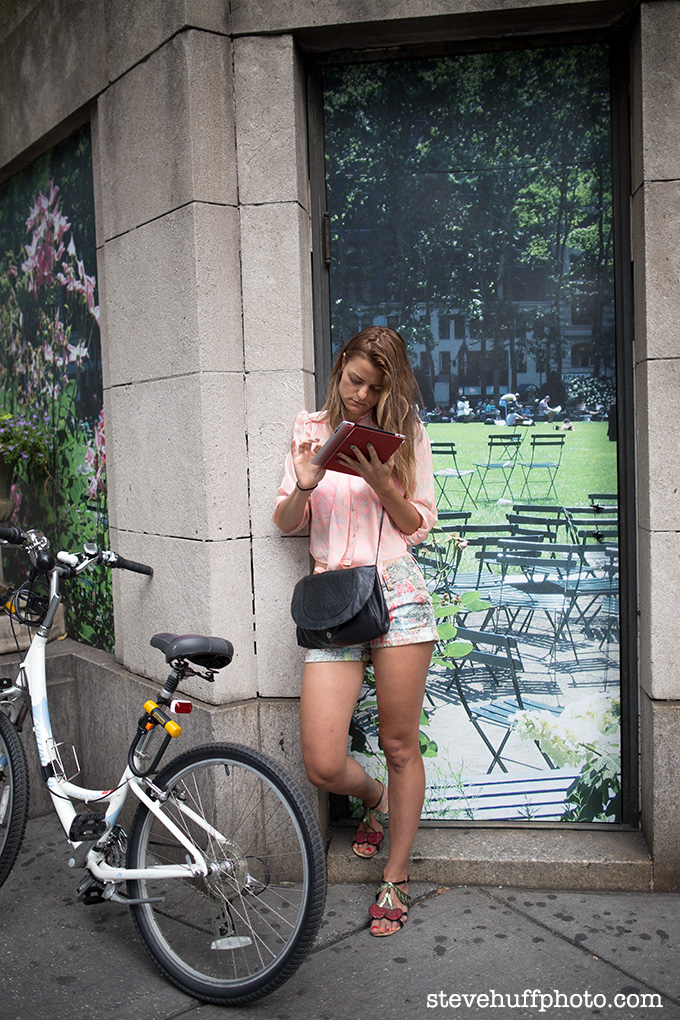 Yep, that is the mindset of many who are delving into photography and 95% of them know nothing about the smaller and sleeker mirrorless offerings that brings with them a similar image quality in a fraction of the size. Why is that? Because they want a large DSLR so they look pro or look cool.  This is a fact. I speak with many newbies every day who email me for advice and they want to know if they should get a Rebel or a Nikon D whatever to start out with. I ask why they want a DSLR and they usually say "my freind has one and I love it" or "it is professional and I want to be a pro" or "The Best Buy guy said the Canon Rebel is the best for quality". Etc, Etc. I now tell them to check out this steal of a deal which is a starter DSLR style camera with an APS-C sensor called the Sony Alpha 3000. $399 with lens. But even that won't do it for some because they want a Canon or a Nikon.
So yes, many people out there are getting into serious photography and they feel that to be serious they need a DSLR, the camera that their neighbor or friend has or the one that Best Buy told them was the best, which is usually a Canon Rebel.
But this is only the beginning of why DSLR sales remain strong.
The Canon 6D and the 85 L 1.2 II at 1.2 in a low dimly lit restaurant. One color, one B&W (both from RAW) Low light is NO problem at all for this combo. Click it to see the clarity at 1.2 and its ability to suck in the light.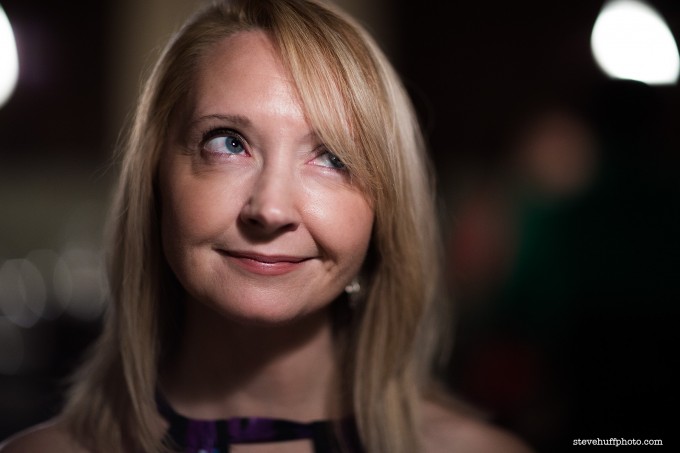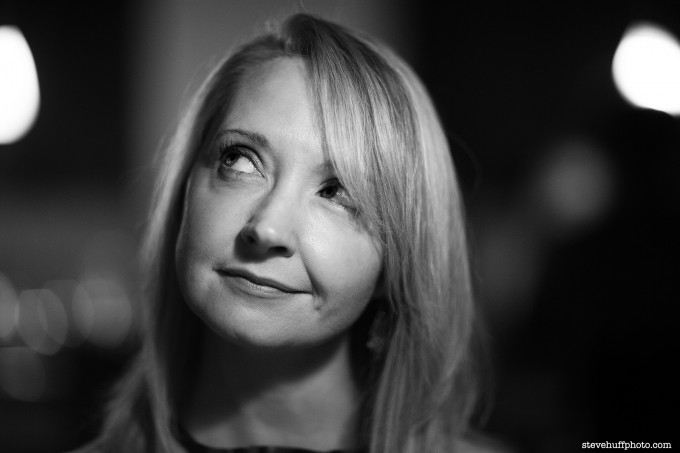 Others buy DSLR's for pro work, which I agree with. If I was shooting pro work day in and day out every single day (depending on what the work was) a DSLR would make its way into my kit for those times when the Leica M or RX1 just would not work or when an OM-D body would not work (macro or long tele). At that time I would then have to decide if I wanted a Canon, a Nikon or a Sony DSLR. Yes, Sony is an option as they make some cutting edge cameras, including some pretty nice DSLR's. In the past I have owned a Canon 5D and a Nikon D700. I loved both but to be honest, I enjoyed the D700 more because at the time I preffered the Nikon color and rendering but I always went back and forth on that.
DSLR's are a hot item even today and there are benefits to using them (as well as the cons of weight and huge size) depending on what it is you shoot. They are well established with a plethora of lenses available from macro to tilt shift to extreme fast telephoto primes to exotic superfast primes. Long story short, they offer everything anyone could ever need for creative photography. The new Mirrorless cameras of today that are so hot can also offer this in a much smaller package but even years after their inception, the lens choices, while great, are not as plentiful as they are with a Canon or Nikon or even Sony DSLR and DSLRS can be had from $300 and up to $8000 or more. So there are choices.
Canon 6D and Canon 85 L 1.2 II wide open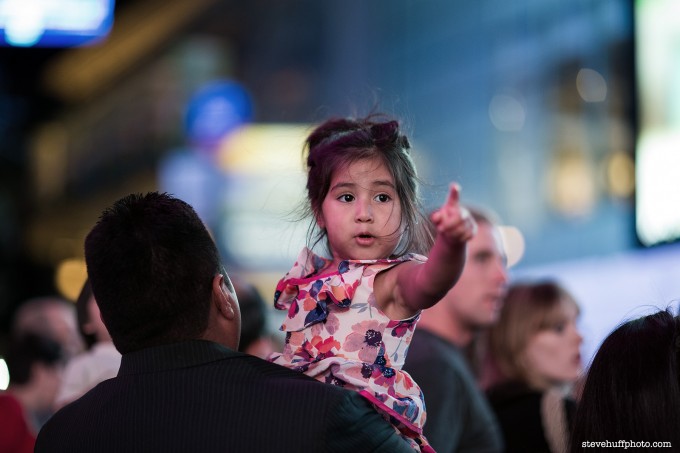 But to be honest, these days I know that it is ALL ABOUT THE LENSES! Nikon and Canon have some amazing stellar glass in their DSLR lineup but Canon has one or two (expensive) jewels that Nikon can not compete with (in MY opinion) due to the unique looks these Canon lenses give. In fact, there are insane amounts of lenses available for the Canon and Nikon systems including some damn good Zeiss options and now Sigma. But in the Canon lineup there are a few jewels for sure..well, MANY jewels but one has always had a spot in my heart and another lens in the L lineup is close behind and it does not come cheap.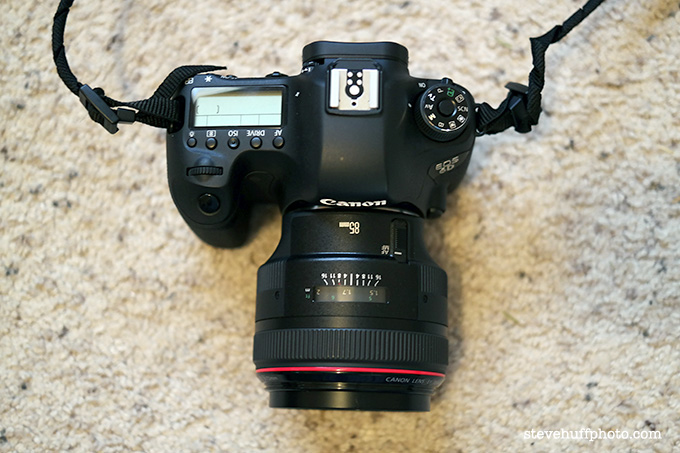 The main lens I speak of is the Canon 85L 1.2 (version 1 or 2) and the Canon 50 L 1.2.
Being full frame lenses with HUGE front elements and a light sucking 1.2 aperture, these lenses are HUGE, FAT, HEAVY and loaded with abilities that can make almost anyone with an ounce of skill into an abstract artist. NOTHING renders like an 85L 1.2 lens and it is more like a big fat paintbrush than a camera lens. Many have nicknamed it "THE KEG" because it looks like a mini keg of beer. It is large but it sure can pull off a special and one of a kind look.
The way it can "paint" your subjects is quite remarkable and while not everyone enjoys this look, when used sparingly or in certain portrait conditions it can be jaw dropping and sometimes even haunting. Not even a Leica Noctilux can render like a Canon 85L and when I say that I am not discounting the Noctilux, as I prefer the Noctilux look by a slight margin (as it is quite different) but when we put things into perspective, the Canon 85L is a $2000 lens. The Canon 50 L 1.2 is under $2000. The Leica Noctilux is $10,995 just for the lens alone.
Canon 6D and 85 L 1.2 II at 1.2 – Beautiful.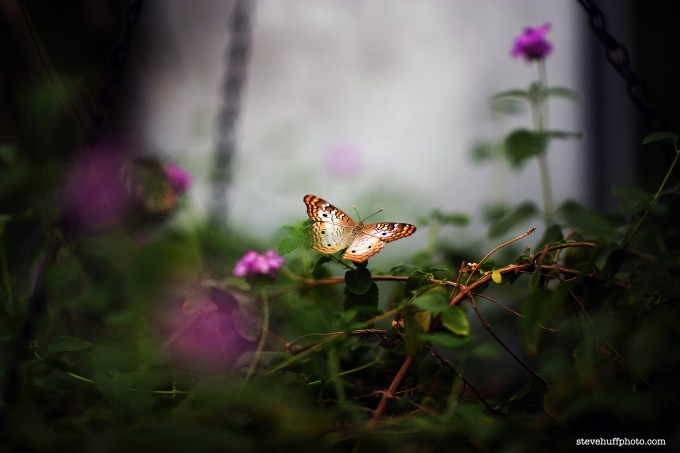 –
Late night in Times Square – Canon 85L II and 6D at 1.2 – I love the bokeh this lens creates but Bokeh is a personal thing..some may love it, some may hate it. I like the 3D pop this lens gives and it is sharp wide open at 1.2.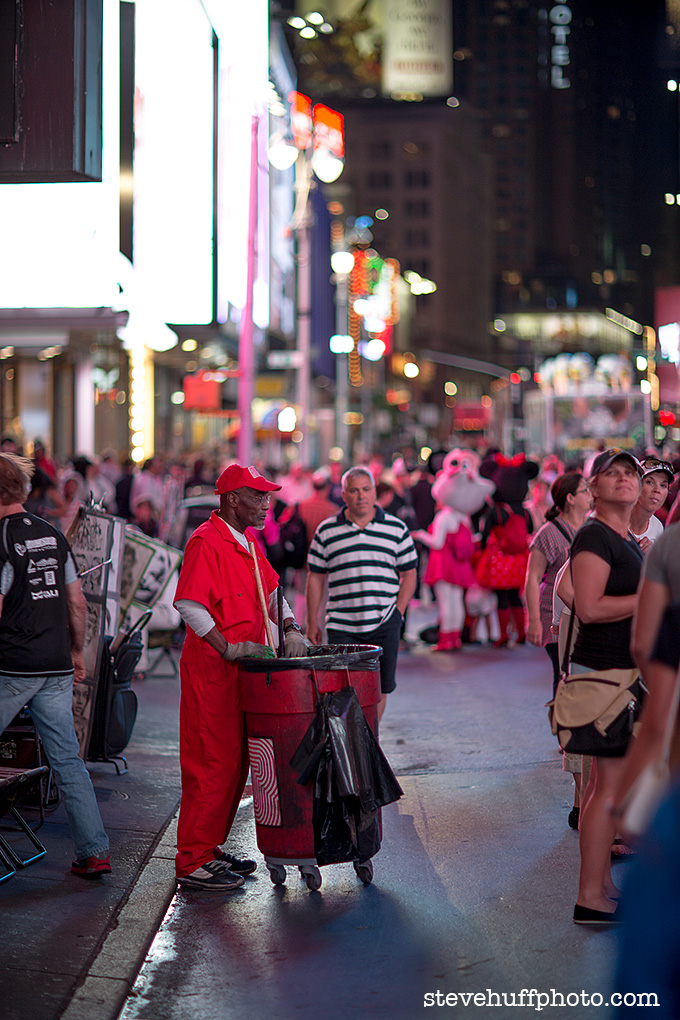 –
and the same, wide open but I did crop this one a bit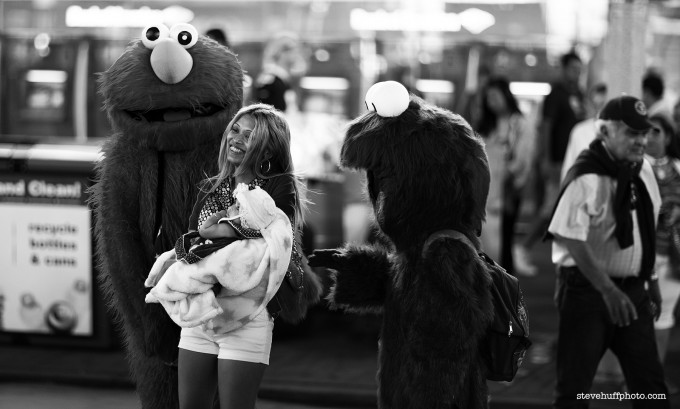 So for $4000 today one can buy a Canon 6D full frame sensor DSLR which is equal in IMAGE quality to a Leica M 240 (just larger, bulkier and heavier especially when these lenses are attached) and an 85L 1.2 lens. For $18,000 one can buy a Leica M 240 (if you can find one) and a Leica Noctilux 0.95 lens. A difference of $14,000. Take another $3500 for the Canon setup and add in a Canon 24L and a Canon 50 L 1.2 and you are at $7500, still less than HALF of the Leica M and Nocti combo. Of course if Leica is in your blood and brain, as well as in your heart and soul, none of that matters. Just putting into perspective. Also, never underestimate the power of a smaller, lighter, more discreet camera as it will make you want to shoot more and take it with you everywhere. Something a DSLR does not do for me.
But keeping it 100% real, while Leica is a true beautiful work of art in itself, and performs amazingly well, the Canon 6D with a lens like the 85L 1.2 is just as capable if you do not mind lugging around a DSLR and HUGE lens attached, and let me tell you..it is HUGE and slow to AF. But HEAR THIS:
from 2005 with a 5D Mk I and 85 1.2 (original V1)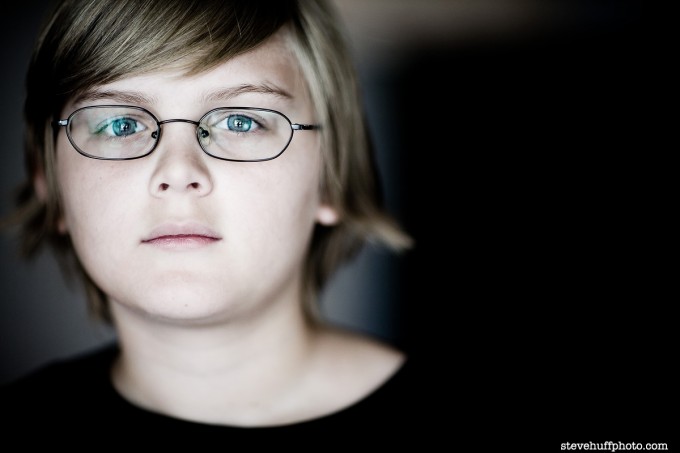 The 85 L 1.2 II is one reason alone to jump into Canon if you are eyeballing a full frame DSLR and if you have the cash to spare at $2000 for the lens alone, I highly doubt you would be dissapointed. The lens has a perfect 5 star average review rating at B&H Photo with over 500 reviews written. Pretty damn impressive, and I agree with those reviews, it is a 5 star lens without question. Remember, I owned one for a long while years ago. If I owned a Canon 6D or 5D today I would own this lens without hesitation. It's one of my top two fave lenses ever made, by anyone. A Leica 50 Summilux ASPH is the other 🙂
The Canon 85 1.8 is MUCH cheaper, why would I buy the 85 1.2 II?
Do not let those who say the Canon 85 1.8 is just as good as the 85 1.2 II L fool you, as it is not. PERIOD, END OF STORY. IN fact, it is not in the same ballpark in the ability to render a "UNIQUE" image in the style of the L.  As I said, no lens on the market for 35mm renders like a Canon 85L. There is a reason it has achieved legendary status. The only problem is the cost, weight, size and slow focus. But to those who own and love the lens, these things do not matter as it is the output that counts and if you want that "look", the 85 1.8 will NOT give it to you. I should know, I owned both back in 2005 and struggled when I clearly saw the differences in each shot as I wanted the 1.8 to be just as good so I could save some cash.
I kept the 85L back then, owned it for a year or more and sold it because it did not get enough use. Even though it was amazing, it was too large and heavy for me so it was only brought out for certain occasions. Never was it a daily shooter.  That is the one drawback of the lens. It is a BEAST but what a beautiful beast it is. If I could afford just to buy one and hang on to one for those moments where it would come in handy, I would.
Wide Open this lens renders like nothing else. These two images were shot at night and the 6D with the 85L never failed to AF, it just was a bit slow to AF. Still, worked every time.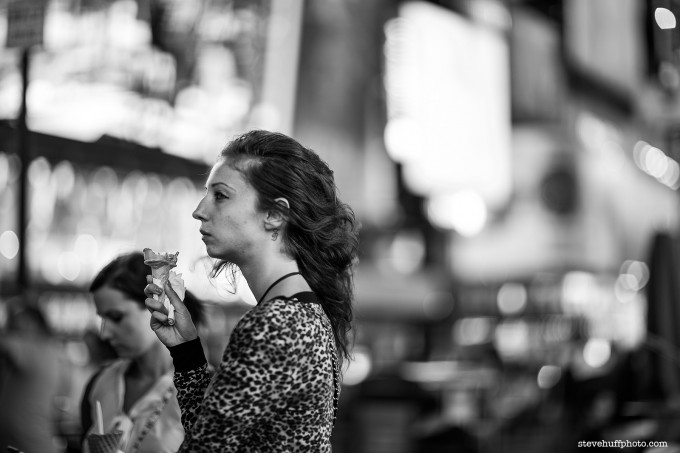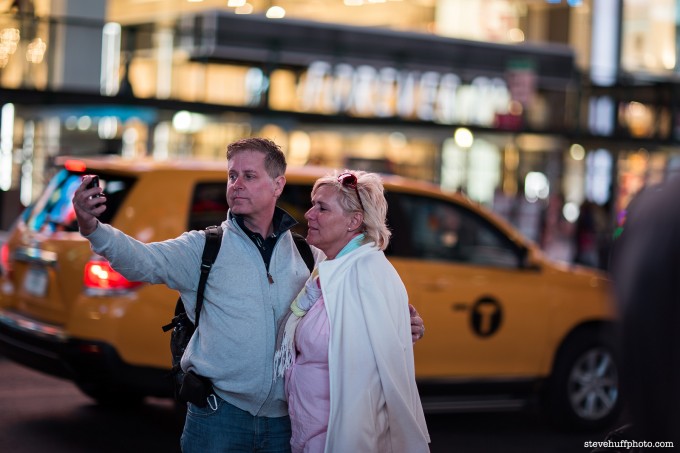 Yes, the 85 1.8 will be smaller, lighter, faster and much less expensive but it will not match the 85 1.2 in sharpness wide open, color rendition, build quality or light sucking ability. Take a Camera like the 6D and 85L 1.2 into a dimly lit room and you can still shoot. Your images will look like they were shot during the day, even without a flash and the Bokeh will be mind numbing in some situations, but in a good way. It's an amazing hunk of glass and there is a reason many buy it even when already owning the much cheaper 85 1.8.
It may be a surprise to many of you to hear me praise a huge and heavy DSLR lens, but I have always loved the 85L when used on a full frame Canon. While I have not owned a DSLR in many years, I still know that they are amazing tools and with the right set of lenses, hard to beat.
That 85L has some serious MOJO at 1.2 and can suck in the light to make it appear there is much more light than there really is on the scene. It's one of the few magical pieces of glass that does this very well, with nice Bokeh and sharpness even wide open.
Remember to click each image to see the larger and better version! Another three shot at 1.2 from a distance, at night!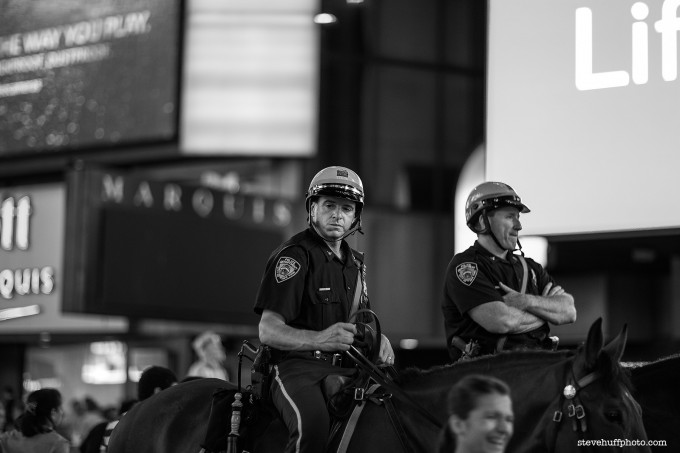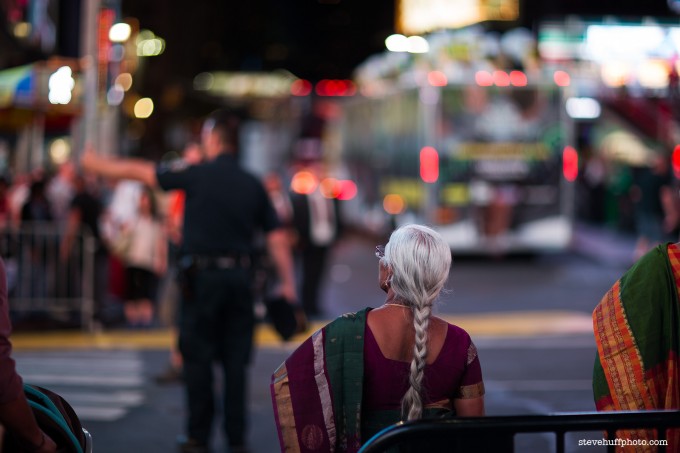 DSLR's. Don't you HATE DSLR's Steve?
No, I do not hate DSLR's but for me they are a no go in my personal life just due to the size, weight and yes, even high cost involved if you want "the best of the best", which I always do (Certain cameras have spoiled me over all of these years). But mainly, the SIZE is the killer for me. Carrying around a bag with just a Canon 6D, Sigma 35 1.4 and Canon 85 1.2L is NOT pleasant for a casual stroll or day out with the family but at the same time, a DLR such as the Canon 6D can make incredible photos while being smaller than the larger 5D series, so for many the weight and size may be worth it. Yep, the 6D is a almost mini 5D in my opinion with excellent ergonomics, easy controls, simple menus and fast operation (though I find the normal AF no faster than my old OM-D E-M5) but it is still large as it is indeed a DSLR. This problem could really be solved with smaller and much less expensive lenses but me, if I go for a full frame DSLR, I would want the 85L and 35 1.4. End of story.
The 85L 1.2 has some very intense Bokeh. The shallow DOF possibilities are intense with this lens.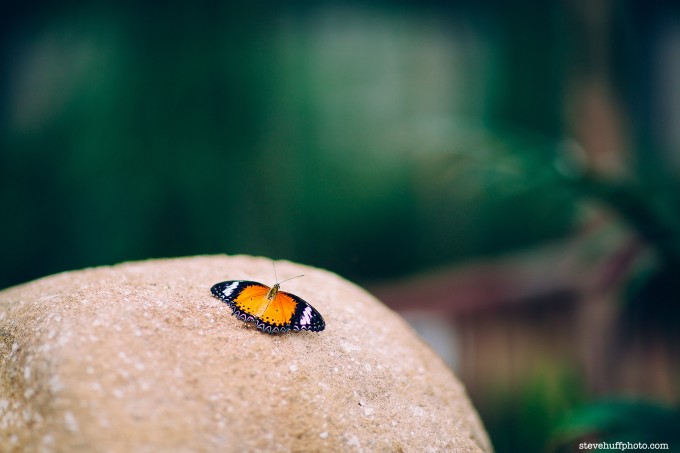 Yes Indeed! The Canon 6D is a Jewel in the DSLR World
It takes a lot for a DSLR to grab my attention and the 6D has done just that due to many reasons. It's smaller size, it's amazing sensor, it's ergonomics and controls, and of course, the amazing glass possibilities.
The Canon 6D is feature packed with a 20.2 MP full frame sensor, Digic 5+, ISO from 100-25,600 and 12,800 video ISO, 97% optical VF, 4.5 FPS shooting, 11 Point AF, Dual layer metering and even WiFi built in. Canon included it all in this one and the good news it that the camera is easy to use, set up and even hold. No manual needed as it was easy to navigate the menus, easy to change settings, and overall a joy in the usability department.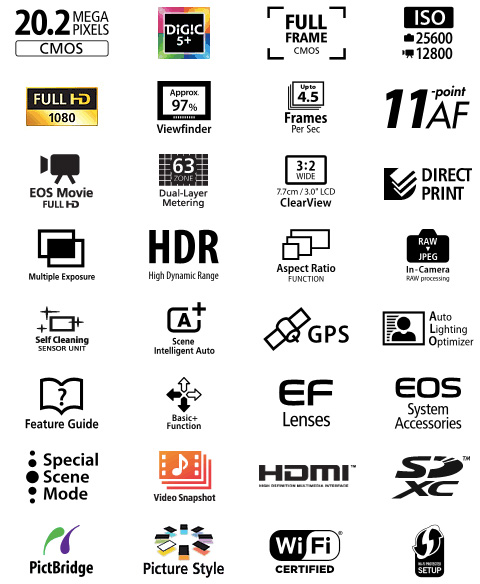 The Canon 6D comes in a slightly smaller package than the 5D MkIII while retaining the same image quality with some improvements in low light. It looks nice, feels nice and has everything I would ever want if I were to go for a DSLR. Nikon has its comepeting camera, the D600, which I have yet to try, but I know the differences between Canon and Nikon and for me, it comes down to COLOR. Canon has always had a unique way of rendering colors and their L prime lenses have a "Canon Look", which believe it or not, is indeed there. I can always spot an image taken with a Canon DSLR. I used to have a thing for Nikon color but today I like them equal 50/50.
Liberty Text – 85L II wide open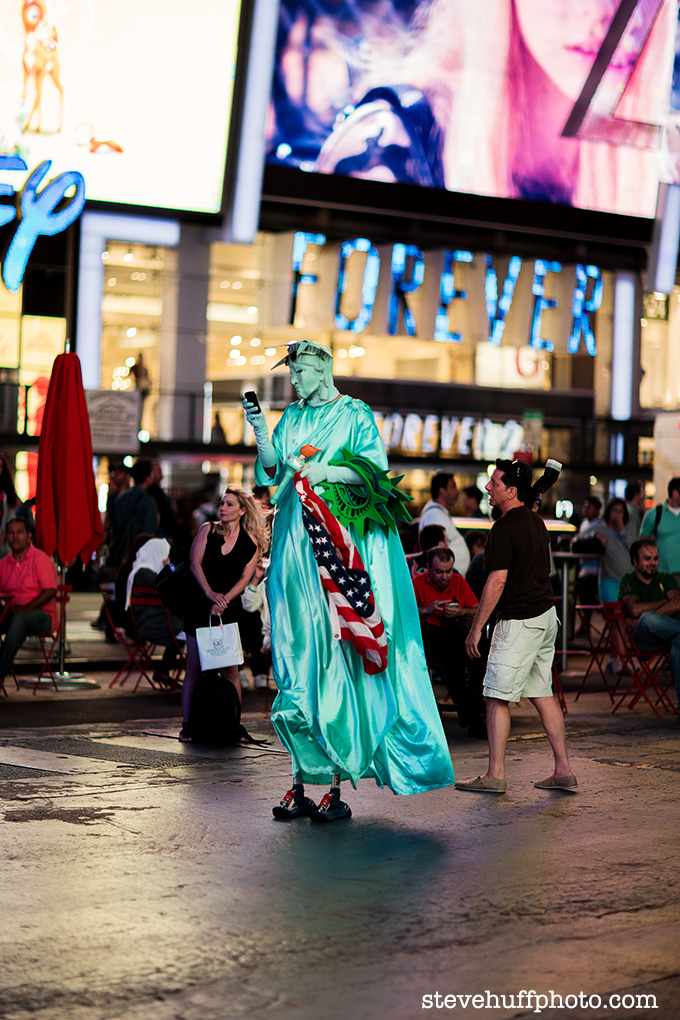 Many of you who have followed me for years know that I have only reviewed a small handful of DSLR's. The Nikon D90, Canon 5D MkII, and Nikon D700 with a quick look at the D800. I also took a look at the Sony full frame A99 offering and the older Canon 7D and the Sony A57. That is about it but I may be forgetting one or two.
BUT, I am one who will tell you right now that you can achieve the same or similar IQ as what this 6D gives you (with say a 50 1.4 lens) from a Sony RX1 or Leica M 240 (using a 35 1.4 lens) which are MUCH smaller, MUCH lighter and just as easy to use. You can achieve what a Canon 7D gives you with a Sony NEX or Olympus E-M5 with the right lenses. All in much smaller packages that are just as well made, with amazing lens choices. You can even use the 85L on a Leica M 240 or Sony NEX with the right adapters so if you want an amazing lens but shoot Leica, it could be worth trying out the 85 on a Leica 🙂 For some special fun, if you own a Canon DSLR try THIS lens out.
The Sigma 35 1.4 ART series lens on the Canon 6D. Under $1000 and IMO beats the Canon 35L in just about every area.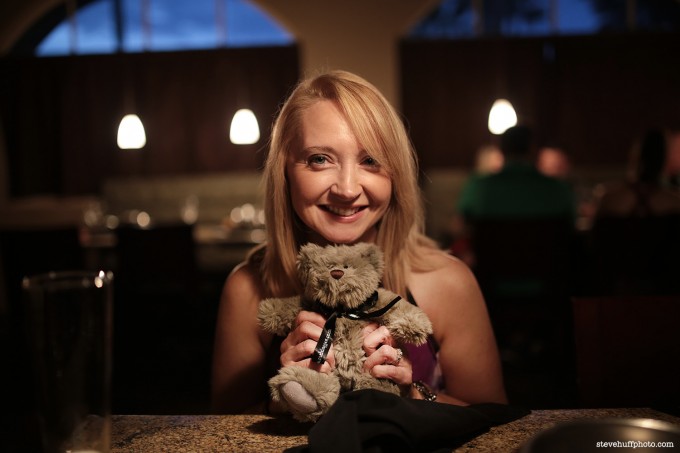 A DSLR such as the Canon 6D is hard to ignore for what it offers the enthusiast or pro photographer. Smaller than 5D Size, Speed, Full Frame Performance, Low Light Abilities, and choice of glass. Cheap to Expensive. If you love your lenses then choosing a Canon DSLR can be exciting due to all of the choices out there. My 1st Canon was the very first Canon D30 with an old 24-85 Standard Zoom. Back then it was the only game in town beating all others to the punch. I loved that camera but it was my only real choice. The Canon 6D kind of gave me that nostalgic feeling again but what comes out of the 6D destroys what came out of that very 1st Canon D30 many years ago.
I am not going to do a long detailed techie in depth review on the 6D as there are probably hundreds of them online, mostly all will give you a better DSLR review than me as A: I only have the 6D setup for 7 days and B: I have been out of the DSLR loop for years. What this post is mostly about is the glass, the two lenses I used with the 6D as well as my real world thoughts on using a DSLR after shooting smaller cameras for the past 4-5 years. I can tell you this though: I much prefer this 6D to the old 5D and 5DII as well as ANY of the APS-C sensor DSLR's. I also prefer it to my old Nikon D700. It's a special DSLR that gets just about everything right, but I was only able to just scratch the surface in my 7 days with it, and to be honest, on two occasions I had the 6D and Sigma 35 1.4 along with the 85L in my Amazon cart just to own for the 85L alone. I know a good thing when I see it and the Canon 6D, if you do not mind the DSLR size and weight, is amazing. I was thrilled with the IQ, responsiveness and resulting files.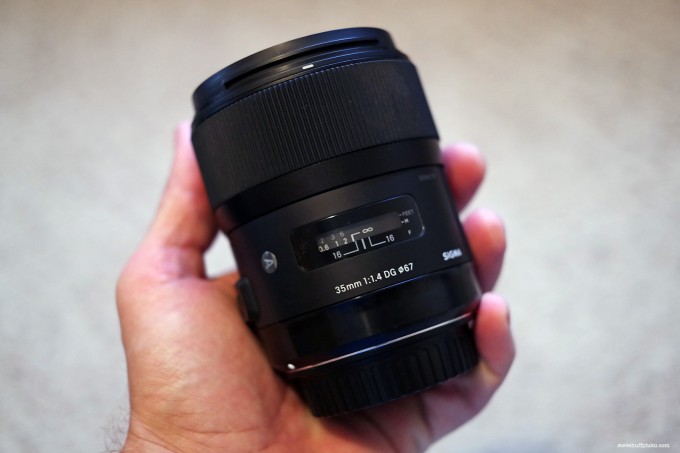 The Sigma 35 1.4 Art Series
The Sigma 35 1.4 Art Series is SUPERB and under $1000 is well worth it especially since when I compare real world images, it is right up there in quality with a 35 Summilux ASPH, just MUCH MUCH larger.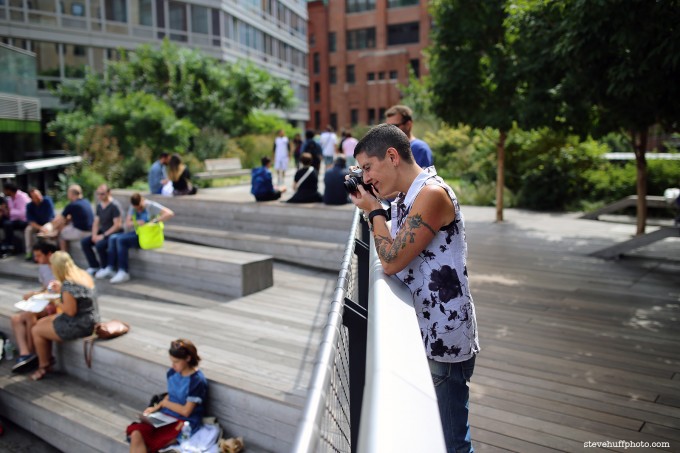 –
This was shot from the hip at night with the 35 1.4 at ISO 4000 without NR – click it to see the real world noise result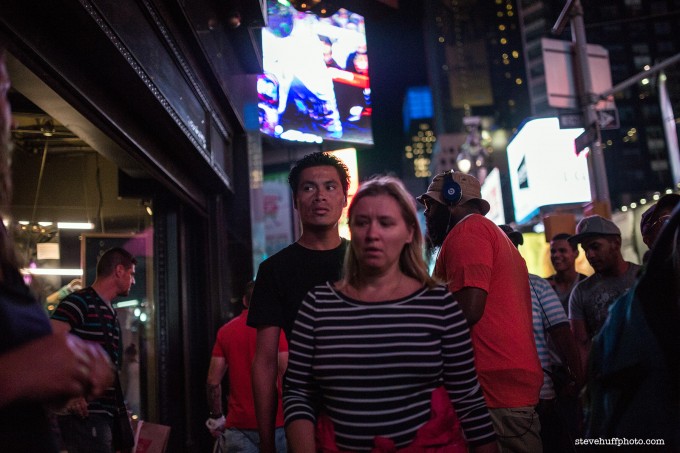 Sigma has come a long way since the last time I shot with some of their DSLR lenses. Many years ago I owned a 15mm lens from Sigma and it was large, looked kind of ugly and performed well though was loud when focusing. Today with the new Art series Sigma has stepped it up 10 notches and now competes head to head (and in some cases surpasses) with Nikon and Canon at their own game.
This 35 1.4 ART lens is superb on the full frame 6D. Corners are sharp, color is rich and saturated and right, bokeh is very nice and beautiful, the lens is built VERY well and looks sweet. In fact, if the Sigma and Canon L 35 were the same price, I would still buy this Sigma. It is that good. In fact, it delivers images just as nice as the $5000 Leica 35 Summilux (though 5X the size) when I look at them and compare qualities side by side. THAT is impressive.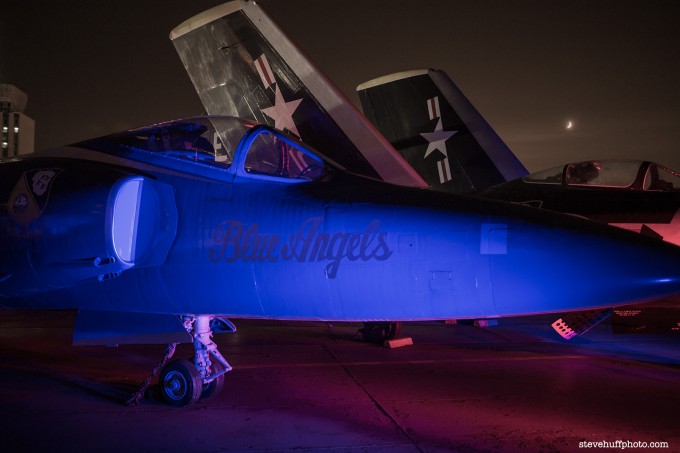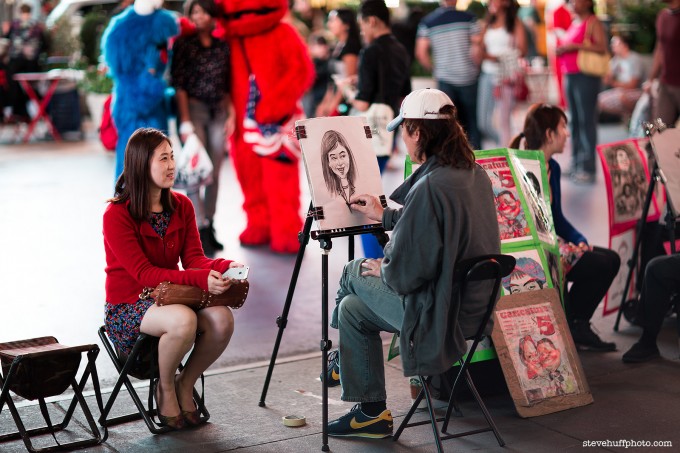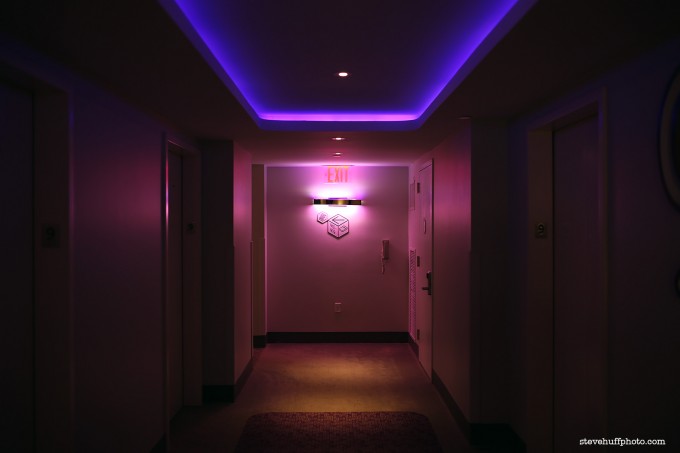 When reviewing images for this quick review I was blown away by the rich files, the sharpness and micro contrast coming from this combo of 6D and Sigma 35 1.4 (be sure you click on them for larger, and those with large high res displays you will see what I mean). It really did remind me of shooting a Leica M9 or M with a 35 Lux ASPH (the image quality). While the setup was on the heavy side and hurting my back after 7 hours of carrying it, I could not fault the image quality or performance of this setup.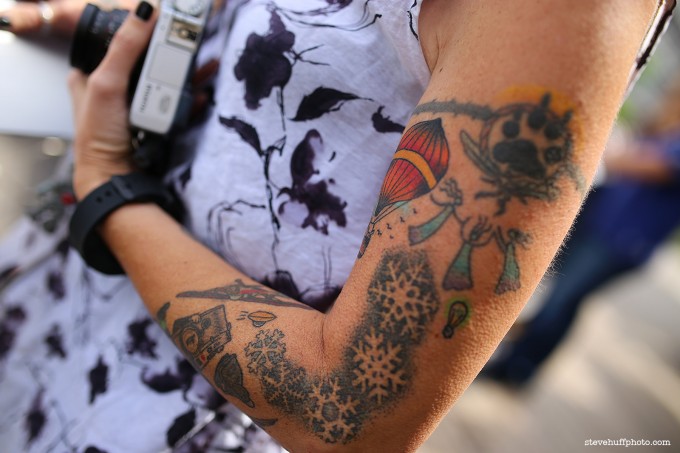 –
Below is a FULL size from camera image with the 35 1.4 at 1.4 – click it for full size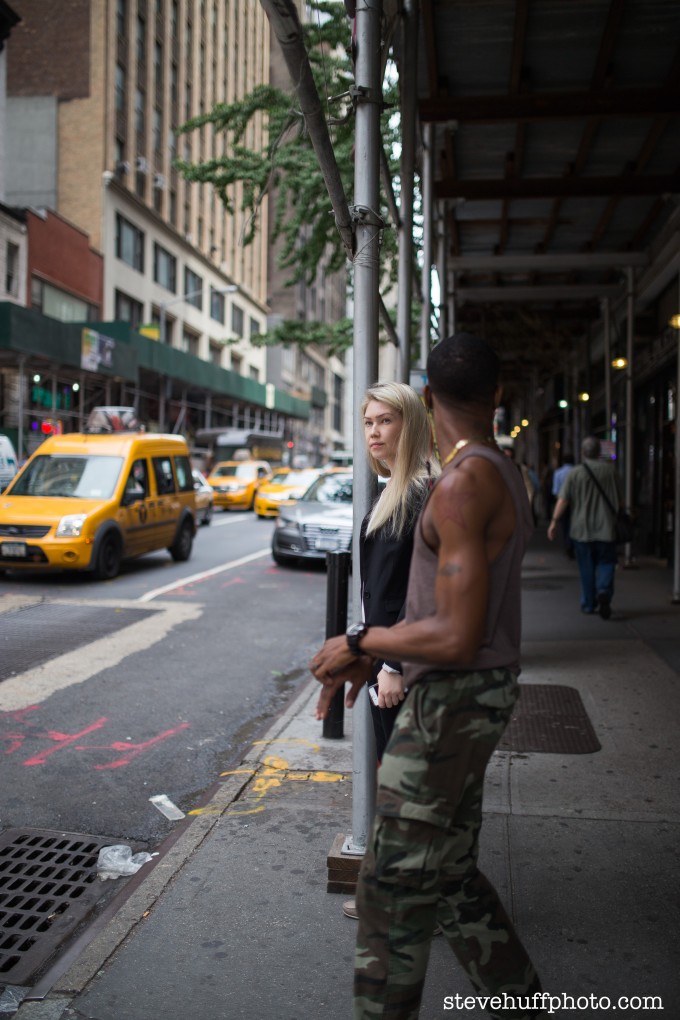 Size Comparison: SIgma 35 1.4 next to a Nikon V1 with 18.5 1.8 Attached
Just for fun I put my V1 next to the Sigma. They are about the same size with a lens on the V1. 🙂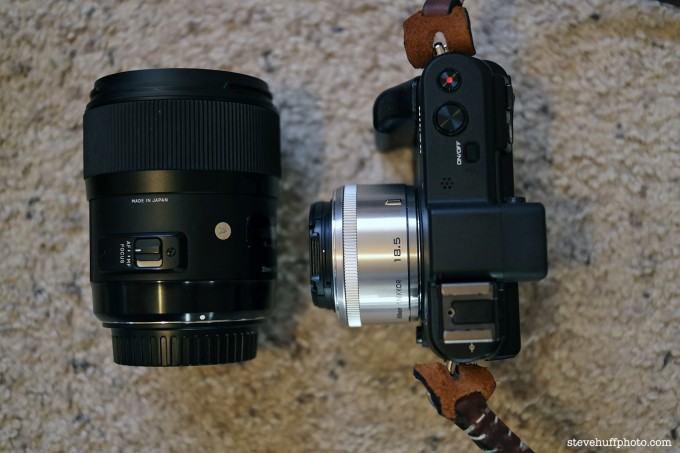 My final word on the Canon 6D and Sigma 35 1.4 and Canon 85L 1.2 II
You guys know me..I love my small but high quality mirrorless cameras. The Sony's, The Leica's, The Fuji X100's, the Olympus, The Panasonics, and even the Nikon 1. I love them because they are small at a fraction of the size of a DSLR, a fraction of the weight and they offer sensors from Micro 4/3 to APS-C to full frame. In most cases, these new high powered and good looking mirrorless cameras compete head to head with DSLR's even though DSLR owners will say otherwise (they refuse to believe it).
DSLR's have their place as they are polished and refined. They have been around for much longer and manufacturers have been able to tweak, improve and build DSLR's that are quite amazing when you think about it. For under $2,000 the Canon 6D is now the DSLR I would own if I decided to purchase a DSLR. It is not as large as the NIkon D800 or Canon 5D series and it feels great in my hand. In fact, if I plopped on a slower non L lens that was thin and semi fast, I would not have any issue with the weight or size. It is these nice premium lenses that really jack it up.
The camera is a winner, but most of you already knew that. But it is the 1st DSLR in a while  that got my attention enough to want to review it, and I am glad I did. I loved shooting it around NYC and came away with some cool shots. So if you are looking for a DSLR that performs just as good as the big guys (5D, etc) then take a long serious look at the Canon 6D. I think it offers the most for the money in the full frame DSLR Canon world.
As for the lenses, both of these are AMAZING. The jaw droppingly beautiful 85 L 1.2 II is expensive but a fraction of what a modern day new Leica lens costs and it has a 92% MOJO rate. By that I mean, it has character galore and there is no other lens like it and no other lens will do what it does. There are some that are close and some that are similar but nothing renders like an 85L 1.2 II. Ask any of the tens of thousands of owners of this lens and they will tell  you the same.
The Sigma 35 1.4 has given me a new respect and outlook on Sigma. They mean business and this is evident in this new Art series of lenses. Just like their tiny 30 2.8 lens for the NEX system that I reviewed, the 35 1.4 ART lens is a killer 35mm option that offers speed, design, and IQ that is mouth watering good. I'd buy this lens in a nano second if I splurged for a DSLR like the 6D because I enjoy the 35mm focal length.
So all in all I had fun with this setup and while it did kill my shoulder after a few hours and I did hesitate to pull it out of my bag a few times due to the intimidating size and I did get looks when shooting on the street with that 85L, the results were fantastic. If I had more time with it, or  took it on a portrait session in a nice wooded area with some nice misty lighting the results would be breathtaking. 🙂
If I did not have so many cameras now I would seriously consider this set. I was tempted quite a few times over the past week as it was. Great stuff. My question to you is, would you like  to see more DSLR reviews like this on the site? If so, let me know. 🙂 I have a trip to Dublin Ireland in 3 weeks, maybe I can review the next in line.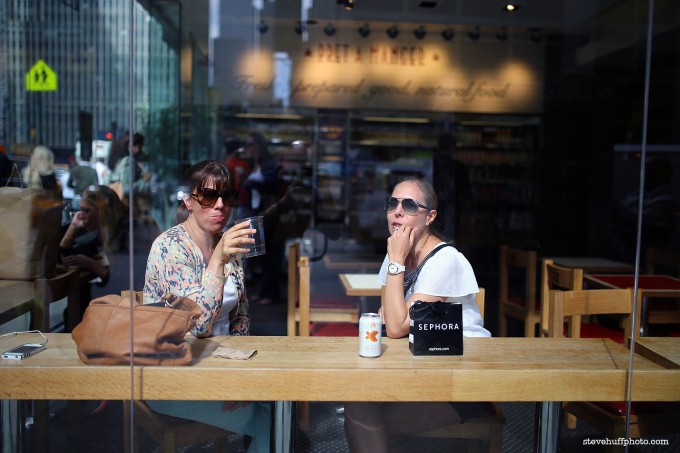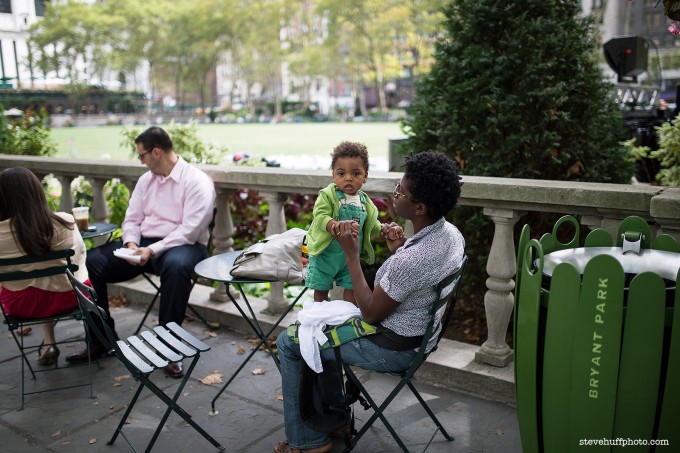 WHERE TO BUY
You can buy a 6D almost anywhere but as always, my preferred shop is going to be B&H Photo or Amazon. I have shopped with both of these establishments for YEARS and they never let me down.
Buy the Canon 6D Body:
Buy the Canon 85L 1.2 II:
Buy the Sigma 35 1.4 ART Series Lens:
A few more shots from the Sigma 35 1.4, most direct from camera. Enjoy!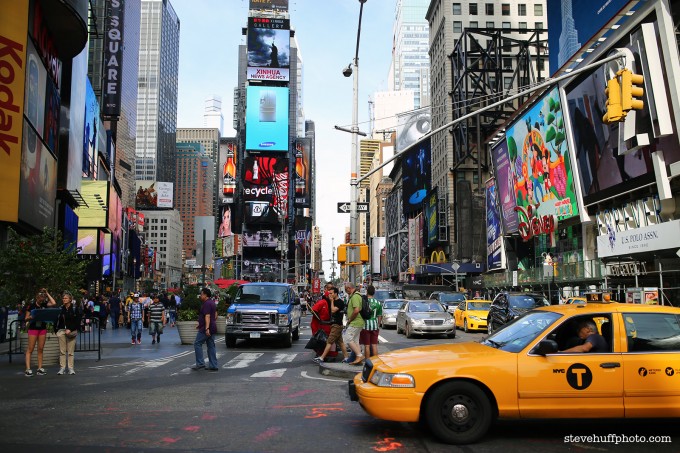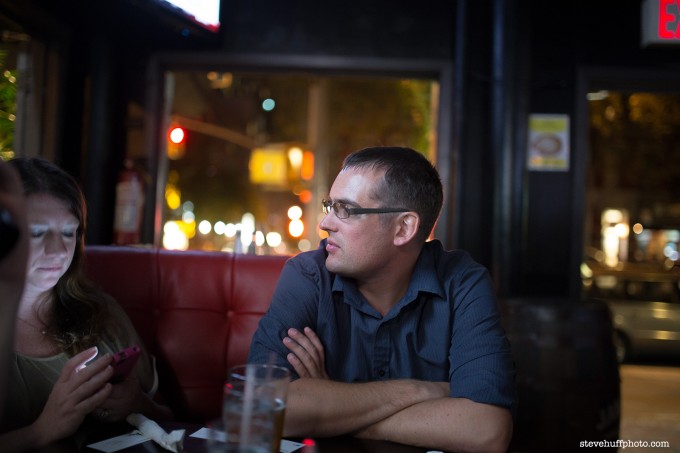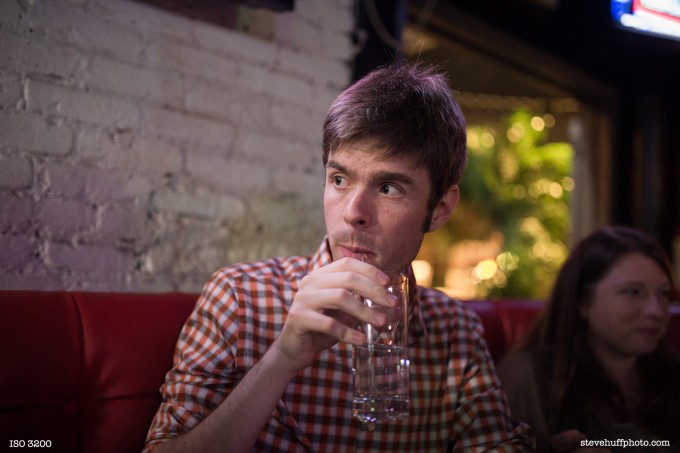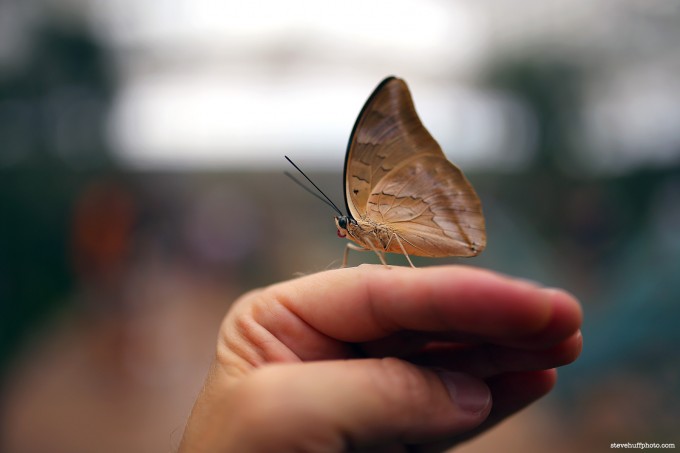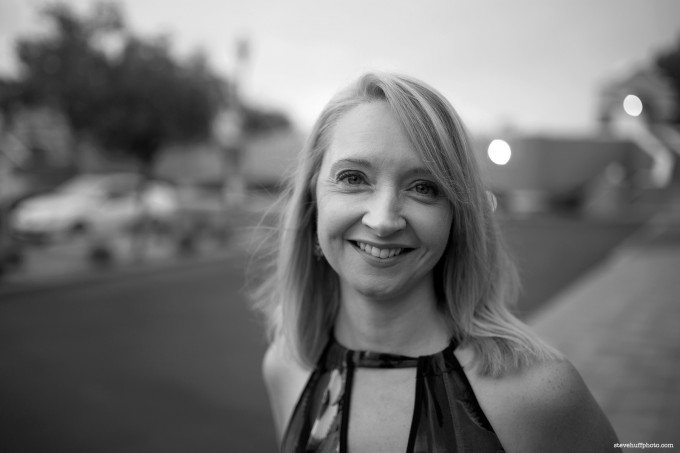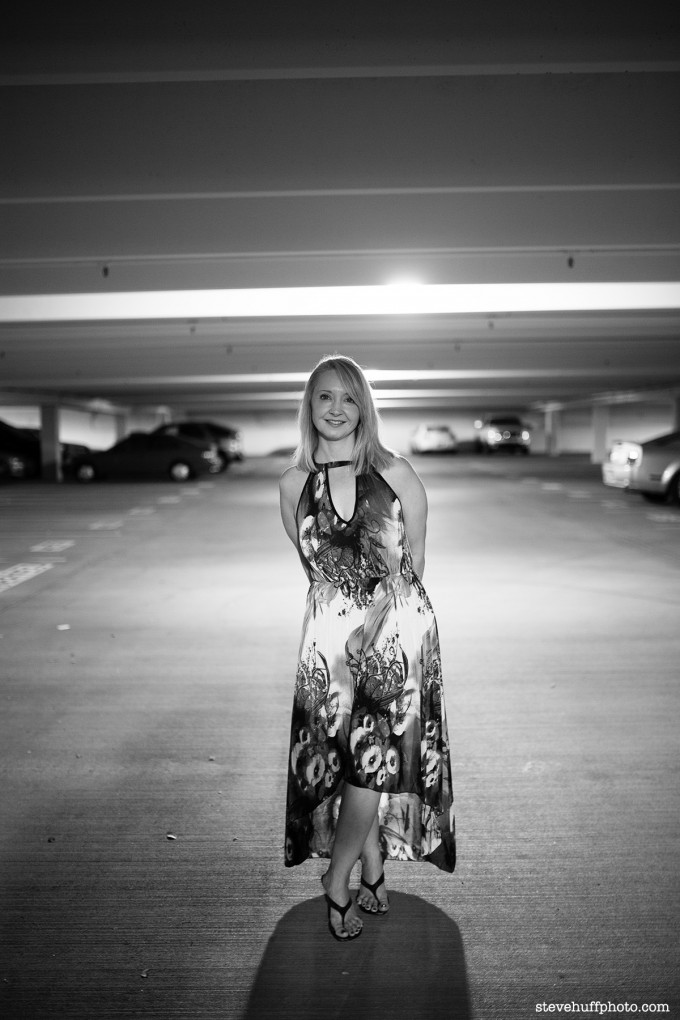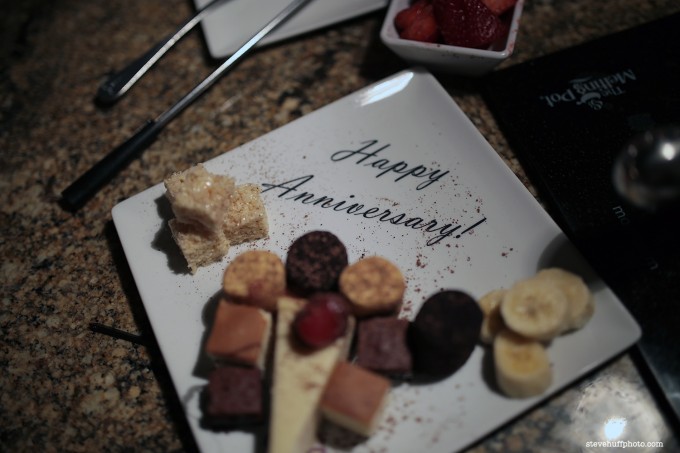 HELP ME TO KEEP THIS SITE GOING AND GROWING!! IT'S EASY TO HELP OUT & I CAN USE ALL THE HELP I CAN GET!
PLEASE Remember, anytime you follow my links here and buy from B&H or AMAZON,
 this helps to keep my site going. If it was not for these links, there would be no way to fund this site (and the cost these days to keep it going is pretty damn high), so I thank you in advance if you visit these links. I thank you more if you make a purchase! I have nifty search bars at the upper right of each page so you easily search for something at either store! I currently spend 10-14 hours a day working on this site and the only way that I can pay for it is with your help, so thank you! Currently my traffic has been increasing but my funds to pay for the site has been decreasing, so any help would be GREATLY appreciated!
Even if  you buy baby food, napkins or toothpicks at Amazon it helps this site, and you do not pay anything extra by using the links here. Again, you pay nothing extra by using my links, it is just a way to help support this site, so again, I thank you in advance 

 More info is here on how you can help! If you enjoyed this article/review, feel free to leave a comment at the bottom of this page and also be sure to join me on twitter, my facebook fan page and now GOOGLE +