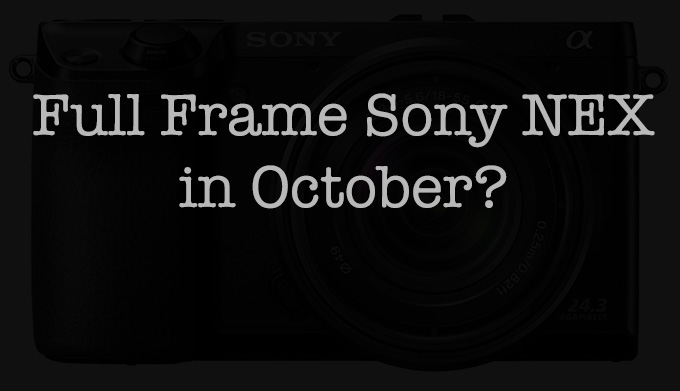 Sony Full Frame Coming next month in October?
All signs point to a YES, that Sony is going to announce the new Sony full frame interchangeable lens NEX or RX camera in October. Sony Alpha Rumors has been posting about it for a long time now and it appears that this is indeed going to happen. If so, I feel that this new Sony is going to be pretty special. I have ZERO inside info but I do know that Sony means business and I believe they want to create a masterpiece. A statement piece. A camera that will blow our socks off with amazing full frame performance in a small mirrorless design and send a message to other camera makers. I do not want to get my hopes up but I expect good things if this is indeed true.
Imagine a small interchangeable lens Sony with the latest full frame sensor tech being able to mount Sony E-Mount glass, New Full Frame Ziess E-Mount glass and even Leica M lenses (if it can not do M glass then this will be a fail). My guess is that this will have just about everything we have been wanting, and I am going to also guess that it will have an amazing built in EVF, be speedy, have solid and attractive design and build and give us amazing low light performance. Sony did not mess around with the amazing RX1 and RX1R so I do not expect them to do so with a full frame camera if it is indeed true that one is coming.
If the latest rumors are true, October is going to be one exciting time. BUT again, as we all know, these are currently RUMORS and nothing has even been hinted at by Sony. If Sony can pull of a full frame masterpiece I believe it will not come cheap. Of course there will be those moaning about the cost (there always is) but if it is quality and does everything I hope it does, it will be an amazing game changer.
I am excited to see what is ahead and if all of this comes out as being fact you can bet that I will probably do the coolest and biggest real world review ever seen on this site (currently that spot is taken by the Leica M 240 review). With the new iPhone 5S just announced and many saying that is all the camera they will ever need, this rumored Sony may be all the camera I ever need. SO bring it on Sony!
Let us wait for October to see if this is the real deal. Stay tuned my friends.
For the past year Sony has been on a Major roll with all kinds of cool things from their latest video cameras to the unique and odd QX series to their music video camera (which I pre-ordered for my own personal use). Sony is rocking it big time and it is obvious they want to be king of the mirrorless world. if they pull of this full frame thing, that just might happen.
What are YOU hoping to see from Sony in the near future? What would YOUR dream mirrorless camera be?