The BIG Three. Which one to choose?
The Olympus E-M1, Sony A7/A7r or Fuji X-E2?
Good afternoon to you all! It is TGIF (Thank God It's Friday) and no one is happier about that than me! Have loads of fun planned for this weekend with friends and loved ones and after a huge week of camera releases, e-mails and comments I am ready for a break!
Yes, this week has been a little crazy with a few camera releases, lens announcements and a few things I have not even mentioned yet. But the big three are now official. The Olympus E-M1 (My review here), the Sony A7 and A7r (My 1st look HERE) and the Fuji X-E2 (Review soon). Many out there in photography land have been stressing.."Which one do I get"?? In the past three days I have received 4600+ emails to my inbox. So if you sent me one and did not get a reply, this would be why 🙂 But hopefully this article will help those who are wanting a new high quality camera and are trying to decide between these, "The Big Three".
The answer may not be an easy one but I am going to attempt to help you so you can make the right choice for you. No matter which one of these you go with (if any at all), you will be making a great choice as they are all wonderful. I am assuming the Fuji will be wonderful because all it really lacked was the AF speed. If you are a fan of the X-Trans look, this choice will be easy. If you want that look that only Full frame will bring to you, the answer is easy. The Sony A7 or A7r (unless you want to go all out with a Leica M)
E-M1 and Leica? Here they are!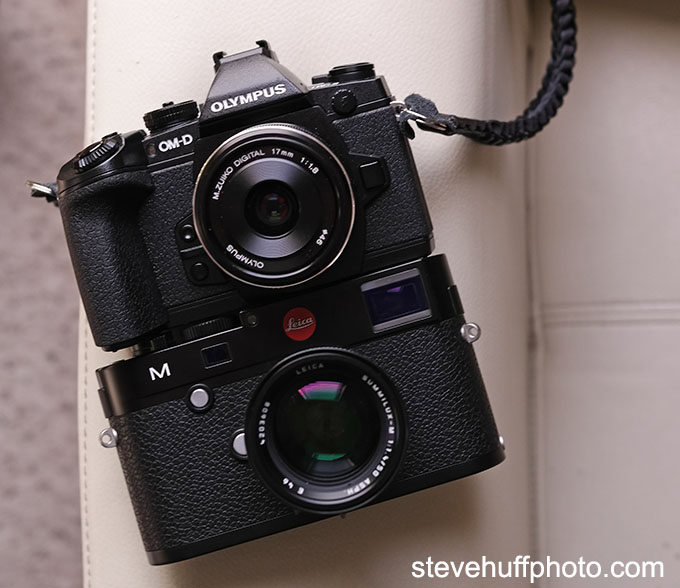 So let us get started by talking about each of these three cameras a little…
The Olympus E-M1 – Micro 4/3 – Body only $1,399
The Olympus E-M1 is the successor/follow-up/companion to the hugely successful OM-D E-M5. Olympus listened to their users and delivered what so many asked for from them. A "Pro" series Micro 4/3 body and some upcoming "Pro" quality lenses. When I first heard the news I was skeptical. The E-M5 has been amazing but we knew it could be better. Many had issues with small buttons on the E-M5 or the camera itself not having a correct grip. We knew it could be even faster to Auto Focus and provide even better high ISO. Well, Olympus claimed they had the solution to those problems with the new E-M1 and when I used it 1st hand for the 1st time in New York at the USA Launch event, I really liked the camera. The build was perfect, ergonomics were perfect, size was perfect (for me).
Speed was improved, EVF was improved, it was not only weather proof (rain), it was shock proof and freeze proof. High ISO was improved by 1 stop. 
Even then, after the event I remembered that I had a Leica M, a Sony RX1r and thought "do I need an E-M1"? I was 80% sure I wanted one but that last 20%…well, I was not all the way there yet.
Then I went to Ireleand for a few days to test the E-M1 even more with Olympus Europe. After this trip I was 100% sold as shooting it in all situations from light to dark to still to action, the camera delivered every single time. During that trip, dreary grey weather and all, I did not have one out of focus image AT ALL. I also noticed that due to the lack of an AA filter, the images and lenses took on new life. Crisp, with texture and detail. When I compared against my Leica M for giggles, I preferred the color from the E-M1 and the IQ was sort of close using the same lens (can see that in my review) with only DOF being different due  to me having to move for the Olympus shot (due to the 2X crop).
In any case, I kept my Amazon pre-order after that trip and decided what lenses to go with. Since I have reviewed and used them all, that was an easy choice but what is really cool is how these lenses are now performing better due to the lack of an AA filter.
So at the end of the day and after reviewing or using just about every camera that has been out for the past 5 years (and before that I used MANY cameras ever since the 1st Canon Digital DSLR the D30) I realized that this camera was special as it had everything I ever wanted and did it right. It was a jack of all trades and master of nearly every one of them. While not the best IQ of the current crop of cameras it was close enough for me.
If I had to nitpick I could say "well, the high ISO does not compete with Fuji X or Sony Full Frame)"- This is correct. But how much high ISO do you need? I would use the E-M1 up to 3200 without a problem as long as NR was turned OFF. (NR smudges detail). So if you are one that likes to shoot at ISO 6400, 12.800, etc – go for something like a Sony RX1 or A7. The Fuji is also stellar at these super high ISO.
E-M1 pros
Build, Size, and it is a mature system

Speed. AF speed and Response Speed is as good as it gets

EVF is huge, best EVF on the market. Period.

Rain, Shock and Freeze proof. 

LCD swivels and is very high quality with touch screen

Live Time feature is amazingly cool

5-Axis in body IS is the best in the world, no question

The lenses. So many amazing lenses available, more than any other system

Shallow DOF is now possible with the lens selections available

Can mount 3rd party glass using adapters (Leica M being one)

Can easily match APS-C for IQ using the good lenses

The new 12-40 2.8 Pro zoom is small and built to a high level. More pro zooms on the way.
E-M1 Cons
The 2X crop is just too much for some to take

Price is $1,399 so it is not cheap

Continuous AF tracking still not up there with Pro DSLR's

Does not match the image quality of a full frame sensor (but beats them in speed/usability)



The E-M1 and Sony A7 are about the same size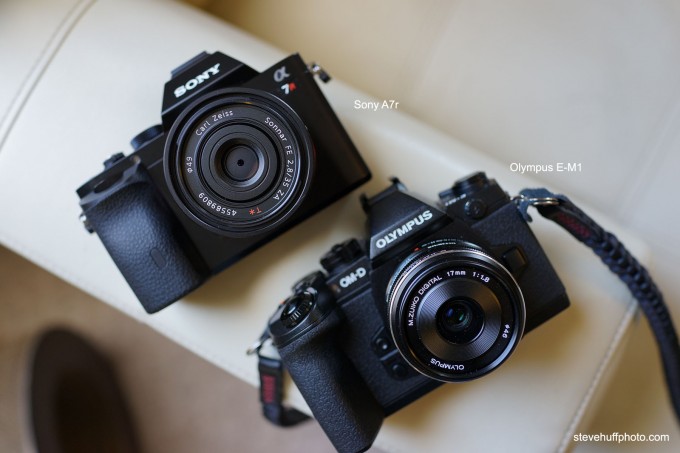 So as you can see, tons of pros and not many cons. Some will argue with me and say I am incorrect on the IQ matching APS-C but I can tell you that there is NO APS-C I would  take over the E-M1. I judge cameras as a whole on IQ as well as usability and inspiration factor. The E-M1 has it all, something no other camera has accomplished for me, ever. The E-M1 is highly recommended but if you go that route do not just use a kit zoom. Make sure you take advantage of what this camera offers you and grab some of those amazing primes or the new 12-40 2.8.
I bought my E-M1 from Amazon. The direct link is HERE.
–
The Sony A7 and A7r – Full Frame Mirrorless – Body only A7 $1698 and A7r $2298
Announced AFTER the E-M1 the Sony A7 and A7r are revolutionary and a worlds 1st. These cameras are very special for a few reasons, one being that it is the smallest full frame mirrorless in the world, and the worlds first full frame Auto Focus mirrorless  camera. Its only real competition for image quality in this category is the $7000 Leica M. In fact, that is the only other full frame mirror less camera you can buy besides the Sony and the Sony has a newer and most likely better sensor (for DR, High ISO, and most likely flat out IQ). While the Leica is built to a high standard and hand assembled in Germany in small batches at a time, the Sony will be a mass-produced monster. There are pros and cons to this. The pro for Leica is the attention to detail due to the hand assembly and testing of each unit. The Sony on the other hand will be perfected before mass production and usually this means rock solid reliability, something the Leica does not always have.
Sony + Leica may just be a magical combo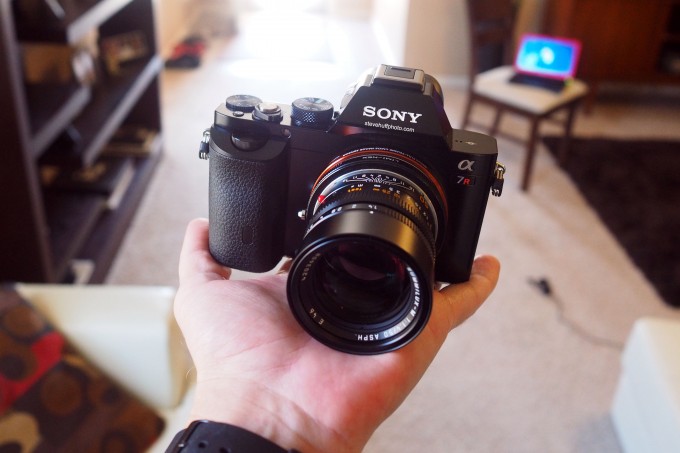 So think about this..
The Sony A7 at $1698 offers you a 24Mp full frame sensor in a solidly built body. The sensor will be incredible and surpass just about anything out there now. You can mount the new Sony FE glass (full frame lenses) or you can mount Sony E lenses (though with a severe crop). You can also mount Leica M lenses or use Canon lenses with full AF and metering. You just might get more crispness and pop from this Sony A7 with a Leica 50 cron then you would on a Leica M with a 50 cron. Not 100% sure yet but from what I have seen so far, this may be the case.
I mentioned in a previous article that when the Leica M9 was released, there was nothing that competed with it for IQ (IMO). Today with the M, there are several cameras that compete or pass it up in IQ. But until the Sony, all have been large and heavy which meant to me, the Leica was still worth it for the small size. Besides, you can not mount a Leica lens on a D800 or 5D. So now that the Sony is here, this means the game has been changed. Now we have a full frame SMALL and LIGHT camera that delivers Leica and above results, all for $5k+ LESS  than the Leica.
Is the Sony as good-looking as the Leica? NO
Does the Sony feel as good as the Leica? NO
Does the Sony equal the M in build? NO, but in some ways YES
Is the Sony EVF better than the one on the M? YES, by far in speed and quality.
Is the Sony more versatile than the M? YES, by far.
Will the Sony offer better high ISO than the M? Not sure yet, but most likely. 
I can go on and on but the Sony offers more bang for less buck, so to me, being a Leica "Fanboy" this is amazing. This means that Leica M users can buy a $1700 back up to their M. This means that those who always wanted a full frame body can possibly now afford to get one. This means that those with Leica glass and no Leica digital body may now have an amazing solution where they can use that glass how it was meant to be used. In glorious full frame quality.
I have already stated that the Sony RX1r beats the Leica M and 35 cron in IQ and low light. (It does). If the A7 and A7r surpass it with all lenses then Leica may start to see sales drop because there ARE INDEED many who buy Leica only for the quality of image and lenses, not for the name. We are not all about the red dot.
If this Sony is proven to be an IQ masterpiece then the M sales will be to those who refuse to believe anything could be better, to those who think of other brands as toys and to those who just want to "look rich" or those who simply prefer a rangefinder to focus. Shooting with a Leica is a beautiful thing, I admit. I love it to death and it is a "lifestyle" in a way to use a Leica. The feel, the build, the simplicity, the results and the lenses. It has "it". But when a camera comes along that can offer the same or better IQ for $5,000 less, then that is a game changer for the majority of camera buyers.
The Sony in my limited use felt nice, was fast to AF, was easy to Manual Focus a Leica lens with and without focus peaking. The only negatives I found were the loud shutter of the A7r and the fact it had no in body IS (like the Olympus). To be fair, not even the Leica has in body IS and the shutter on the Leica is not silent by any stretch of the imagination. It is subdued but still loud enough to be heard. The shutter sound of the A7 to me was fine and it will in no way effect street shooting just like old film cameras never did. It is a camera and a camera is meant to have a shutter. It is not offensive, just louder than expected.
So the breakdown of why the Sony is a game changer is simple. It's the only camera in the world that does what it does. Full frame, small, high build quality, AF, and the ability to adapt third party lenses. Plus I simply LOVE LOVE LOVE the way the camera looks with the battery grip 🙂 
Two words: Full Frame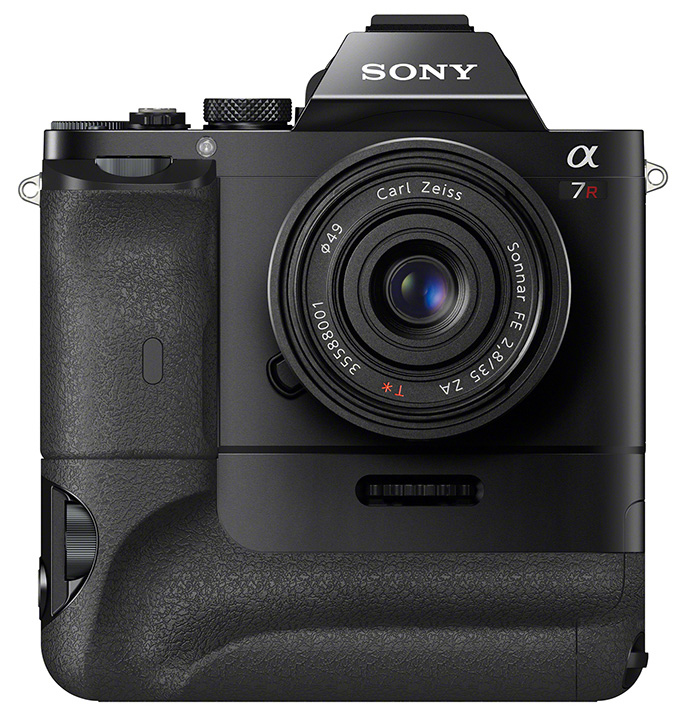 Sony A7 and A7r Pros:
Worlds only camera that is full frame, mirrorless, compact, has Auto Focus and can use M lenses.

Full frame 24 or 36 MP sensors. These will deliver the richest image quality in 35mm. 

Low light ability will be superb.

EVF is the 2nd best I have used next to the E-M1 EVF.

Build on the cameras is much like the RX1/RX1r.

Auto Focus was fast with the new FE lenses I shot with.

The ability to use Leica M lenses via adapter.

The ability to use Canon EF Auto Focus lenses with AF via adapter.

Can mount all kinds of vintage glass via adapters with no crop factor. 

Price is EXCELLENT for what you get.

A7r has NO AA filter

A7 has phase and contrast detect AF and is the cheaper camera!

Weather sealed

Eye Auto Focus to auto focus critically on the eyes

At the end of the day my guess is this will have the best IQ of any 35mm digital to date

Cool battery grip 🙂

Can use A lenses with adapter with full functions
Sony A7 and A7r cons:
The camera seemed slower in response and AF than the Olympus E-M1

The 1st gen of any camera can have issues, hope there is none but there could be

Leica M wide-angle performance is yet to be seen, could have color shift issues just like the Leica does with some lenses

Lack of lenses out of the gate. Only one at launch (35 2.8) and one later (55 1.8) and one more really later (24-70 f/4)

Lack of super fast aperture lenses (Leica rules the game in this area for full frame, Olympus/Panny  for Micro 4/3

Continuous AF may be slow (but again, this is a guess as I have not tested it, just judging by what I saw in my 1st use)

May have the best IQ to date in 35mm but lack of new FE lenses in general at launch means not much choice just yet.

No in body IS

Loud Shutter sound
At the end of the day the Sony will easily beat the Olympus E-M1 for all out Image Quality when judging Dynamic Range, Color Depth, Resolution, and for Shallow DOF (though only a 35 2.8 lens at launch). But I do not feel it can beat it in overall speed and responsiveness. The E-M1 gives you everything in one package but will lack in IQ over the Sony without question. So you need to ask yourself what it is you desire? If it is all out IQ then the Sony is the real deal. If a jack of all trades, the E-M1 is it. Remember, the E-M1 can take a beautiful quality image as well.
Me, I want BOTH as I will have different uses for them. The E-M1 for fisheye, macro and some Telephoto. The Sony for fast primes and all out resolution shots/portraits, etc. Both are beautiful and worth to have in my kit. This means I have to clear out 1-2 others in my current kit to afford the new cameras. Hmmm.
Anyway, this is my job so I HAVE To keep new cameras in my stable for comparison reasons so you guys and ready about them all 🙂
You can pre-order the Sony's by using the direct links HERE
–
The Fuji X-E2 – APS-C X-Trans – Body only $999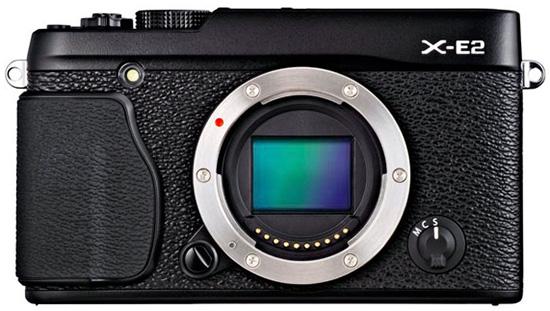 The Fuji X-E2 is now here and official as well and Fuji has now taken up the performance with faster AF. Actually, they are calling it the "Worlds Fastest Phase Detect Auto Focus". This is exciting because that was the main issue with the X-E1 and X-Pro 1. The AF. Some will disagree but those who do have probably never shot with an E-M1 or E-M5 or X100s or Leica M (lol, yes, I focus my M faster than I can get accurate indoor focus with a Fuji X-E1 or Pro-1). But now the focus speed is fixed and the now 2nd gen X-E1 is ready to rock and roll with super sonic AF speed. Though only ONE of their lenses is compatible right now with the faster focus I am sure this will be fixed via firmware updates.
The Fuji X-Trans sensor has many fans and the IQ I have seen from some users has been phenomenal. Mostly with portraits and fashion style shots.
No question they have been popular cameras so I am happy to see this one have improvements in AF and processing.
I would have liked to have seen a new sturdier and more solid body. As it is, the A7 and E-M1 have better feeling and built bodies when compared to the hollow feeling X-E1. At the end of the day though this is good news for those invested in Fuji glass because you now have a body that will offer you fast and accurate AF all of the time. If the X-Trans is your thing, this one may be for you. If I were a Fuji use though or someone thinking about Fuji I would wait to see what the X-Pro 2 brings as it may bring a surprise or  two. 🙂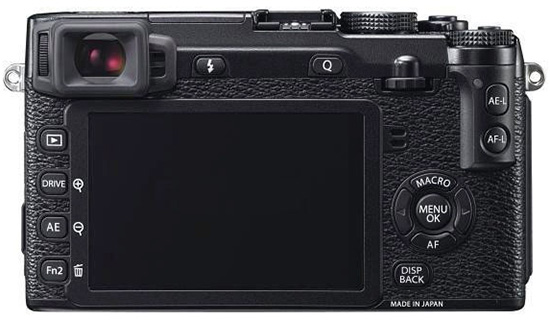 Pros of the X-E2
Faster AF…finally! Should be top class speed.

Fuji has some amazingly good lenses and primes already

Price is $999, perfecto!

Fuji colors..you gotta love them
Cons of the X-E2
Looks to be same build as the X-E1 (lowest of the three here)

To  those that are NOT fans of the X-Trans, this one still has it

How will continuous AF work? My guess is slower than E-M1

No swivel LCD?

No in body IS

EVF smallest of the new cameras talked about on this page
The X-E2 is the most affordable of the three cameras here, and I know why. Where Olympus cut no corners in build and quality of the dials and buttons and weather proofing, and Sony also went high in the build, you WILL feel the difference in the Fuji in this area. It is cheaper in build which means cheaper to make which means cheaper to buy. But that does not take away from the image quality and capabilities of the camera. I have seen quite a few amazing pieces of art created with the X cameras and if you have the right light the images will POP. I have to admit, I am much more excited by the E-M1 and Sony A7 series but I am also thinking that the X-Pro 2 will be the one that delivers it all for Fuji users. So I will stay tuned. I will be reviewing the X-E2 as well.
You can pre order the Fuji at B&H Photo in all colors and configurations.
Or you can pre-order it at Amazon
So there ya go, my thoughts on the Big three releases for the end of this year. I will see more of these at Photo Plus next week, and will have a full week with the Sony right after that. So much more to come. I do find it funny that there are three big releases yet none of them have the name Canon or Nikon. That says a lot right there as to where the tides are turning.
Steve