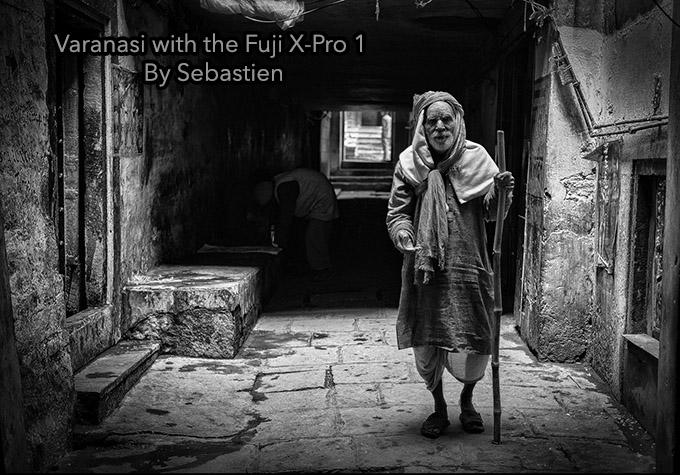 Varanasi with the Fuji X-Pro 1
By Sebastien Bey-Haut
I just came back from a photo trip in Varanasi (Uttar Pradesh, India) and would like to share a few shots of this incredible city. Varanasi (or Banaras) is one of the holiest cities of the Hindu religion. It's mostly known for its Ghats on the banks of the Ganga river.
Varanasi is said to be older than history, and frankly speaking it seems true. Going there is like entering another time dimension. It's the dirtiest but also the most beautiful city I've ever seen.
To give you an idea of the local mood the nice guy with the skull is an Aghori Kapalik baba, a member of an Hindu sect known to eat pieces of human bodies found in the Ganga. The "fire shot" has been taken at Manikarnika, the most important "open air cremation" Ghat of India.
You should however not be afraid by these disturbing aspects of the city; these traditions are part of its magic. Going there is actually quite safe, precautions should of course be taken in terms of health (drinking a glass of Ganga water might not be a good idea), but no particular violence is to be feared.
For a photo trip the best would be to hire a local "unofficial" guide (there are a lot of them close to Manikarnika) and ask them to show you the "real" Varanasi (meaning the narrow streets of the old city and the less touristic places). The official guides will be reluctant to take you out of the main touristic route.
One last advice: let your Berluti at home and bring shoes you are comfortable to make (very) dirty, the streets are full of animal and human fluids and materials of any sorts…
In terms of gear I used exclusively my X-Pro1 and Zeiss Touit 32mm (because I stupidly forgot my 18mm home). I used it in the simplest way: OVF, center focusing, no picture preview on the OVF. A good trick is to use the OVF on the "wide angle": With the 50mm equivalent it allows seeing a lot of what is outside of the frame and thus taking your shot at the right moment.
The only Fuji quirk is the poor raw handling in lightroom, is thus used only neutral jpegs (everything like color, noise, sharpness at middle or low) and then post processed them with the Nik Collection and Lightroom.
The most difficult thing has been to select only a few shots for Steve, many more (including baba portraits, night shots, and shots of the small villages on the other side of the Ganga) are available on my 500px page, please take a look at it.
I'm also considering to sell some high quality baryta prints of the best shots, please do not hesitate to send me an email to discuss it further (sebks @ hotmail.com)
Best regards,
Seb