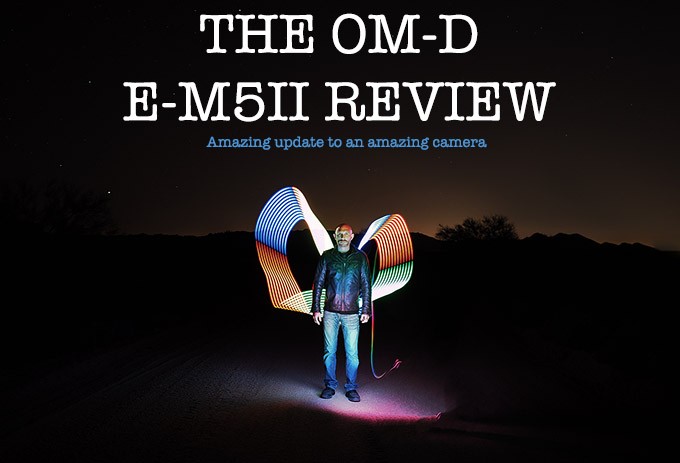 The Olympus OM-D E-M5 Mark II Review. Olympus continues to innovate.
By Steve Huff
Below is my 1st look video on the E-M5 II, take a look!
February 18th 2015. 
I have reviewed almost all major Olympus mirrorless releases here since the original E-P1 that started it all. Ever since there have been cameras like the
E-P2
,
E-P3
,
E-P5
,
E-Pl1
,
E-PL2
and so on. Then came the OM-D series and the
E-M5
and then the "Pro" OM-D, the
fantastic E-M1
(which I still own and use). I have loved all of the Olympus mirrorless cameras I have reviewed but
WOW have they come a LONG way since the original E-P1 PEN!
That camera was revolutionary for its time but looking back it was slow as molasses, had horrible high ISO performance and lacked in so many ways
in comparison to todays
Olympus cameras. Again, for the time it was great..for today, those old 1st PEN cameras are nothing like what we have today from Olympus, and what we do have today is quite amazing when you really dig into the cameras like the new E-M5II.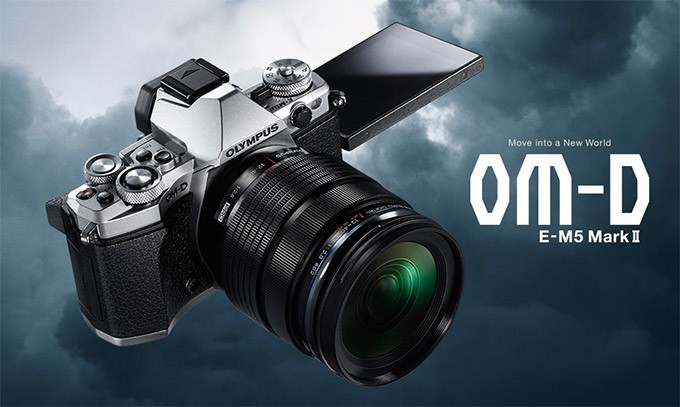 Olympus has continued to innovate and create new technology in cameras while keeping the cameras small, fast, great looking, AS WELL as keeping them performing in Image Quality to the level of an APS-C sensor camera. Yes, there is nothing at all lacking when it comes to image quality, color, or pop when using good lenses. It also does not hurt to have the most amazing lens selection available as well as exclusive features such as Live Time, Live Composite, Advanced 5 Axis IS, and more. I have always said, the LENSES are the heart of ANY system, and for this system there is NO shortage of amazing glass.
The E-M5 II is fast, discreet, quiet, and provides fantastic IQ. The image below is an out of camera JPEG shot with the Panasonic Nocticron (my fave M 4/3 lens ever) under mixed indoor lighting. Sharp, creamy, and perfect color and AWB.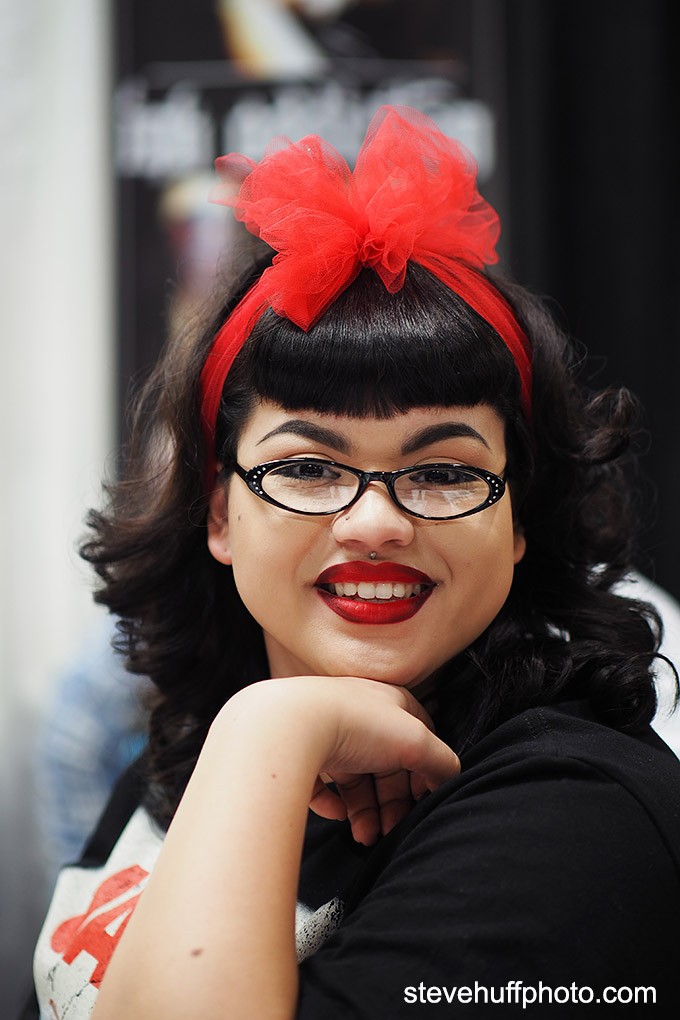 I have written hundreds of reviews for cameras, lenses, bags, straps, accessories and all things photographic. For the life of this website, now going on seven years (Geez, where has the time gone), I have talked a ton about Olympus, Leica, Sony, Ricoh, Zeiss, Voigtlander and many others. I sometimes look back at reviews and remember which cameras were special to me, and which ones I had the best experiences with. Cameras like the Leica M 240, the Sony A7s and A7II, the Olympus E-M1 and E-P5, the Fuji X100..so many great cameras over the years and each year I ask myself…"How can it get better"? Seriously people, today we have so many cameras capable of jaw dropping quality. If we went back in time to 1984 with an E-M5 II or E-M1, photographers back then would FREAK OUT at what can be done.
With image quality peaking, camera companies are starting to look into other improvements such as improved high ISO quality, better video, better image stabilization, and a better usability experience. No other company leads this INNOVATION better than Olympus, and right behind them are Sony.
But remember! Olympus has created some of the best tech in cameras ever. EVER!
Olympus were the 1st ones ever with DUST SHAKING tech to clean sensors of dust automatically. They were 1st with 5 Axis IS and have just improved it to an incredible level in the new E-M5II. They were the 1st with LIVE VIEW in the Evolt E-330 back in the day! Yes, the 1st with LIVE VIEW and they were 1st and are still the only ones with "Live Composite", an amazing feature that takes all guesswork out of astrophotography and long exposure work. Olympus keeps pushing new technology and for this reason they may be my overall favorite camera company. They are like the "Apple" of cameras.
Some would think that Sony or Leica is my favorite camera company but they are just behind Olympus. Anytime I shoot with a new Olympus camera I am wowed again and again. I mean, the lenses are stellar, 2nd only to Leica M glass IMO. Small, built well, and performance that exceeds the price point, Olympus has it going in in the Micro 4/3 lens world with so many fast primes that focus fast, look great and feel great. They are also small (with the exception of the new 40-150 2.8 pro, which is larger). Hand held low light shooting is a breeze with the latest Olympus cameras due to the amazing Image Stabilization inside. There really is NOTHING like it, not even in pro DSLR land.
The 12-40 f/2.8 Pro Zoom in the Crystal Caves – click image for larger.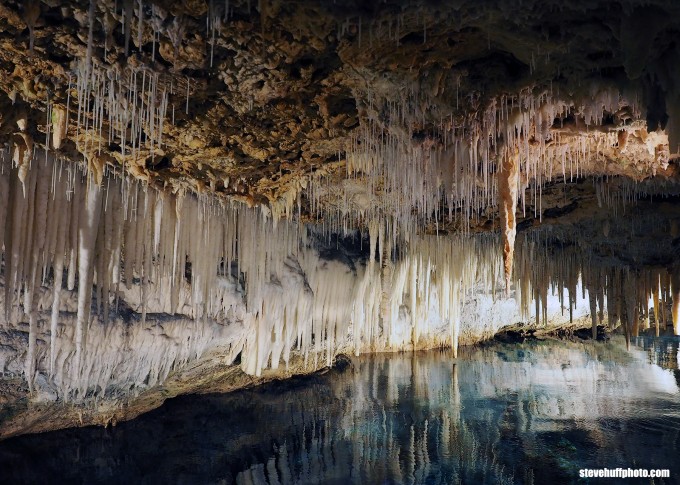 –
The SUPERB Olympus 17 1.8, at 1.8. I prefer this lens to the Panasonic/Leica 15 1.7 for color, pop and overall rendering. Click image for larger!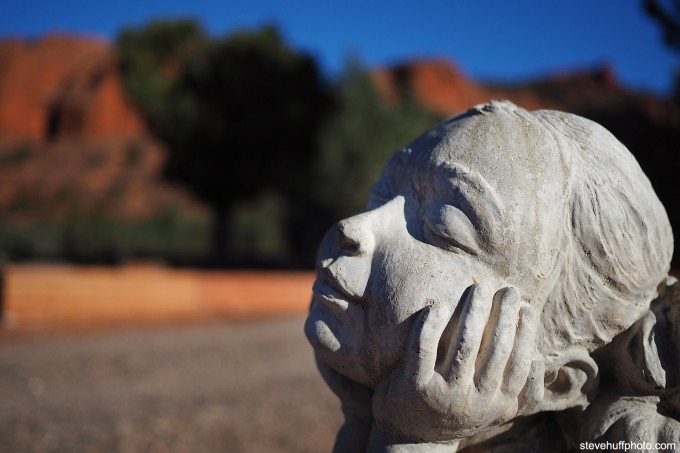 In the early days of Micro 4/3 there were so many naysayers.."the sensor size is too small" – "you can not get shallow depth of field" – "noise levels are too high" – "can't compete with APS-C" – yada yada yada. All of these statements had some truth to them in the very early days..E-P1, E-P2..yea, they were slow, had awful low light ability and were crippled when compared to something like a Nikon D300 of the day, but today it is an entirely different story, big time. 
Today, just as I said with the E-M1 launch, the E-M1 and now E-M5II, for me, beat ANY APS-C camera made today for usability, build, speed, features, lenses, color and IQ. There is not one APS-C camera made today that I would take over an E-M1 or E-M5II. None. No Fuji, no Sony, no Leica. When I shoot with the E-M1 I have nothing but joy and happiness as it just works. It does the job and it always delivers the results I love. In many ways, it beats some full frame cameras as well because it is consistent and reliable with almost ANY of the lenses you mount.
Now with super lenses like the Panasonic Nocticron, the Olympus 40-150 2.8 and the Olympus 75 1.8 this is a SERIOUS system capable of beautiful results.
So how has the new E-M5II upped the game over the original E-M5? In MANY ways, but the real question is…"Is it now better than the flagship E-M1"? I own both and have used both extensively so I will tell you my opinion in this review about that! Keep reading!
The E-M5 II with the 40-150 Pro Zoom at 2.8 – this lens is a masterpiece. JPEG. The colors, the bokeh and the detail this lens provides is just incredible.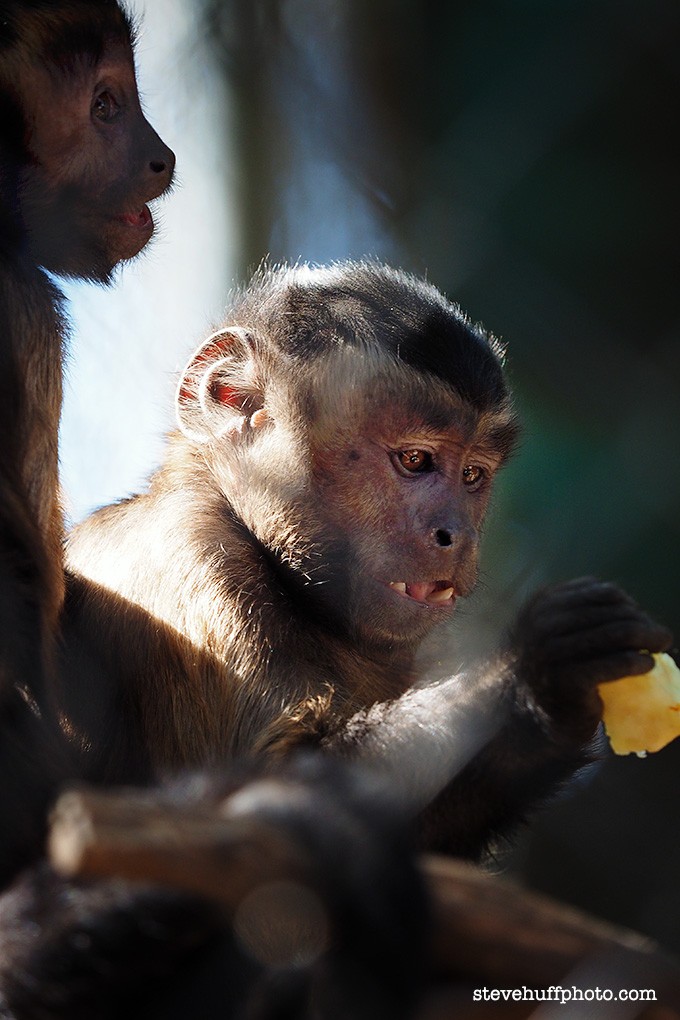 –
The Panasonic Nocticron at f/1.2 – This is a GORGEOUS lens and has no faults.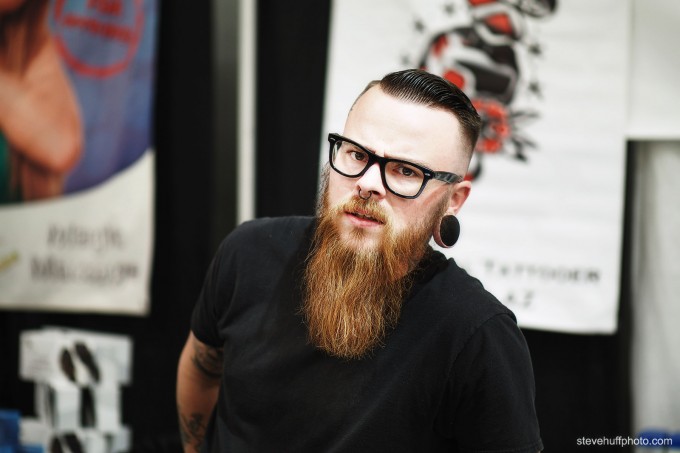 The new E-M5 II vs the old E-M5..what's the story?
I loved the original E-M5 and owned it until the E-M1 arrived. I have owned the E-M1 ever since launch and even bought the silver model when it was released and let go of my black one. It's a gorgeous camera I love and adore for the reasons I already explained. Extremely tough and well made, extremely fast, extremely capable with the 5 Axis and beautiful lens selections…so much to like. But what about those who have the original E-M5..and still love it? Should they upgrade to the new Mark II version?
The new Mark II E-M5 has a more advanced top panel with metal dials instead of plastic.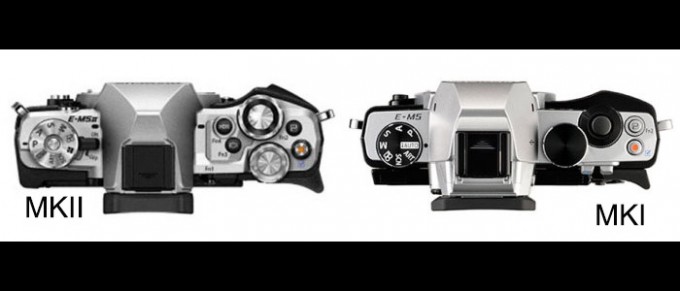 Well, all I can do is tell you my opinion, and my opinion is that YES, the Mark II is a very worthy upgrade in almost all areas!
Here are the top 11 improvements off the top of my head, the ones that I really noticed from the Mark I…
1. Better build and feel. Grip is nicer and controls are more solid. Metal dials and a very nice and somewhat retro look. (Not to the level of the E-M1)
2. Still weather sealed. (though not to the level of the E-M1)
3. New side out swivel LCD makes shooting much more enjoyable IMO. (I prefer this to the E-M1)
4. The new 5 Axis IS is SPECTACULAR! Not sure how they did it, but they did it. It really excels with video. (Beats the E-M1 5 Axis)
5. New video options including 24, 30, 60 FPS. The video looks so good. (Better video than the E-M1)
6. The EVF is now the same large size as the E-M1. (which means an E-M1 MKII should be even larger when that one comes out)
7. Auto Focus is faster and FPS is faster as well. Overall, a much quicker camera. (Faster than the E-M1 in all but continuous AF)
8. Low light ability is now equal to the E-M1 which was slightly better than the E-M5I..high ISO up to 25,600.
9. It has Live composite and Live time that the E-M1 and E-M10 have. These are amazing features. 
10. Silent shutter option for total silence with 1/16,000 shutter speed. (E-M1 does not and will not have the Silent Shutter)
11. New High Res 40 Megapixel shot mode (Tripod is needed with NOTHING moving in the frame, E-M1 will not have this nor does it)
So for $1099, this camera will come as a body only and will NOT come with a Kit Lens. I think Olympus realizes that Kit Lenses are lackluster and do not really show what the cameras are capable of. When you throw a nice prime or pro zoom on these cameras they SHINE and give you APS-C or greater quality. Just browse through the images in this review or my E-M1 review or my E-M5 Mark I review and you will see that just because these cameras uses a smaller sensor than the APS-C and Full Frame cameras, the rendering of the images is spectacular from color to sharpness to pop (due to the sharpness).
ALL images here? OOC JPEGS. NO Raws yet as I am waiting for Adobe to release the update with this camera.The JPEGS from the E-M5II are fantastic. 
Panasonic 15 1.7 on the E-M5II – click any image for larger and better view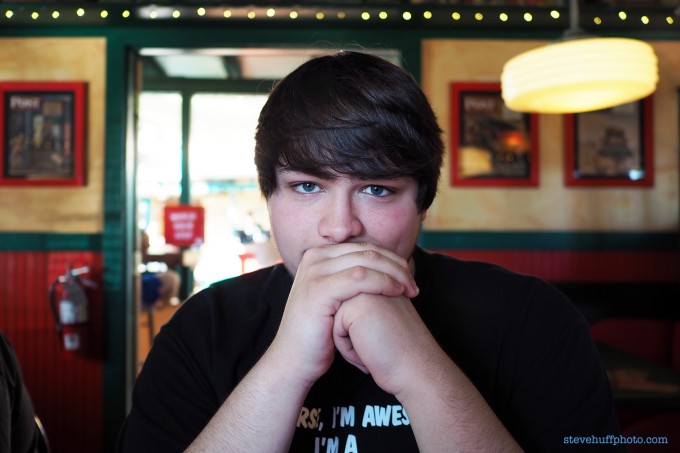 –
Olympus 17 1.8 on the E-M5II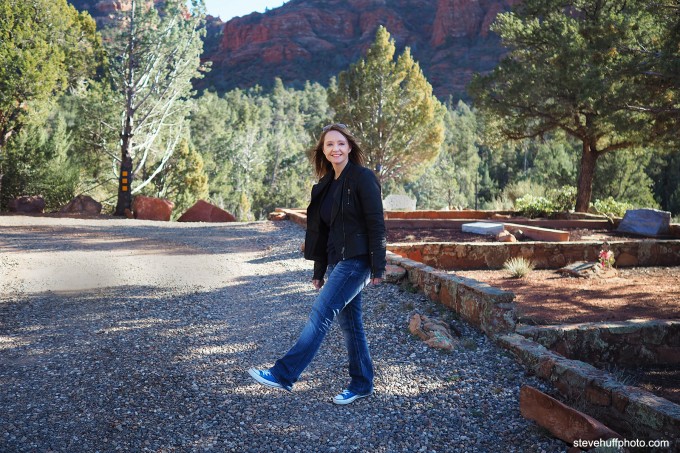 –
Panasonic Nocticron 45.2 f/1.2 at 1.2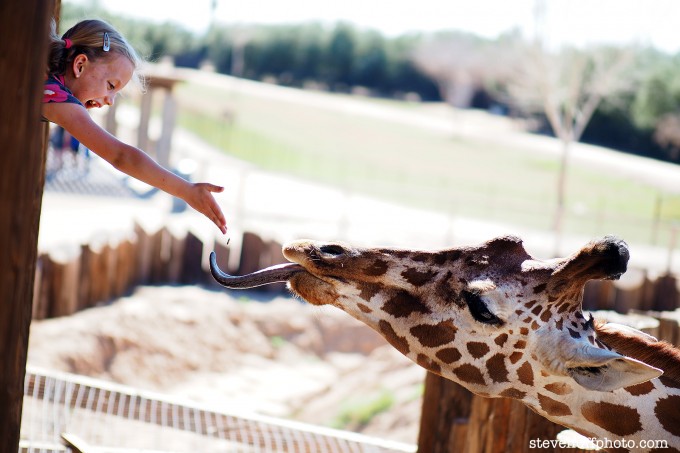 –
So with all of that out-of-the-way, it is obvious when using the new Mark II that the camera has matured since the Mark I, which is now three years old. My review of the original Mark I is HERE and as you can see, I loved it then..but I love it even more now in Mark II form, and I have been used to the E-M1 flagship for 1 1/2 years now. Many have been e-mailing me "what camera should I get? The E-M1 or the E-M5II"? That is a tough one, and I will tell you why…
The E-M5 II and the 40-150 f/2.8 – tweaked this JPEG by lowering the brightness to make the color pop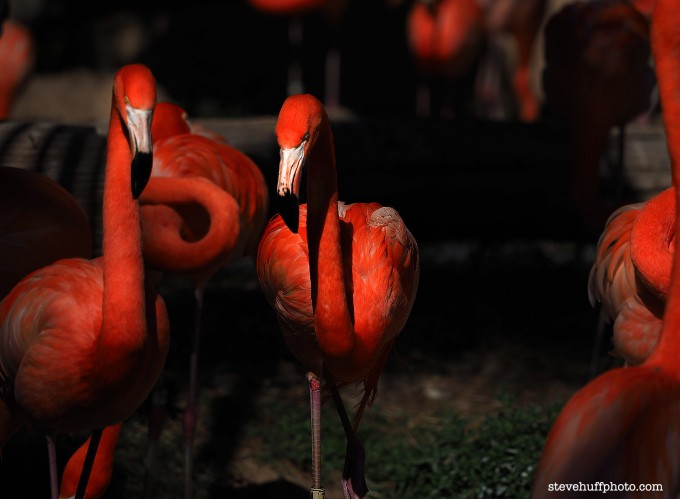 The E-M5 II or the Pro E-M1?
This is a tough question but when I was in Bermuda with Olympus I was using the new Mark II and thinking "why would anyone want the E-M1 with the E-M5 II having newer tech and features"? The more I used the 5 Mark II I was asking this question. Here, in a small well-built package I had amazing performance and speed, a great image stabilization system..best in the world, the larger EVF of the E-M1, a swivel out to the left LCD, better video capabilities and even a silent shutter and new 40MP High Res shot mode. When I came back home and pulled out my E-M1 I shot both side by side and then I realized why I still slightly prefer my E-M1.
The E-M1 is built better, feels better and I prefer the control layout. 
The E-M1 has a sturdier pro level shutter, will last longer.
The E-M1 is freeze proof and shock proof, better weather sealing than the EM5 Mark II. 
The E-M1 is slightly larger, fitting into my hand perfectly without adding a grip.
The E-M1, for me, provides slightly better IQ with sharper and richer files. Not sure why, but this is the case. It's slight but there.
A video showing the E-M1 and E-M5Ii side by side…
For me, I just enjoyed using the E-M1 a bit more, but I have a feeling a new E-M1 Mark II will be out within a year and I will bet you that it will not only have the new features of the 5 Mark II, but newer features exclusive to the new model. Just a guess but Olympus will HAVE To do this as the new E-M5 II will start eating into the E-M1 sales because of what it offers for less money. For most, the E-M5 Mark II, at $300 less cost than the E-M1 while offering more, will be the favorite choice. Truth be told, if buying from scratch I would choose the E-M5 II over the E-M1. Having the E-M1, I would not sell to go to the 5II. For me, owning both is the answer. 😉 The 5II makes a perfect complement to the E-M1 as a 2nd body as you get the best of both worlds.
An E-M1 shot with the 12mm f/2 Olympus prime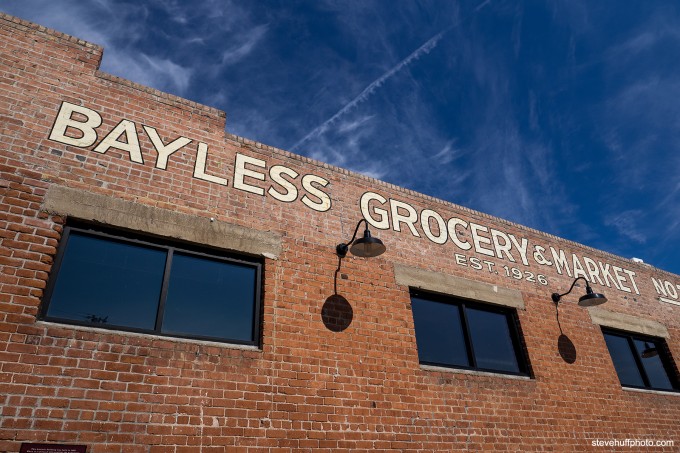 At the end of the day, for those who are just now jumping to Micro 4/3 I will 100% recommend the E-M5 II as the camera to go for over any other Olympus or Panasonic. It's a no brainer really. For those asking me if they should sell their E-M1 for the E-M5II, no, I would wait for the E-M1 Mark II. For those wanting to sell the E-M5 Mark I for the II, I would say GO FOR IT. It's a definite upgrade. You can quote me on that 😉
LIVE COMPOSITE and LIVE TIME = GENIUS!
The Olympus E-M1, E-M10, E-M5 II and the E-P5 Pen have features called "Live Time", "Live Bulb" and "Live Composite" and I feel many owners of these cameras NEVER use these features or even know they exist. If you have one of these cameras and have not yet used these features, I urge you to give it a try as amazing things can be shot using them, and, the best part…it is a blast to use and shoot using these modes.
Last week a buddy of mine, Alex McClure who is also an Olympus trailblazer, took me out to the AZ Desert to shoot some long exposures and do some light painting with the new E-M5 II and my E-M1. He went over his preferred setting and gave me a tutorial on how to shoot star trails..and it was a blast.
STAR TRAILS, LONG EXPOSURES..LIVE COMPOSITE
For long exposures, Live Composite is phenomenal. We set up our cameras to shoot on a tripod and I plopped on my Panasonic 8mm Fisheye to the E-M5II and set the camera for Live Composite (set it to Manual mode by choosing M on the control dial and turn to the left until you see LIVE COMPOSITE). I set the camera to ISO 1000 and we set it for 20 second exposures. When you take the 1st shot, it will expose for your subject and nail the exposure. The camera will then tell you it is ready to take the composite shot. Press the shutter again and in our case, it started taking 20 second exposures and stacking them automatically IN the camera until we stopped, which was around 40 minutes later. The camera shows you the progress in real-time on the LCD, so no more guessing when you need to stop the exposure! This is HUGE for astro shooters!
Because the 1st shot exposed the scene and our cactus, the 2nd press of the shutter allowed the camera to ONLY LOOK for NEW LIGHT, which in this case were the stars in the black sky. So even with 40 minutes of exposure, the cactus never overexposed and the camera only saw the star trails, and recorded that to the final image.
E-M5 II, 40 minutes of 20 second exposures stacked in camera to create this 100% out of camera JPEG. Amazing, foolproof and the best part? The camera shows you the updates in real time on the camera LCD so you know when you want to shut it off..when you shot is exactly how you want it. No more guessing games. Panasonic 8mm fisheye was used (review here)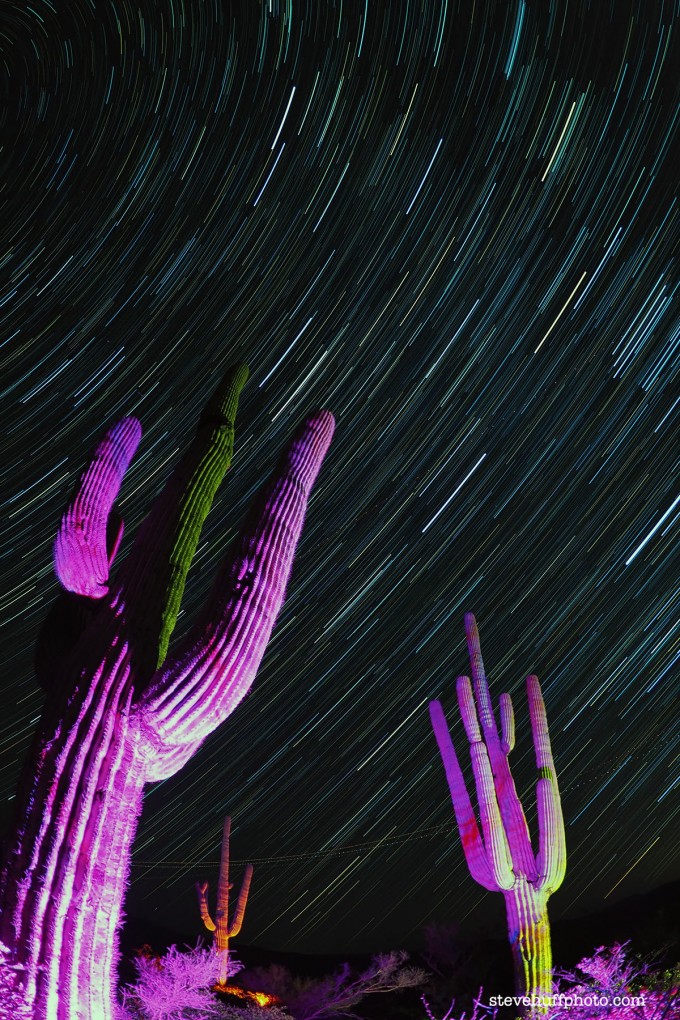 –
LIVE TIME – Real time exposure allows you TOTAL control over your long exposures
Live Time is similar to Live Composite except that it does not take an initial image with perfect exposure. Live  Time allows you to do long exposures or light painting while viewing in real time what your images is turning out to be. Sort of like when you used to develop actually film prints in the darkroom..you see it exposing in real time. Set it up on a tripod, press the shutter and start the exposure..when it looks perfect, press the shutter again to close down the shutter.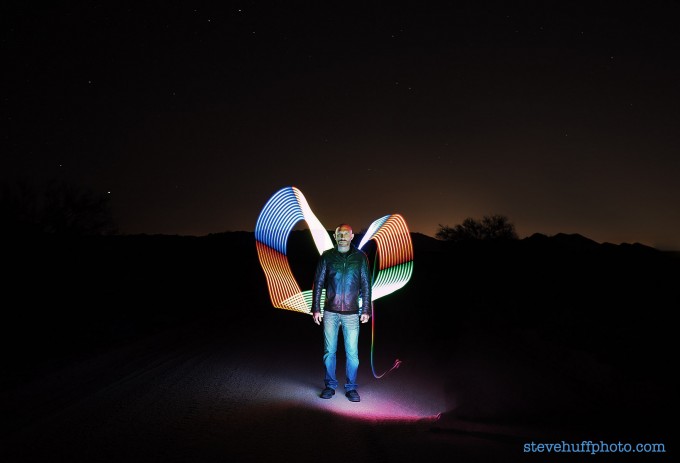 The image above was taken with the E-M1 as my E-M5 II was on the tripod for 40 minutes taking the Cactus shot above. Still works the same way on both cameras. I stood there and Alex McClure pressed the shutter, ran over to me with some lights and "drew" the light behind me. He ran back to the camera and shut off the exposure. Was VERY cool. This is an OOC JPEG. How amazing is this? No other camera can do what the Olympus does in this regard. It is built into the camera and is basically a one button press and done. What you see is what you get.
Below: Spinning Steel Wool with Live Time – E-M1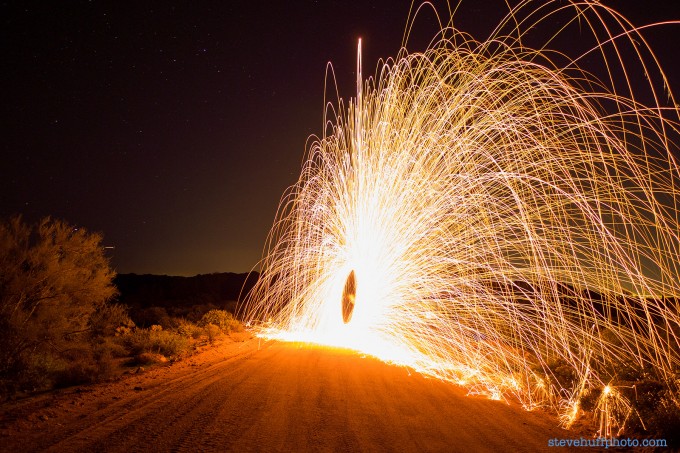 –
E-M5 II Live Time on the Beach in Bermuda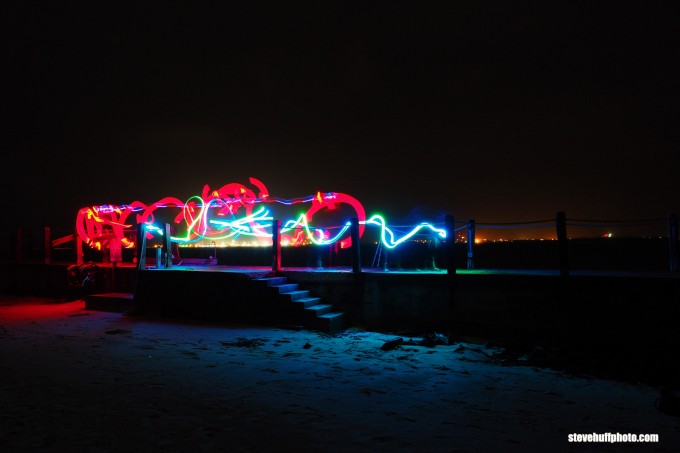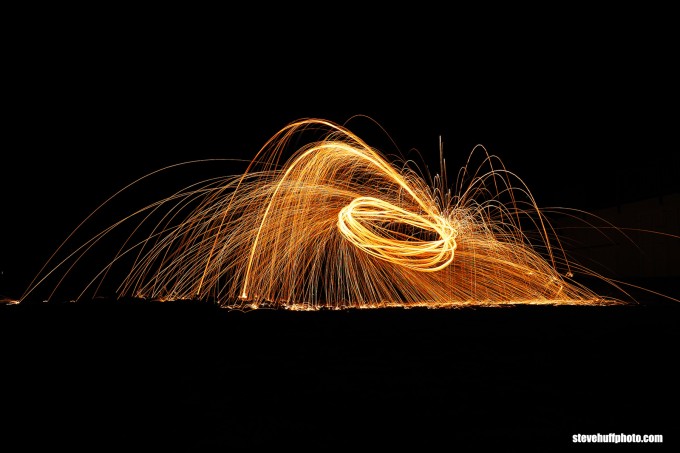 Sony has an app or two that can do similar things, but A: It's an app that must be added to the camera and B: It is a bit clunky in use and C: It is not as easily implemented nor does it work quite the same way. Other than that, no one else does this. With Olympus it is as EASY as pressing the button and watching the exposure come to life right before your eyes.
Many buy the E-M1, E-M10 or E-M5II just for this feature alone as it works so well and is very easy to use.
The Speed of the E-M5 II
The new E-M5II is faster than the old Mark I for sure, and is up there with the E-M1 when it comes to AF speed. In fact, I was told the only area where the E-M1 excels with AF speed is in continuous AF, which the E-M1 has the edge with. Still, I had no issues with the C-Af of the E-M5 II as you can see in this Dolphin shot..click it for larger.


Overall, in my 2-3 weeks of shooting with the camera I have not had ANY Af issues, whatsoever. In low light it focused and was accurate and in good light it was instant. Olympus also claims to  have the least shutter lag of any mirrorless camera made today in the new E-M5 II.
It's fast, it is smooth and it is quiet. The physical shutter is damped and smooth but it also has the ability to shoot in SILENT mode when you want 100% stealth. I still prefer the physical shutter but many will enjoy the total silence which also allows you to bump the shutter to 1/16,000 s.
The 40-150 Pro Zoom..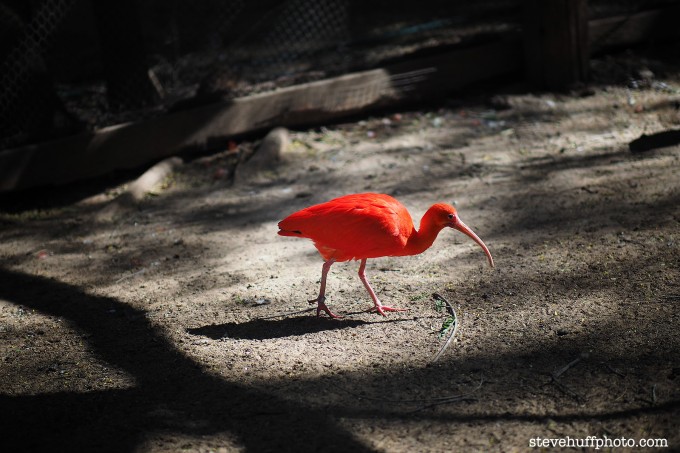 –
The Panasonic Nocticron at f/1.2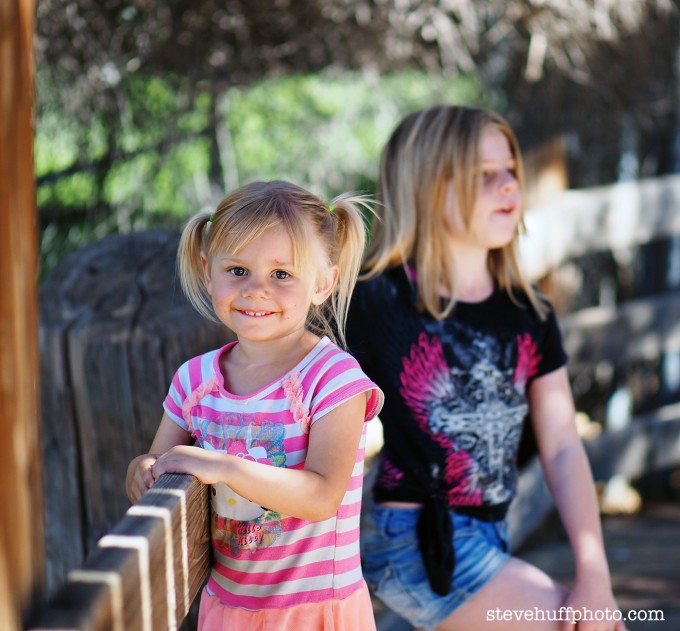 –
The Panasonic Nocticron at f/1.2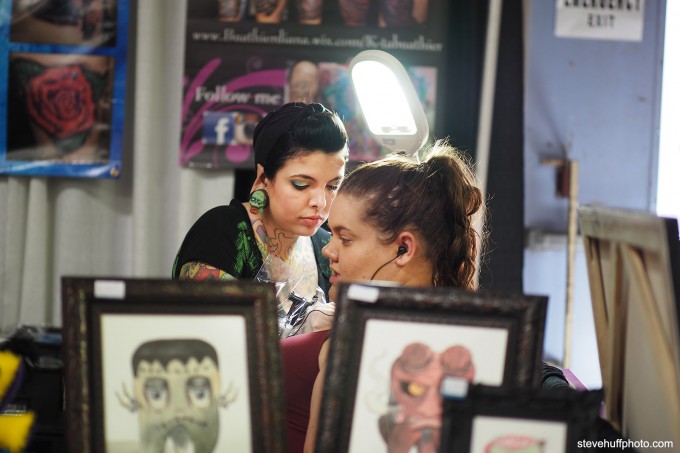 Five Axis Improved yet AGAIN!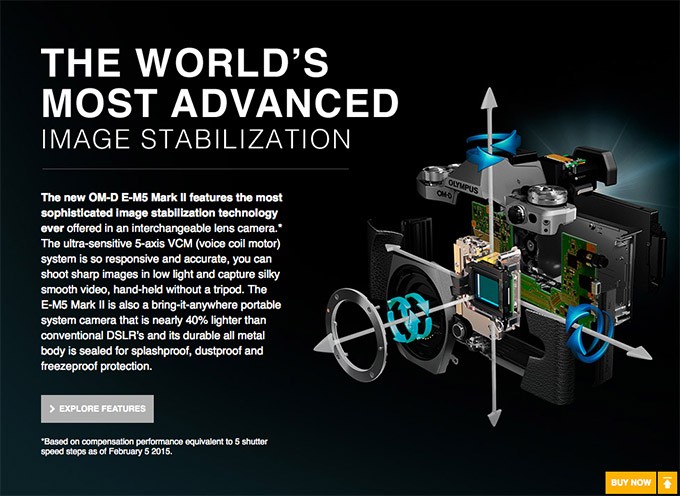 The new E-M5II has a new improved 5 Axis Image Stabilization that must be used and seen to be appreciated. It beats the 5 Axis in the original MK I E-M5, it beats the even better 5 Axis in the E-M1 and beats the 5 Axis in the Sony A7II handily. I have never seen anything like it. I have tested the limits and found it is easy to take 1 second handheld shots if you wanted to. I pushed it to 2 seconds and while the shot was not usable, it was not nearly as bad as you would think. It was taken in the DARK, and is a TWO SECOND hand held exposure..take a look! TWO SECONDS!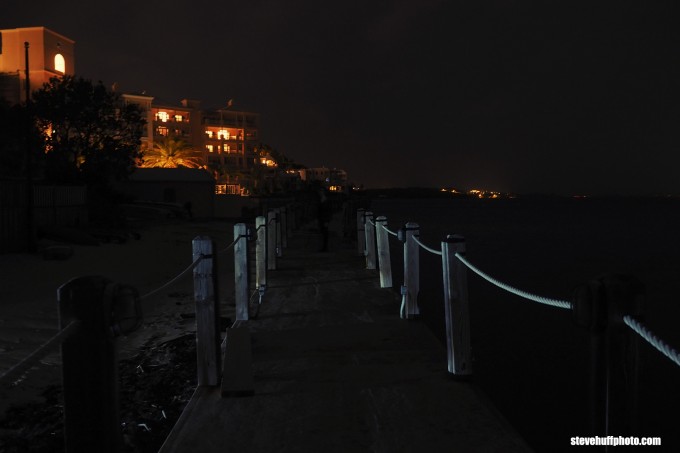 My favorite way to appreciate the new 5 Axis though is for VIDEO. Attach any lens to the E-M5 II and your video will look silky smooth and professional, like it was shot on a massive rig with stabilization. Hand Held video will never be the same. In fact, I will be using the E-M5 II for video production in 2015 due to the superb video quality I can get out of it. It's quite special.
40 Megapixel High Res Shot Mode
Another new feature of the E-M5 II is the new High Res Shot mode. It is VERY limited though and when I first heard about it I was excited, but as I used it I was less excited because before you can use this mode and get good results with it, you need to have the camera mounted on a secure tripod, you need your subject to be 100% motion free as ANY movement, even from wind, will mess up the photo..and YOU NEED A PRO lens. I shot some side by side with the 12mm f/2 prime at f/4 and was disappointed. I then used the 40-150 Pro 2.8 Zoom and saw the difference better, but again, where and when you can use this mode will be VERY limited.
At the end of the day though, it works and will indeed give you a 104 Megabyte RAW file and a 40 MP image from the 16 MP sensor. The E-M5II does this all in camera without any work needed in post. There is even a RAW converter plug in for lightrroom and photoshop that will process the massive RAW files (which is what I used for the test shots).
Below are two examples. Click the image below  to see a larger size and true 100% crops from each file. 1st on the left, the standard 16MP out of camera shot from the E-M5II. On the right, the high res shot from the E-M5 II. You will see differences if you click on the image and look closer. Lens used? The Olympus 12mm f/2.
Right click the images and "open in a new tab or window" to see larger size and 100% crops.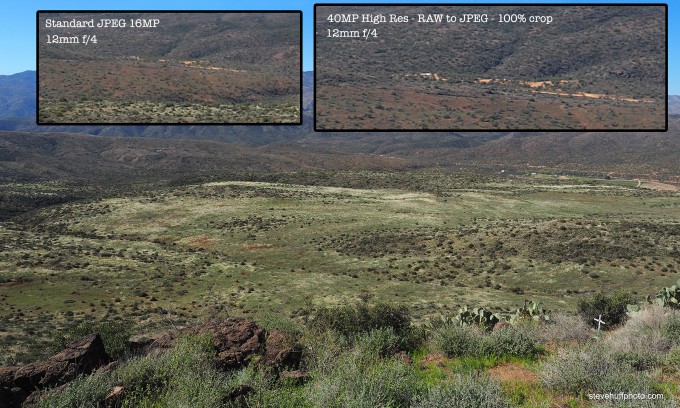 If you opened up the above image and looked at the 100% crops you will indeed see more detail in the 40MP high res mode. This shot was taken with a brand new Olympus 12mm f/2 lens, stopped down to f/4. This was shot with a tripod and is one scene in which you can take advantage of this new feature. The E-M1 will NOT be getting this feature but I expect it will make it to the E-M2 or E-M1 Mark II, whenever they camera comes out (I expect a year).
Here is one more where I used the sharpest Olympus lens I know of, the 40-150 f/2.8 zoom. It is on another level in sharpness and color from the 12mm f/2, and is probably the best lens of this type I have ever used in my life. Smaller than the Nikon and Canon 70-200 2.8 lenses, but sharper, crisper, more pop, better bokeh and better made. If I were a telephoto guy THIS WOULD be mine.
So using a great Olympus lens… let us see if there is a larger difference between standard and high res mode…
Click image for larger view and 100% crops.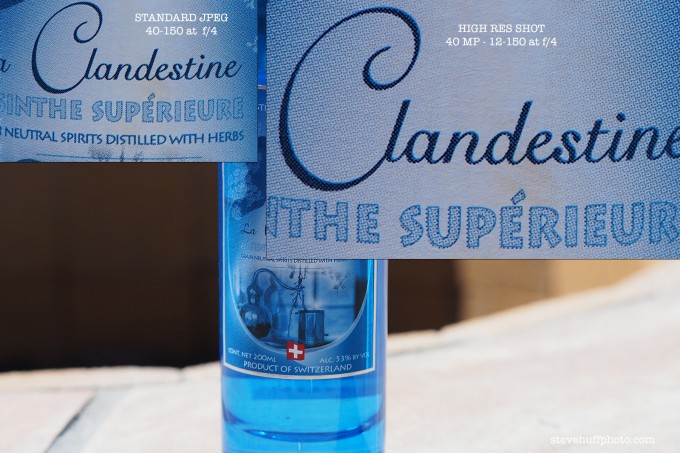 –
How about one with a shot with the E-M5II in standard 16mp mode, one in 40Mp High Res and one from the E-M1 in Standard mode with the same lens? The high res shot is the only one from RAW.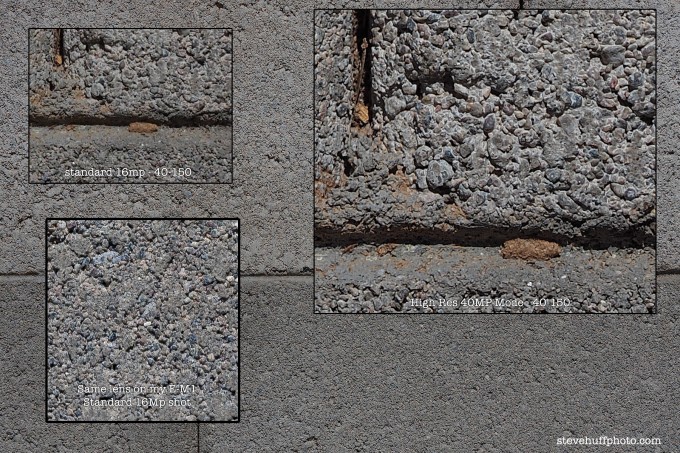 To me, the most detail is coming from the E-M1 in standard mode! I have been finding the IQ from my E-M1 to be slightly more detailed and sharper than what is coming from the E-M5II. One reason why the E-M1 is still the "Pro Flagship".
For me, this mode is something I would rarely use. If I were a daytime landscape guy I can see this being used but for most of what I shoot, this would not be needed. The cool thing is that it is here if you want it and it will end up being on the next version of the E-M1..of course.
All of the other stuff. High ISO, Art Filters, Etc
Because the E-M5 II is not a brand new model line, and is a continuation of the OMD itself, much of what I have written in the past about the previous models would be repeated here if I wrote about them again. So just to be clear, this E-M5 II has all of the art filter effects and extra features that the previous models have. It also has the same high ISO performance as the E-M1, so look to that review for my ISO tests.  This E-M5II does NOT have an AA filter so it is like the E-M1 in this regard (The Mark I had an AA filter).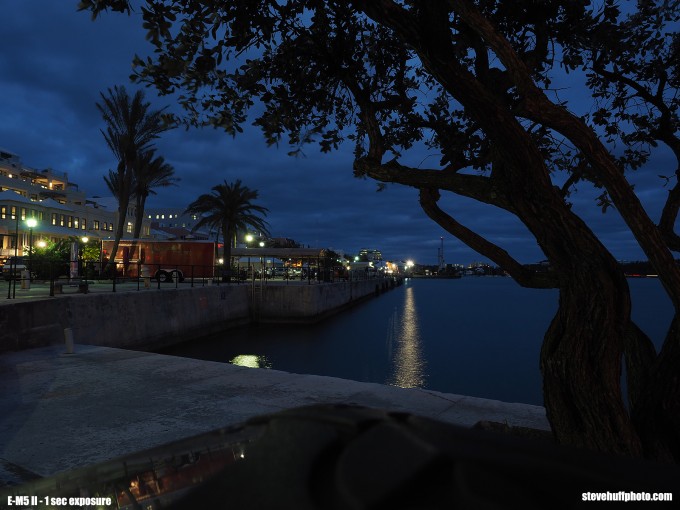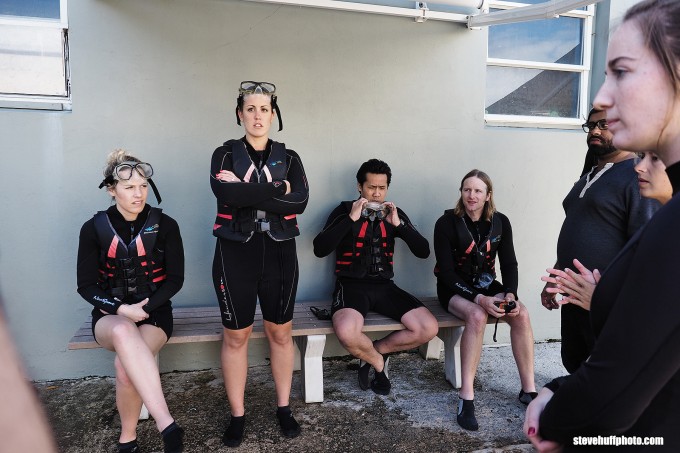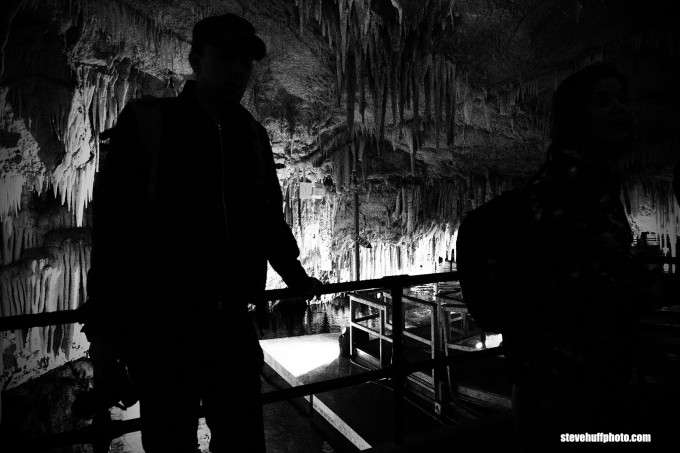 The Pros and Cons of the E-M5 II
Pros:
Small size, solid build. Improves on the build of the E-M5 Mark I
Faster AF than the Mark I
Better 5 Axis than the Mark I and E-M1! Best in the world.
New metal control dials feel better in use
Slight redesign feels better in the hand
New swivel to the left LCD is great in use
New video modes make this the best OM-D for video yet.
High Res 40MP Mode will be useful for some
EVF now E-M1 sized!
Literally no lag
All of the art modes are still here and better than ever!
Live Time and Live Composite modes are incredibly good.
Lens selection is the best in the mirrorless world.
Improved high ISO from the Mark I, now equals the E-M1
Overall, best mirrorless camera around for versatility and usability and features.
Meets or exceeds APS-C cameras.
Buttons are assignable to however you want them
Price is only $1099 and you get A LOT for your money here!
Has a mic input for video use.
Silent shutter with 1/16,000 second capability.
In camera KEYSTONE correction (works so good, and easy to use – like tilt shift, but in camera controllable)
Cons:
I am getting slightly better IQ (sharpness) from my E-M1 using the same lenses
Camera seems small, may be too small for some hands
High ISO still can't compete with full frame and some APS-C
Menu may be getting too packed with features, making it confusing for some new users.
As always, Micro 4/3 will not offer you the shallow DOF control of a full frame sensor.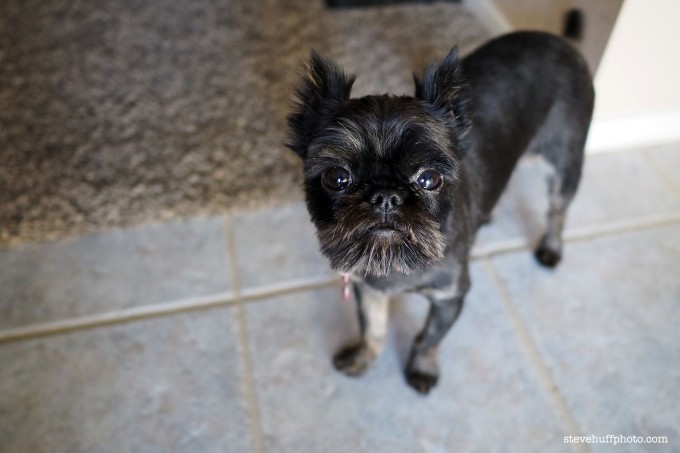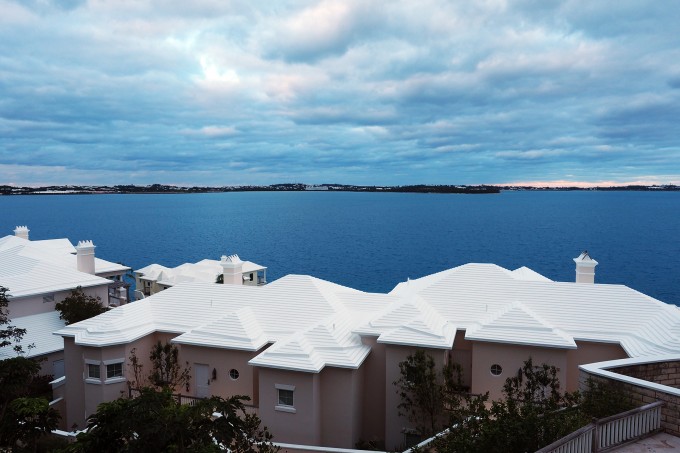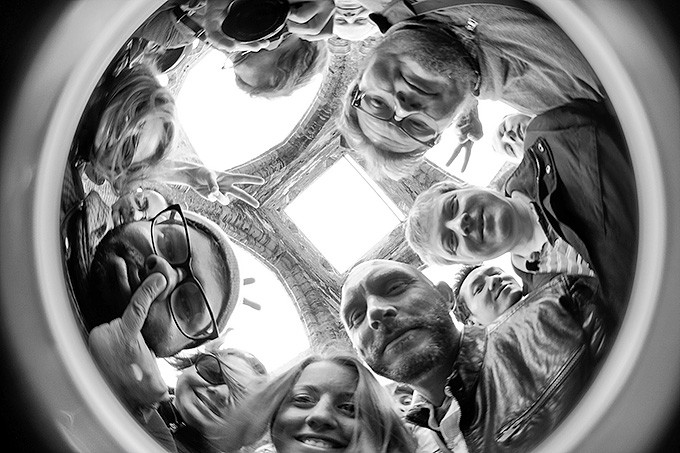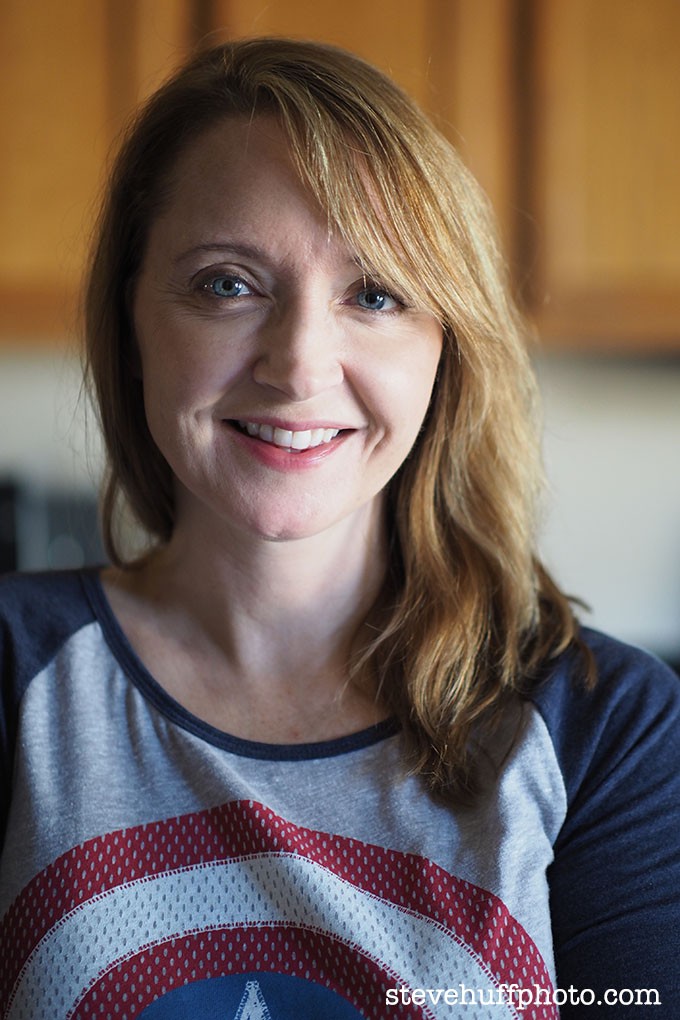 My conclusion on the Olympus E-M5 II
First of all, if you have not seen my E-M5 Mark I review or the Olympus E-M1 review, I urge you to take a a look. Those reviews go over more of the older features of the camera and I did not want to rehash things such as art filters, etc.
The new E-M5II is the latest camera in the Olympus Micro 4/3 lineup and it is quite a powerhouse. Olympus has "done it again" and not sure how they keep innovating but they do. No other camera company thinks of new ideas quite like Olympus. From the Live Time features to the 5 Axis IS to the speed and build, the E-M5II is revolutionary in many ways. For me, no DSLR could take the place of the E-M5 II or my E-M1. None. With todays technology these little cameras offer MORE for LESS and in the case of the E-M5 II and E-M1, also offer superb build and feel and speed.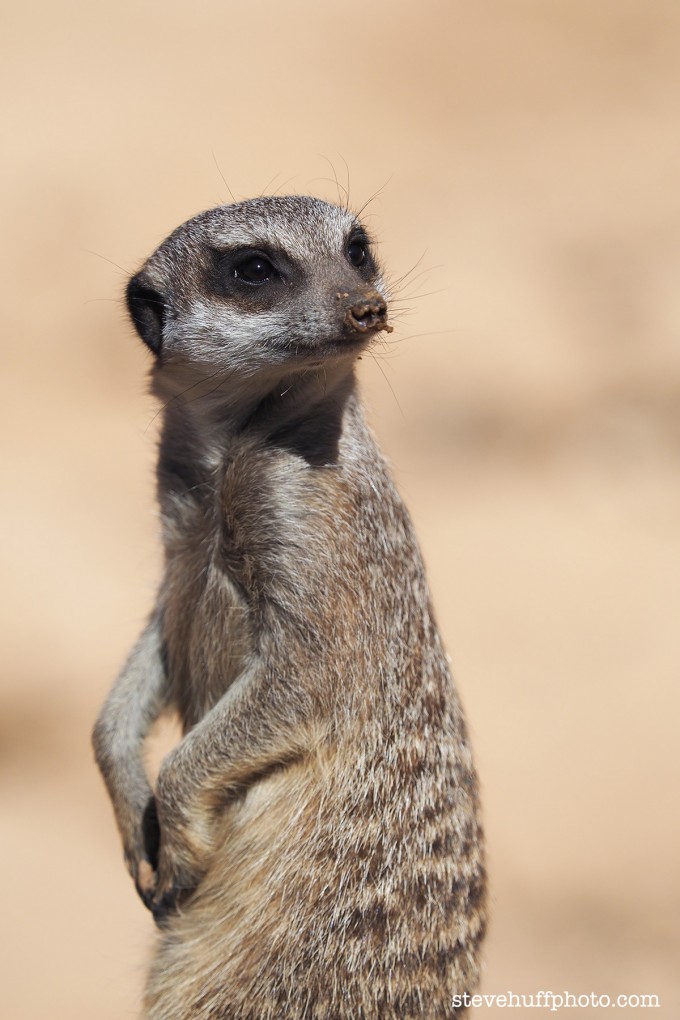 Olympus has been committed to their system for years and they show no signs of slowing down. The new 40-150 f/2.8 Pro lens is a masterpiece in design, build and quality. The 12-40 f/2.8 zoom is the best of its kind and all of the fast primes are jewels in the world of lenses. Today, Micro 4/3 lacks in nothing besides ultimate low light high ISO work and super shallow DOF. If you want full frame .95 DOF you will not get it in a Micro 4/3 camera but at the same time, you will get detail and pop all day long and with lenses like the 40-150 and Nocticron, there is plenty of creamy Bokeh to go around.
The next two shots were with the 40-150 f/2.8 wide open…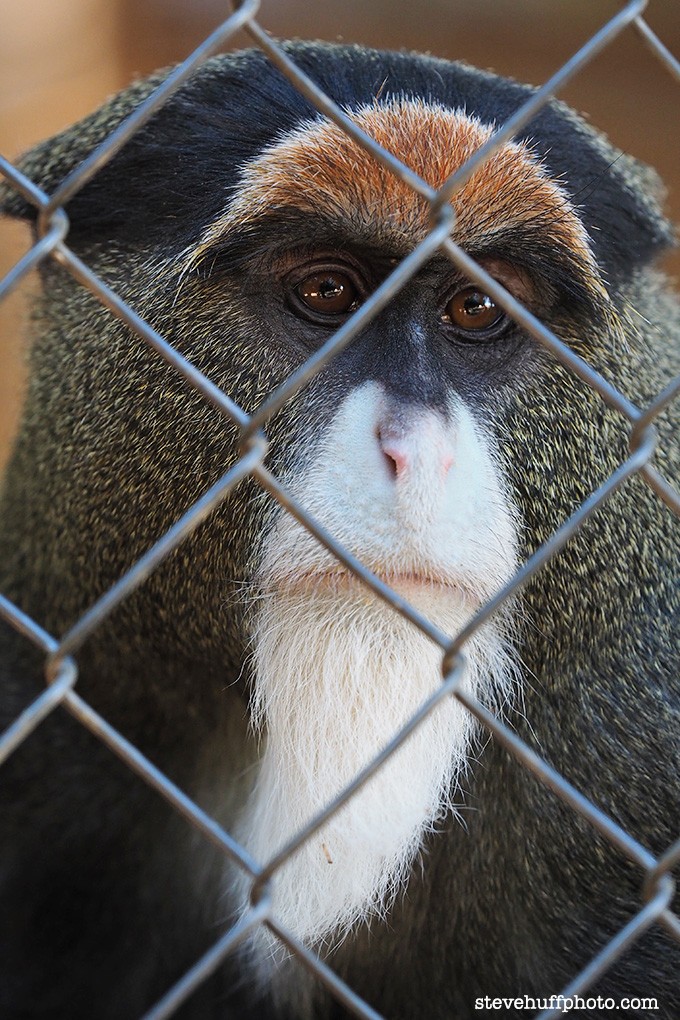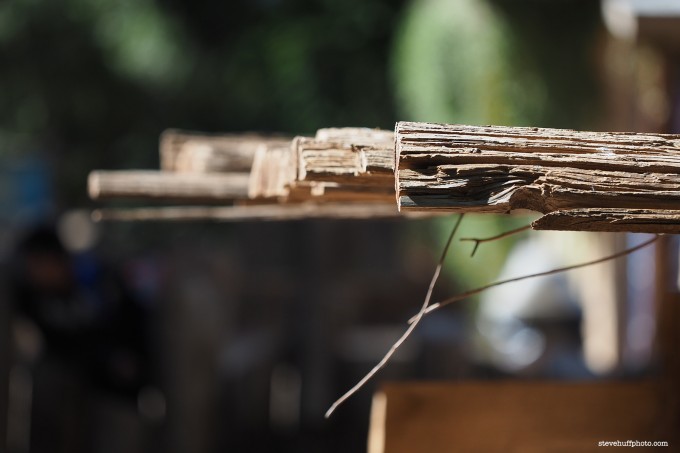 I have owned the E-M5 and E-M1 and still own the E-M1. It is one of my favorite cameras of all time, and still performs just as well today as it did when it was released. Did the E-M5 II overtake my E-M1? Well, no. I still love my E-M1 a bit more due to the body design, feel, and extra pro build. I also seem to get a bit more snap from my E-M1 images. Other than that the E-M5 II is a powerhouse of features and function. Video, 5 Axis, High Res mode, the new Swivel out LCD, the larger EVF (same as E-M1), Live Exposure modes, the colors and fast AF make it one heck of a bargain in the mirrorless world. Today no one can say Micro 4/3 lacks when compared to other mirrorless cameras because they do not. Anyone who says they do, well, they never gave an E-M1 or E-M5II a serious shot with some great lenses. Once you really use one of these, learn it and shoot with some of the glass that is already legendary, you will fall in love. They are not only powerful, intuitive and beautiful but they put out pro level image quality.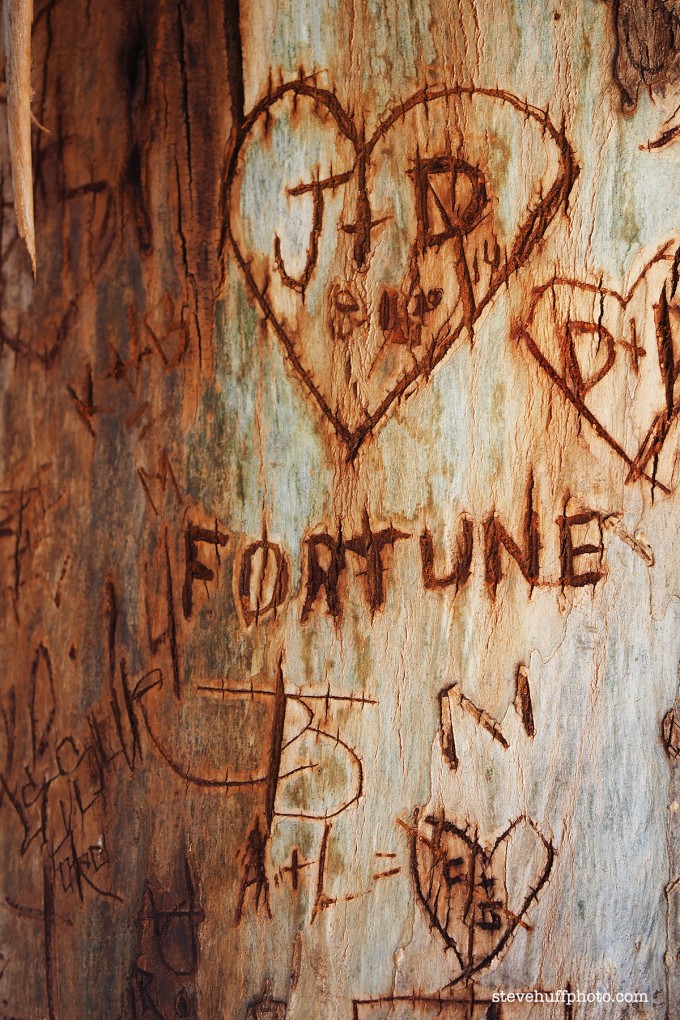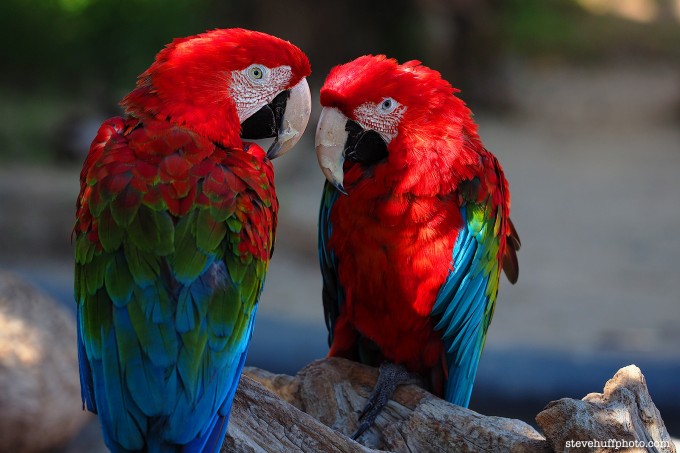 Most of you here know I love Olympus and Micro 4/3. They just feel "right", especially the Olympus creations. For me, my fave cameras these days are from Sony and Olympus and I see no signs of that changing anytime soon. I have used so many cameras and lenses over the years you can say that I am jaded. I use the favorites that I have tested over the years and one thing has remained constant for me..there has always been an Olympus Micro 4/3 camera on hand at my house. Started with the original 4/3 E-1, then E-3, the the Micro 4/3 E-P1, then E-P2, then E-P3, E-P5, E-M5, E-M1 and now the E-M5II.
With each release they get better and better and while the sensor performance has sort of peaked (for now), they are now doing things that make using the cameras so much more fun and BETTER. Features no one else has. Shoot a video on the new E-M5II and you will be amazed at the new 5 Axis. Shoot a night long exposure with Live Composite and be blown away. Shoot exotic lenses like the Nocticron or 75 1.8 or 40-150 2.8 and look at the detail, color and richness. When I look at images in this review I see amazing color, fantastic details and an organic quality to the files that tell me YES, this is a fantastic camera that should please ANYONE. When I go back to my Fuji X-T1 review the images look..well..like they lack "life". When I go back to my recent A7II review I see rich files and gorgeous IQ, but in a different way from the E-M5Ii images. That is the difference between full frame and Micro 4/3, a certain creamy richness with plenty of shallow DOF.
What the E-M5II offers is some serious snap, crackle and pop. By that I mean crisp files (snap), bold gorgeous color (crackle) and great edge definition of your subject (pop). Just as beautiful as full frame but in its own way. Two different styles which is why I own a full frame and Micro 4/3 system.
1st two shots below, Nocticron at 1.2. Third shot was with the Olympus 17 1.8 at 1.8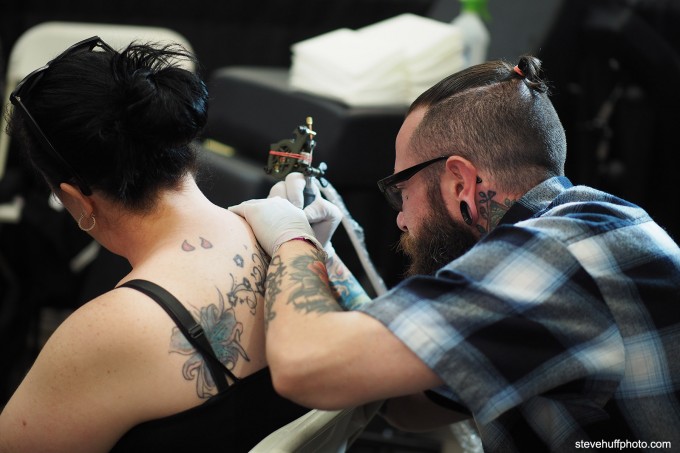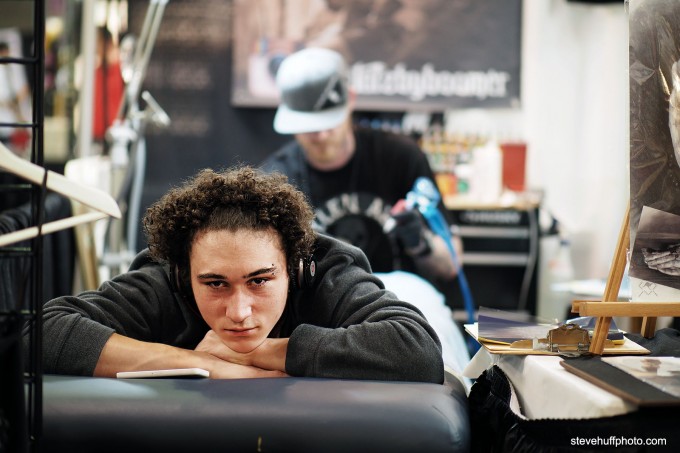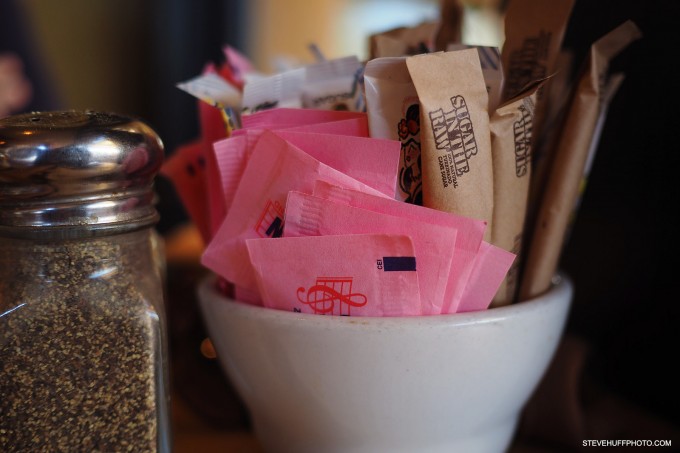 So once again I will say BRAVO to Olympus for pushing the envelope yet again. Offering us a fantastic and highly capable camera at a good price.
I HIGHLY recommend the new E-M5 II without hesitation and if you want to see what lenses I like, read THIS article which I just updated. 
Two shots below were with the Olympus 17 1.8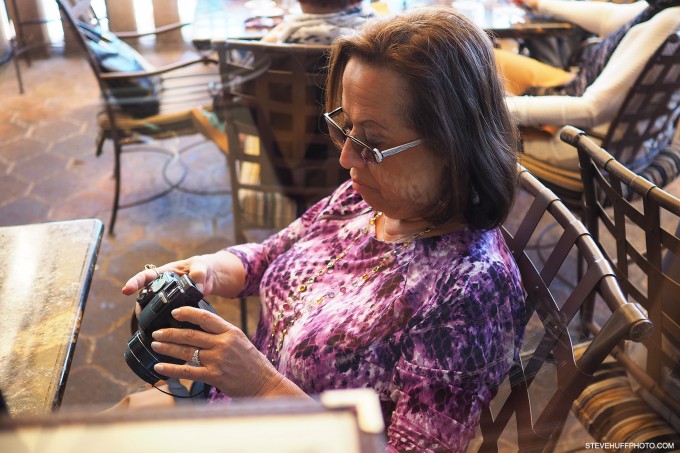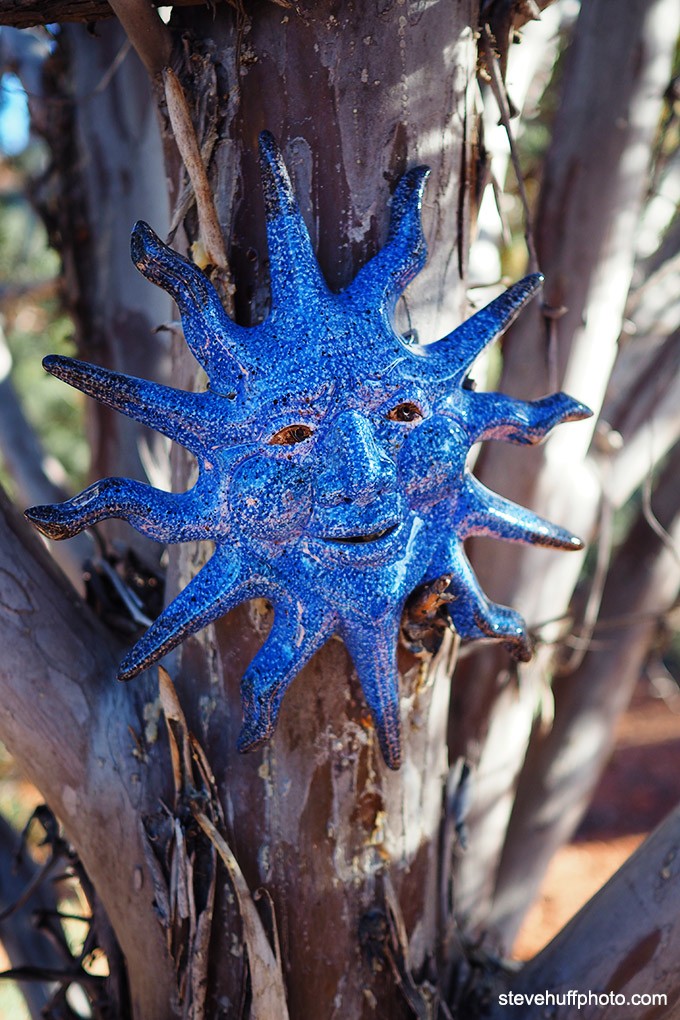 WHERE TO BUY?
You can order the new Olympus E-M5 II from the highly recommended and trusted vendors below. They get my best ratings! Use my links below and you will AUTOMATICALLY help this website move on and grow AND you will get the best deal! 
1. B&H Photo – Olympus E-M5 Mark II Pages (Black or Silver)
2. Amazon – Olympus E-M5 Mark II Page (Black or Silver)
3. PopFlash.com – Olympus E-M5 Mark II page.
Buy the new 40-150 f/2.8 Pro Zoom Lens – Amazon, B&H, PopFlash
Two more with the Olympus 17 1.8 (my review of that lens is HERE)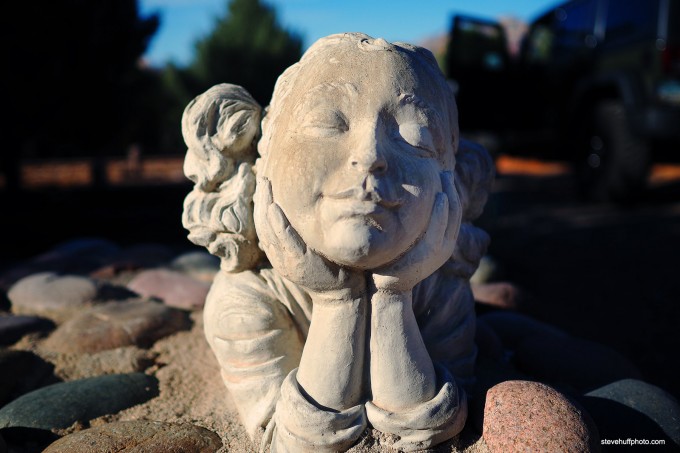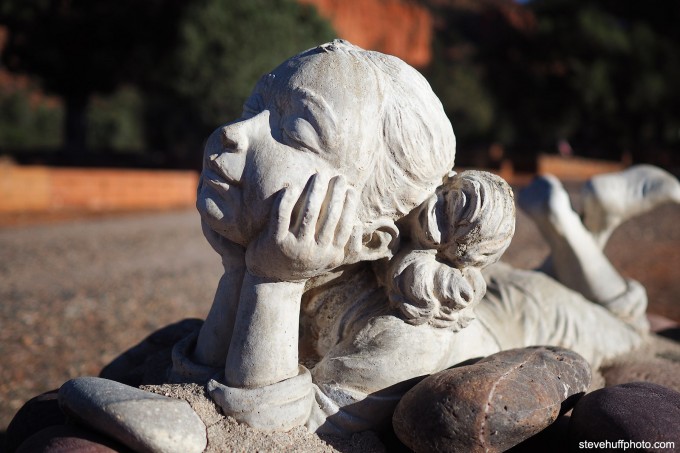 PLEASE! I NEED YOUR HELP TO KEEP THIS WEBSITE RUNNING, IT IS SO EASY AND FREEE for you to HELP OUT!
Hello to all! For the past 7 years I have been running this website and it has grown to beyond my wildest dreams. Some days this very website has over 200,000 visitors and because of this I need and use superfast dedicated web servers to host the site. Running this site costs quite a bit of cash every single month and on top of that, I work full-time 60+ hours a week on it each and every single day of the week (I received 200-300 emails a DAY). Because of this, I need YOUR help to cover my costs for this free information that is provided on a daily basis.
To help out it is simple, and no, I am not asking you for a penny!
If you ever decide to make a purchase from B&H Photo or Amazon
, for ANYTHING, even diapers..you can help me without spending a penny to do so. If you use my links to make your purchase (when you click a link here and it takes you to B&H or Amazon, that is using my links as once there you can buy anything and I will get a teeny small credit) you will in turn be helping this site to keep on going and keep on growing.
Not only do I spend money on fast hosting but I also spend it on cameras to buy to review, lenses to review, bags to review, gas and travel, and a slew of other things. You would be amazed at what it costs me just to maintain this website, in money and time. Many times I give away these items in contests to help give back you all of YOU.
So all I ask is that if you find the free info on this website useful AND you ever need to make a purchase at B&H Photo or Amazon, just use the links below. You can even bookmark the Amazon link and use it anytime you buy something. It costs you nothing extra but will provide me and this site with a dollar or two to keep on trucking along.
AMAZON LINK (you can bookmark this one)
B&H PHOTO LINK – (not bookmark able) Can also use my search bar on the right side or links within reviews, anytime.
Outside of the USA? Use my worldwide Amazon links HERE!
You can also follow me on Facebook, Twitter, Google + or YouTube. 😉
One other way to help is by donation. If you want to donate to this site, any amount you choose, even $5, you can do so using the paypal link HERE and enter in your donation amount. All donations help to keep this site going and growing!
 I do not charge any member fees so your donations go a long way to keeping this site loaded with useful content. Thank you!