Crazy Comparison!
Olympus E-M1 with 40-150 f/2.8 vs Sony A7s with 70-200 f/4

Many have asked for this as well as a Olympus/Sony/Fuji crazy comparison so I will start this one off with a Olympus vs Sony JUST FOR FUN Crazy Comparison! I will be using the E-M1 and the Sony A7s because the E-M1 is the flagship from Olympus and the Sony A7s is closest to the Megapixel count of the E-M1 as well as Sony's "flagship" A7 series product. If I used the A7II it would have been an 8MP difference vs the 4 MP difference of the A7s and E-M1.
The two lenses used will be the Pro Olympus 40-150 f/2.8 which is a fantastic lens that gives an equivalent of 80-300mm with the light gathering of an f/2.8 lens. The Sony 70-200 f/4 has a constant f/4 aperture yet it is the larger lens with the Olympus being a bit smaller. They are the same price coming in at a cool $1500. The Olympus is weather sealed and has a great integrated slide out hood included.
Next week I will do another more involved comparison, probably my most extensive to date using the Fuji X-T1, Olympus E-M1 and Sony A7s or A7II.
For now, I will keep it simple with two shots. What i am looking for is sharpness, color performance, and overall pop of the shot. Just how much difference will there be using a flagship Micro 4/3 camera and lens vs a killer full frame A7s and premium telephoto?
1st up, a simple shot for detail and color and bokeh…
A simple tree shot to show detail, color and bokeh. 1st up, the Olympus shot. If you right-click and choose "open in new window" you will see the full size image where you can pixel peep to you hearts content. I love the color, sharpness and pop. The bokeh is quite nice as well. Used the 40-150 f/2.8 Zoom at 2.8. On my 27″ screen this image has some real POP and detail.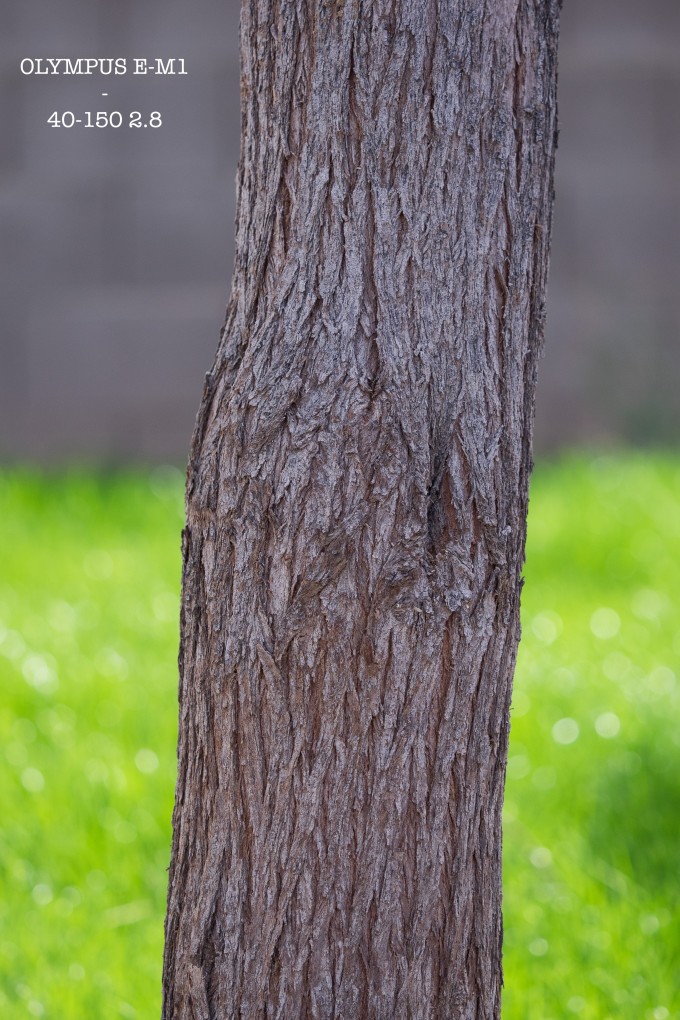 –
Same shot as above but resized with a full 100% crop embedded. To those who can't see the full size shot for some reason, you can see the crop here.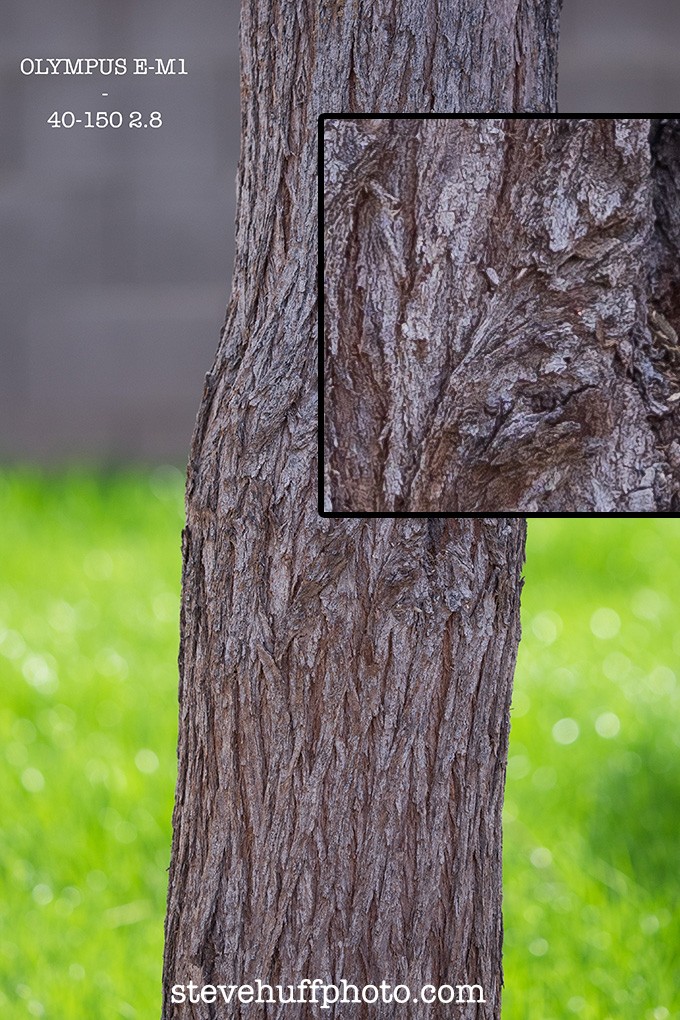 –
Now the Sony A7s, same shot. 70-200 Lens at f/4. The color is a bit dull in comparison to the Olympus as is the pop. Bokeh is a tad smoother though neither is bad. I love both in this regard. The Olympus is sharper and the edges are sharper as well with the E-M1 file. A tad more shallow DOF due to focal length differences. (True vs Equiv)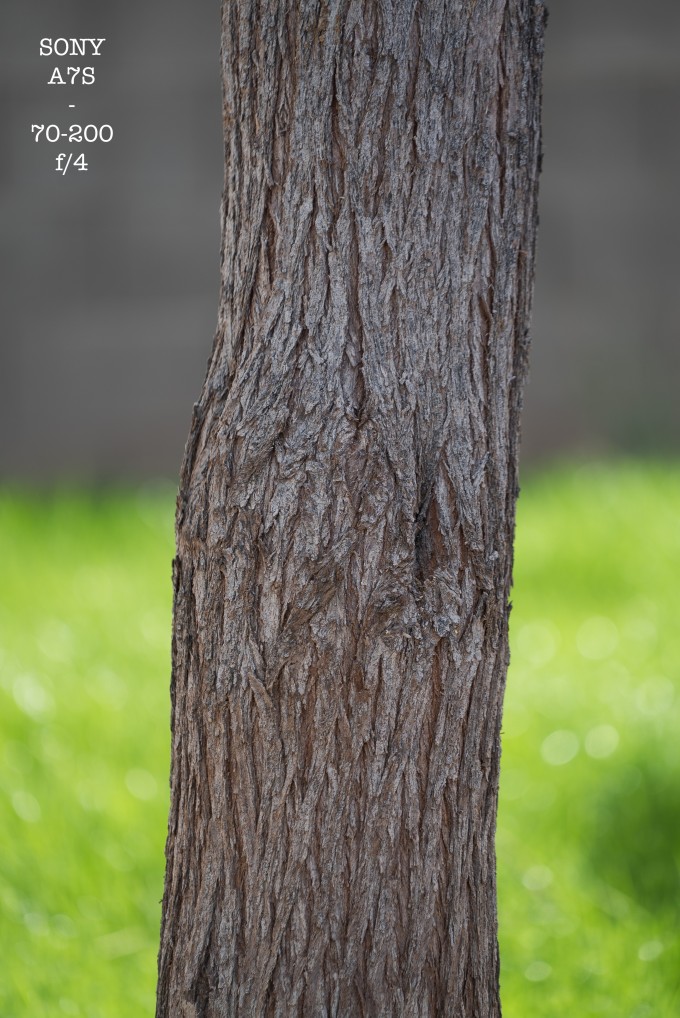 –
For those who can not see the full size shot above see the same image below resized with a full 100% crop embedded..
So from what I see here, the Olympus lens and E-M1 combo produce a more exciting image here. More pop, more detail and more OOMPH! You can see the color differences here easily. As for Bokeh/DOF, f/2.8 on the E-M1 is about the same as the f/4 – f/5.6 on the full frame Sony with a tad more blur going to the Sony (for DOF only). This is a true 40mm vs an 80mm here, so this is why. With the Olympus you are getting a TRUE 40mm f/2.8 and with the Sony a TRUE 80mm f/4. Longer focal length = less (more shallow) DOF.  With the Olympus you are indeed getting TRUE f/2.8 light gathering and 40mm (not 80mm) f/2.8 DOF with an 80mm FIELD OF VIEW.
Let's try one more image …here you can see the DOF differences with the A7s giving you a more shallow DOF at f/4 than the Olympus will give you at f/2.8. For many, they would take the sharper image and larger DOF of the E-M1 over the less detailed and more shallow DOF of the Sony. The same goes for the other way around..many would choose the creamier Sony version over the more sharp Olympus version.
Interesting to see that at 40mm (80 Equivalent on full frame) and at f/2.8 the Olympus E-M1 is bitingly sharp with more depth of field than the Sony file at 80mm and f/4. This is because the Olympus is actually shooting at 40mm, which will always give you more depth of field (less blur) as it is a wider lens. If I plopped the amazing 75 1.8 on the E-M1 and shot at f/4 we would get the same Bokeh as we do from the Sony at f/4 but we would have a 150mm equivalent focal length. It's all about the lens focal length so even though we are testing a 40mm vs a 80mm, the Olympus 40mm turns into a 80mm for magnification but retains the Bokeh of a 40mm lens. So this is indeed a true 40mm f/2.8 shot for light gathering and bokeh. But we have an 80mm magnification. Understand? Hope so because many do not and get this so wrong. 
The E-M1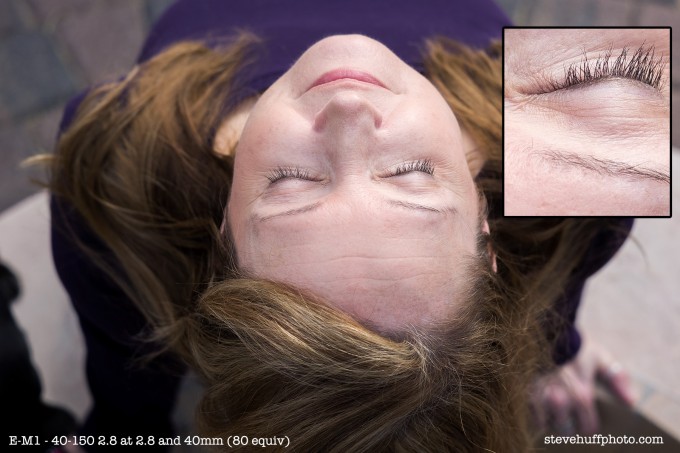 –
The Sony A7s image at 80mm and f/4 gives us a more shallow DOF as we are truly shooting an 80mm lens. So more blur and a more "organic" looking image. If I shot the Olympus image with the 42 1.2 Nocticron it would offer even more shallow DOF than the Sony image below and be sharper. So again, it all comes down to lens and what we see here is a 40mm f/2.8 lens vs an 80mm f/4 lens and while the magnification appears similar (because it is) the DOF will always be different. For some, shooting full frame is more of a challenge due to the shallow DOF. 
UPDATE: This is the CORRECT Sony image with CORRECT focus. Thank you.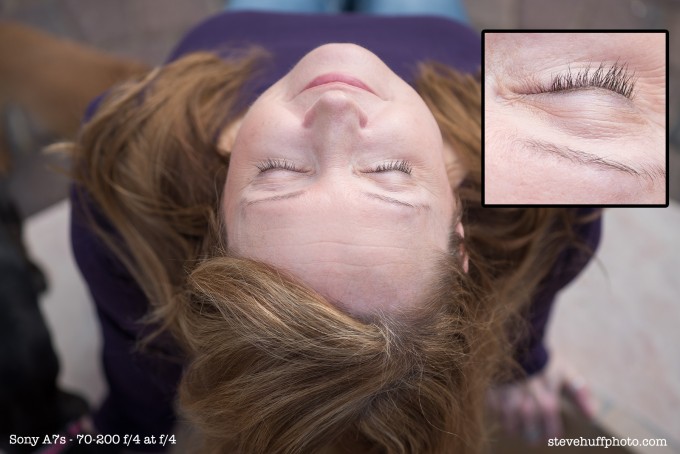 So at the end of the day I own both of these cameras. My Sony comes out when I want ultra creamy shallow DOF or when I want to shoot with Leica M glass. The Olympus comes out when I want to do video (love my 8mm and 12mm primes with 5 axis video) and use a telephoto or use a special prime such as the Nocticron or Voigtlander 25 0.95 or my 8mm Fisheye..or when I want to do night long exposures or will shoot in adverse weather.
There is no winner here, but there can be a "preference". What is yours?
More Sharpness with more depth of field (Olympus) or a more creamy shallow DOF look (Sony)? BOTH lenses are around $1500 and having both here side by side I can say with confidence that the Olympus 40-150 f/2.87 is technically the better lens. It is better built, weather sealed, has an amazing pull out hood attached and is probably the best lens made for Micro 4/3 (though my fave is still the Nocticron) as well as giving you the light gathering of an f/2.8 lens, fast and accurate focusing and amazing IQ. The Sony is larger, white for some reason, and f/4 but made for full frame and has OIS built in. Both are $1500. Same price. I own both systems..if I were to buy a lens of this type it would hands down be the Olympus 40-150 over the Sony.

See the Sony 70-200 at B&H Photo HERE. 
See the Olympus 40-150 at B&H Photo HERE.
Also, For those who say the E-M1 can't do high ISO, here is a quick snap at night using the Nocticron at 1.2 – ISO 6400 with no noise reduction at all. Click it for larger. Usually 6400 is my max with the E-M1 though I have used 10k ISO images. With the A7s, my cut off is 80K ISO 😉 Yes, the A7s is the king of high ISO without question and the Micro 4/3 system can not even get close to what it can do at ultra high ISO.
But at 6400, the E-M1 retains color, sharpness and the files look great. Its all about exposure and NOT using noise reduction…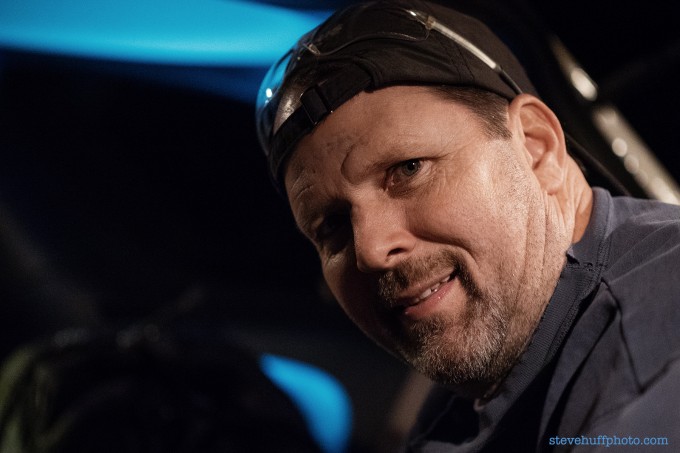 –
…and an ISO 10,000 shot from the E-M1 without any NR..stays sharp as can be, even at f/1.2…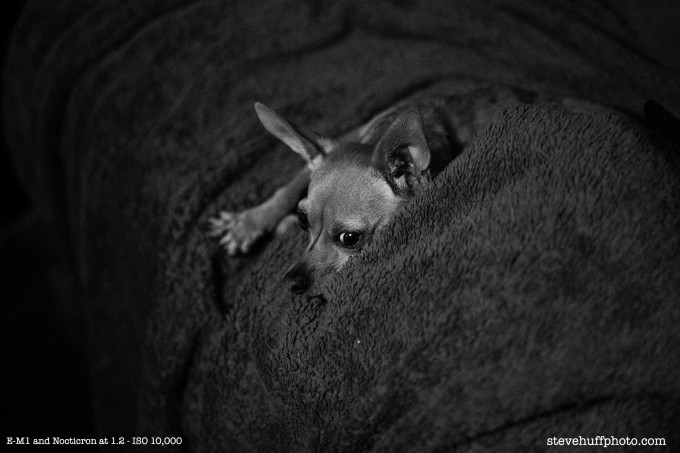 –
…and just for fun, a bokeh shot with the 12mm f/2  – Olympus