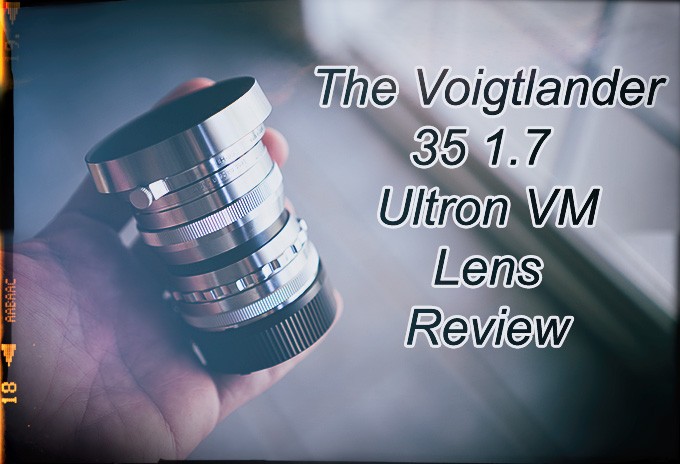 The Voigtlander 35 1.7 Ultron VM (Leica Mount) Lens Review
By Steve Huff
We are living in a GREAT  time for our hobby or our profession or our obsession..no matter what you call it..it is Photography. Today we have some pretty technologically advanced marvel cameras, simple basic cameras, amazing mid level cameras and even fantastic lower end cameras. Today we have more camera tech available at our disposal than at anytime in history. Even though the worlds #1 camera today is the iPhone, if you are reading this article then that must mean you are here because you appreciate quality and the process of photography, something you lose with an iPhone as you main camera.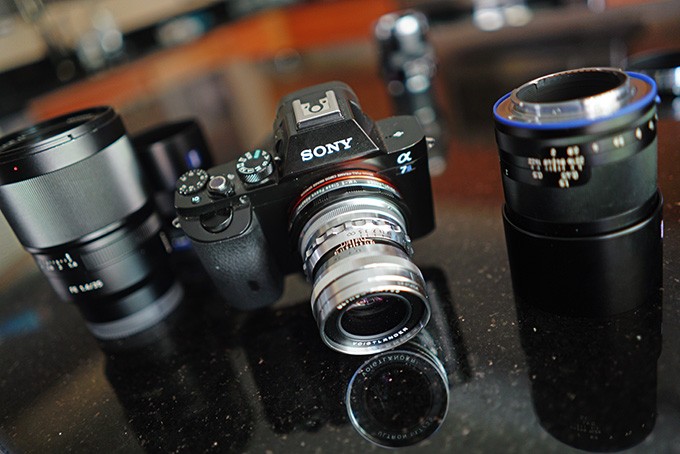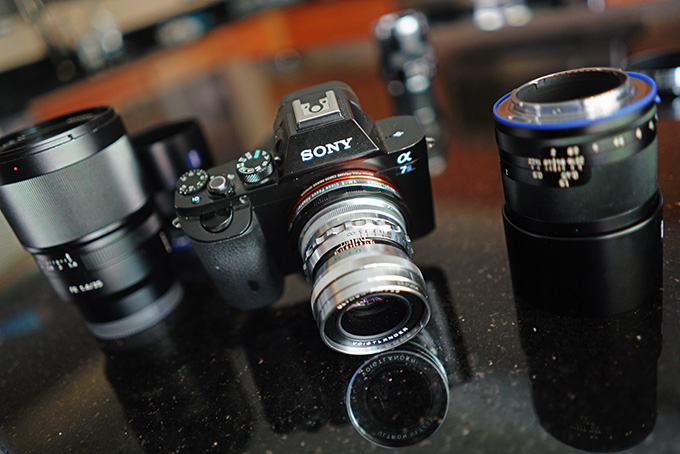 Today I will be taking a look at the new Voigtlander 35 f/1.7 VM lens (Leica M Mount) but I will be shooting it on the Sony A7RII as that is now my #1 camera around here, and for me, the best full frame 35mm mirrorless camera made today. With the new backlit sensor tech, Sony has eliminated mostly all of the old issues when using wider angle Leica glass, at least the color issues 😉 This lens works very well on the Sony A7RII, so every image in this review will have been shot with that camera and this lens (as well as the Zeiss ZM 35 1.4 Leica Mount for comparison).
One of my 1st shots with the lens which was indoors so not a ton of light. I opened up the lens, focused and shot. To me, the color is very good as is the OOF background rendering. Smooth rendering with a sharp subject. No issues.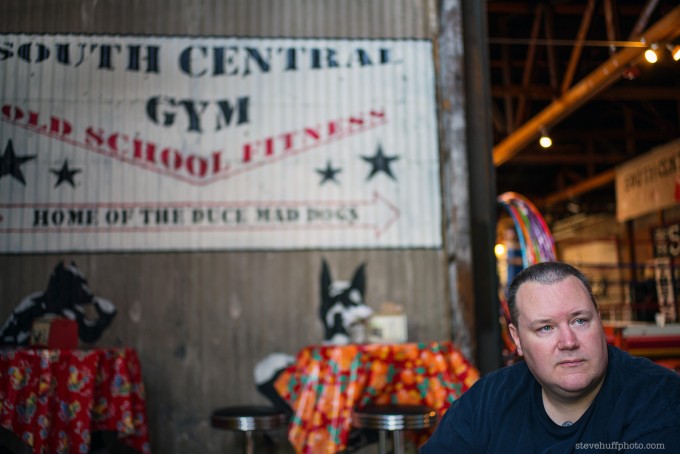 When Stephen Gandy, head dude over at Cameraquest emailed me and said "The new 35 1.7's are in, do you want to review one"? Of course I said YES YES YES! I have been curious about this lens but I wasn't excited about it as I "assumed" it would be average. Not sure why I thought that when the Voigtlander 50 1.5 Nokton hit it out of the park with bang for the buck. That little 50 1.5 came so close to the Leica 50 Summilux at 1/4 the cost it was a no brainer for those who wanted that fast 50 rangefinder lens experience without spending $4000. You can see my review of that lens HERE, well worth a read and look if you missed it as that lens is a stunner for the money. Then again, Voigtlander has always been known to be big on "bang for the buck" but what I have noticed over the past 7 years is that each time Voigtlander releases a new lens, it seems to be notch up in quality from design, build, operation and image quality. Yep, in 2015 Voigtlander lenses are kicking some serious bootie, and the new 35 1.7 VM is no exception.
My dog Olive who is a total ham. She knows when I am taking her picture, and when I aim the camera she sits and looks, as if to pose. She also watches full TV shows, interacts with animals on TV and sleeps like a human, on her back. Odd ball dog, but here she is at f/1.7 with the new 35 VM. 2nd shot wide open again!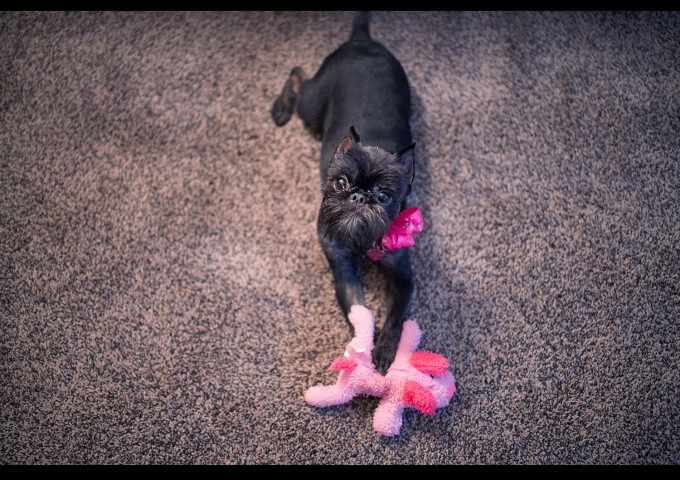 Over the years I have reviewed many Voigtlander lenses on these very pages. Usually on a Leica M, but these days the Sony A7 series has improved considerably since the beginning about 2 1/2 years ago. While the Leica M is a gorgeous body, camera and the ultimate in "pride of ownership", it is expensive and many are buying the Sony's as an alternate to the full frame M and many M owners have an A7 of some sort as a backup and extra camera to their M. Many ask me daily how these lenses do on the A7RII, so this is where I will be concentrating. Of all the Voigtlander lenses I have used, reviewed, and tested the 50 1.5 is my fave, followed by this one. While I loved many of the lenses these two recent additions are really showing what this company can do when they set their mind to it.
The Lens Arrives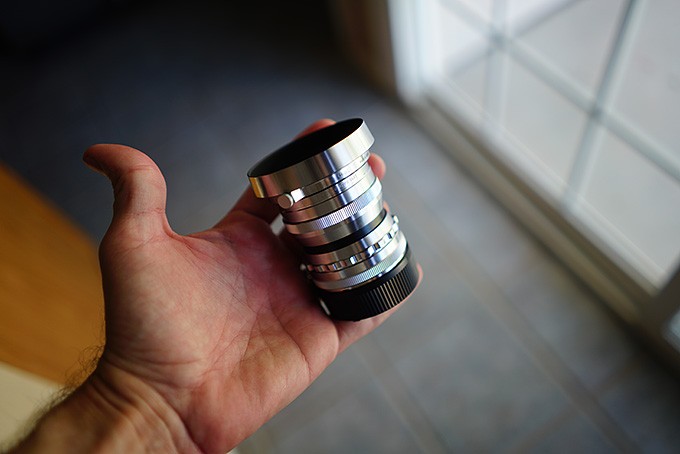 When I received the lens and opened it up I saw I had been sent the CHROME version, and it looks quite a bit like the 50 1.5 I have been speaking about here. This is good as it is a retro but cool design and it is easy to focus and change your aperture. Smooth yet solid, and the lens is a joy to use. It is also thin and small which is nice. MUCH smaller than the Sony/Zeiss 35 1.4, smaller than the Zeiss 35 1.4 ZM and while not as small as the Sony 35 2.8, it is a much different type of lens.
When I attached it to the camera and took my 1st shots I was happy to see the color performance was gorgeous and the lens was pretty damn sharp wide open. It offered that "Voigtlander Look" but to me, it seemed sharper, crisper, better bokeh and color than normal. I liked it. Maybe it was the Sony but what was coming out of the camera with this lens wide open made me happy 🙂
Both shots below were shot wide open at f/1.7. 1st one I had some natural light coming in, the 2nd image was different. It was much dimmer here than the 1st image but the fast aperture let me get as much light in as I could. 
CLICK them for larger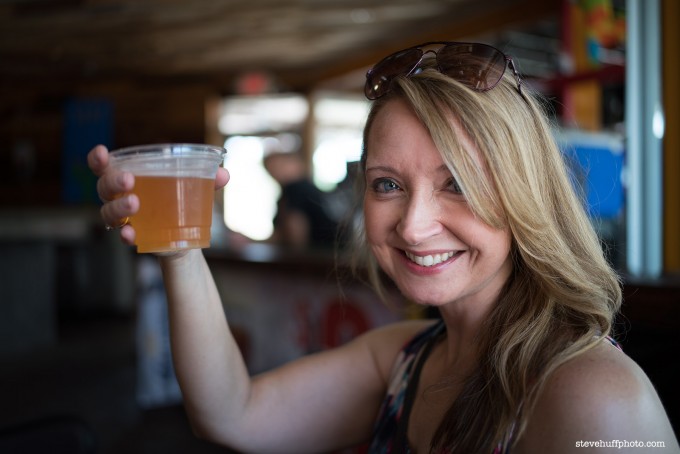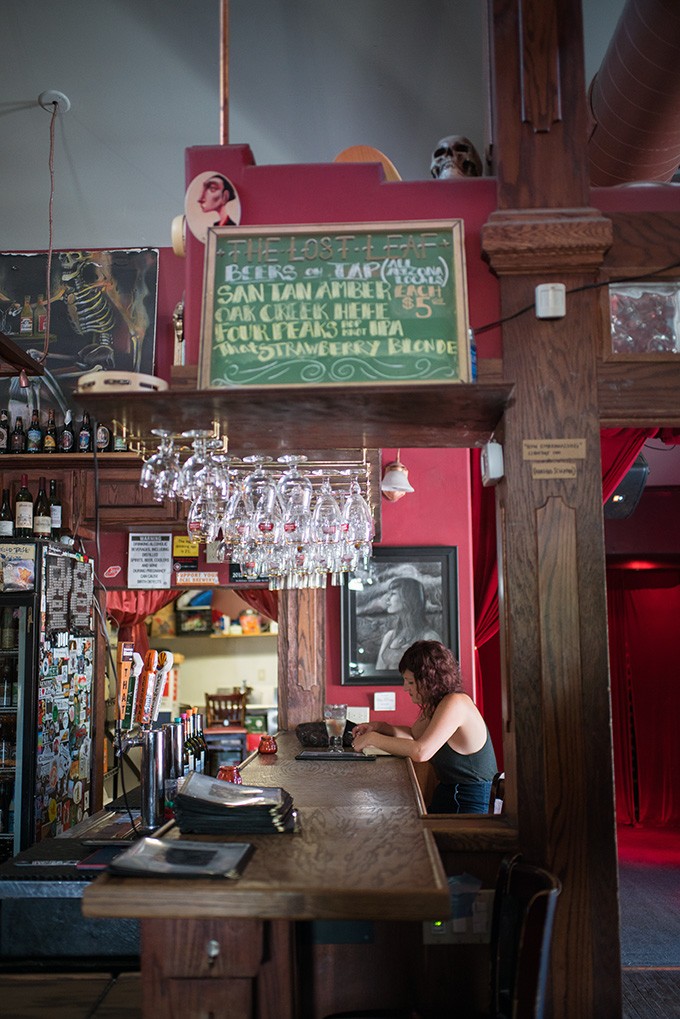 As I used the lens more and more over the 2 weeks I had it, I was liking it and decided that I wanted to see how it would stand up to the Zeiss 35 1.4 ZM that comes in at $2300. The Voigtlander comes in at under $900, so it is more than 2X less than the Zeiss. I would expect the Zeiss to come out ahead but had to see for myself what an extra $1300 would buy me 😉
Zeiss vs Voigtlander
The Voigtlander 35 1.7 next to the Zeiss 35 1.4 ZM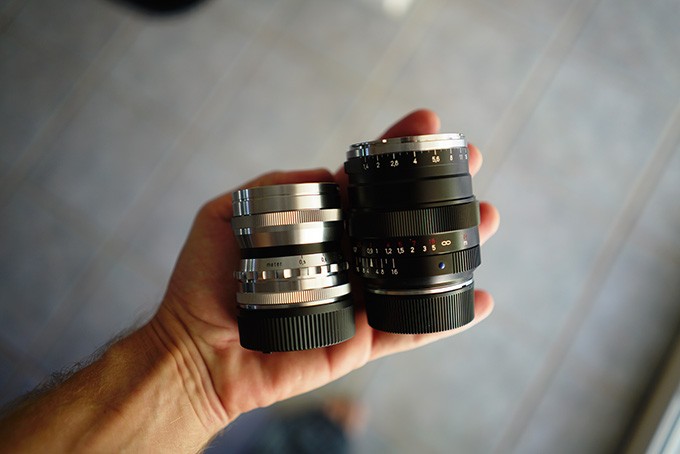 Below are some images comparing both the Zeiss 35 1.4 ZM and  the Voigtlander 35 1.7 VM, both Leica M mount and mounted to my A7RII with the Voigtlander close focus M adapter.
Click the images to see larger and full 100% crops. These are right from the camera with no tweaks at all. FROM RAW.
1st one is the Voigtlander, 2nd is the Zeiss.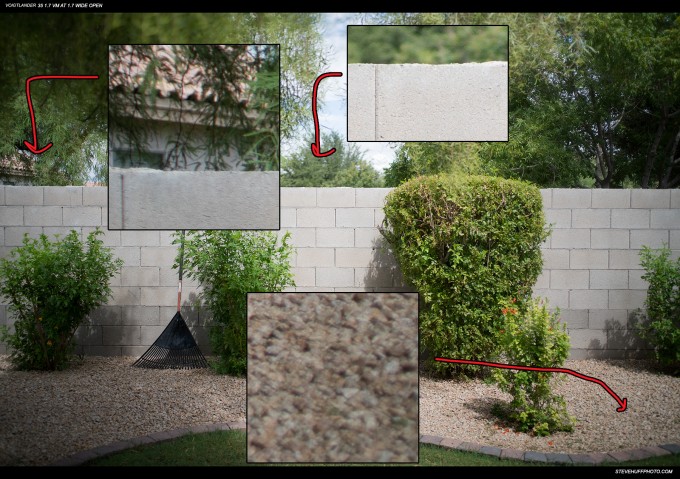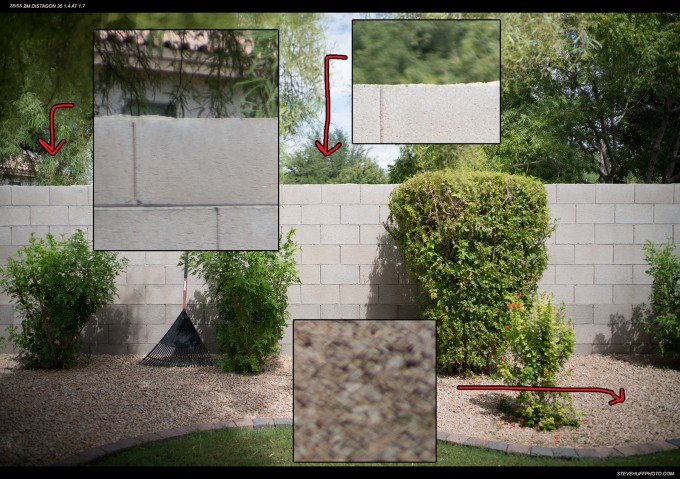 –
For this set the Zeiss is showing a tad more color pop and sharpness in the crop (click them for full crop)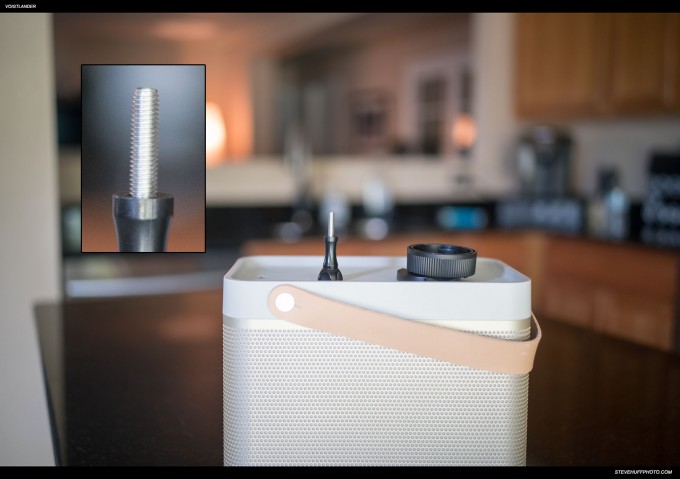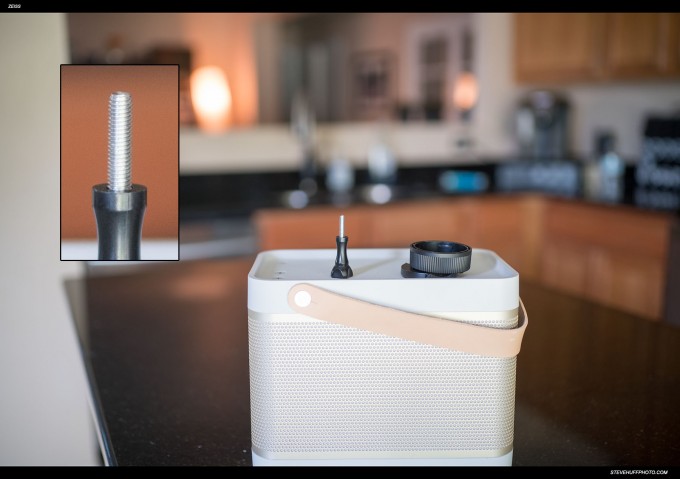 At the end of the day, the Zeiss is a tad better for sharpness at 1.7 but I prefer the bokeh of the Voigtlander which also seems to be giving a more shallow DOF than the Zeiss wen using the same aperture. Very odd but I have seen this before with different lens brands. I love the Zeiss, and it's about as good as it gets in a 35mm for Leica M mount (it has been compared favorably to the Leica 35 Summilux that comes in at $5500). The Voigtlander is really only a teeny but behind in sharpness wide open. Both are fantastic but one is $1300 less expensive and smaller. Hmmmm.
The Voigtlander also focuses closer than the Zeiss. 
Ultimately it is up to the user which one is preferred, if any. In the world of 35mm for Leica we have many choices from old to modern. For Sony FE we have a load of lenses as well that can be used, so they should be chosen like an artist would choose his brush or pencil. Choose the lens for the desired "look" or "character" of what you want to see in your final image. This lens will give you a creamy look with you subject popping from a 3D background when shot wide open. Just like a good fast 35 should do. It has a decent background blur (Bokeh) rendering and I find it quite pleasing, even better than the Zeiss. It is small, well made (feels leica-ish) and gorgeous in black or chrome. Can't go wrong.
#1, mailbox at f/1.7. #2, Hula Hoopers at The Duce. #3, Mailbox up close (and the top is OOF due to the depth of field being so shallow, not a lens issue)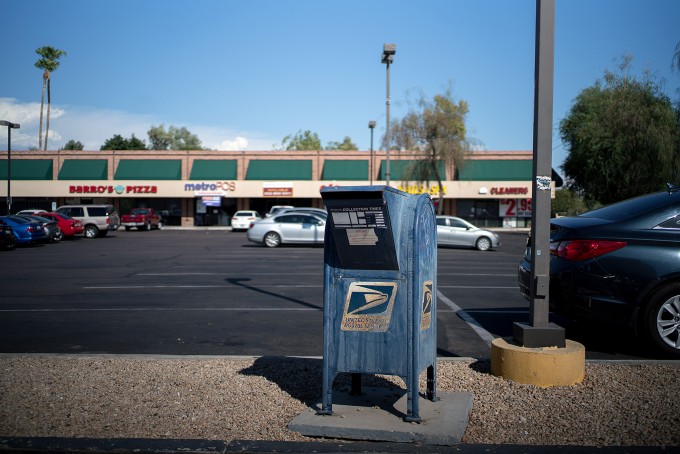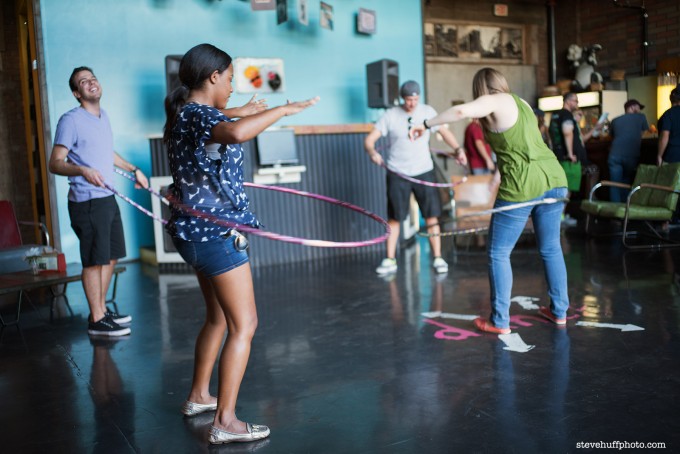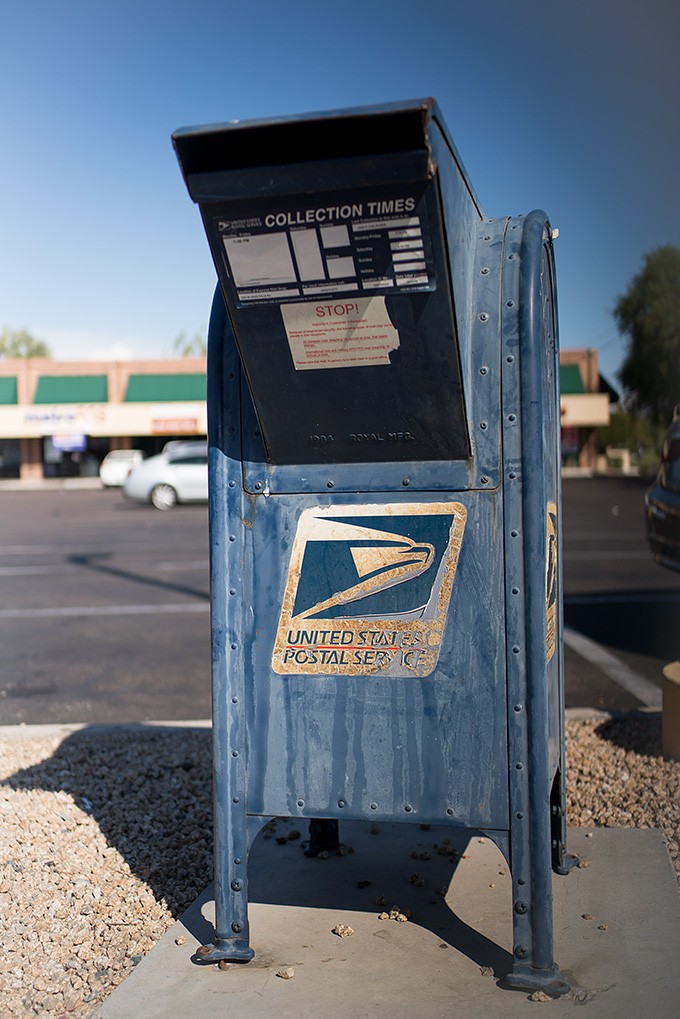 ONE MORE BIG COMPARISON – "Against all the others"
Left to right: Sony/Zeiss 35 1.4 Distagon, Zeiss Loxia 35 f/2, Zeiss 35 1.4 ZM, Voigtlander 35 1.7 VM and the Sony/Zeiss 35 2.8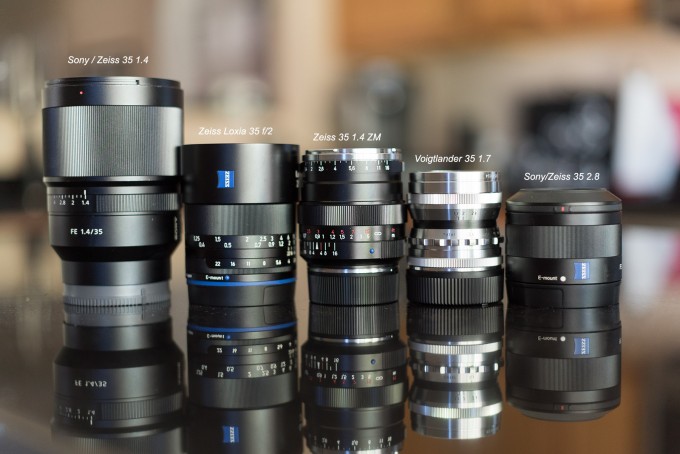 Many have asked me just this morning to add a quick comparison to the Sony 35 1.4, Loxia 35, and Sony 35 2.8 in addition to the Zeiss 35 1.4 ZM. Well, see the image above for the size differences, and see below for the image samples with each lens! Your wish is my command! (sometimes, lol).
I am using the Sony A7s for  this one and below are full size images from camera (RAW) without any modifications. What I am looking at  here is sharpness of the subject (face of the bottle) and the Bokeh (background blur quality) as well as the color performance. What do YOU think? Leave a comment and let me know! For me, the ultimate IQ comes from the Sony/Zeiss 35 1.4 but it is huge. The 2nd fave of mine is now the Voigtlander, then the Loxia, then the Zeiss 35 1.4 ZM and then the 2.8.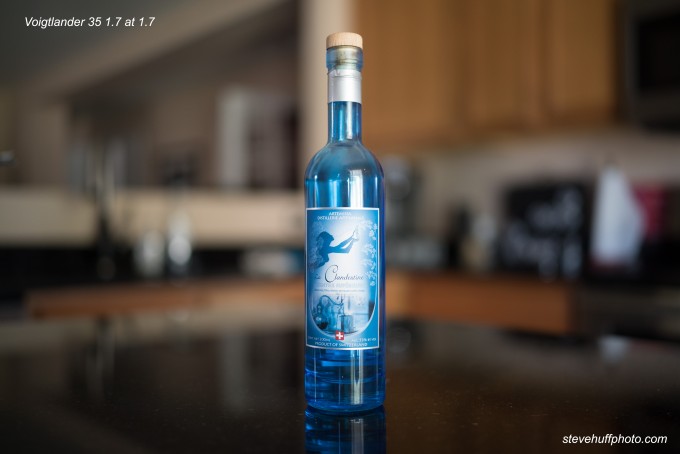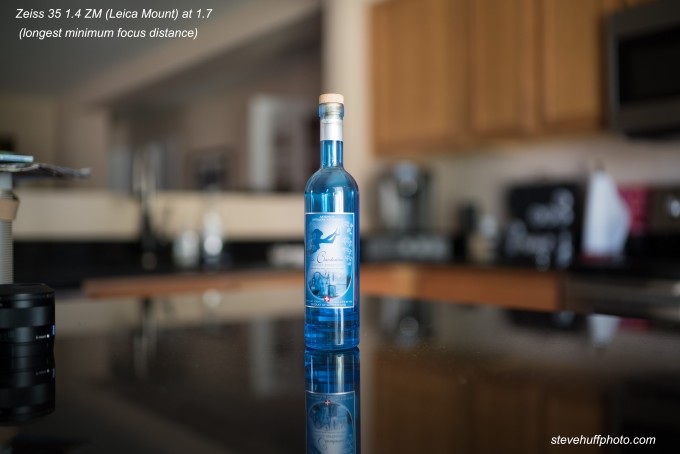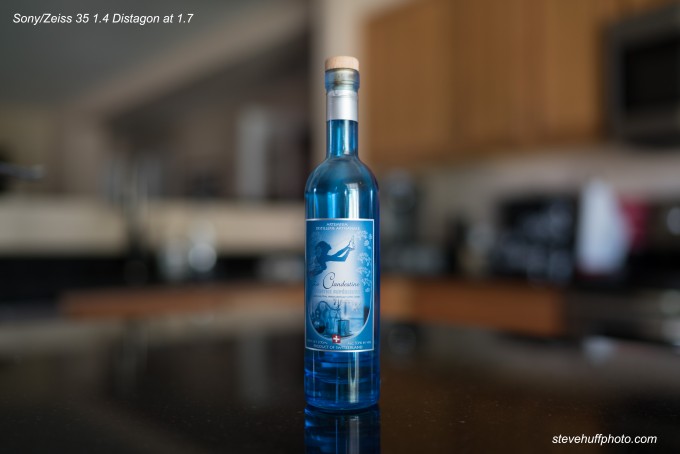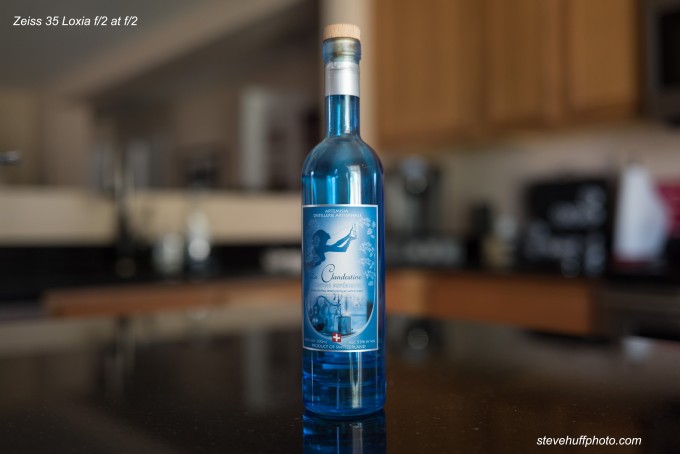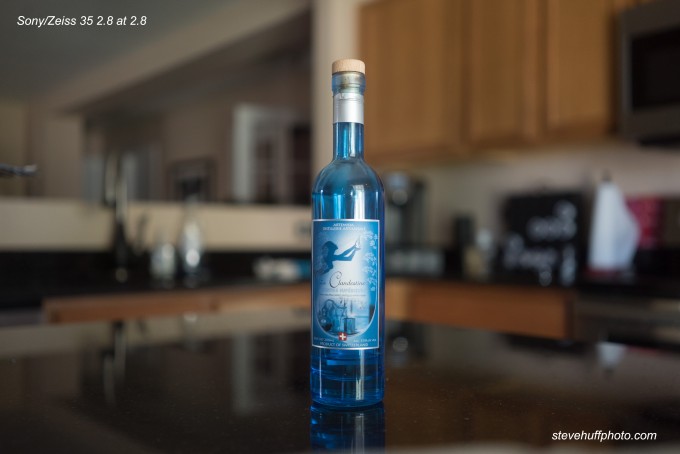 So there ya go 😉 Let me know in the comments which rendering you prefer. 
ISSUES?
No wide angle lens will be perfect on the Sony A7 series, even the RII. While the A7RII has improved considerably with M lenses, there is still one issue that seems to remain. SOFT edges with some lenses. Instead of magenta side we now will be left with soft sides on many occasions. THIS only comes into play if you are stopped down and wanting perfect corner to corner sharpness. ON the Leica M it will work well, on the Sony not so much.
If you shoot this lens wide open you will never see it. That is where the character lies in this lens anyway. Stopping it down to f/8 will give you no better quality than almost any other 35mm that will fit on the Sony. For me it is a non issue, but for many they want that stopped down corner to corner performance. If that is the case, and you shoot with a Sony A7 series camera, I highly recommend the Sony 35 1.4 which is STUNNING but HUGE. See that review HERE.
You will also see some slight vignetting with this lens when wide open on the Sony A7RII or A7s or A7II, but you will also get that with the Zeiss 35 1.4 ZM on the Sony. You will also get the slight vignetting wide open when using it on the Leica M.
If you want perfection in 35mm, buy either a Leica M and a Leica 35 Summilux FLE or buy an A7RII and the Sony/Zeiss 35 1.4 Distagon. Both of those will offer you about the best 35mm performance you will see in full frame, no matter the type of camera. If you want a fun unique lens that also comes with a very cool and fun user experience of using an all manual lens all while getting massive character and IQ, take a look at the Voigtlander. I love it just as much as I do the 50 1.5 Nokton. I highly recommend it for Leica M or A7RII shooters!!!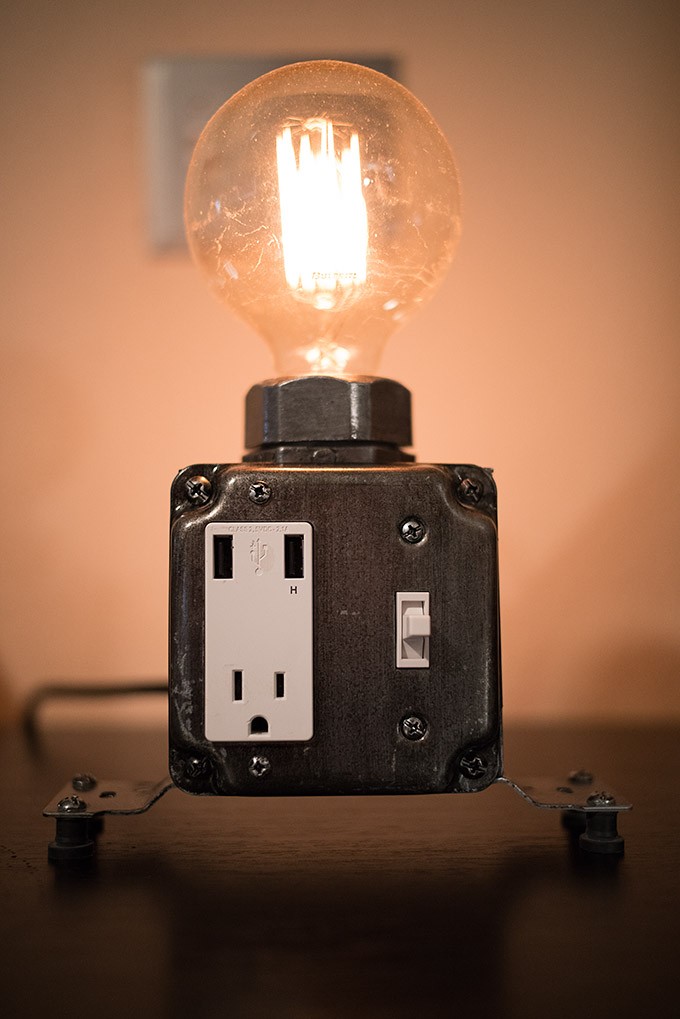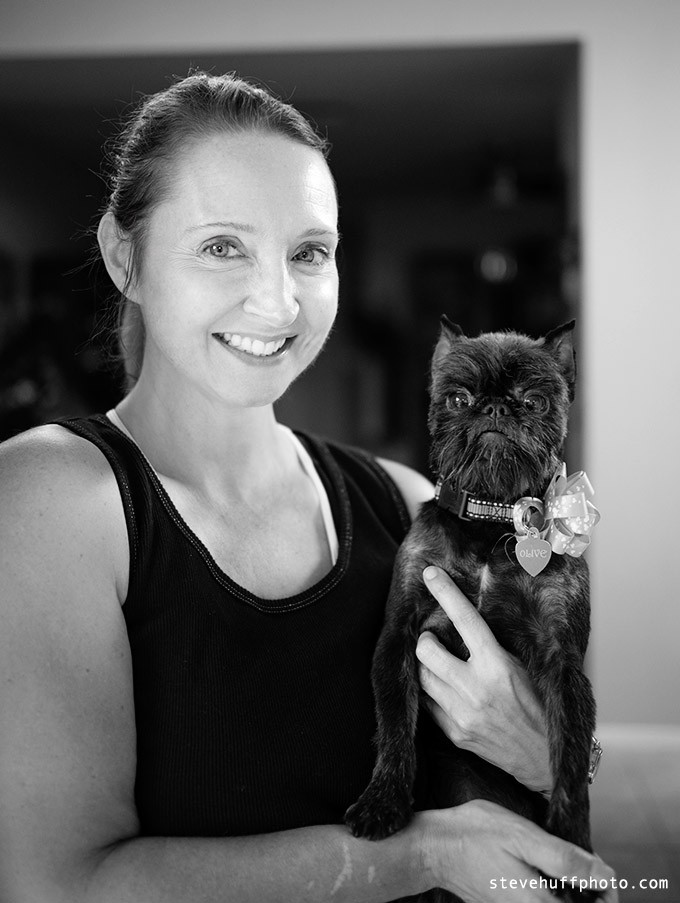 WHERE TO BUY?
You can buy this lens at Cameraquest HERE. Best prices, and free filter and overnight shipping.  
They are the official USA distributor for Voigtlander and top notch all the way!! 
——————————————-

PLEASE! I NEED YOUR HELP TO KEEP THIS WEBSITE RUNNING, IT IS SO EASY AND FREEE for you to HELP OUT!
Hello to all! For the past 7 years I have been running this website and it has grown to beyond my wildest dreams. Some days this very website has over 200,000 visitors and because of this I need and use superfast dedicated web servers to host the site. Running this site costs quite a bit of cash every single month and on top of that, I work full-time 60+ hours a week on it each and every single day of the week (I received 200-300 emails a DAY). Because of this, I need YOUR help to cover my costs for this free information that is provided on a daily basis.
To help out it is simple, and no, I am not asking you for a penny!
If you ever decide to make a purchase from B&H Photo or Amazon
, for ANYTHING, even diapers..you can help me without spending a penny to do so. If you use my links to make your purchase (when you click a link here and it takes you to B&H or Amazon, that is using my links as once there you can buy anything and I will get a teeny small credit) you will in turn be helping this site to keep on going and keep on growing.
Not only do I spend money on fast hosting but I also spend it on cameras to buy to review, lenses to review, bags to review, gas and travel, and a slew of other things. You would be amazed at what it costs me just to maintain this website, in money and time. Many times I give away these items in contests to help give back you all of YOU.
So all I ask is that if you find the free info on this website useful AND you ever need to make a purchase at B&H Photo or Amazon, just use the links below. You can even bookmark the Amazon link and use it anytime you buy something. It costs you nothing extra but will provide me and this site with a dollar or two to keep on trucking along.
AMAZON LINK (you can bookmark this one)
B&H PHOTO LINK – (not bookmark able) Can also use my search bar on the right side or links within reviews, anytime.
Outside of the USA? Use my worldwide Amazon links HERE!
You can also follow me on Facebook, Twitter, Google + or YouTube. 😉
One other way to help is by donation. If you want to donate to this site, any amount you choose, even $5, you can do so using the paypal link HERE and enter in your donation amount. All donations help to keep this site going and growing!
 I do not charge any member fees so your donations go a long way to keeping this site loaded with useful content. Thank you!