2017 Sony World Photography Awards
Open for entries!
World's largest photography competition celebrates its 10th anniversary! New categories in Professional, Open and Youth competitions See winning images from 2016 Sony World Photography Awards at worldphoto.org
"We are committed to challenging photographers to push their creative boundaries in the years to come."  Scott Gray, CEO, World Photography Organisation
London, June 1, 2016: The Sony World Photography Awards, the world's largest photography competition, opens for entries today. Created by the World Photography Organisation, 2017 marks the awards' 10th anniversary.
Photographers are welcome to enter their work for free into any of the awards' four competitions: Professional, Open, Youth and Student Focus via www.worldphoto.org. The newly re-launched website gives a greater visual platform to the awards' photographers and makes the entry process simpler than ever before.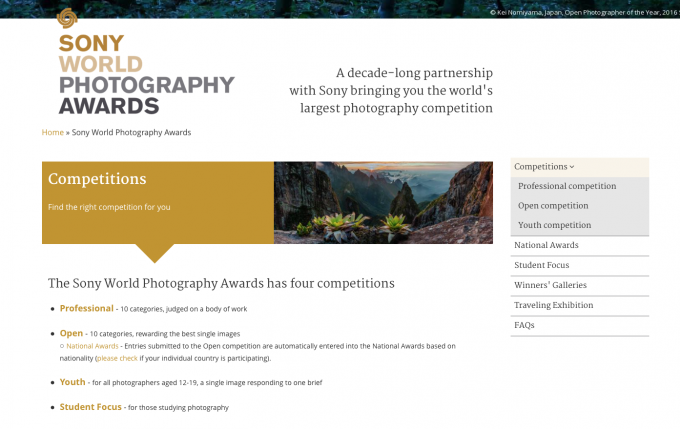 In addition to the four main competitions, the hunt is also on to find the best local  photographer in 60 countries through the National Award program.
"Winning brought more attention to my work and I started receiving more collaboration proposals and job opportunities" Kylli Sparre, Winner, Open Enhanced category 2014
"Winning the Portrait category was life-changing! Professionally, winning the award helped kick-start my career" Sophie Gamand, Winner, Professional Portrait category 2014
"The award changed my life and beyond the great visibility obtained allowed me to create solid relations of friendships and professional collaborations that I otherwise would not have been able to obtain" Andrea Rossato 3rd Place, Professional Candid category 2016 and Italy National Award winner 2015
The 2017 edition sees new categories introduced across the all competitions challenging photographers to push their creative boundaries. For competition definitions and categories or click here.
The Sony World Photography Awards offer a wide range of benefits for its winning photographers, including:
The latest Sony digital imaging equipment
$25,000 (USD) for the winner of the Photographer of the Year title
$5,000 (USD) for the winner of the Open competition
Leading Sony Digital Imaging equipment for National Awards winners
Inclusion in the Sony World Photography Awards Exhibition in London
Inclusion in the annual Sony World Photography Awards winners book
Worldwide media exposure and increased recognition