ProMediaGear SS2 PMG Shoulder Sling Strap with Quick Connect Review
By Robert Falcone
Camera Support Systems are one of if not THE most important accessory every photographer should invest in. Tripods, Monopods, Ball and Fluid Heads, Rigs and Stabilizers are all used for smooth, stable shots as well as safety for our gear. Let us not forget about the most IMPORTANT one of all, the Camera Strap. You may ask, but doesn't one come with my camera? True, most cameras do have one included in the box with the purchase price. However, the quality, materials and comfort of these leave quite a lot to be desired.
As soon as my camera and lens combo are out of the bag or off of the tripod, I have it secured over my shoulder. The reason I say shoulder vs. neck is many. First, a traditional neck strap while my camera is on one of my tripods, monopods, stabilizers, sliders, etc. really gets in the way. Just can't stand having to constantly move it, plus if I am using a stabilizer or FlyCam, it really throws off the balance. Second, and most importantly, is comfort. I shoot mostly Wildlife, Sporting Events and Equestrian Jumping. Because of this type of shooting, I always have on my BIG HEAVY GLASS as well as my Battery Grip for extra juice and balance. How do you think that plays with an already bad neck? Not so good. I want to concentrate on my subjects, not neck pain. So, a few years back I started looking into a Shoulder Sling Strap. Wonderful product as it got the weight off of my neck and across my shoulder. Also lets me have my hands free for other things when not shooting and stops the bouncing of the camera and lens off of my chest while walking or 'trotting' after a horse and rider or bird in flight!
There are many different manufacturers of Shoulder Sling Straps to choose from, from cheap imports to rather expensive ones. Remember, you get what you pay for. As a Professional Photographer and Videographer I do not skimp on my equipment and this includes my straps as well. When it came to choosing a Shoulder Sling Strap it came down to only a few. After close comparisons, only one was left: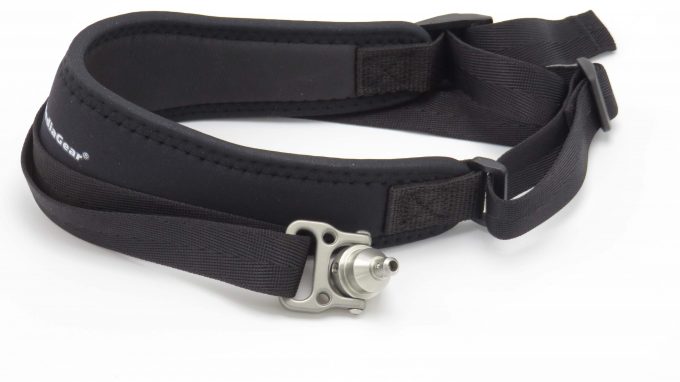 The ProMediaGear Shoulder Sling Strap. Why? Very simple choice. First off ProMediaGear Arca Compatible Camera and Lens Plates and L-Brackets have adorned my different Canon DSLR bodies and lenses for many years. Made in the U.S.A. out of the best quality materials with the best workmanship I have ever seen. Plus, EVERY ONE of their products has an exquisite sexy look to them! Can't tell you how many times people ask me where did I get that GREAT LOOKING Flash Bracket, or L-Bracket or Shoulder Sling? I am proud to tell them from ProMediaGear (www.ProMediaGear.com) made right here in the U.S.A. Plus, their products are all a part of a system. The aforementioned Boomerang Flash Bracket connects DIRECTLY to my ProMediaGear L-Bracket bottom Plate on the Battery Grip of my Canon 7D MarkII. No having to take off my plate to mount the flash bracket. The same holds true for my ProMediaGear SS2 (2nd generation) Shoulder Sling Strap! Right off of the Tripod and the Strap connects to my camera or lens Plates! What a great selling point, no need to remove one plate just to add another one or a thumbscrew to the tripod mounting hole to attach a strap. That extra time and fumbling equals MISSED PICTURE OPORTUNITIES. In my business, I need to move fast, but safely too. The ProMediaGear Plates and Shoulder Sling Straps allow me to do just that!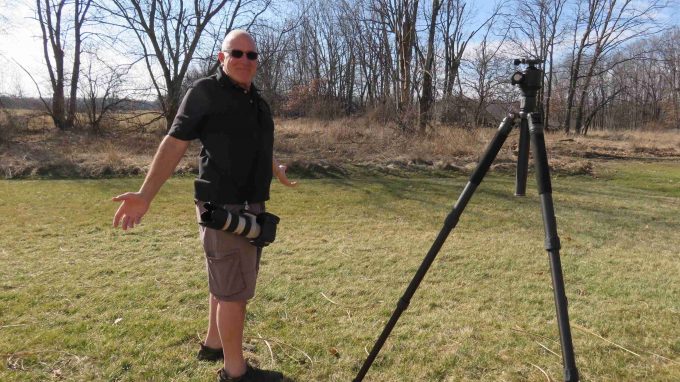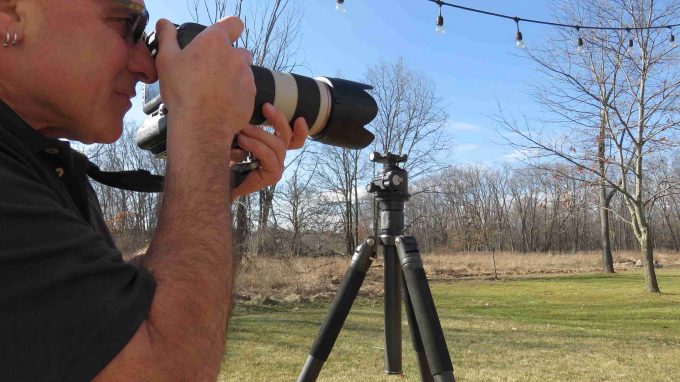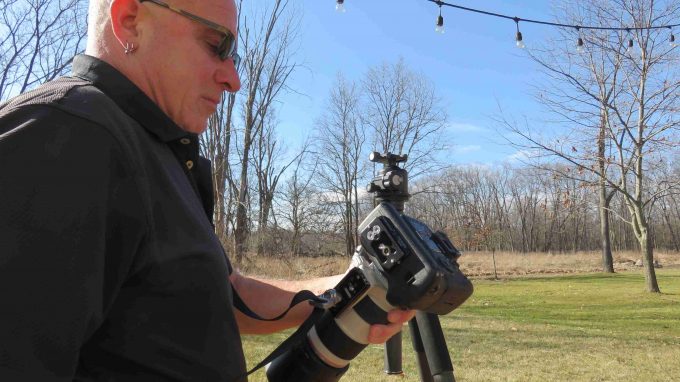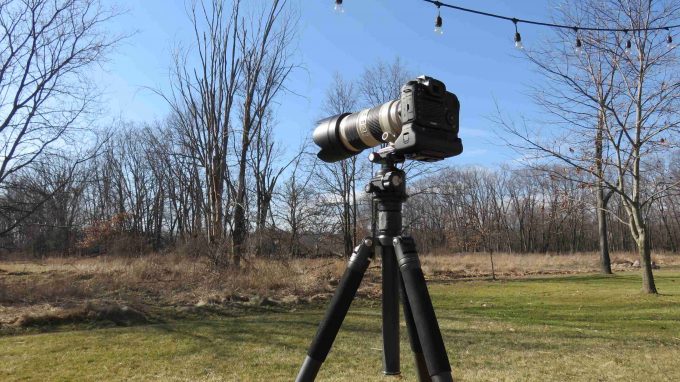 Yes, shorts in Michigan in FEBRUARY! Wacky Winter Weather we have had!
The ProMediaGear SS2 PMG Shoulder Sling Strap with Quick Connect is actually the 2nd generation of their Shoulder Sling Strap. We have all heard advertising about NEW, IMPROVED and BETTER THAN EVER! Well, with EVERY PMG Product it really IS TRUE! The first generation was a Marvel to use from both fit and function.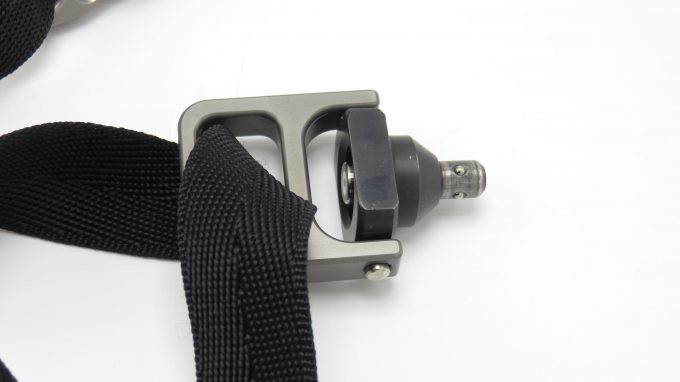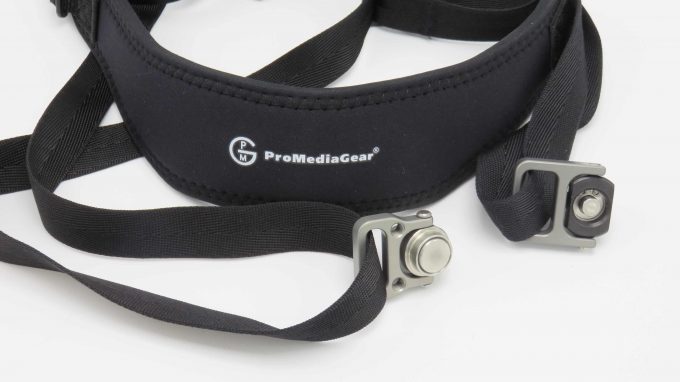 The second generation is better in every way. They listen to their customers and make the changes that will improve their products. Just what a consumer is looking for, a company that is also a PARTNER! First, their name is proudly printed on the top of the strap. PMG does not make the strap part of this system as their forte is in the aluminum pieces of art that they sculpt. Who better for them to partner with than the PREMIER Camera Strap Company, OP/TECH. Again, MADE in the U.S.A.! Next they completely redesigned the Quick Connect Bracket from the ground up, again with input from their customers. The locking button has a much smoother finish but is still recessed just enough that only a deliberate push will make it work. It operates very smooth with just the right amount of resistance. The look is lightyears ahead of any other companies products out there, and the workmanship, well it far surpasses the first generation which was beautiful to begin with. NEW, IMPROVED and BETTER THAN EVER!
You simply push the locking button in the Quick Connect Bracket, which retracts the locking ball bearings. Then insert the post into the special hole on the bottom of the PMG Plate on your camera or lens and release the locking button. It virtually CANNOT come undone, unless you push the button. It cannot happen by accident.
The connection is so strong, on the PMG website you can see many of the employees HANGING from a production Quick Connect which has been inserted into a production Plate! I really know my gear is totally safe using this equipment!
How lucky I am to live in a virtual Nature Preserve, as my subdivision is flanked by hundreds of acres of Natural Michigan Woods and Wetlands. We have Hawks, Sandhill Cranes, Turkeys, Swans, Deer and Coyotes just to name a few of the species of abundant photographic subjects! On the same very warm February afternoon mentioned earlier, I went out hiking to snap some pictures of some favorite friends.
Just about dusk, I came across a Buck that had already lost one of his antlers. For those of you that didn't know, a Buck will loose his antlers every spring and grow them back in the fall. Around early September, their antlers are mostly grown back and felt covered. They will rub them against thin trees and branches to get the felt off of them and shine them up for the Does!
Thought to myself, GREAT! I can go find myself some sheds (the antlers that are SHED off by the Buck). So I venture into the nearby woods looking for sheds and WHOOPS, I trip on a stick under the cover of leaves and fall for a face plant! Had I been using a traditional Camera Neck Strap, my expensive camera and lens would have surely been smashed, as well as a few cracked ribs. However, since my gear mounted to my Shoulder Sling Strap was at my side, while falling it simply swung around a bit and landed on my back with no damage to it or my ribs! THANK YOU ProMediaGear! You saved my camera and lens from any damage!
Robert