The Hasselblad X1D Review, Part 2. Torture Test. High ISO, Low Light, Handheld
By Steve Huff
X1D Review – Part 1 – Part 2 – Part 3 – Part 4
Here I am with part 2 of my Hasselblad X1D review, which will consist of four parts. Part 1 is HERE. This time, unlike part 1, I have the camera in hand, and have used it, and have updated the firmware to the latest and greatest. I found myself shooting a Medium Format camera in places where these cameras traditionally do not hang out. Low light, music clubs, and soon I will shoot it in the standard areas where a camera like this excels..portraits and landscape.
Some of the images here with narration in video form…
Only having one battery so far (
did not order a 2nd but did get a free $350 bag, and an extra battery free with the current promotion, but have to wait for it to be shipped
) I was nervous about even short travel with the camera, as I have been hearing about people getting only 200 shots per charge. While I normally shoot VERY few frames compared to most, 200 is not that much. I was hoping for better with this seemingly power hungry camera.

There was a 4-5 hour wait for the 1st charge on the battery, and realizing the charger that came with the camera is not the best (plug it in and stick a cable into the battery, instead of a battery "lay in the charger" kind of charger) I feel one would need 3 batteries for this camera if you were taking a day trip, just to be safe. I wish Hasselblad included a tray type dual quick charger. But it is what it is.
In case you did not know,  this is not a 35mm full frame mirrorless or DSLR. It has a whopping 51MP MF sensor, made by Sony. The same one used in the new Fuji GFX yet the Fuji can go to a reported 1000 frames on a charge. Hmm. Anyway, I did not buy the camera expecting 500 shots per charge, nope, I knew all of the warts and issues I was potentially getting into. I like a challenge, so away I went with my X1D, single battery fully charged and the single lens I now own, the 45mm f/3.5, which gives almost a 35mm equivalent in full frame terms, and only with about an equivalent f/2.5 aperture (in full frame terms) for DOF.
As I sat and pondered on that before I headed out the door with Debby to the 1st location I would test this at (The Lost Leaf in Phoenix AZ), I figured I could get similar results with my old Leica SL and a 35 f/2.4 Summarit lens, and that kit, brand new would cost me a few grand less than this Hasselblad and offer more versatility. OH MY, WHAT HAVE I DONE? That is what I asked myself. But then I pulled out that X1D from my bag and said "THIS IS WHY I HAVE DONE THIS". Besides, the SL struggled to shoot in this club even with a 50 1.4 Summilux as by ISO 6400 it would get noisy due to the extreme low light scenario. We all know that if there is good light, high ISO looks better. In low light, it gets much more noisy, much quicker. This is why I never understand those websites that test high ISO performance in studios with lighting. Makes no sense as we will never use ISO 12k with studio lights.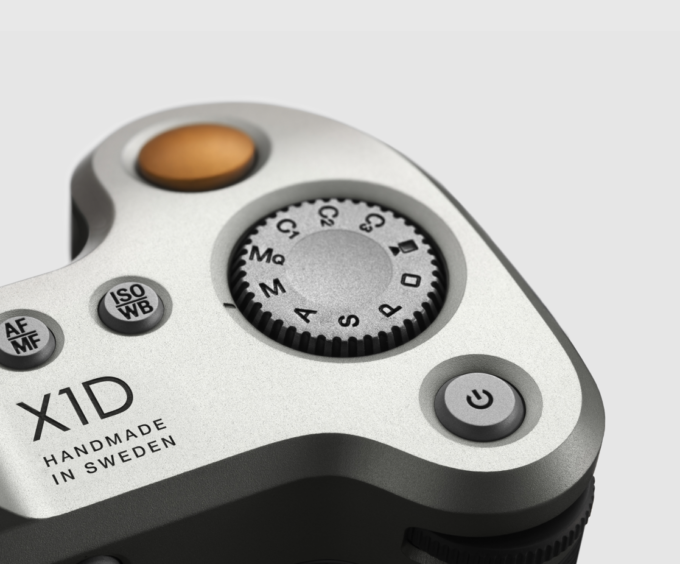 But this X1D..Man.
It's a beauty. It's like a sculpted piece of art. Of course beauty does not a camera make, as I am not displaying this as an art piece (though it could be one, kudos to the designer here) but rather trying to up my game over my SL and Sony A9…to see if this camera can do what they do, and possibly even better. I do not and never have needed speed. I never needed fast start up times and I never needed quick shot to shot times. If this can beat what my Sony does in this club I would be thrilled. But I had serious doubts about that. The Lost Leaf is a 365 Day per year music club in the arts district of Phoenix. We love going there to see local musicians, and enjoy great beer (they must have at least 100 beers available).
But back to the camera..I am a "one shot and done" kind of guy, and thats my reputation among those whom I have worked with. So the speed and shot to shot speed (FPS) and the wake up time does not bother me. I suppose it would if I were out trying to capture a decisive moment, or a sports performance, or some kind of action. If you shoot that type of scene, this is not your camera but then again, no medium format is.
I sold my Leica SL (again) to help fund this camera, the X1D. Also sold a few bags, a few lenses, and as I was heading out the door for this test shoot I was hoping I would not regret my choice by the morning . If that happened, well, I would sell it for a loss, and at least I could say "I finally owned a Hasselblad", lol. I will learn a lesson to never make such a silly move ever again. But if it does make me a happy photographer, well, I will be thrilled.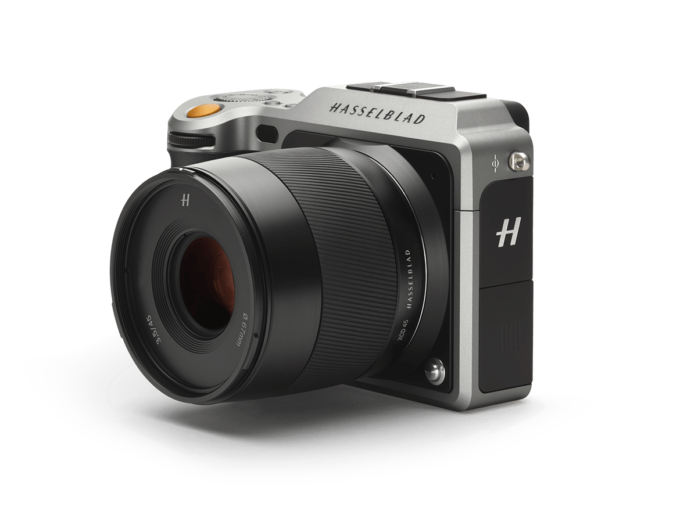 So all of this was on my mind before I shot with the camera. Before I headed out. Will shooting it in challenging areas for a Medium Format camera confirm these fears or wipe them clean? I was about to find out.
The First Shots – The First Thoughts and a Bug
Before I delve in, let me say I did find a bug that some others have reported. Before I left the house, earlier in the day I shot two images outside just to check it out. When I activated the menu, and used the front and rear dials to move around (instead of using the touch screen) the dials seem jumpy. Menu items were jumping around and it would take a second for them to settle. I then saw the aperture go to the left, as if I was moving the dial, but I wasn't. Hmmm. I researched and it does seem some of these cameras have this issue, and it requires a hardware fix according to Hasselblad, new dials. So I assumed I would be returning this to B&H Photo for an exchange, but I wanted to see how it did in real world shooting. If it persisted, it would go back in the AM. I am happy to say I could not replicate the glitch all night last night. Odd, as most reports say once it happens, it stays. But I could not replicate it. If it happens again over the next few days I will have to exchange it with B&H Photo, but they are great with customer service, so no worries here.
Before I go further, I have to show you this image. Shot in insane low light the camera had to resort to ISO 25,600 using Auto ISO. I assumed when shooting that these images would be unusable, horrible. But boy was I surprised. Click the image below to see a much larger version, and if you have a large display, you will see the beauty in the rendering, the smoothness and the B&W tonality. I converted it to B&W using Phocus (Hasselblad Software) and for ISO 25k, I was blown away. Below the image is a 100% crop you can click on to see the full crop. These are the kind of tones that medium format brings.  f/3.5 at 1/60s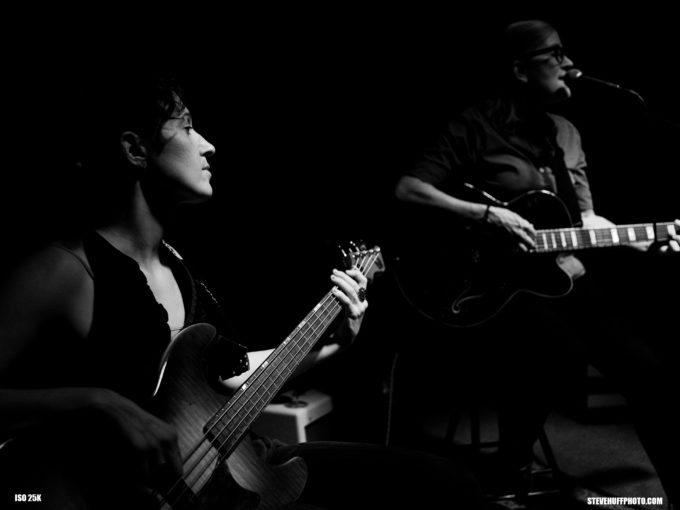 Check out the 100% crop below, it's amazing IMO for ISO 25,600. You must CLICK it to see it fully as WordPress downsamples these previews.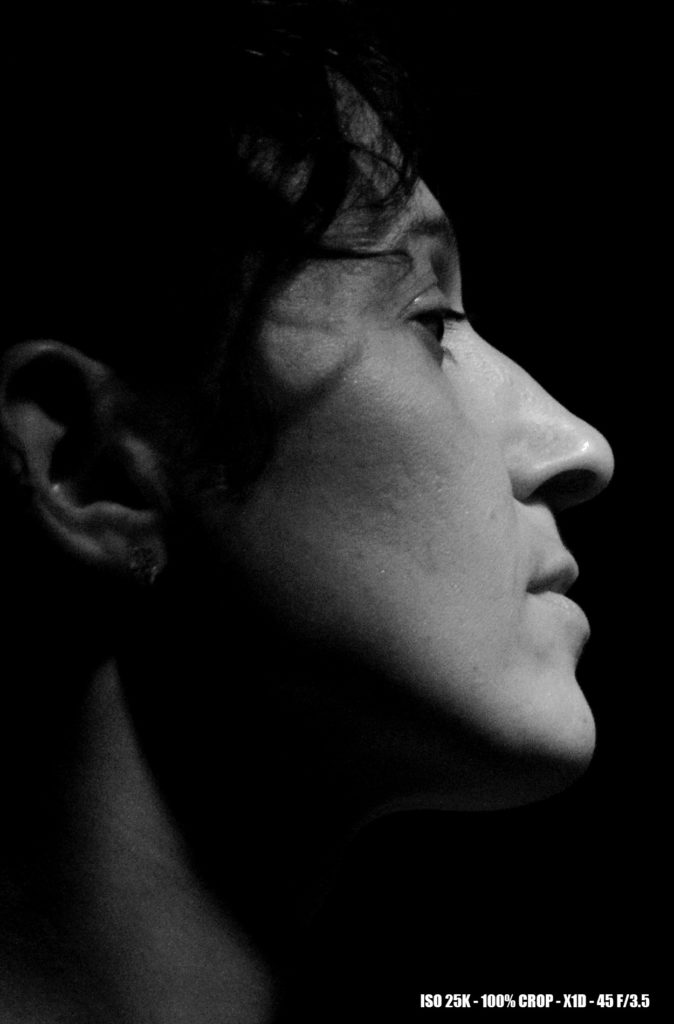 I know what you are saying. Yea, but you converted to B&W to avoid all of that nasty color noise…I would be thinking the same thing if I were you. So below is the color shot, from RAW, processed in PHOCUS, with a 100% crop to click on.
CLICK ON THIS to see larger. Color, ISO 25K. The Lost Leaf only uses a very low power red light to illuminate the small intimate stage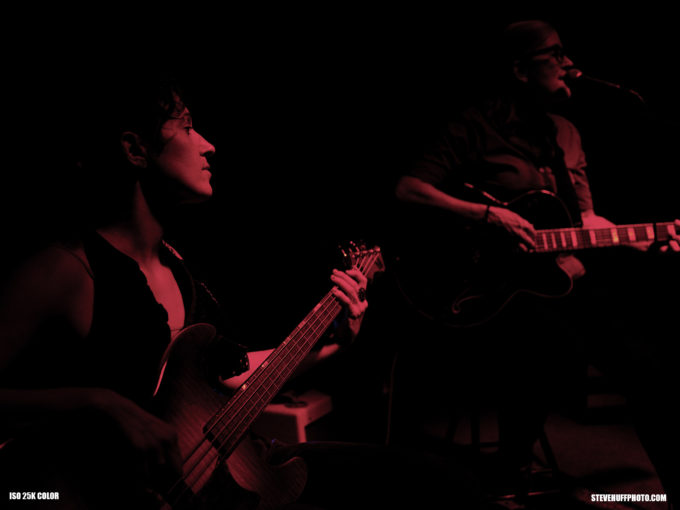 And the crop (click it to see full crop) – Handheld, 1/60s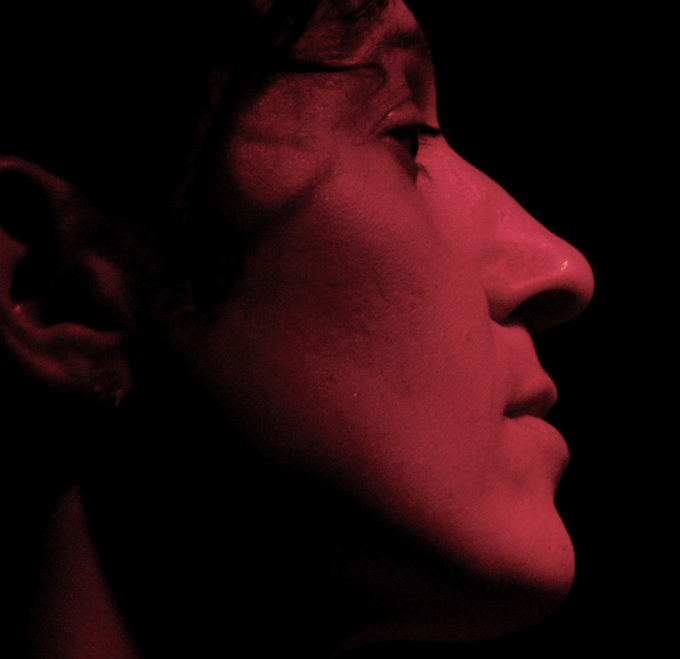 –
SEE AND CLICK BELOW FOR A FULL 100% CROP that I ordered as a metal print in 16X20. This is a crop of the full frame, and is beautiful in its tonality, and delicateness when viewed at 100%.  No camera in the last three years has motivated me to order a print. Remember, this is ISO 25,600!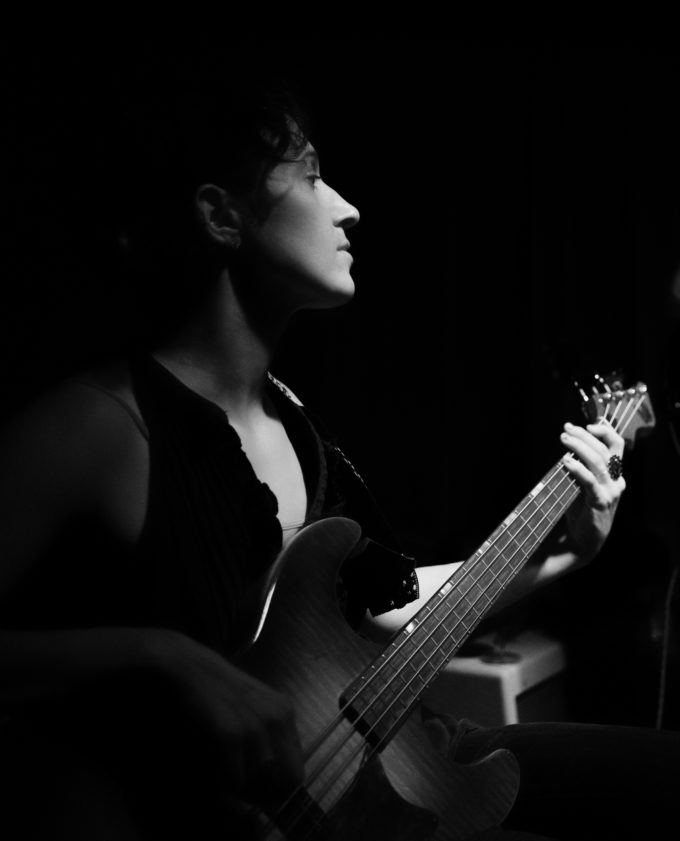 Once I saw this? I knew right then and there that I made the right choice with this camera (well, assuming there are no more bugs that creep in) as the IQ, the portability, the beauty and design and lightweight means I can take this ANYWHERE, EASILY. It fit in my small Wotancraft RAVEN bag. THIS to me, was pretty special. But this is my 1st few shots and only my 1st day with the camera. I am making or coming to NO CONCLUSIONS until I shoot MUCH more with it. I will be shooting this for the next several weeks, months and will be writing about my experience with it as I feel it deserves it. But make no mistake, I will write the good and the bad, and if I have to exchange it, I will say so. So stay tuned for part 3, and 4 which will come in a week or two.
Back to Shooting
If you can not tell, I am excited. It has been a long long time since I was truly this excited about owning a camera. Sure, I love my Sony A9, My Olympus EM1 MKII and PEN-F but this is something entirely new to me, and different. I never would have imagined that I would buy a Medium Format digital and use it for walk about handheld ISO 25k shooting. THIS camera is the only one that makes this possible. Sure, we have the Fuji but I would not have attempted this with the Fuji. It's large, fat and these musicians would have wondered what the hell I was shooting with.
This camera is so sleek and thin and small, it is a true game changer in the world of large sensor mirrorless. But let's talk about the speed, ease of use and challenges in a situation like I had here at the lost leaf, namely NO LIGHT! 
An Orange blossom beer illuminated by Candle Light. ISO 12800, 1/50s, 45 f/3.5 – Click this to see a MUCH larger size and the amazing quality of this file for the high ISO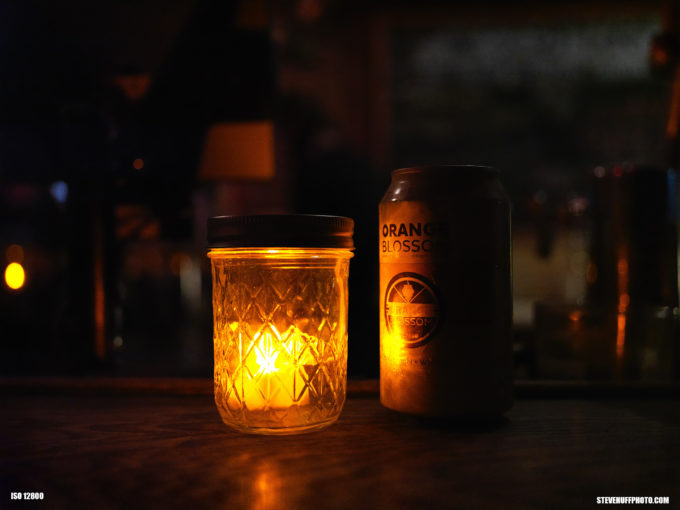 This camera was getting a few negative remarks in some reviews but I am not sure why. Were they comparing it to DSLRs for speed? If so, why? Were they expecting blazing fast card write performance like a fast Sony A9 or DSLR? If so, why? Sure, the Fuji may be the bigger, faster, stronger model in this class of camera, but that is where the comparison ends for me with the Fuji GFX. Maybe it has a joystick, which would have been great to have here on the X1D. I mean, I am not sure how this was missed though I think it was to keep the slim design that many of us appreciate just as much as the IQ. The Fuji battery system is obviously better, so again, with the X1D you will need at least 3 IMO. The Fuji may have faster processing, but for me, I could care less for what and how I shoot.
For anyone considering an X1D or Fuji GFX, if you desire speed, a joystick and in reality a more advanced UI, go for Fuji. If you desire small size to take anywhere, and use in situations like I am showing here, if you desire light weight and sizes not much larger than a Sony A9 or SMALLER and LIGHTER than an A9 if using a G Master lens on the Sony, and if you desire Simplicity in the UI with a gorgeous touch screen that is smooth as silk, then consider the X1D. For me, I could not go to the Fuji, even if this X1D turns out to be a buggy POS in the end. It just is to large and would be more at home in a studio environment or tripod landscape environment.
This X1D can do handheld, slow shutter speed and very low light kind of shooting, areas where medium format never existed really. I can use the Hasselblad like I do my normal mirrorless cameras, though at a slower pace. (which I enjoy).
Street portrait at 10:30 at night, ISO 25,600. 45mm f/3.5 at 1/50s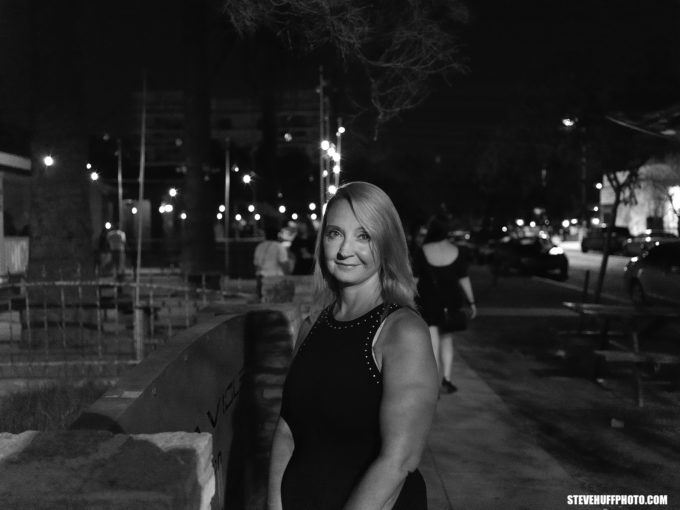 The photo above of Debby reminds me of when I was shooting a Fuji Medium Format FILM Camera years ago, with 3200 film. But this is 25,600 ISO. It has a quality about it that I just do not see with 35mm. This was AUTO FOCUS, at night, low light and it nailed it.
THIS IMAGE BELOW IS WITH A MEDIUM FORMAT FILM CAMERA, from my review of the Fuji GF670 in 2010. See the review HERE. This Hasselblad delivers better IQ, Greater Dynamic Range, more versatility (higher ISO) and is built much better as well.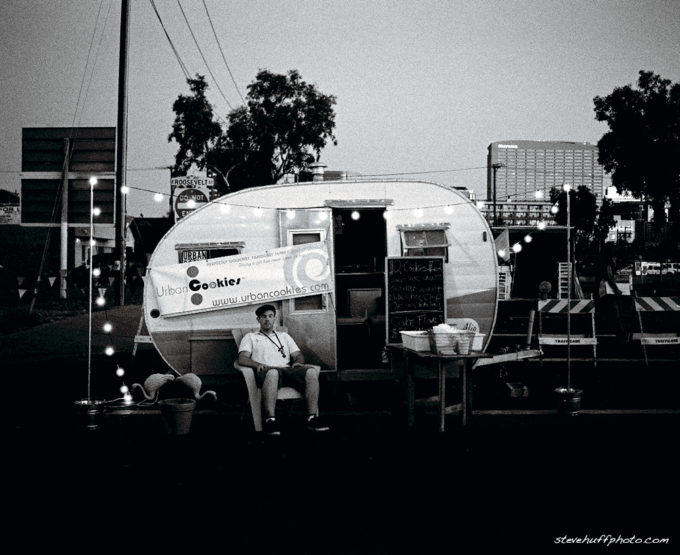 As for that Auto Focus Speed
After watching a few YouTube reviews of this camera I was expecting horrible auto focus. Some said it was like the 1st days of mirrorless, which to be honest, was indeed awful. So when I was seeing the X1D nailing focus in low low light, and in a way that was not slow or hunting at all I was a little shocked to say the least. I could not understand what some were talking about. Again, were they comparing to a D810 or A9? If so, why? This will never have the speed of those speed demons, and it shouldn't really.
There is a special feel that comes when shooting with medium format, a special appreciation for what you are doing. You are focused and you should know that the process is not to fire off 100 shots at a time, but to frame that shot, taking your time, and to press that shutter once, hearing the click of the shutter. Then knowing that you may have captured a great slice of time, a memory that may put a smile on your face in 10 or even 20 years. Photography is special to me, and to some it is about shooting 1000 frames in sequence to nail the shot. To me it is much more satisfying to nail a shot in one frame. THAT is what this camera is about. But the AF, gave me no issues. It's pretty quick actually.
I will say for the performance shots I used manual focus as I did not want to use the AF Assist and WITHOUT the AF assist in low light, it will get difficult I am sure. (I did not even try).
ISO 25,600 – f/3.5, 1/13s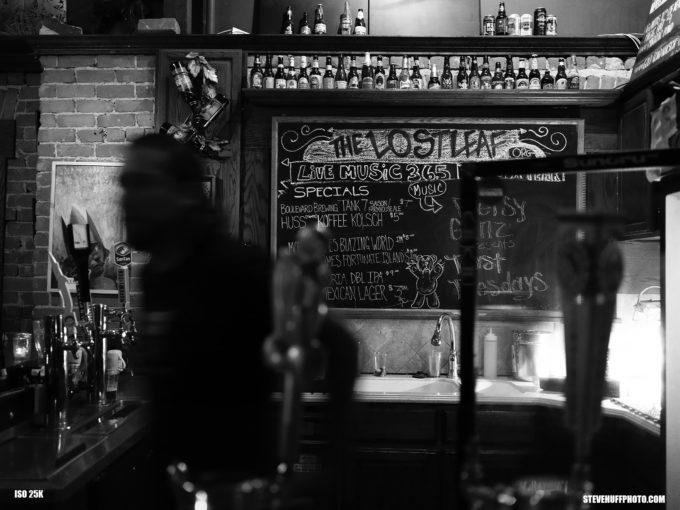 Using Manual Focus? Yes, and it was fantastic. Here is why. 
Yep, this camera uses a focus by wire system that seems to be so prevalent today, so gone is that special weighty feel of the physical lens and it is replaced by a light non satisfying feel. But I wanted to give it a go. I set up the MF assist to zoom in, so when I turn the focus ring on the lens, the camera automatically zooms in on the subject so I can easily and precisely nail focus. Since I have bene spoiled by the EVF of the Leica SL, I was expecting it to be tough, as this EVF is nowhere near the SL EVF. It is more like the Sony A7RII. Which I used for years without issues I must say. But in a camera at this price level you would have thought Hasselblad would have wanted "the best". I wish they did put in a SL style EVF but how was using the one they chose?
Not bad.
Using manual focus, and the zoom feature I was easily able to focus my shots without fail. No problem at all. While I did not have that huge picture window style SL EVF, what I did have was plenty "good enough" to nail manual focus shots without fail. While shooting I had NO IDEA how these shots would come out. I even told Debby "I think these will not come out great due to the high ISO and low shutter speeds". I was expecting all of my images to be blurred due to hand shake as with a sensor like this, so many say "A Tripod is a Must"! Well, after seeing the images I disagree.
So using manual focus was a breeze and enjoyable.
ISO 12,800 "Seeing Red" f/3.5 – 1/50s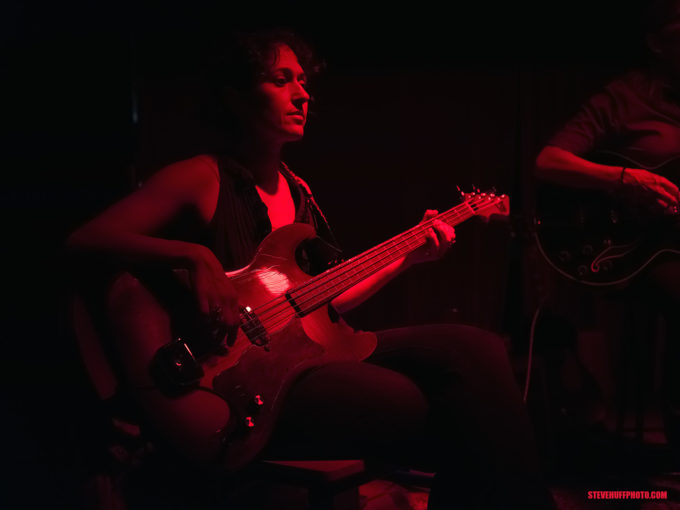 Just to be clear and to stress again, you must click the images to see them correctly. If not they will look soft and not very good as WordPress lowers the quality for these previews. They will also be most appreciated for the file quality when viewed on a larger display. I have never seen any 35mm full frame camera deliver this smooth quality at these ISO's at the Lost Leaf.
So my 1st night of shooting comes to an end. 
Wow. That is all I can say. As I stated, I was expecting the worst. I was thinking there was no way this camera would work for shooting in this venue. NO WAY, but I had to try… and I am glad I did. It showed me that yes, you can use the X1D anywhere. You can use it at Max ISO, handheld and slow shutter speeds. You can venture into areas where medium format usually never ventures. The only issue I have found so far with the camera, and it could warrant an exchange, is the strange moment with the dials making the menu jumpy when using them. But it happened once and never again. Strange but if it did happen once, I am expecting it to happen again. If so, I will send it back for a swap. If not, I will keep it as is.
The Hasselblad X1D has surprised me, and even shocked me a little. I guess since I am a medium format newbie, really only shooting with a handful of MF cameras, with very little use, I was not aware of the huge step up from 35mm, ESPECIALLY in a situation like you see here. You never hear of someone going to shoot ISO 25k handheld in a low light venue using a Pentax 645. At least I never have. This camera opens up some amazing possibilities, and it's a shame that Hasselblad had so many bugs with it when they launched it. They should have waited, and made it as good as they could before release. Now they are trying to fix that by releasing many firmware updates, and they have fixed a lot. They added an electronic shutter that allows 1/10,000 of a second. BUT max ISO in this mode is ISO 3200, or else I would have used it for this test shoot. But even so, it has an electronic shutter when you want to be quiet (there still is a quiet snick in this mode).
The leaf shutter of the X1D is unique as well because you hear two clicks. One is when you take the shot, the next is resetting it for the next. It has a metallic snicker to it and is louder than my SL or M or A9. But its not obnoxiously loud. Again, for how I shoot, and what I enjoy shooting there is (so far) noting about this camera that turns me off. Instead it does the opposite. So before you listen those who trash it (mainly Fuji fans it seems), know what it really is if you are considering it. Auto Focus is decent, and fast for a camera of this type but it will never do action. Single shot is its forte. NO joystick, so changing focus points is not easy, but doable. I use center point all the time with all cameras (focus and recompose, even when using f/0.95 lenses on a Leica). This camera will not thrill you with card write times or start up. Nope, it's no speed demon.
If you missed my unboxing and 1st handling thoughts, see it below
?
BUT it will thrill you when you use it, hold it and shoot with it because it offers simplicity. The menu system is fantastic and not full of nonsense fluff as many cameras are these days. It's a beautiful thing and it did indeed speak to my heart.
Now, in part three I may be saying "I found all of the glitches and bugs and I hate this thing". Who knows. All I can say now is my 1st use last night impressed the hell out of me in almost every way. Again, I would never own the Fuji as it's just too big for my uses, though with gorgeous IQ as well. It's just not a walk around camera like this one is. THAT makes all the difference to me. I could compromise without a joystick, without faster start up and write times for the portability and design and of course the color and IQ. It's stunning.
Of course one can use a full frame camera with a faster lens, like a 50 1.4 and get close to the medium format vibe with some lenses and cameras but low light, color fidelity (of which the X1D is 16 Bit) and subtelties in tones will be superior with medium format every time. Medium format does give you that "look", and it's a look I chased after for 20 years. Now it's here in my hands.
ISO 12800 f/3.5 1/80s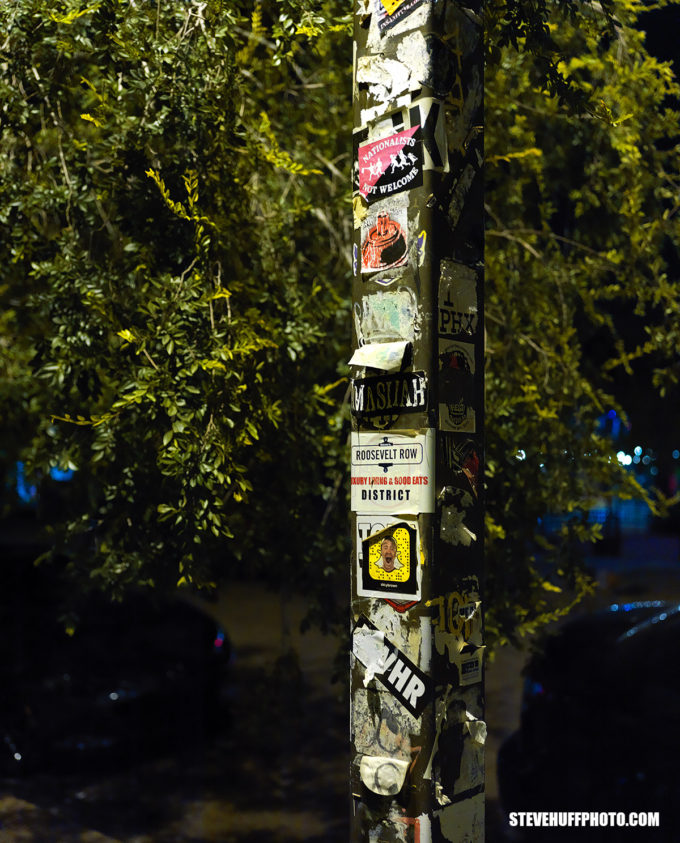 –
ISO 3200 – 1/80s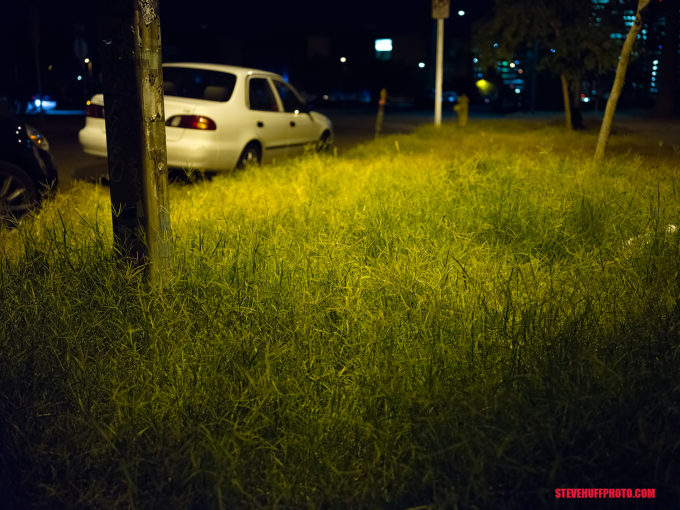 –
ISO 25,600 – 1/30s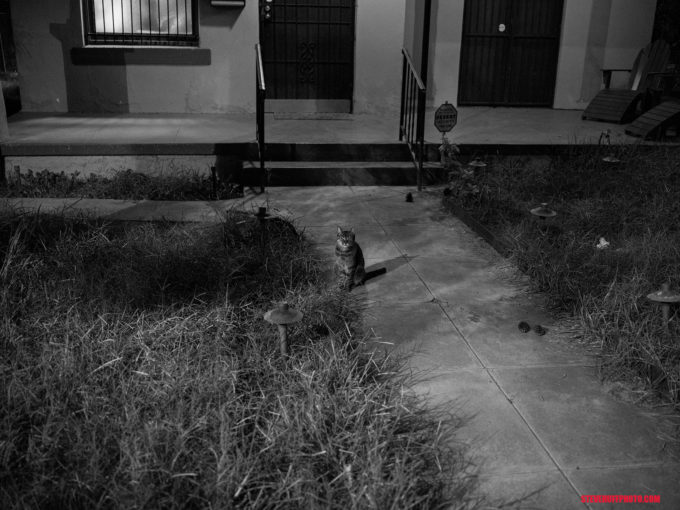 I hope you enjoyed part 2 of this real time, real world Hasselblad X1D rolling review. Part 3 may be a week or so, as I have to head to Sedona and Oak Creek Canyon to shoot some landscape and portraits. In daylight this time ; ) If it does as good as I think it will I may have found "THE" camera for me and my tastes. Phew, only took 20 years. But again, who knows. If it gets buggy or has issues, that will not fly with me so we shall see.
So far so good.
Around 11PM at night, ISO 25,600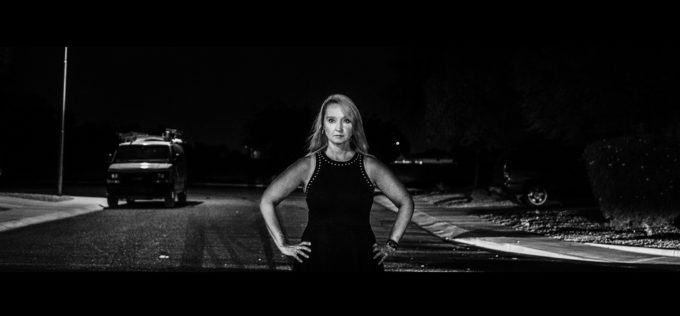 I bought my kit from B&H Photo. The kit I bought can be seen HERE if interested. 
($600 IN FREEBIES special promo now through Sep 15th)
I will leave you with a few more images, exif is all embedded. Thanks for reading and feel free to comment below. Part 3 and a new video portion of the review in about a week!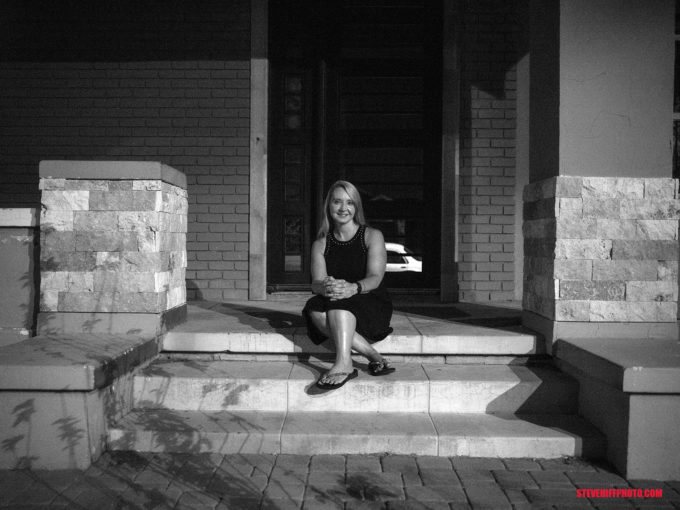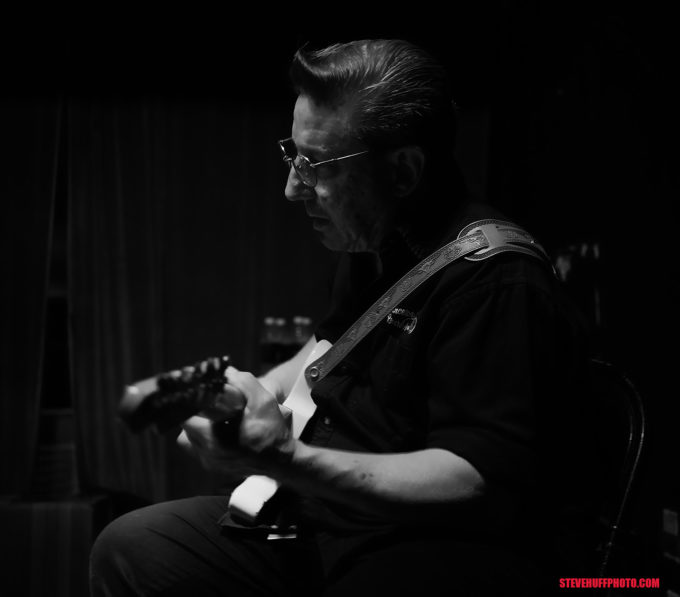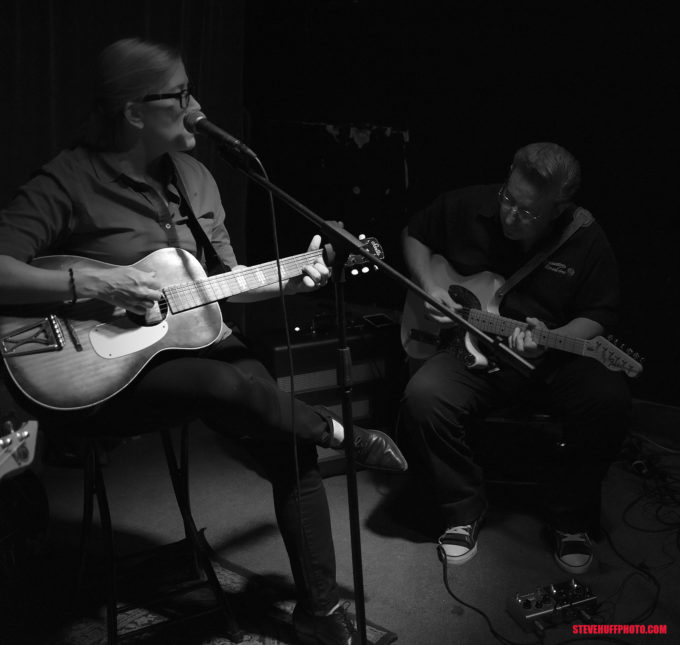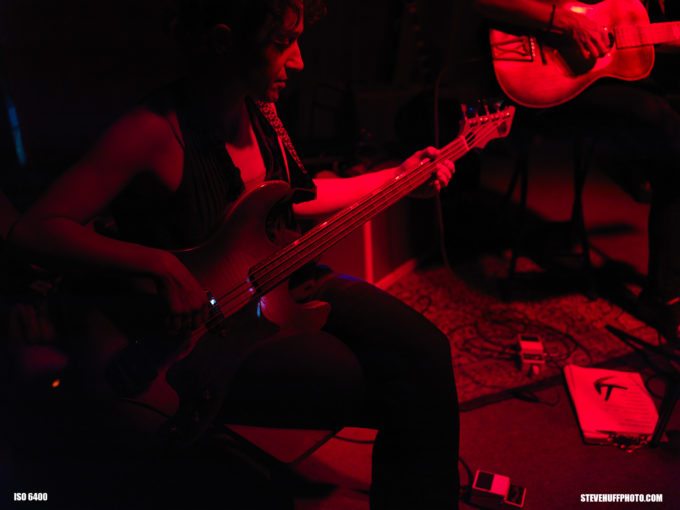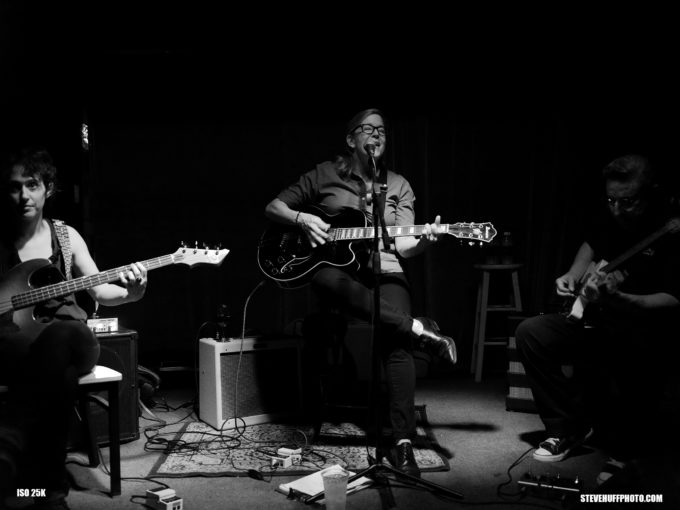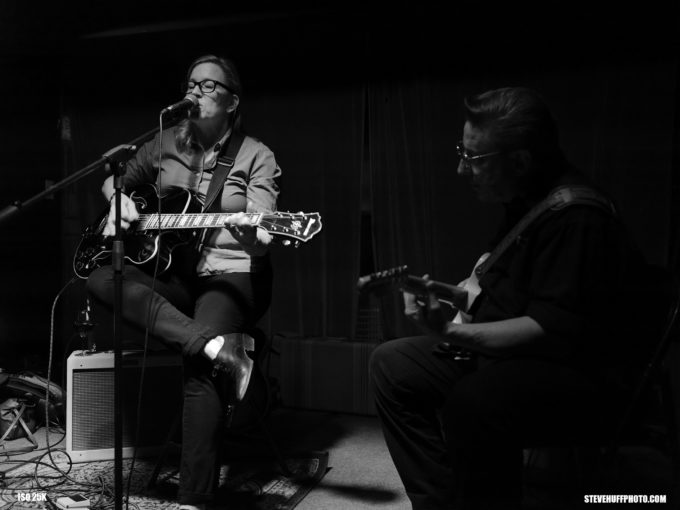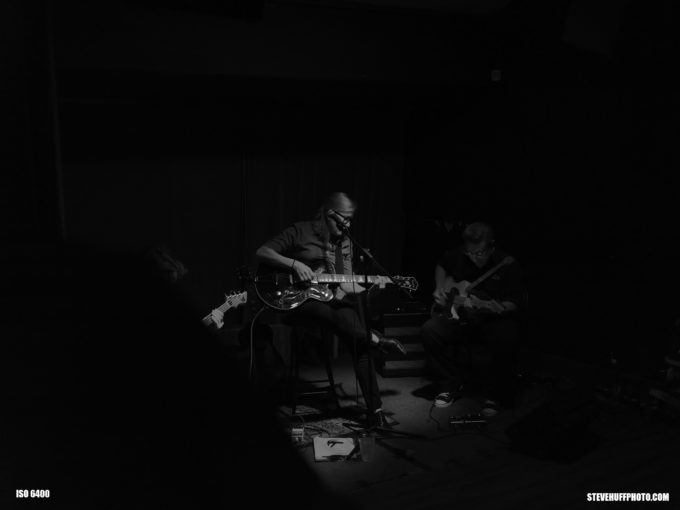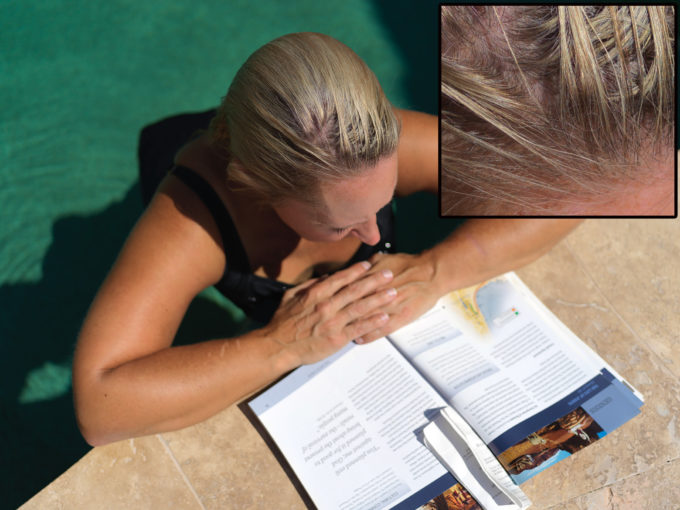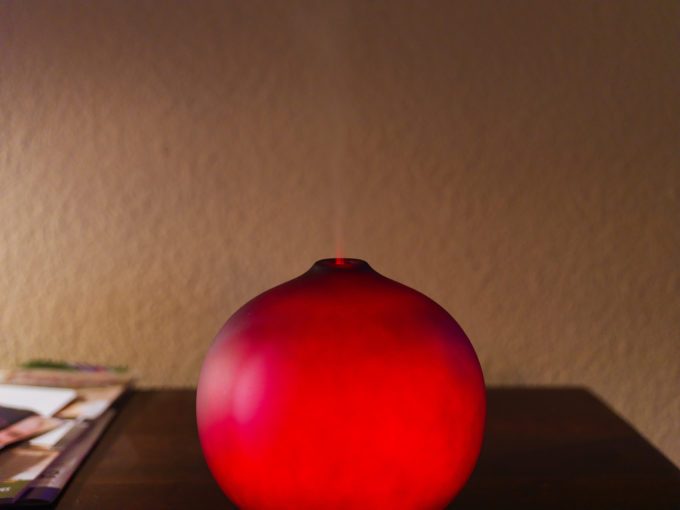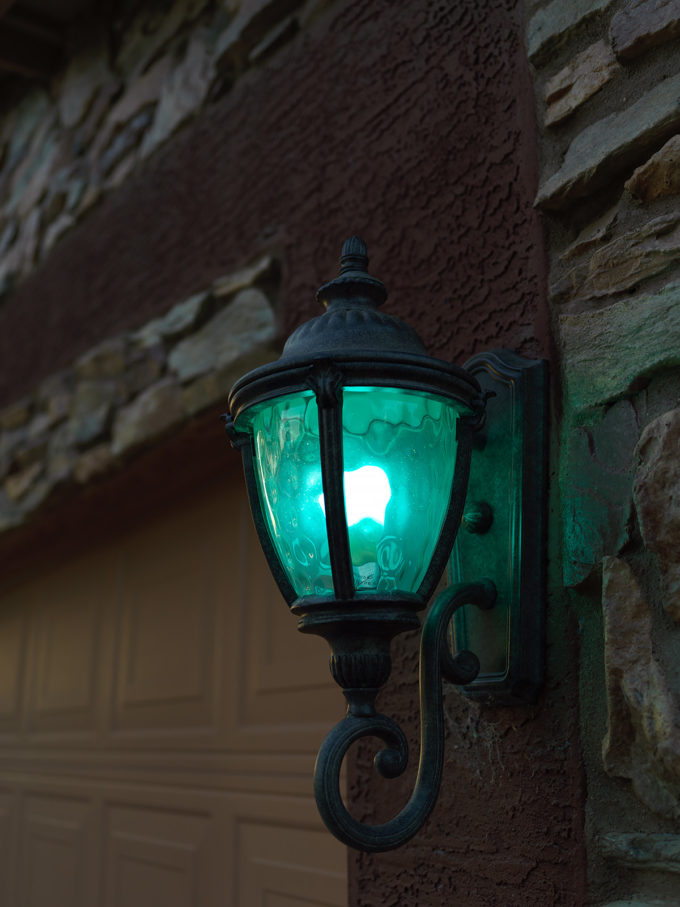 ---
PLEASE! I NEED YOUR HELP TO KEEP THIS WEBSITE RUNNING, IT IS SO EASY AND FREEE for you to HELP OUT!
Hello to all! For the past 8 years I have been running this website and it has grown to beyond my wildest dreams. Some days this very website has over 200,000 visitors and because of this I need and use superfast dedicated web servers to host the site. Running this site costs quite a bit of cash every single month and on top of that, I work full-time 60+ hours a week on it each and every single day of the week (I receive 100-300 emails a DAY). Because of this, I could use YOUR help to cover my costs for this free information that is provided on a daily basis. 
To help out it is simple, and no, I am not asking you for a penny!!
If you ever decide to make a purchase from B&H Photo or Amazon
, for ANYTHING, even diapers..you can help me without spending a penny to do so. If you use my links to make your purchase (when you click a link here and it takes you to B&H or Amazon, that is using my links as once there you can buy anything and I will get a teeny small credit) you will in turn be helping this site to keep on going and keep on growing.
Not only do I spend money on fast hosting but I also spend it on cameras to buy to review, lenses to review, bags to review, gas and travel, and a slew of other things. You would be amazed at what it costs me just to maintain this website, in money and time (250 hours a month, and about $3000 per month).
So all I ask is that if you find the free info on this website useful AND you ever need to make a purchase at B&H Photo or Amazon, just use the links below. You can even bookmark the Amazon link (not the B&H) and use it anytime you buy something. It costs you nothing extra but will provide me and this site with a dollar or two to keep on trucking along.
AMAZON LINK (you can bookmark this one)
B&H PHOTO LINK – (not bookmark able) Can also use my search bar on the right side or links within reviews, anytime.
Outside of the USA? Use my worldwide Amazon links HERE!
You can also follow me on Facebook, Twitter, or YouTube. 😉
One other way to help is by donation. If you want to donate to this site, any amount you choose, even $5, you can do so using the paypal link HERE and enter in your donation amount. All donations help to keep this site going and growing!
 I do not charge any member fees nor do I (nor will I ever) charge for reviews, so your donations go a long way to keeping this site loaded with useful content. If you choose to help out, I thank you from the bottom of my heart.