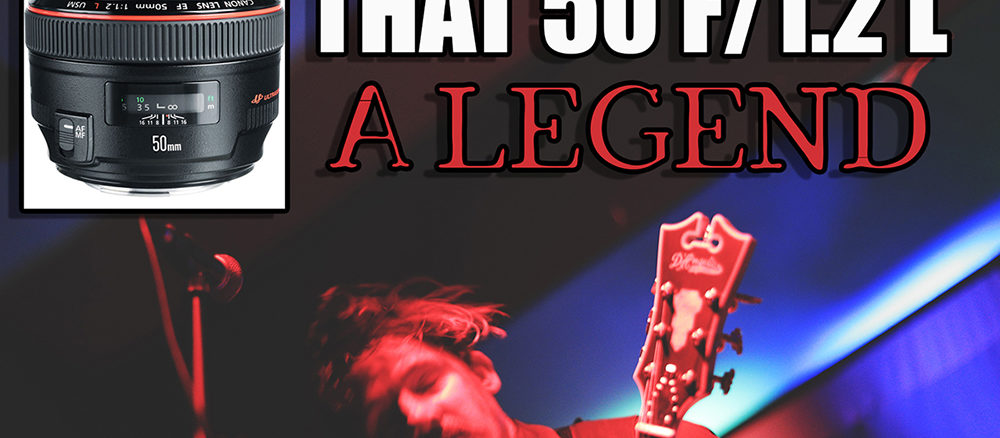 The Canon 50 f/1.2 L Review. One of my all time faves on the Canon 1DX II
By Steve Huff
Note: The photos in this review were shot at The Lost Leaf in Phoenix AZ. The Band is THE SCHISMS 
I'm smitten, and I will. be honest…it has been a while since I have been (last time was the X1D which I still own and adore), and it has come in the most unusual way.
Video Review
Let me start out by saying I have always enjoyed
the Canon 50 f/1.2 L
and have written about it a few times on these pages. Normally shooting it with a Sony body of some variety. I have used this lens long ago on a Canon 5D MKII, and then on a
Sony A7RII
and even
A7RIII
. No matter if I used it on that 5DII long ago, or the newer Sony mirrorless bodies the lens always performed and gave a unique rendering that
was and is
different from any other 50 I have used in my lifetime.
This is a full frame lens but can also be used on APS-C cameras which will then give a nice 80mm equivalent focal length. The lens has one aspherical element, 8 aperture blades and a "Super Spectra Coating".
Canon 1DX II – ISO 6400 – 50 f/1.2 L at f/1.2. EOS HD "Chrome" in camera preset. Keep in mind the only lighting on this artist was a RED lamp!
Click ANY image on this page to see it larger.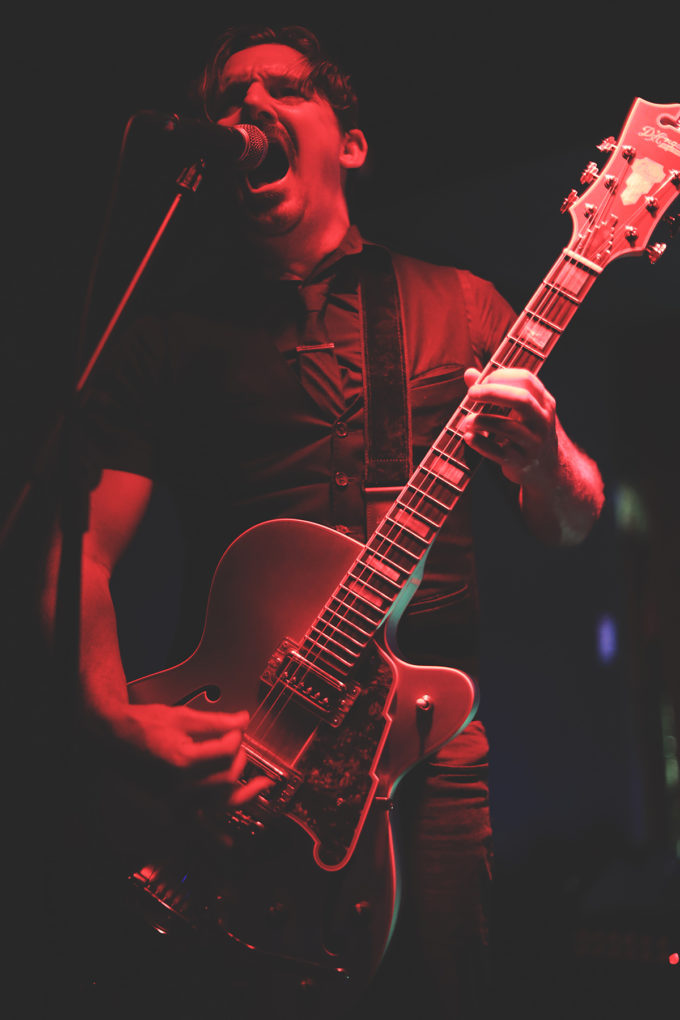 Those of you who have read my reviews over the years know that I LOVE a good 50mm fast prime and have written about a TON of them. 
I have owned the Leica Noctilux f/1 (see samples) and f/0.95 (review). I have owned the Voigtlander 50 1.1 (see review) and 1.5 Nokton (see review). I have owned the Leica 50 Summilux (see samples of the old) (and the new) and Summicron, both the new and old version. I have owned the Zeiss 50 f/2 planar (classic review), the Zeiss 50 1.5 Sonnar (updated look) and countless other 50mm lenses. Old, new, and vintage. I have tested many. Even the ever so popular OLDER Canon lens, the 50 f/0.95 Dream Lens and yes, the new Sony/Zeiss 50 1.4 (full review) for the E mount system. There are MANY more 50mm lens reviews on these pages and on my YouTube but you get the idea.
My experience with 50mm lenses is quite vast.
Canon 1dx II – 50 1.2 at 1.2, ISO 6400 – EOS HD "Chrome" Preset which can offer up a more artistic look in these kind of scenarios. These presets are NOT just for video!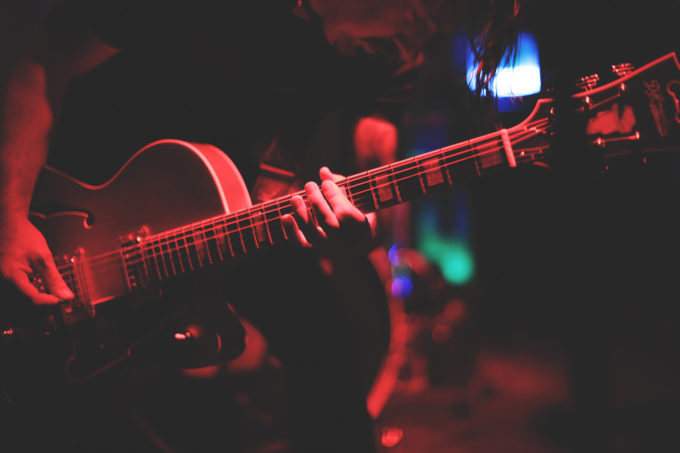 I have only owned this lens once in life, but have rented it from time to time (lensrentals.com is fantastic) when I wanted that Canon 50L fix. But I always wanted to own it again, and I told myself if I ever bought myself another Canon body I would buy this lens. But with all of my experience with this focal length, and with me owning a few 50's already why would I even be interested in another 50mm lens?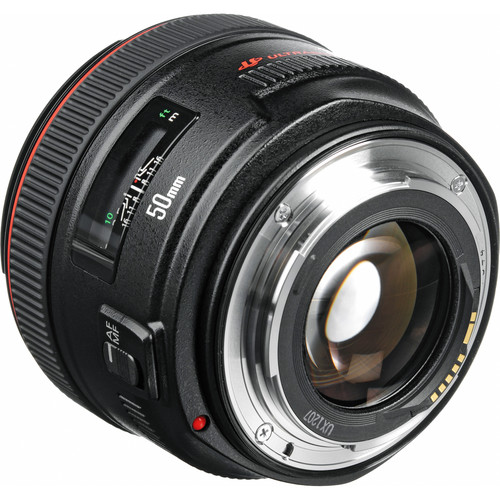 Well, that is a great question!
The reason I love the Canon 50L lens is because of the image quality of the lens first and foremost. That's not the only reason. I also love the size. It's small-ish. More wide than long and it is not heavy. It has an f/1.2 aperture and lets in loads of light. The build quality is fantastic and of course it has auto focus (of which the new upcoming Nikon 50 0.95 will not). Take a look below at the Canon 50 f1.2 next to the lovely Sony 50 1.4 Zeiss. The Canon is quite a bit smaller, offers a faster aperture and offers a more "unique" rendering (imo). The Sony is one of the best 50's I have used and is technically like a Leica 50 Summilux for 1/3 the cost. ALL lenses offer a different look, a different draw and a different kind of mojo. The question is..do you want a modern day razor sharp perfect render or more of a ethereal softer rendering?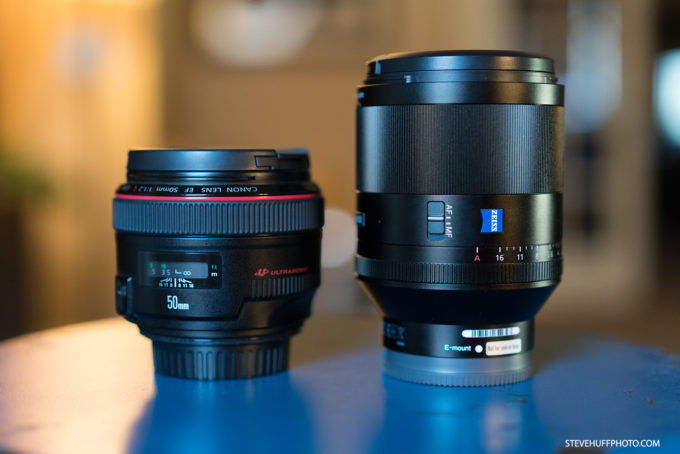 The price is also not so bad. Compared to the $11,000 Leica Noctilux, this $1299 Canon is an outright bargain because, and I may get some heat from Leica fans for saying this…it is just as beautiful in IQ as the Noctilux, but in its own way. The Canon is one of those special lenses that offer fantastic color performance, super bokeh, a fast aperture, and in low light comes into its own, doing what it was made to do. All images shown here were shot with auto focus, so the AF is fantastic, fast, and works well in low light, at least with the 1dX II. But the main thing is that it's rendering is so different from other 50's and you will either love it or maybe it will not be for you.
The Truth
Anyone who has followed me over the years know that this website was started for my love of Leica, and then Mirrorless cameras. I have used and reviewed so many Leica (ALL of them) and mirrorless cameras and have extensive experience with Sony and Olympus mostly. I have also used and tested Fuji, Panasonic and others. But for the last few years I have been a full time Leica and Sony guy for the most part with the Hasselblad X1D thrown in as well. I still am, as I still own and use those cameras.
Canon 50 f/1.2 on the 1dxII wide open. EOS HD Monochrome Preset. Click it for larger. ISO 5000 and clean as a whistle with zero Noise Reduction. 
I have praised Sony many times here, and for good reason. They deserve it. They have practically invented full frame mirrorless and now other brands are having to play catch up, including the giants, Nikon and Canon. Sony has led the way and created mirrorless solutions that offer all of the speed and capabilities of a DSLR and then some (in some cases). Many thought Mirrorless would never take off, and not only has it taken off, it has shot off like a rocket ship with a million gallons of fuel.
Mirrorless is all the rage in 2018, the trend, the way to go these days when using a new camera. I have always been at the forefront, suggesting good mirrorless cameras and defending it against those who would trash the technology vs DSLR's, and many DID. Many predicted Mirrorless would never take off and I now realize why many thought that. DSLR's have been around for a LONG time. They are mature and offer solid build, full frame sensors, huge dynamic range, and an optical viewfinder experience that some prefer and always will. Mirrorless made it all smaller and while some of the full frame lenses are just as big (if not bigger as in the case with the Sony 50mm) the bodies are much thinner and can be used with many lenses, of which DSLR's can not. (Can not use Leica M glass on a DSLR but we can on mirrorless)!
All shots here shot at f1.2, wide open. I used ISO's between 6400 and 12,800.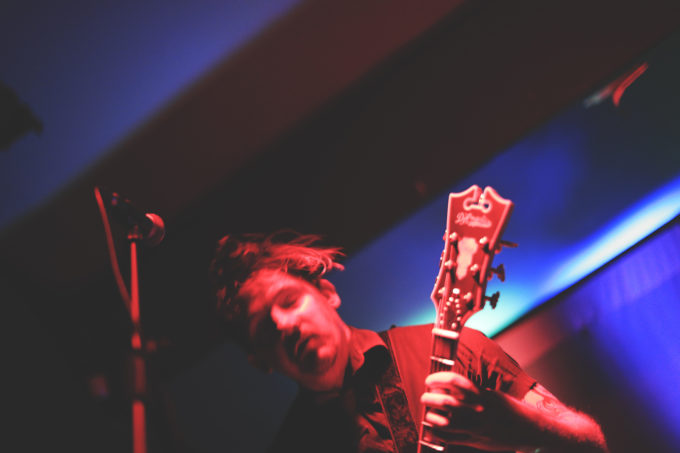 I will say again that Sony and the A7III (Part 1 Review), A7rIII (review) and A9 (see review) have changed the way many people shoot stills and video. They deserve all the accolades they have received and will receive in the future as I have no doubt Sony will continue to lead the way in mirrorless technology.
The 50L 1.2 at the Lost Leaf and it passed this low light torture test with ease. In fact this lens with the 1dxII now takes my prize for best low light performance for taking these kind of photos. Look at the 3 Dimensionality of the 50L in shot #2 below as well as the butter smooth Bokeh. Click it to see it larger! 
WITH ALL OF THAT PRAISE FOR MIRRORLESS I have recently acquired a Canon 1DX II to use for video work I do, which is a two year old body that sells for $5500. I researched, tested and tested some more and for me, the way to go was the 1DX II for my video needs. I will not go into it all again, as I already have, but ever since using the 1DX II for some video work (a 4 year project I am in the middle of), I started to use it/test it for some photos as well, why not right? Here and there, nothing serious. Then I started to realize something. THIS IS ONE HELL OF A STILL CAMERA.
The size, BIG.. Yep. The weight, heavier than ANY Sony …Yep. BUT and I am telling you the truth here…the weight is NOT that bad when in use due to the design and grip. With the 50 f/1.2 L on it, it feels balanced in the hand. In fact, it feels better (when gripped) than my Leica SL and handily outperforms it in all areas besides being a mirror camera vs a mirrorless (the is fact and I tell the truth without bias to any particular brand). With the larger 16-35III 2.8 on it, it is a bit front heavy but the 24L and 50 1.2 make this camera body feel great. The way it is built, the quality of every inch of this body, is stunning. Now I have shot with the 1 series before. I used to own, long ago, the original Canon 1dS. The 1st full frame 1 series body. I LOVED IT back then but remember how bad it was in low light by todays standards. But the body has not really changed much, going by memory. That's a good thing as we always hear "They don't make 'em like they used to". In this case, Canon does.
That's a bold statement as you know I love my Leica SL (review) but the 1dx II has really taken me by surprise. It's an amazing hybrid camera and after owning the Sony A9 I will say that the 1dX II is a superior camera in just about all, bit NOT ALL ways. From build, control, menus, color, low light and even AF in low light. You guys know how I feel about the Sony A9 and how I bought it, twice. ( I eventually got rid of it as it did overheat on me twice for video, and one day it did in fact ruin a shoot. Even with the new firmware it overheated, but I do live I Phx AZ)
I can not and will not tell a lie and after shooting this with the 50L and 24L in a low light environment I have went all in with Canon, in the day of mirrorless! WHAT A SHOCKER huh? But I like being different, and unique and if something works for me, and works better than what I am used to then I use it. I now happily own a 1dxII, a 6DII and the M50 with the 16-35 III, the 24L 1.4 (my #1) and the 50L 1.2. Soon to add the 85 1.4 and 135 f/2. Then that will be it for glass. An investment for my future and my huge project I have been working on (again, video, not photo). I will never use this as an everyday or walk around camera, I would much rather use my Sony or Hasselblad for that. This will have a specific purpose for me, and for that purpose it was my best option.
BACK TO THE 50mm f/1.2 L
I adore this lens. I currently ALSO own a Sony 50 1.4 Zeiss and the ever popular A7III which is also a fantastic lens but it is quite a bit larger and heavier. I did a quick comparison of the Sony and Canon a while ago, using a Sony body. You can see that HERE if you wish but the Sony was sharper and more "modern" while the Canon offered a bit more MOJO. Some prefer sharp and perfect. Some like character.
Both fantastic but my preference due to size, the slightly faster aperture and the extended MOJO go to the Canon and I have to say, using it on a Canon body like the 1dXII is quite the enjoyable experience. The AF is nearly instant, and my focus is now spot on even wide open. On the Canon, I am getting an image I prefer and also with more dynamic range than I was seeing with the older A7RII and even the A9. It handles low light like a champ and even at this venue I go to in Phoenix, where the lighting is a true challenge and VERY VERY RED. I love this sensor in this two-year old 1dxII for what I shoot.
Wide open, the 50 L f/1.2 gives off such a nice, gentle yet powerful rendering and for the photos I shot here I was testing out two color profiles from EOS HD. Chrome and Mono. Here is one using the Canon Standard profile.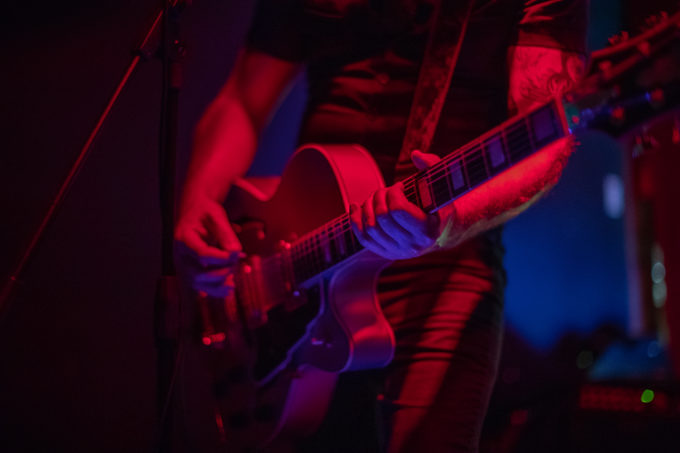 The lighting here consists of just a low output red lamp. So everything when shot in color is RED. Cameras I have shot here in the past that really had a tough time with the color have been the micro 4/3 models (they could not handle the high ISO and red color), the Leica SL (which gave me some nice B&W's from this venue but maxed out at ISO 10K) and even the Sony A9 which sometimes blew out the reds. The A7RII did OK here using the 50L but if you look at those images they seem to not have as much life as the ones here, shot using the same lens but with the flagship Canon body. I also shot the Leica Monochrom here at ISO 10k and really enjoyed that camera as well in this scenario, but again, different. ALL are different and give off a different vibe.
This lens has some serious Bokeh and it's just so smooth, silky, creamy and like butter. Any review you read on this glass will say the same. NO harshness at all and the Canon 85L 1.2 offers the same kind of look. Something I do not see in other 50mm or even 85mm lenses. There is just an overall level of balance here with the 50L. Smooth yet never dull. Soft but sharp. Creamy and Dreamy but not overdone. More cinematic feeling than most actually. It's almost like some of these shots look like still grabs from a movie. But again, this look may not be what you like.
Isn't it Ironic…
So how ironic it is. Here I am for years shooting only mirrorless cameras and really only being truly satisfied with a few of them (Sony A7RII, Sony A7SII, Sony A7RIII, Sony A9, Sony A7III, Hasselblad X1D, Leica SL) and all along there was this 1dXII I avoided because it was a DSLR and it was also huge and heavy. I mean, I have been open to DSLR's but the last one I enjoyed, and really enjoyed was the Nikon Df (see that review here).
But the interesting thing is that in use, this combo of the 1dxII and 50 1.2L kicks some serious ass. It never felt too heavy with this lens (due to the ergonomic design and balance) but rather felt GREAT and inspired confidence and helped me keep it more steady due to the weight and size. Controls are intuitive and low light performance is fantastic as is the way it does not blow out the reds, even when pushed to ISO 12800.
I had Noise Reduction off and all of the images here are right out of the camera, JPEGS.
The 50L though. It is a beautiful piece of glass and yes, I have owned the much cheaper Canon 50 1.4 and 50 1.8 long ago. Those are also VERY nice but are not in the same league as the 1.2. The 50 1.4, I used to love that lens. It really is a great value for the dollar.
At $1299 this pro level 50L lens is not cheap but when compared to other fast 50's like the Leica Noctilux, Summilux, Sony 50 1.4 Zeiss and others, this lens is not overpriced at all. In fact, it is well worth the cost IMO if you want what it offers as again, no other 50 renders quite like this one.
While I have owned the more exotic and pricey lenses over the years, I did not enjoy them any more than this Canon and the beauty is, this lens can be used on any Canon DSLR or even any Sony E mount mirrorless via adapter, with full AF! I call that DOUBLE TROUBLE. 
Shooting this lens again, I now remember why I have always had a soft sport for it, ever since I first acquired one in 2008 or so. 
While I do prefer shooting with a high quality EVF over an OVF, the Canon DSLR never gave me one issue. It was fast, responsive, and locked on with AF in the lowest of light. Wether I shot with that OVF or the Live View and touch AF, it never even stuttered, not even once. I can imagine this camera, scaled down, mirrorless, with a high quality EVF. If Canon can do that, which I doubt, it would be fantastic.
I will say that I also have the 6DII and the IQ and video do not match the 1dxII, when using the same glass. There's something about the 1dX II I am really enjoying, and I cannot wait to get out and shoot some more shows with it as well as do work on my video project I have been working on for a while now (not related to photo work).
The files are rich, and you can do almost anything with them. These are all JPEGS and go from high contrast to low to full color with high ISO. No color blow outs and yes, I have had them using all other cameras here. 
DREAMTIME
This lens is like a new and improved DREAM LENS. Much nicer Bokeh, Much nicer color, Sharper yet offering that magical dreamy analog type of feel. Cinematic, as I said earlier is one word to describe the output of this lens. It can make your photos look BETTER. It can make your images look beautiful, and it can also make them look like they were taken in another time and place. There's something about this lens that has something special and I for one, hope Canon does not come out with a MKII and change the formula of the lens. The only other lens that offers a similar rendering is the 85 f1.2 from Canon, and that has always been a favorite of mine as well. (See samples with that lens HERE).
I have mentioned recently that there hasn't been anything NEW that has been exciting me to want to use it or try it or test it. I have already shot with the new Sony's and they are fantastic. The new Nikon Z6 and Z7 seem super nice but left me a bit wanting for more from Nikon with those cameras. So here I am enjoying OLD gear and not only enjoying it, but getting fantastic results from it. All I know is that for my favorite kind of shooting, which is low light live music, this camera and lens combo has surpassed any other that I have shot with in this location. I have shared a ton of photos in the past from this location, of various bands. With the Sony A7RII and A9. With the Leica SL and Hasselblad X1D. Those have been the only cameras that have "worked" in this situation but the Canon body has surpassed them, along with this lens in DR, ISO noise and overall pleasing rendering and color. Crazy. I blame it all on this 50mm.
THIS LENS ROCKS. THIS LENS ROLLS. THIS LENS IS A LEGEND.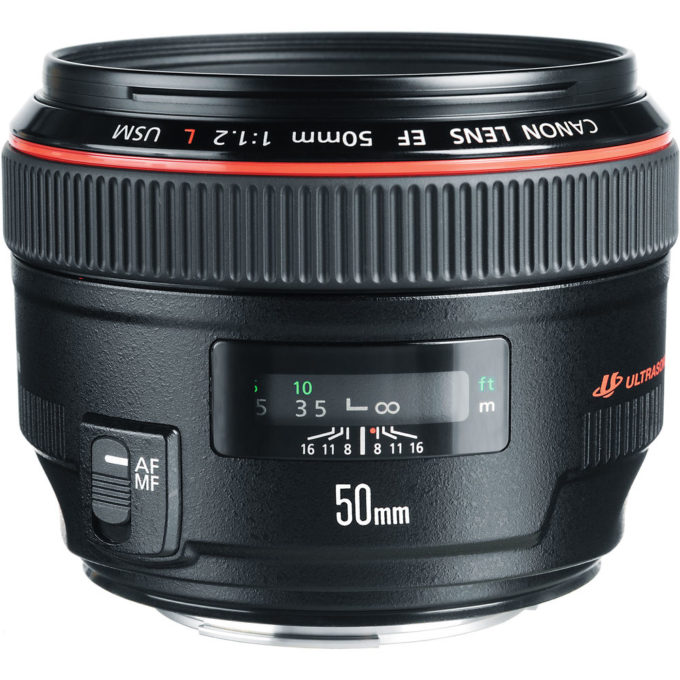 I highly recommend the 50 f/1.2 if you own a Canon or Sony E mount body (full frame). If you love a fast 50 as much as I do and have not yet tried this lens, you have committed a photographic crime. Borrow, rent or buy one. You will not be disappointed. With that said, it is NOT for everyone! If you are starting out in photography and want a fast 50, AND own a Canon camera I would suggest the lovely and cheap 50 1.8. This lens here, the f1.2 is for those who have some experience with a camera and fast 50, as only then will you be able to exploit it and get all you can from it. I may do a "Crazy Comparison" between the cheap 50 1.8 and this pricey 50 1.2 soon ; )
WHERE TO BUY?
I did buy my copy from Amazon via PRIME. But also highly recommend B&H Photo HERE. 
Enjoy!
PS – OH, and I will also be reviewing the Canon 24 L II VERY soon. It is my #1 most used Canon lens now, and is a true STUNNER. Not a new lens, but it's truly special. 
---
PLEASE! I NEED YOUR HELP TO KEEP THIS WEBSITE RUNNING, IT IS SO EASY AND FREEE for you to HELP OUT!
Hello to all! For the past 8 years I have been running this website and it has grown to beyond my wildest dreams. Some days this very website has over 200,000 visitors and because of this I need and use superfast dedicated web servers to host the site. Running this site costs quite a bit of cash every single month and on top of that, I work full-time 60+ hours a week on it each and every single day of the week (I receive 100-300 emails a DAY). Because of this, I could use YOUR help to cover my costs for this free information that is provided on a daily basis. 
To help out it is simple, and no, I am not asking you for a penny!!
If you ever decide to make a purchase from B&H Photo or Amazon
, for ANYTHING, even diapers..you can help me without spending a penny to do so. If you use my links to make your purchase (when you click a link here and it takes you to B&H or Amazon, that is using my links as once there you can buy anything and I will get a teeny small credit) you will in turn be helping this site to keep on going and keep on growing.
Not only do I spend money on fast hosting but I also spend it on cameras to buy to review, lenses to review, bags to review, gas and travel, and a slew of other things. You would be amazed at what it costs me just to maintain this website, in money and time (250 hours a month, and about $3000 per month).
So all I ask is that if you find the free info on this website useful AND you ever need to make a purchase at B&H Photo or Amazon, just use the links below. You can even bookmark the Amazon link (not the B&H) and use it anytime you buy something. It costs you nothing extra but will provide me and this site with a dollar or two to keep on trucking along.
AMAZON LINK (you can bookmark this one)
B&H PHOTO LINK – (not bookmark able) Can also use my search bar on the right side or links within reviews, anytime.
Outside of the USA? Use my worldwide Amazon links HERE!
You can also follow me on Facebook, Twitter, or YouTube. 😉
One other way to help is by donation. If you want to donate to this site, any amount you choose, even $5, you can do so using the paypal link HERE and enter in your donation amount. All donations help to keep this site going and growing!
 I do not charge any member fees nor do I (nor will I ever) charge for reviews, so your donations go a long way to keeping this site loaded with useful content. If you choose to help out, I thank you from the bottom of my heart.