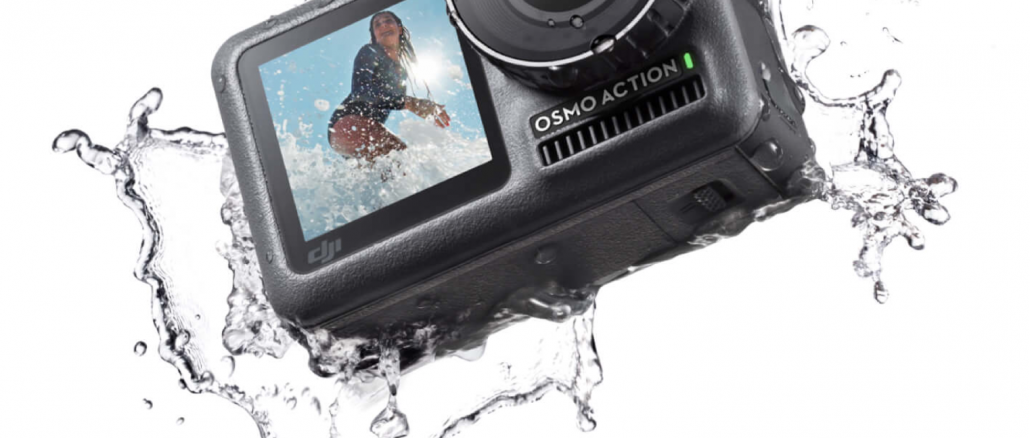 DJI Osmo Action may have just killed the GoPro 7
I'm a huge fan of a small high quality action camera, and honestly I rarely use these kind of cameras for action. I use them for daily video, vlogs and the fact that they fit in my pocket and can be taken anywhere. I had high hopes for the Sony RXoII but that camera has issues that were never fixed such as the awful menus that you need a magnifying glass to read. The Sony is not user-friendly and does not have very good stabilization yet it is the most expensive action type of camera around. For me, the best small video camera that is truly a take anywhere, and I mean take anywhere (water, sand, dry air, heat, cold, etc) has been the GoPro 7. I have filmed so many videos with it and it's been a life saver for me at times.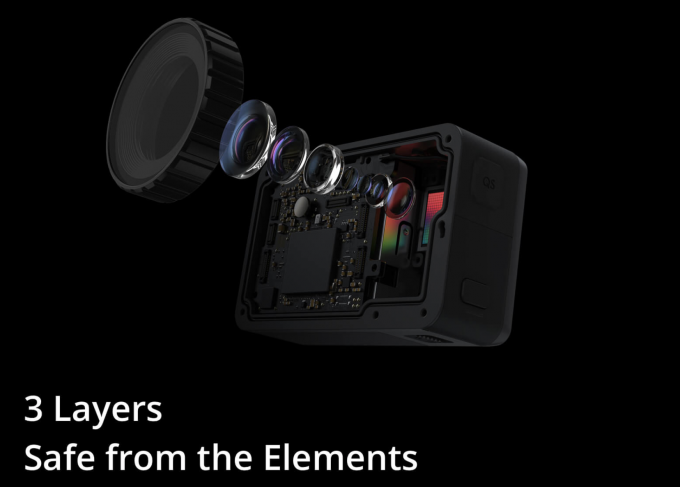 I have shot the GoPro 7 Black since the day it was released and love it. It's small, it is of high quality, it's waterproof without the need for a case, it shoots in 4K, has slow motion and has amazing stabilization that bests most gimbals I have shot with. In fact the GoPro 7 for me has eliminated the need for a gimbal when using a camera such as this. I love my GoPro 7 Black and much preferred it to the the DJI Osmo Pocket, which I feel had several issues and was not even close to my GP7 for IQ or usability, build, user experience or ease of use.
But today I feel the GoPro 7 may have finally been bested, at least on paper and from what I have seen so far.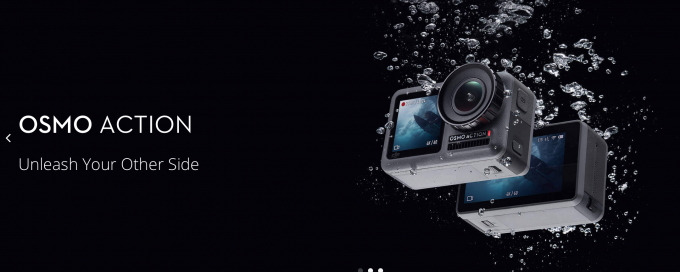 Yes indeed, I just ordered the new DJI Osmo Action at $349 (same price as the GoPro 7), and THIS is what I have been waiting for from DJI. THIS is what the pocket should have been as it is smaller, weather proof, a better form factor, and can truly fit in a pocket.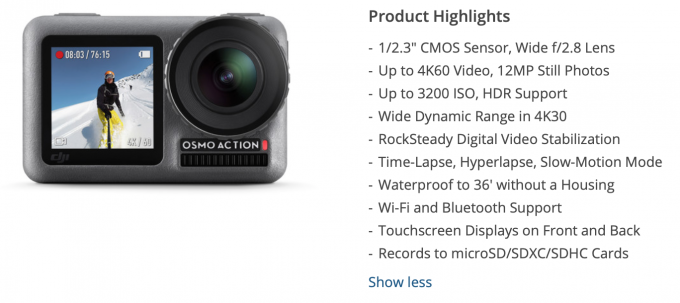 The OSMO ACTION looks a lot like the GoPro 7 in design. In fact, you can smell the inspiration when looking at the Osmo Action just in photos on the DJI Website. Even down to the touch menus, and the features. But the Osmo action has one thing the GoPro 7 does not and that is TWO screens. One in the rear and a front facing screen so you can see what you are filming if you are a vlogger. In fact, just by reading the Osmo Action page it appears this new Osmo will be the worlds best Vlogging camera. Take look at the official page over at DJI and read the features on this camera. It LOOKS amazing!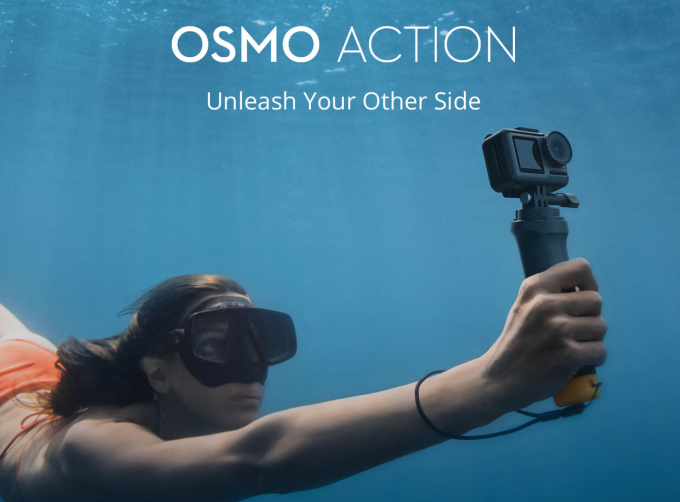 Here are some of the features…
1/2.3″ CMOS Sensor, Wide f/2.8 Lens
Up to 4K60 Video, 12MP Still Photos
Up to 3200 ISO, HDR Support
Wide Dynamic Range in 4K30
RockSteady Digital Video Stabilization
Time-Lapse, Hyperlapse, Slow-Motion Mode
Waterproof to 36′ without a Housing
Wi-Fi and Bluetooth Support
Touchscreen Displays on Front and Back
Records to microSD/SDXC/SDHC Cards
Compact action camera with 1/2.3″ CMOS sensor and wide 145 degree f/2.8 lens that records up to 4K60p HDR video and 12MP photos. 
Capture up to 12MP raw and JPEG photos; record up to 4K60p or 1080p240 H.264 MOV or MP4 video at up to 100 Mb/s; supports slow-motion, hyperlapse, and time-lapse modes.
Crisp 2.25″ touchscreen display on back with 640 x 360 resolution; additional 320 x 320 resolution display on front.
DJI's RockSteady Electronic Image Stabilization (EIS) technology stabilizes footage in standard record modes with 18-22% crop factor. RockSteady is enabled in all video modes except in slow-motion, hyperlapse, or time-lapse mode.
Slow-motion mode records up to 240 fps; maximum ISO is 3200.
Supports High Dynamic Range (HDR) video recording in 4K30p.
Lock screen function to prevent accidental touchscreen presses.
Five voice commands make essential functions like filming, capturing photos, and powering down the device effortless.
Dual microphones with noise reduction technology and dual speakers; can input audio with an external microphone using the USB Type-C input.
Durable enough to withstand drops from 5′ and can be submerged down to 36′ in water without a case for up to 30 minutes.
The Quick Switch button ensures modes and settings are easily and quickly accessible. It has multiple capabilities including options that let you flip between the front and back screen, change modes, and select custom settings.
With SnapShot you'll never miss a moment of the action. Press the shutter button to power on and begin recording in under two seconds. Pressing the shutter button once when the camera is in sleep mode or powered off engages preset shooting modes.
145° angle of view; narrow and dewarp field-of-view options.
Charge to 70% in 30 minutes with a separately available fast-charging adapter.
Records to microSD/SDXC/SDHC cards, UHS-I compatible cards with 30 MB/s write speed or higher recommended.
Connect with the Mimo app on iOS or Android smartphones using Bluetooth or Wi-Fi.
Includes a mounting frame, a USB Type-C cable, a quick release base, a flat adhesive mount, a curved adhesive mount, and a connector screw.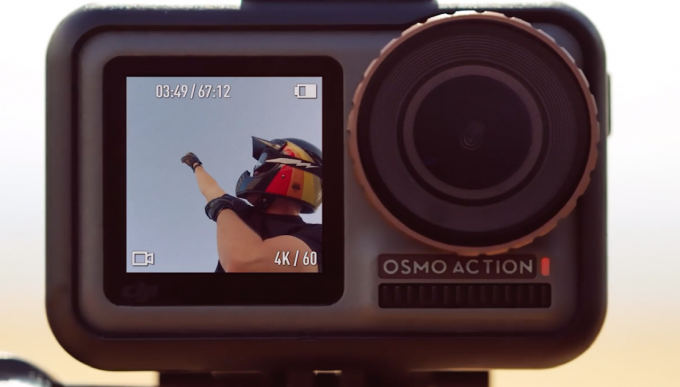 The features in bold above are the ones that sold me on this camera. Sure, my GoPro 7 does most of the already but if the Osmo Action can best the IQ of the GP7 and be as rock solid as DJI claims it will kill virtually every other action camera made today.
Mine ships this week, so as soon as I get it I will be doing a side by side with the GoPro 7. I Have HIGH hopes for the Osmo Action and if it lives up to the hype it will be my new "go everywhere with me" camera for my daily video shooting that I do for YouTube content.
If it falls flat, has glitches or has shoddy IQ it will go back. Either way I love what DJI has done here, and it's a great day for action camera fans.
I do not get free or review units from DJI. I buy what I review these days for 90% of what I review. So you will get a fully honest review from me. If this ends up having issues or is not as good as the hype, I will let you know ; ) I am here to talk truth.