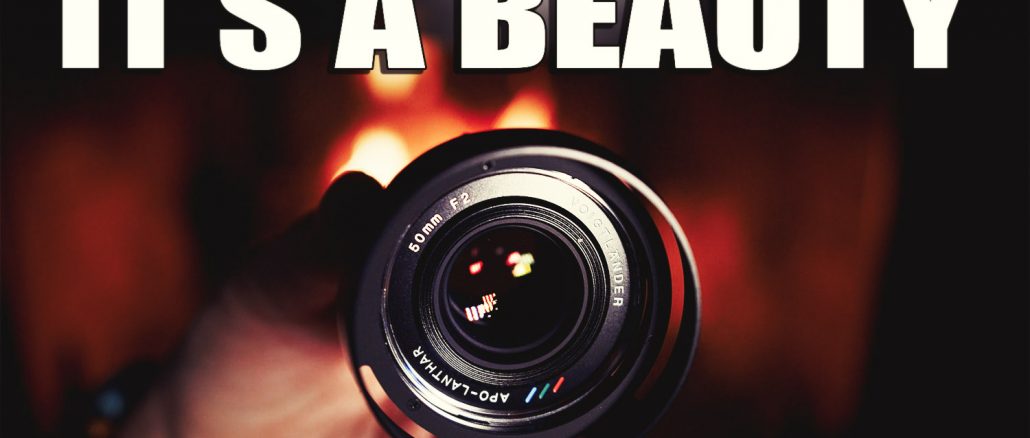 The Voigtlander 50 APO f/2 VM Lens (M Mount) Review
By Steve Huff
Hello all! Today I want to share some words and a video on this lens from Voigtlander which is such a beautiful piece of glass. In fact, I firmly believe it is the best lens Voigtlander has made as I have said when I reviewed the Sony E mount version. I whipped up a video using this lens on the Leica SL2-S and Panasonic S5 and share video footage from each camera and photos as well.
My video of the Voigtlander 50 APO VM on the Leica SL2-S and Panasonic S5
This lens came to me from
CameraQuest.com
as they are the USA distributor for Voigtlander glass. It was sent to me to use to see what I think. My spoken words are above in the video and my written thoughts (nothing scientific) are below.
The beauty of this lens is that it is small and compact as M lenses are yet it offers stunning image quality in a 50mm lens. In fact, it is 8X less in cost that the Leica 50 APO and gets very close to that performance. I mean, I am not seeing the case to buy the Leica unless you want the name and even smaller design or the feeling of paying $8800 for a Leica lens. This is a true case of "diminishing returns" meaning you can pay 9X more but you will not get 9X the performance. Not even close.
This lens can be used on a Leica M or almost any mirrorless body with an adapter. I tested it on the SL2-S and Panasonic S5 and out of camera there is some slight vignetting that is easily fixed in whatever image processing software you use. This is because there is no 6-bit coding on the lens. With Leica M lenses, this coding tells the Leica Camera you are using to fix issues such as vignetting and distortion, if it exists. So on a Leica Camera, a Leica 50 APO will not show vignetting but on something like a Sony or Panasonic, it will. Same with this Voigtlander. This of course only happens when wide open, and it is slight and easily fixable in post.
This lens offers detail without being flat or etchy. It offers a organic rendering yet is very very sharp. The bokeh is smooth and easy on the eyes, as it should be. At $999 this lens is a true bargain, especially when you compare it to others in this focal range.
The Zeiss 50 Planar is also a 50mm f/2 lens but does not offer the same quality as this Voigtlander. The Zeiss comes in at $900 but is lower in build quality, lighter, and softer wide open as well. It has a much busier bokeh yet does have an enhanced color pop. It's a lovely lens but doesn't have the overall quality of this new Voigtlander 50 APO VM lens.
Here is an image I shot with the Voigtlander 50 APO VM and it is such a gorgeous image that was taken with some luck. I woke up, made some coffee, looked out my front window and saw 17 cardinals in my tree. I grabbed the S5 which had the 50 APO VM on it, set it wide open to f/2 and took a shot. I removed the color from the image, all but the Red to make the Cardinals pop, and pop they do!
Click the image for larger version! This was shot at f/2 with the new 50 APO VM. I took all color out besides the red so the Cardinals would POP!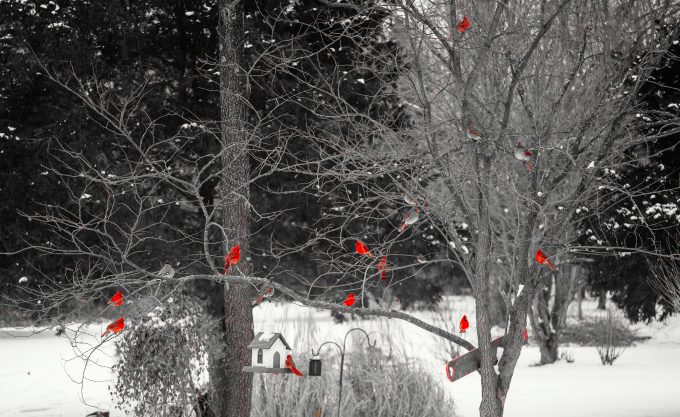 The lens has a super smooth focusing ring that does not bring any attention to itself. It's smooth and easy too turn and has a knurled focusing ring rather than a tab. I personally prefer the knurled design as I feel it is easier to use. The lens is solid, feels like it will last a lifetime and has a nice solid aperture dial as well. I feel this lens has most of its character and charm wide open at f/2, and that is the only way I will shoot with it. For me, any 50 can do f/5.6 but it is what a lens does wide open that tells me if it is worth its cost. This lens, for sure, is worth its cost.
I expect this to be a very popular lens for Voigtlander as it is giving us such amazing quality for such an unheard of price. If we think in Leica terms, this is a steal. Also, there is a myth that Leica lenses are built better than a lens like this but in my experience I have had 3 Leica lenses break down in my lifetime. A 50 Noctilux. A 50 APO and a 75 Summarit. One Zeiss has had an issue for me over time and it was that 50 Planar, which is known to have had sloppiness in it's focus ring, and that is what happened with mine until it got loose enough to be concerned. With that, I have never had a Voigtlander break down. That's not to say they do not, but in my experience, which is all I can write about, never an issue with a Voigtlander. They also have a bit more character and save thousands of dollars over the "L". I have owned over 20 Voigtlander lenses over the last 15 years and one thing is certain. They have bene getting so much better over the last few years.
Two on the Leica SL2-S at f/2
You can see my video review above with video samples using this lens on the SL2-S and Panasonic S5 though I preferred using it on the S5 for two reasons. On the SL2-S Leica does not allow us to use third party M glass while keeping 5 Axis IBIS and Auto ISO functionality unless yo use only their $435 adapter. The S5 lets me use my Novoflex or even a $20 adapter and still get IBIS and Auto ISO. Leica wants you to buy their adapter which is nice if you use only Coded Leica M lenses. If that is the case, I can highly recommend the Leica adapter if you are using a Leica Camera AND Leica M coded lenses.
To those who use lenses like this one from Voigtlander, it sadly weakens the case for the SL2-S and leans more towards the S5 which is essentially a similar camera with a different vibe.
Between the two, the SL2-S has the superior build, no question. I am holding both right now in my hand and the Leica is solid, feels like a solid piece of metal and has a beautiful minimal look. The S5 feels cheaper in the hand, has way more dials and buttons and is not as sleek. With that said, the S5 outputs a just as nice, if not a nicer looking image. Totally different color signatures but I like what I see in the S5. The Leica has a better EVF and much more refined menu experience. I love the SL2-S but admit the S5 is also very very nice for much less cash.
The S5 is almost $3k less than the Leica to boot.
In any case, if you want to check out this lens you can read more about it or order it at CameraQuest HERE. They also sell the hood, which you can see in my video above.
A few more test shots from around my yard. Hey, it's like 0 degrees and there's still a Pandemic happening, so I am staying close to home : ) 
These images were shot on the S5
Now a couple from the SL2-S