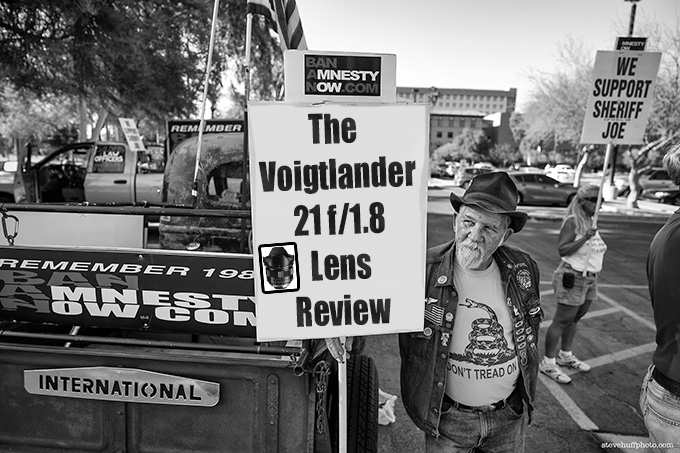 The Voigtlander 21 1.8 Lens Review by Steve Huff
Thanks to new site sponsor CameraQuest for loaning me this lens and viewfinder for review.
Hello to all who lurk here on stevehuffphoto.com! It is once again "review day " and what I have to talk to you about today is a real GEM of a lens for any and all Leica M shooters, the Voigtlander 21 1.8 M lens. I have already posted many of my thoughts on this lens in my 1st look of it HERE, so if you missed that go take a look if you like.  Wether you shoot an old or new film rangefinder or use one of the digital versions like the M8, M9, M9-P, M-E, MM or M this lens delivers. While I have not shot it on the new M yet, it does well on the M9/ME and is gorgeous on the MM as well. In fact, it does so well I would PERSONALLY take this lens over the Leica equivalent (The Leica 21 Lux) any day of the week, not because it is superior but because it is almost its equal and I would save myself $6000 in cold hard cash, yes…$6000 separates these lenses and the Voigtlander is really good. I'd rather take the 5-10% less build and performance and pocket over $6k to take an amazing vacation/photo trip to really use the lens. If I were a rich man, I'd take the Leica but when it comes to saving money you can do so with this lens and trust me, your photos will not take the quality hit. Hmmm. Did I just finish the whole review? Well, not really, read on…
While not small in size, it is smaller than the Leica 21 Summilux 1.4 and about 90% of the performance..and then some.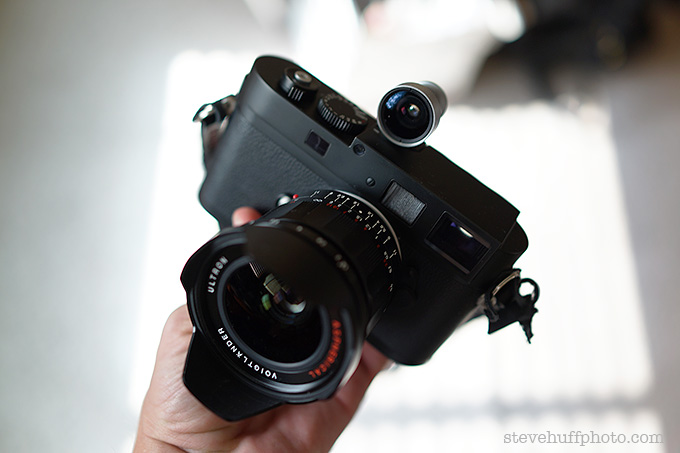 These days, Voigtlander is really rocking it with some of their newest glass and this 21 1.8 is no exception. Compared to the Leica 21 Lux, it has less distortion, is only a teeny bit slower at 1.8 vs 1.4 and is also lighter and smaller. It is just as sharp if not sharper and gives no magenta edges on the M9/M-E, even without coding the lens. It also focuses close at .5 meters though you will lose the RF focusing at .7. I was able to shoot a few at .5 meters by guessing and it works quite well.  Compared to what I remember from the Leica 21 1.4, this Voigtlander has a little bit less micro-contrast and is also a little less contrasty in general and the Leica will win in overall heft and build, but that is about where it ends. When it comes to quality, the Voigtlander and the Leica has it, but this one will cost you MUCH less.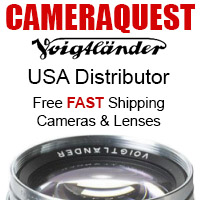 At $1249 for a fast quality wide angle lens, it is a steal of a deal. Even this little rescue dog thought so 🙂
The Voigtlander 21 1.8 Lens on the Leica MM, at 1.8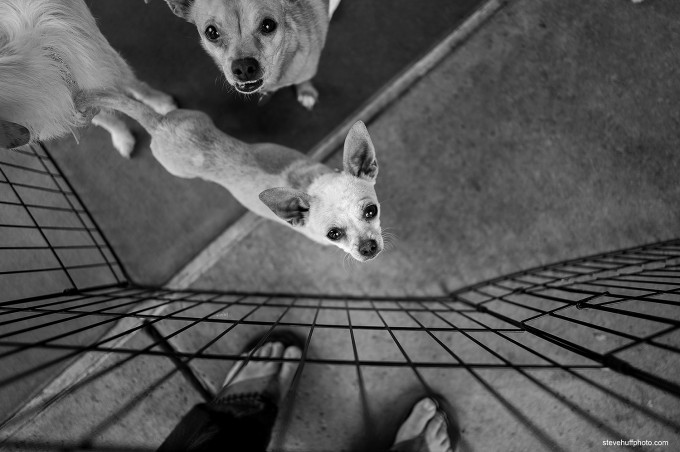 –
While this shot is nothing special, the Bokeh quality from this lens is smooth and silky.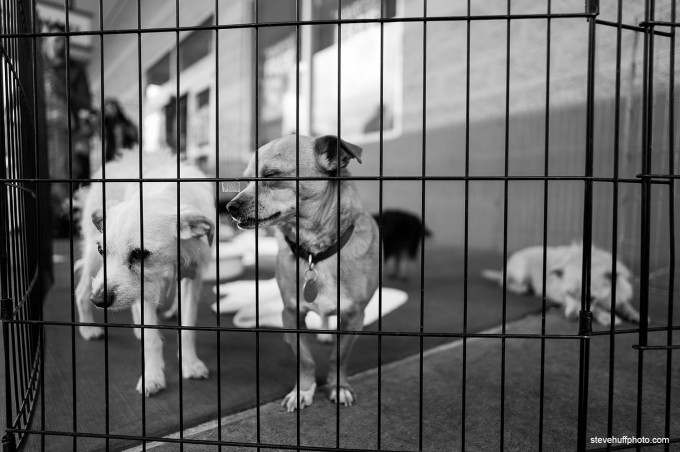 Shooting WIDE. It can indeed be a challenge. 
I am not really a wide angle shooter, at all. My go to focal lengths have always been 28mm, 35mm and 50mm with rare use of the 28. So shooting a 21, for me, was a challenge when trying to create interesting review snaps. My goal for review images though is to create a mix of interesting shots while showing what the lens can do on a given camera. I look for nice colors if shooting color, I look for shots that will present interesting Bokeh opportunities and I look for detail shots to see what the lens can do with sharpness and detail. I also like to see what the lens can do with B&W photography using the Leica Monochrom, so what you see in this review will helpfully help you to understand what the lens can do on the Leica MM and M9/M-E.
Product shots with the Sony RX1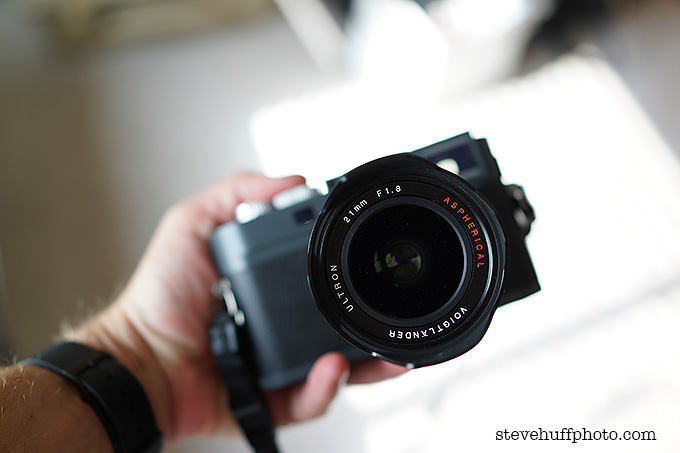 Ever since selling off my Leica M 240 to be able to keep the MM (which I already miss… of course) I wondered what this lens would do on a color M. Any color M. I was able to get a hold of a Leica M-E for a few days and took it out with the 21mm. It performed much better than I expected in all areas. Sharpness, color, bokeh, etc. I kept thinking to myself "man, if Voigtlander did this well with a 21mm lens, I can not wait to get my hands on that sweet new 50 Nokton 1.5 that is set to hit in June". While shooting the Leica M-E I was reminded of the M9 color and signature, which is indeed different than what comes from the new M 240. After shooting the M-E again I can easily state that yes, I still and do prefer the new M 240. I hope to have one again within 9-12 months.
When I do get one again I will try out this 21 on it and add to this review.
The Voigtlander 21 at f/4 on the Leica M-E – AWB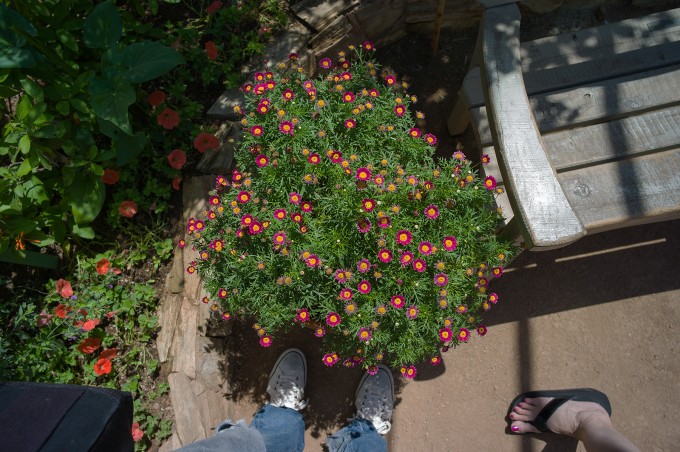 –
Nature Trail in full AZ sun, mid day. The 21 1.8 at f/4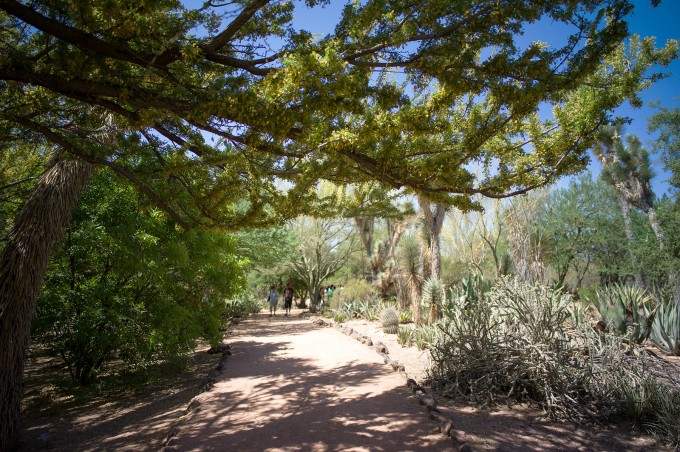 –
While a challenge to those of us who are "wide angle challenged" the 21mm focal length can be very cool to use sometimes. While not an every day lens, in some situations it can help you capture "more" of the scene. I took the MM and 21 to a local immigration reform March here in Phx (that only had about 100 people show up) and shot some with the 21. It worked out well and using the external viewfinder was a MUST to frame the shots, and man what a nice VF it is. The version II VF from Voigtlander is all metal, hefty but small and just has overall amazing quality. I can HIGHLY recommend the Voigtlander 21mm VF for any 21mm lens you may use. It is large, bright and easy to frame with. One of those products that is a joy to use and at $209, it will not break the bank. If you are using the new Leica M and have the EVF, then you will not need the optical VF of course but this little guy is so clear, bright and well made…in addition to being sexy to look at. (more on the VF later on).
The next three shots ranged from f/2.8-f/4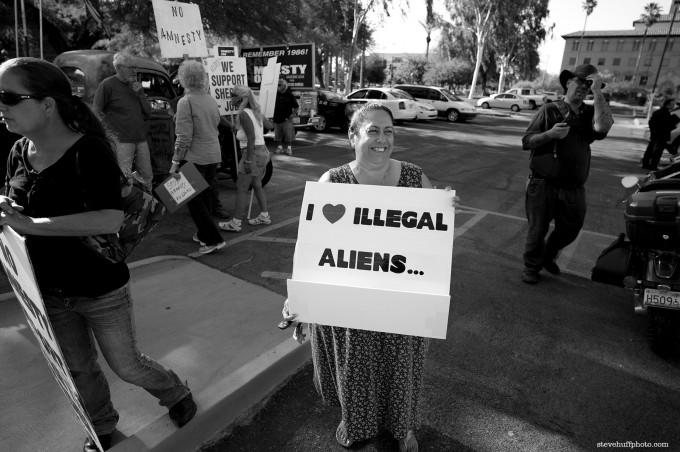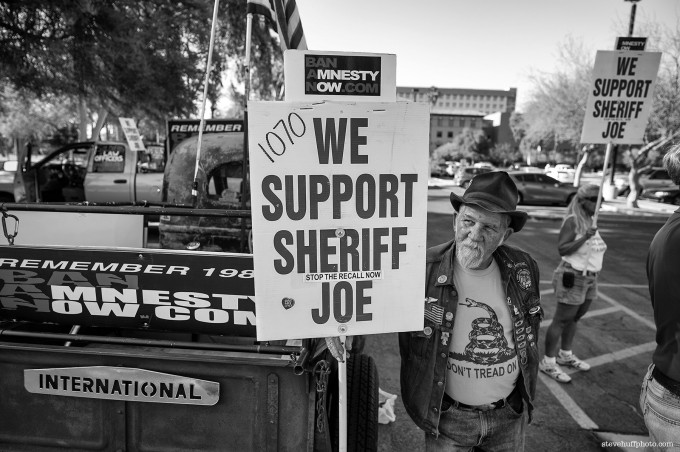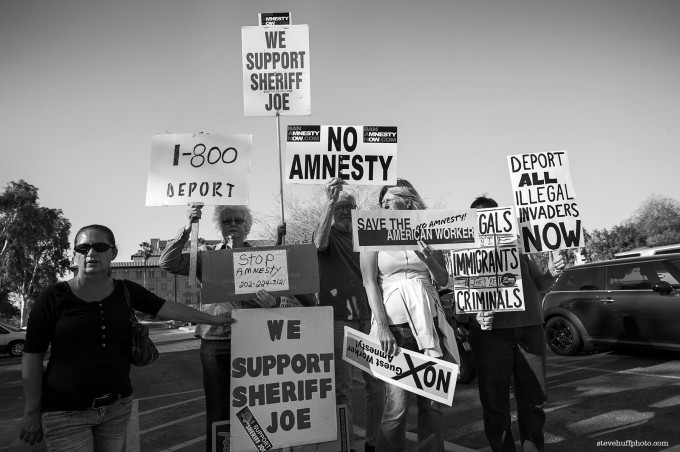 The viewfinder… it feels just as high quality (if not more so) than any Leica or Zeiss finder I have tried over the years. It is metal, solid, and feels like it will last a lifetime. Focusing using the rangefinder and then framing with the external is a pain in the ass but if you want to frame correctly, it is needed for this lens and any lens wider than 28mm.
Shooting the lens in B&W on the Monochrom was a pleasant experience as the lens just seemed to be quite amazing for B&W. Just the right amount of contrast and sharpness with pleasant Bokeh makes for a classic yet modern-ish rendering. Shooting at 1.8 also shows that this lens can suck in some light with the best of them. The self portrait shot below (3rd shot) was taken wide open in my kitchen which was actually a bit dim. The lens made it appear brighter than it really was. Great fast lenses do this but not all of them do. For example, the classic Nikkor 3.5cm 1.8 shot in dim lighting results in a duller and darker rendering. Lenses that do suck in the light? Noctilux, Summilux, Canon 85L, Nikon 85 1.4, etc. So this lens is in good company.
This is a crop of an image shot at f/1.8…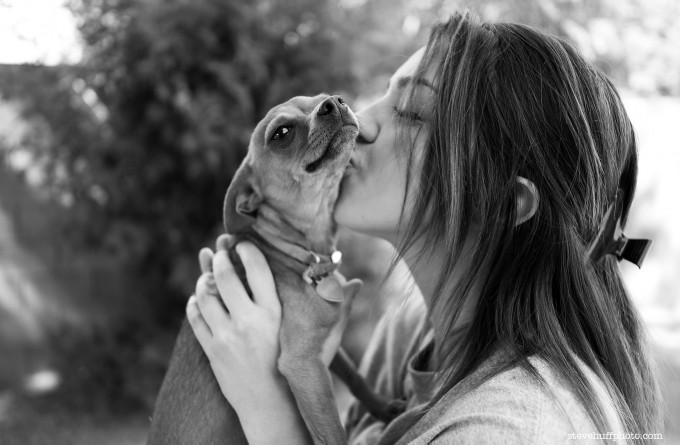 –
…and this shot was at .5 meters with me guessing the focus by bringing the camera down to the dogs level and moving it in to what I felt was .5 meters…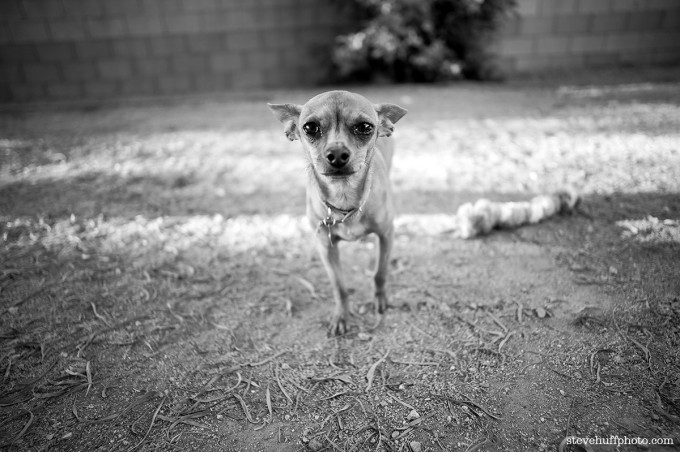 –
…and a self portrait at .5 meters wide open. The Leica 21 Lux focuses to .7 meters while this one gets a little closer 🙂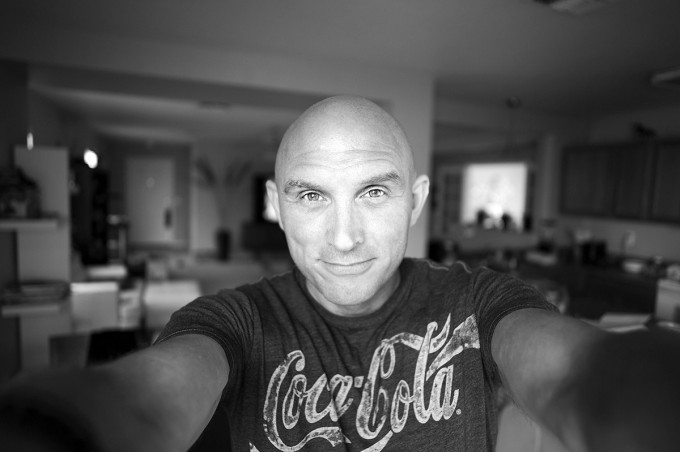 –
Some smooth bokeh in color – an OOC JPEG at 1.8 on the M-E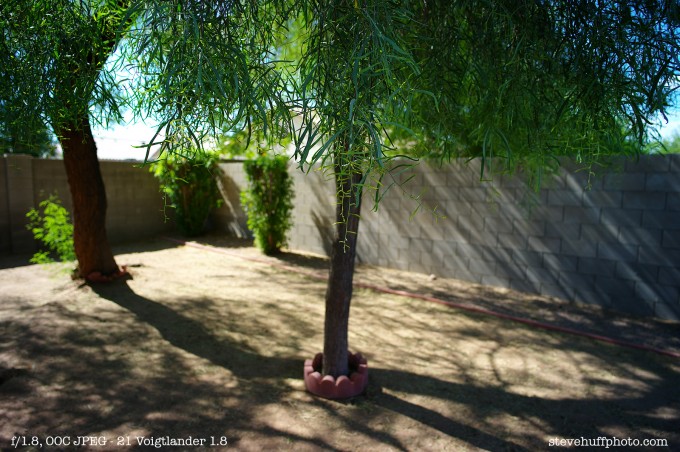 Crop crop till you drop
Using the Leica MM and the 21 1.8 I often found the lens to be too wide for my tastes but at the same time, when viewing that full 21mm frame I kept thinking that I could really grow to love this focal length. To show how wide it is check out the shot below that I snapped in a restaurant. I will first show the original, then a crop and then an almost 100% crop. Click them to see larger and better looking sizes. They look VERY nice on my iMac 27″ display.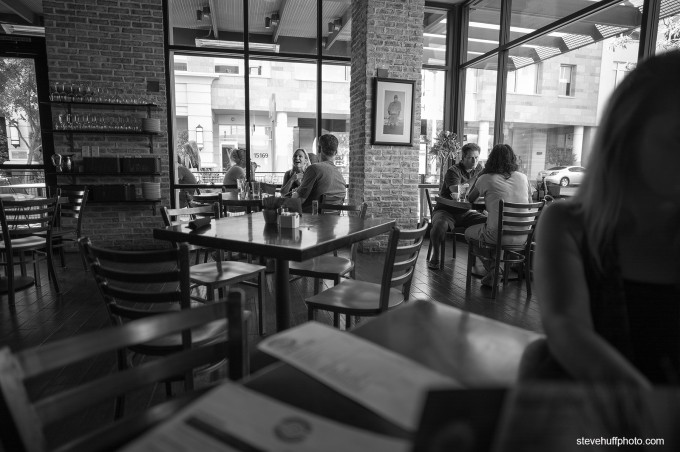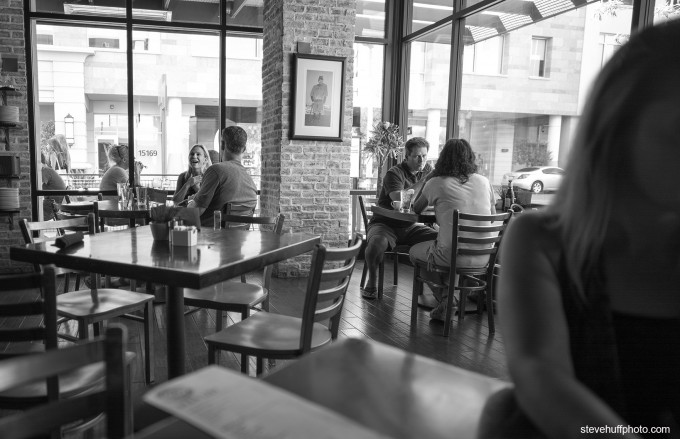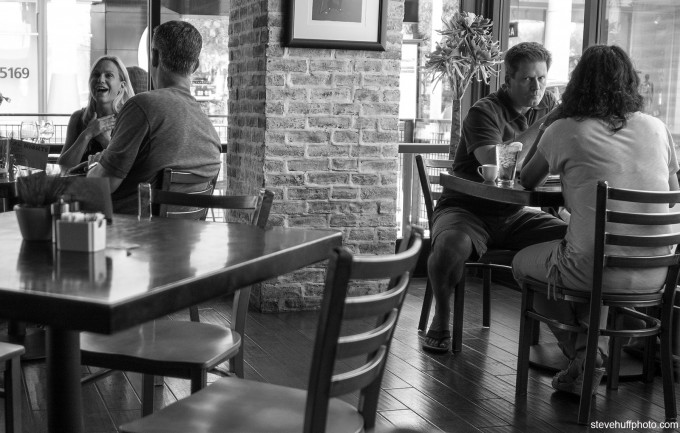 The Monochrom is a gorgeous camera that for me, easily replaces any film camera. It can indeed meet and exceed the quality of any B&W film. Outside of the window in the above scene was the full harsh Phoenix AZ sunshine. The camera and Voigtlander 21 1.8 captured it all, inside and out. This 21 1.8 has a little less contrast than the Leica 21 Summilux so when shooting on a camera such as the Monochrom, it will be easier to avoid blowing highlights as the lens will not render in a harsh way, unless of course you like that look. Then you can just process the photo to give you a higher contrast look like below where I purposely blew out the background to make the image pop more:
This lens has a very pleasing way of rendering on the Leica MM – I blew out the background on purpose to create more pop.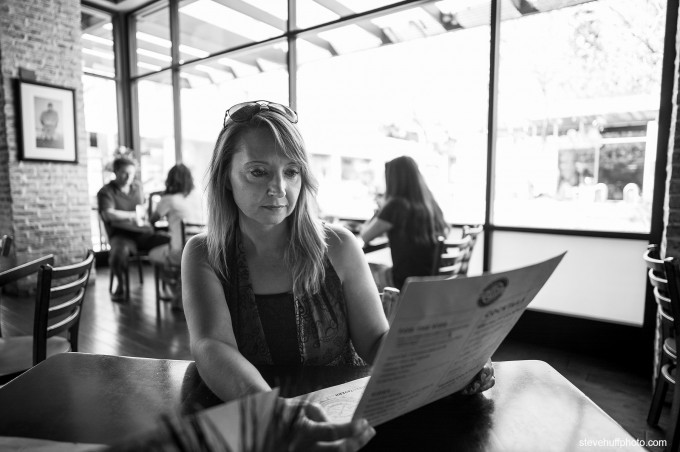 How sharp is the Voigtlander 21 1.8?
This lens is sharp as any lens I have ever tested, has minimal distortion and during my 2 weeks of use I found no issues with the lens that would deter me from buying one. In fact, if I were more of a 21mm shooter this would indeed be in my kit. I may pick up the luttle brother to this lens, the 21 f/4 as it is much cheaper and smaller and for the amount I use 21mm, it could be just the trick. Then again, if I went that route I would lose the look of the 21 1.8 due to no longer having any shallow DOF capabilities. I love the way this lens renders and it reminds me a bit of classic mixed with modern and somehow they managed to get it all together in the perfect way.
But let's get back  to sharpness. This lens is as sharp as you can ask for and on the MM and M-E, without any coding at all I did not have any color or vignetting issues, which is quite incredible for a wide angle lens such as this. The lens does vignette wide open at 1.8 a bit but nothing objectionable. Check out the image below which is a 100% full size file from the Leica M-E via RAW conversion. Click it to see the full size detail.
click the images below to see the 21 1.8 in full size on the Leica M-E
1st one at f/4 – focus is one the top of the metal rail, closest to me. Still some shallow DOF here at f/4. Corners are sharp, the ones in focus. The trees in the upper left are not in focus as that is not the focus point, so those are blurred due to shallow DOF.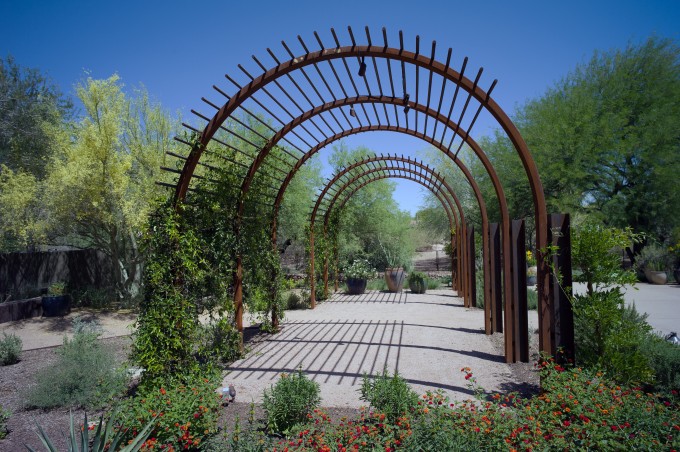 –
This image was shot at f/2.8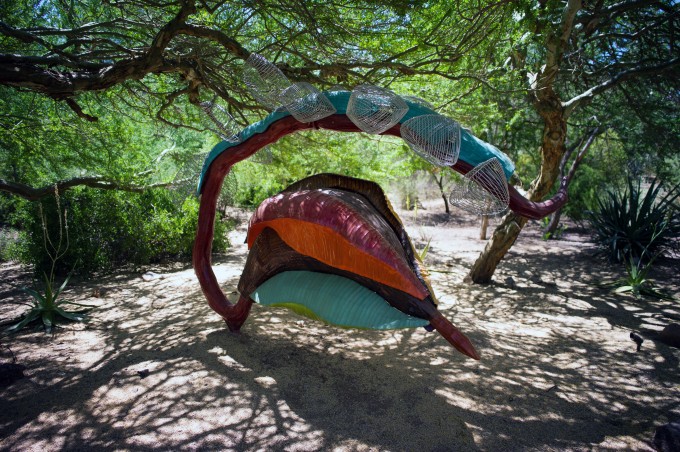 So for me, this lens gives plenty of sharpness and detail, no question. No one would need more.
Below you can see the same shot at various apertures. This lens is sharp at 1.8 and stays that way as you stop down. You can see the slight Vignetting at 1.8 which is all gone by 2.8. Click each image for larger with 100% crop embedded.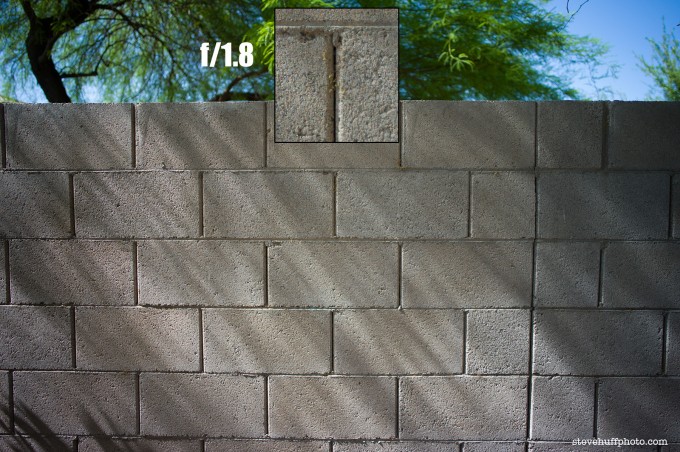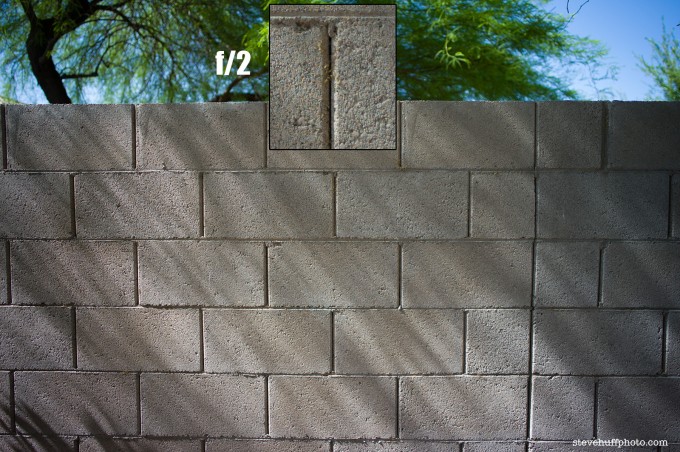 Sharp corner to corner…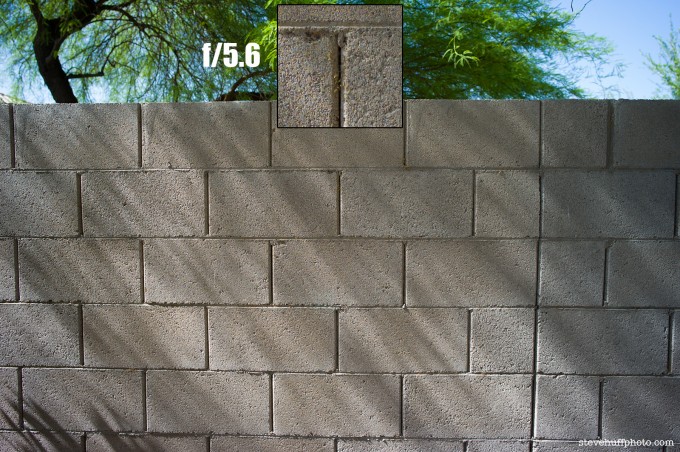 The Voigtlander Viewfinders
Looking through the excellent 21/25mm Viewfinder – All metal construction – $209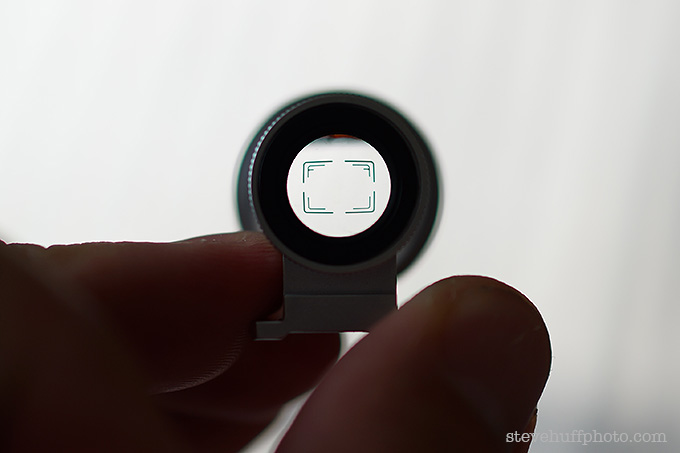 When shooting a lens wider than 28mm on a Leica M you will need an external viewfinder to frame your subject. You will still use the standard viewfinder/ramgefinder window of your camera to focus, but to frame it all up you will need the external viewfinder with 21mm framelines. This way you can see what you will get on your final image. External viewfinders can look really cool but in reality, for me, they are a pain in the rear. Having to use one VF to focus and another to frame kills any "decisive moment" shots unless you are zone focusing (which is easy to do with a 21mm) but I was able to try out a couple of cool Voigtlander viewfinders. One of them is the 21/25mm all metal designed version 2 viewfinder which is the latest and greatest Voigtlander 21/25mm finder. It is solid, small but has some heft due to its rock solid metal construction. THIS is the VF I would buy with the lens at just over $200.
Comes with a nice little velvety blue bag for storage 🙂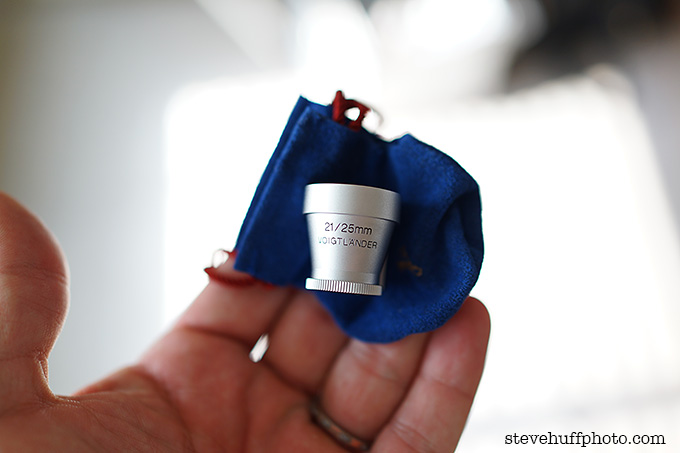 There is also the Voigtlander monster of a VF, the 15-35 which will give you 15-35 frame lines. So if you have the excellent 15mm f/4.5 you can use this one for both lenses, all the way up to 35mm. It's large and bulky but versatile. You can choose between 15, 18, 21, 25 or 35. Also excellent but for those with multiple wide angle lenses.
It's large and in charge…for those who want one viewfinder that will take on all wide angle lenses. Still smaller than the Leica "Frankenfinder"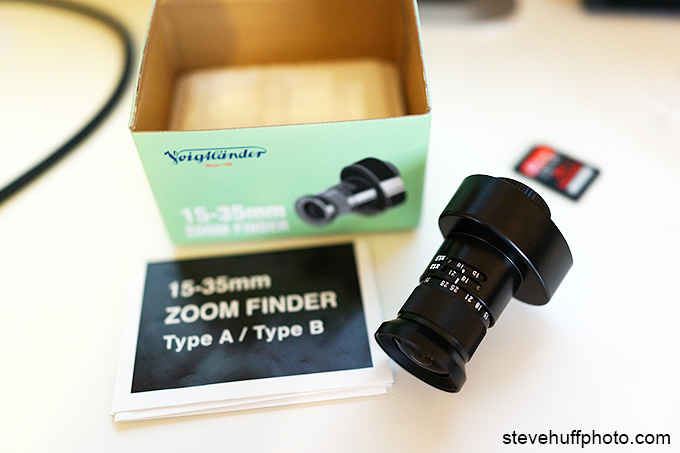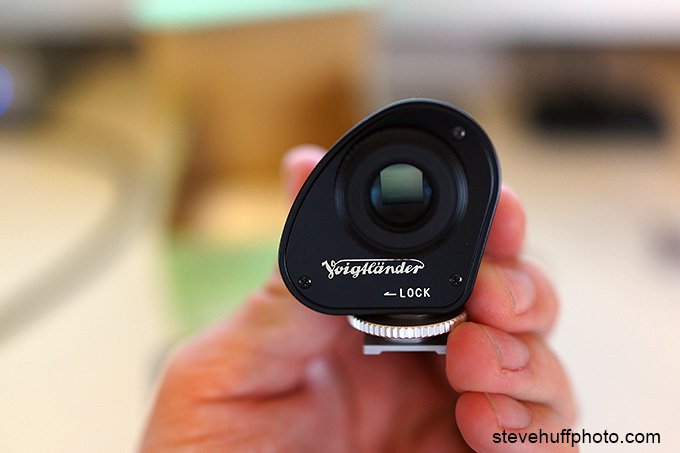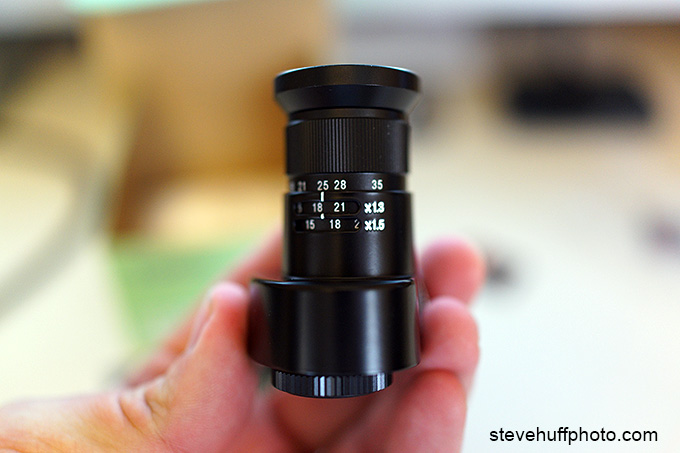 –
What about the .5 meter close focus? How can you focus this close on an M9/MM/ME?
Here is a quick tip! It may not be the most practical thing to do but as most of you know a Leica M8, M9, MM, ME, etc can not focus closer than .7 meters, even if the lens you are using focuses as close as .5 meters. Old classic lenses usually had a 1 meter limitation. Newer lenses from Leica all focus to .7 meters (most of them) and some other lenses can focus as close as .5 meters, which is about 1.6 feet. Once you turn the lens past .7 meters to go to .5 you lose rangefinder focusing. You can just move in a little closer and guess but it can be hit or miss. If you want to focus close on a regular basis here is a way you can do so and all you need is a string (I used a cable for my example photo so you could see it clearly), a measuring tape and some scissors.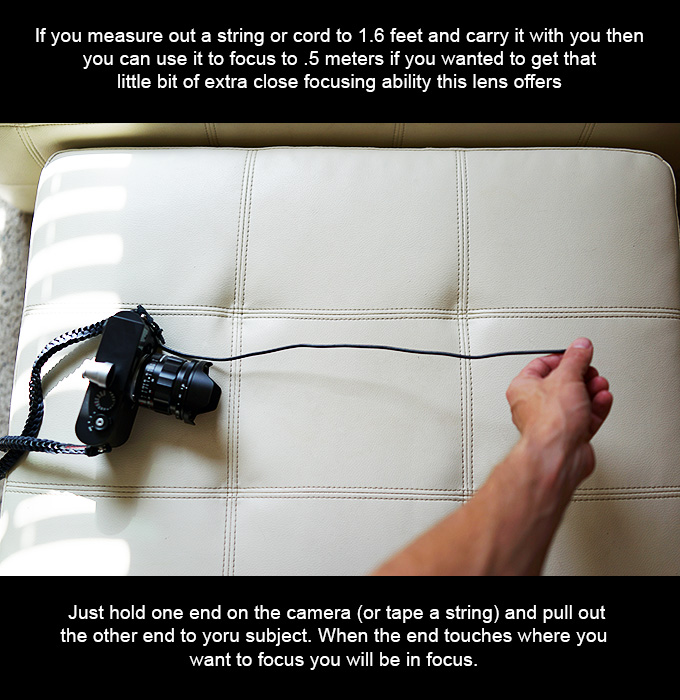 Simple and effective. You could even tape a piece of light string to your camera body when shooting with a close focusing lens.
–
The cons of the Voigtlander 21 1.8. What is wrong with it? My final thoughts. 
In the world of 21mm lenses, this is a jewel of a lens for more reason that the quality it gives us in our photos. The reason it is so special is that it has the look as well as the build and feel of an old classic while giving performance that is nearing the $7250 Leica 21 Summilux. When I tell myself that this lens is $6000 less than the Leica 21 Lux, it boggles my mind. The Leica is larger, heavier, uses more expensive filters, has more distortion and is much more expensive. The Voigtlander has a llittle bit less micro contrast, which Leica is very good at but other than that…well, what can I say?
The Voigtlander is still on the large side for a rangefinder lens and the Voigtlander also has less overall contrast than the Leica equivalent. But without any question of a doubt I would not hesitate one moment to buy this lens if I were a wide angle shooter and wanted a fast aperture wide. It offers incredible performance for the price and gives superb quality build to boot.
So there really is nothing wrong with this lens, and for the cost it is a home run it. There is also a Zeiss 21 2.8 lens but the Zeiss is slower at 2.8, not as hefty in the build and more expensive. When you look for a fast 21 mm lens for your M mount camera, be sure to NOT look past this Voigtlander. They are making some superb quality glass these days and buying an all Voigtlander setup could help save you a ton of cash and possibly your marriage 🙂 This lens is HIGHLY recommended if you are in search of a fast 21mm.
If you have the mega-bucks, just go for the Leica and call it a day knowing  you have the ultimate but remember, you can get just about as good for much less 🙂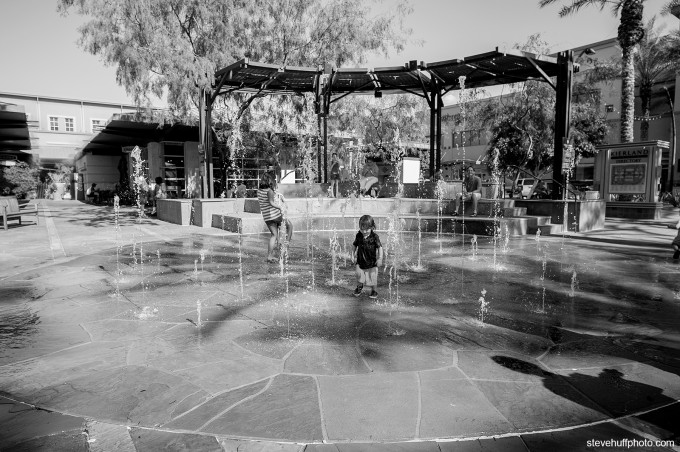 Below: At f/8 this lens is insanely sharp and again, sharpness across the frame which is impressive for such a wide angle lens.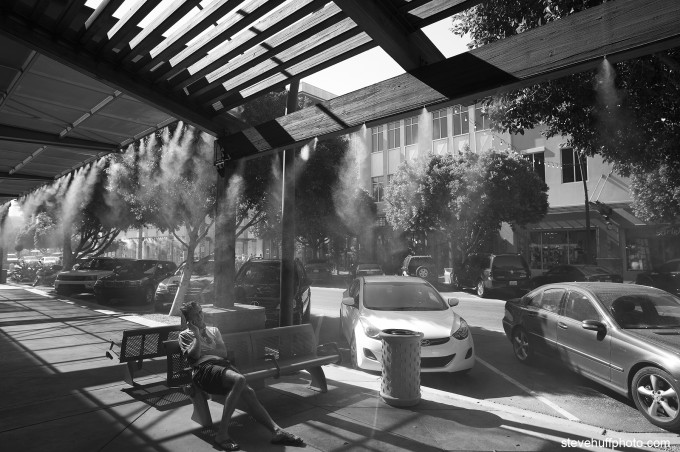 Where to buy this lens? 
This lens was sent to me for review by Stephen Gandy at CameraQuest.com. They are also a site sponsor and sell the 21 1.8 lens for $1249 with FREE fast shipping. You can go direct to their 21 1.8 page HERE.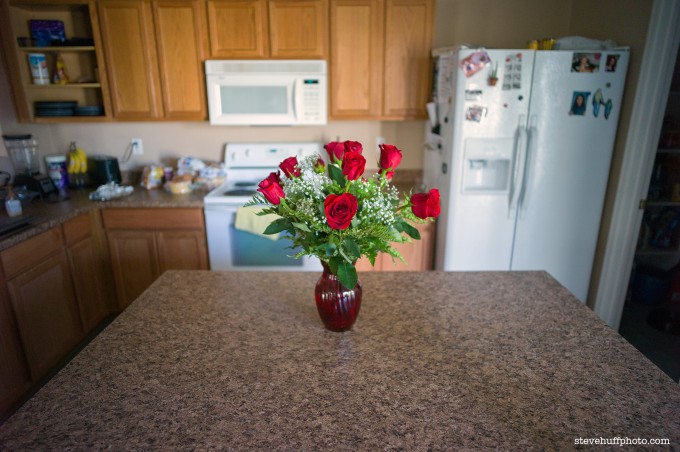 LENS SPECIFICATIONS:
Mount Type VM for M-mount Cameras
Focal Length 21mm
Aperture Range f/1.8-22
Angle of View 91º
Minimum Focus Distance 19.7″ (0.5 m)
Focus Range 27.6″ – infinity (0.5 m – infinity)
Lens Construction 13 Elements in 11 Groups
Number of Aperture Blades 10
Filter Size 58mm
Dimensions (Diam. x L) 2.7 x 3.6″ (69 x 92 mm) including lens hood
Weight 14.5 oz (412 g)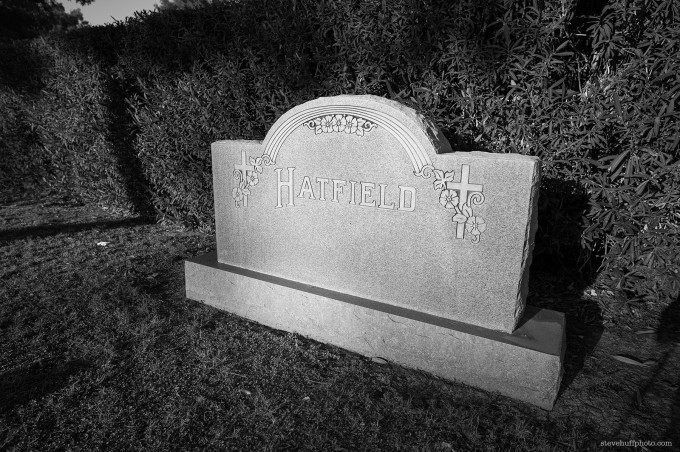 HELP ME TO KEEP THIS SITE GOING AND GROWING!! IT'S EASY TO HELP OUT & I CAN USE ALL THE HELP I CAN GET!
PLEASE Remember, anytime you follow my links here and buy from B&H or AMAZON,
 this helps to keep my site going. If it was not for these links, there would be no way to fund this site (and the cost these days to keep it going is pretty damn high), so I thank you in advance if you visit these links. I thank you more if you make a purchase! I have nifty search bars at the upper right of each page so you easily search for something at either store! I currently spend 10-14 hours a day working on this site and the only way that I can pay for it is with your help, so thank you! Currently my traffic has been increasing but my funds to pay for the site has been decreasing, so any help would be GREATLY appreciated!
Even if  you buy baby food, napkins or toothpicks at Amazon it helps this site, and you do not pay anything extra by using the links here. Again, you pay nothing extra by using my links, it is just a way to help support this site, so again, I thank you in advance 

 More info is here on how you can help even if you are NOT in the USA as I have Amazon links to Germany, United Kingdom and Canada as well!
If you enjoyed this article/review, feel free to leave a comment at the bottom of this page and also be sure to join me on twitter, my facebook fan page and now GOOGLE +!
Also, you can subscribe to my feed at my subscribe page HERE and read these posts in your browser or news reader!