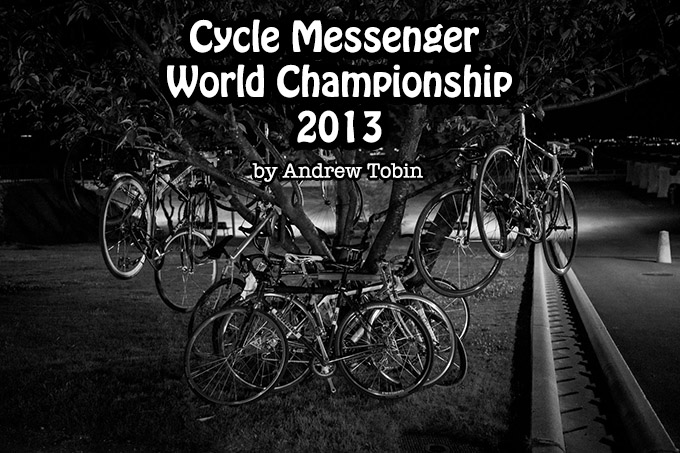 Cycle Messenger World Championship 2013
by Andrew Tobin – His blog is HERE
As part of my coverage of "unconventional" world championships, I took myself off to Lausanne in Switzerland for the Cycle Messenger World Championships of 2013. I had spotted this event a while ago and put it firmly into the calendar as a "must attend".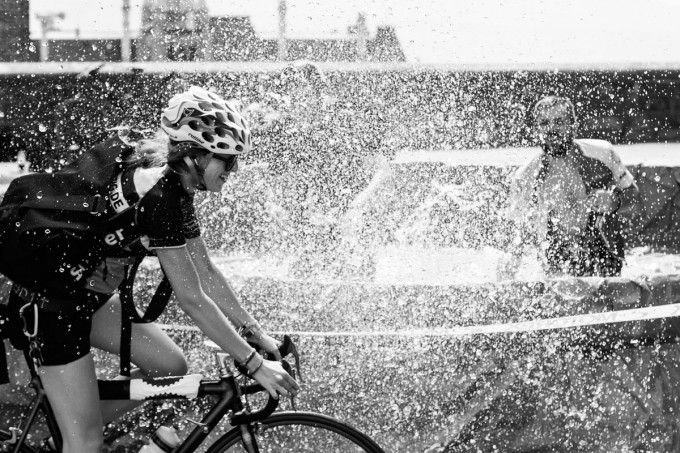 Packing for the trip proved more complicated than I thought. Having figured out that Lausanne was a pretty hilly place and I would be walking A LOT, and it was going to be hot, the last thing I wanted to be doing was carting a couple of 1D bodies and big lenses all over the place, as well as various bits of remote flash kit and other gubbins. So instead I decided to shoot the whole event with lightweight compact gear, taking 3 cameras – an Olympus OM-D with 45, 9-18 and 8mm fisheye lenses, a Sony RX1 and a newly acquired Sony RX100 Mark II. This combination would give me a good choice of focal lengths and apertures so I could deal with pretty much anything that came my way. With the RX100 in my pocket, the RX1 around my neck and the Olympus and lenses in a belt pack, I was as mobile as I could wish for. In a small backpack went a laptop, flash, pocket wizards, light stand and mini-octabox.
I also wanted to travel hand-luggage only and the big gear would have surely triggered some weight limit or other. Happily the airline (Swiss) didn't bat an eyelid and the lightstand and electronic trickery went through airport security without any problems as I tried hard to pretend my bag weighed nothing at all.
Gear for the trip. Manfrotto lightstand, Sony RX1 with viewfinder, Olympus OM-D, Yongnuo YN560-II flash, 2x Pocket Wizard Plus II, Sony RX100 mark II, Panasonic 8mm fisheye, Olympus 9-18 zoom, spare batteries for the Sonys (not needed), cards, clip thing (unused), lightstand attachment thing. Forgot to incude the mini softbox in this pic.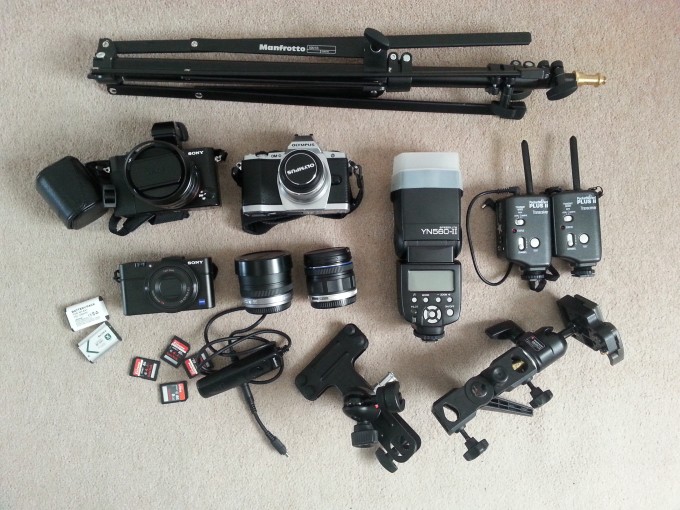 So, an early flight put me in Geneva at 9am on Saturday, and the efficient Swiss train system whisked me into Lausanne in about 45 minutes for me to begin my 2-day walking marathon, with some cycling photography thrown in.
After familiarizing myself with the course, chatting to the organisers and riders, and climbing lots of hills, I needed to make my key decision of the weekend. How to cover the event? I already had some ideas in mind before I arrived, but it quickly became pretty obvious to me that it was all about the people and the "vibe", and the racing was almost secondary. More than anything this is a gathering of like-minded people who might normally be bracketed as "alternative". It takes a certain something to be a cycle courier, out in all weathers, always under time pressure, not earning much, very physically fit, and never using any fossil fuels. The camaraderie amongst everyone at the event was obvious from the start. Some competitors had ridden from England down to Paris where they met still others for the 3-day ride from Paris to Lausanne, several on fixed wheel bikes with no brakes (making the mountains on the roads into Lausanne quite challenging!). Lots of them referred to the other couriers as their "family", so it's clearly a close-knit group of like-minded people who like nothing better than to get together for a good laugh.
James from Glasgow, who rode down from Canterbury to Paris to Lausanne. Top guy.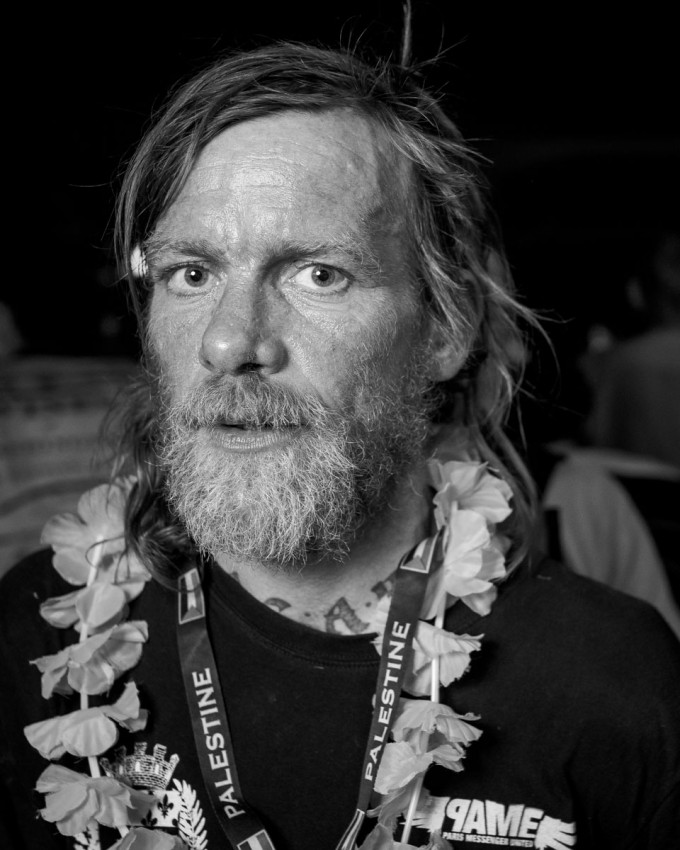 And that was the decision made for me. I would shoot the event more like a documentary, trying to capture the people and atmosphere with the race action as a secondary part of the weekend. This also suited my choice of kit as the small cameras are generally useless at catching anything moving fast (or even slow in the case of the RX1) when compared with a pro body like a Canon 1D. It didn't stop me trying to get a bit of action though. And I also decided to make most of the pictures monochrome because a) I like it a lot and b) it suited a more documentary style look at the event.
A rider toils up the hill as others dry off in the sun after a dip in the "jacuzzi" up by the cathedral.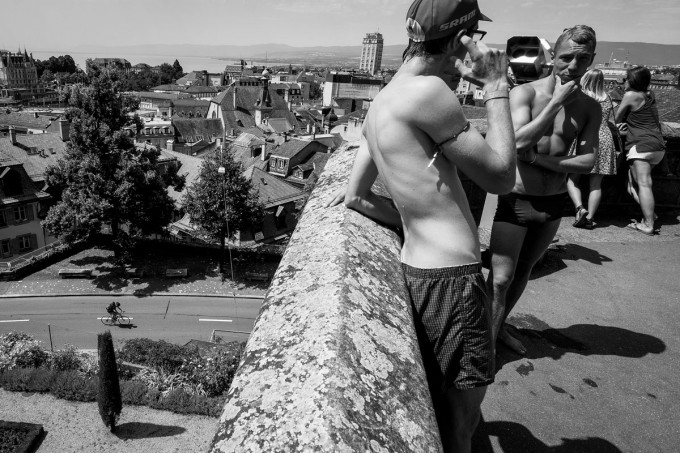 Started in 1993 by Achim Beier from Berlin, the championships comprise a number of challenges including a sprint, a track stand (longest time stationary on the bike), a cargo race where heavy loads are carried on special bikes, and the main race. The course winds through central Lausanne and includes bridges, stairs, cobbles, narrow alleyways and challenging hills.
The main race simulates the job of a bike courier making numerous drops and pickups across the city by following a manifest or delivery/pickup list. Riders need to check in at specific checkpoints, hand over their delivery and get a new one. It involves a number of manifests to be run in sequence, each involving multiple deliveries. As well as being a test of sheer physical fitness lasting 3-4 hours, the race is a huge mental challenge as the riders need to plot their own route from one checkpoint to the next. Ensuring that they take the shortest or most efficient route is a work of the black arts as far as I could see. It wasn't unusual to see riders pick up a new manifest and then sit somewhere quiet while they worked out their route and sequencing. To make matters worse, at some checkpoints you may need to deliver one item and pick up three, so knowing what you need to do where is vital to avoid repeat visits. Obviously you couldn't drop something off if you hadn't already picked it up somewhere else! This aspect makes the whole thing very different to a normal challenge against the clock and the winner is the person that combines the physical with the mental.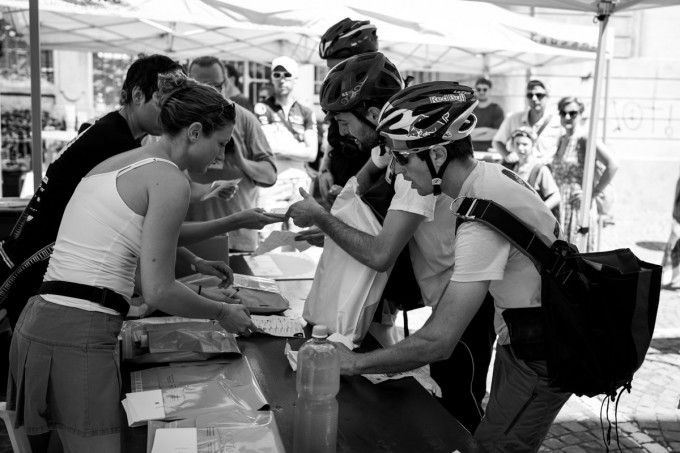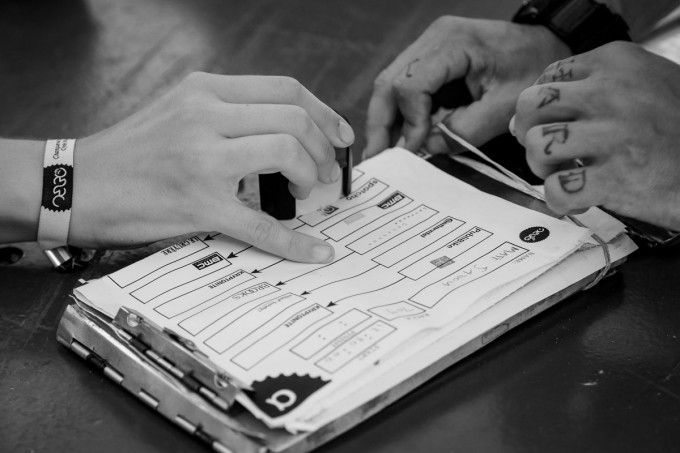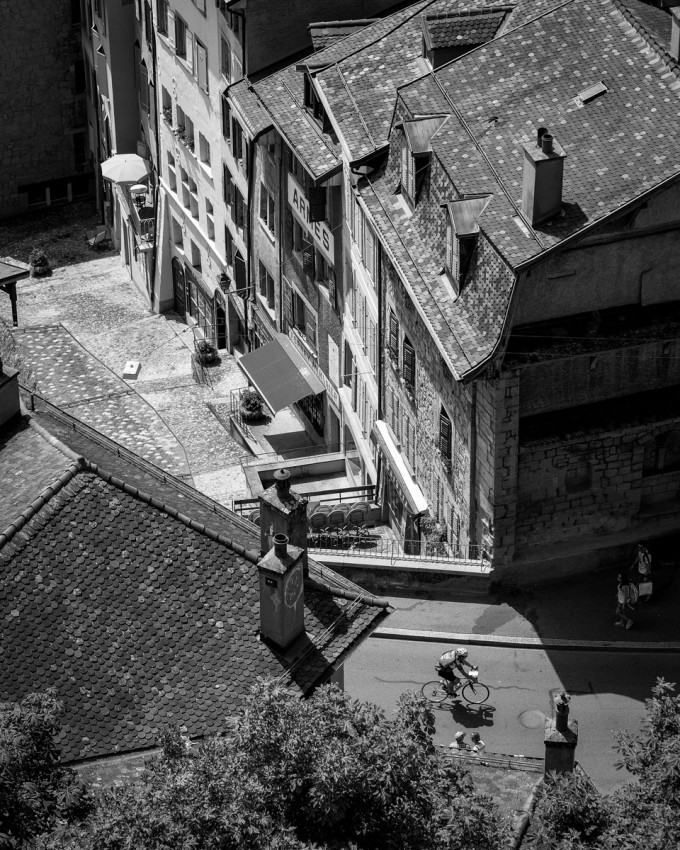 It was hot as well. Did I mention that? I had enough trouble climbing up all the steps and hills on foot – the riders were getting a real beating. It didn't take long for some of the riders to take advantage of the ancient water troughs that are scattered around the city.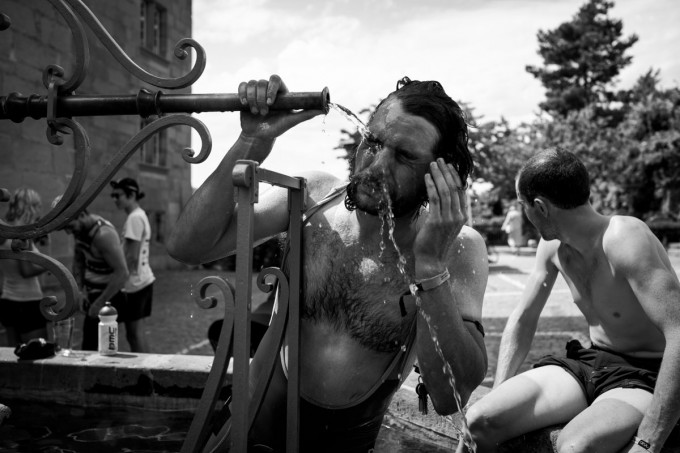 Saturday was practice and qualifying, plus the cargo race which involved carrying large or strange loads. The cargo bikes are bonkers – long things with a load carrying space up front and a linkage from the handlebars to the front wheel. These poor guys had to carry everything from 12 foot long oars to a TV cameraman who wanted a rider's eye view of the course.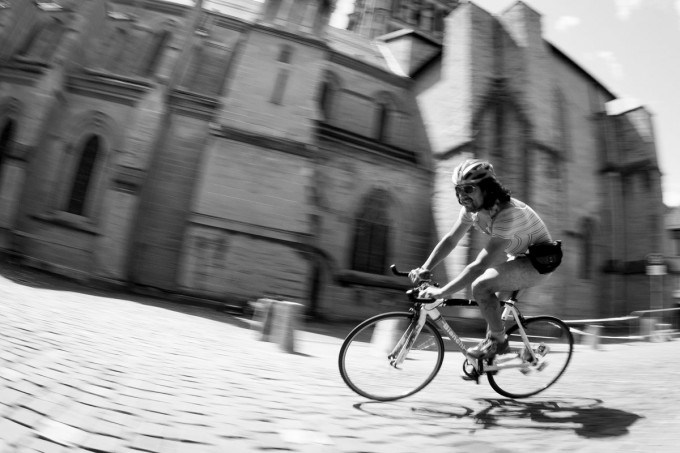 Having learned the course through walking a lot and getting blisters, taking a bunch of pictures and figuring out what was going on, I was ready for the evening party. These guys party well. The event had been going on all week with a party every night, so they were well-practiced by the time I turned up. Hosted at the Casino Montbenon overlooking Lake Geneva, I had a horrible thought that it would be a dress-up suit and tie job, but then realised that there was no way on this earth that the majority of the riders would get anywhere near a suit other than to deliver one. And so it turned out that it was a very cool event in a club under the casino, with most people out in the open air as the temperature dropped and the sun set over the alps.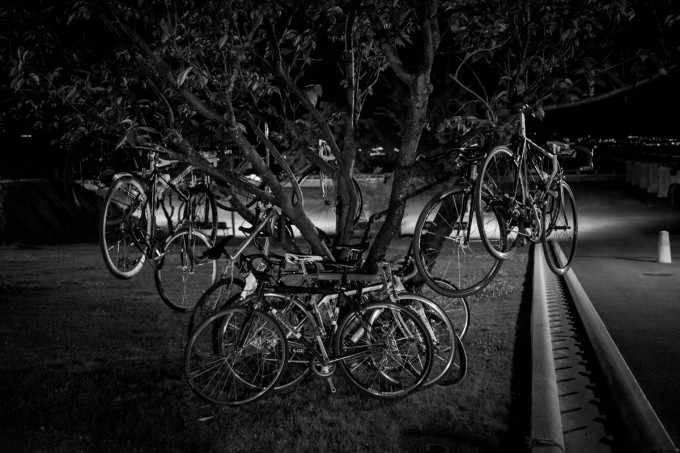 The party game me a chance to break out my little octabox. After some fiddling with Pocket Wizards and the RX1, I got everything working fine and went off in search of interesting suspects, of which there were plenty. I'll say this – these guys are just so friendly and open – lovely people. Here's two of them…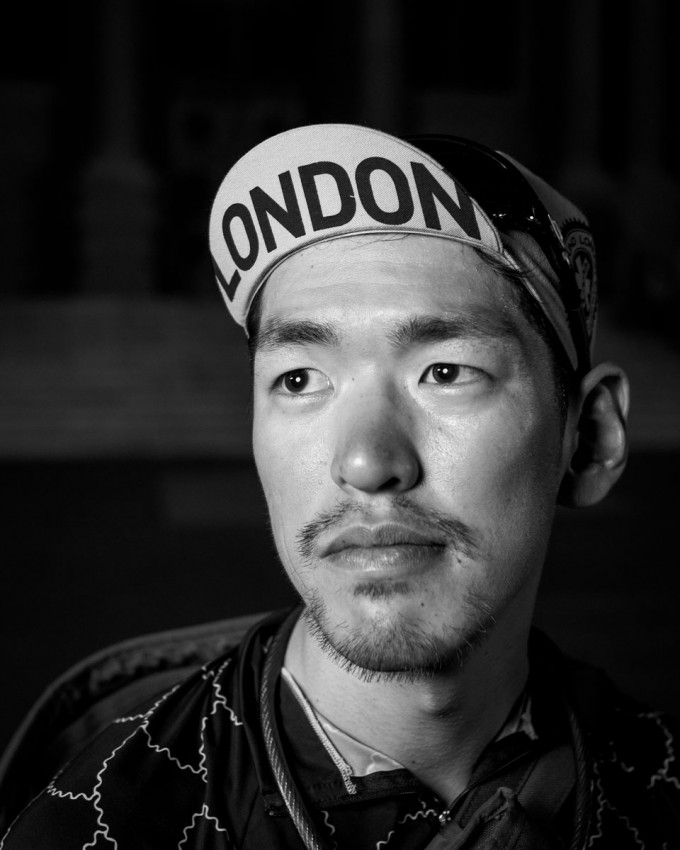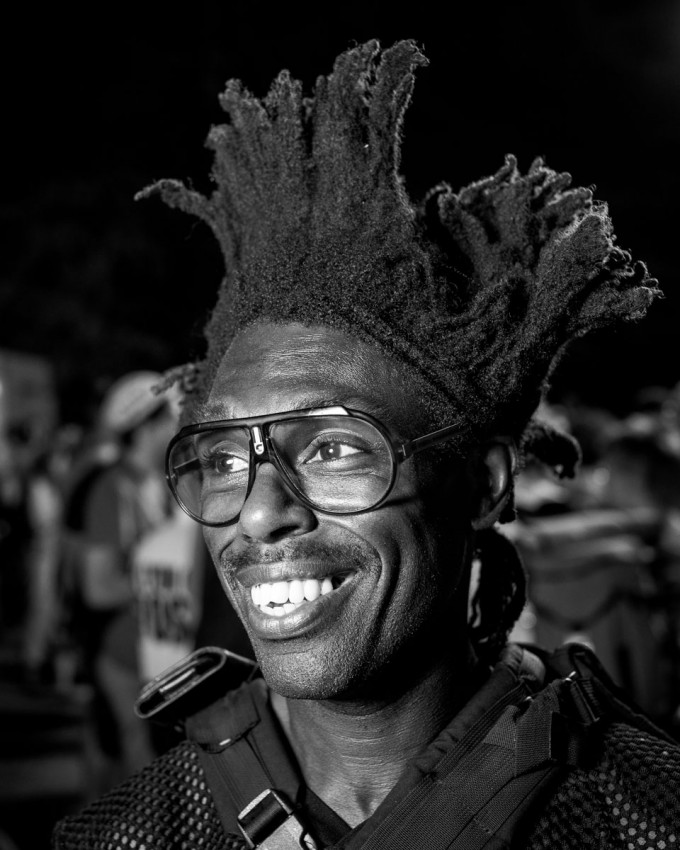 So the RX1 turned out some beautifully detailed pictures, but occasionally had brain fade and wouldn't focus properly even though the focus assist light was on. You've just got to be quite patient with it when shooting at night, and give it time to get focus and the square to go green before you hit the button. It's worth noting that after turning on face detection my results improved significantly.
Cleverly, the organisers hadn't scheduled any early morning starts, with riders needing to be at race HQ by 11am (though quite a few dragged in after that). This allowed ample time for at least 4 hours sleep to let the beer work its way through the system. Free carrots were available to all competitors.
The start itself was mad. The 100 riders (men and women) all started at the same time. The high qualifiers from Saturday got to be at the front of the "grid". Well, they weren't at the front, their bikes were. All the bikes were laid down in the road, the first package and manifest was put next to each bike, and the riders were ushered 50 yards back down the hill. At the appointed time after some general un-Swiss fanning about, they were off! The riders had to run up the hill, get to their bike, read the manifest to plot a route, and then head off. With different manifests the riders headed in all sorts of directions, so a few wisely took their time to figure out the best route as there's nothing slower than riding in completely the wrong direction, especially as the course was one way and if you got it wrong you'd need to go round again.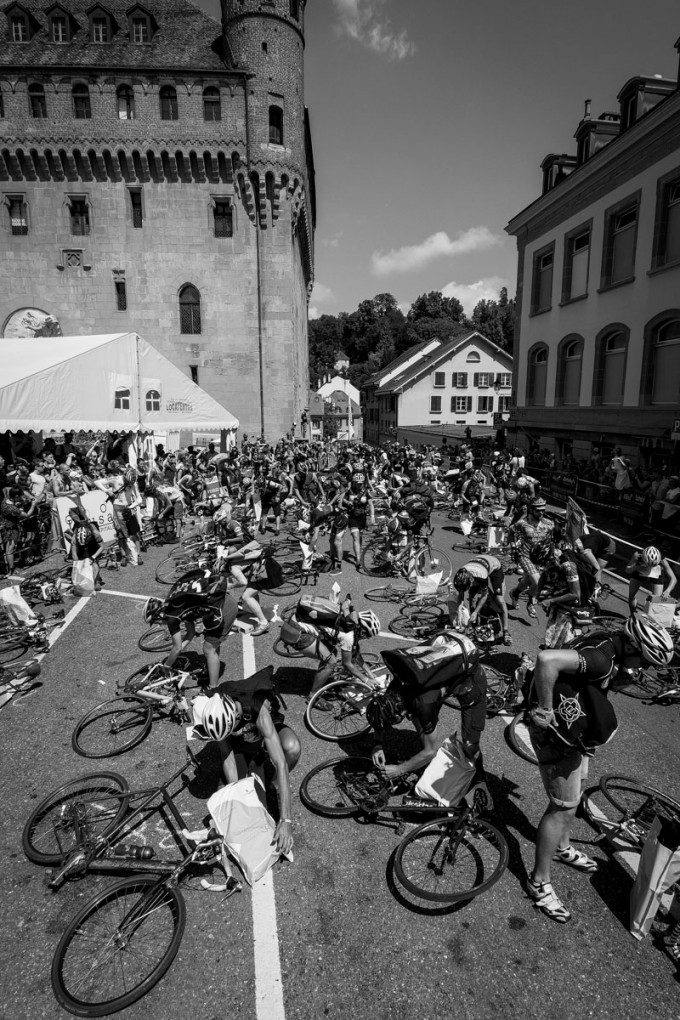 There followed all sorts of madness as riders hurtled about. I walked some of the course before stopping and sending a set of pictures to the UK newspapers. Once that was done I walked the course a bit more and took some more pictures. Here's a few of them…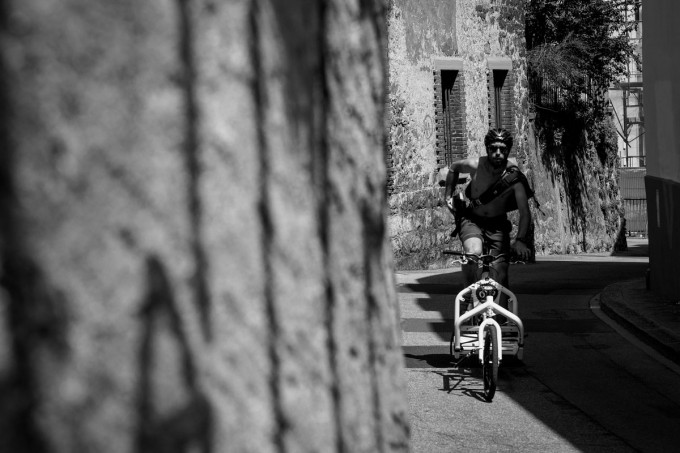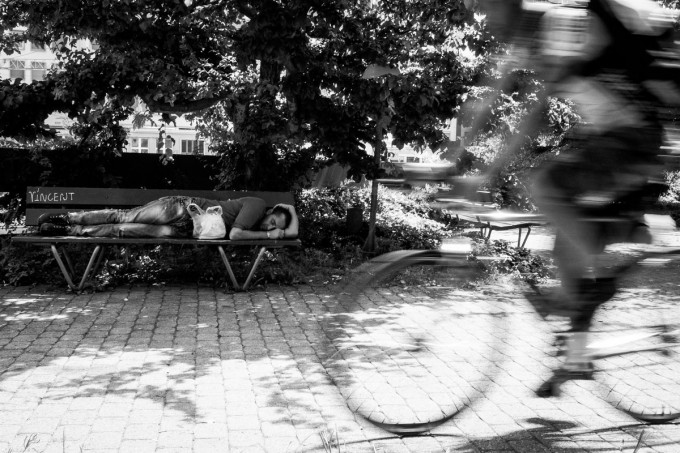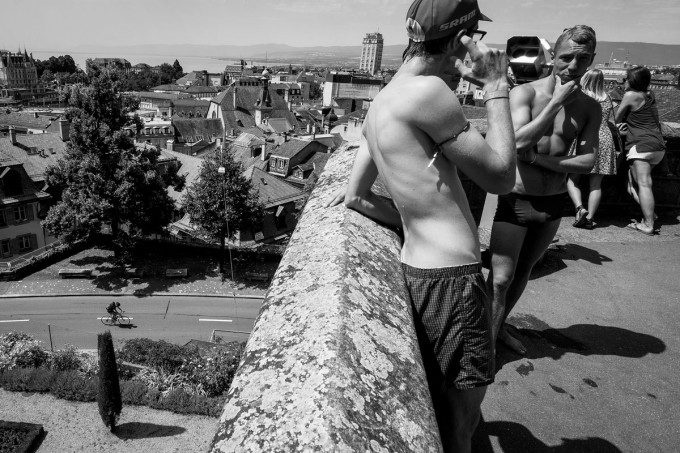 I had in mind some key shots to get at the end of the race. Obviously the winners, but also I wanted pictures of riders immediately they finished. I rigged up the RX1 again and used my flash held off camera with a simple diffuser on it, triggered by pocket wizards again. The high flash sync speed of the RX1 came in handy here as well as I wanted to drop the ambient light a bit so was up at 1/500th or more.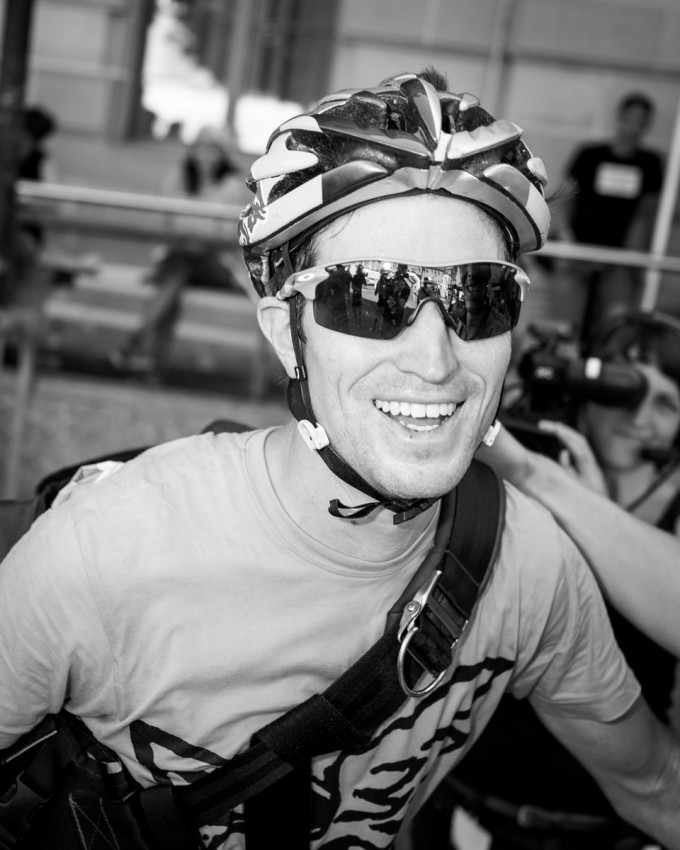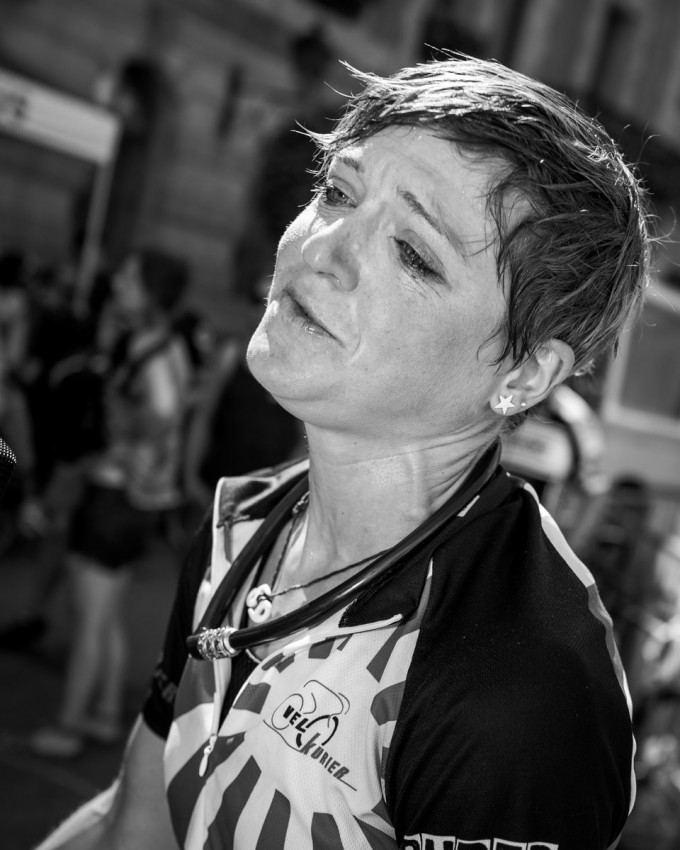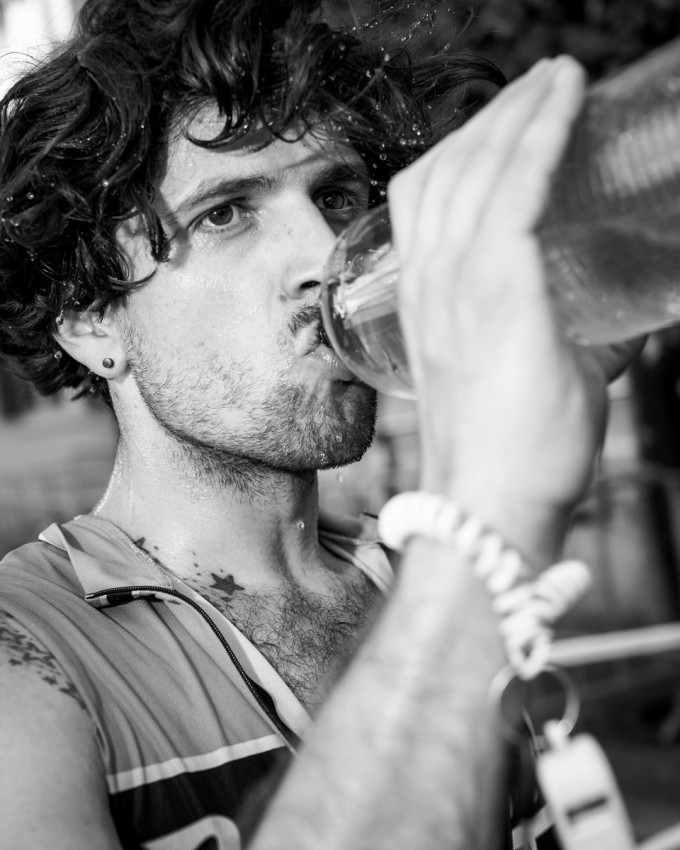 Obviously I'm not as practiced with the RX1 interface as, when people moved from shade to sun I was often too slow to adjust settings (I was shooting in manual) and had to resort to just switching to aperture priority and letting the camera sort it out. In frenzied situations when people are moving about all over the place it's vital to be 100% practiced with your camera of choice, which I wasn't.
And that was it. Race over. Party time (again) followed by a very early flight out on Monday morning.
What can we glean from the gear selection for the event? The cameras did their job, but are no way as good when you absolutely must get the shot as a pro-spec body and lens. There were times when I wished I had a 1DIV and L lenses with me. The speed of focus is the main thing. I could have nailed far more portrait shots after the race with a 1D, even with the relatively slow focusing 24 1.4 lens. However I'd have been stuck with a slow off-camera flash sync speed. I'd also have been knackered hefting all that gear. I watched the 2 or 3 agency guys that were there as they lugged their gear about and felt delighted that I was running such a light setup. Also, people didn't seem to mind when I got in really quite close with the little RX1 either. Sometimes it's good to have big cameras to shout that you know what you're doing (sort of!), but at other times it's good to be a bit more under the radar.
Looking at my stats for the weekend, I shot most pictures using the RX1 with 242, then the Olympus OM-D with 197 (though there were a lot of 9 frames per second disastrous panning shots), then 41 with the RX100 mark II. Out of that lot, 140 made the final edit. Each camera played its own part, as I used the RX1 when I wanted really high quality and shallow depth of field, the OM-D when I wanted a bit of lens choice and high frame rate, and the RX100 when I lost the plot and just wanted to get a picture, or when I had the wrong lens on the OM-D. The different menu systems and buttons and dials is enough to drive me crazy though as I'd get aperture & shutter mixed up, ISO would be all over the place and so on. What I really want is something the size of the RX1 with pro-spec speed of focus and camera responsiveness. The OM-D is fast, but not fast enough when tracking focus. In any event though, I tried to shoot within the limitations of the cameras and make the best of what I had available.
Just to finish off this unusually long post I have to say what a superb event it was. If you ever get the chance to go in 2014, then do it. Support these guys and girls – they are simply an excellent bunch of people. And should you come across them in some big city somewhere, just be aware that they know exactly what they are doing, are fit as anything, and don't earn much.
Andrew Tobin