Some images from Photo Plus in NYC today. Sony, Zeiss, Leica…
What a day! Whew…
Yesterday I flew out of Sunny AZ at 6am headed to NYC for the Photo Plus show going on this week. When I arrived in NY I did a big "UH OH" because I realized I only brought a light jacket with me, and here I was in NYC in 48 degree weather! The good thing is that it was not THAT cold so I survived a short walk to dinner with some friends and had a great evening. As always, I had a camera with me so for the chilly walk back I snapped a shot or two..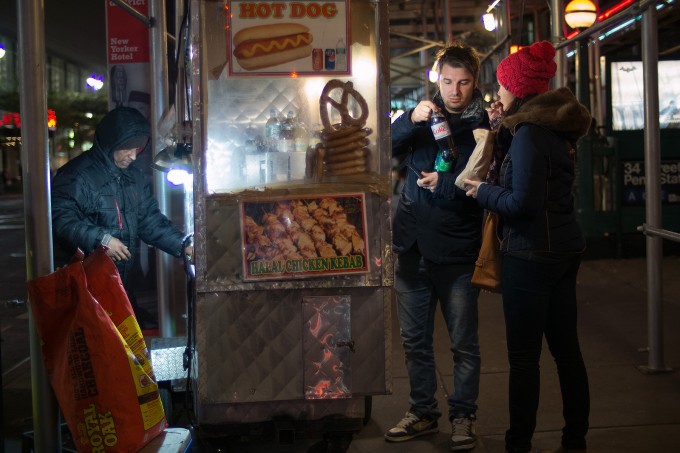 This morning I woke up later than I expected, around 8:30AM. Had a business phone call at 9 through 9:30 and by the time I headed out to the show it was 10:30.
On my way I had to take a picture of myself in front of B&H Photo, the "Candy Land" for photo and tech geeks!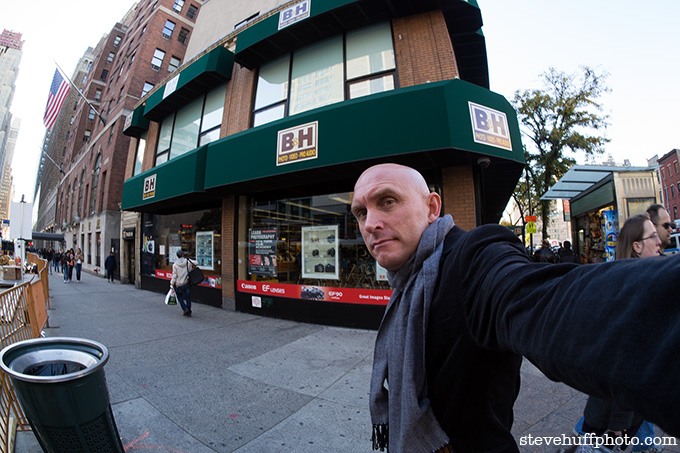 I only had a 15 minute walk to the convention center from my hotel, and was cool that B&H is one block from my hotel. Makes it too easy to spend money though!
As I walked I snapped a few shots with a fisheye that I have been playing around with…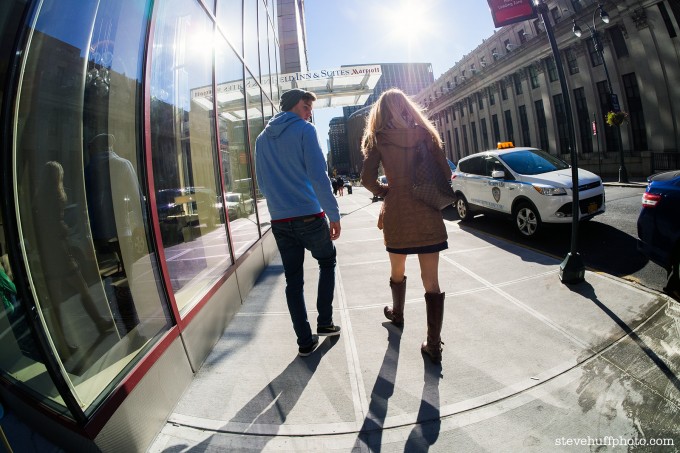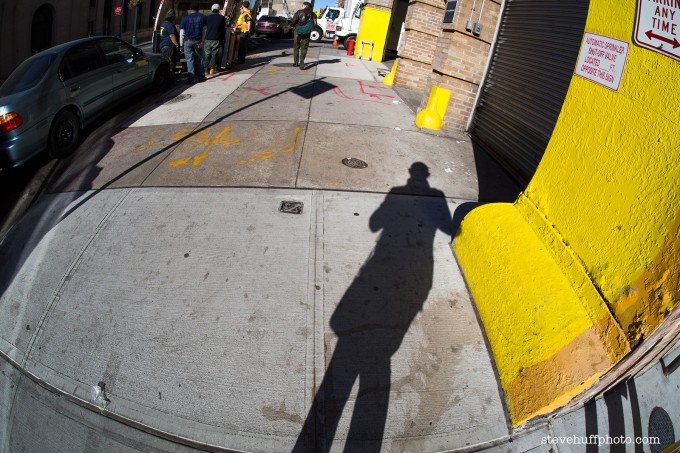 When I arrived to Photo Plus I saw a few familiar faces and made my way to pick up my press pass.
I ended up walking around and it seemed every few steps someone who knew me would walk up to me to chat! Was so cool to meet so many readers of this site today, all were super nice and wonderful people.
I eventually found my way to the most crowded section of the show (from what I saw) and it was the Sony Booth. They had the A7 and A7r on display, as well as the new RX10 (which is  looking better and better to me the more I mess with it). I even had a chance to borrow a Zeiss 50 1.5 Sonnar from a woman who was testing some old lenses on the A7. She was kind enough to let me take a shot or two with her lens mounted on the A7.
I snapped a shot of a guy who was chatting with me (a reader here) at 1.5, wide open. Sony would NOT let me put an SD card in the camera (they are saying the camera is still not FINAL in FW, so pre-production) but when I saw the playback it had the full on Zeiss character and was beautiful. I am telling you this..the camera was a breeze to manually focus with this Zeiss ZM lens. No focus shift because you are using Live View, so what you see is what you get.
The OOF transitions were creamy, the color was nice for being indoors with horrible light and I can tell that this camera is going to deliver on IQ, no doubt in my mind at all. After more hands on time with the A7 and A7r I can tell you that yes, the A7r does have metal dials on top where the A7 has plastic. They both feel great and I noticed no difference in feel or build when in my hand. I have a feeling that the a7r is going to be the Godzilla of resolution. A beast.
Shot with the 50 Zeiss Zm Sonnar at 1.5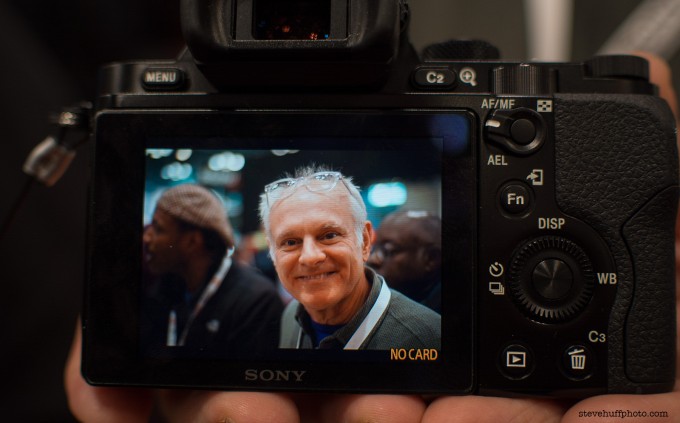 So after messing around and chatting with a few folks a woman walks up from Zeiss to show me the new Otus lens. This lens is a statement piece from Zeiss and coming in at $4000. The 55 1.4 design is gorgeous but man, this lens is HUGE (though light).
She wanted me to try it on the A7r and I used the Metabones Adapter to do so. When I looked at the results on the screen..WOWOWOWOWOW. This lens is something the perfectionist will want. Those who want ultimate IQ..this lens will do the trick and seeing that it is a pro manual focus lens (NO AF), it feels REALLY good in use. It is just large.
I HEARD MUMBLINGS…Sony was telling Zeiss..MAKE THIS FOR FE MOUNT! So we shall see. Below is the lens with hood attached and Metabones EF to E mount adapter. I may get to shoot with this lens on the A7r NEXT WEEK and this time, with an SD card in the camera 🙂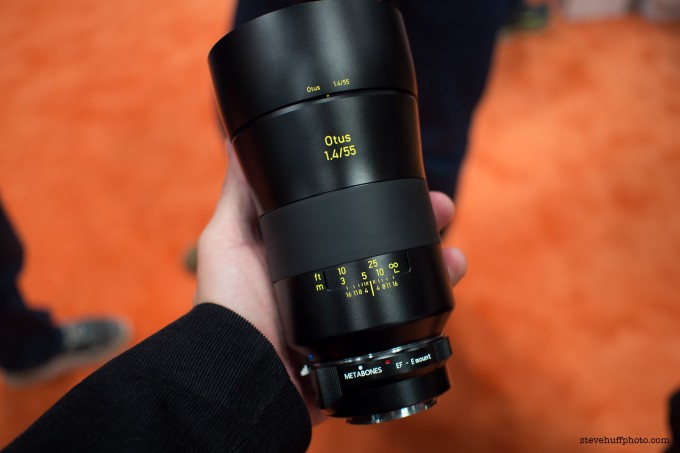 So as I left Sony I headed toward Nikon, Canon, Fuji and Panasonic. Not much new there. Saw the GX7 but I already reviewed it here. I saw the All weather Nikon 1 which was larger and much more solid than I expected and I saw a few other things around the convention center that were more interesting than what Nikon was offering..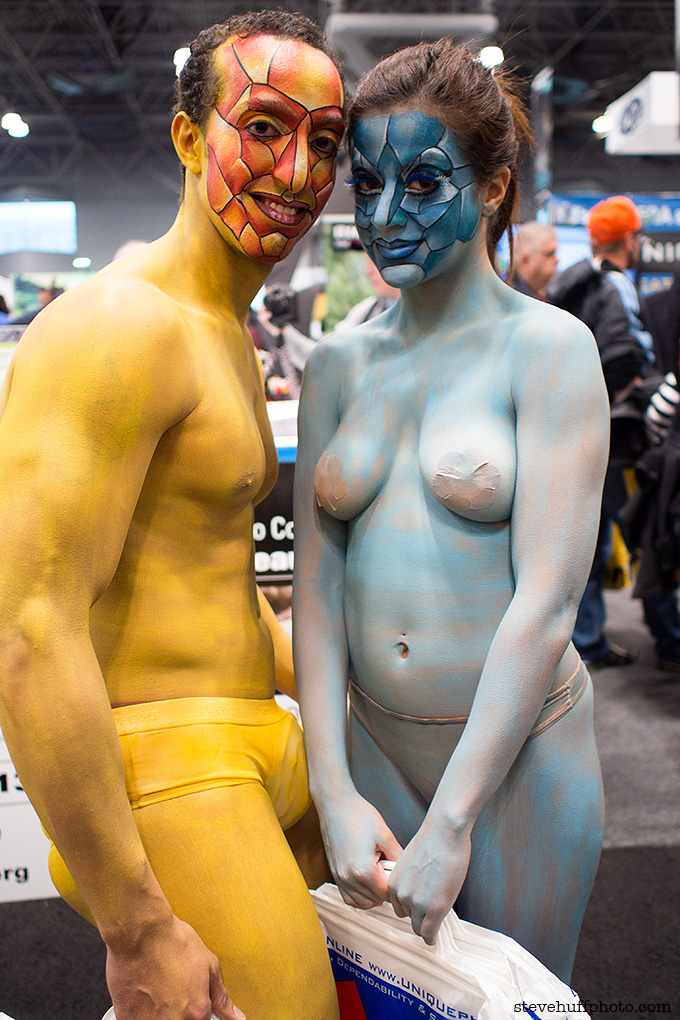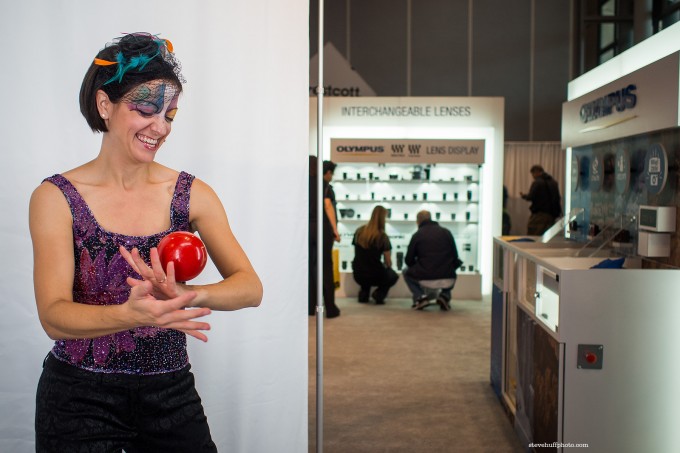 I stopped by the Olympus booth and they were busy with everyone checking out the E-M1 and even E-P5. I saw quite a few walking around today with OM-D E-M5's and E-P5's. The woman above was doing an act for Olympus demoing their wifi smartphone/ipad remote feature. Before I shot this I cracked a joke which was probably not good because she could have lost her concentration 🙂 But she didn't. Behind here you can see every Olympus Micro 4/3 and 4/3 lens ever made.
The Leica booth had a few gawkers but they were not showing anything new besides their "Glossy Black" D-Lux 6. Yet another refresh of the same old D-Lux 6 which appeared to be slapped together just for the show..I mean, they had to have SOMETHING new right?
They did have this on display…
I stopped by Fuji as well and took a look at the new X-E2. Looks and feels like an X-E1. Same build. AF seemed faster but not a dramatic difference. The new 23 1.4 was fantastic though.  This is a lens I would buy if I owned a Fuji. Smaller than you think as well.
So after the show I walked back to my room, stopped off at B&H Photo once again and am now laying in my hotel bed writing this update. What I learned today from Photo Plus is that there is MASS interest in the Sony A7 and A7r as well as  the new RX10. Olympus is hot with the E-M1 and Nikon and Canon are still Nikon and Canon with their usual DSLR updates. (yawwwn)
Leica is holding steady with M sales doing very well for them and Panasonic had quite the crowd as well.
So without a doubt, the biggest thing here this year is the Sony A7 and A7r. Sales are STRONG, results are looking AMAZING and the camera is well made, solid and has very fast AF. When something this good comes along, it gets noticed and the people I spoke with today who were giving it a spin all said the same thing.."I pre ordered one already". They were all happy with the fact that they did.
Remember, starting on the 28th I will have loads of samples and news and videos on the new A7 and A7r and RX10, so bookmark and come back because you will NOT want to miss it.
For those wondering, all photos posted here were shot with an Olympus E-P5.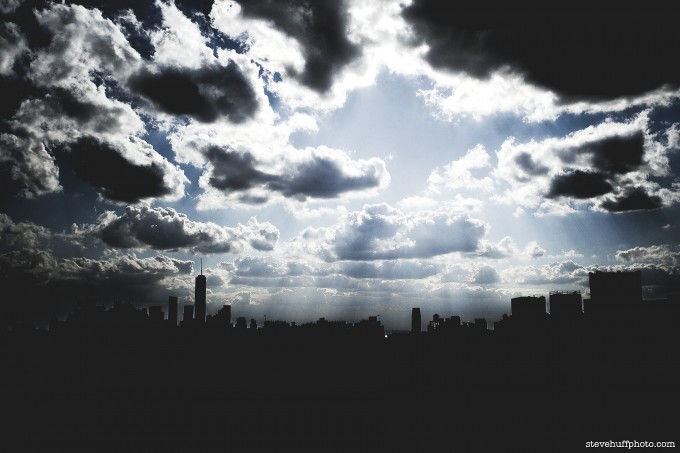 I will beheading back to the show tomorrow morning to throw a Voigtlander 12mm on the Sony A7 and A7r and to see what I see on the LCD. Of course, what I see you will see here right after 🙂