Crazy Comparison! Leica 50 APO, Sony Zeiss 55, Voigtlander 40 2.8
Hey to all! Happy Tuesday! Just a couple of days until the big Thanksgiving feast and I am lounging around my home relaxing an injured knee (which is improving and on its way to a full recovery). I have had quite a few emails in the past week asking me to compare the Leica 50 APO miracle lens to the Sony/Zeiss 55 1.8. I have done this before but this time it is more controlled and using indoor natural light, which believe it or not was quite dim in reality. I had my blinds slightly cracked open to allow some light to come in and I snapped a basic image to test for out of camera color, sharpness, micro contrast, etc.
 THIS IS A "JUST FOR FUN" CRAZY COMPARISON!
Below is a quick size compare. All are smaller lenses that are fairly light and trouble free. The Sony is the largest but light. The 50 APO is compact but solid and the Voigtlander is small and light with the Jupiter being featherweight. NONE are large or cumbersome in any way.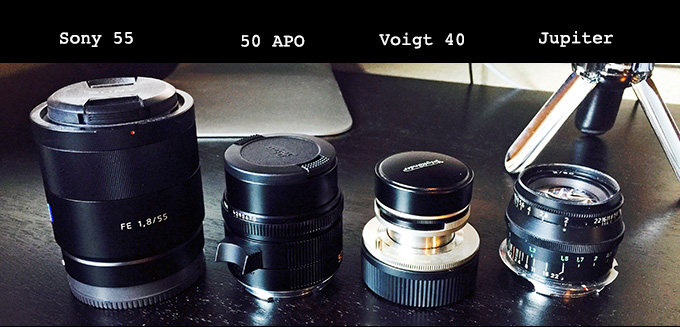 Yep, a $8300 lens vs a $999 lens and then I also threw in the $400 Voigtlander 40 2.8, which is actually a GREAT buy for a very nice lens. I also included the very cheap Jupiter 8 50mm f/2 just for fun. (and it is not bad at all I must say)!
I have been doing Crazy Comparisons since the first week my website went up, and they are always popular but sometimes controversial, which is understandable. ANY comparison that is done will always be controversial as those who own Lens B want to know why Lens A appears better. Those who have lens C will say I did the test wrong and I must have misfocused or those who own Lens A will argue about something. Just take it for what it is, a snap shot at the same aperture for the 50 APO and the 55 1.8 (f/2), Jupiter 8 and one at f/ 2.8 for the Voigtlander, which is wide open for that lens. ALL lenses were manually focused (The Sony was as well for critical correct focusing and to rule out mis focus).
To me, when I click on the images below I see a richer color in the 50 APO as well as MUCH more detail and micro contrast. The Sony/Zeiss flared a bit (no hood on the Sony and the APO did not have the hood pulled out, so no hood on either), was softer and had a less vibrant color. The Voigtlander shows its weakness here against these two lenses and is softer still with less contrast and color depth.
The 50 APO and the Sony A7s is pretty amazing. I mentioned it last week HERE but every time I use this combo I am thrilled with the results, and the cool part is that it is easier to obtain perfect focus on the A7s than it is on the Leica M itself.
Click the images below to see the larger versions with full 100% crops embedded. As it is, the Leica is the better lens. Better made, smaller, jewel like, better optics, better color and flare resistance..but it is 8X the cost of the Sony/Zeiss! EEK! $8300 vs $999. The Leica BETTER BE BETTER! I think the Leica, in the real world, is worth about $4500 but Leica being Leica..well..that will never happen. All I know is for me, Leica makes the best optics in the world. The 50 Lux, the 50 APO, the Noctilux..all special, unique and amazing 50mm lenses. Buying them all would set someone back about $24,000. I know of some towns in the USA where you can buy a house for $24,000 🙂
When the Zeiss Loxia lenses come in I will pit the 50 f/2 against the APO, and I expect that one to be pretty close.  See my 50 APO review HERE, see my Voigtlander 40 2.8 review HERE and see many shots with the Sony 55 1.8 HERE.
CLICK THESE IMAGES FOR LARGER and 100% CROP! THEY ARE DIRECT FROM RAW!
The 50 APO at f/2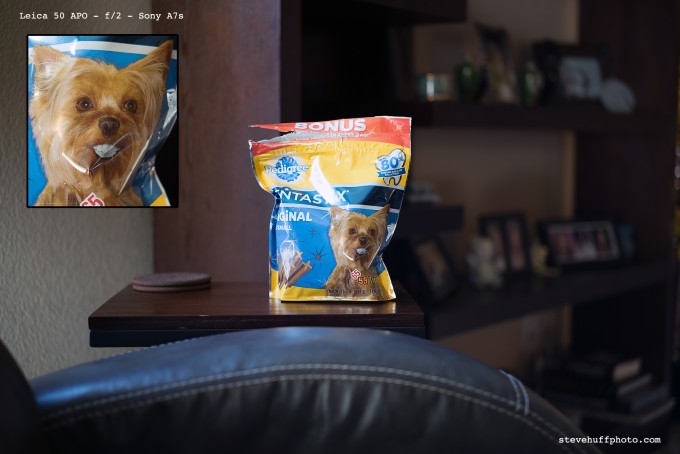 –
Sony/Zeiss 55 1.8 at f/2 – Manually focused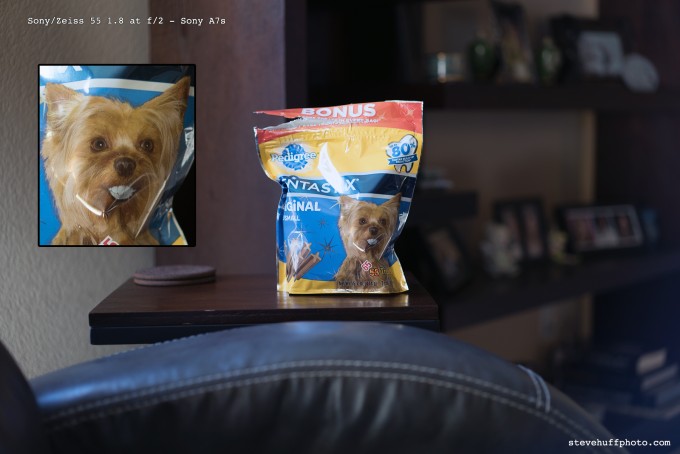 –
A Jupiter 8 50mm f/2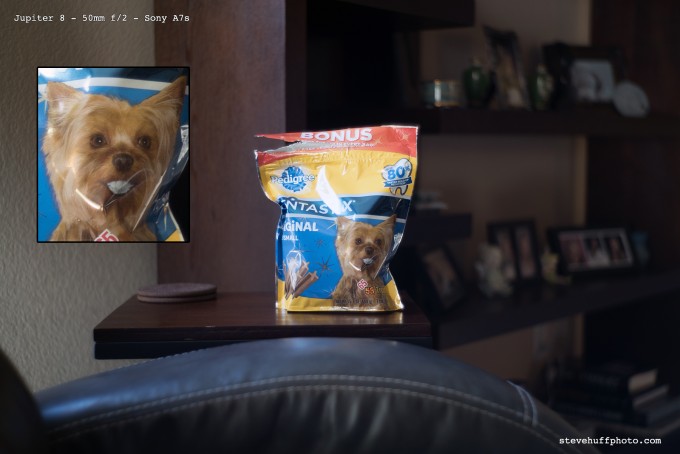 –
Voigtlander 40 2.8 Heliar at 2.8