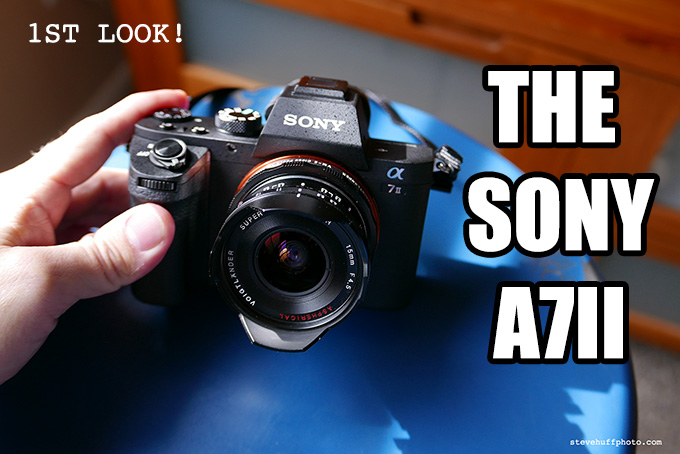 The Sony A7II – First Look and Video!
Order the A7II at Amazon – Amazon says they start shipping on the 11th of December
Order the A7II at B&H Photo – B&H says shipping starts December 9th
Steve
The Sony A7II has arrived and is in my hands and I am much more impressed than I expected to be. I assumed it would be an A7 with 5-Axis IS but it is quite a bit more than that. At the price of $1698, this is THE full frame camera to have for any enthusiast, hobbyist or anyone who has the passion of photography and wants extraordinary results with their camera gear.
1st off, take a look at my video below where I talk about my 1st impressions of the Sony A7 II…
The camera feels awesome in the hand, so much better than the old A7, A7r or even A7s. The new button placements are just about perfect and the larger grip (that I thought I would hate) feels JUST right. The camera also looks nicer, and feels much better built  – more solid. Feels like a pro camera in my hand and the 5-Axis worked wonders during some test video footage I took today. Made it appear like I was using a steady cam. The AF is indeed faster than the old A7 and the IQ, just as Sony has claimed, has been improved. I now see the better color, AWB and punch of the A7s but with more detail..amazing detail..even when shooting plain old JPEG.
Three 1st snaps with the A7II in my house, which was dimly lit BTW – One with the Zeiss 35 2.8 and two with the Voigtlander 40 2.8 – you MUST click them for larger and true 100% crop. These are JPEG! AWB did well for all three with no odd color casts.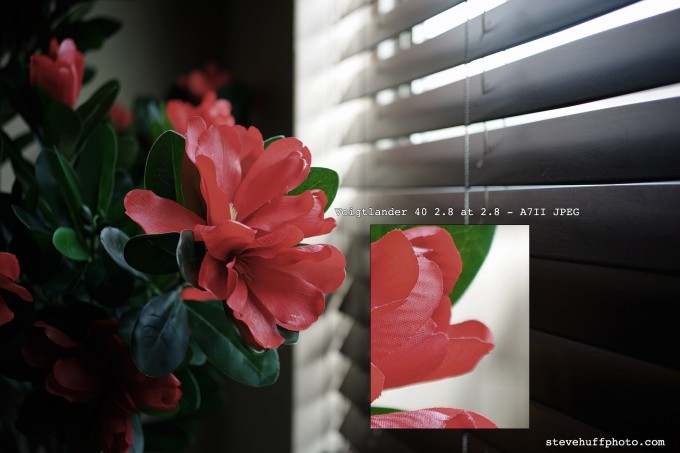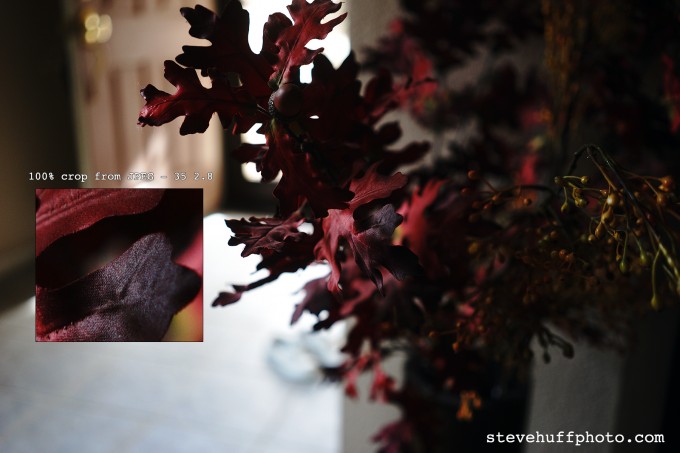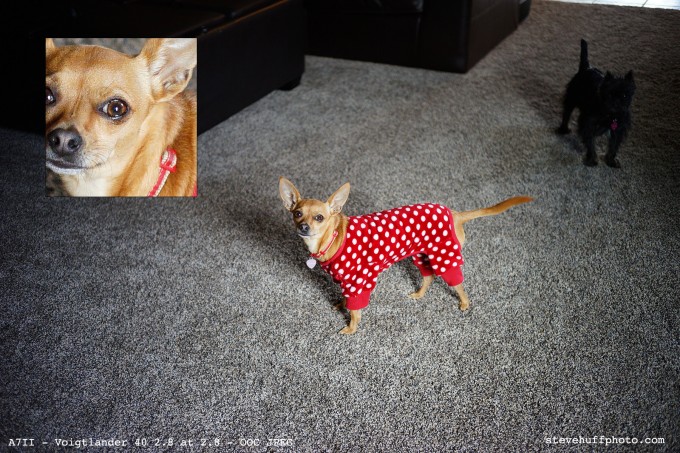 –
Click the image below to see just how rich, deep, colorful and detailed an OOC JPEG is from the A7II using the 35 2.8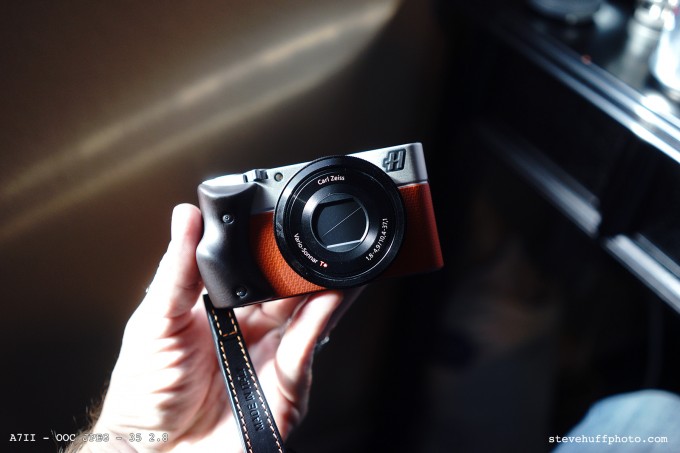 –
and one in B&W at ISO 2500 – NR turned off – 35 2.8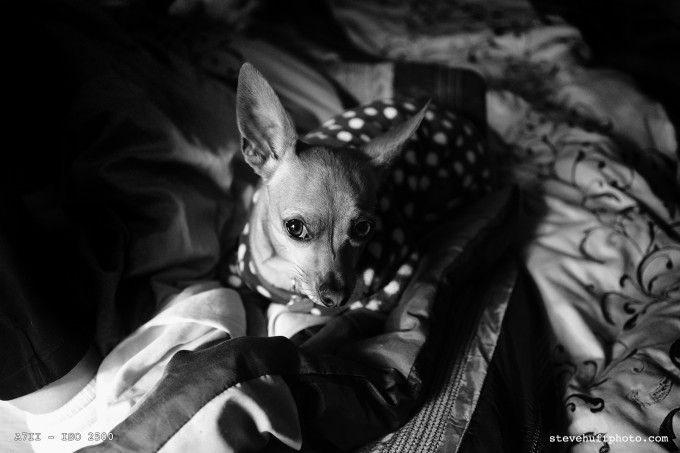 So my enthusiasm went sky-high after taking the A7II out of the package and putting it in my hand. My A7s can not be replaced by the A7II as the II can not do low light like the A7s but it will be the PERFECT companion to the A7s (which will be moved to low light status) as  the A7II now has stellar color and IQ.
Sony is kicking ass and I have yet to use a camera this year that feels as good, looks as nice and performs like this one. No Fuji, no Olympus, No Leica, No Nikon has done it. The A7II makes the Nikon Df feel like a toy in the hand, that is how much better it feels over the A7 Mark I. I love the Nikon Df, it is the only DSLR I would own (and did for a while) but the A7II has shown that Sony still means business and they are not backing down.
An OOC JPEG from the A7II and Voigtlander 15 (The A7s is on the table)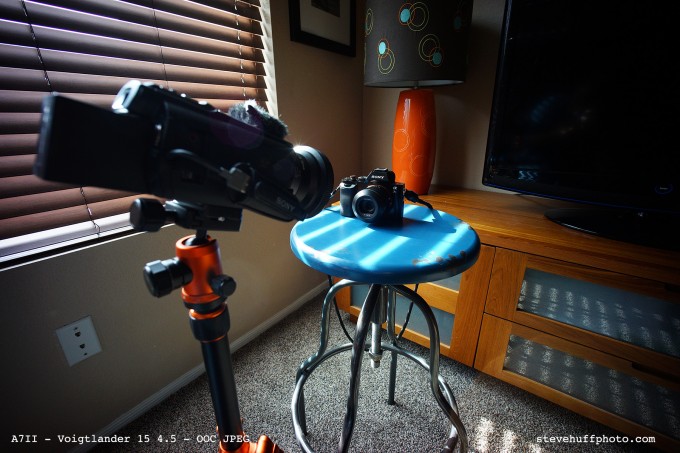 –
and another shot of the A7II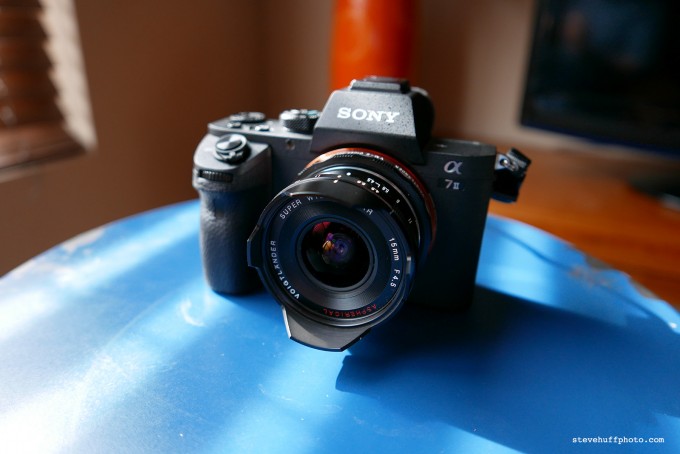 As you can tell, I am excited about this one..more so than the LX100 and X100T I have here to review as well (though I prefer the LX100 to the X100T).
I will be posting a full review of the A7 Mark II within 2-3 weeks. I need to make sure I get some quality time with it and snap all kinds of images in all kinds of situations to see just how well it behaves when pushed. 1st impressions are all positive so far!
Just some quick notes: This does NOT have a touch screen, it does not have the silent shutter and it will not perform as well as the A7s with Leica M ultra wide angle lenses. When using manual lenses the 5 Axis works well – you can assign what focal length you are using and the camera does the rest. Easy as pie. Buttons are all customizable..Sony has come a long way since the NEX series! The A&II also has a sturdier/beefier lens mount than the previous A7!
You can order your A7II at the links below, starts shipping December 9th! My order is in 😉 
Order at Amazon – Amazon says they start shipping on the 11th of December
Order at B&H Photo – B&H says shipping starts December 9th
Steve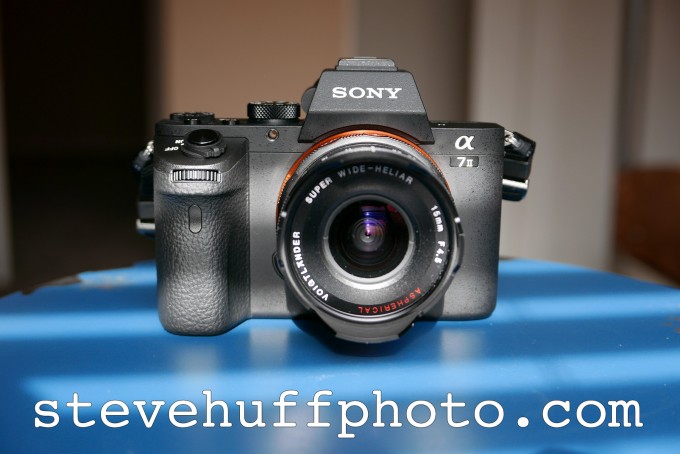 PLEASE! I NEED YOUR HELP TO KEEP THIS WEBSITE RUNNING, IT IS SO EASY AND FREEE for you to HELP OUT!
Hello to all! For the past 6 years I have been running this website and it has grown to beyond my wildest dreams. Some days this very website has over 200,000 visitors and because of this I need and use superfast web servers to host the site. Running this site costs quite a bit of cash every single month and on top of that, I work full-time 60+ hours a week on it each and every single day of the week (I received 200-300 emails a DAY). Because of this, I need YOUR help to cover my costs for this free information that is provided on a daily basis.
To help out it is simple. 
If you ever decide to make a purchase from B&H Photo or Amazon
, for ANYTHING, even diapers..you can help me without spending a penny to do so. If you use my links to make your purchase (when you click a link here and it takes you to B&H or Amazon, that is using my links as once there you can buy anything and I will get a teeny small credit) you will in turn be helping this site to keep on going and keep on growing.
Not only do I spend money on fast hosting but I also spend it on cameras to buy to review, lenses to review, bags to review, gas and travel, and a slew of other things. You would be amazed at what it costs me just to maintain this website. Many times I give away these items in contests to help give back you all of YOU.
So all I ask is that if you find the free info on this website useful AND you ever need to make a purchase at B&H Photo or Amazon, just use the links below. You can even bookmark the Amazon link and use it anytime you buy something. It costs you nothing extra but will provide me and this site with a dollar or two to keep on trucking along.
AMAZON LINK (you can bookmark this one)
B&H PHOTO LINK – (not bookmark able) Can also use my search bar on the right side or links within reviews, anytime.
Outside of the USA? Use my worldwide Amazon links HERE!
You can also follow me on Facebook, Twitter, Google + or YouTube. 😉
One other way to help is by donation. If you want to donate to this site, any amount you choose, even $5, you can do so using the paypal link HERE and enter in your donation amount. All donations help to keep this site going and growing!
 I do not charge any member fees so your donations go a long way to keeping this site loaded with useful content. Thank you!