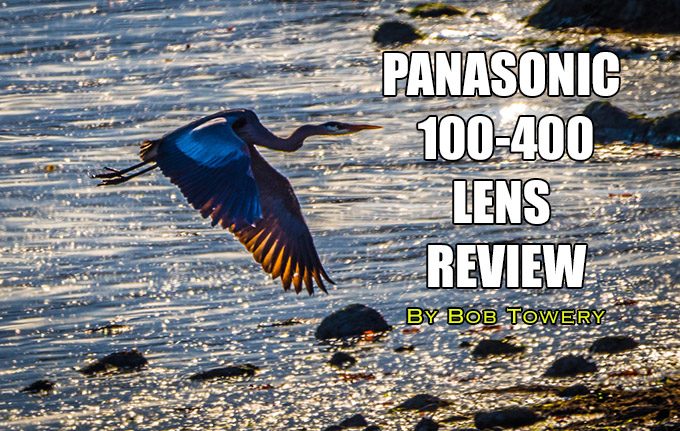 The Mighty Panasonic-Leica 100-400mm Lens Review
By Bob Towery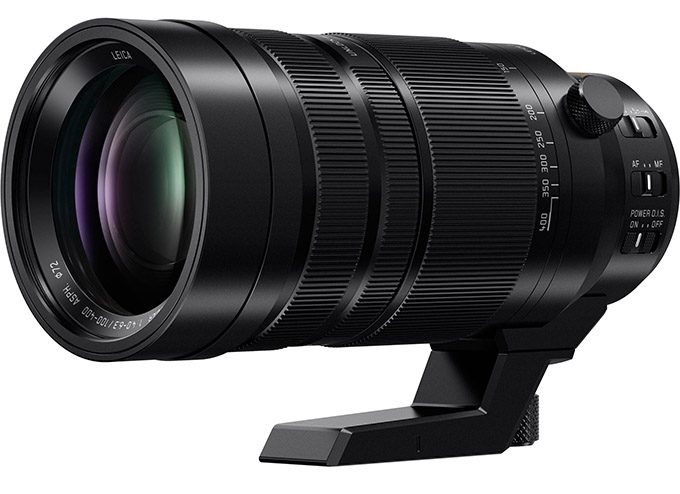 I recently acquired the Panasonic Leica 100-400mm lens to go along with my Olympus OMD-M5 Mk II kit. I didn't start off with the idea of writing a review but as I began getting to know this lens I thought it might be a nice addition to Steve's excellent collection of resources for us enthusiasts. (From Steve: Thank you Bob)!
As background, I have been shooting digitally since 2001, with Canon bodies and a wide array of L lenses. I have had a number of 70-200's, as well as 300mm and 400mm L primes.
About five years ago I wanted to get into a smaller kit for travel work. Partly with the excellent information I got here on Steve's site, I got a Leica M9 setup and used this for quite a few trips. But I do enjoy telephoto work as well, and certainly that's not the M9's forte. And although I became pretty proficient at both manual focusing, there are still those instances where you have one second to get a shot and it's lucky indeed to have pre-focused accurately. I found I was only using my M9 when going street shooting.
Fast forwarding, when the Fuji XT series came out I dove in. Somehow I just never warmed up to this system. It's AF was exceedingly poor (since improved I'm told). The camera also failed on a trip, the first time that had ever happened to me. Although Fuji did a stellar job of repairing it quickly on their dime, this unnerved me and I sold that kit off.
Knowing Steve had always been an Olympus fan, I followed those reviews, and when the OMD M5 II was released I jumped into the Oly pool. Using the Olympus kit has been very rewarding. It's a high performing camera, with the only limit (for my use) being the noise at higher ISO's.
THE SCENE
Living where I do on an island near Seattle, I have a lot of opportunities to shoot interesting birds like Bald Eagles and Great Blue Herons. The Fuji would nearly always miss. So the first paces I put the Oly through were to shoot these birds, and its AF performance was excellent. This was with the 40-150mm, so fully zoomed in we are at 300mm effective. But even these large specimens of the bird world are pretty small subjects. BTW, below I'll do a few comparison shots with both the 100-400mm and the 40-150mm.
It's spring time right now and there are a lot of beautiful flowers to shoot here. This will be a "real world" review. Some of the images are those subjects I enjoy shooting, and some are just for the review factor.
THE MIGHTY PANASONIC-LEICA 100-400mm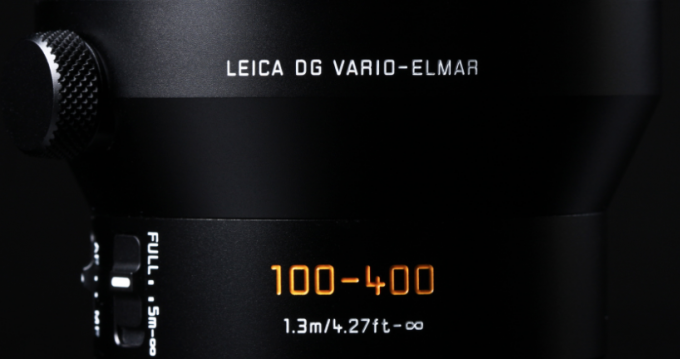 Enter the Panasonic-Leica 100-400mm! Image stabilized, effective focal length (long end) of 800mm. Before we get into the pictures, I want to state that I'm not a professional reviewer, or even photographer, just an enthusiast. I know many of you would do your own tests differently than mine. My testing was around the kinds of things I like to shoot, which don't involve test patterns. And all of these are real world, no tripods involved (well, one exception). Also, to be practical when I give a focal length, it will be what LR reports and is on the lens body, i.e. in-between 100 and 400. If you want to double the focal lengths you see given the body's crop factor that is fine by me.
WHAT ABOUT THE NEW OLYMPUS 300mm?
We all know Olympus was building and releasing their 300mm prime at about the same time. I considered this for a short time, as I prefer Olympus products and given the price of this glass, it's going to be a fine prime performer. I'd bet my 401k that the Oly 300mm will outperform the Panasonic 100-400mm handily at the same focal length. But for me, these primes are impractical. "Zoom with your feet" really doesn't work when say you are standing on a beach looking out, or trying to catch a flying bird. There have been times where I approached a sitting bald eagle with my full frame body and 400mm, and by the time I got close enough to make them fly away for a glorious picture, I can't get the whole bird in the frame – too close! At an effective 600mm, I just can't count on being the right distance from my subject. So the Oly 300mm prime is out for me.
HOW'S YOUR STABILITY?
I'm sure most readers know the camera has IBIS (In Body Image Stabilization) and the lens has its own IS. Unlike a Panasonic body mated to the lens, sadly the Oly IBIS and the lens IS do not speak the same language. From my reading, and brief testing on my own, the best option is to turn IBIS off and use the lens IS, so that is what I did.
IMAGES IN THIS REVIEW
Also, Steve told me to process as I normally would. In general, this means a few tweaks in Lightroom, 90% of the time less than one minute's work. I'll point out below when I did no post. All images were made with the Olympus OMD M5 Mk II and the Panasonic/Leica 100-400 unless otherwise indicated. Only one shot was with a tripod. Others are hand held, sometimes with me leaning against a post. Apologies in advance if I didn't test something as you would have. I really wanted to include some people shots, seeing how it rendered faces, even if that isn't a practical use for the lens, but I didn't have an opportunity to work that out.
Also, all images were exported from Lightroom using Screen/Normal sharpening. I decided to number the images, as readers often comment by number.
All right, let's hit the road.
THE SAPSUCKER STUDY
Shortly after the lens arrived, I had a lunch planned with a friend who happens to be a great and dedicated wildlife photographer. Our lunch date was to discuss an upcoming joint trip. I had thrown the Oly and the lens in the bag, basically just to show him. He's a Canon shooter too, no M4/3 experience.
When we got back to his home I opened the trunk and zipped open the bag. I handed it to him and we were chatting, but noticed a loud woodpecker nearby. I said, "let's go check this out" and he said "they usually fly away once you start staring at them."
#1 – 264mm, f/5.5, 1/2000, iso 640
Before we get to the "good shots," I want to share this one, to show you what we were up against. (And it turned out to be a red breasted sapsucker, not a woodpecker, but they still bang away on the tree.) The sapsucker is in constant motion, including jumping from one branch to another. The tree is filled with branches both in front of and behind the bird. But notice that even in this tangled mess, with center dot focus selected, the lens focused perfectly.
CLICK ALL IMAGES IN THIS REVIEW TO SEE THEM CORRECTLY!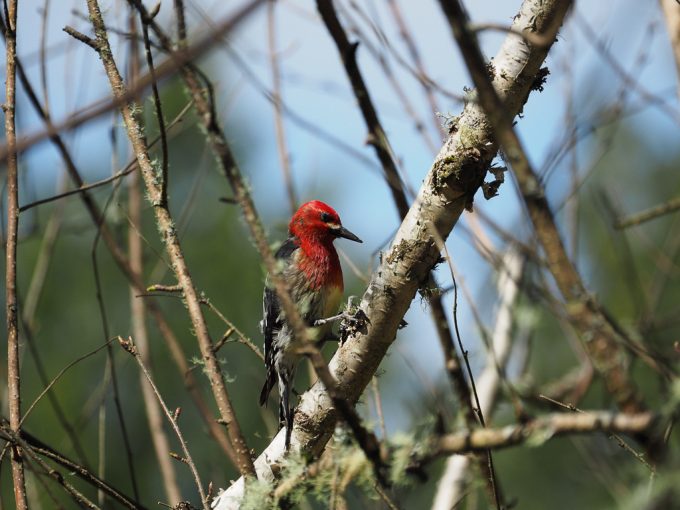 So as I began shooting, I had to move both left and right around the tree, while waiting for him to get clear.
#2 – 400mm, f/6.3, 1/1600, iso 640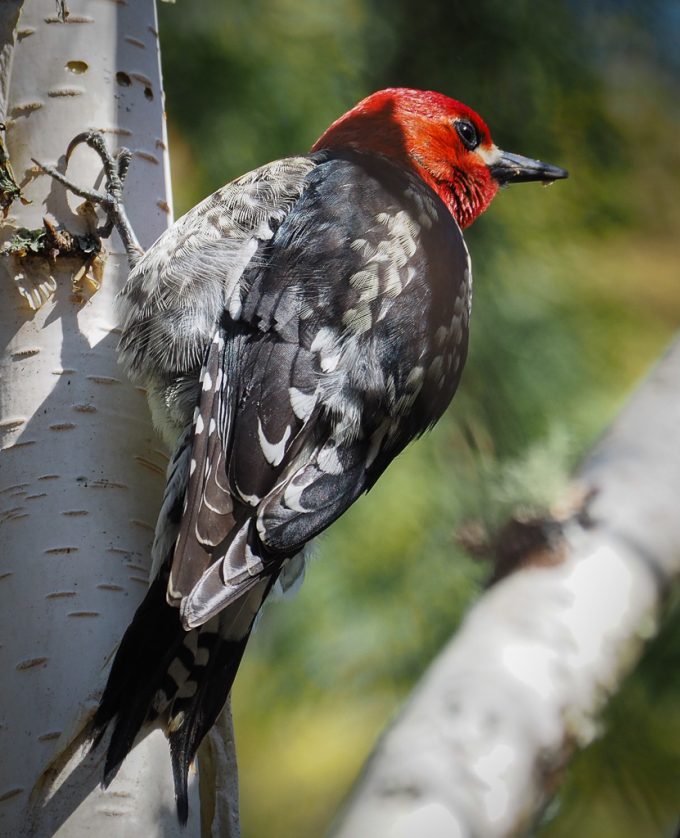 It was a pleasure to have the reach to fill the viewfinder with a bird that is just say six inches high. Here at 400mm and a distance of perhaps 20 feet, the bird and the branch are magnificently sharp.
Crop of #2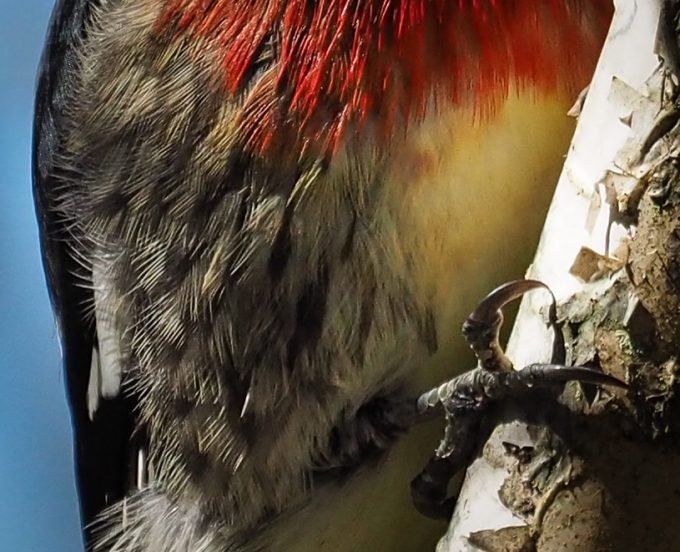 Here is a 1:1 crop from this frame. How long is that talon, 3/8"s of an inch?
#3 – 300mm, f/8.0, 1/500, iso 640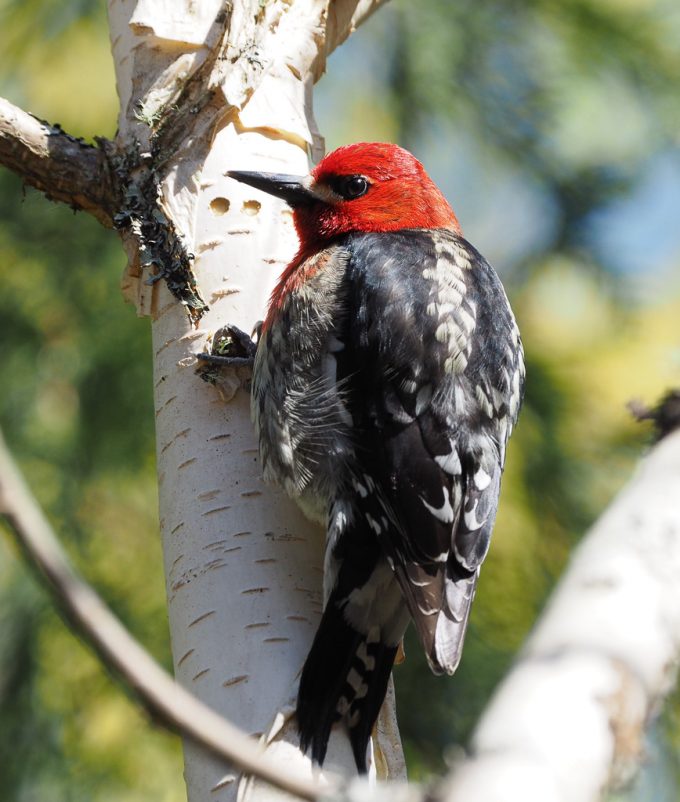 Moving along to bokeh, this certainly isn't the finest I have ever seen. And I wouldn't expect it to be, given the massive range of this lens, the f/6.3 aperture when fully zoomed, and the sub $2,000 price tag.
#3 with background smoothed in Lightroom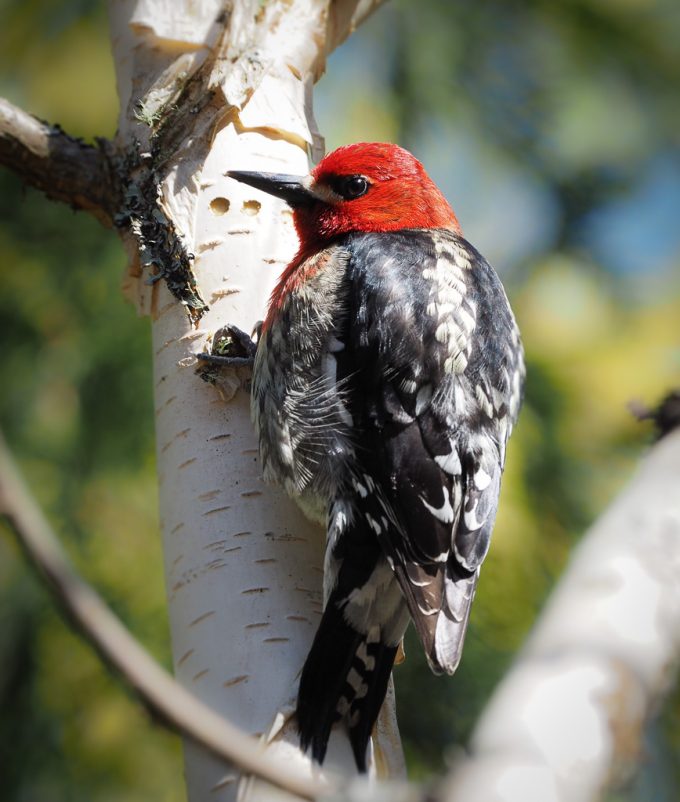 However here's what I got in about a minute in Lightroom. I used the Adjustment Brush, with the Clarity and Sharpness sliders all the way to the left. Then I went around the birdie numerous times which did a nice job of softening up the background area. I then lightened up the bird's back just a tad. Given the fact that I'd have no shot at all with most of my other lenses, I can live with this.
As I'm getting these shots and my friend and I are viewing them on the LCD, he begins getting jumpy and then dashes into the house. He returns with his amazing Canon 200-400mm, mounted on an older 1D Mk IV. I have serious lens envy, but that kind of size just isn't practical for me.
#4 – Iphone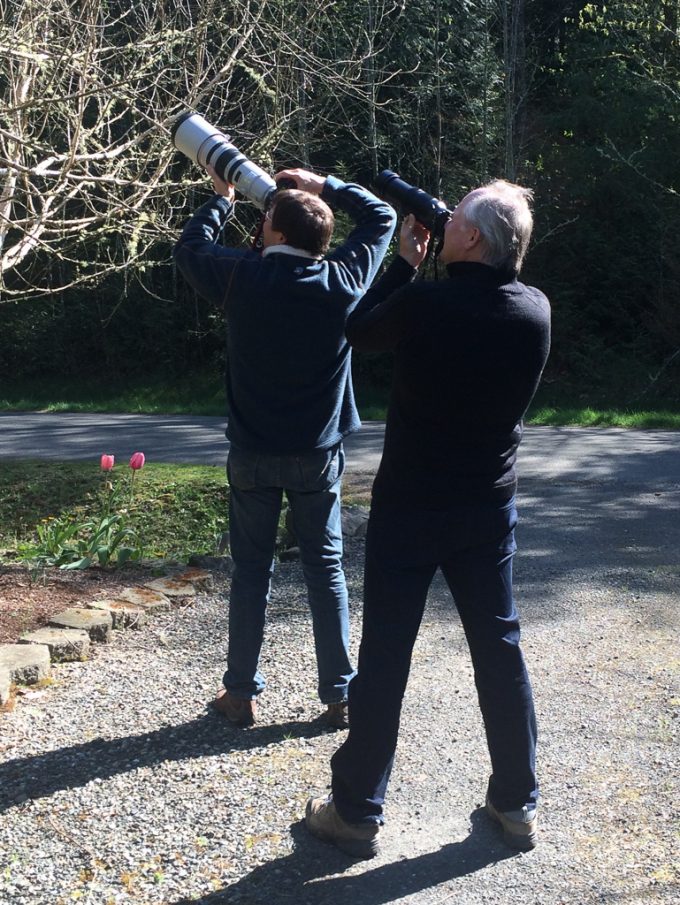 My wife got this shot of us with her iphone. Guess who can handhold longer?
#5 – Samsung S6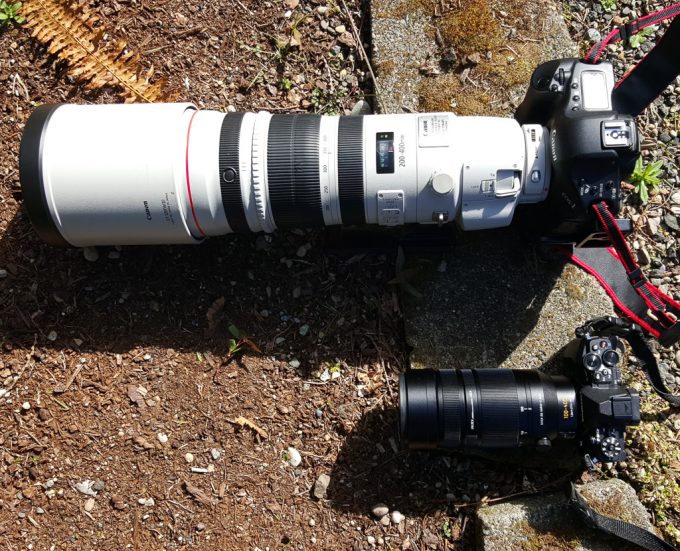 Here we have King Kong on top and Cheetah below. Interestingly, my rig is both wider and longer than his, focal length speaking. His is a 1.3 crop body, thus the "widest" is 260mm. The lens has a 1.4 teleconverter built in, so with that engaged, he's at 728mm by my calculation.
Of course I would never expect the Panasonic to compete with this Canon in IQ. However it does cost six times as much and weighs eight pounds. (My apologies, my friend didn't get any shots that he felt like sharing, so we could compare.)
IMAGE WITHIN AN IMAGE
Over the years I have found finding new compositions within my images to be very rewarding. View your image full size, set a crop, then drag the crop around in the Navigator window. It's surprising how often you can get an additional image or two from one of your shots. Sometimes even more compelling than your in-camera composition. But of course there is a penalty in terms of resulting image size, due to the crop. Not a big deal for blog/facebook posting, but would come into play say if you intend to print.
#6 – 100mm, f/5.6, 1/200, iso 400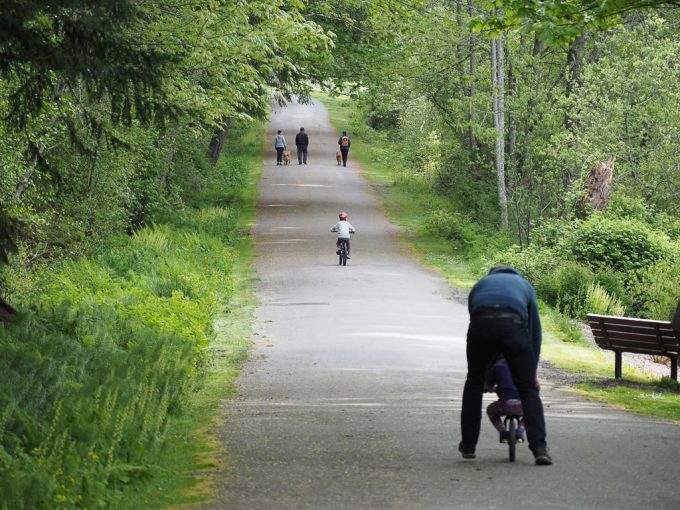 When I saw the scene above, my thought was that the child on the bike could be interesting. Looks like a beginner, the setting is quite nice, and so on.
#7 – 280mm, f/5.6, 1/500, iso 400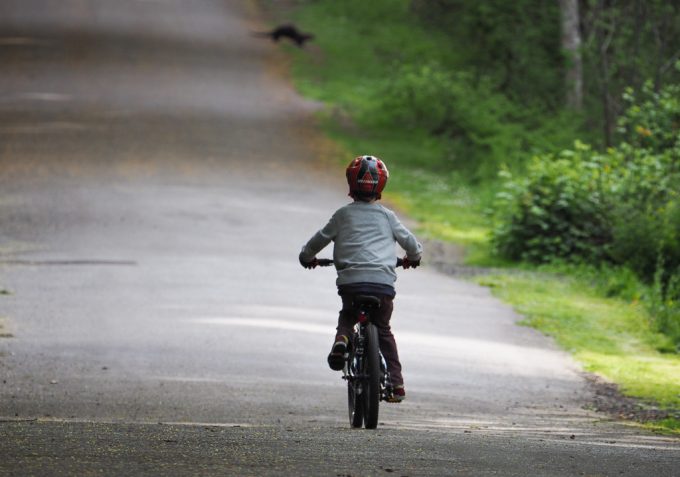 Look what happens zooming way into the scene. The rider is nicely isolated. Bonus points for my timing of an otter jumping into the scene, what do you say? Normally I'd crop that out but it's so unusual I left it in just for the fun factor. If I cropped that deep into the original image, there just wouldn't be enough pixels left for much use. I believe at the time I planned to wait for the rider to get into that sunny area, but the otter surprised me so much I lost track. (I scrambled down on to the beach to try to get him too, but he was long gone.)
#8 – 141mm, f/9, 1/640, iso 200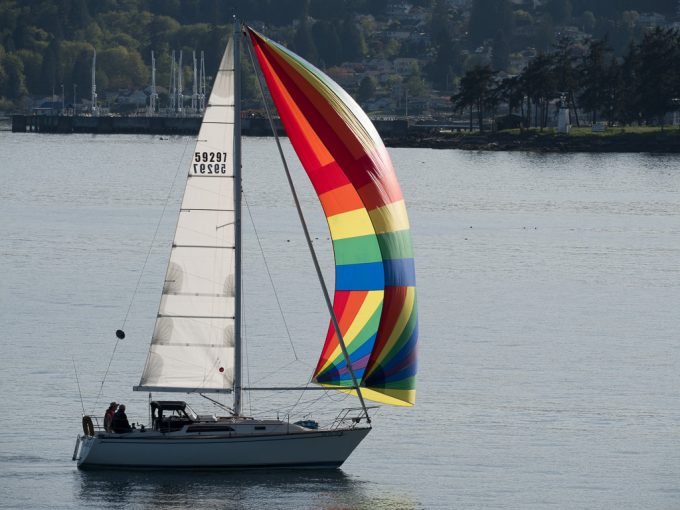 When I saw this sailboat going by, I wanted to get a couple shots just to see how clearly the lens would render the lettering and sailboat details. But thinking about this "image within an image" idea I zoomed all the way in and moved the lens around the boat.
#9 – 400mm, f/9, 1/640, iso 200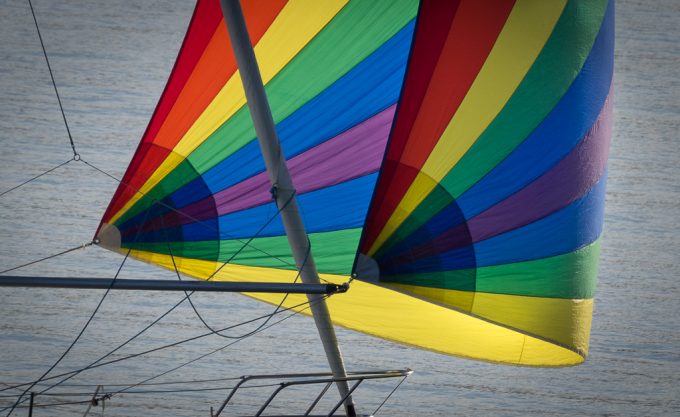 I found this colorful and pleasing composition and grabbed a couple frames.
#10 – 400mm, f/8, 1/1250, iso 400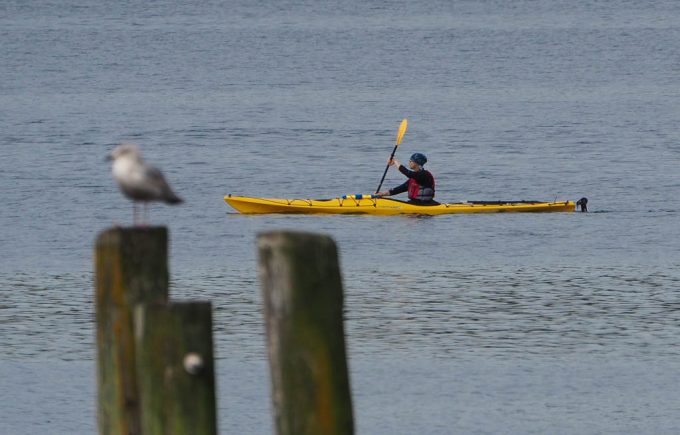 This kayak was WAY far away. I would estimate 300-400 yards. The piling and bird are about half way to the kayak. Thought it would be interesting to see how the foreground would be rendered when I focused on the kayak. This is about a one quarter frame crop!
MT. RAINIER STUDY
So I'm very fortunate to have a view of Mt. Rainier from my backyard. She's only out one out of every three to four days. There are often clouds that completely obscure her.
#11 – 70mm on a Canon FF body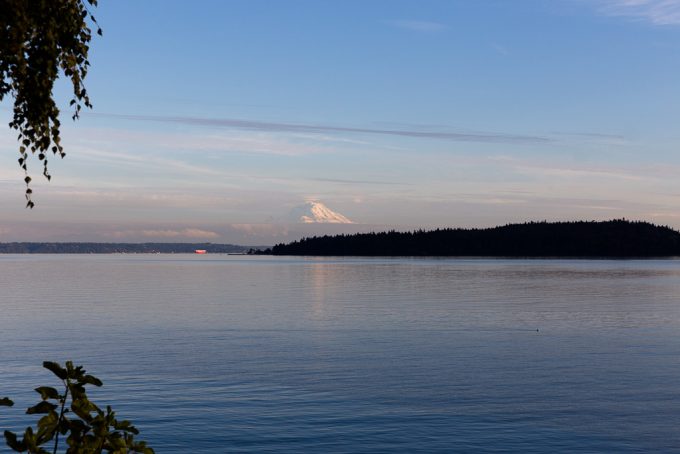 Google Earth says the summit is 60 miles from my house. I wanted to get a full frame shot at 50 mm to show you what that looks like in person. But the weather hasn't cooperated, so here is an older image I shot at 70mm on full frame. What can we do with the Panasonic 100-400mm on a nice day?
#12 – 400mm f/9, 1/800, iso 200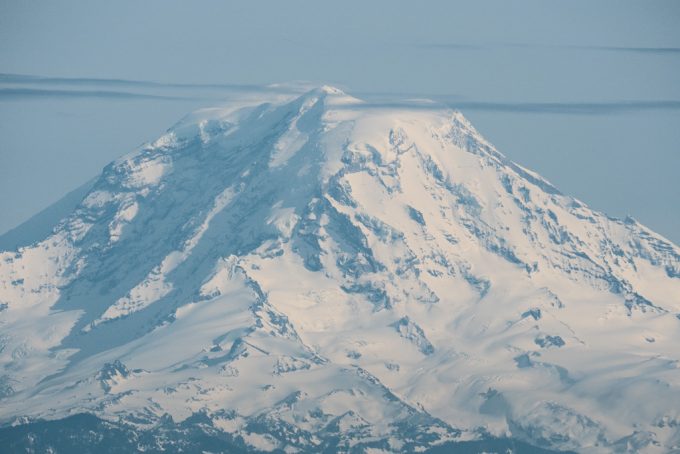 Here we are at 400mm. Handheld! Note that between our positions are Seattle's southern suburbs, as well as the Sea-Tac airport. The sky is continually filled with jets. It takes a rare day to have completely clear air, and I didn't have any while preparing this piece. So I believe some lack of sharpness here is because we are looking through 60 miles of air as opposed to lens performance.
#13 – 300mm f/8, 1/200, iso 200 – tripod mounted – 12 sec timer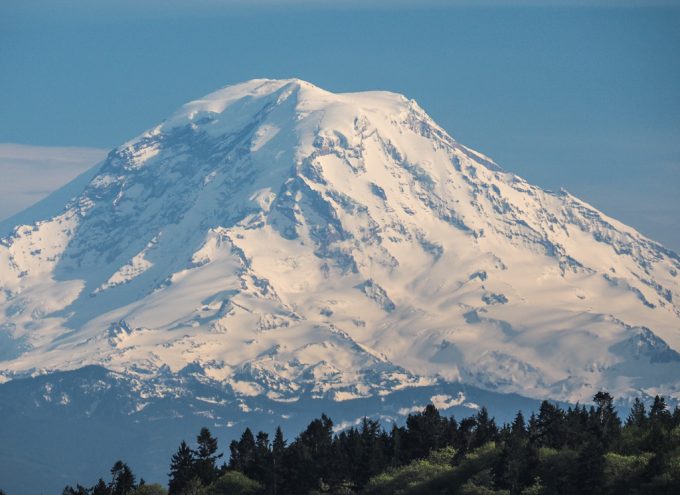 I took this one at 300mm as it includes an island that provides a little context. Used a polarizer to cut through the haze.
GOING BOATING
#14 – 100mm, f/6.3, 1/1000, iso 200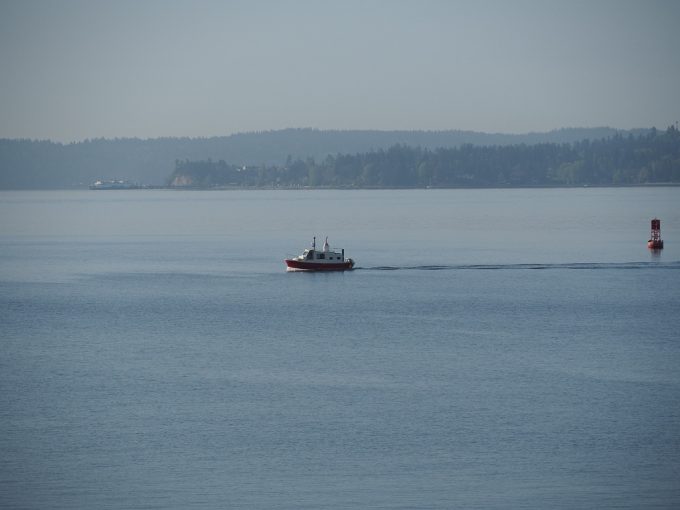 There is a continual parade of boats in front of my place. Including ferries, commercial, military and pleasure craft. Here is one that isn't real attractive but serves our purpose of seeing what this lens can do. This is a small boat, 30 feet at most. Above is what it looked like at 100mm.
#15 – 400mm, f/6.3, 1/1000, iso 200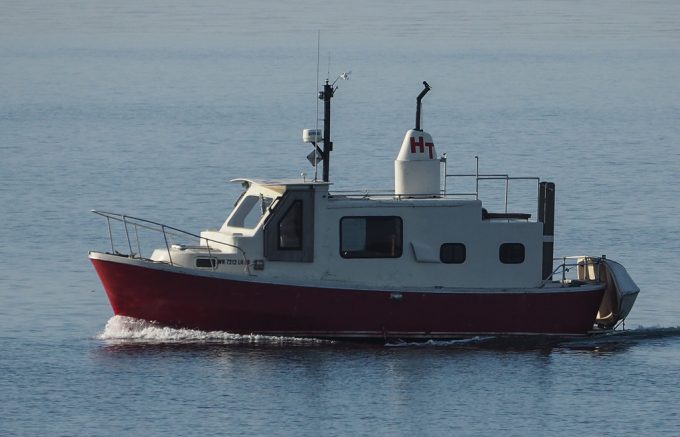 Full zoomed in. Keep in mind the boat is moving, I'm having to pan to keep up with it. Pretty acceptable detail.
#16 – 400mm, f/8, 1/2000, iso 400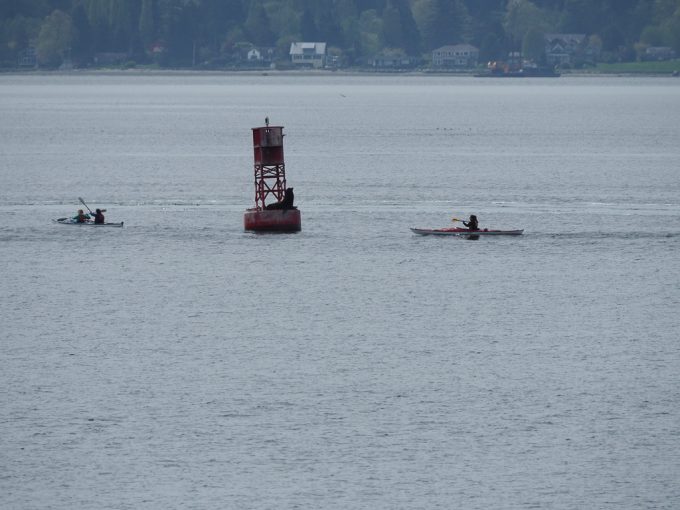 Google Earth tells me this buoy is 735 yards from my location (that's more than four-thirds of a mile).
Sea lions often jump up onto the buoy and boats and other passersby stop in for a look. In this case some kayakers. Previously I have only been able to see this kind of detail with my high powered binoculars.
#17 – 400mm, f/8, 1/2000, iso 400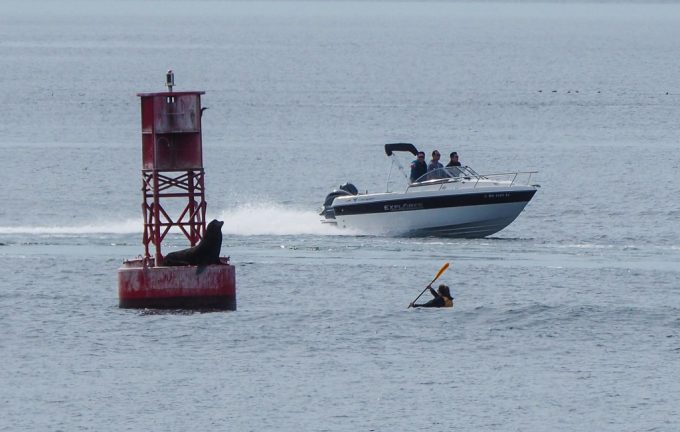 As I'm shooting this, a speedboat comes along. While I can't make out the license numbers on the bow, I can clearly read the model letters on the side. See the faded "4" on the top right of the buoy? Not bad from this distance.
#17 – crop detail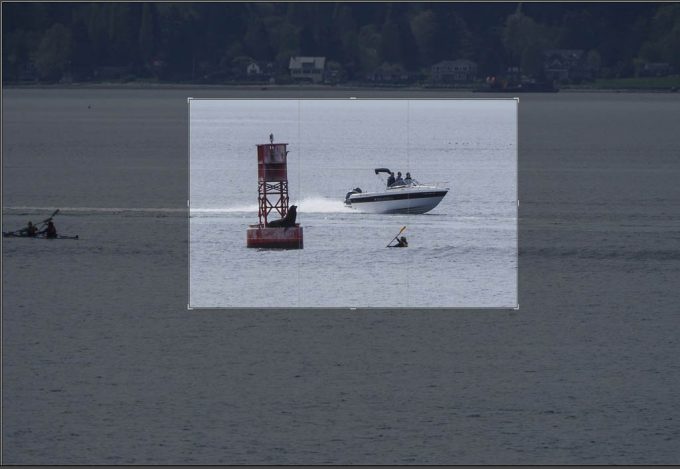 FYI this shows the crop in the boat/buoy image.
#18 – 300mm, f/8, 1/800, iso 200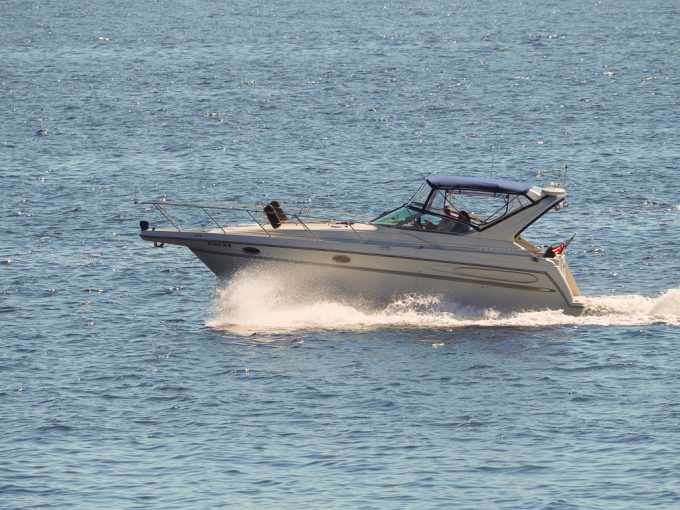 This boat was much closer. This is the uncropped shot at 300mm. Boat is going perhaps 20 mph; I'm panning. Everything looks good to me.
#18 – crop detail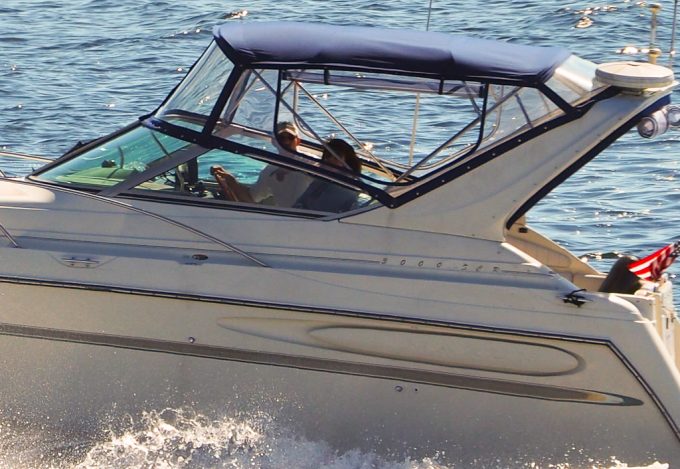 Take a look at this crop. Look straight down from the second zero in "2000." There are two openings there. The one to the right is most likely a drain from an ice chest compartment. We are talking two inches wide, at the max. I'd say that's pretty amazing detail. One can see that the dye from the canvas is leaching out and staining the hull, and this is in a shaded spot!
#19 – 236mm, f/5.3, 1/640, iso 640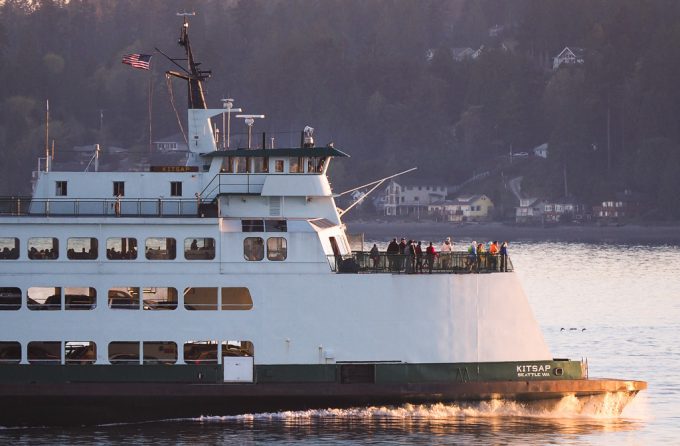 Lots of small details to look at in this ferry shot. Note that these ferries really move – about 23mph. This is a bit of a crop. Full size, it is very sharp.
#20, 100mm, f/4, 1/80, iso 1600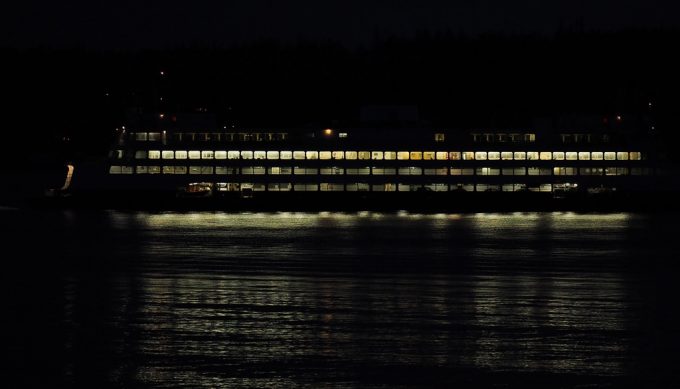 This shot amazes me. There had to be some luck involved with my panning here, given that I'm at 1/80th and the shot is very sharp. But look at that perfect focus, in the dark.
BUILDING STUDY
#21 – Panasonic 100-400 – 146mm, f/8, 1/640, iso 320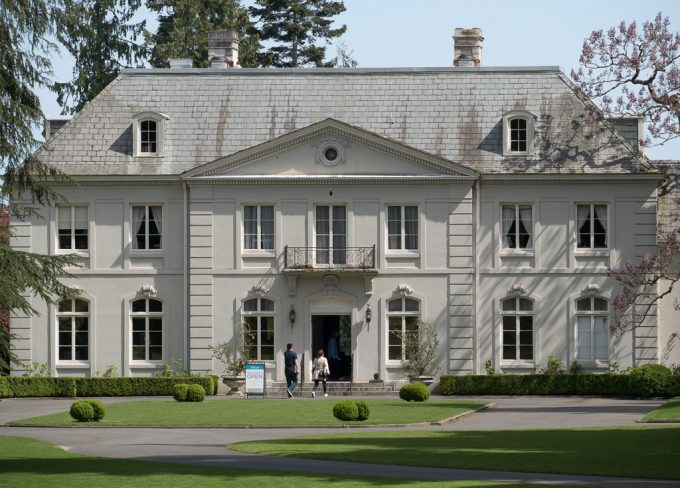 Let's get into comparing the 100-400 vs the Olympus 40-150 PRO. I really didn't expect the Panny to hold up well against this lens, but once again I am surprised, in a good way. These shots are about a minute apart. I'm standing in the exact same location, attempting to have the Panny at 150 but missing by a couple mm's. I turned IBIS on for the Olympus lens. The shot is cropped just a bit to be identical.
#22 – 40-150mm Olympus Pro – 150mm, f/8, 1/640, iso 320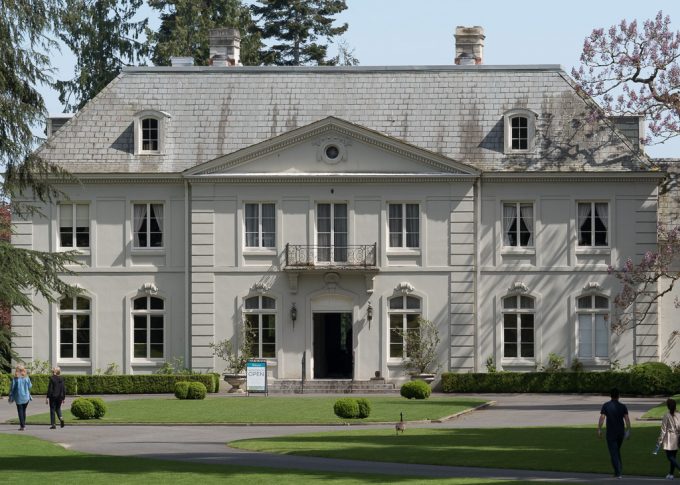 There isn't really much between these two, is there? When I look at them full screen in Lightroom's compare mode, it's hard to tell which one is which. Even the tonality is remarkably similar – the building, the sky and the grass. No post on these images by the way.
.
Crop of #21 (Panasonic Lens)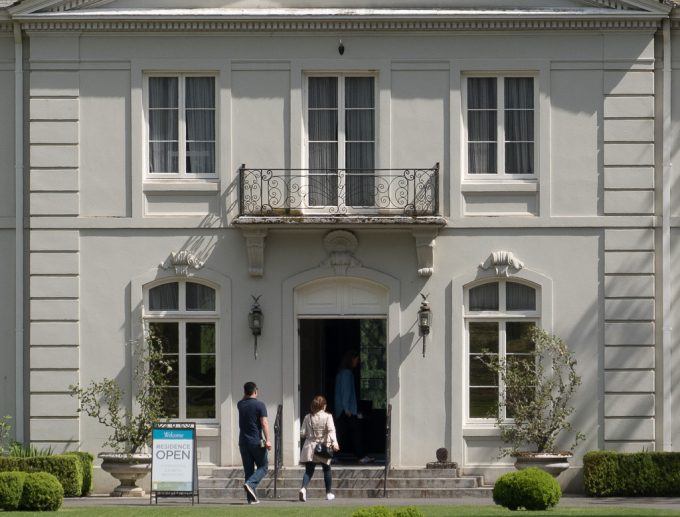 What happens if we examine crops to show us more detail? Here are crops of the same two images for closer comparison.
Crop of #22 (Olympus Lens)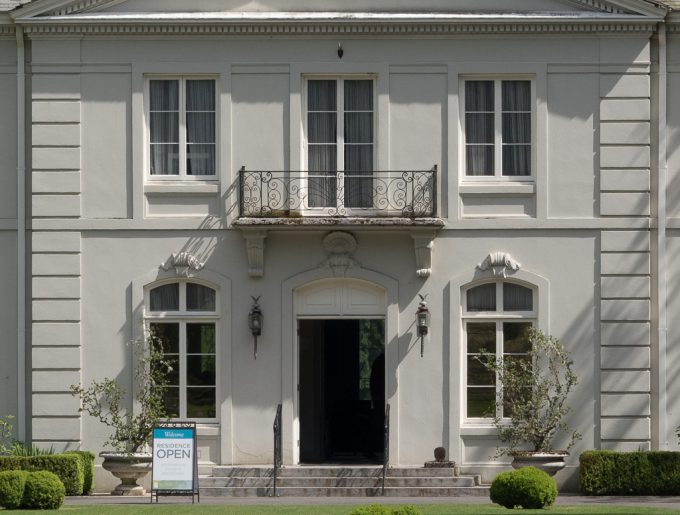 I can see the wording on the sign is a bit sharper with the 40-150 shot. The focus was on the center rectangle, so the building was the focus spot. Perhaps the result here would have been different had I focused on the sign? It's a slight difference in any case.
Crop of #21 (Panasonic Lens)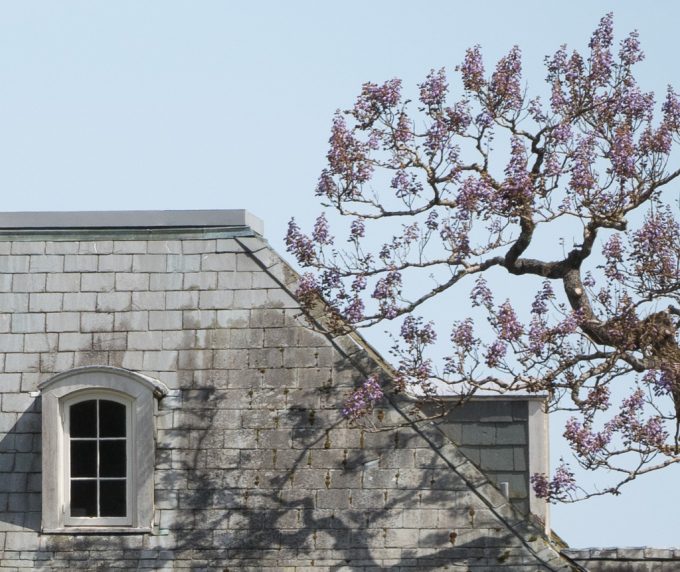 And here is the upper right corner, which I chose because of the tree branch.
Crop of #22 (Olympus Lens)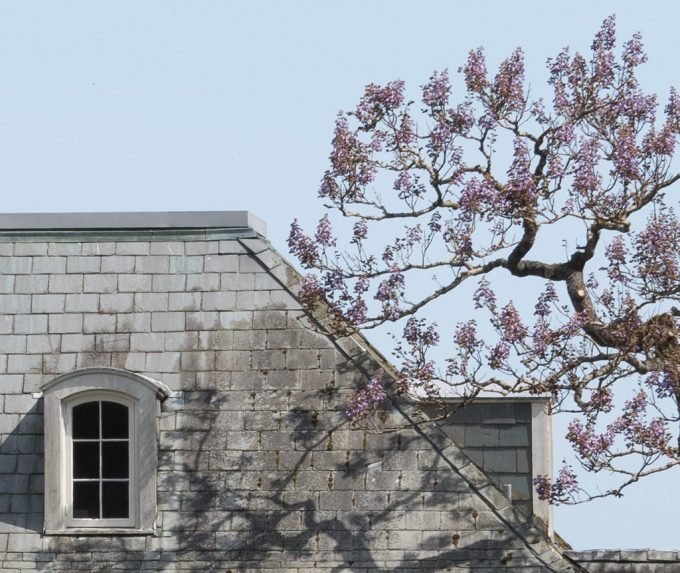 Once again, the 40-150 shows more definition, at least to my eye. But I don't think there is much to complain about with the 100-400 version.
(This setting by the way is http://www.bloedelreserve.org )
FLOWER STUDIES
#23 – 146mm, f/4.6, 1/200, iso 200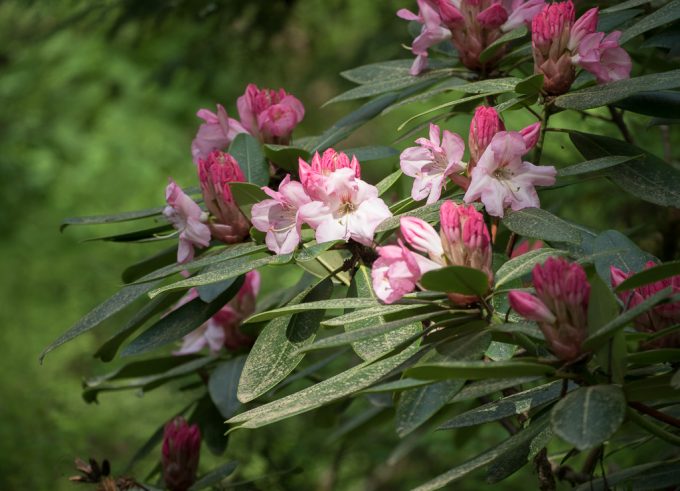 The wind was blowing these plants around, so the shots don't look as identical as they could.
I focused on the center flower in both cases. I think both images are perfectly reasonable. Kind of like the bokeh on the 100-400 shot a bit better actually.
#24 – Olympus 40-150 Pro – 150mm, f/4.5, 1/200, iso 200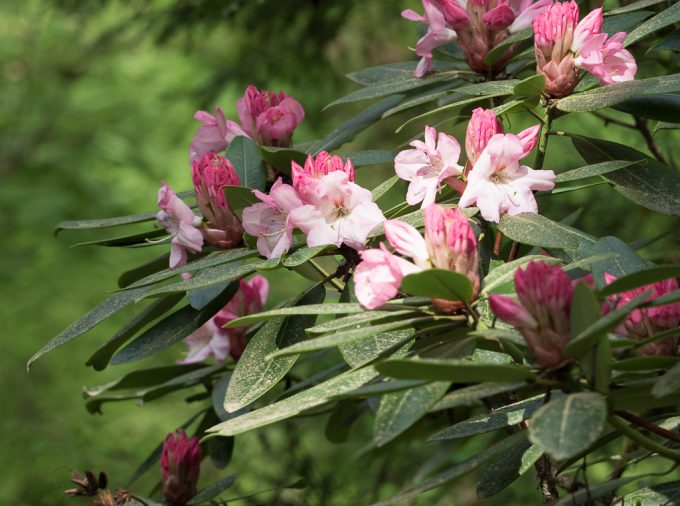 But there is definitely more detail in the lightest part of the flower with the Oly 40-150 version.
#25 – 264mm, f/5.6, 1/200, iso 200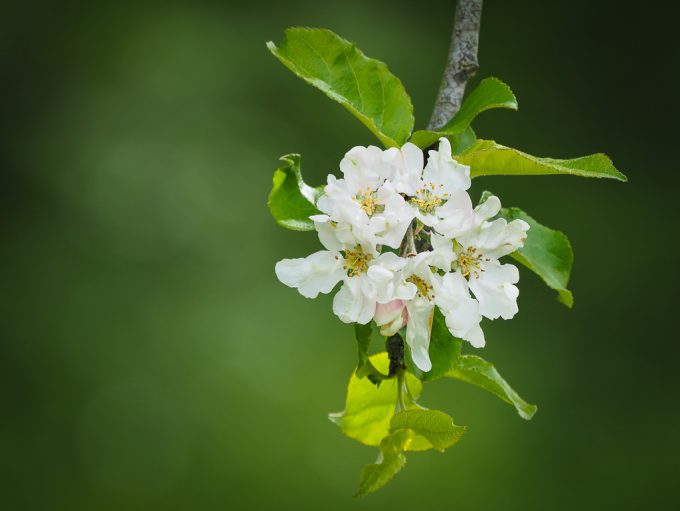 The post for this image was +38 on Vibrance, +12 on Saturation and a touch of vignette. I didn't mess with the background area at all. Gorgeous bokeh, I'm sure due to my distance to the blossoms, and then the distance to the background.
#26 – 236mm, f/5.3, 1/1250, iso 1600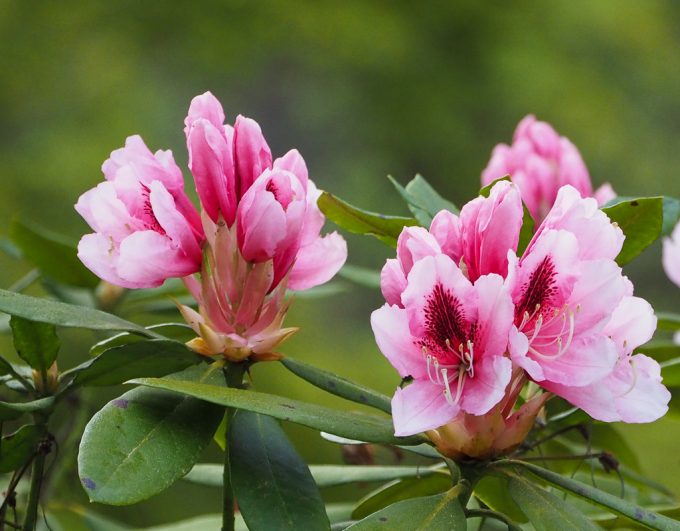 Just a touch of Vibrance.
#27 – 400mm, f/6.3, 1/250, iso 640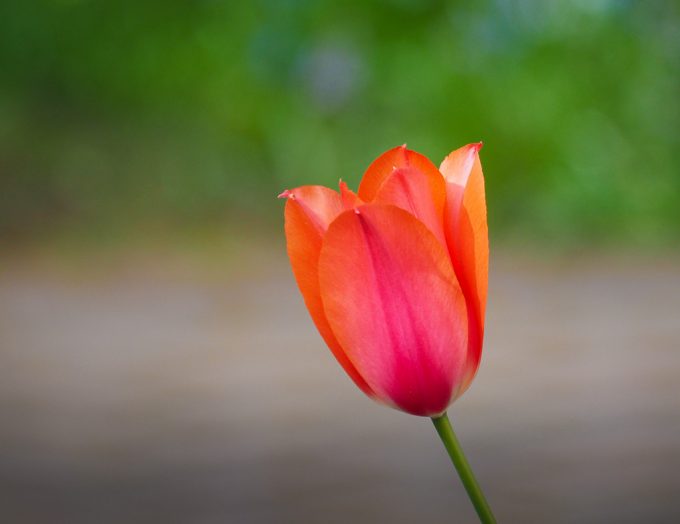 I came across this tuilip in someone's yard and thought it would be interesting to see what the lens did with the very busy background. I added Vibrance as well as a graduated filter at the bottom in post, but left the background alone. Using the adjustment brush with de-Clarity would fix that right up.
#28 – 100mm / f/5.6, 1/250, iso 500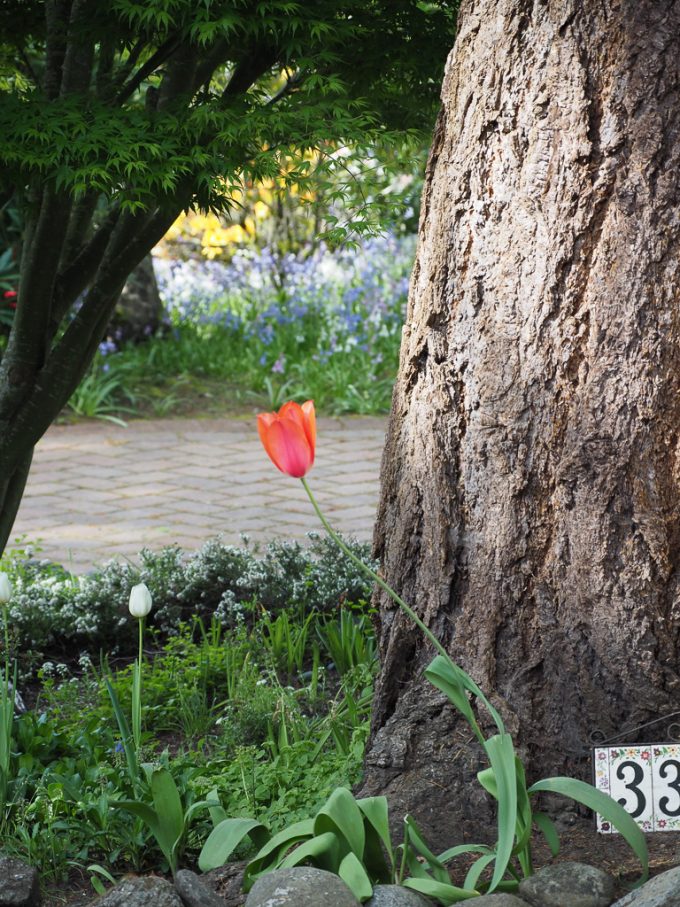 Here is the scene, from the exact same spot, minimum focal length.
#29 – 100mm, f/4.5, 1/200, iso 1600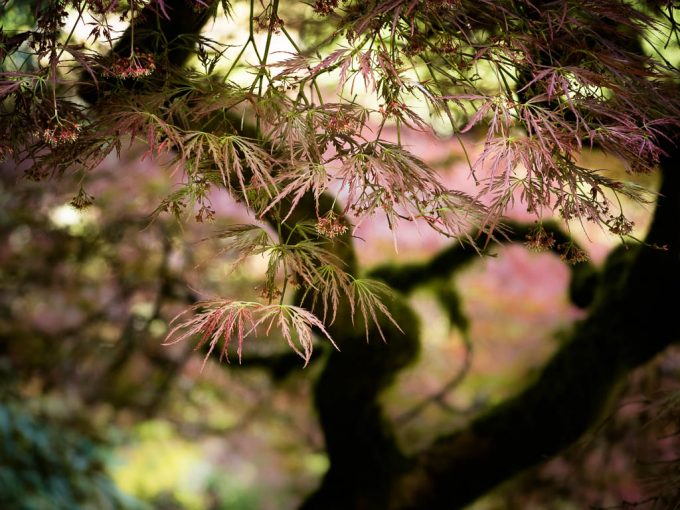 Another shot from someone's yard.
#30 – 146mm, f/4.6, 1/1250, iso 200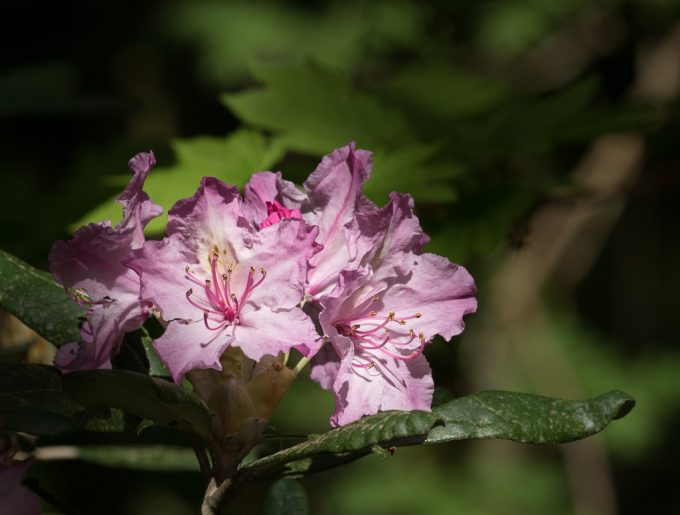 One more, just to show that a background doesn't have to be completely blurred to add to the image.
BIRD STUDIES
#31 – 400mm, f/6.3, 1/640, iso 500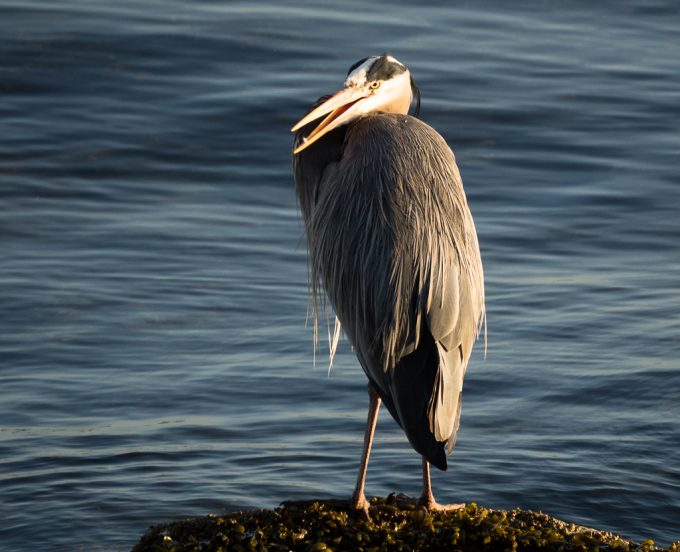 We have some spectacular birds in our area. On the larger side, we have Great Blue Herons and Bald Eagles. Wasn't fortunate enough to get any Bald Eagles but Ms. Heron decided to join in the fun.
Herons are very aware. They are able to get airborne with one leap of those long legs. So they don't fly off unless you get too close. Given their great size, in the past I have gotten some nice images with my full frame Canon and 400mm fixed, approaching very slowly.
#32 – 318mm, f/6.3, 1/640, iso 200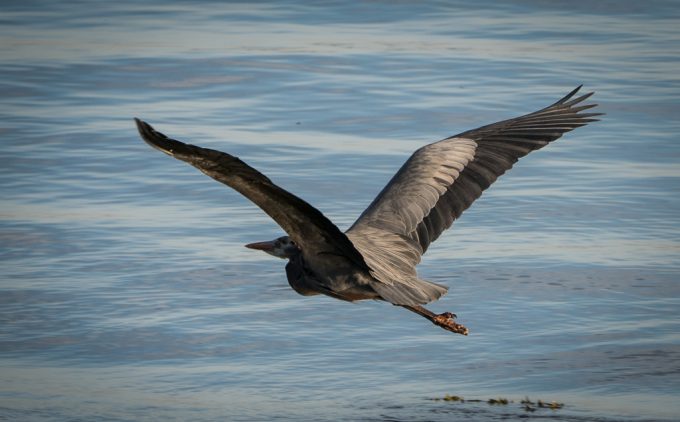 These birds are a joy to see in flight. They are gorgeous and graceful. Unfortunately they will show their tails in nearly all shots. That is because if you approach from the side, they fly the opposite way. If you approach from the back, as I did here, no matter which way they go, you only see the back. I really need to try this from a kayak or boat.
They are also smart and often wait to fly off until you look down at your footing, back of your camera, etc. So you have a very small reaction time. To me the important thing about this shot was that I sensed the takeoff, raised the camera, framed, autofocus was instant, and I got a crystal clear shot.
There's just no griping about autofocus with this lens.
#33 – 400mm, f/6.3, 1/640, iso 500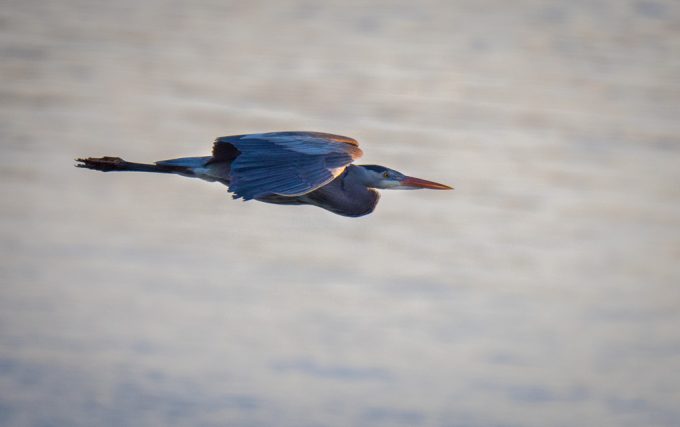 Here is an even better test. I was out on my deck, which is about 75' above the water. I believe I was shooting the Harlequin ducks when all of a sudden I see movement in the sky. I instinctively raise the camera, get focus and shoot. No time to play with any settings. And we have a crystal clear shot in glorious focus.
#34 – 400mm, f/6.3, 1/500, iso 500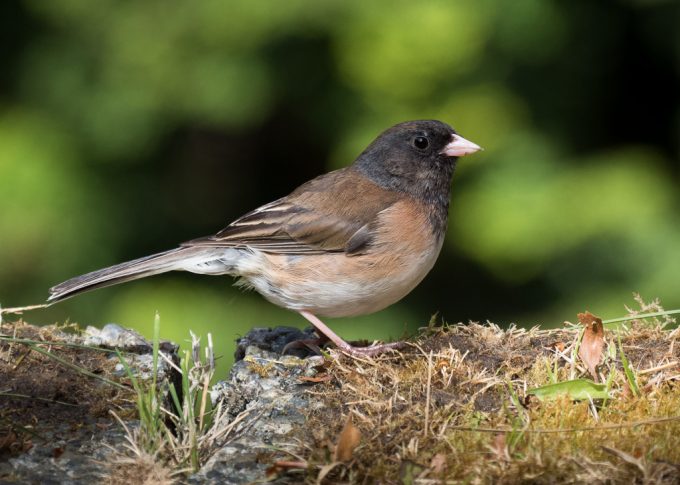 I was very close to this tiny bird, about 15-20 feet. This bird is perhaps 6 or 7 inches beak to tail. There was a concrete half wall between the bird and I, perhaps that is why it didn't fly off. At 200mm on a full frame, this wouldn't be much of a shot as the bird would be too tiny for any usage. Very impressed with the lens in this situation. The definition in the feathers seems just about perfect to my eye.
#35 – 400mm, f/6.3, 1/500, iso 500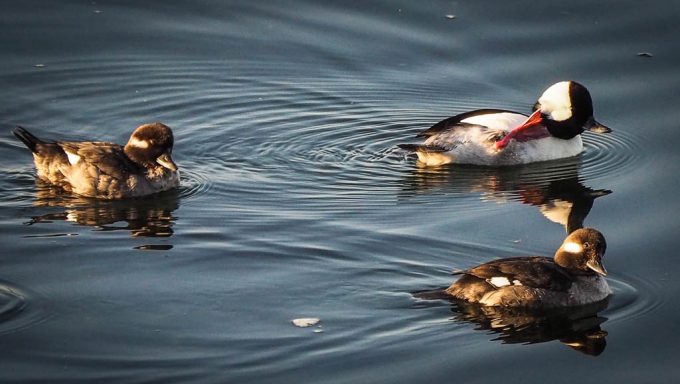 Mallards are relatively large, but at this distance, only this sort of focal length will create any type of reasonable image. This is a crop – about one-third of the frame.
#36 – 300mm, f/8, 1/500, iso 800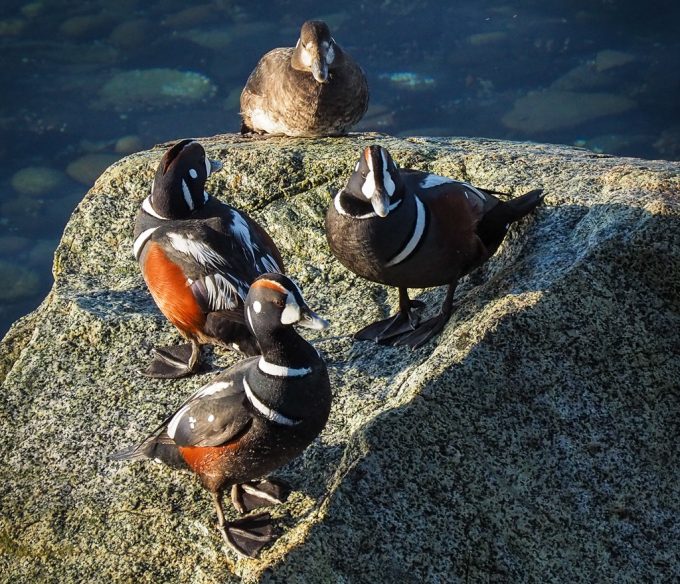 These harlequin ducks are regulars in my back yard every Winter/Spring. They are extremely shy and fly off basically as soon as they see you. I have never gotten a decent shot of them until now. This shot was taken from about 100 feet away. I'm far enough back that they don't panic.
#37 – 318mm, f/8, 1/640, iso 500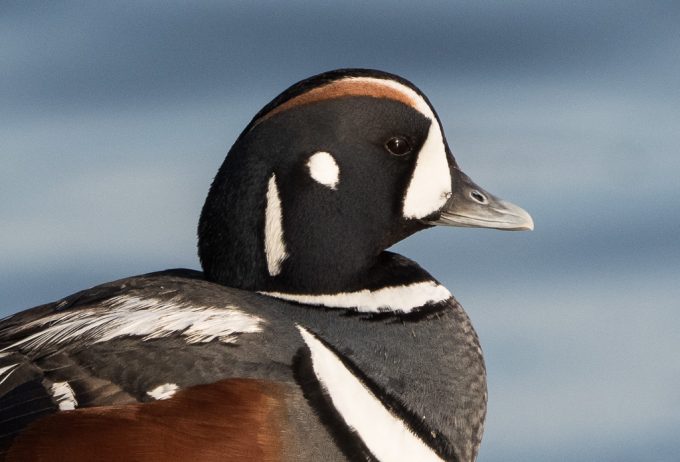 Having this range leads to some compositions I have never been able to consider before.
TELEPHOTO-MACRO?
#38 – 400mm, f/6.3, 1/800, iso 320
While shooting the ducks, walking back to my house, I ran into this lizard. Pretty good size, probably 9″ long. Why not give it a try? Minimum focusing distance is 1.3 meters, which is where I was (moved a bit back and forth until I got focus lock.)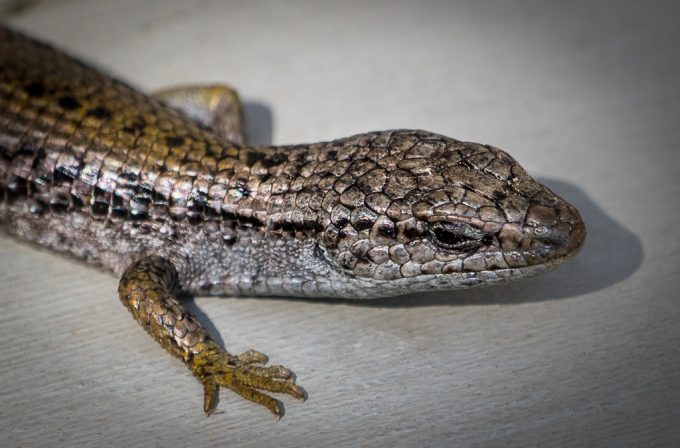 CONCLUSION
I like this lens a great deal. I have never had this kind of reach before, and for some of the subjects I like to shoot I feel it will be invaluable. I'm very impressed that the IQ compares "quite well" to the Olympus 40-150mm. If I was going on a trip where I wanted this extra reach, I'd have no problem leaving that Oly lens at home, maybe throwing in a couple of Olympus primes for the intermediate range.
All things considered, this is an effective 800mm lens that is 6.5" long (collapsed) – a modern marvel, in my book anyway.
Would really have been nice to compare my images with my friend's, with his Canon bazooka. Especially since his older body is also a 16mp like the OMD M5 II. But I'm not trying to get into NatGeo with my images. I especially appreciate the size/weight/value proposition of this Panasonic lens. His outings with that lens are few and far between, whereas I can bring this lens along anytime I want.
Although I didn't show these images, for a while it appeared to me that images at 300mm were superior to those at 400mm. I did some test shots and cropped the 300mm ones to see an equivalent. Upon review, my thoughts just didn't seem to hold up. I didn't see any significant degradation at 400mm vs 300mm.
#39 – 400mm, f/8, 1/800, iso 200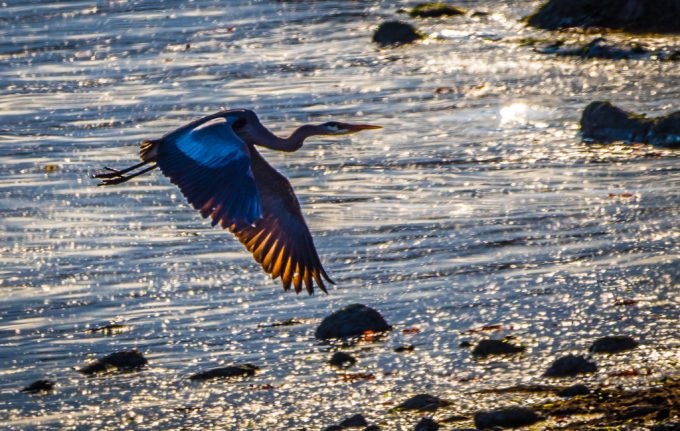 If you want to be able to shoot anything moving, quick AF is a must. This lens has it. I was down by the beach having a cocktail with my wife this evening. I noticed this heron feeding. I took some shots of her wading, but really she was just too far away, even at 800mm, to make an interesting composition. Somewhere between 100 and 150 yards. I didn't even have the camera to my eye when I sensed the movement. Quickly raised, got focus, fired. I love this artistic rendering, with the sun more or less directly behind the heron.
Of course I wish Olympus and Panasonic would cooperate such that the body-lens combo would use both IS systems. But these results are plenty good IMHO. Every single body/lens combo is a compromise in one way or another. Even a brand new Leica SL with the 90-280 zoom could not get many of the shots on this page, not being able to reach out to an effective 800mm.
#40 – 400mm, f/6.3, 1/1000, iso 1250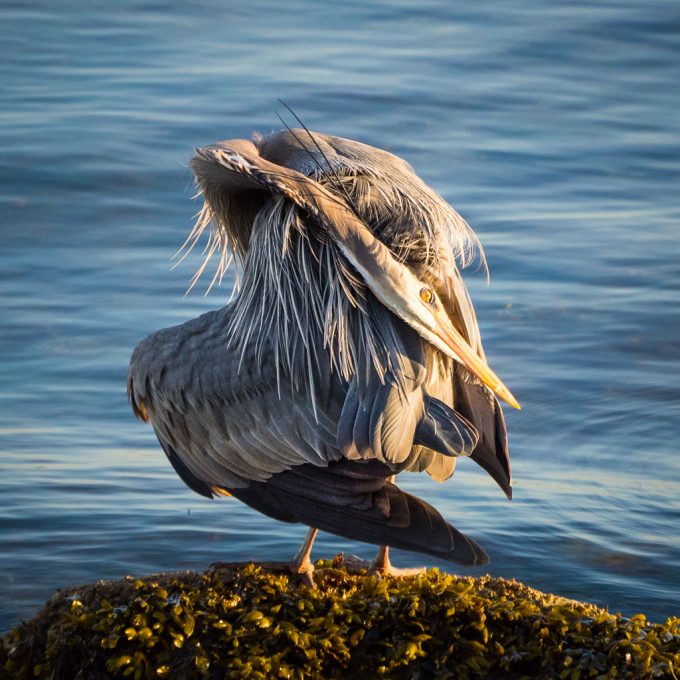 I'm closing with this one last image. First, it is my favorite image in the review. The camera and lens performed perfectly, the lighting was favorable, and Mr. Heron contorted himself into this wild position. This is a crop, it's about 60% of the frame. Imagine the FF Body/800mm lens it would take to get a shot like this? I could own one, but it is doubtful I would be all set up with it to capture this moment.
Which brings me to my very last thought (finally! You are thinking). Had it not been for needing to go shooting for this review, I wouldn't have a lot of these shots. As I'm quite pleased with many of them, this is a reminder to us all to get off the computer and get shooting. It's a beautiful world, and at least for me, this lens is going to help me capture that much more of it.
Thanks Steve once again for your site. Thank you to my fellow photographers for reading and I hope this is helpful.