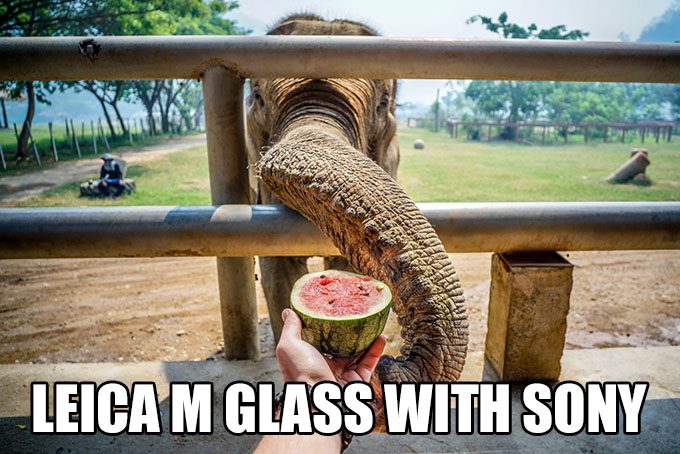 Thailand with M glass and the Sony A7rII
By Guillaume Dutilh
Travel photography has always been a compromise between quality, bulk, weight and inconspicuousness. Being a minimalist at heart, putting together a travel friendly photo system that would deliver on all these points was a fun challenge to tackle. I used to shoot Nikon full-frame bodies paired with Nikon's top glass and while the quality was there, the combos quickly became too heavy and cumbersome to carry around. That's when I decided to switch to the A7 system. But as Sony would release new lenses, I'd fall back into the trap and buy them! I quickly realized that I was facing the same issues as with the Nikon gear: my kit was getting too heavy and bulky again!
A Thai makes lucky charm bracelets – Zeiss 50mm f/1.5 Sonnar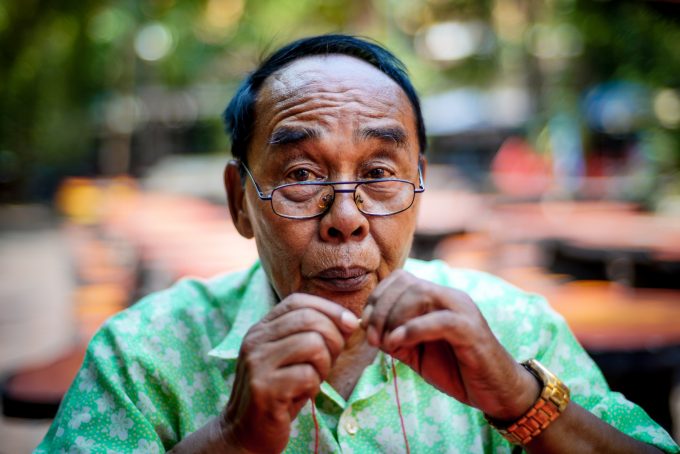 –
Thais maneuvering their longtail boat in front of Koh Tao's smoggy sunset – Leica 135mm f/4 Tele-Elmar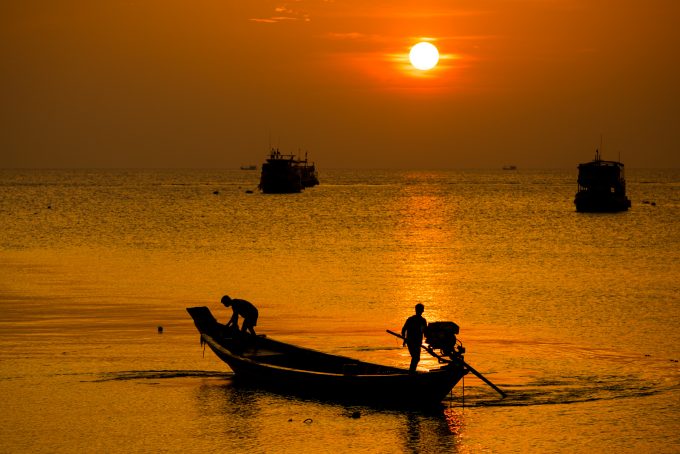 –
I recently had the opportunity to travel to Thailand for three weeks. It was a backpacking trip and I committed to embracing that lightweight aspect of traveling, even if it meant leaving some of the photo gear home. I'd pack all my belongings in a 33L backpack and all my photography gear in a very small messenger style shoulder bag. To keep the kit minimal yet versatile, I chose all M-mount rangefinder lenses and I did my best to keep the total cost as affordable as possible (for M-mount lenses that is)! Being a scuba diver too, I packed a GoPro, RX100III and underwater housing in the backpack, but in hindsight wish I hadn't. For the purpose of this article, I'll ignore the underwater gear and just consider it just wasted space and weight added to my pack.
Feeding rescued elephants at Elephant Nature Park – Voigtländer 15mm f/4.5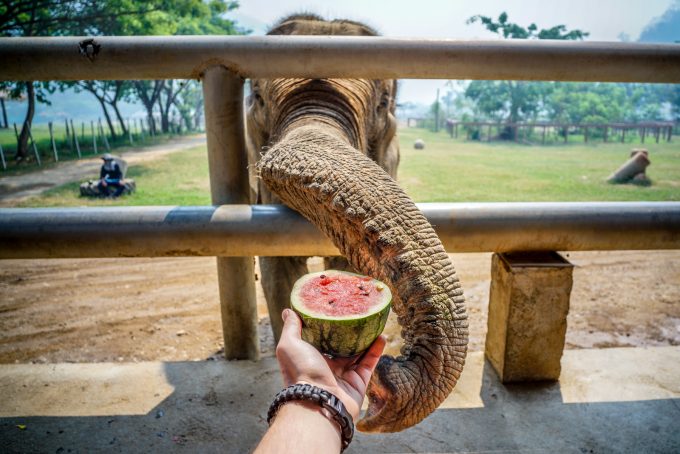 –
Buddhist statue in Chiang Mai – Zeiss 50mm f/1.5 Sonnar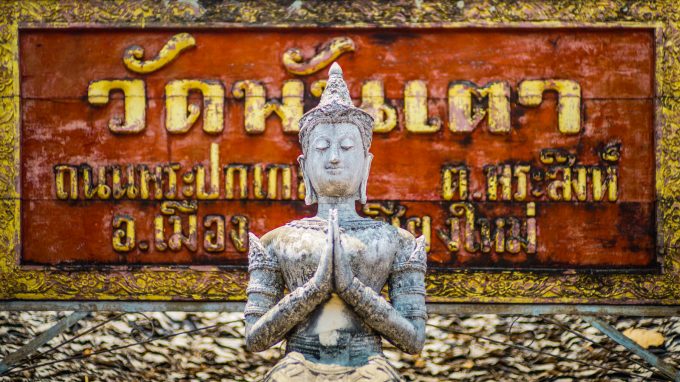 –
Everything I packed fit in a carry-on sized backpack and camera bag. I won't lie, I was pretty proud of the achievement! Here is the photo kit I ended up with for Thailand:
Sony A7rII
Voigtländer Close-Focus Adapter
Voigtländer 15mm f/4.5 II Heliar
Voigtländer 21mm f/4 Color-Skopar
Leica 40mm f/2 Summicron
Zeiss 50mm f/1.5 Sonnar
Leica 90mm f/4 Macro-Elmar
Leica 135mm f/4 Tele-Elmar
Batteries, memory cards, filters, tools, tiny tripod, small flash, remote, white balance card, small air rocket, cloth, Peak Design strap, pen, lens-pen
It was a little tight but everything listed above fit in a cheap and tiny water-resistant Bestek messenger shoulder camera bag.
The entire travel photo kit!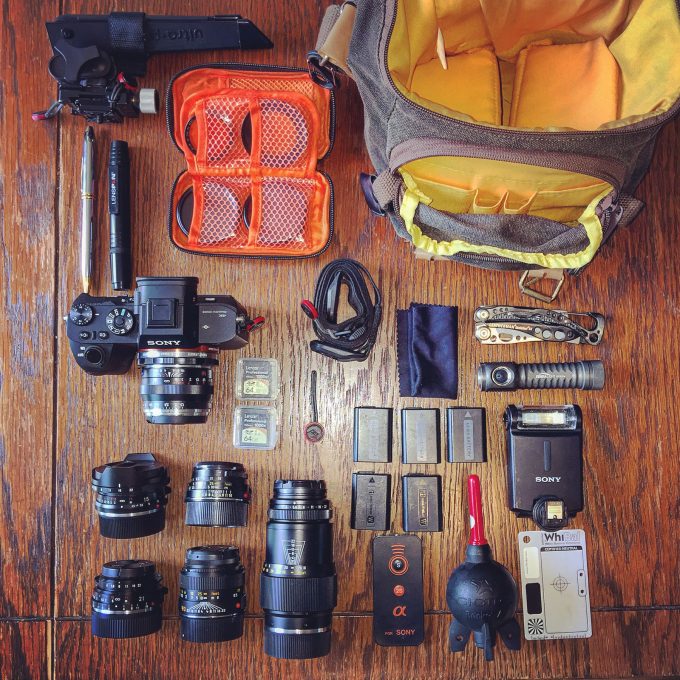 –
I already owned the 15mm and 40mm lenses before this trip. I even had a tiny Leica 90mm f/2.8 Tele-Elmarit but sold it and splurged on the Macro version because it's slightly better and collapsible. One of the main reasons I picked the 21mm, 40mm, 90mm and 135mm is because they all use the same 39mm filter thread, greatly simplifying filters. I also splurged on the 50mm because I've always wanted to play with that lens.
Standing Buddha in Bangkok – Leica 90mm f/4 Macro-Elmar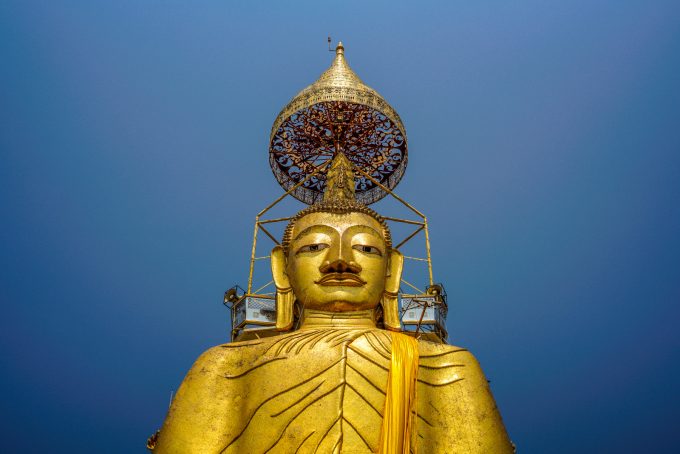 –
Tourist traps outside of Doi Suthep in Chiang Mai – Zeiss 50mm f/1.5 Sonnar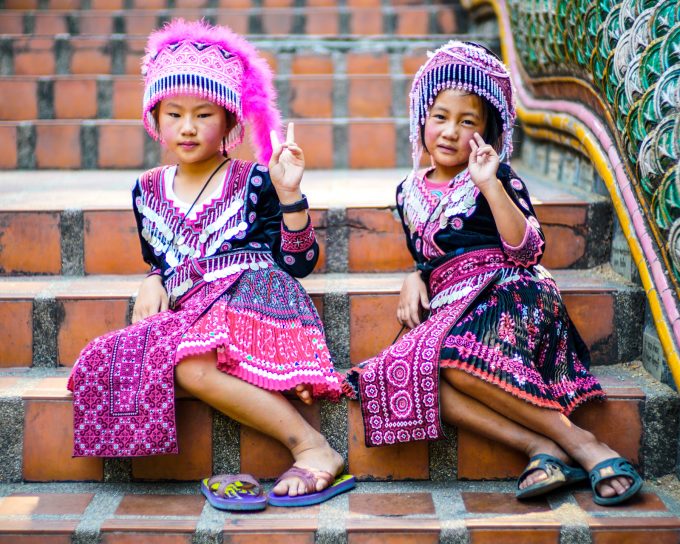 –
Let me tell you, exploring Thailand with such a small kit was an eye-opening blast. I can't imagine myself traveling any other way, it's just not worth it. Here is a brief write-up of my impressions about each lens paired on the A7rII.
Voigtländer Close-Focus Adapter: this guy is a no brainer for mounting M-mount glass on the A7 system (or any E-mount for that matter). It's very well made and allows for much closer focusing distances than with standard adapters. I was hoping I'd receive the new Techart autofocus adapter for the trip but it didn't make it in time. That being said, I've played a little with the Teacart since and while it works ok (only tried it on the 50mm), it searches a bit, is loud and bulkier. It also gets in the way of the L-Plate I use on the camera, making it almost impossible to use a tripod with an Arca-like plate. But, when it's not searching for it, it does nail the focus nicely. After playing with it though, I realized I didn't miss it.
Thai Tourist helper – Zeiss 50mm f/1.5 Sonnar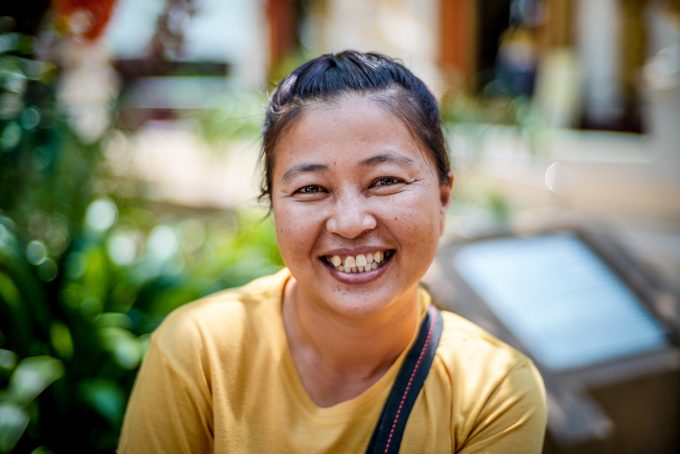 –
Voigtländer 15mm f/4.5 II Heliar: This one was a little weird. For whatever reason, 15mm ended up being either too wide or not wide enough for what I was shooting. Maybe I'm not very good with super-wides but I just couldn't find the right framing with it so it didn't make it out of the bag very often. I might sound like an extremist minimalist but the 52mm filter diameter was a little too big for my taste! Corner performance isn't the best out there but is still acceptable. Vignetting is probably more of an issue than smearing, but not that much of deal breaker either. I still love the lens for its small size and acceptable image quality. I also own the new Voigtländer E-mount 15mm and while it does perform better, it is significantly larger and has an even larger filter thread. For these reasons, I'm still unsure of which one to get rid of!
Koh Tao secluded beach – Voigtländer 15mm f/4.5 Heliar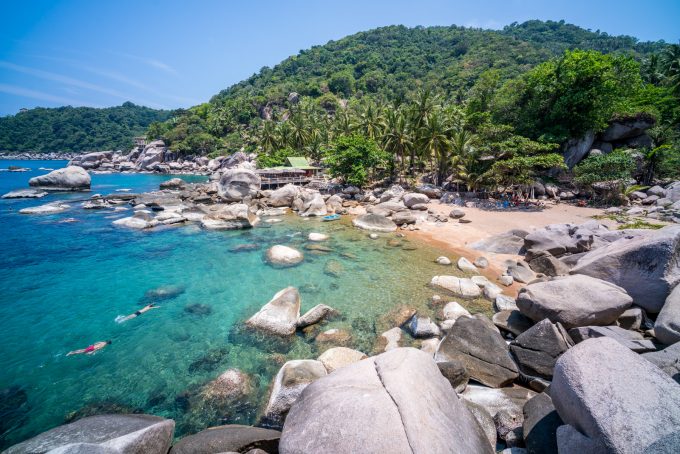 –
Voigtländer 21mm f/4 Color-Skopar: Awesome little lens! Sure the corners aren't 100% perfect but they are still pretty darn good. The 39mm filter threads and microscopic size make this lens a winner in my book. It pairs beautifully with the A7 system making for an extremely compact and discrete system.
A blind elephant at the Elephant Nature Park – Voigtländer 21mm f/4 Color-Skopar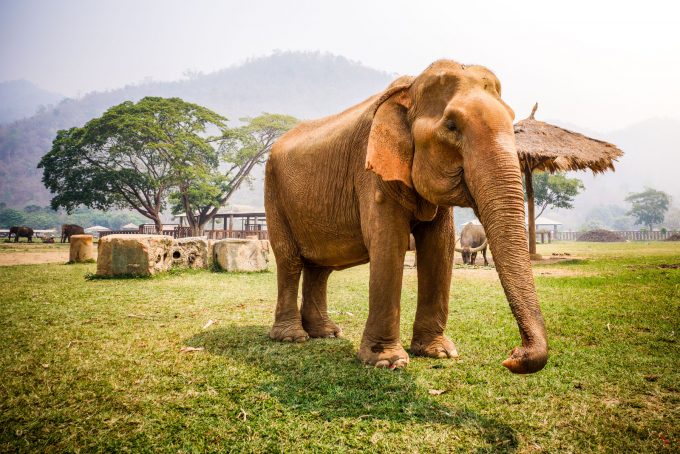 –
Leica 40mm f/2 Summicron: I owned this lens before Sony came out with the A7 system. It doesn't have the most pleasing bokeh and is not the sharpest lens on the A7rII but I still love it for it's mini size and 39mm filter threads (I'm sure you are picking up the pattern here). I wanted a lens between 21mm and 50mm that would have corners more usable then the Zeiss 50mm, which I why I packed this one. It's about the same size as the 21mm, so small misplacing it on the bag is almost a consideration! In the end though, I didn't shoot it that much.
The back side of Maya Bay in Ko Phi Phi – Leica 40mm f/2 Summicron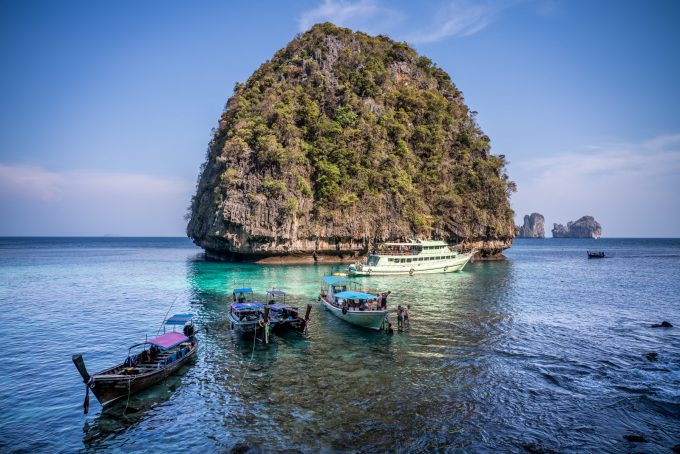 –
Zeiss 50mm f/1.5 Sonnar: This lens is just pure joy to shoot with. It was never designed to be sharp in the corners and therefore won't be, even at f/8. If you know that going in and are OK with it, it'll reward you with beautiful captures and a unique look in a very small package. I actually like the pop, colors and contrast of this lens better when it's shot wide open than when it's stopped down, even when shooting a distant subject. The 3D effect is intense and bokeh of course is creamy. Ironically though, the out-of-focus corners are somewhat sharper than the out-of-focus center. The only drawback I can think of is the 46mm filter threads. It is now the main lens attached to my A7rII.
Frighteningly realistic wax statue of a Monk – Zeiss 50mm f/2 Sonnar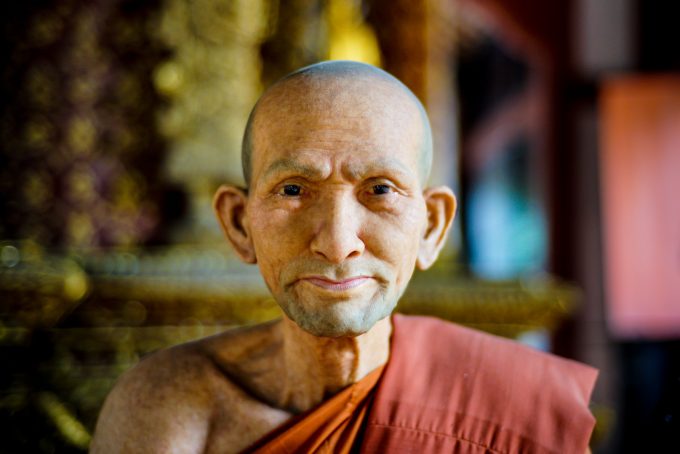 –
Leica 90mm f/4 Macro-Elmar: Stellar performer, nothing bad to report here. I picked it because of it's super small size, especially collapsed, and 39mm filter threads. Paired with the Voigtländer close-focus adapter, it gets decently close but I'm not sure I'd praise its macro ability just yet. I used to have the Sony E-mount 90mm f/2.8 macro, so it's tough to compare the macro performance of the Leica to the excellent Sony lens (that I ironically sold because I didn't find myself shooting much macro, and it was huge). More testing needs to be done with the Leica close-focus adapter (I didn't carry it on the trip). Maybe even some extension rings? Did I just say I didn't shoot macro much?
One of the many colorful crabs in Thailand – Leica 90mm f/4 Macro-Elmar (and flash)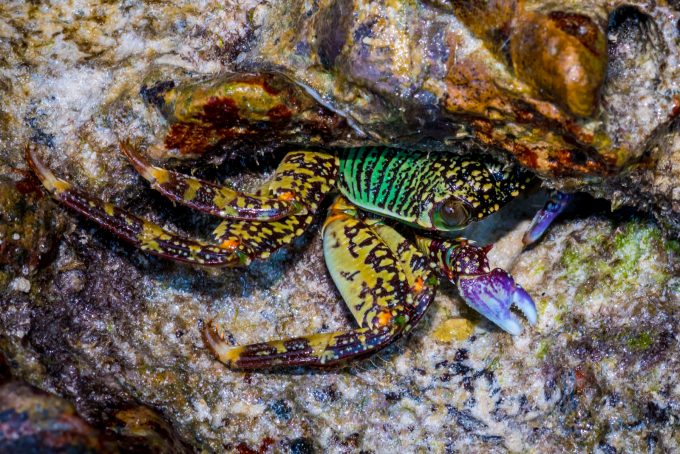 –
Leica 135mm f/4 Tele-Elmar: Another stellar performer. It's about as small as it gets for a lens in that focal range but it is heavy (505gr) and a little too long to fit nicely in the bag I chose. It performs great though, and of course has the beloved 39mm filter diameter.
Lonely Thai long tail boat in the sunset in Koh Tao – Leica 135mm f/4 Tele-Elmar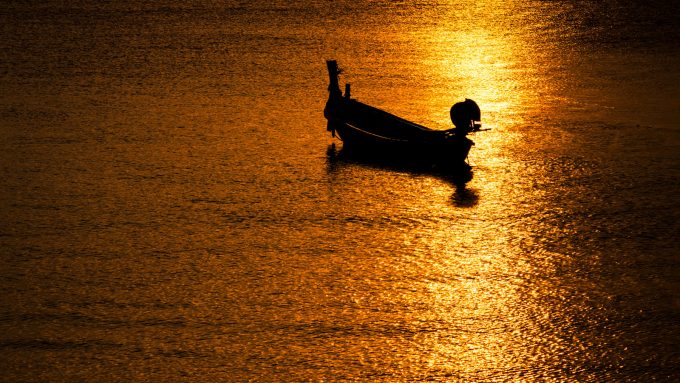 –
I came back from the trip with loads of photos and a desire to minimize the rig even more! The 40mm and 50mm are too close and I shouldn't have packed both after all, which I suspected might happen. I didn't need as much corner sharpness in the 50mm focal range after all. I also preferred using the 21mm over the 15mm. I really enjoyed shooting the 135mm, but it's just so large and heavy compared with the others lenses that I think I would've been fine with the 90mm only.
Thai boxing in Chiang Mai – Leica 135mm f/4 Tele-Elmar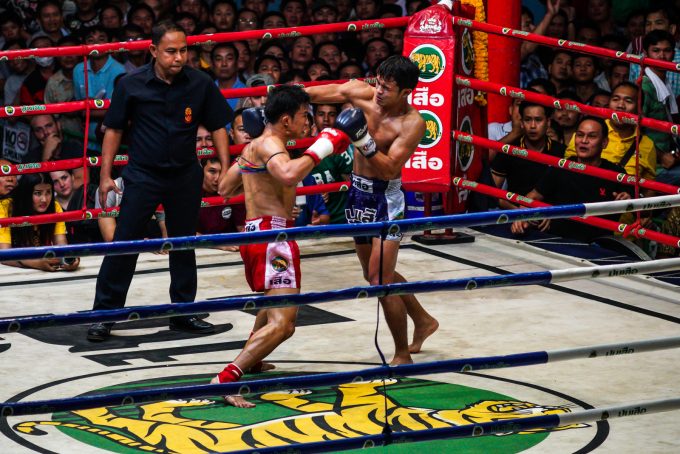 –
James Bond Island in Phang Nga Bay – Leica 40mm f/2 Summicron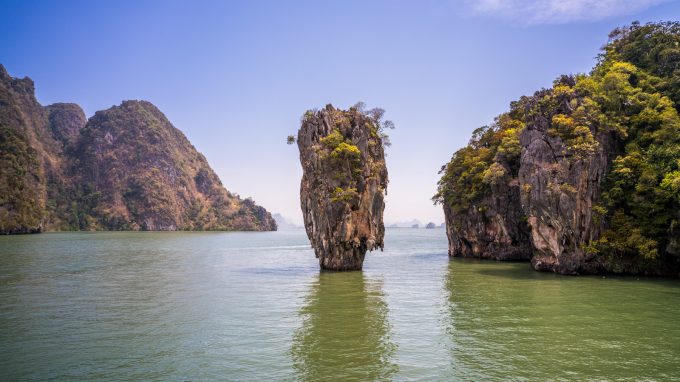 –
Shooting for three weeks with this ensemble was way more fun than I expected. The drawbacks that come with using rangefinder glass on the Sony A7 system (corner performance for some lenses, challenging manual focus for others) were quickly eclipsed by the size advantage, build and image quality, unique look and by the feeling you get manipulating such nice optics. As a matter of fact, it was such an enjoyable experience that most of my native E-mount lenses are now going up for sale! Having to switch between primes and shooting in manual focus greatly improved the percentage of "keepers" I came back with.
Fire dancers on Ko Phi Phi – Zeiss 50mm f/1.5 Sonnar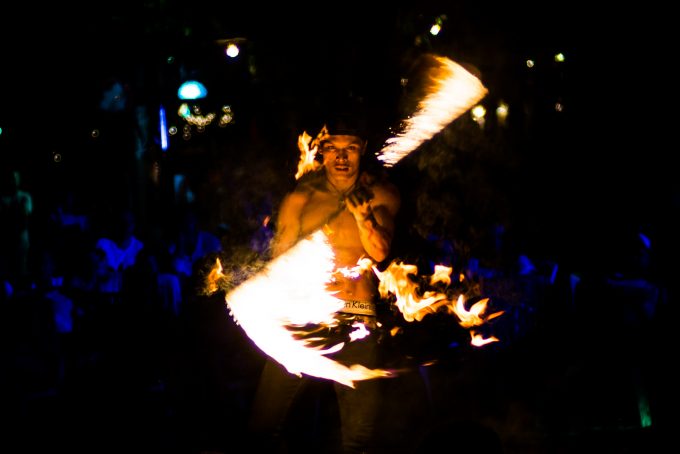 –
A Thai fisherman works his line in Phang Nga Bay – Leica 135mm f/4 Tele-Elmar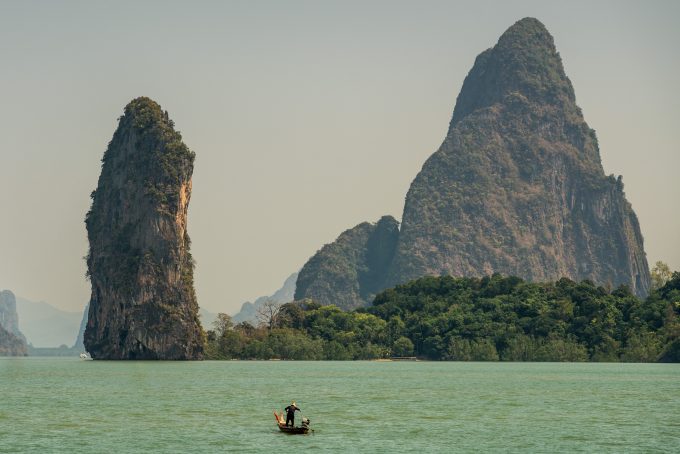 –
Ever since I returned, I've been using the same bag but the only lenses you'll find in it are the 21mm, 50mm and 90mm and it's been great. I'm wondering if one of the 28mm or 35mm M-mount would be a good addition to this kit, especially for more landscape and street photography. But honestly, I haven't felt a dire need for it and I can't really afford the 28mm or 35mm I want! Maybe some of your readers have recommendations in that range. The only different set up I'd be interested in testing is traveling with the two Leica Tri-Elmar, though I have no idea how they perform on the A7rII sensor and if I can't afford a 28mm Summicron, I certainly can't afford the Tri-Elmar. Or maybe it's time to sell even more lenses?
A paddle-boarding couple enjoys the warmth of the setting sun in Koh Tao – Leica 90mm f/4 Macro-Elmar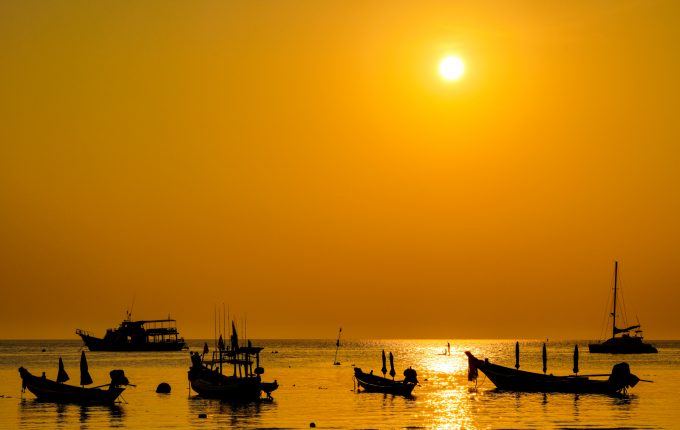 –
Kabu broke her ankle in an illegal logging accident. Since she couldn't pull logs anymore, her owners started using her as a trek elephant to carry tourists 10hrs per day. Elephant Nature Park purchased her from her abusers and gave her a loving home outside of Chiang Mai. – Zeiss 50mm f/1.5 Sonnar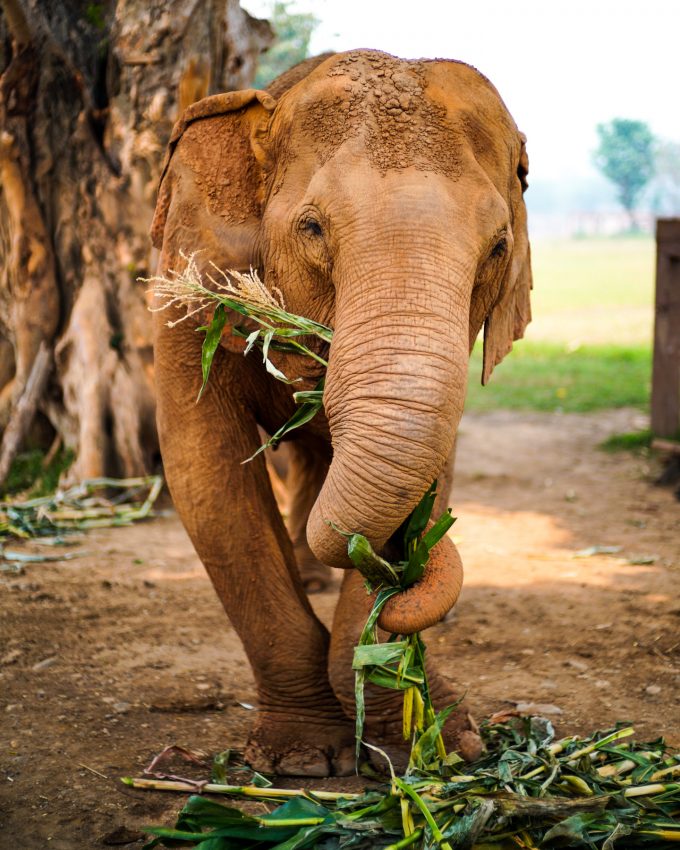 Thank you Steve for allowing me to contribute to the great photographic resource you've created. I hope this article helps some of your photographer readers looking for alternative shooting on Sony A7 bodies. If you like my photography style, consider following my Instagram account and visiting my website: PhotoXplorer.
Take care,
Guillaume Dutilh
PhotoXplorer
http://photoxplorer.com
http://instagram.com/photoxplorer